In search of an amazing cicada tattoo? Check out the best cicada tattoo designs of 2021, and choose the one that catches your eye!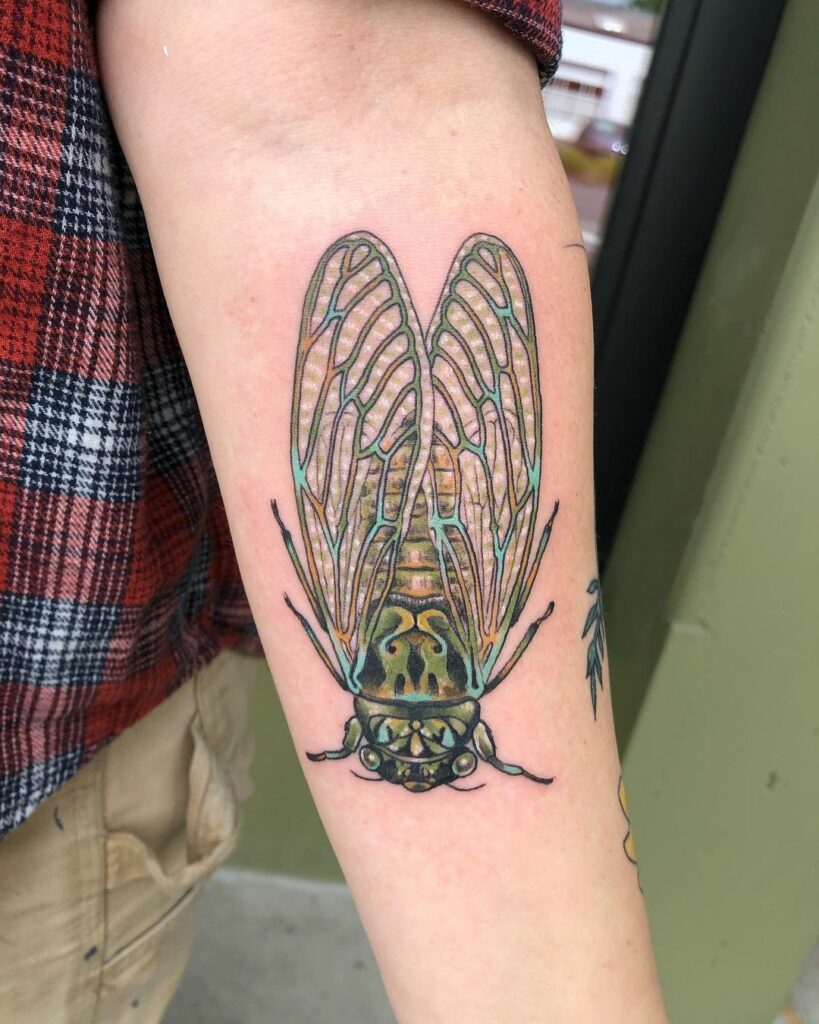 Cicadas are a kind of insect, and whether you are interested in insects or not, you have got to agree that cicadas are quite aesthetic to look at.
Hence, it is not really surprising that over time, people all over the world got inked with various kinds of cicada tattoos. Among the vast range of cicada tattoo designs seen all around, you will surely find a design that you can relate to the best.
Cicadas are associated with resurrection. Hence, a cicada tattoo meaning stands for transformation, change, renewal, or even rebirth. If you have just entered a new phase in your life and are feeling like a better version of yourself, a cicada tattoo could be the perfect symbolism for that. Such tattoos are not only an aesthetic addition to your body but will also remind you to keep changing and developing in order to progress in life.
Now that you have an idea about the meaning and symbolism of the cicada tattoo, check out these new and exciting tattoo designs and get inked with your favourite!
Floral Geometric Cicada Tattoo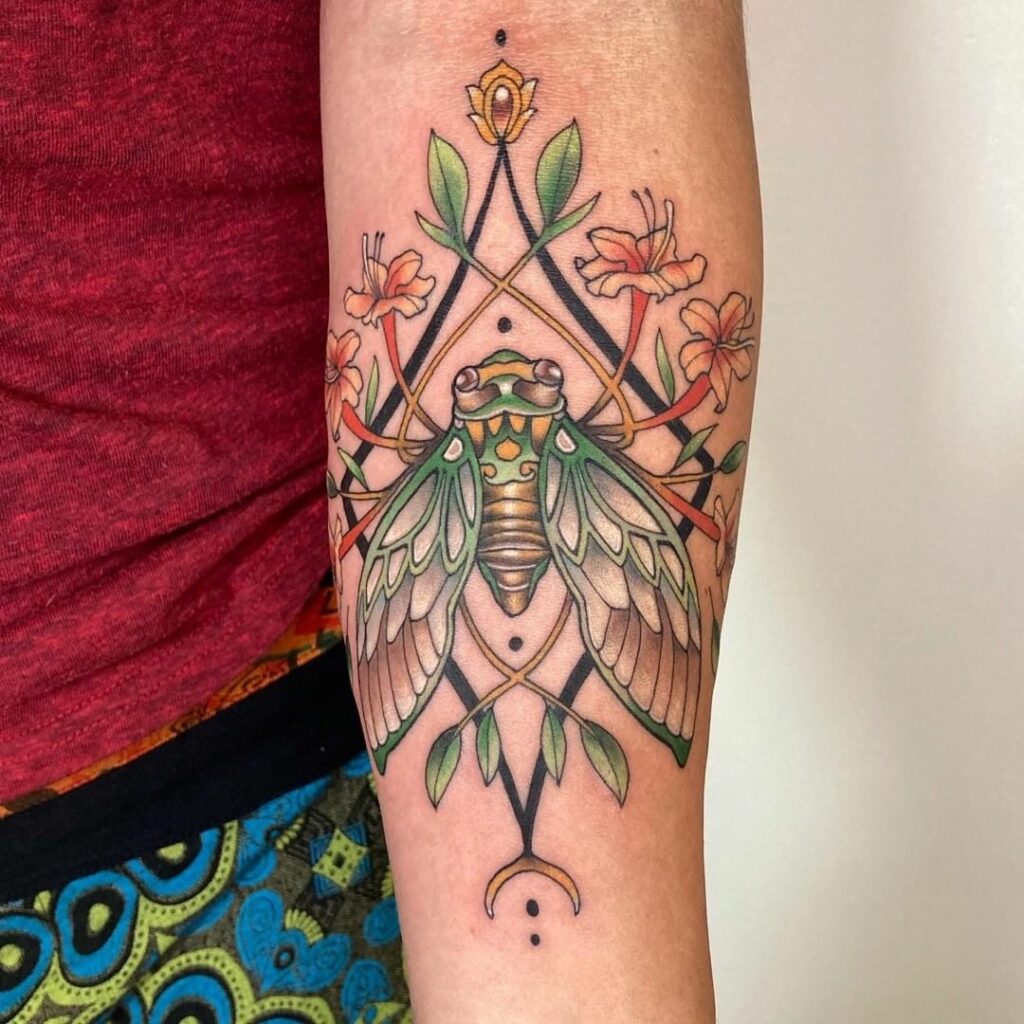 This cicada tattoo has combined two of the most popular tattoo motifs: floral and geometric. As you can see, the result is quite stunning. The diamond-shaped frame around the colourful cicada is quite an impressive design. The legs of the cicada are ending in flowers and leaves, which is creating an abstract concept, and making the tattoo exceedingly graceful. The subtle red flowers and green, brown, and yellow of the cicada are all combining to form the perfect design. You can get this inked on your arm, as pictured.
Fiery Cicada Chest Tattoo
It is quite common to associate rebirth with fire as if a new self is rising from the ashes of the old. Hence, a cicada tattoo with flames can be the perfect interpretation of that concept. Even though this tattoo has been inked with black colour only, still it is looking quite eye-catching because of the impeccable detailing. The gradient shading of the flames and the intricate patterns on the insect are all proving the attention paid to each detail, which has made this tattoo stand out. This tattoo can be a worthwhile statement piece adorning your chest that you can make visible only when you want to.
Crescent Moon And Cicada Tattoo
The crescent moon symbol represents growth and manifestation. Naturally, such meanings will match well with a cicada. The most eye-catching part of this tattoo is the wings of the cicada, which has been designed quite elaborately and made colourful. The yellow wings are contrasting well with the red and blue body of the cicada and the moon. You can also add a sun to this design at the bottom of the insect to make it look unique and further amplify the concept of 'rebirth'.
Unique Skull And Cicada Forearm Tattoo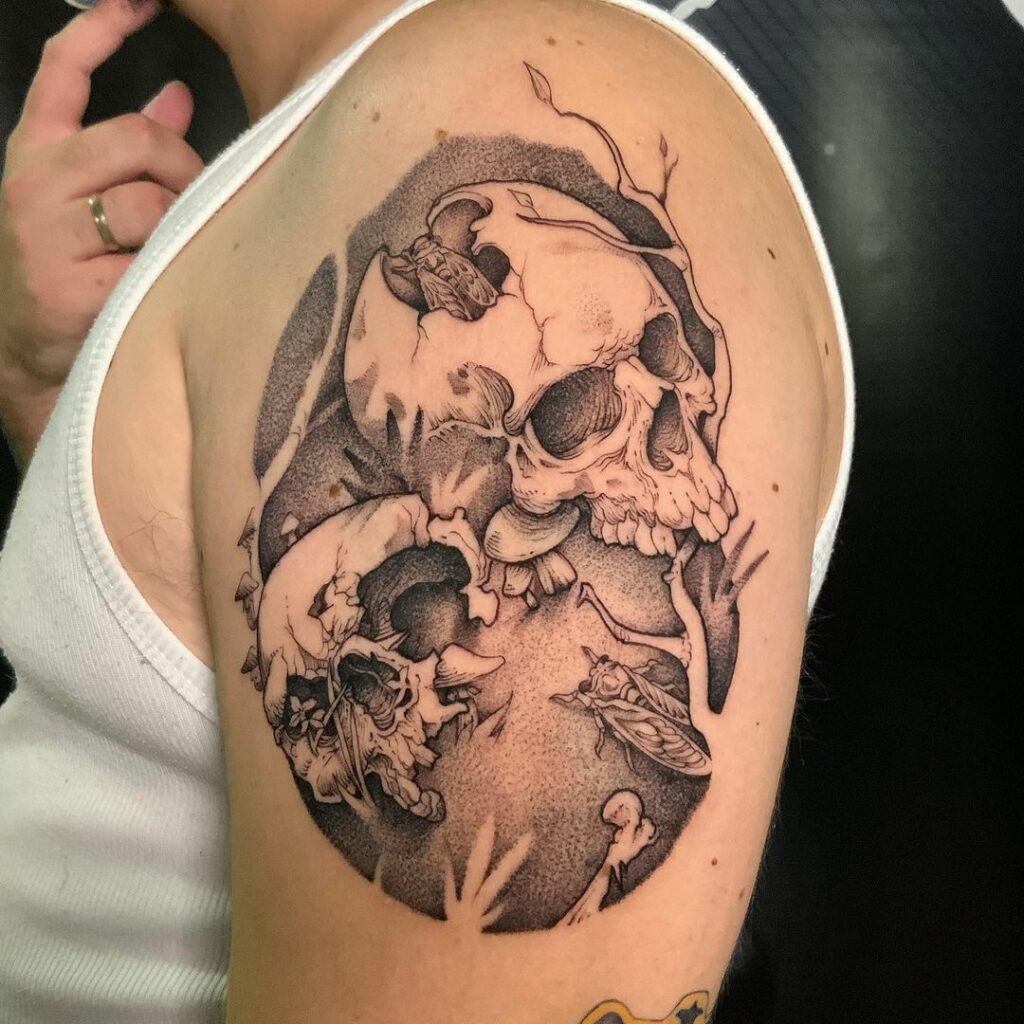 If you want to get a cicada tattoo that sets you apart from everyone else, check out this image. This tattoo is featuring cicadas and broken skulls. Such tattoos are very rare and will make people see the artist in you. While skulls represent death, cicadas coming out of the skull can be representative of the death of your old self and the birth of your better version. The most distinguishing feature about this tattoo is the dotted shading done as the background. A tattoo of this sort will take lots of time and patience to be completed, but once it is done, you will have a masterpiece etched on your skin, for life.
Scientific Illustration Cicada Tattoo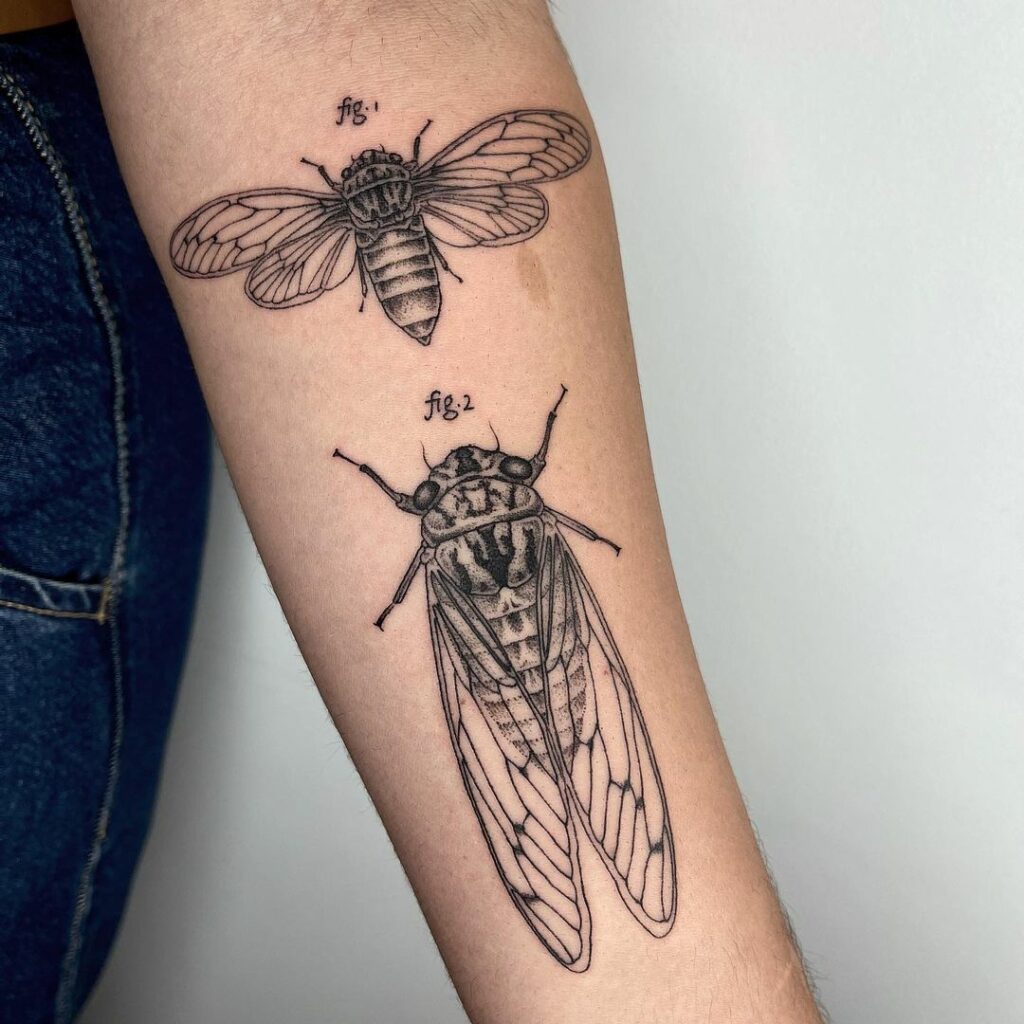 If you are fascinated by entomology or the study of insects, you can get a tattoo depicting the scientific illustration of cicadas. The tiny "fig.1" and "fig.2" inked above the two cicadas are done to mimic actual scientific drawings. Both the cicadas in this tattoo has been inked quite carefully and to perfection. Hence, even though the tattoo is not coloured, each cicada is looking exceptionally realistic.
Small Cicada Tattoo
If you don't have a lot of time or are scared of needles, a small cicada tattoo can be the best alternative for you. As you can observe in the image, the cicada is quite small in size, yet the detailing are just as amazing. The dark body of the cicada and gradient wings are making this tattoo even more brilliant. You can even ask your tattoo artist to recreate a coloured version of this for you.
Matching Cicada Wings Tattoo
If you have someone in your life, who was there to help you progress and be a better version of yourself, then why not get matching tattoos with them? While getting matching cicadas may take a lot of time, you can certainly opt to get inked with one wing. You both can choose different colours for the wing, as depicted, or opt for fully matching ones.
Elaborate Cicada Tattoo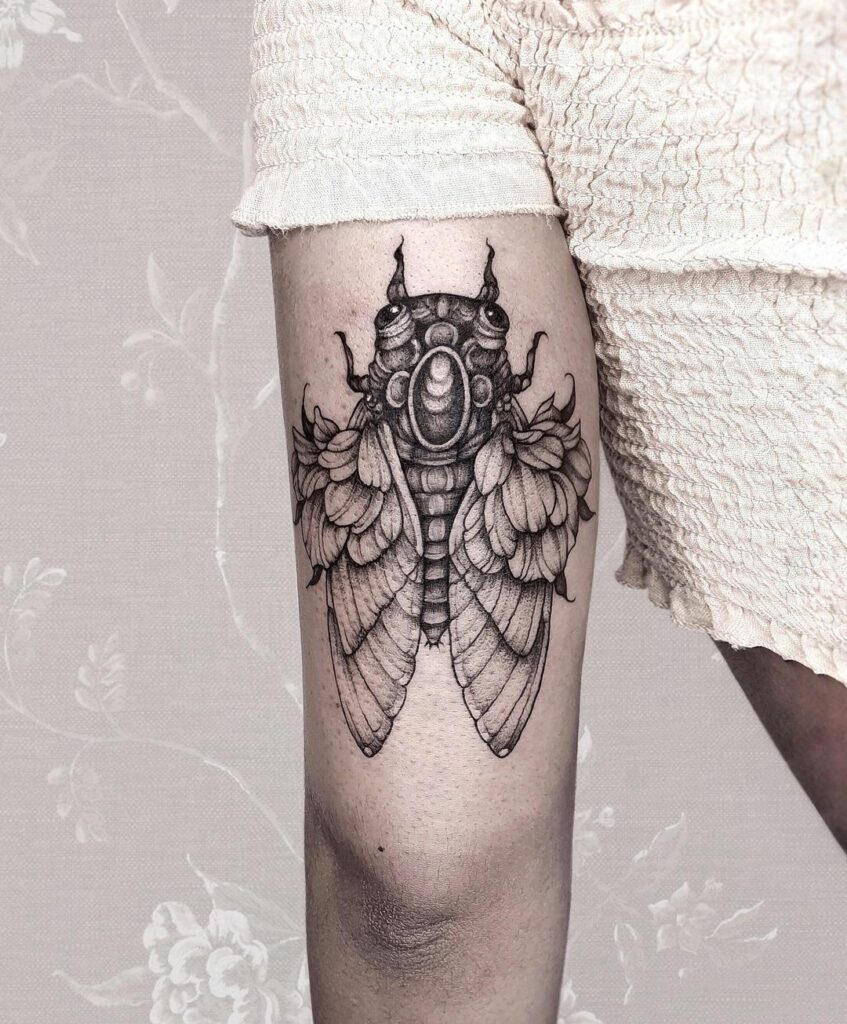 Elaborate tattoos like this one take a lot of time and energy to be done but are totally worth it. Hence, if you want to invest in an unforgettable cicada tattoo, this is certainly the perfect option for you. The cicada in this tattoo has been designed quite boldly, with intricate patterns on its head. The dark body and light wings are forming an alluring monochromatic effect. The floral motifs on top of the wings are certainly the most unique part of this cicada tattoo.
Blackwork Cicada Tattoo
Blackwork tattoos are done by completely covering the location of the tattoo with black ink. There are lots of ways to create a blackwork tattoo that matches one's preference. So, you can opt for this blackwork tattoo with a cicada on top. Designs of this sort are not at all mainstream and look fresh to the eye. The dark black background is forming the perfect canvas for the cicada to pop out against. The leafy motifs on the top and bottom of the cicada are framing the main design, perfectly.
Cicada Tattoo With Pastel Shades
Pastel shades are undoubtedly pleasing to the eyes. So, why not choose a cicada tattoo inked with pastel colours? This tattoo is the perfect example of how different colours can look well-balanced together if used correctly. The blue, green, and purple are blending into each other, seamlessly, here. Additionally, the little white dots are adding charm to the overall design. You can get this tattooed on any visible body part so that this design can catch everyone's eye.
In conclusion, a cicada tattoo can be associated with various symbols like the sun, moon, flowers, or even a skull. Among the above designs, you can choose a coloured cicada tattoo or a colourless one, either way, the tattoo will still stand out, due to its unique depiction. A cicada tattoo has very positive and strong associations, and if you decide to get inked with this tattoo, it will surely be of great value to you, forever.
Still looking for inspiration, then checkout this blog post about butterfly tattoos
Feature Image from Pinterest – Want your tattoo to look brighter? Try "Tattoo Balm"