Interested in the classic Americana culture? Check out these amazing compilation of Americana-style tattoos curated especially for you.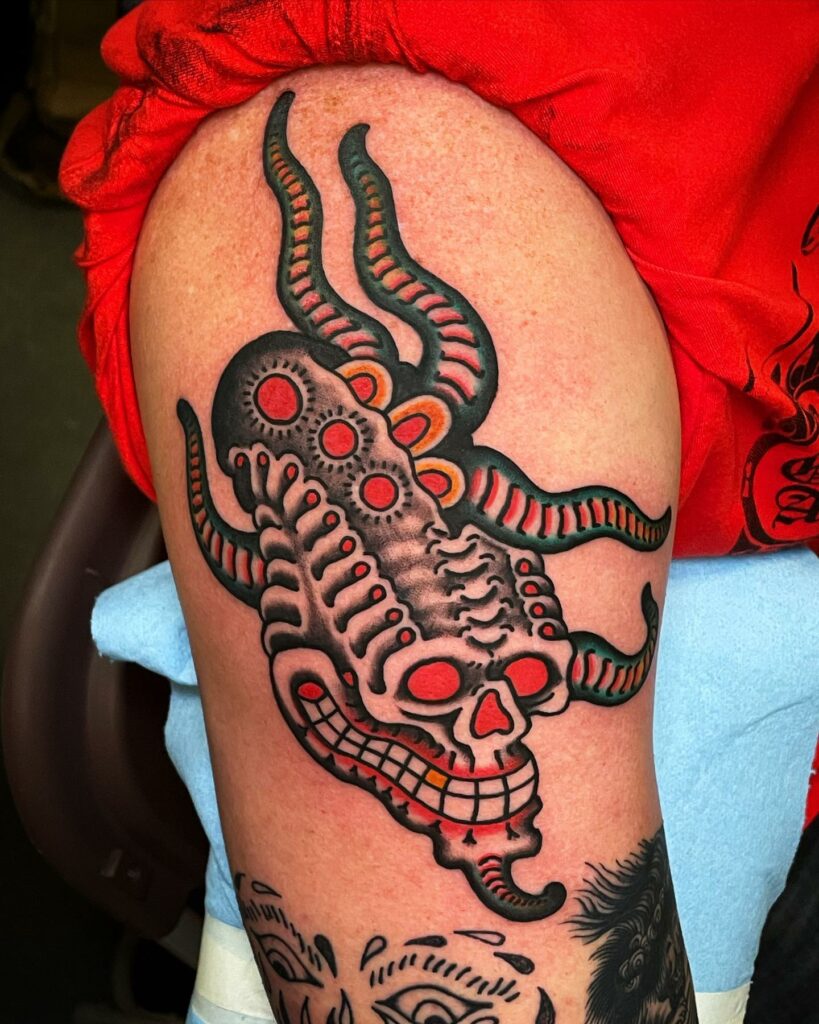 Classic americana tattoos or American traditional tattoos bring you the flavor of the native American way of life and mysticism.
American traditional tattoo style is the old school, western traditional tattoos featuring unique features that you will not find in other regular tattoos. Notable features like black outlines, bold color usage, and unique shading are there in the American traditional style tattoos.
America has developed a rich heritage of cultural symbols starting with the Native American tradition and the subsequent colonization of America by the Europeans. There are various sizes depending on the object or image of these tattoos. You can get American traditional cat tattoos, traditional skull tattoos, sailor jerry tattoo, bear tattoo, eagle tattoo, hot air balloon tattoo, diving girl tattoo, anchor tattoos, American traditional cross tattoos, and more!
Tattoos come in various sizes. Get yourself inked a gorgeous tattoo that will fit on the part of your skin where you want to have the tattoo. Your tattoo artist might help you in scaling the tattoo properly with respect to the portion of the skin.
Check out these wonderful American traditional tattoo ideas from our amazing american traditional tattoo flash
.
Traditional Gypsy Girl Tattoo Design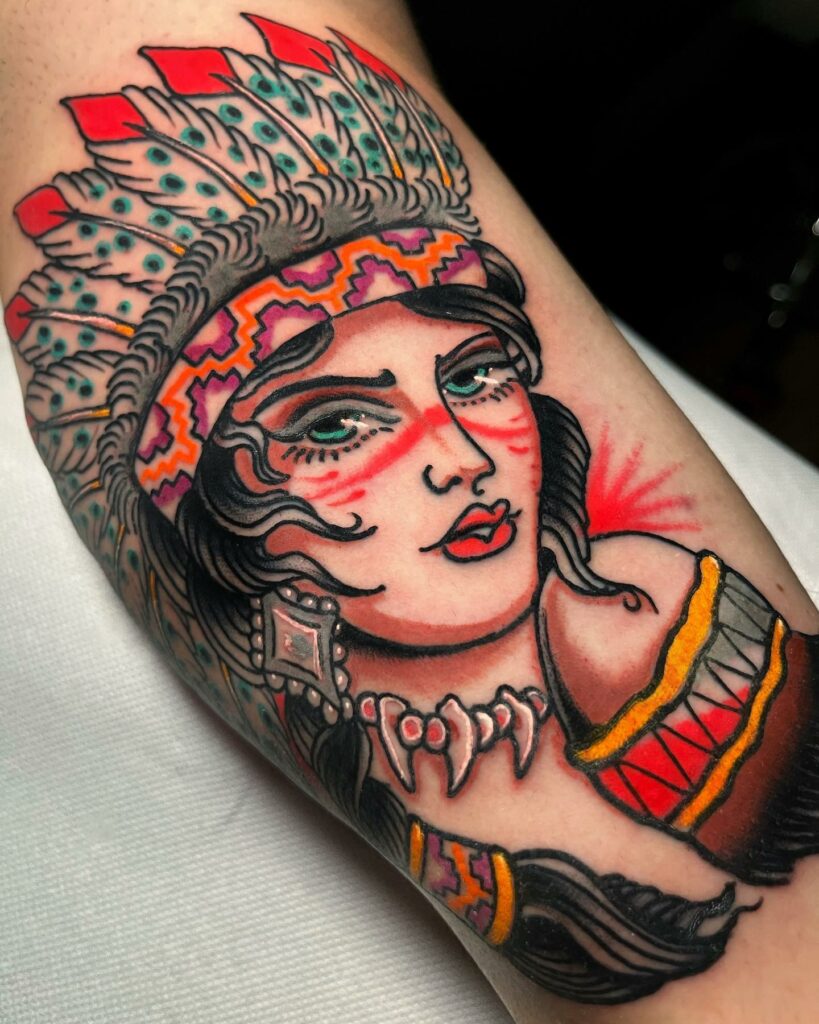 The most beautiful aspect of American traditional tattoos is the display of colors! The wide-ranging colors never let you take off your eyes from the tattoos, and if you want a multi-colored tattoo with American traditional style with the image of a gypsy girl then this can be a good choice for you.
It is a unisex tattoo depicting a gypsy girl looking at the onlooker. You find her wearing a bone necklace and peacock feathers on her hair, and an orange turban on her hair. Green, orange and yellow are the dominant colors you will find, and this American traditional tattoo is suitable for the arm. There are other variations you will find with pin up tattoo that features a gypsy lady posing in unique styles.
Traditional Snake Tattoo With Traditional Dagger Tattoo
American traditional snake tattoos are really fascinating to watch and the most interesting part is the overall look of the tattoo when an artist incorporates ideas along with the snake image. If snakes fascinate you then you can go with this tattoo! It is a fact that snakes lie entangled around lotus shrubs under water, and that exact idea has been projected through this traditional American style tattoo.
Lotus bud and a flower, along with a shady green snake and a dagger deliver a mystical appeal to this traditional snake tattoo. There are bold lines around the objects in the tattoo which will make it look attractive to the public. American traditional dagger tattoos are also fascinating, in case you don't want the snake.
Traditional American Shark Tattoo With A Flower Tattoo Design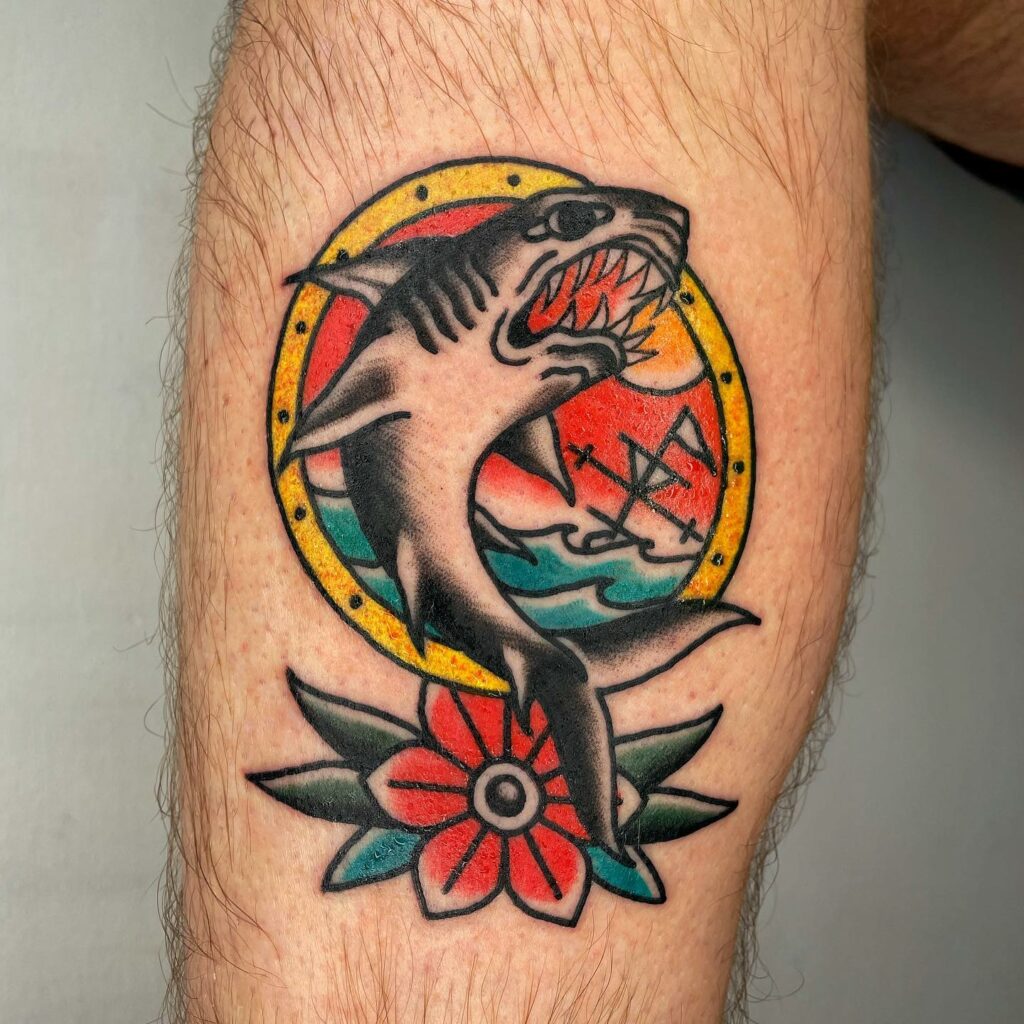 If you admire shark tattoos then this can be a unique tattoo design for you! The shark has been projected in the middle of the sea in the yellow circular background. You will find a yellow sun, a ship, and a flower below the circular frame which touches the tail fins of the shark. The use of bold lines highlights the tattoo quite innovatively.
If you are looking for a small and compact tattoo form then this can be a good choice for you. Males usually go with this tattoo but there is no clear indication that makes the tattoo gender specific. In the tattoo world, this tattoo definitely occupies a standard!
Tiger Tattoo In Traditional Tattoo Style Design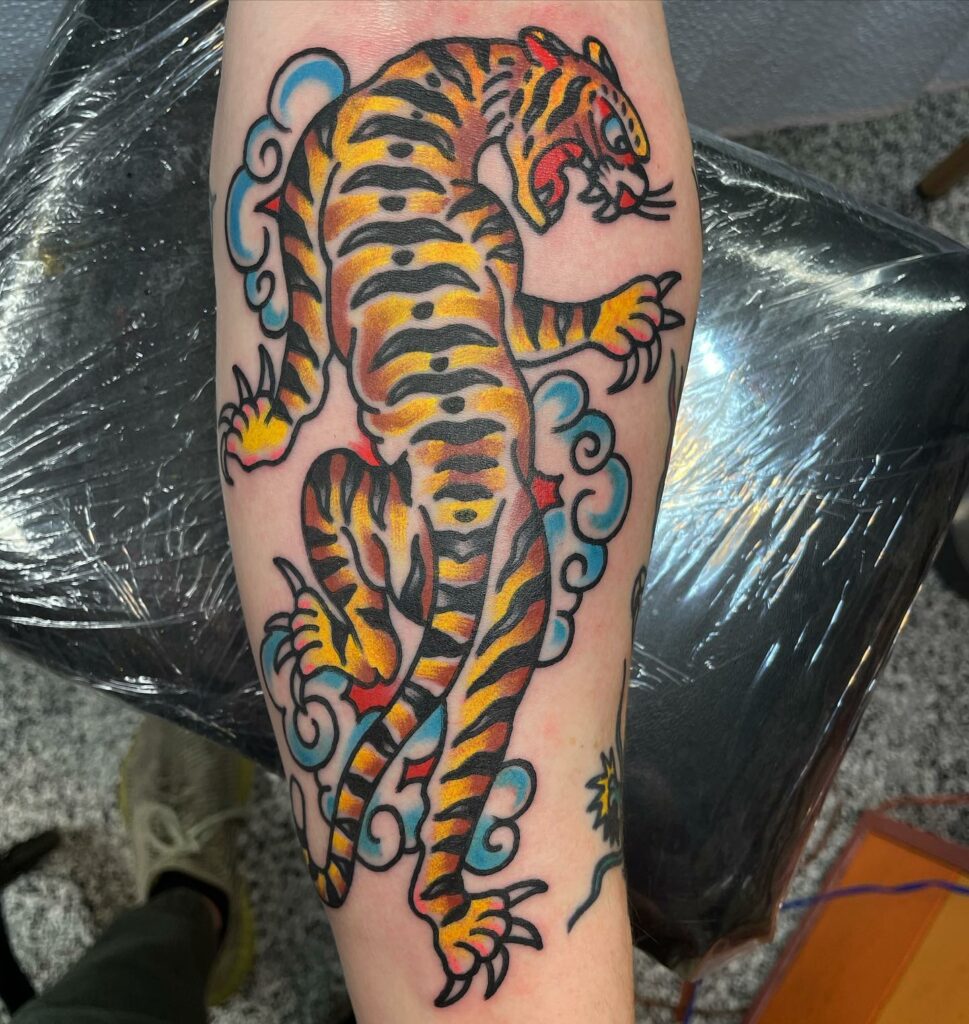 There are tattoo designs depicting tigers in a forest or hunting ground. But this tattoo is a very different one! It tries to attain a balance by putting its feet on the clouds! The ferocious intent of the tiger along with the sharp claws will certainly draw public attention.
The most attractive part of the tattoo is the pattern of stripes in black on the yellow surface. And interestingly this pattern is laterally symmetrical. If you want to go with traditional style tattoos that reflect your ferocious nature then your tattoo artist can try this one with improvisations. This traditional-style tattoo will easily fit on any part of your body.
Old School Butterfly Tattoo Design
Old school tattoos uniquely carry the sense of mysticism that no other tattoos can congruously bring together. Butterfly tattoos are usually beautiful, but this one brings in the Gothicism with the use of the skull above the unique-looking butterfly. Red, cyan, yellow and black develops a sense of awe in the tattoo.
It is a smaller tattoo than any other classic americana tattoo style you will find in the tattoo shops, and will easily fit on your wrist. If you are not a fan of animal tattoo designs then a bee tattoo, a girl tattoo, or old school tattoos of insects like this one. Animal tattoos are always fascinating. Along with this tattoo design, you can add your name too in classic americana tattoo fonts!
Classic Americana Tattoo Black And White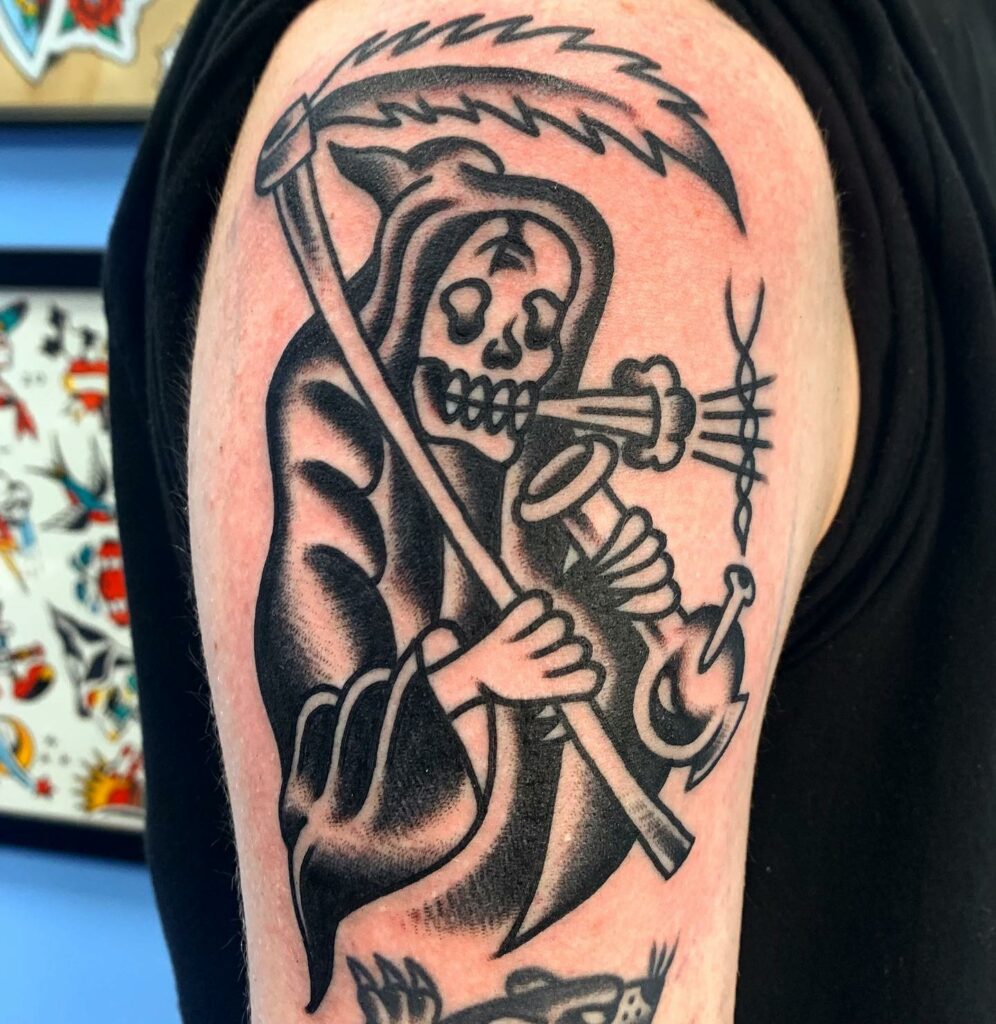 The grim reaper has been a cultural symbol for the Abrahamic religion since time immemorial and popular culture has used that idea to cultivate more complex images of the same. Like, in this tattoo you will find Grim reaper smoking with a pipe, and carrying his scythe in the other hand.
It is not a small tattoo design but it will be fit for people with thick arms. Traditional tattoo designs like this one will make you feel special for its cool aesthetics of black and white.
Old School Tattoo Style Of Skull Tattoo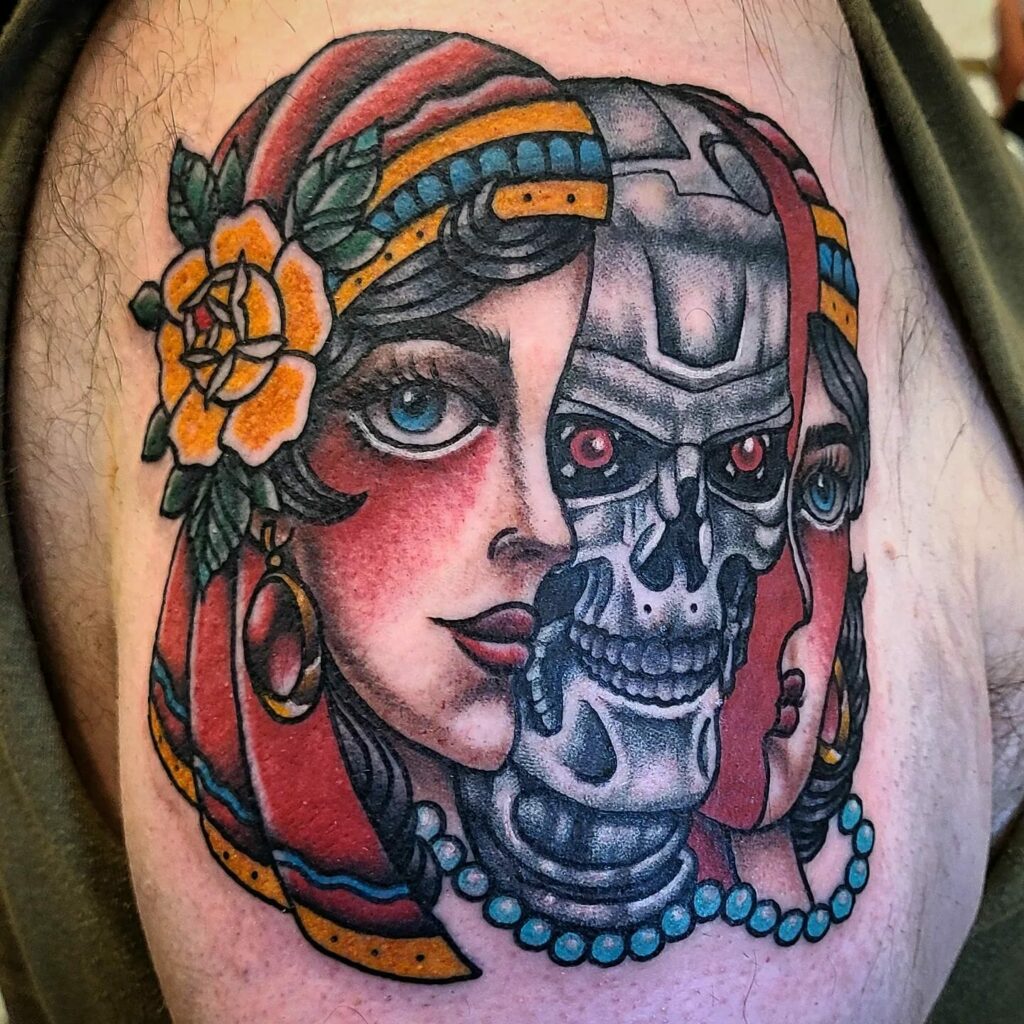 This traditional American tattoo carries both the essence of horror and beauty. A skull tattoo is placed within the two sides of a gypsy girl's face as if the skull has been revealed out of the skin. The extensive colors that have been used to ink the gypsy girl contrast well against the black and white dimensions of the skull tattoo.
It is a fairly large-sized tattoo that can be good for both the chest and arm only if your arm is thicker. This American traditional style is unisex. Thus, anyone can get it inked.
Classic Americana Tattoo Sleeve With Ship Design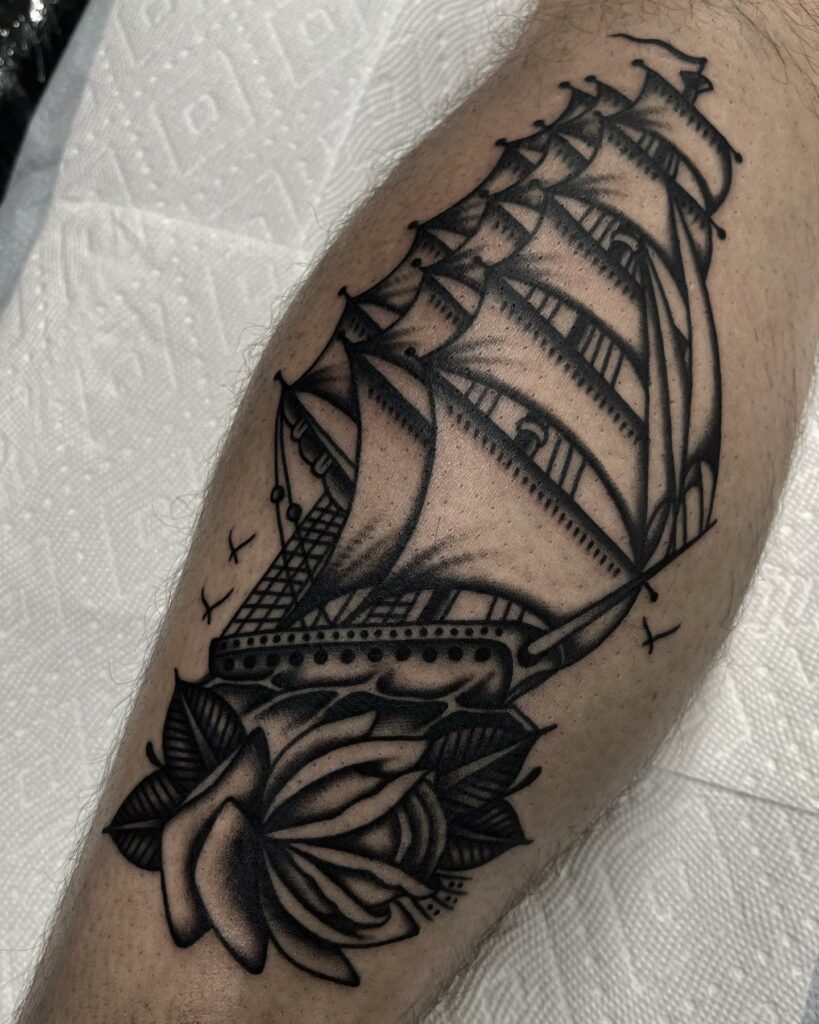 One of the best American traditional tattoos is the American traditional ship tattoo, and when the object is accompanied by an American traditional rose tattoo the whole combination is quite attractive. This black and white tattoo pictures a large ship floating on a rose.
This can be a good choice for elders, both men and women. But earing old school tattoos, age feels reduced subsequently for older people. These cultural symbols carried across American traditional ship tattoos and others are more preferred by them than other tattoos since it connects with tradition and cultural history.
American Traditional Panther Tattoo Design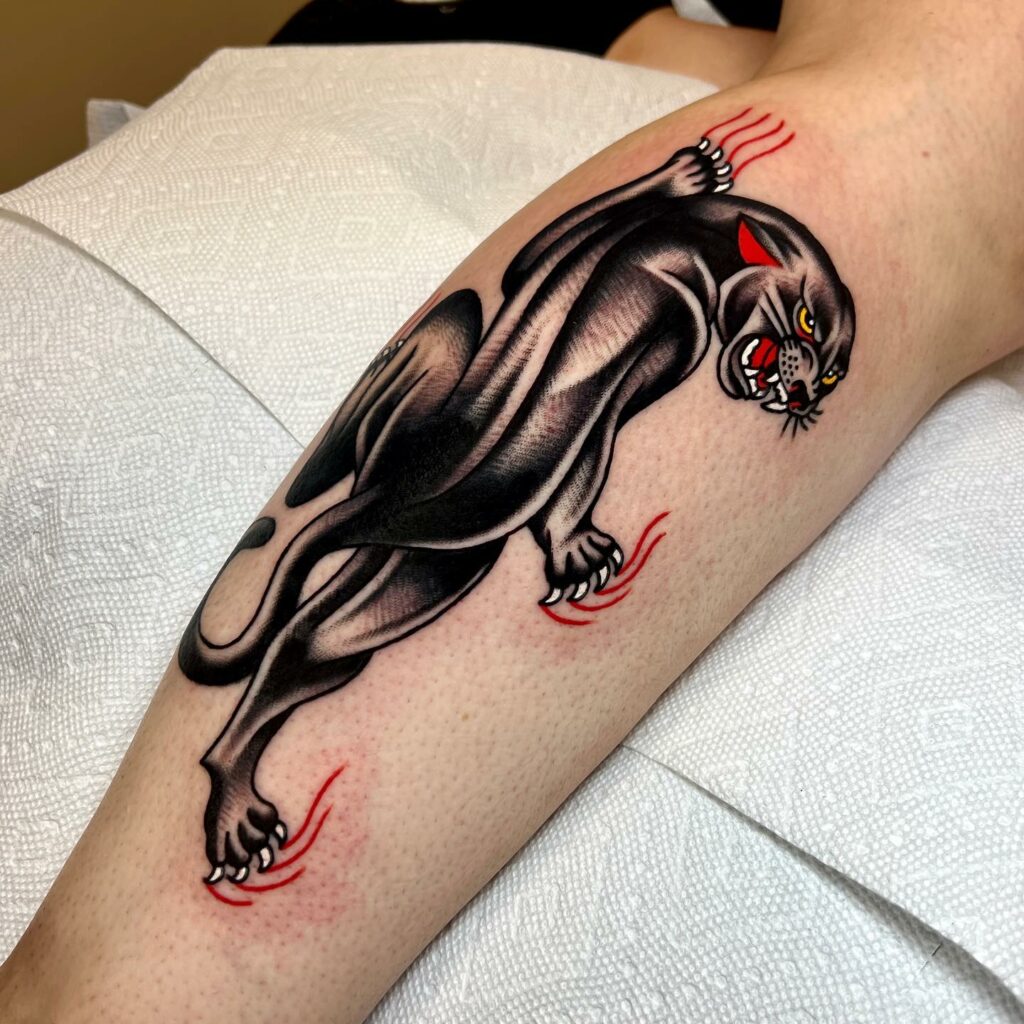 Panther tattoos signify power and strength to the person who is getting it inked. And after the American superhero, Black Panther rose to fame this animal tattoo gained an esteemed position in the popular cultural imagination. This tattoo depicts a black panther from above in a ferocious stance.
Apart from its cool look, the red and black color combination provides the tattoo with a great combination of colors. The tattoo is a longer one, not a large one. So it is better to take a piece of good advice from the tattoo artists before going with this tattoo.
Traditional Eagle Tattoo And Gipsy Head Design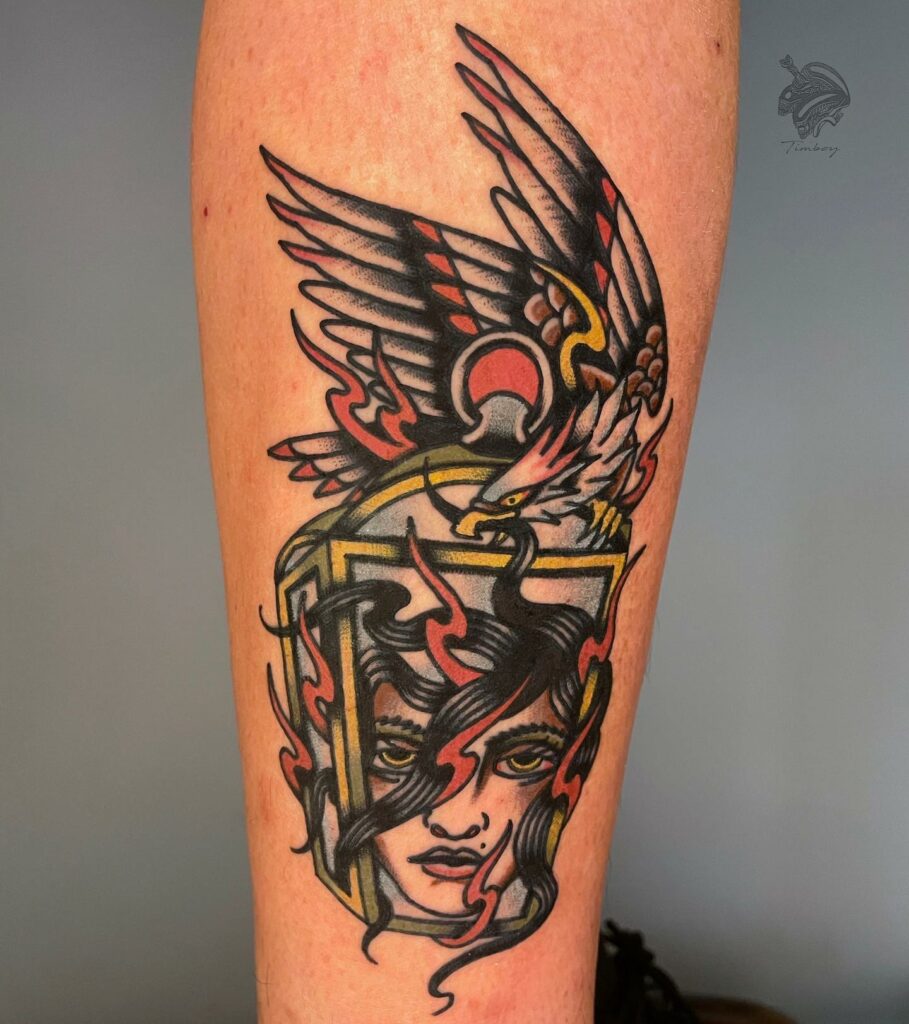 If you are looking for old-school eagle tattoos to spark your American-ness, then this can be an excellent choice. Because it features not only an eagle but also a gypsy head. Both the symbols, the eagle and the gypsy girl, are from the classic Americana tattoo tradition. And together this whole tattoo looks fabulous in multiple colors.
The concept of the tattoo is symbolic too, the passive nature of the gypsy woman symbolizes the dominance of males over females. The eagle is trying to bite off her hair but she doesn't fight back. And interestingly, the gypsy head is sealed off inside a case painted in yellow.
The aesthetics of American traditional tattoos expressed through these traditional symbols evolve a rich tattoo culture in America, and in comparison, these tattoos are very different from modern tattoos. Even in Japanese tattoo masters, you will not find anything similar. There are other possible tattoos like American traditional lighthouse tattoo, swallow tattoo, American traditional wolf tattoo, palm tree tattoo, American traditional bear tattoo and more. Check out these beautiful suggestions of an American traditional tattoos that might make you want to get an amazing 2022 tattoo this week!
feature image from Pinterest – Want your tattoo to look brighter? Try "Tattoo Balm"
Last reviewed and updated on March 10, 2023