Are you looking for a tattoo representing time and its importance in life? Then you need to check out these amazing clock tattoo drawing ideas!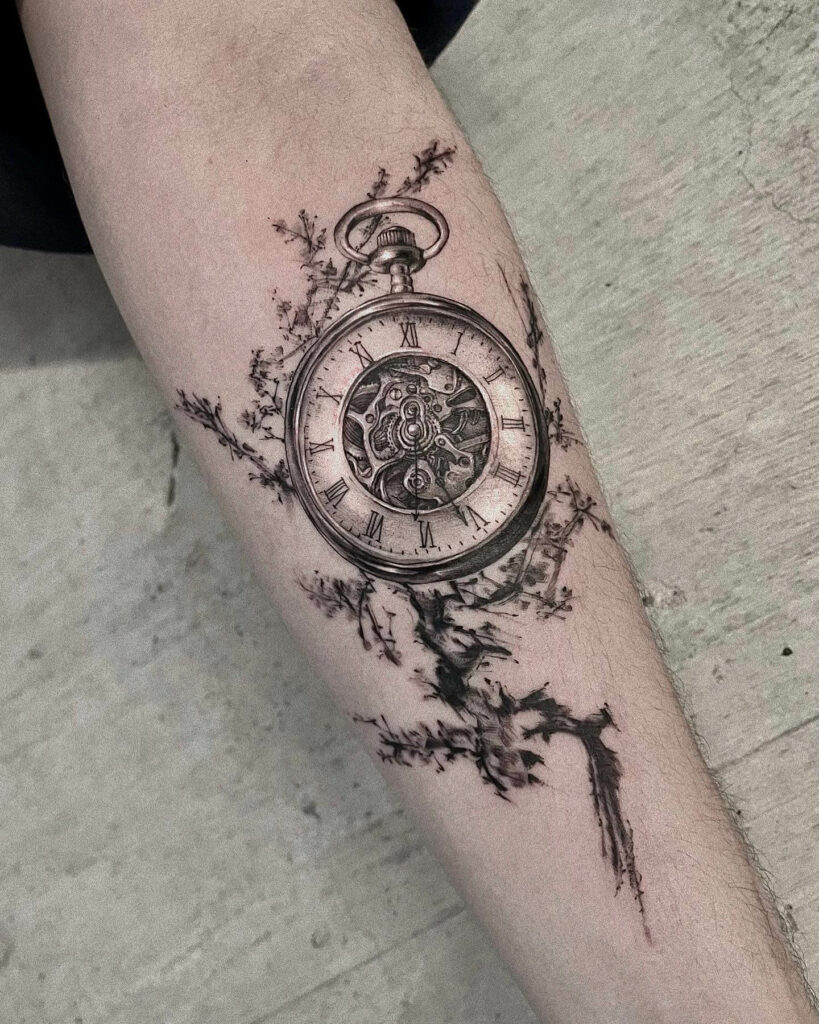 A clock tattoo can have a number of meanings depending on the person who is getting the tattoo and their interpretation.
A clock tattoo is considered to be the most prominent representation of time. Since the clock tattoo represents time, it can also represent life and death, love, and even infinity.
If you look up designs for clock tattoos on the internet or ask your tattoo artist to show you a few designs, you will find that a lot of people add other symbols and objects to their clock tattoos. They add flowers, or mountains, or even a phrase or a quote – all of which express how time flies. A clock tattoo also reminds people of the limited time they have on earth and how they should spend it with their loved ones, enjoying it fully.
So if you are in search of a deep and meaningful tattoo that will convey your fascination and special relationship with time, then go ahead and pick any one of the clock tattoo drawings below.
Minimal Clock Tattoo Designs For People Who Like Their Tattoos Simple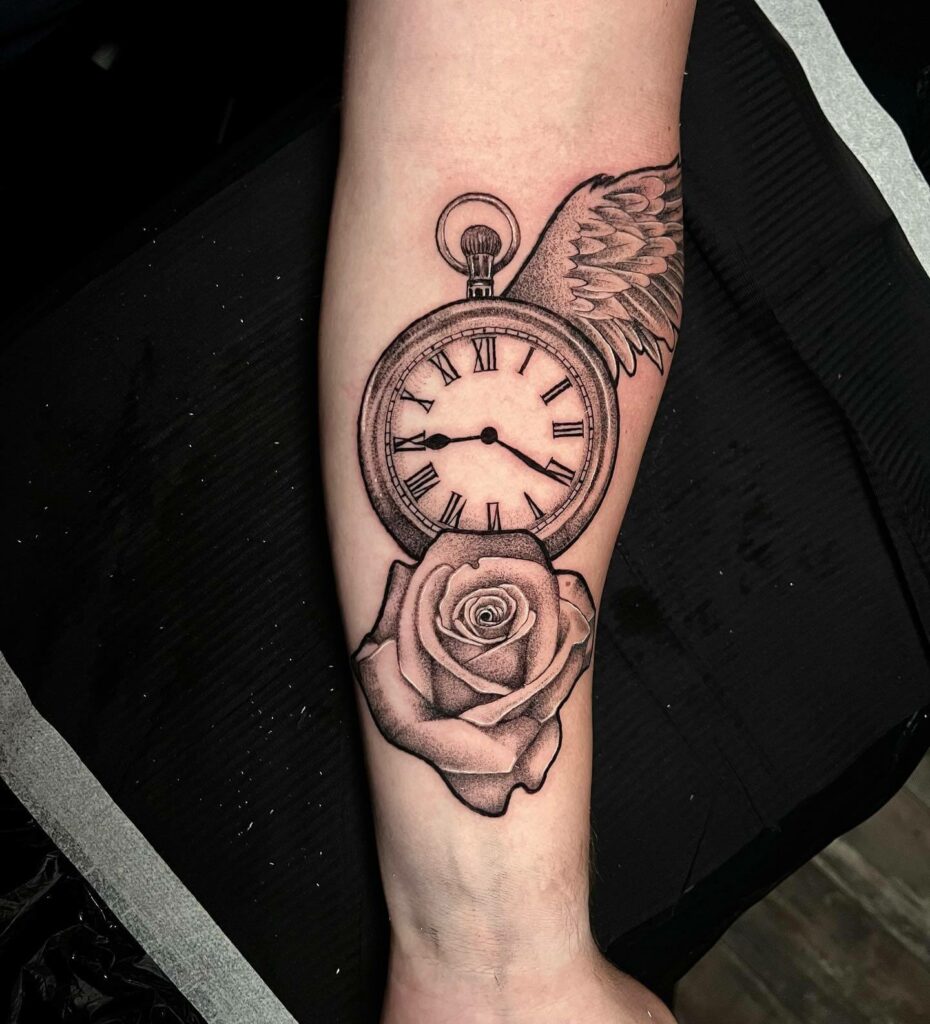 If you are someone who subscribes to a minimal sense of style and aesthetic, then a simple clock tattoo drawing will be an excellent choice for you. You can also ask your tattoo artist to show a sketch clock tattoo drawing, if you want a truly timeless clock tattoo. You can also ask your artist to use the dotwork tattoo technique, that is also known as the hand-poked tattoo style. A dot-work clock tattoo will look quite unique and distinct as compared to other clock tattoos. If this tattoo is your first time, then you may also be worried about the amount of pain you can handle. In such a situation, a dot-work tattoo will be your safest bet since they hurt a lot less compared to a tattoo from a tattoo machine. Hand-poked tattoos are a lot less abrasive on the skin too.
Vivid And Colorful Clock Tattoos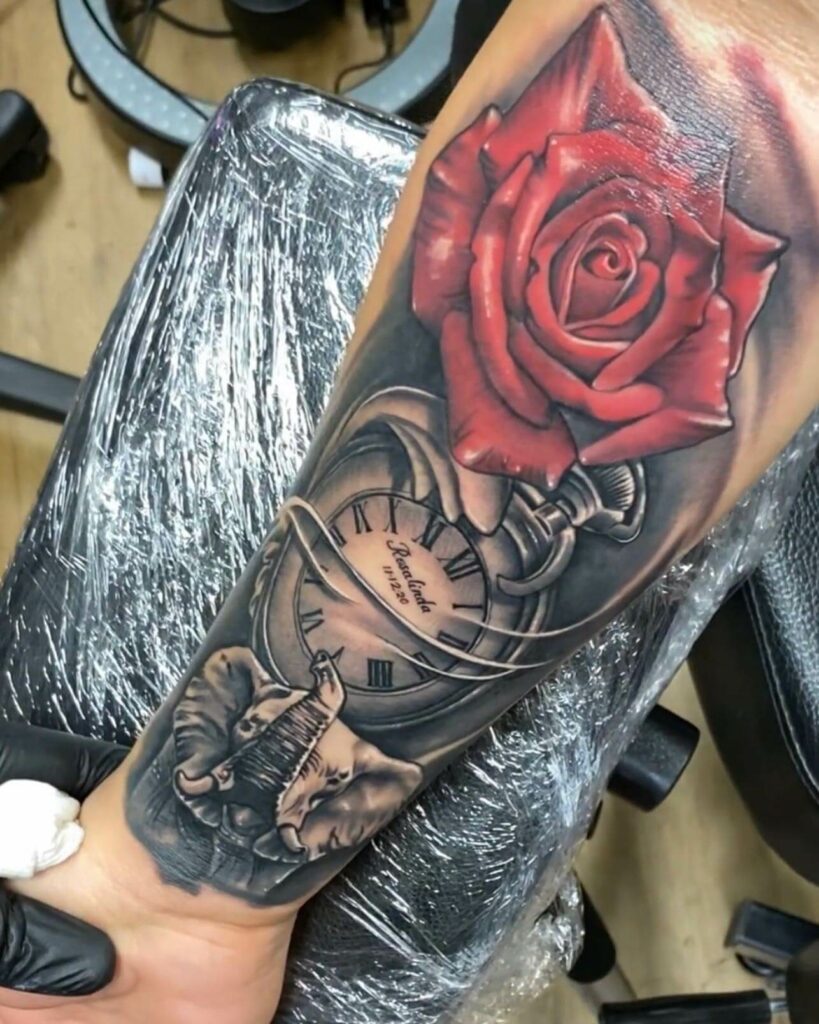 If you are tired of the same, old, boring monochromatic tattoos – then you can definitely add a pop of color to your clock tattoo. While most clock tattoo designs are black and gray in color, you can take some inspiration from the picture above and add a dash of colorful ink to your rose and clock tattoo. The wearer has gotten an old school clock design and turned it into a rose and clock tattoo. The wearer has also added Roman numerals to the tattoo. You can add color to tattoos of traditional clocks or an hourglass tattoo to make them more interesting tattoos as well.
If you are interested in the idea of a colorful floral clock tattoo, then you should take a look at these amazing rose and clock tattoo designs right now!
Creative And Quirky Clock Tattoo Design
If you are searching for a truly creative pocket watch tattoo, then you will find a recurring image of a melting clock tattoo. This melting clock design is definitely one of the best clock tattoos you will find and it is also a perfect way to pay tribute to the great painter Salvador Dali. This tattoo is inspired by the painting 'The Persistence of Memory' by Dali who created a painting with a soft, bent watch in it that almost looked like it was melting. Dali created this painting to express the mastery of time over humanity and how humans were ruled and controlled by time. Hence, if you are a huge fan of Dali's works and are quite artistic yourself, this is an amazing clock tattoo drawing to ask for.
Half Tattoo Sleeve Ideas With Clock Tattoo Drawing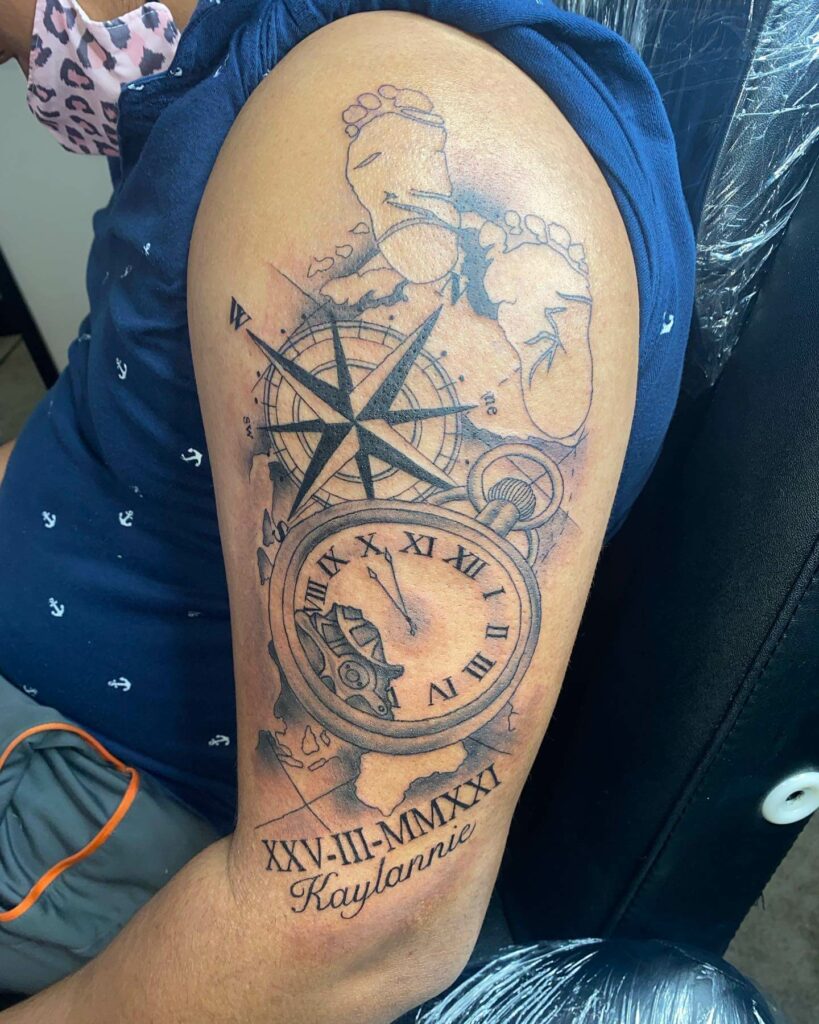 If you are a fan of large, complex tattoo designs, then you will absolutely love half-sleeve or full-sleeve clock tattoo designs. When it comes to clock or watch tattoos, most men prefer half-sleeve tattoos. These are basically shoulder tattoos for men which extend down to the elbow and occupies most of the forearm. A half-sleeve clock tattoo will also give your tattoo artist ample space on your body to work with an elaborate design. Thus, you can add a birth clock tattoo design for your child and also add flowers to it, or your child's name. So if you are aiming to get a combination of multiple tattoos, then a half-sleeve tattoo will be right for you.
Perfect Clock Tattoo Drawing For Travellers And Wanderers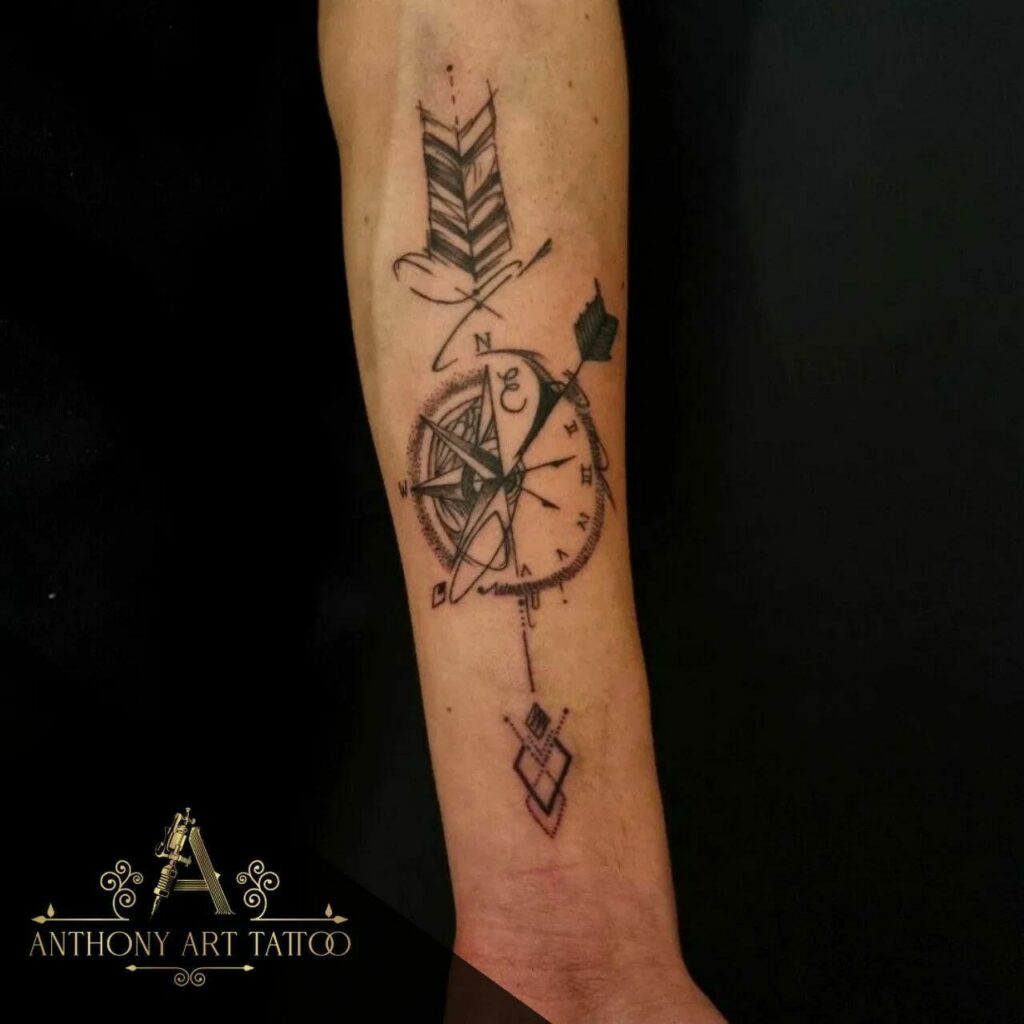 For wanderers and travelers who set out for a long, arduous, and time-consuming journeys on foot, by the sea, or by air – a clock and compass tattoo will be the best idea. This tattoo will represent direction as well as the time that the traveler has spent outside their home, away from their loved ones. Therefore, the compass will point them back to their home and the clock will be a constant reminder of how much love the traveler holds for his dear ones.
If you want to add other types of objects or figures to your clock tattoo, you can also check out a skull clock tattoo, or a digital clock tattoo, an owl clock tattoo, a grandfather clock tattoo, or even a heart clock tattoo design.
Ideas For Clock Tattoo Drawing With Flower Motif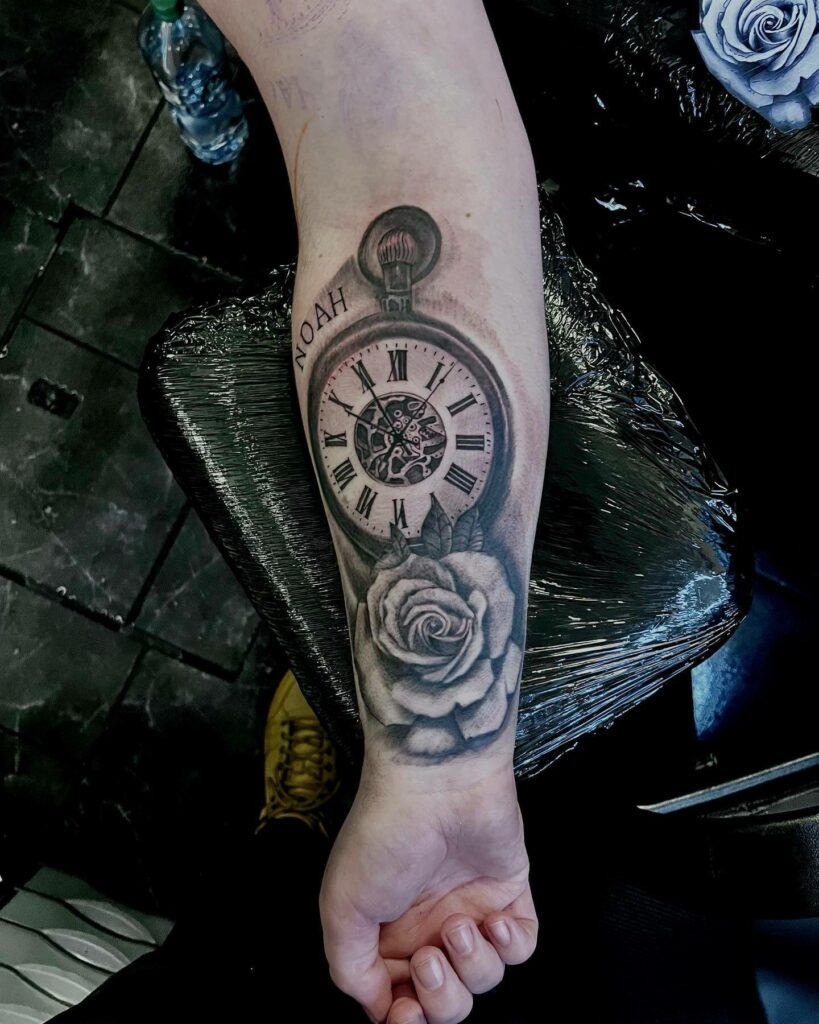 A popular design for a lot of clock tattoos is to add flowers to the clock. Similarly, you can also add any flower you like such as a rose, daisy, orchid, lily, and more. All of these flowers represent unique values and characteristics and will add more depth to your clock tattoo. Adding roses to your clock tattoo will be a great choice as roses usually signify the love a person has for someone. Therefore, among the many different types of tattoos based on clocks and watches, you can choose a floral clock tattoo as it will make your tattoo more special.
Clock Tattoos That Are Easy To Place Anywhere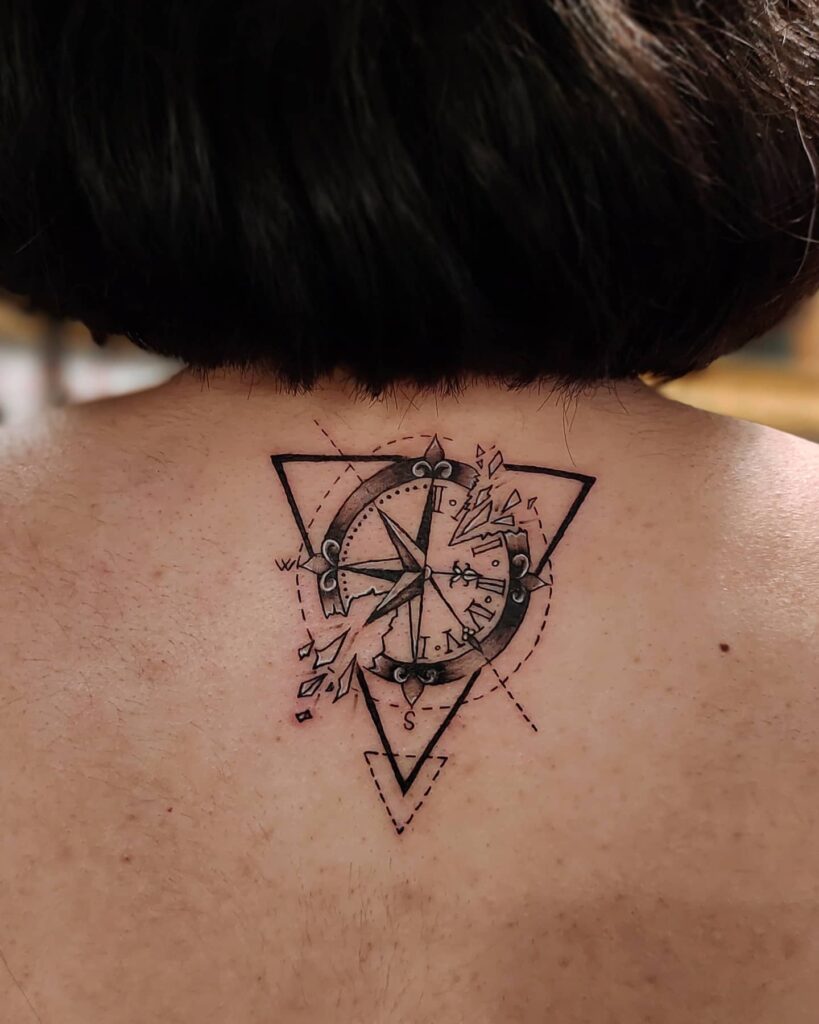 If you are confused about the perfect site for your clock tattoo where you can wear it and flaunt it easily, then you need not worry at all. You can easily incorporate a wonderful watch or clock tattoo on your arm or other parts of your body as well. You can place it on your ankle, chest, thigh, hip, rib area, or even on your hand. You can follow the example in the photo above and place the clock tattoo on your back. You can also add flowers to it to signify memory and its importance.
Consequently, if you are looking for clock tattoos for men, you can choose any design you like, as they will all fit wonderfully no matter where you want to place them on your body.
Geometric And Abstract Clock Tattoo Designs
A clock tattoo can have a powerful meaning. It can symbolize how time flies, and it can also remind us of our first love, the first time we set out on a journey. There are a lot of different styles that you can use for making a beautiful clock tattoo. As can be seen in the photo above, the wearer has gotten a geometric and abstract clock tattoo with intricate patterns and neat lines. This eye for detail by the artist is definitely adding to the beauty of the tattoo.
Clock Tattoo Design That Signifies A Special Day Or Time
If you are looking for clock tattoo designs that have deep, personal meaning – then you can use a unique idea where the clock is seen to stop at a certain, specific point of time. This broken clock tattoo can often represent life and death. After all, clocks are a symbol of endless love through infinity, as well as a stark reminder of our own mortality. This is why we often use the phrase 'time has run out' to represent death. Therefore, if you want your clock tattoo to remind you of a certain tragic event, you can also draw the hands of the clock at a specific point to symbolize your sadness and grief.
On the contrary, you can also use this idea to symbolize a happy and fun time which you want to keep in your memory forever. New parents often use this clock tattoo idea to celebrate the birth of their child! Here are some more fantastic ideas for a birth clock tattoo if you want to explore more.
Ideas For Heavily Shaded And Nuanced Clock Tattoos For Men
If you like tattoos that are quite intricate, detailed, and are heavily shaded – then you can ask your tattoo artist for a similar design for your clock tattoo. As you can see in the picture above, the wearer has gotten a large and complex tattoo piece of a clock with heavy shading using black and gray ink. The incredible shading work has made the tattoo eye-catching and it will definitely impress people when they see it.
So if you have your heart set on a wonderful clock tattoo design, then you just need to finalize the precise design and call up your tattoo artist to set up an appointment!
Feature Image From Pinterest – Want your tattoo to look brighter? Try "Tattoo Balm"
Last reviewed and updated on May 25, 2023