Are you looking to get inked with something meaningful? Something like an artsy tattoo that depicts body art? Here are some amazing cloud chest tattoos.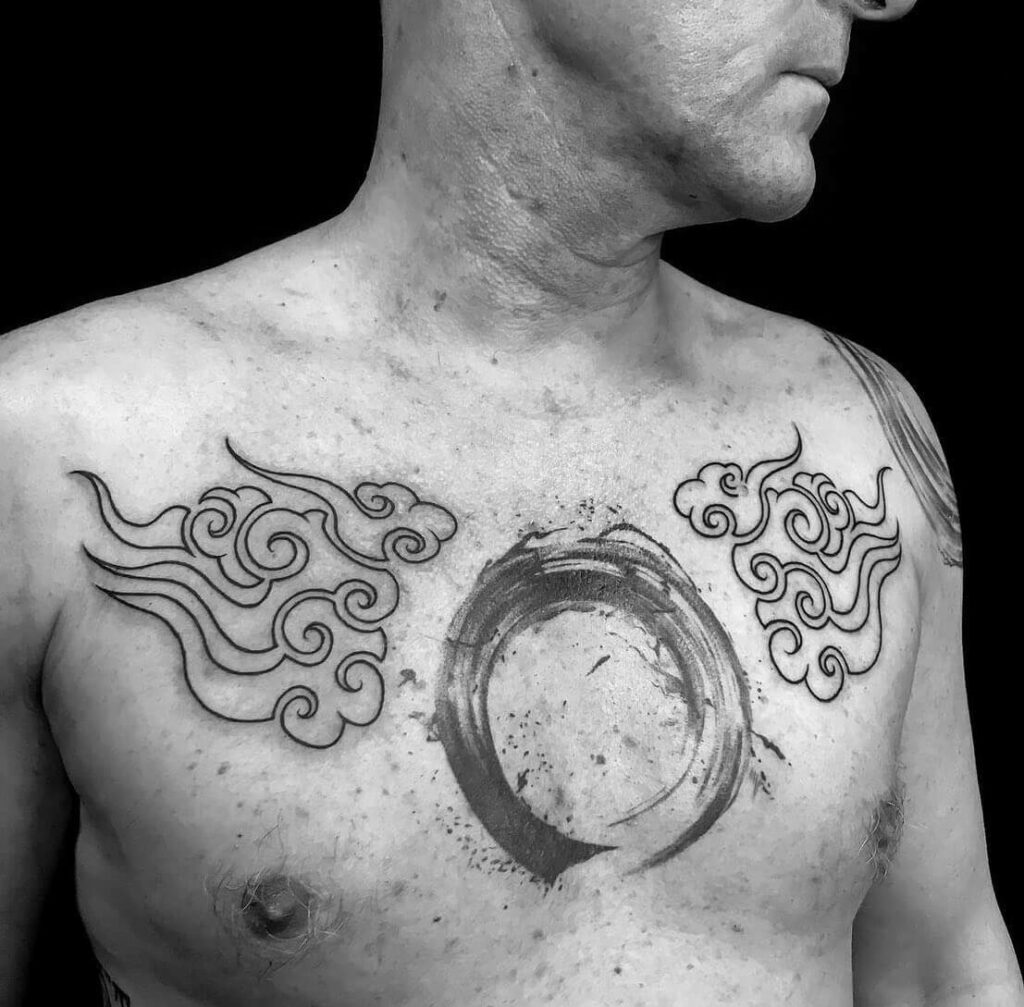 Cloud tattoos can mean a lot of different things for a lot of different people.
The meaning of cloud chest tattoos for men can depend on their sizes, shapes, and styles. If you want to showcase transformation, free spirit, and willingness to change, then a cloud chest tattoo is the perfect choice for you.
The meaning behind a cloud tattoo is as diverse as its design due to its versatile nature. You can add a lot of elements to transform your cloud chest tattoo and give it the meaning you want. The symbolism of clouds is present in many cultures. In Greco-Romanian mythology, large clouds indicate happiness and fulfillment, and dark clouds take inspiration from thunderstorms and dark days. The Japanese culture associates clouds with water and wind to represent tranquillity, natural balance, and good luck. If you are not ready for a big tattoo, you can also go for a small tattoo. Small tattoos can represent and mean big things such as joy, honor, and freedom.
Cross And Cloud Chest Tattoo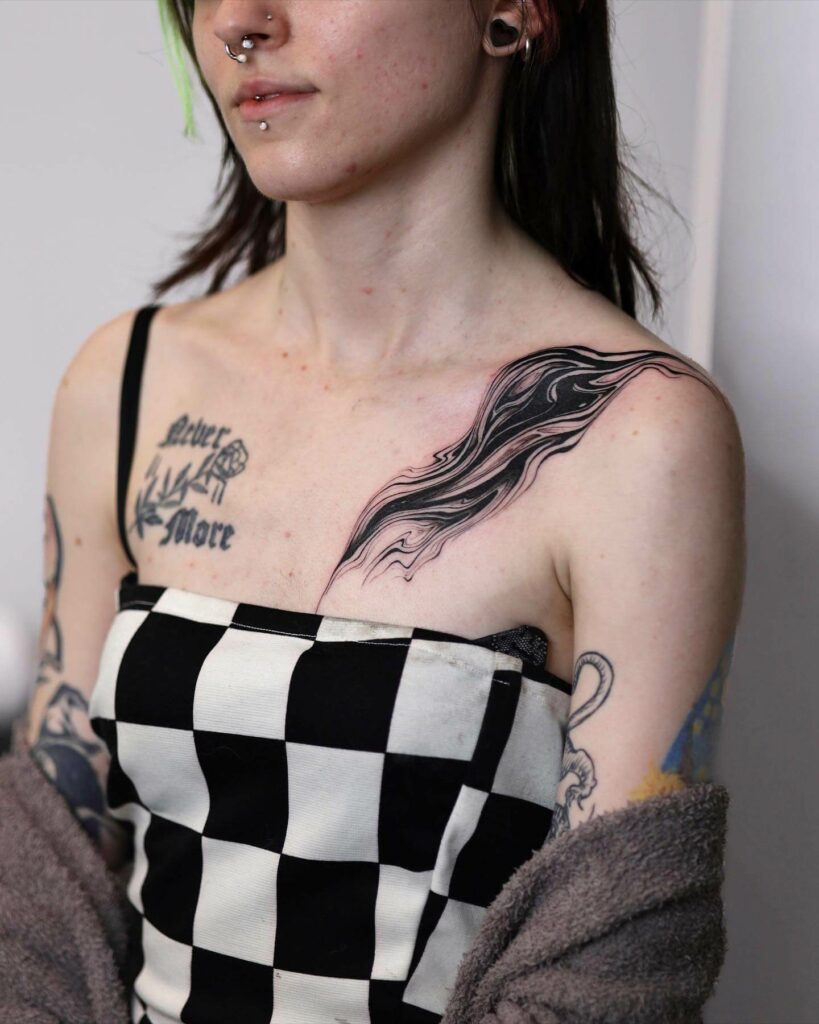 If you consider yourself to be a religious man, then this cloud chest tattoo is for you. The Cross and cloud chest tattoos are most popular among religious men who want to honor their heaven departed ancestors.
You can also add elements to your tattoo by adding verses, scriptures, or even the names of the people you want the tattoo to pay tribute to. This adds a special touch to the tattoo and makes it look more unique and personal. The tattoo above is incorporated divine dwelling designs, with the cross in the middle and clouds in the background. The cross is shown emitting rays for special effect, and the doves are cool yet quality additions.
Japanese Cloud Chest Tattoo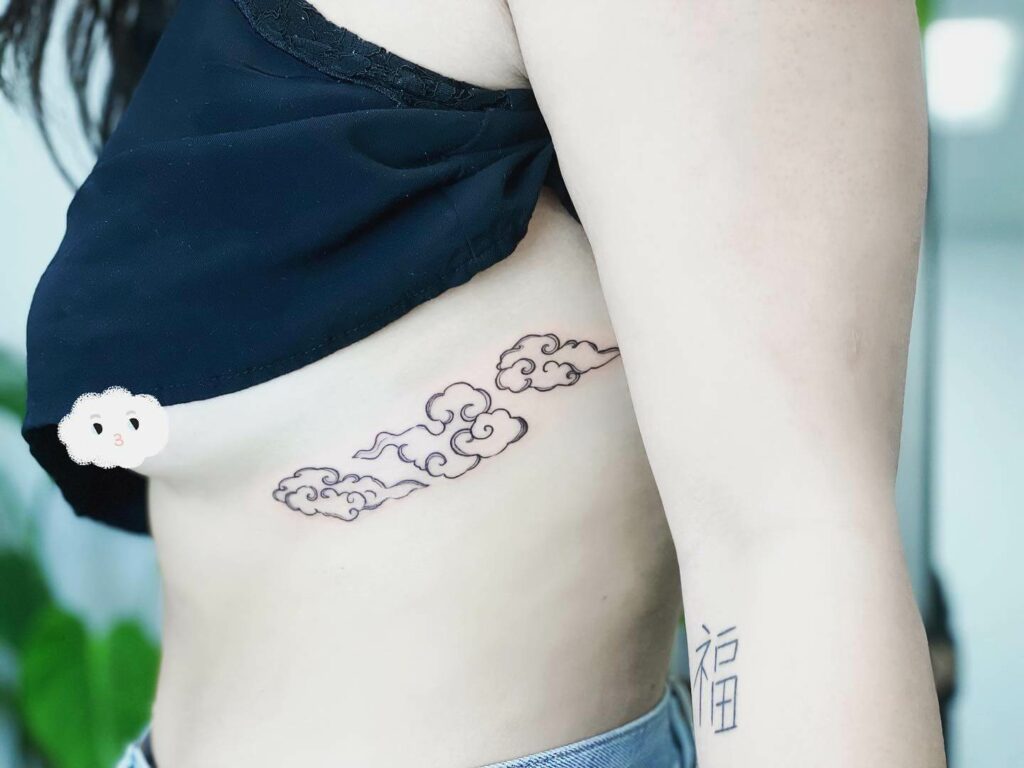 Cloud tattoos can have traditional meanings as well. You can use it both ways, as a filler or alone. In many mythologies, the cloud represents change, impermanence, and masculinity, and if you want to make a bold statement with your tattoo, then a Japanese cloud tattoo comes under one of the best top cloud tattoos.
Clouds are one of the many divine dwelling designs in Japanese culture and are often used in backgrounds meaning heavenly spirits and mythical creatures. You can ink your chest with a cloud chest tattoo with different styles and colors depending on what you want your tattoo to represent. The ink above has the perfect placement at the side of the ribcage and has very careful yet beautiful detailing by the artist.
Sun And Cloud Chest Tattoos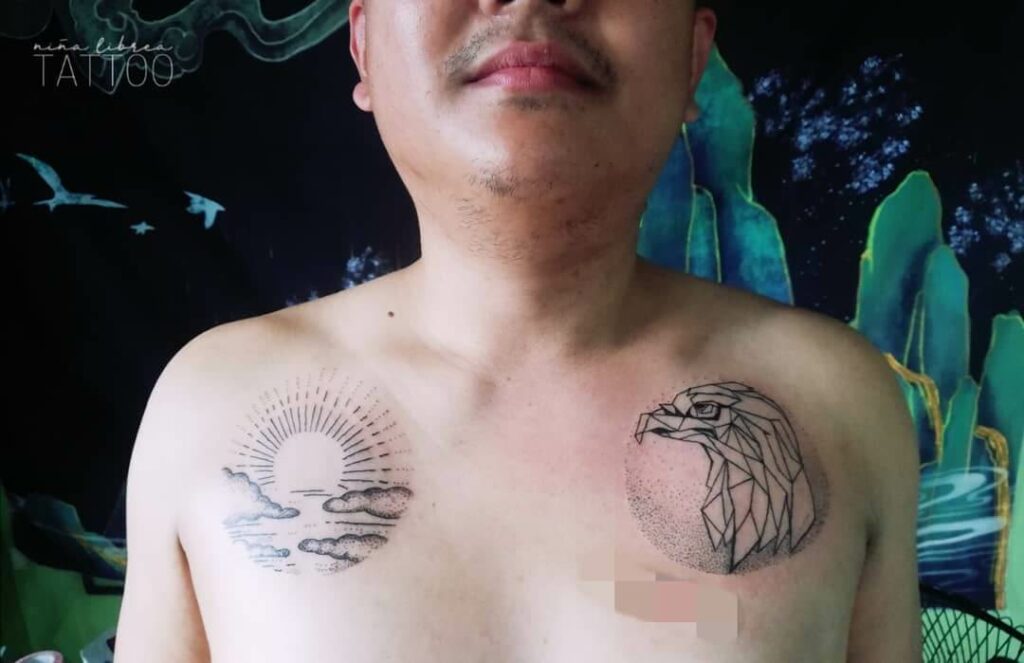 Sun and cloud chest tattoos are perfect for people who prefer their tattoos to be symbolic. It can indicate a sign of positivity or a sign of happiness. It can also represent new beginnings in life, with the clouds representing tough times and the sun and its sunshine expressing satisfaction and happiness in life.
You can use sun rays piercing through the clouds to ink your skin. Or you can also showcase the sun between the clouds as a hope for better times. The tattoo above is a combination of careful designs of lines and dots. Clouds are situated at the bottom of the tattoo, with careful dot detailing for shading inside the cloud; the sun and its rays are right above the clouds.
Shaded Cloud Chest Tattoos
Shading can make a lot of difference in cloud tattoos. It can have a lot of meanings too. Proper shading can transform your basic-looking cloud tattoo into an abstract piece for your body art.
You can choose if you want to go for darker or lighter images through the art of shading. You can also use different colors of ink for more ideas and inspiration. Just make sure that you are ready with your tattoo pictures or ideas before you decide to get the ink. The tattoo above has beautiful detailing with shading. The clouds are wrapped around the whale, and the tattoo is seen cascading from the neck down to the chest. To make the tattoo more interesting, the artist has designed the clouds in a very special and unique way and given the clouds a personality and meaning.
Lightning And Cloud Chest Tattoos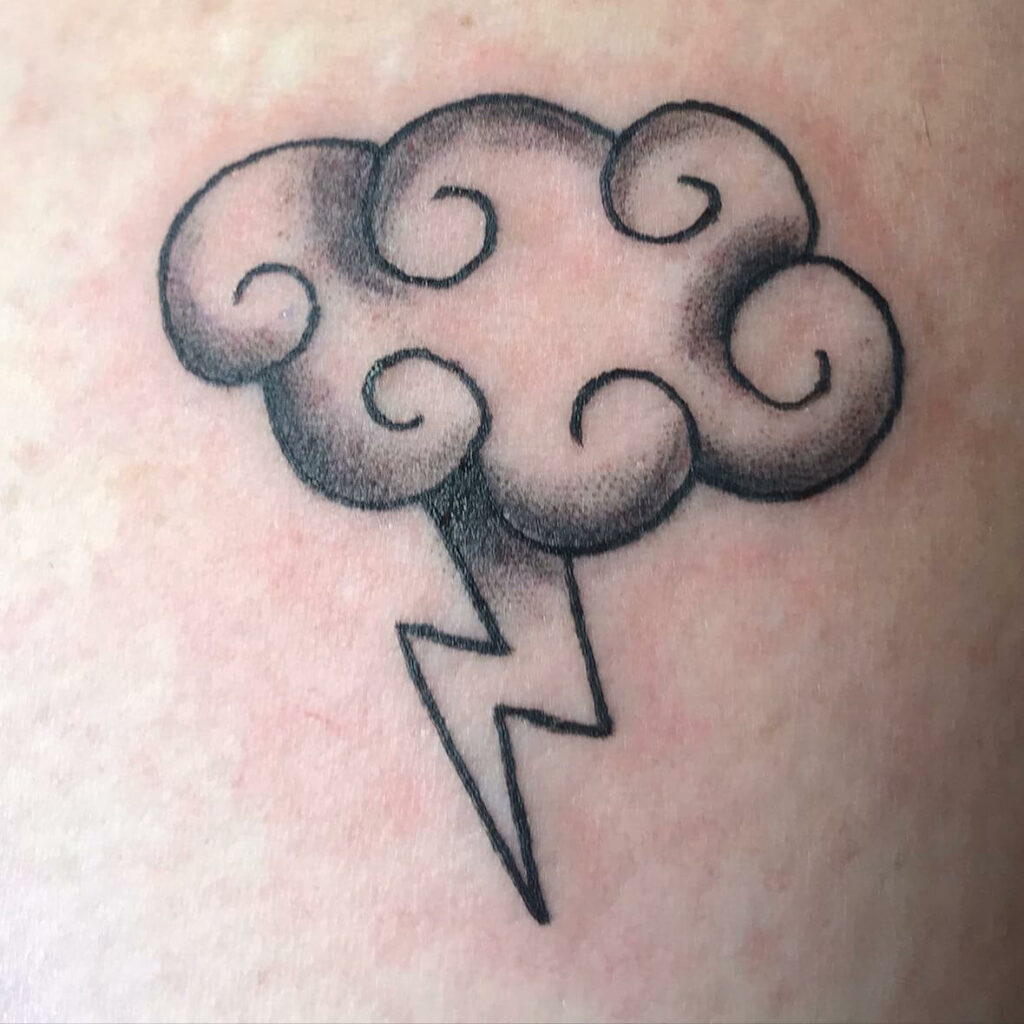 You can create a stormy scene with a lightning and cloud tattoo. Lightning coupled with the cloud is perfect for cloud tattoos for men who look for deeper meaning for their tattoo or want to do something artsy by using cartoonish elements with their ink.
You can add animation, simple line work, or color to give your tattoo a bit of personality and meaning. Do your research and search for a tattoo that best fits your inspiration. If you want to add something more realistic, then consider going with lines and delicate shading for a cloud tattoo. The tattoo above is a very simple shaded tattoo. With the clouds designed to curl inwards. A thunderbolt can be seen cascading from the cloud to represent lightning.
Rainbow And Cloud Chest Tattoos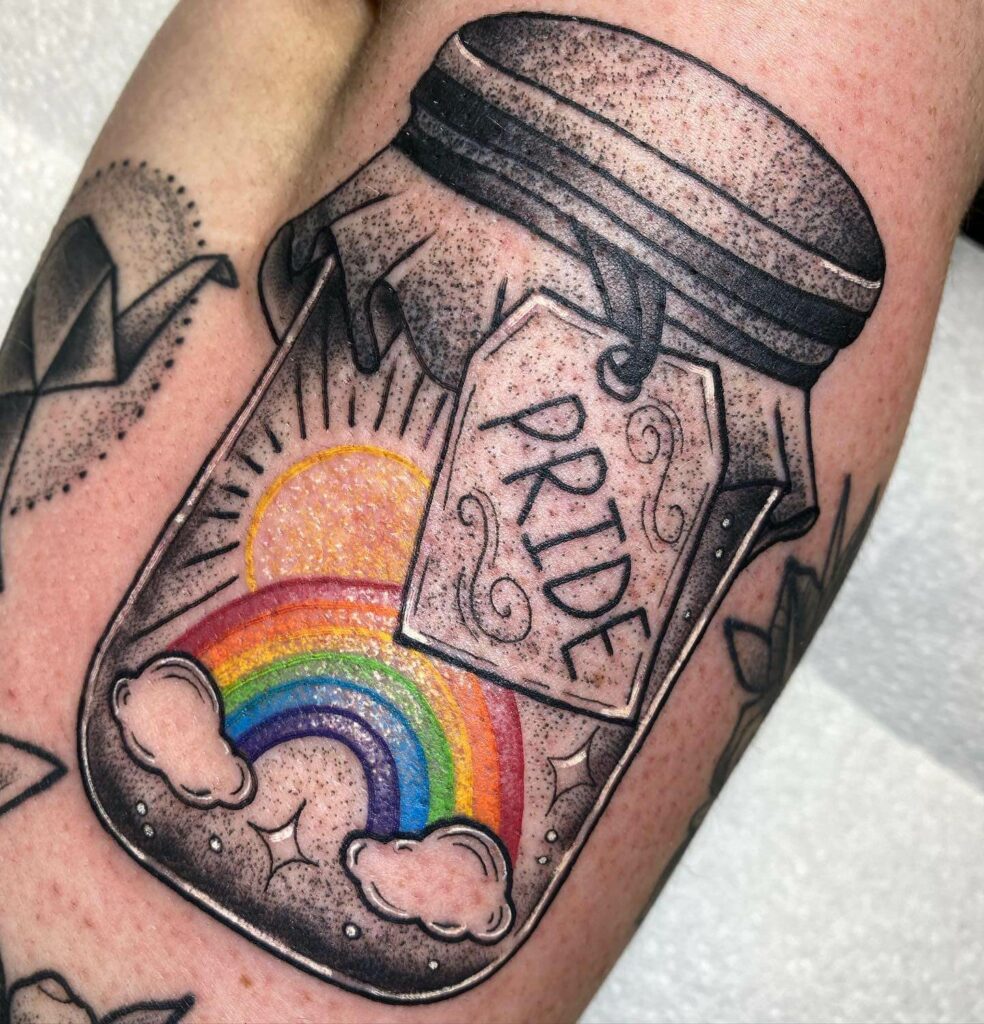 If you want to show a perfect medley of different colors in your cloud chest tattoo, then this tattoo idea is ideal for you.
You could use a detailed rainbow between the clouds like in the picture above or show pictures of a rainbow cascading from the clouds. Moreover, if you belong to the LGBTQ community, a rainbow and a cloud tattoo are most appropriate to show your support in ink. The tattoo above is a tribute to the LGBTQ community. Rainbows and clouds are trapped in a dark jar, and "pride" is written on the tag of the jar. The rainbow with the cloud represents sunshine, happiness, and joy, while the jar represents a dark society with hardships.
Airplane Clouds Tattoo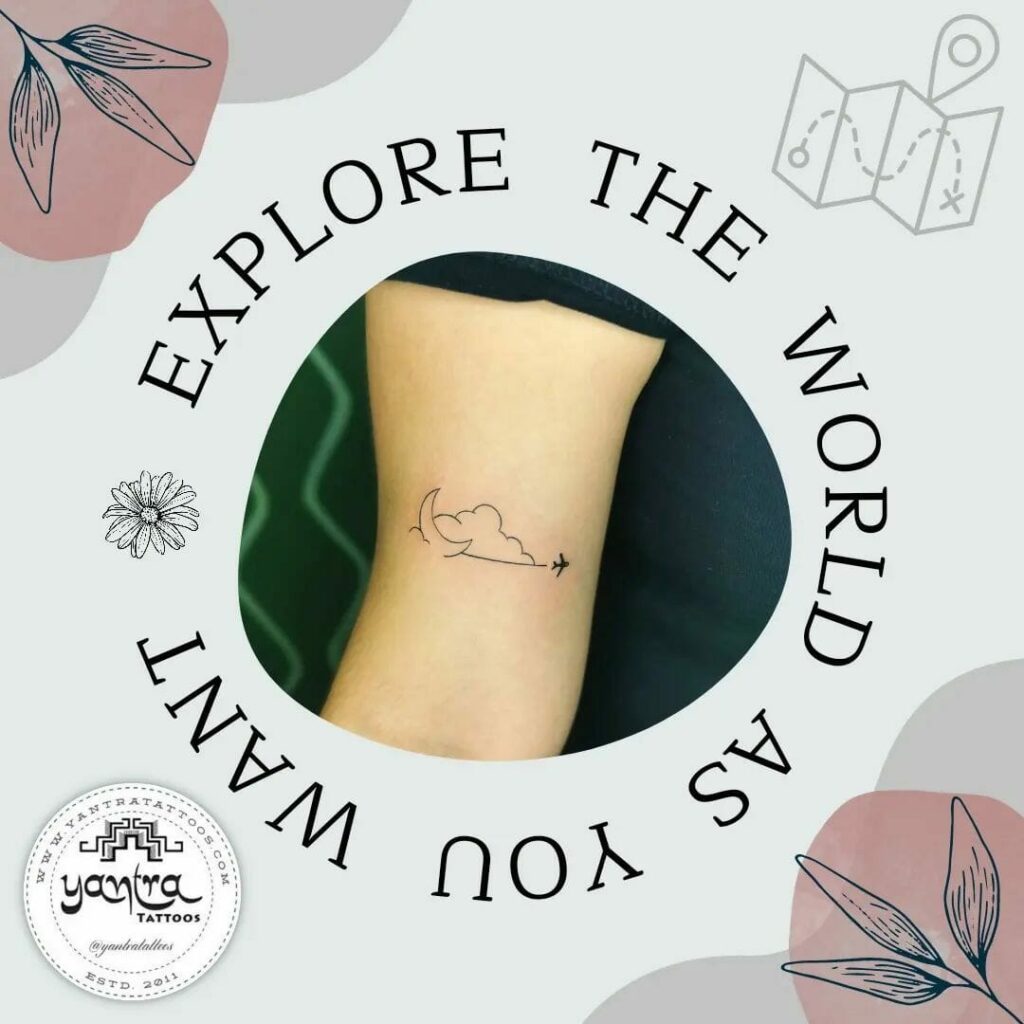 Are you a travel enthusiast and want to display your love for traveling in ink? Consider getting an airplane clouds tattoo. You can go ahead and include the places and sites you visit in your tattoo.
Here is a tiny tattoo of an airplane in the clouds. You can get a similar ink on your chest. Airplane cloud tattoos for men definitely look very cool, with the sky and the clouds in full view.
Dagger And Eye Cloud Chest Tattoos For Men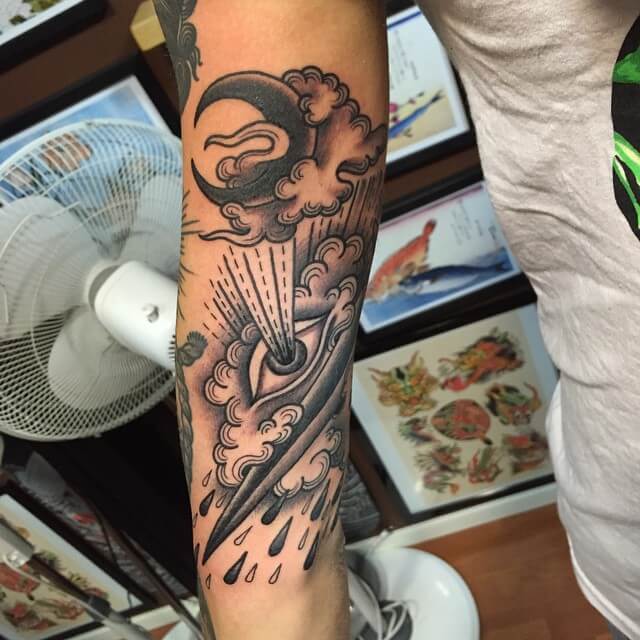 Including a dagger and eye in your cloud tattoos for men can have several meanings. The dagger is a potent symbol and has many meanings. For some individuals, it is a symbol of courage, protection, independence, and sacrifice or represents authority, betrayal or accomplishment. It depends on the ideas you have in mind and what men want their tattoos to represent. Including the eye means how you perceive the world or how powerful you consider your observations in the world to be. Here is a beautiful work of ink with lots of features being incorporated to send a message. The artist has done beautiful shading and detailing of each symbol.
Cloud And Star Tattoo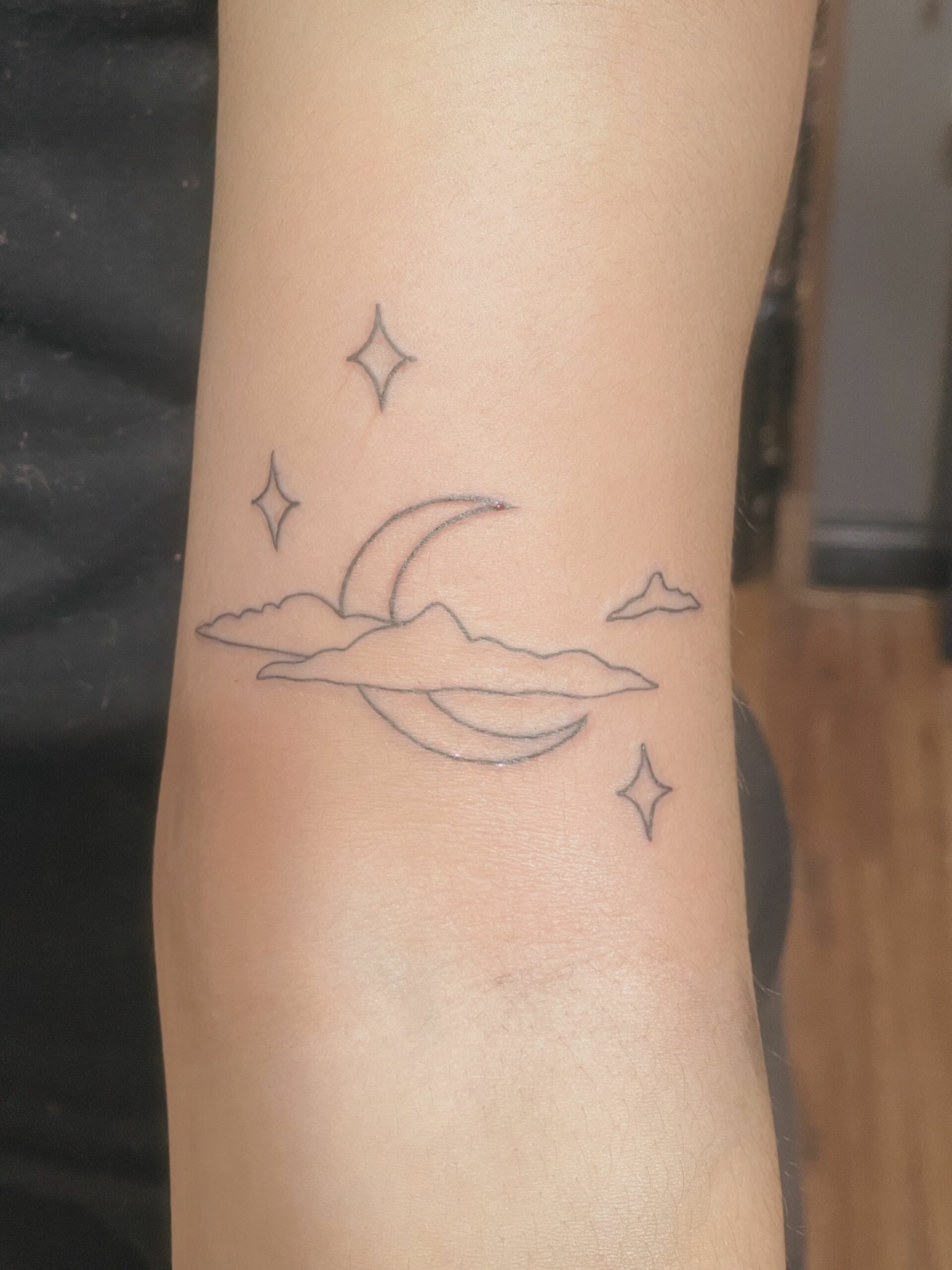 Stars are one of the wonderful additions to add to your next cloud chest tattoo for men since they are a symbol of growth and guidance in this path of life.
A lot of people use clouds and stars as a sign of tribute to their favorite person, deceased or living. For more creative designs, you can consider looking for constellations to add more beauty to the tattoo, a constellation in the shape of your loved ones' birth signs or birth date. The tattoo above is a minimalistic yet beautiful amalgamation of stars, the moon, and the clouds. You can even choose this tattoo to represent your love for the nature of the sky.
Cloud And Moon Chest Tattoos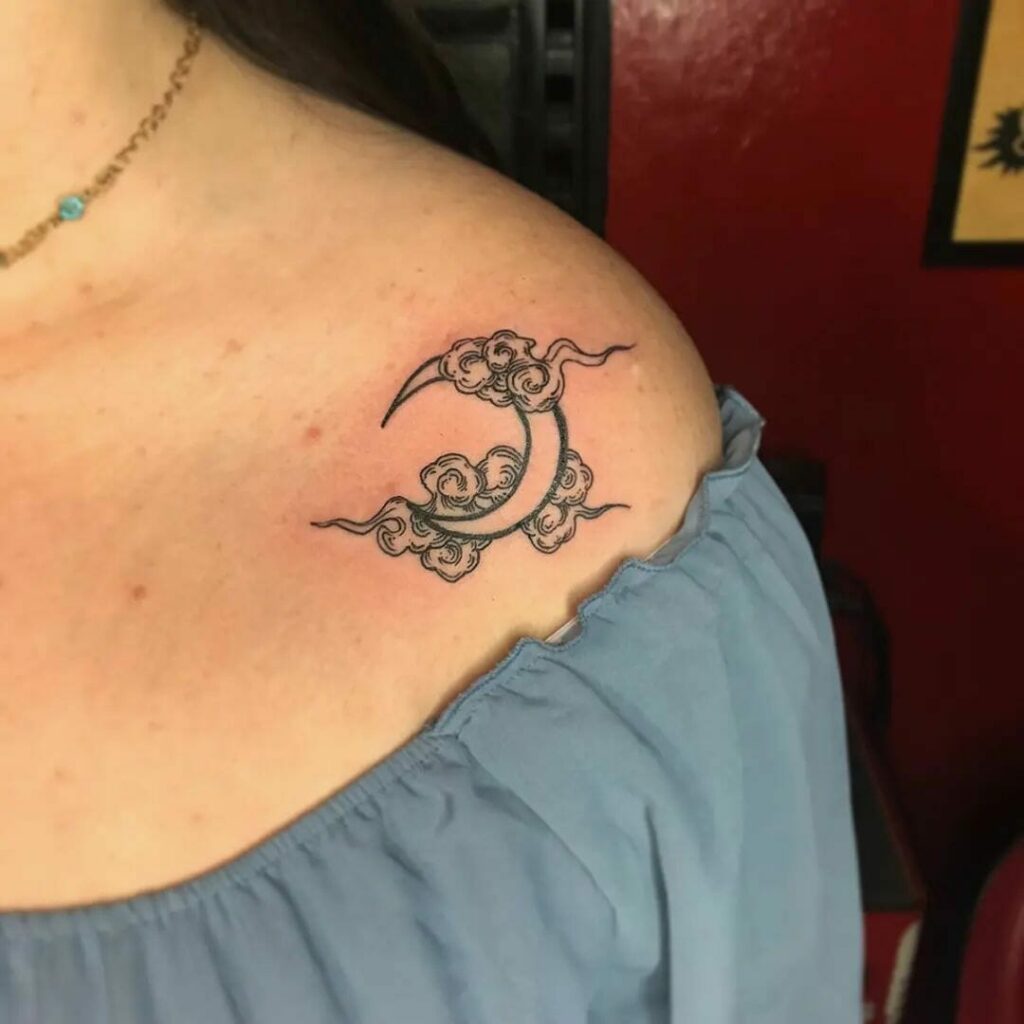 Cloud and moon are one of the top cloud tattoos. In traditional ink, the moon and clouds together create a sense of mystery that resembles Halloween.
If you believe in werewolves or are into the werewolf moon look, then consider getting a cloud tattoo with a large moon in the middle of scattered clouds. It gives a very dark aesthetic vibe while also expressing your love for the night. The tattoo above is a small tattoo with a cloud surrounding and draping a half moon. The clouds have been given unique detailing and shading.
Cloud tattoos are versatile with many forms, shapes, and sizes. Moreover, clouds are symbolic and significant in many religions, cultures, and mythologies, with each having its own different meaning. Chest tattoos symbolize the ancient moniker, "wild blue yonder," which means to venture beyond the blue and obscure the road and the future ahead. You can also add your own features and elements to your cloud tattoo to represent your faith, a tribute to a loved one or your admiration for the sky, the limit for cloud tattoo is endless.
Feature Image from Pinterest – Want your tattoo to look brighter? Try "Tattoo Balm"
Last reviewed and updated on August 23, 2023