Looking for a simple tattoo idea that you can embellish to your liking? Check out this list of cool clouds and stars tattoo ideas that will fulfill your desire.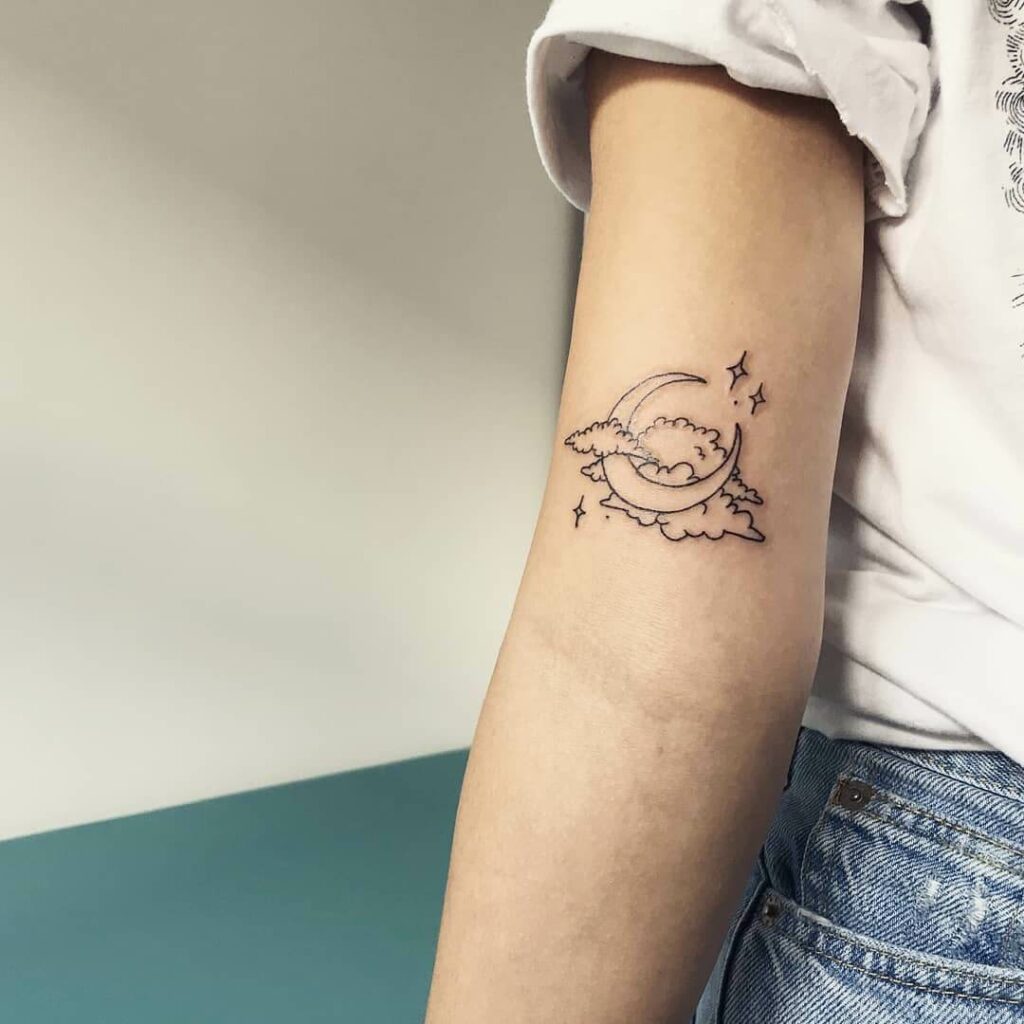 If you get fascinated with night skies strewn with stars and bits of clouds, and want to capture that moment forever, then get yourself inked with one of these amazing clouds and stars tattoos which would be a perfect way to grant your wish.
Clouds and stars tattoos are one of the most common and desired tattoo subjects among men and women because they are very flexible in terms of experimentation and creativity. Clouds and stars together and separately can convey numerous deep meanings as well when worn in different parts of the body.
Clouds are believed to be the celestial vehicle of gods, goddesses, and other immortal beings. But cloud tattoos carry different symbolic meanings according to their colors and shapes as well. For instance, fluffy white clouds are symbolic of better days, and white cloud tattoos also represent the cheerful emotions of human beings. On the other hand, thick black storm clouds in tattoo art may convey difficult emotional situations in one's life.
Like clouds, stars also carry various symbolic meanings in the tattoo world. Stars in a tattoo usually symbolize happiness, desire, passion, and guidance. But the meanings vary depending on their numbers and forms. For example, a pentagram star tattoo has an intense connection with Christian beliefs. The five sharp tips of the star are believed to be the symbol of the five wounds of Christ incurred during the crucifixion. A bright shooting star can symbolize good fortune or a sudden shift from a battered past life towards a new beginning. Multiple stars in a tattoo can represent the various achievements of one's life. However, tattoos consisting of both clouds and stars can articulate hopefulness during dark, gloomy, and uncertain periods. It symbolizes the power of endurance during difficult situations.
Colorful Clouds Tattoo With Sparking Stars
This gorgeous tattoo has a cluster of multicolored clouds inked in a rectangular frame. The white dots all over the tattoo are the representation of multiple sparkling stats. By playing with various shades of orange, red, peach, purple, blue, and turquoise colors, the tattoo artist has created an exact view of a beautiful twilight scene. The shooting star on the upper side of the tattoo symbolizes a new journey. The word "serenity" is written in a beautiful calligraphic design and is placed right beside the rectangular tattoo.
This colorful clouds and stars tattoo will look perfect on your wrist, calf, or neck area.
Stars And Clouds Tattoo With A Moon Face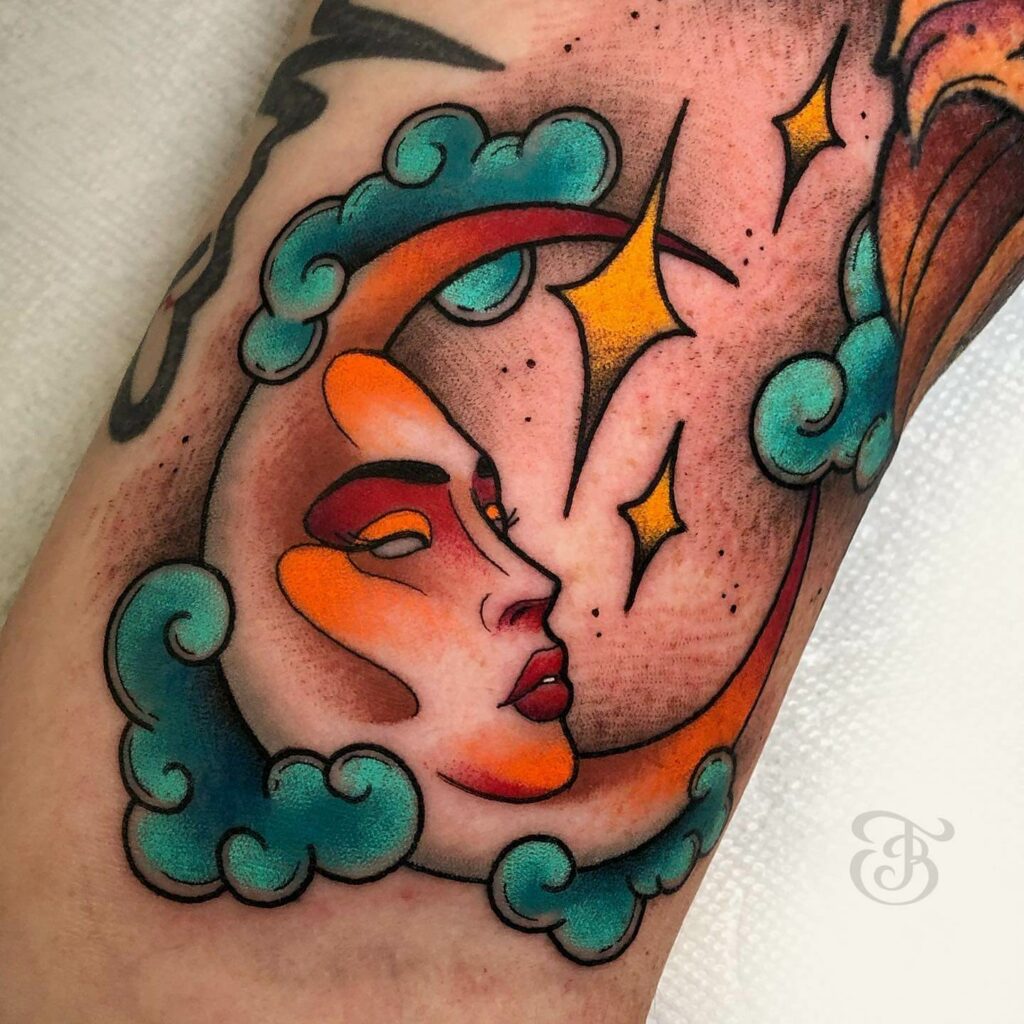 Moon is the representative of feminine nature. In this tattoo, the female face is curved on the surface of the half moon. The face looks very calm and sensual with its drowsy eyes and slightly parted lips. The blue clouds are positioned in such a way that they are together, looking like a soft bed on which the moon is resting. The diamond-shaped stars are painted using yellow color and a tinge of black shades on the edges.
Every element in this tattoo shows the beauty of femininity. It is a perfect tattoo for women. We advise you to get yourself inked with one such beautiful tattoo on your should, feet, neck, or other exposed areas of your skin.
Clouds And Stars Pop Art Tattoo Design
Pop art tattoos are very much in fashion these days. The vibrant colors and the collage of random objects that together signify certain meanings are becoming a subject of exciting experiments for tattoo snobs and tattoo artists as well. These two vibrantly colorful coordinate tattoos consist of multicolored cartoonish clouds, pentagram stars, two lightning signs, and a pair of blue eyes on each wrist. The two blue eyes on each of the wrists might convey a sense of protection against any kind of harm.
Wear this awesome pop art tattoo on your wrist, neck, or both ankles, where the tattoo will easily attract the attention of people.
Japanese Clouds And Stars Tattoo
Japanese cloud tattoo designs are very popular in body art. These Japanese clouds on both shoulders of the wearer are inked with red color to create a subtle and clear effect. Japanese clouds usually symbolize obedience to the heavens, and it also indicates the balance between human emotions and intelligence. Black ink is used to draw the hexagram stars in the middle of the two Japanese clouds. Because of its placement, the eye here could be considered the "third eye", which in Hinduism and Buddhism symbolizes intuition and inner wisdom.
If you want to get yourself tattooed with this awesome design, then we advise you to wear it on your shoulder or back.
Rainbow Cloud Tattoo With Lightening And Stars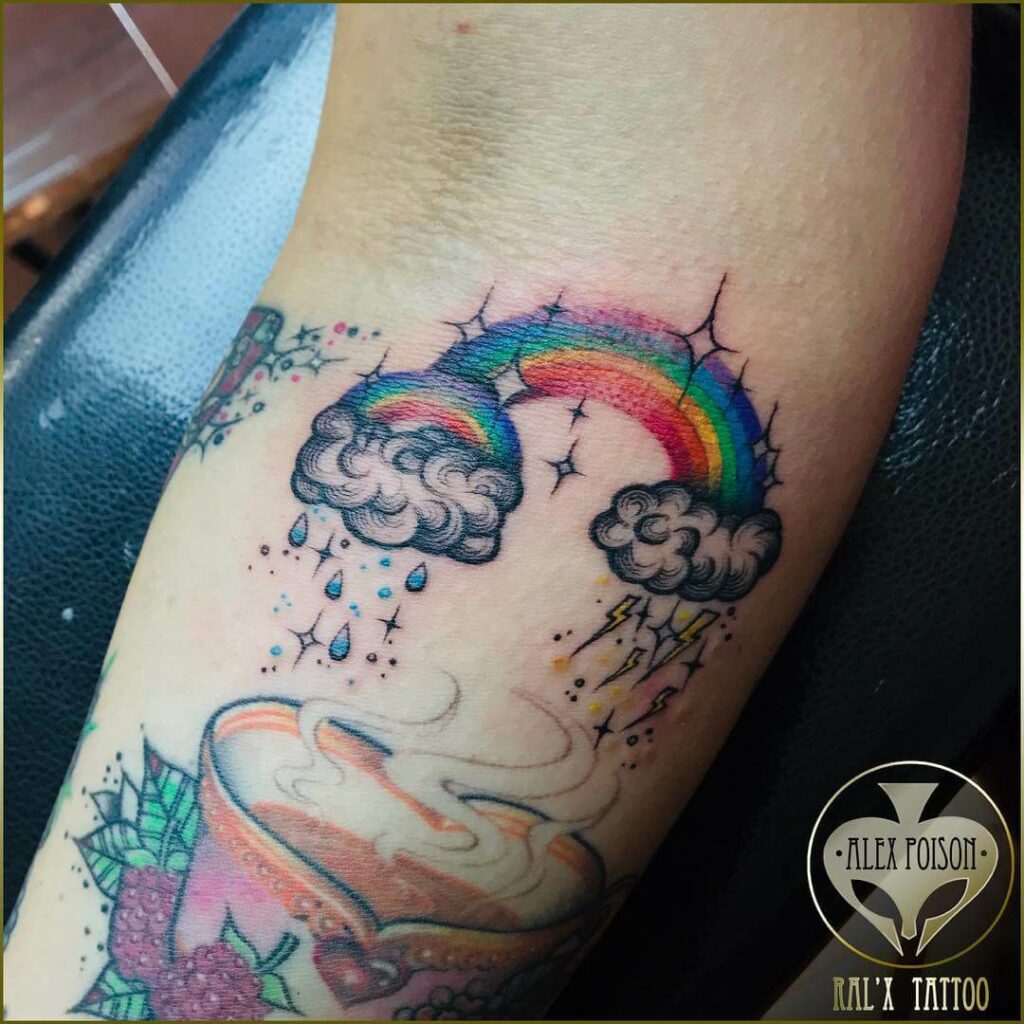 Rainbows in tattoo art can carry a range of symbolic meanings. Rainbows can mean faith, positivity in life, a new beginning, and much more. In the LGBTQ+ community rainbow is the symbol of pride. However, this tattoo seems like it is narrating a story in a creative way to indicate transformation. The fumes emerging from the teacup are transforming first into storm clouds and then into a rain cloud, showering pearly drops of rain back into the teacup. In between the two clouds, there are two rainbows embedded with little stars.
This tattoo will fit perfectly well on your forearm, ankle, neck, or any other exposed area of your skin.
Clouds And Stars Tattoo In A Heart Frame Design
It is a well-known fact that the heart is the symbol of love. In this small tattoo, the outline of a biological heart is used as the frame for a star-strewn night sky with a half moon and clouds that are inked with a magenta color. The upper part of the heart is drawn, mimicking the complex parts of a real heart. The entire tattoo seemed to be indicating that inside the heart of the wearer, there is a beautiful universe where there are no storms or black clouds.
You can have this mini and beautifully detailed tattoo on your calf, shoulder, or wrist where people could notice it easily. You can dedicate this tattoo to your loved one by embedding a name underneath the tattoo.
Clouds And Stars Tattoo With A Cross
A cross tattoo is usually very trendy because it symbolizes people's faith and devotion to their religion. But people also get inked with cross tattoos to show their respect towards a loved one who has passed. This tattoo depicts a big pentagram star with a musical note inscribed on it. In the background, there are waves of clouds. Right above the star, there is a cross dangling from a chain behind which there is the impression of light rays.
This forearm clouds and stars tattoo with a cross will look perfect on your forearm, leg, or sleeve. You can keep it black and grey, but a few colors may also enhance its beauty by several degrees.
Mini Clouds And Stars Watercolor Tattoo
The watercolor tattoo is comparatively less painful than the traditional one since it requires less ink and does fewer punctures on the skin. This tattoo is perfect for those who are getting inked for the first time. The smudgy colors partially covering the realistic moon give the tattoo a magical vibe. The little white sparkles give the impression of real twinkling stars. The sharp outline of one single cloud is drawn using black ink to create a contrasting look.
Get yourself inked with this cute tattoo on your wrist or ankle.
Clouds And Stars Tattoo With A Whale Design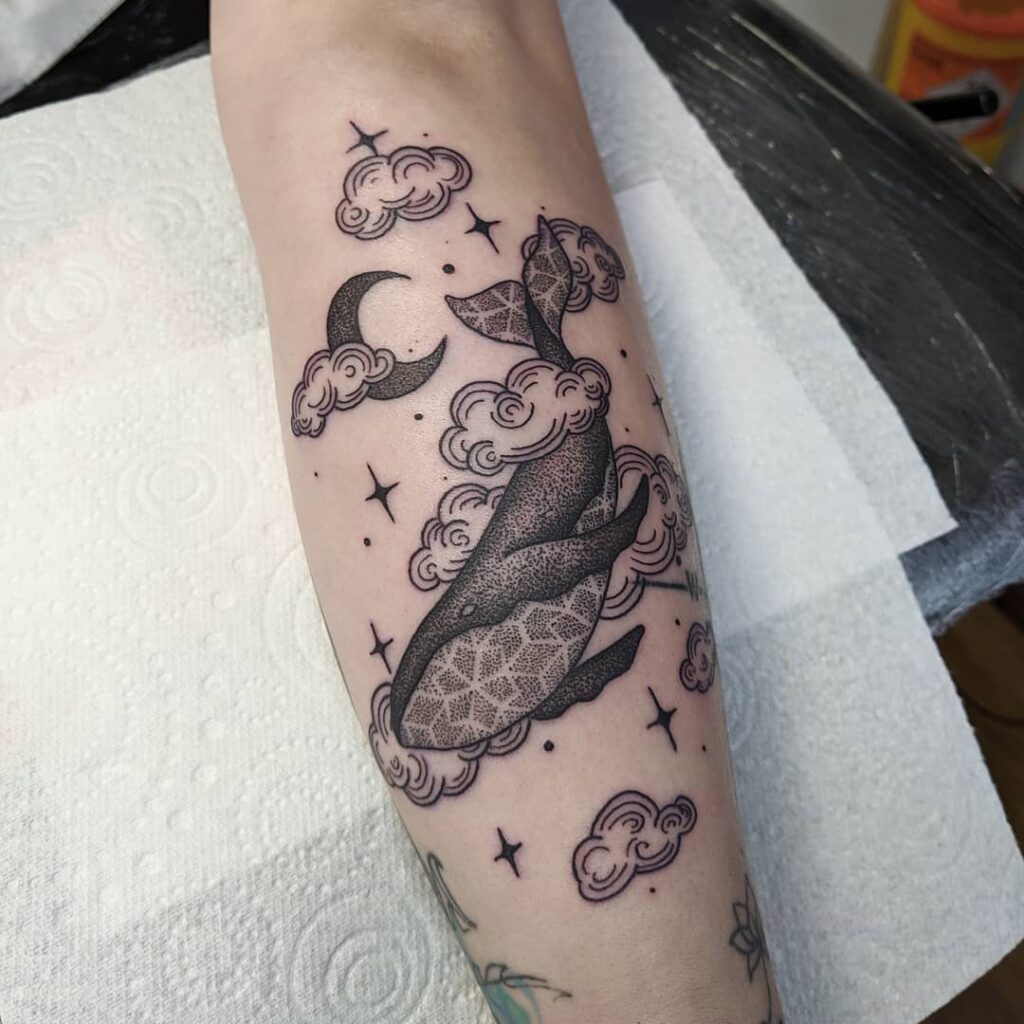 Whales in the tattoo world represent numerous things. It can symbolize hopefulness, intuition, and the power to endure obstacles, among many other things. In many cultures, whales are considered to be the "perfect creature," symbolizing the capacity of transformation to fit itself into the constantly changing world. It also imparts that no matter how deeply troubled you are, you can always find a way out of it.
This black and grey tattoo shows a beautiful whale swimming amongst clouds and stars. The whale has some geomagnetic patterns drawn on its lower part to make the tattoo look absolutely stunning. Wear the tattoo on your calf, forearm, or abdomen area to fetch compliments from the onlookers.
Clouds And Stars Tattoo With A Cool Contraption
Biomechanical and cyborg tattoos are getting extremely popular among male tattoo snobs. And this tattoo is the perfect example to show the relationship of human beings with nature and the materialistic world. In this tattoo, the compass-like contraption against the backdrop of pentagram stars and wavy clouds conveys a balance between machine and nature. The compass-like contraption and the stars can signify guidance as well.
Flaunt this amazing mechanical clouds and stars tattoo on your shoulder, arm, or back area. We advise you to do the tattoo in monochrome so that the whole attention of the onlookers would fall on its unique design.
Last but not least, these adorable tattoo designs can cost from $50 to $300, depending on their size, color, and form. We hope this list of some amazing clouds and stars tattoo ideas might help you choose your next amazing tattoo.
Feature Image from Pinterest – Want your tattoo to look brighter? Try "Tattoo Balm"