Are you searching for a tattoo design that is both charming and unique? Look no further than our top 10 clouds tattoo designs for an adorable and whimsical addition to your body art collection!
Cloud tattoos might seem simple, but they hold a deeper significance that is making waves in the tattoo community. While we typically associate clouds with blue skies and rainbows, these tattoos can represent a wide range of emotions and characteristics.
For instance, white cloud tattoos symbolize good fortune, prosperity, and positivity, while black cloud tattoos represent impending storms and personal struggles. Many people choose to incorporate religious or mythological elements, such as Mount Olympus or angels, into their cloud tattoos to convey a sense of heaven or divinity. Women often opt for delicate stars and flowers to add a feminine touch to their cloudy skies.
No matter your intention, a sky full of cloud tattoos is always a good choice! Curious about how to draw tattoo clouds? Keep reading to discover some cool and creative ways to enhance your style.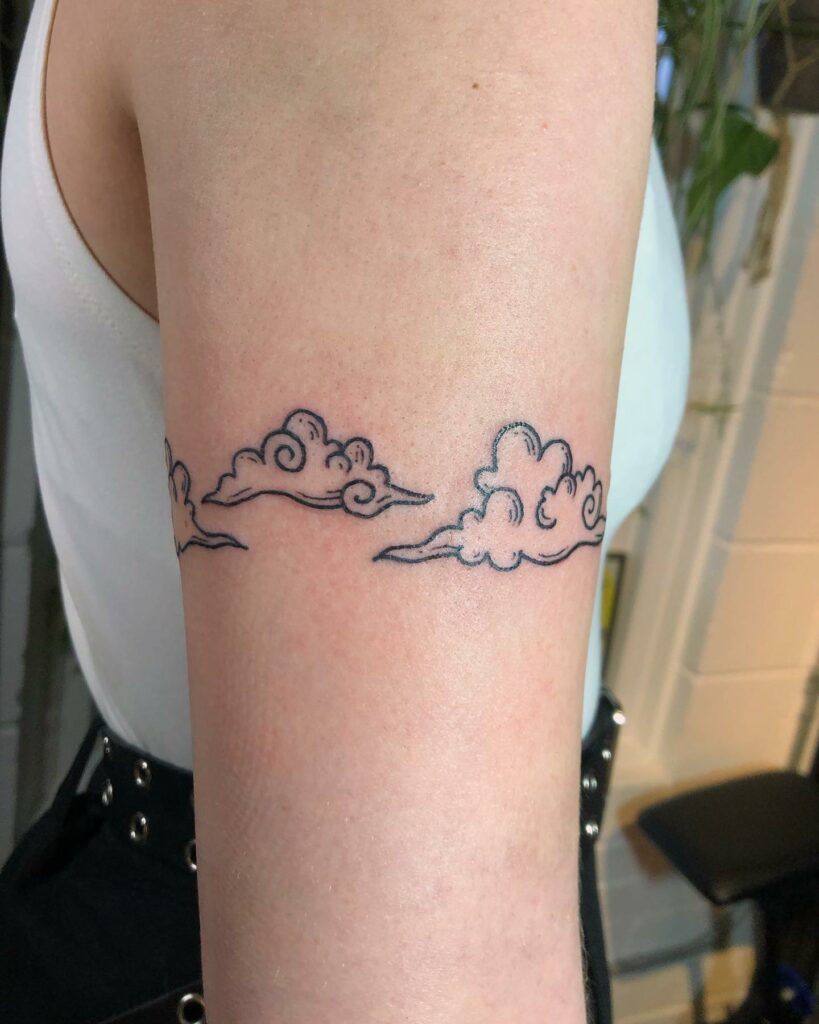 Cute Cloud Tattoos Drawings
Are you a fan of cloud tattoos? If you are, then you have come to the right place! Your tattoo design should reflect your personality and attitude towards life, and what better way to do that than with a cat cloud tattoo design? Who doesn't love these adorable furballs, after all?
The blue shade of this tattoo design creates a serene and calming effect, while the concept of the illustration shows the fluffy cat sheltering you from the storms of life. The color-grading technique used in this design makes it a wholesome addition to your arm. And the best part is, you can customize your cloud tattoo design by playing with colors and shading to make it uniquely yours.
Clouds Tattoo Design On The Shoulder
Cloud tattoo designs are a wonderful way to add elegance to your body art, especially on your shoulders. In this design, the artist has used light and airy clouds painted in a beautiful shade of red, adding a touch of passion to the overall design. The effortless strokes used in the tattoo add a sense of grace and beauty to the final result. The red color of the clouds is an interesting choice, as it conveys passion in a subtle way. Whether you prefer bold or subtle designs, cloud tattoos are a great way to showcase your femininity and personal style.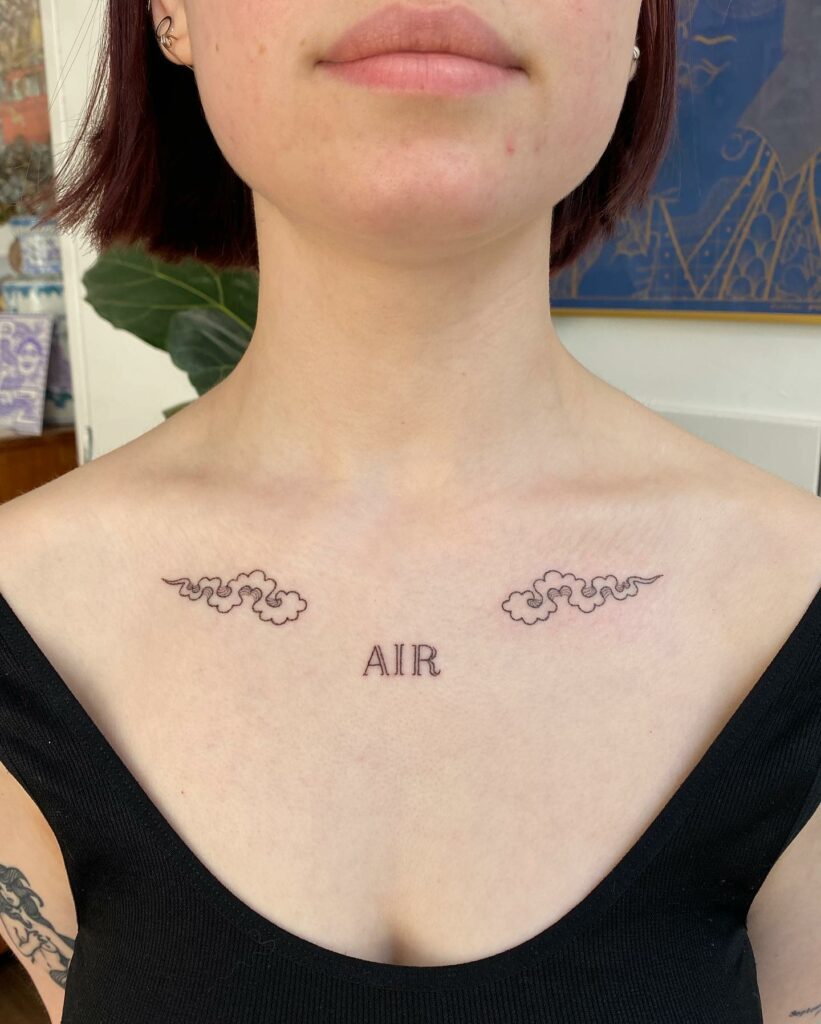 Black ink tattoos have always been a classic choice among tattoo enthusiasts. This cloud tattoo design, placed on the inner shoulder just below the clavicle bone, is a perfect example of the beauty of simplicity. The clouds, along with the lettering in the center of the chest, serve as a reminder of the essential element surrounding us and encourage gratitude and appreciation. This tattoo design is perfect for those who seek something meaningful and timeless. The artist's precision in the placement and execution of the design is noteworthy, ensuring that the final result is a stunning and impactful work of art.
Japanese Clouds Tattoo Design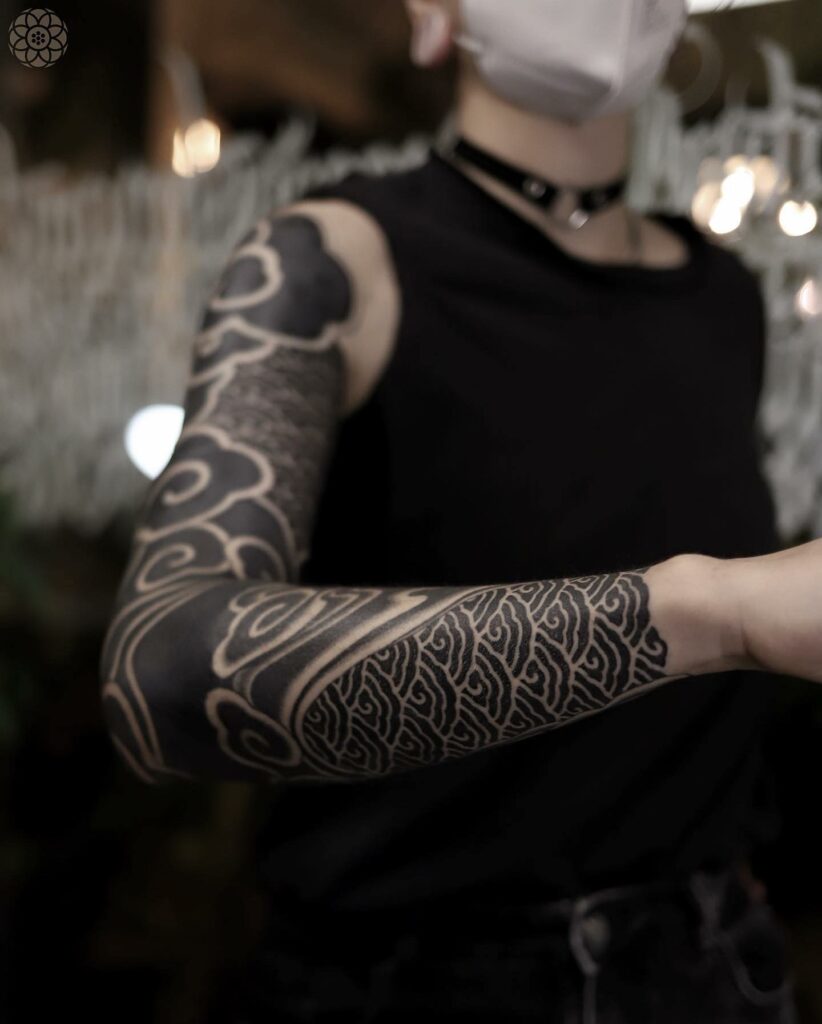 If you're a fan of Japanese Irezumi, you'll be no stranger to the striking beauty of cloud tattoo designs. The swirling patterns and bold black ink used in these designs are unmistakeable. In traditional Japanese art, clouds are often used as a centrepiece or background element, and this full sleeve tattoo showcases them perfectly. A sleeve tattoo provides an ideal canvas to showcase the importance and symbolism of clouds in Japanese art. The smooth, flowing patterns of these clouds in the tattoo create a sense of harmony and balance, making it a true work of art.
The beauty of cloud tattoos is that they symbolize a balance between intellect and emotions. When they are inked on two limbs, as shown in this design, the effect is even more striking. These Japanese cloud tattoos can be combined with other oriental elements, such as mythical creatures or nature scenes, to create a full sleeve that tells a story. With the addition of these elements, your cloud tattoos can truly become a work of art.
Smoky Dark Clouds Tattoos For Men
Smoke cloud tattoos have become increasingly popular in recent years. This design is known for its sultry and transient elements, blending smoke and air into a stunning design. Here, the artist has created an ethereal look by intertwining the smoke with the sun, creating a beautiful and eye-catching contrast. The use of intense shades of the sunset sun enhances the beauty of this tattoo, making it a must-have for anyone who wants to stand out from the crowd. If you're looking for a cloud design with a bit more energy, consider adding rising sun rays for an even more dynamic effect.
Are you a fan of minimalist designs? Then a fine line tattoo design might be perfect for you, especially when it surrounds the moon. This simple yet elegant tattoo generates a cool effect by combining the dark shades of the moon with a monochrome design. The use of all-black ink adds to the charm and makes it an eye-catching piece of body art. Try this design on your forearm or wrist, and you're sure to make a statement wherever you go.
Cloud Tattoo Ideas With All-Seeing Eye
Cloud tattoos have long been associated with spirituality and heaven, making them a popular choice for those seeking a meaningful design. This storm cloud tattoo, featuring the ominous all-seeing eye, carries a powerful message about the duality of good and evil. The bold placement on the wrist adds to the edginess of the design. The predominant use of black ink creates a stark contrast and adds to the sense of foreboding. For those looking to incorporate religious elements into their cloud tattoo, this design is a great example of how to do so while maintaining a modern aesthetic. Another option could be to include an angel in the center for a beautiful and meaningful touch.
Trippy Cloud Tattoos
Imagine having a burst of summer on your skin all year round with this vibrant and fun cloud tattoo! A small violet cloud adorned with a charming floral design is sure to make your heart flutter. The combination of bold colours and gradient technique creates a dreamy and whimsical look that will leave you feeling like a fairy princess. It's a unique and funky take on the classic cloud tattoo design, perfect for those who want to add a touch of whimsy to their body art. Whether you choose to place it on your arm or another spot, this cloud tattoo is sure to be a conversation starter.
Looking for a tattoo design that will have everyone gazing in awe? This cloud tattoo with a trippy colour scheme is sure to turn heads! With a sky full of stars and a crescent moon, this design beautifully captures the magic of a starry night. The use of shades of blue and orange adds a vibrant touch to the design, making it stand out even more. When placed on the skin, this tattoo reflects light in a way that is truly mesmerizing. So, if you're looking for a unique and captivating tattoo, this cloud and stars design is definitely worth considering!
Popular Cloud Tattoo Designs
This stunning blue and black cloud tattoo showcases how traditional designs can be infused with modern twists. It's a great example of a small tattoo that can hold a powerful meaning, especially for those who prioritize mental health and well-being.
The tattoo artist used a minimalist approach, creating a tiny canvas on the arm where the cloud design gently drips. It carries a profound message that resonates with anyone who has experienced challenging times and wishes for encouragement and positivity.
The message is simple yet powerful: you are strong and have already survived every tough day you have faced. This cloud tattoo serves as a constant reminder of your resilience and bravery. Whether you're looking for a meaningful addition to your collection or your first tattoo, this design is sure to inspire and uplift.
Minimal Cloud Tattoos
One of the great things about cloud tattoos is their versatility when it comes to placement. Sometimes, all you need is a simple outline to make a stunning statement. Take, for example, this adorable emoticon-inspired blue cloud tattoo, complete with lettering. What's more, the placement on the finger adds to its charm, making it a perfect little work of art for your hands. It's a playful way to express yourself with body art that's both fun and stylish.
Looking for a tattoo that's subtle yet striking? Look no further than a cloud design wrapped around your ankle! This minimalist tattoo is perfect for those who want to keep things simple while still making a statement. The use of two shades of blue adds depth to the design, making it stand out from traditional monochrome cloud tattoos. Plus, the ankle placement is perfect for those who want to show off their ink without being too flashy. And don't be afraid to get creative with your placement – the side of your finger can be the perfect spot for a delicate cloud tattoo like this!
Abstract Cloud Tattoo Designs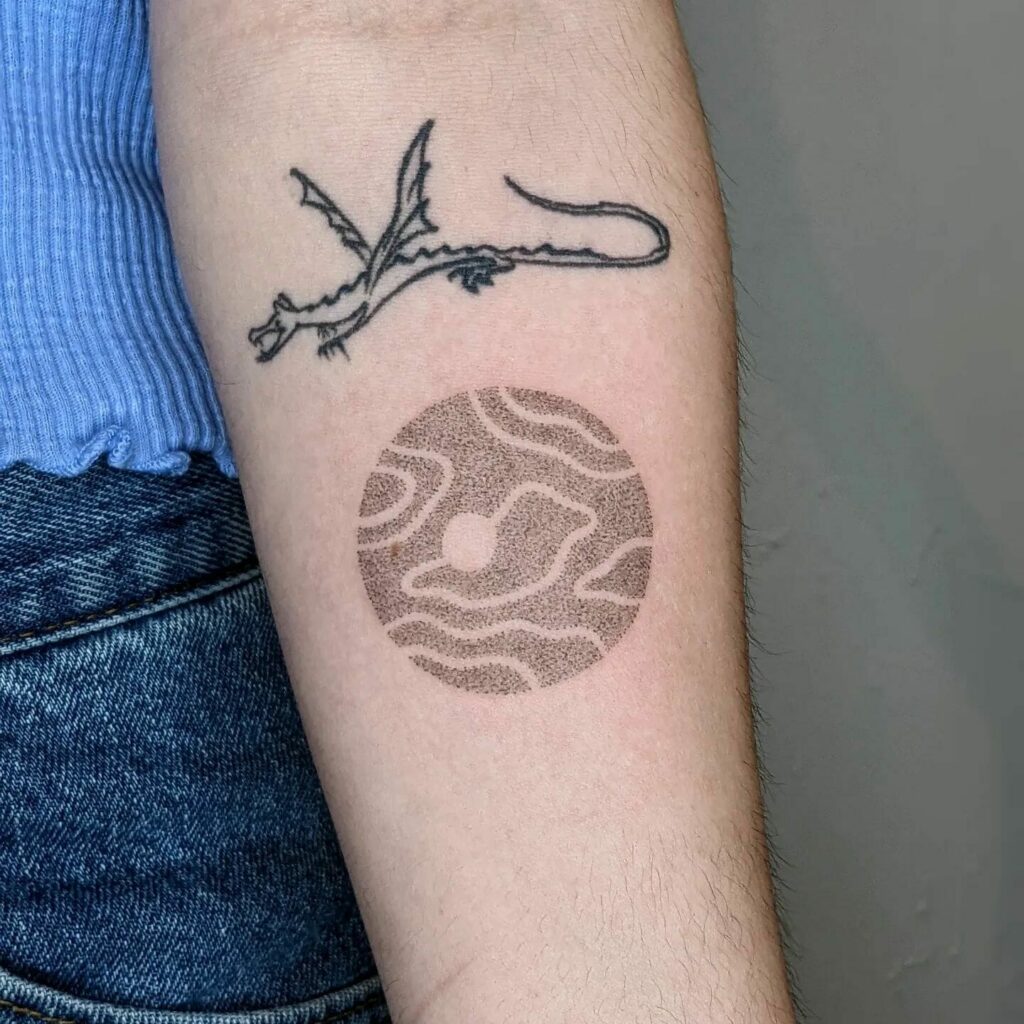 Tattoo lovers are always looking for ways to innovate and break away from traditional designs, and the current trend is leaning towards abstract and unconventional patterns. And the good news is that this trend has extended to cloud tattoos as well! A fantastic example of this is an abstract cloud design created entirely through the technique of dot work. This stunning piece of art captures a cloudy sky with the sun using thousands of tiny dots and makes for an eye-catching and unique addition to your collection.
If you are looking for an affordable yet modern and meaningful tattoo design, abstract cloud tattoos with bold lines are a great option for you. These designs are simple yet elegant and will leave a lasting impression on your skin. The minimalist nature of the design allows you to get a beautiful tattoo without having to spend a lot of money. Moreover, the simplicity of the design allows you to focus on the meaning behind the tattoo, which could be a personal reminder or a reflection of your love for nature. The bold lines of the design also make it easy to incorporate other elements into the tattoo, such as lettering or other symbols.
Cinematic Cloud Tattoo Designs
The awe-inspiring sky at dusk is a sight to behold. The beautiful colours and dramatic changes in the sky leave an impression that lasts a lifetime. An expert tattoo artist can capture this breathtaking moment on your skin. With this stunning sunset cloud tattoo, you can have a picture-perfect representation of a distinct afternoon etched in your memory. The tattoo artist brings this tattoo to life with a beautiful purple sky and glowing clouds, making it an eternal reminder of that special moment. Get this beautiful design on your skin, and cherish it for a lifetime.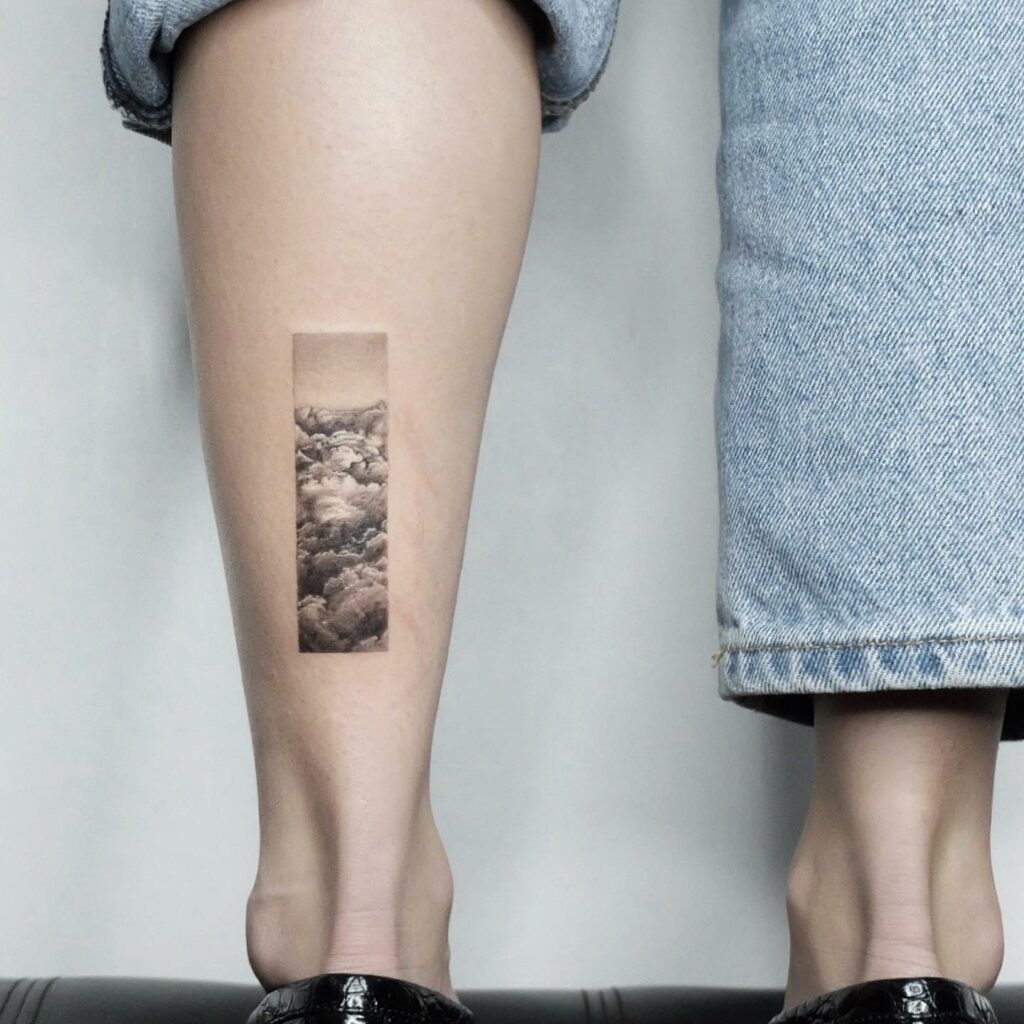 If you are someone who is into travel and fascinated by aerial views, a cloud tattoo inspired by the sights from an airplane is something you cannot miss out on! The tattoo artist here creates a stunning piece of art, depicting the surreal cloudscape that we usually see from above. The artist chooses to go for a black and grey tone to intensify the image, but you can always experiment with colours according to your preference. The rectangular frame gives the tattoo a modern twist, making it a perfect fit for contemporary fashion.
Japanese Clouds Tattoo Designs
The sky has always been a popular inspiration for tattoos, and clouds, in particular, can make a stunning and versatile choice. Whether you're looking for a small, delicate design or a bold, half-sleeve statement, the possibilities are endless. From realistic depictions to abstract interpretations, you can add a touch of the ethereal to any tattoo idea with the help of clouds. So, if you're a sky-gazing aficionado, why not head down to your local tattoo parlour and bring a little piece of the heavens with you?
Stars And Clouds Tattoo
Angel In Clouds Tattoo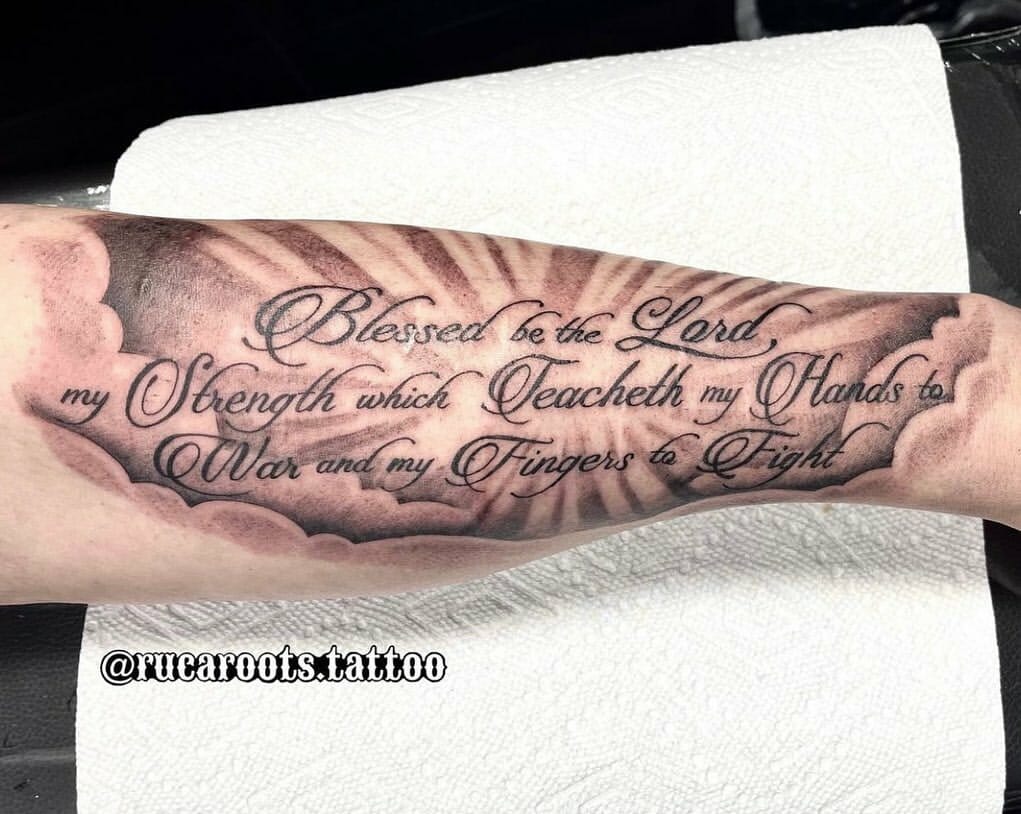 Clouds Outline Tattoo
Feature image from Pinterest – Want your tattoo to look brighter? Try "Tattoo Balm"
Last reviewed and updated on March 31, 2023