Looking for good coffin tattoos? Look no further! We have compiled the perfect list of tattoos that you will find interesting!
When looked at from a traditional perspective, a coffin stands as a symbol for death and the afterlife.
However, a coffin tattoo can also symbolise peace with life and represent a life lived well. A coffin tattoo generally reminds a person of their ultimate destination and acts as a mirror of what they'll become after their expiry from this world.
Coffin tattoos help us make peace with death and guide us to utilize our time in this world carefully to touch as many hearts as possible and leave this world with memories and not regrets. Despite being a dark choice, a coffin maybe is one of the most positive ideas associated with death.
Coffin Tattoo Design Of A Rose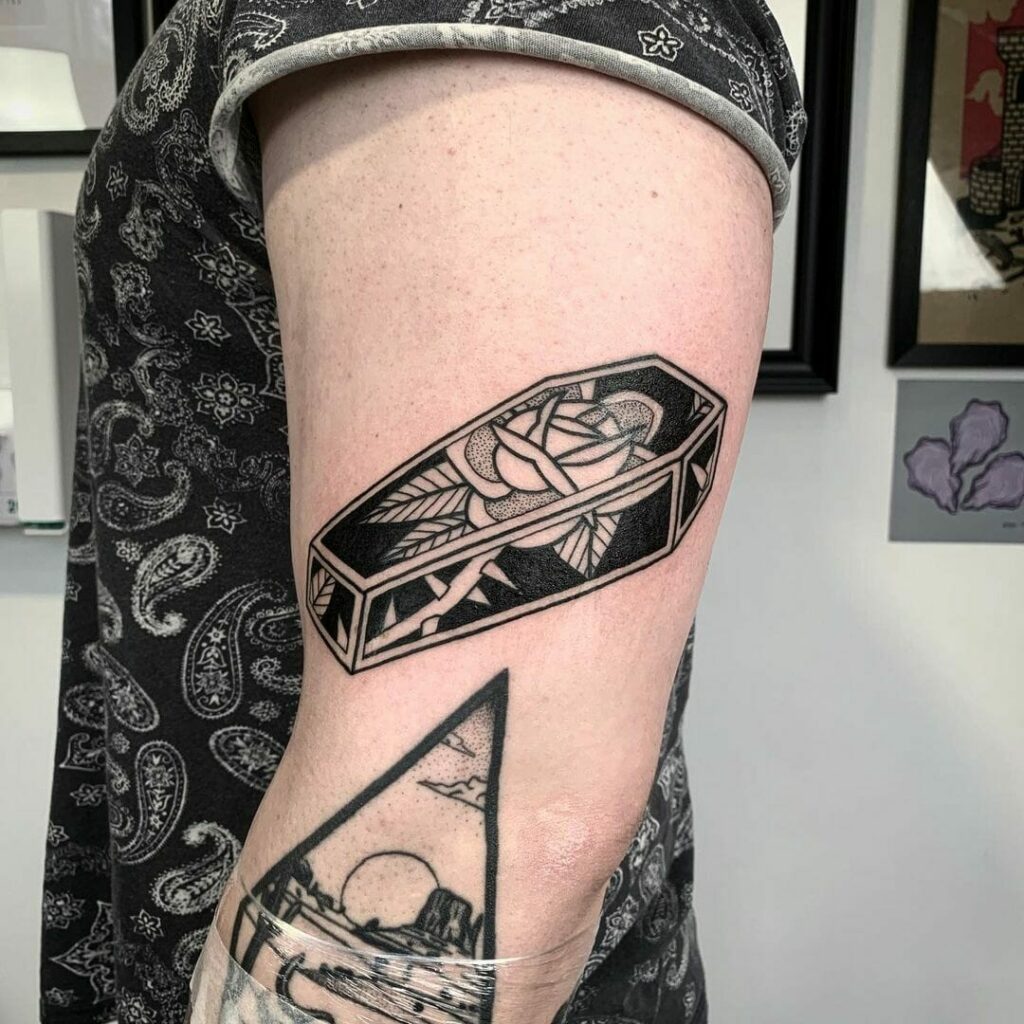 Death is often signified with a rose, mostly because its colour is the same as blood. A dying rose can be a good representation of death. S
To use this royal flower as the central theme of this design is very witty and deep; it may represent the deep personality humbled by nature. The flower's thorns depict the power's true potential hidden beneath, revealed only when touched or poked in the wrong places.
Floral Coffin Tattoo Design
This particular coffin tattoo is different from others like these. Other coffin tattoo designs are generally related only to death or something around it, but this represents the whole cycle of life and death.
By using elements like flowers that represent love and life and a coffin, that signifies death. This symbol reflects the purity of death and indicates how the death of one being can transform and give life to another life. After being buried for years, the dead turn into worm food and, after a long process, find their way back to this earth through plants and flowers.
Quotes Coffin Tattoo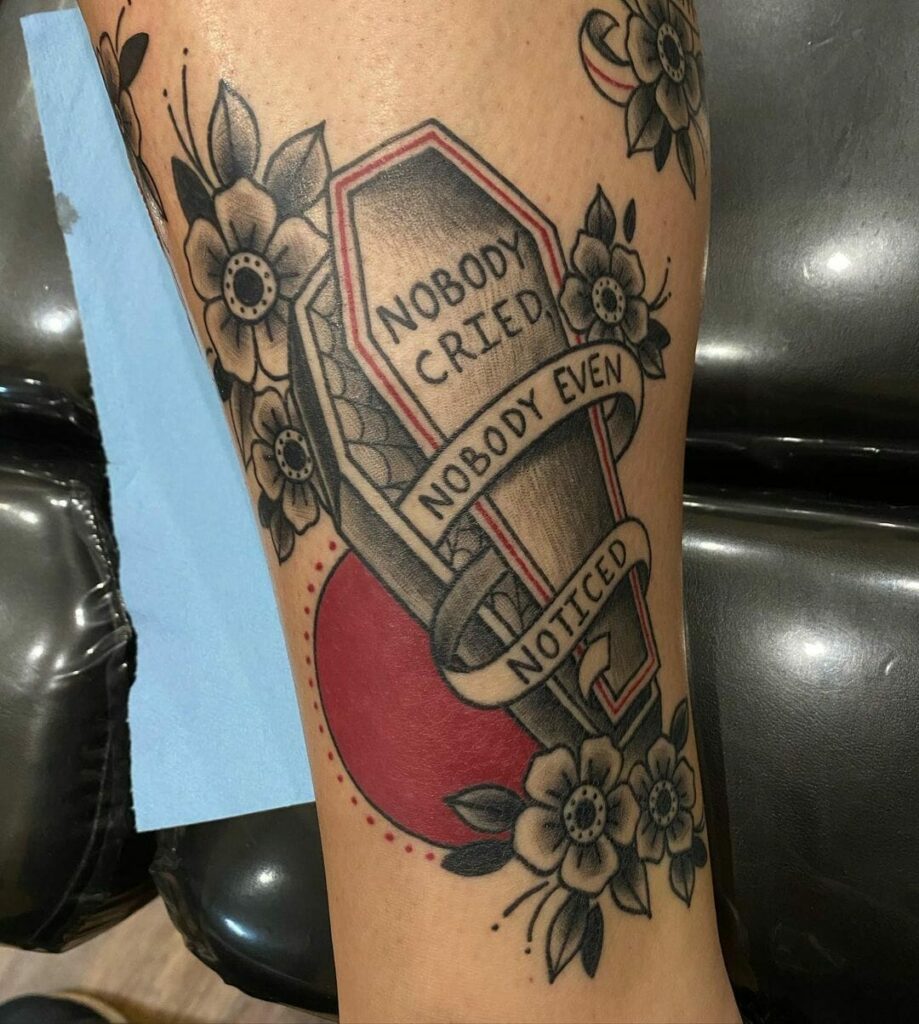 Unlike other tattoo designs, quotes coffin tattoos are obviously more dark as they have a quote put on them making them grim. You can opt for a quotes coffin tattoo that tells a general truth or which can make a statement that is a general truth.
People from every part of life often tend to get a tattoo that may look quite simple to others but has a far deeper meaning. You can inscribe an idea, a picture or a quote. Many get a tattoo of their lover's names or, at times, their mother, so that in hard times, they could remember those who stood by him in the hardest of times.
The design is of a traditional origin, the words inscribed has a very Great Gatsby feeling, that shows we are all alone in the end. A hard-hitting truth which many should wear on our sleeves!
Coffin Tattoo Designs For Afterlife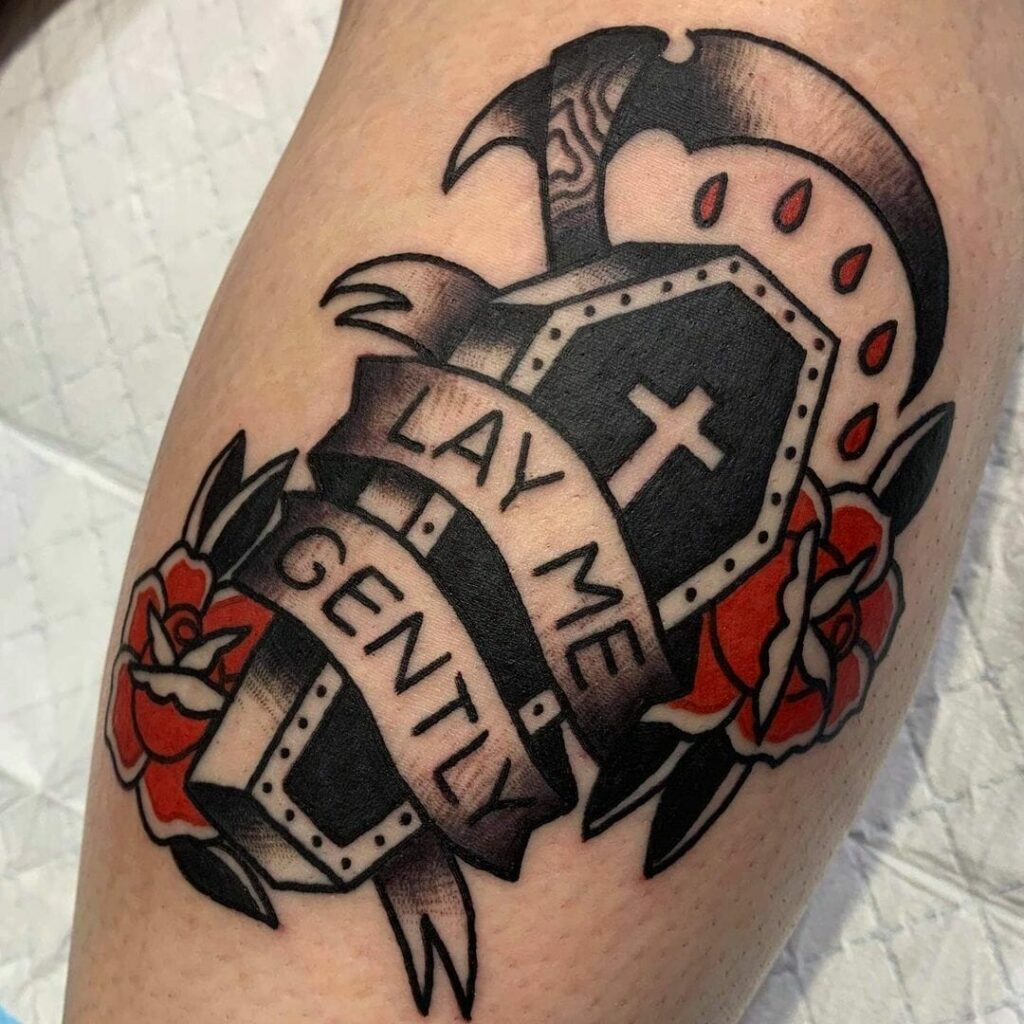 Every time people think of their end, it scares them. Some people, however, are not quite scared of death. They have accepted the concept and made peace with the fact that their time in this world is limited.
Here the artist has used black coffins to enhance the darkness of the idea but again used the colour red to paint the roses to reflect love and peace. Moreover, the message inscribed on the coffin gives clarity to the whole purpose of the design. If you are confident enough in life and believe that your life is perfect as it is, and you have touched a million hearts, you too must have made peace with death and thus, this design would be the perfect choice for you.
Intense Black Coffin Tattoo
Black tattoos have always been an absolute favourite among tattoo enthusiasts. A black tattoo is prominent and sits well with the concept of death. The colour black can intensify the photo and improve the weight of your character.
This Black coffin tattoo design has all the elements associated with the grim reaper, even his choice of weapon; the scythe is gently placed on top of the coffin. But again, the message inscribed here leaves us on a positive note. It tells us not to be afraid of death, after all, it is something that's beyond our control. We really can't help it.
Dark Illustrative Tattoo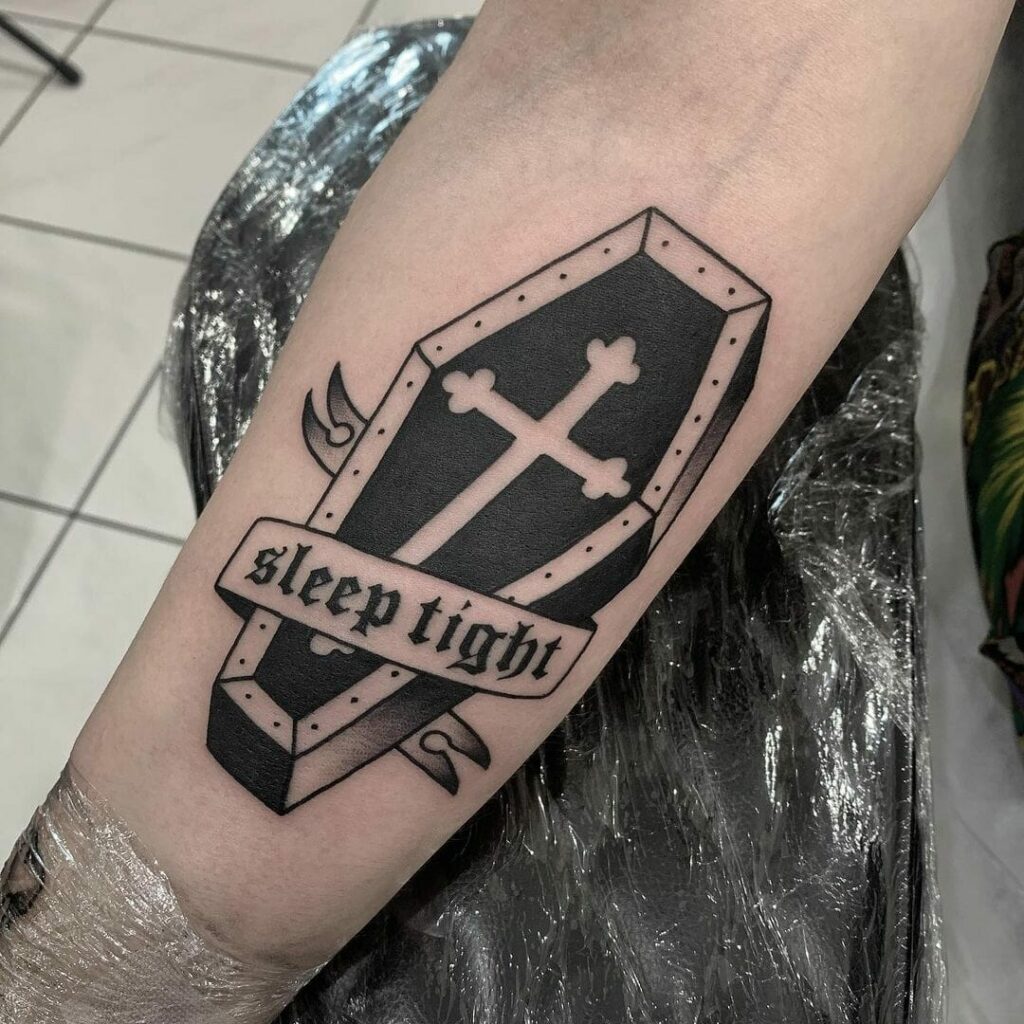 When searching for a good black and white tattoo, the search comes to an end after coming across such a detailed and illustrative design. The clear depiction of love after death is bound to touch your heart.
It is almost impossible not to remember the person with a tattoo. This is a very romantic tattoo and yet there is a bit of a grim twist to this tattoo making it a really memorable tattoo that you can look and admire. It will definitely stay etched on your soul.
Funny Coffin Tattoo For The Comics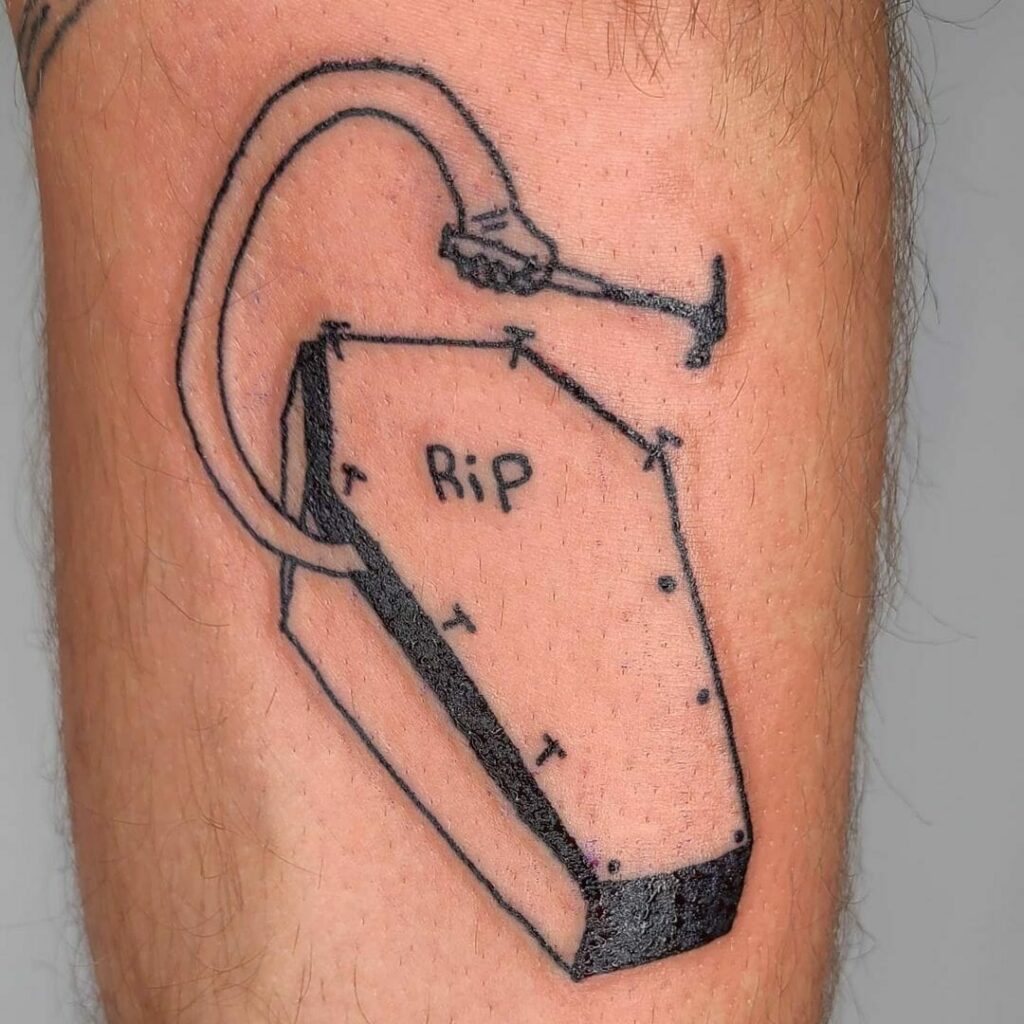 Okay, we get it; this coffin tattoo is funny. This one looks like something straight up from a cartoon, but many people prefer to keep things light. Here, the coffin tattoo is made in a way as if the person in the grave is annoyed by life and closing themselves down in the coffin. It is very representation of 'I'm so sick of this world, I'd rather just die'. If you are someone who wants to rub it on the face of the world around you how annoyed you are at the current state of the world, this funny tattoo can be a great find.
Mystical Coffin Tattoo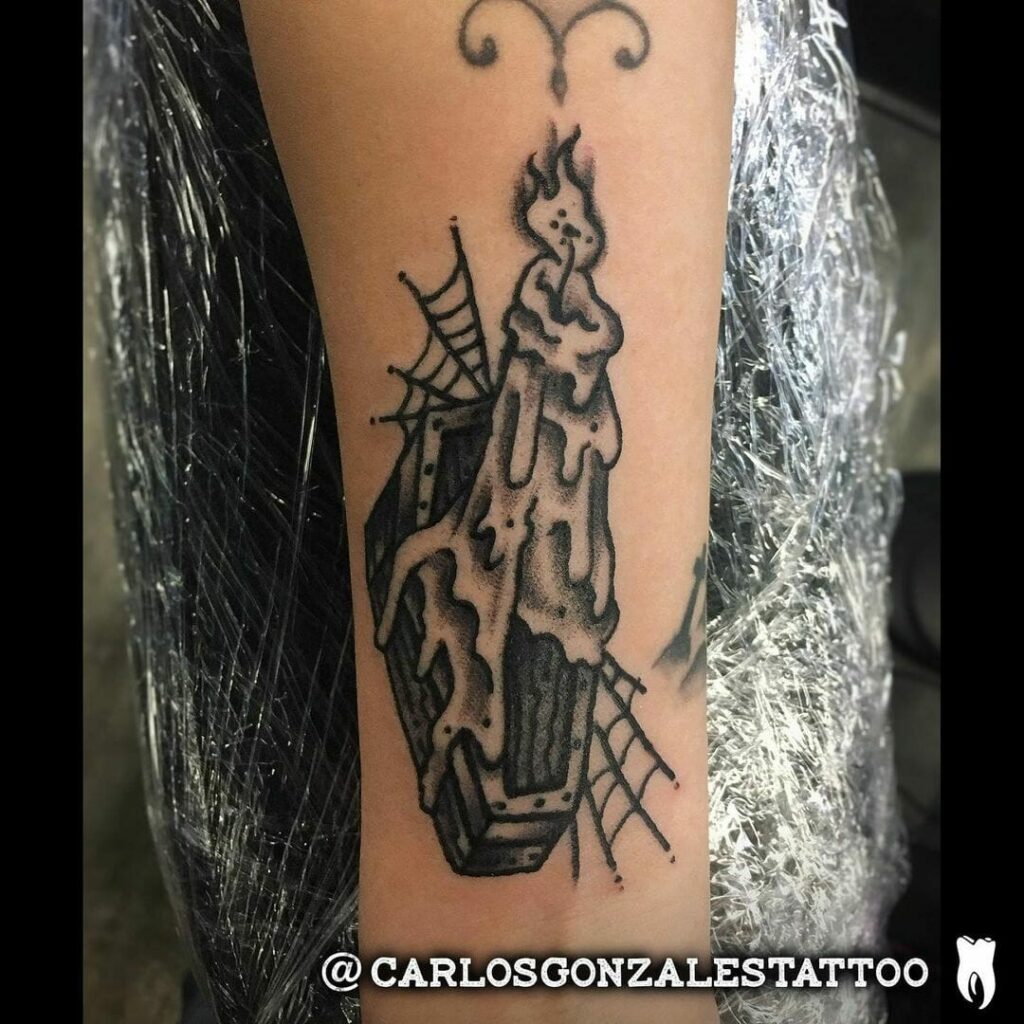 Coffin tattoos are already mysterious and spooky as it relates itself to elements of grave, ghosts and already scares a lot of people. Among other coffin tattoos, this spooky design looks ghostly with a candle on it.
The burning candle in coffin tattoos represents the burning spirit or the never-ending influence of a person. However, as the wax melts over the coffin lid and blocks the coffin, it gives a very creepy vibe, best suited for a Halloween coffin tattoo idea.
Cool Coffin Tattoo For Party Animals
Some coffin tattoos have deep meanings, while some convey a special message. However, in this case, this coffin tattoo is straightforward and portrays an amusing side of human nature.
The design shows a skeleton sitting inside its own coffin with goggles over its hollow eyes while enjoying a bottle of booze. If you are a party-till-you-die person looking for the perfect coffin tattoo that suits your character, then what is better than a picture that literally shows your love for partying.
This will suit your nature perfectly and would also act as a great ice breaker at your parties. This idea is entirely different from what coffin tattoos generally symbolizes or stands for.
Coffin Tattoo With A Social Message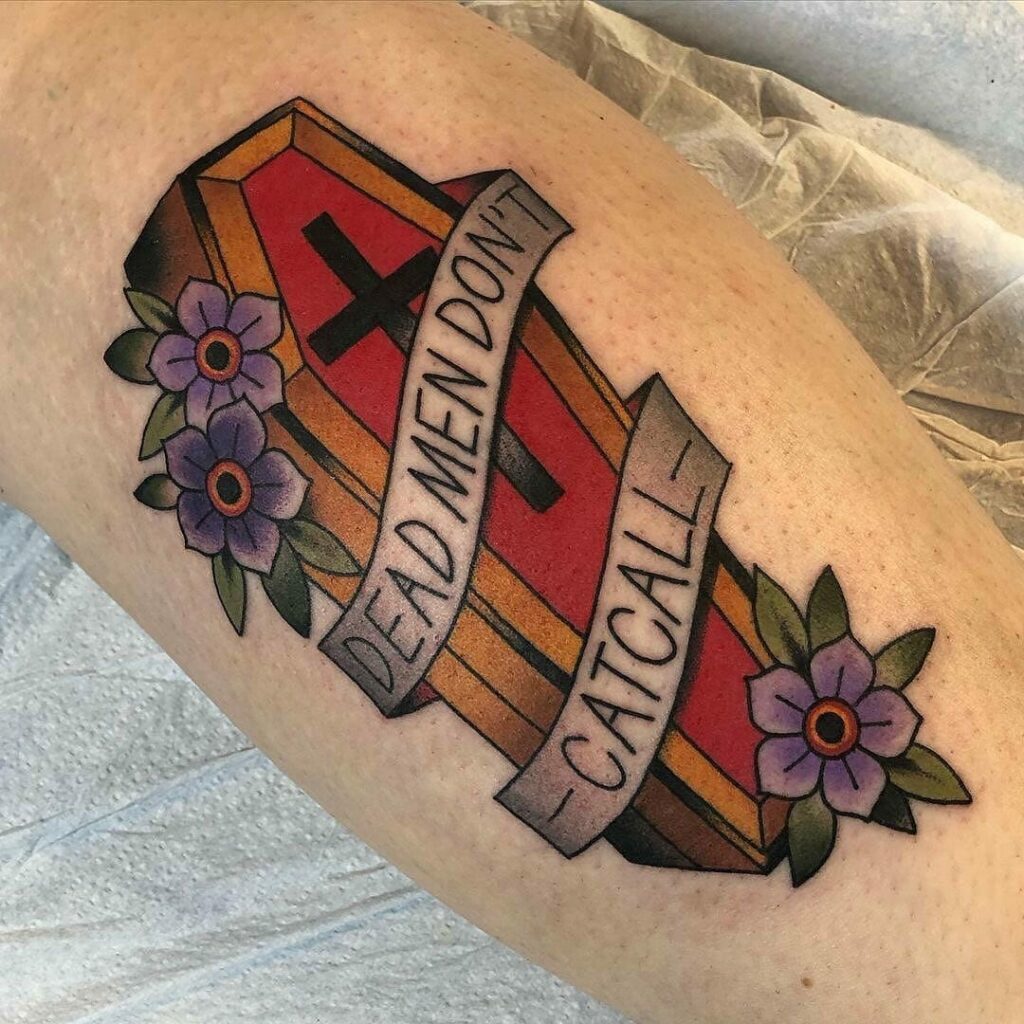 Women all over the world face many social issues. They are always getting cat-called or harassed to a point that they feel like they can never be safe when they are outside. If you are a power girl who wants to make a statement against men who catcall and smash through the ceiling of patriarchy, then this tattoo can be your power move. The coffin comes with a social message and is quite a snarky take on catcallers and harassers who often seem like someone who would never change.
Feature Image from Pinterest – Want your tattoo to look brighter? Try "tattoo balm"