Hey there, are you enchanted by the beauty of dragonflies? Well, we've got some amazing and colorful dragonfly tattoo ideas that will surely leave you mesmerized!
Dragonfly tattoos are a symbol of peace and harmony, perfect for those who seek inner peace. Adding a pop of color to these designs will give them a beautiful feminine touch.
In Chinese culture, colorful dragonfly tattoos are believed to bring good fortune and promote strength. Dragonflies are also known for their poise and beauty, representing inner strength and femininity. With intricate details and realistic designs, dragonfly tattoos can be a meaningful addition to your spiritual journey.
Many people, including celebrities like Becky G, have already embraced the dragonfly tattoo trend. You can get this beautiful tattoo anywhere on your body, and it will look stunning regardless of the placement. Dragonfly tattoos can be a way to honor a loved one's memory or establish a spiritual connection with them.
So if you're a fan of the dragonfly's delicate beauty and want to add some peace and positivity to your life, a dragonfly tattoo might be the perfect choice for you.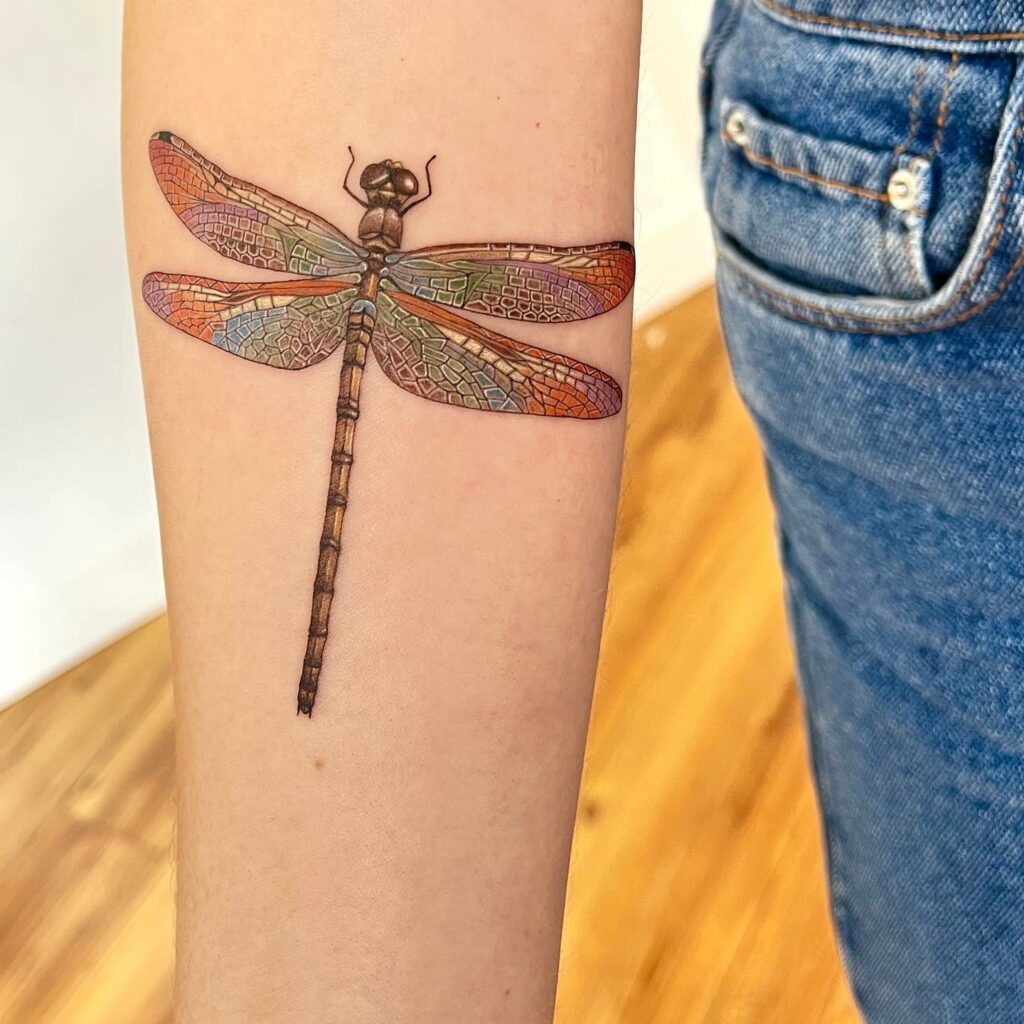 Watercolor Dragonfly Tattoo Design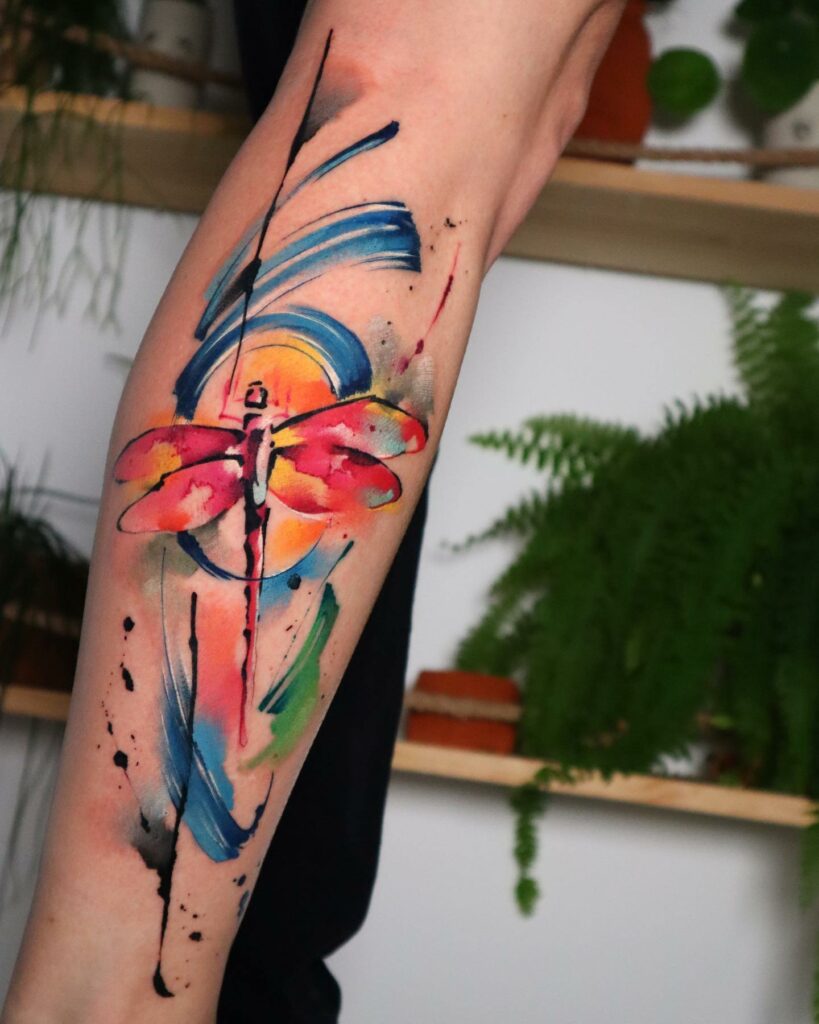 The watercolor dragonfly tattoo design is a true work of art! This specific design is both colorful and realistic, making it truly enchanting and beautiful. The wonderful thing about watercolor dragonfly tattoos is that they can have a variety of meanings, such as promoting peace, harmony, prosperity, maturity, and strength. The wings of the dragonfly in this tattoo are especially stunning, with gorgeous hues of pink, orange, and yellow. The overall color palette used in this tattoo incorporates shades of peach, green, and blue, with blue being a popular color choice for dragonfly tattoos as it represents purity. The blend of colors in this design creates a harmonious and positive energy, which can inspire the wearer to exude positivity in their daily life.
Minimalistic Colorful Dragonfly Tattoos
Small and dainty tattoo designs have been gaining popularity in recent years, and colorful dragonfly tattoos are leading the trend. This particular dragonfly tattoo is a prime example of how stunning and enchanting these designs can be. The tattoo features two birds, possibly a robin, and a vibrant dragonfly placed on the ankle of the wearer. The birds are depicted in hues of pink, blue, and purple, and the dragonfly is made with a remarkable color palette of its own. The tattoo artist and the wearer have done an outstanding job in selecting this design, as it truly captures the essence of freedom and new experiences in life. If you are looking for a fascinating tattoo idea, a dragonfly tattoo is definitely worth considering.
Tribal Dragonfly Tattoos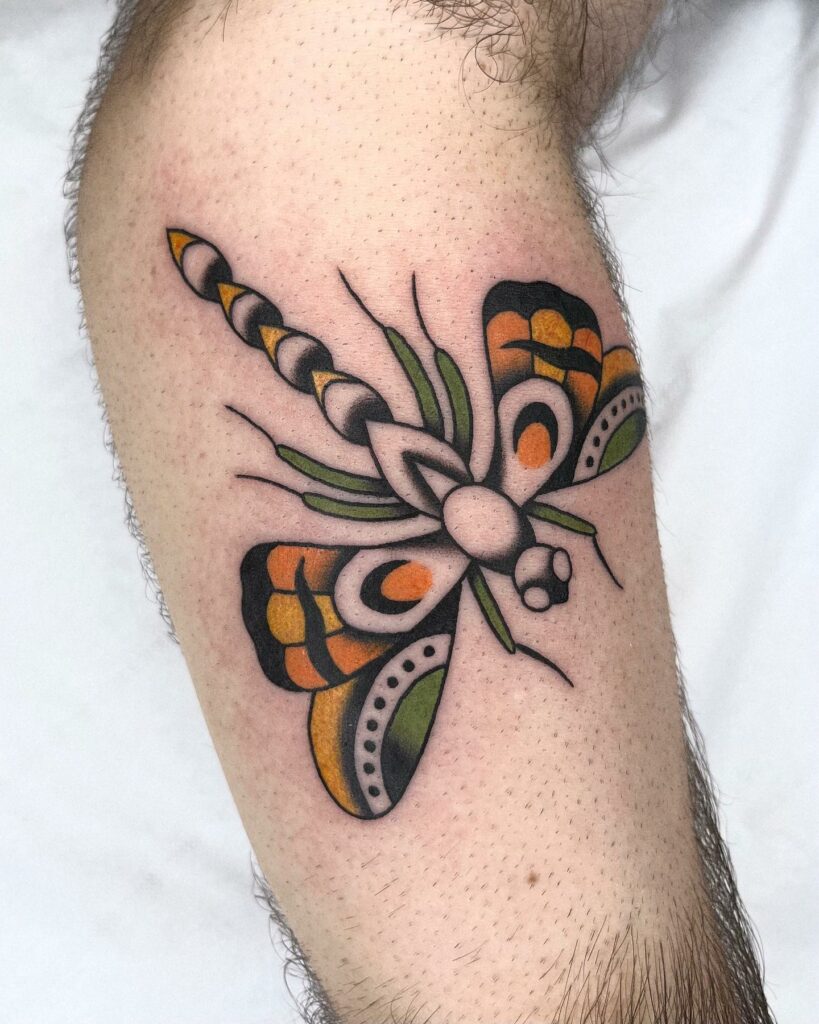 Tribal dragonfly tattoos are incredibly popular and are second only to watercolor dragonfly tattoos. This particular design adds a new level of beauty to an already stunning tattoo. Tribal dragonfly tattoos are known for their fierce and powerful look, and this tattoo is no exception. The olive green, yellow, and black colors used in this design really bring out the contrast and make it look fantastic. This tattoo is definitely unique in the realm of tribal art tattoos. If you're a fan of tattoos, this is a must-have for your collection.
Feminine Dragonfly Tattoos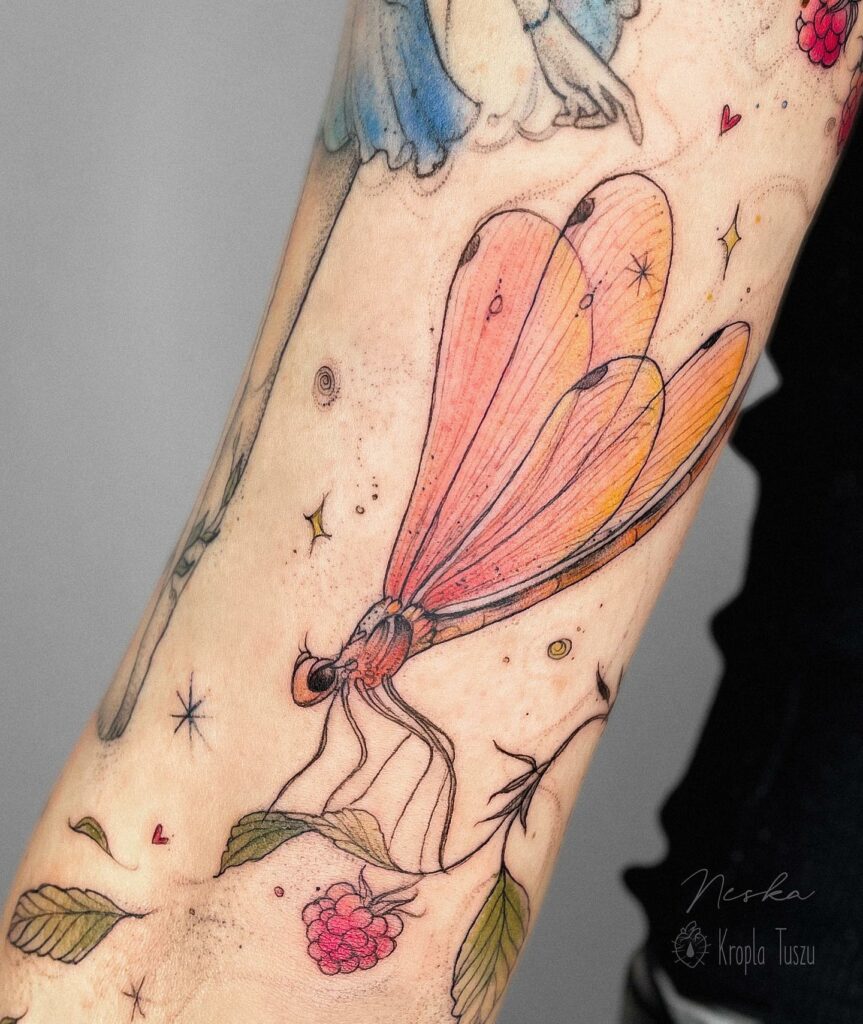 Dragonfly tattoos are popular among women as they represent femininity and positive energy. This colorful dragonfly tattoo design is a perfect example of how dragonflies can enhance a person's style statement. It features thin-line designs, creating a dainty and adorable look. The colors used are mainly light red and hues of peach, which work together perfectly to create a warm and inviting feel. The intricate detailing of the dragonfly's eyes in black ink is impressive, making the wearer look ecstatic. The dragonfly is seen sitting on a leaf, adding to the overall beauty of the tattoo. The tattoo artist has done a fantastic job in creating a realistic and stunning design that will definitely steal the show.
Blue And Black Dragonfly Tattoo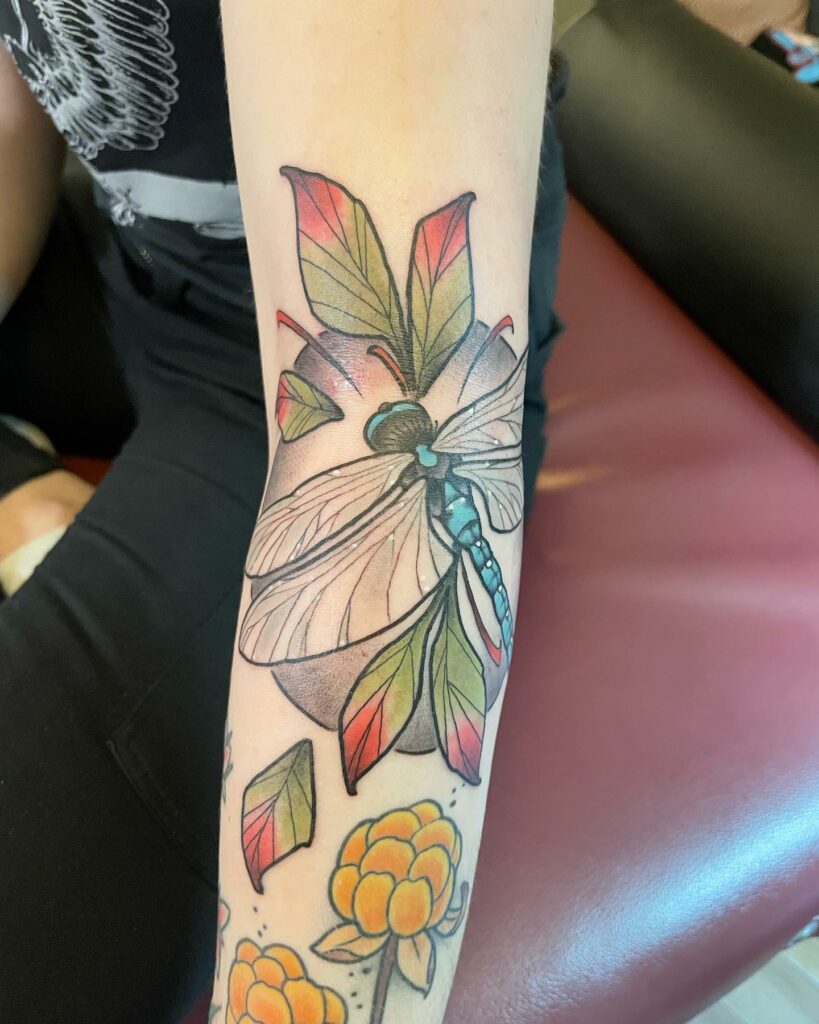 Dragonfly tattoos are loved by many people around the world as they symbolize simplicity, love, purity, and positive energy. This black dragonfly tattoo is a classic design that looks minimalistic yet stunning on the skin. The dragonfly is only colored with the primary colors, blue and black, which adds a simple yet elegant look to the tattoo. The blue color represents purity and positivity, while black signifies the inner positive energy of the wearer. When these two colors come together in the form of a dragonfly tattoo, it creates a beautiful and meaningful tattoo. Anyone can get this tattoo design and look absolutely gorgeous with this minimalistic yet impactful design.
Diamond Dragonfly Tattoos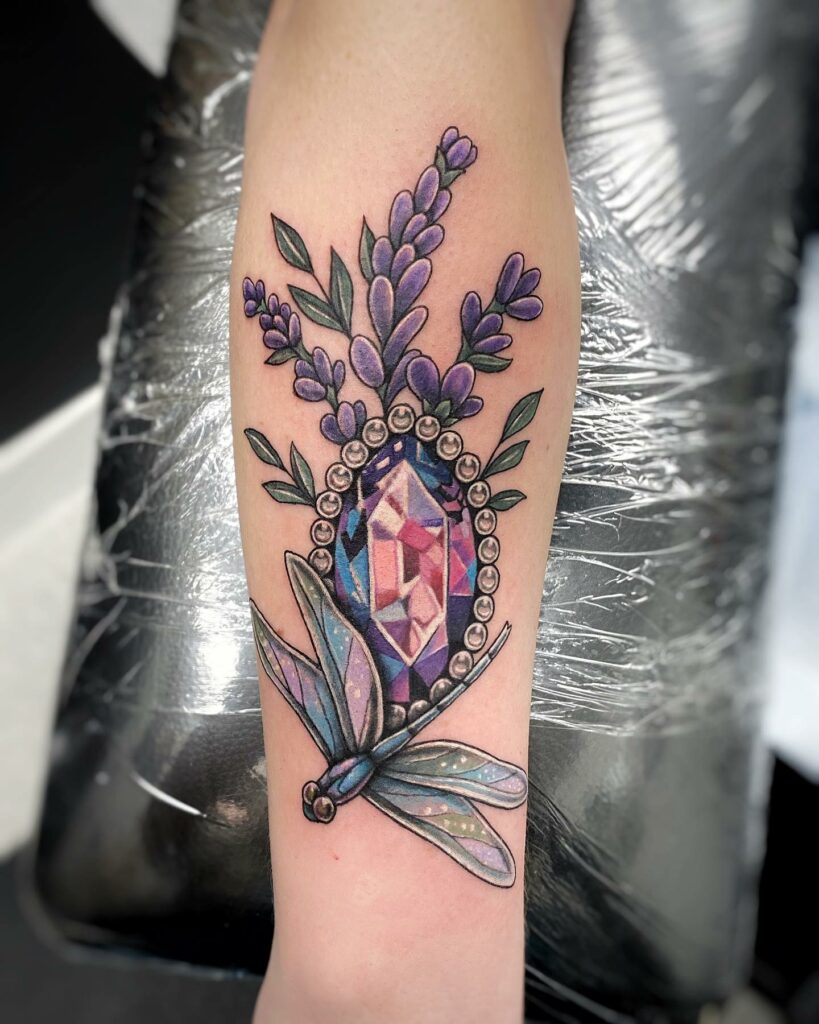 The color palette used in this design includes shades of pink, blue, mauve, and red, which really pop out and catch the eye. The gemstone in the tattoo is particularly breathtaking, with its border of white pearls and top adorned with realistic-looking lavender buds. The tattoo artist has shown great attention to detail in making the cuts of the gemstone with fine accuracy. The dragonfly tattoo in this design is equally impressive, with hues of light blue and baby pink that resemble a holographic structure. This small dragonfly tattoo is the perfect choice for anyone who wants a minimalist tattoo with lots of embellishments. Overall, this design is simply gorgeous and is sure to make anyone who wears it feel both stylish and confident.
Blue Dragonfly Tattoo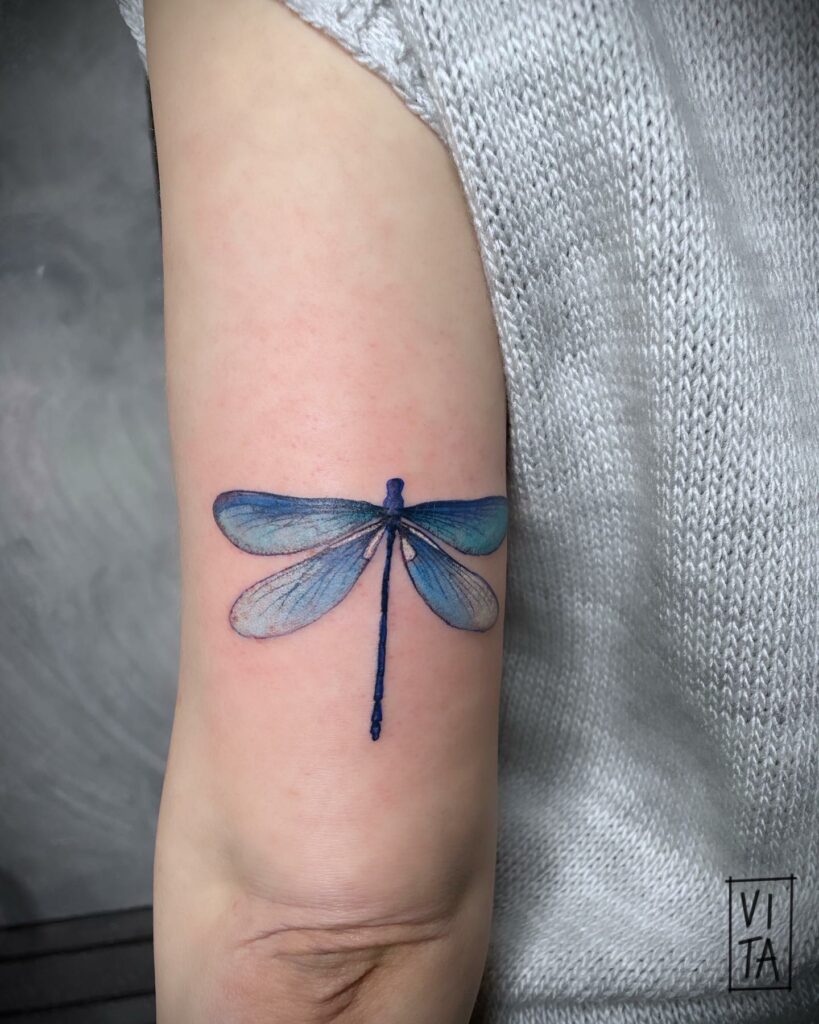 These tattoos carry a message of peace and harmony, making them a perfect choice for people who want to spread positivity. Dragonflies are known to bring good fortune and stability, and this tattoo is a beautiful example of that. The colors used in this tattoo are different shades of blue. The plumage of the dragonfly is dark blue, and the color gradually fades to light blue and finally to white on the wings. The navy blue thin line structures inside the wings enhance the overall design. The tattoo looks absolutely mesmerizing and dainty, adding an element of beauty to the wearer. It is a symbol of good omen, and a great choice for anyone looking for a tattoo that represents peace, positivity, and good fortune.
Minimalistic Fineliner Dragonfly Tattoos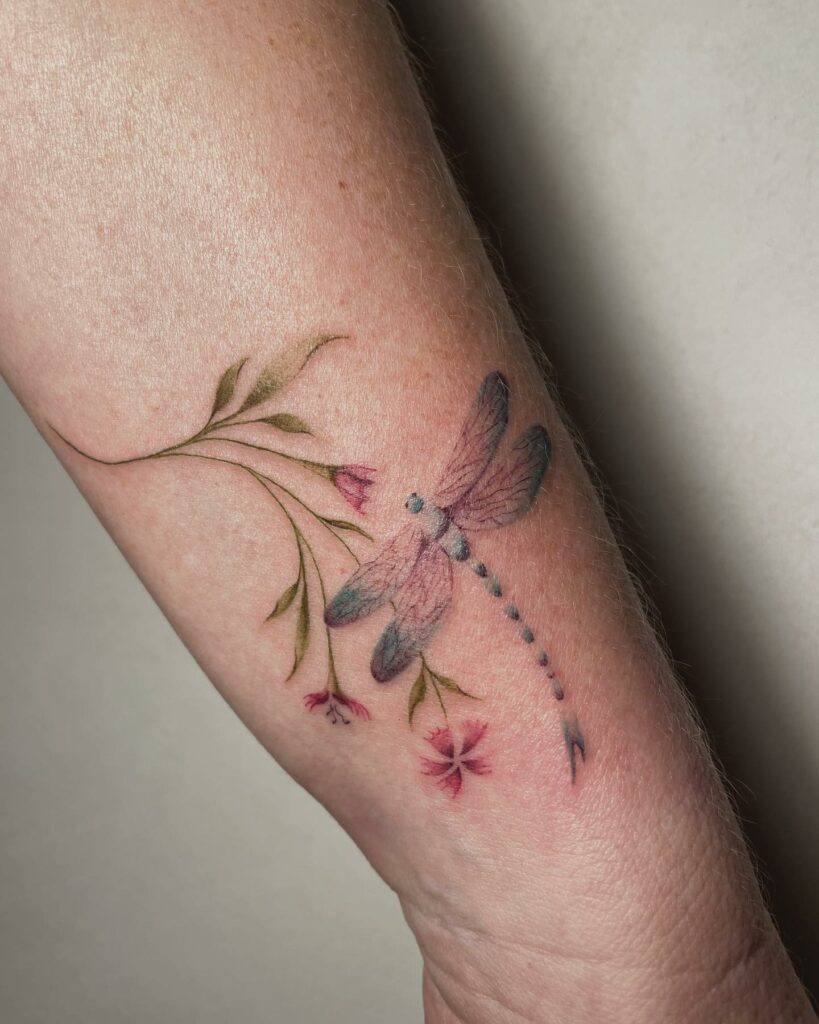 Fineliner tattoos are known for their intricate designs and delicate appearance, and the dragonfly tattoo is a perfect example of this style. The wings of the dragonfly have beautiful shades of violet and blue, giving the tattoo a cool and trendy look. The dragonfly appears to be hovering over leaves, adding to the natural beauty of the design. The plumage of the dragonfly has been created with a small dot-like structure, which is a characteristic of fineliner tattoos. The blue color used in the plumage symbolizes purity and harmony, while the wings have been created with purple and blue hues, giving the tattoo a stunning and mesmerizing appearance. This tattoo is perfect for those who want a delicate and elegant tattoo with intricate details.
Realistic Dragonfly Tattoo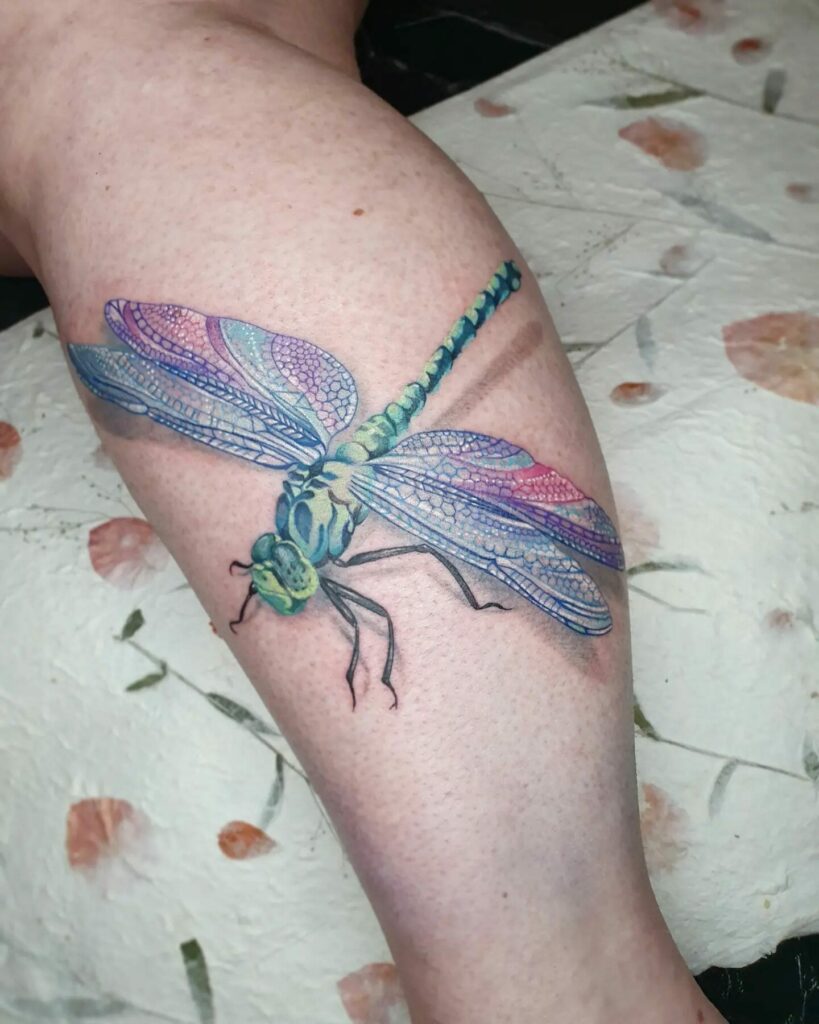 This dragonfly tattoo is truly stunning and deserves to be called one of the best. What sets it apart is the incredible 3D effect that creates depth and dimension. The shadows and highlights are expertly done and give the tattoo a charming, lifelike quality. It is placed behind the knee cap, which is a great spot for those who want a tattoo that's visible but can be easily covered up. The pastel color palette of blue, baby pink, and lavender is delicate and gives the tattoo a soft and feminine look. The plumage and wings are masterfully detailed with fine lines and intricate shading that make it stand out. This beautiful design is not just aesthetically pleasing, but also carries a meaningful message of positivity and resilience. It's a powerful symbol of overcoming challenges and bringing good energy into your life.
Small Dragonfly Tattoo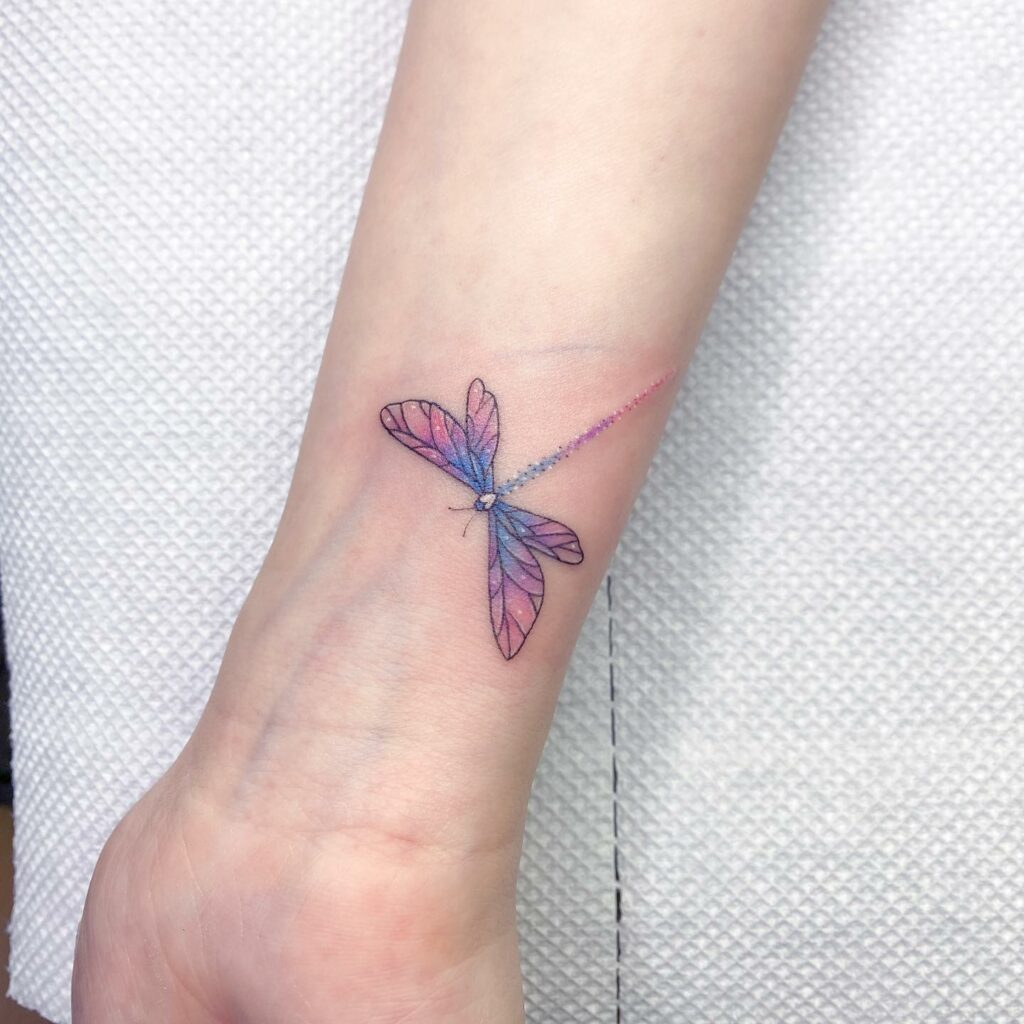 The wrist is such a popular spot for tattoos and for good reason – it's a perfect canvas for a small, yet impactful design. This particular dragonfly tattoo is a great example of that. It's simple yet stunning with a color palette of soft pink and blue, which has also been used in the plumage. The artist did a fantastic job with the detailing on the wings, making it look so delicate and beautiful. The best part is that there's no visible redness or inflammation on the skin, which means the tattoo artist took great care in creating this piece.
In the world of tattoos, dragonflies are symbols of good luck and good fortune. Whether you choose a colorful design or a single black ink, dragonfly tattoos can add a majestic touch to your skin art collection.
feature image from Pinterest – Want your tattoo to look brighter? Try "Tattoo Balm"
Last reviewed and updated on February 19, 2023