Are you looking for colorful half sleeve tattoo designs to adorn your body? Read on to find the 10 best half-sleeve tattoo ideas for you.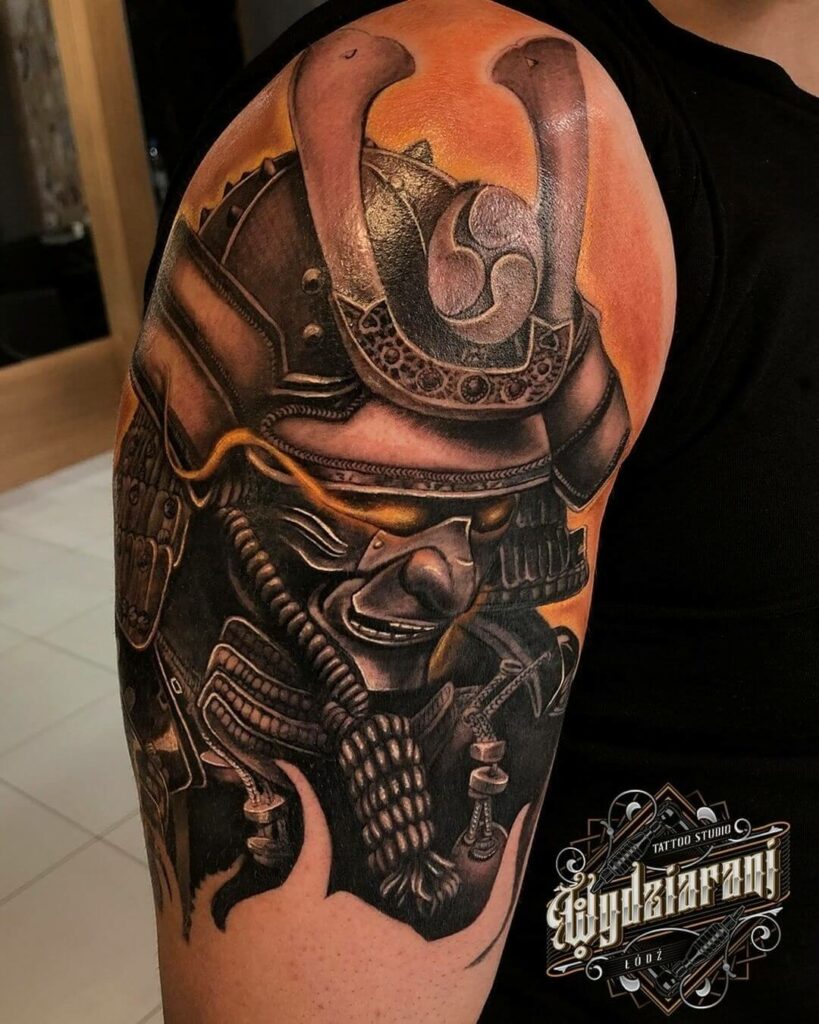 Half sleeves tattoos come in many colours, sizes and designs.
Half sleeve tattoos are a good substitute for full-sleeve tattoo designs, if you want to just cover a portion of your body in tattoo ink.
Half-sleeve tattoos for men and women are often inspired by movies, cartoons, or pop icons. You can also get a half-sleeve tattoo to pay tribute to an important person in your life. The forearm and wrist has thin skin, but arm sleeve tattoos are still quite popular. They are some of the less sensitive areas. You can find a wide variety of half sleeve tattoo designs in the tattoo parlours. They could be customized according to your liking, too. Colorful, black and white, and grey scheme tattoos are the ones on the top list. Let us take a look at some amazing half sleeve tattoo designs that you can try out.
Panther Half Sleeve Tattoo Designs
This black ink form panther tattoo is an old-school style tattoo design. These colorful tattoo half-sleeve designs can fit right on your wrist or forearm. This black-purple tattoo shows an aggressive panther, with his mouth wide open and fierce eyes. The black ink panther is given a line outline of orange and yellow to highlight the tattoo design. Violet-purple ink fills are shown in these colorful half-sleeve tattoo designs' noses, ears, and tongues. These old-school shoulder tattoos have a color scheme that provides great detail to black ink designs of tribal half sleeve tattoos. This tattoo has black shading to create texture.
Venom Theme Half Sleeve Tattoo Designs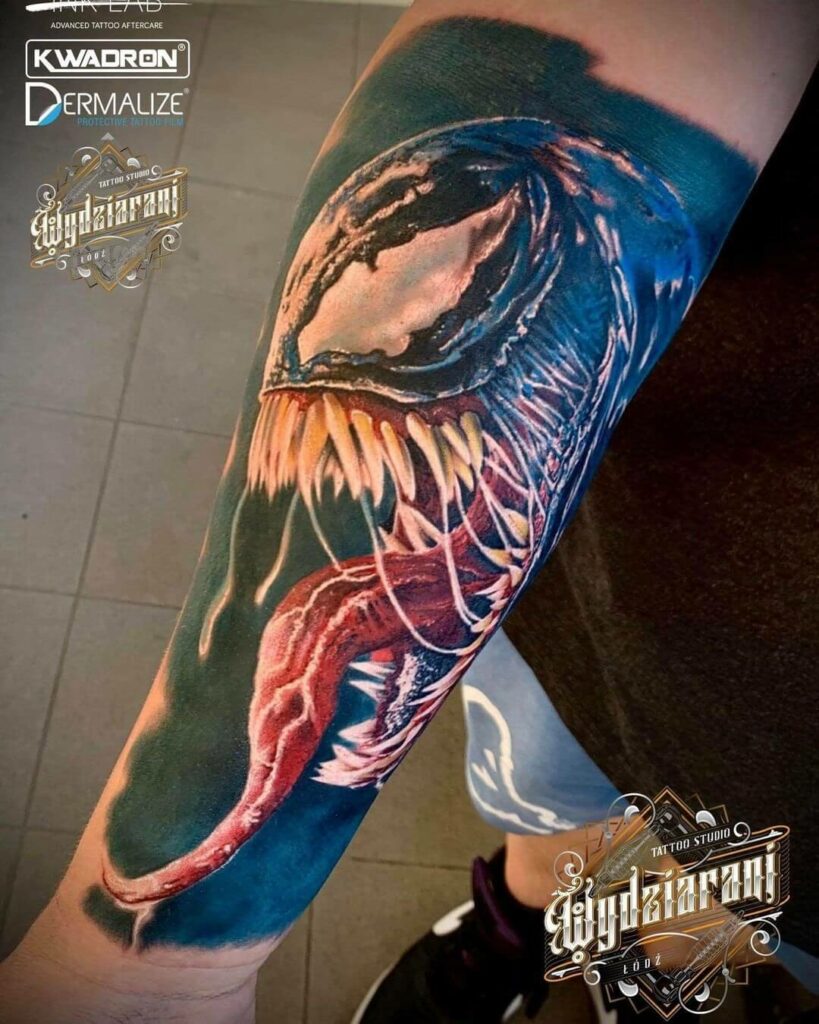 This Venom tattoo colorful half sleeve design is so dope. The tattoo artist has put a great work of body art in completing this filled half-sleeve tattoo design. The detail and depth in this tattoo is bound to be time consuming, it may take up multiple sessions to complete. Bigger designs, like this one, maybe also hurt a more than usual designs. But the end result looks stunning.
The colors and features of the venom are inked very well by the tattoo artist, almost as if taken directly from the film. These men half sleeve tattoos designs can also be done as colorful tattoo half sleeve designs for women. You can get this half sleeve tattoo in your entire upper arm in a much larger size, including the whole body of the venom. The shoulder area in which you get this tattoo makes it a cloth design for you and a cover-up tattoo for your scars and patches on your skin.
A Half Sleeve Tattoo Inspired By Squid Games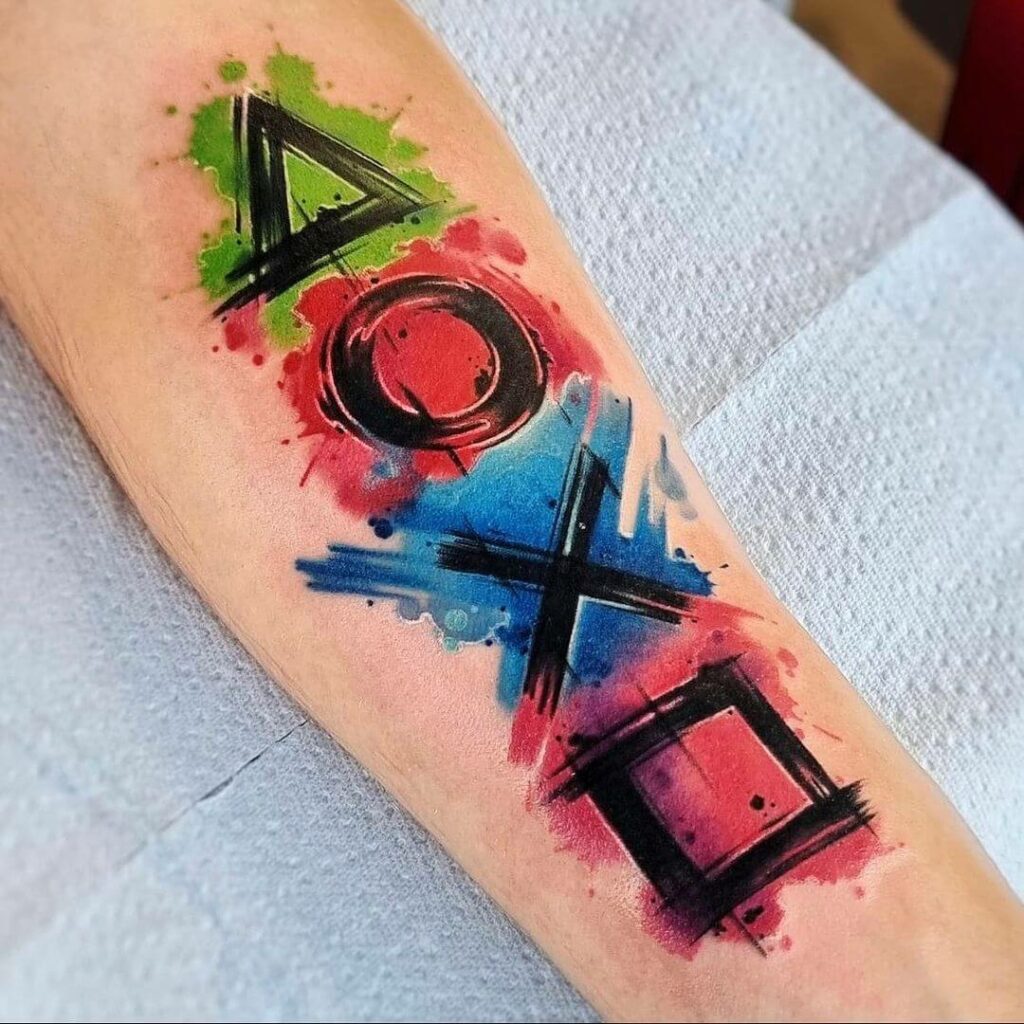 This new tattoo design comes from the recent hit Korean series 'Squid Game.' The ink design ideas used here in this half-sleeve tattoo are a rough splash background design style. These colorful half sleeve ideas are now slowly gaining popularity among people who have watched squid games and have become fans of the series. It is funny how these simple shapes and symbols could significantly impact tattoo design ideas with inspiration from the world-hit popular series. The four triangles, circle, cross, and squares figures are drawn down, with green, red, blue, and pink ink becoming the splash color background for these patterns. You can have these super cool motifs as half sleeve tattoos on the forearm, upper arm, or even the wrist.
Radioactive Style Full Sleeve Tattoo Design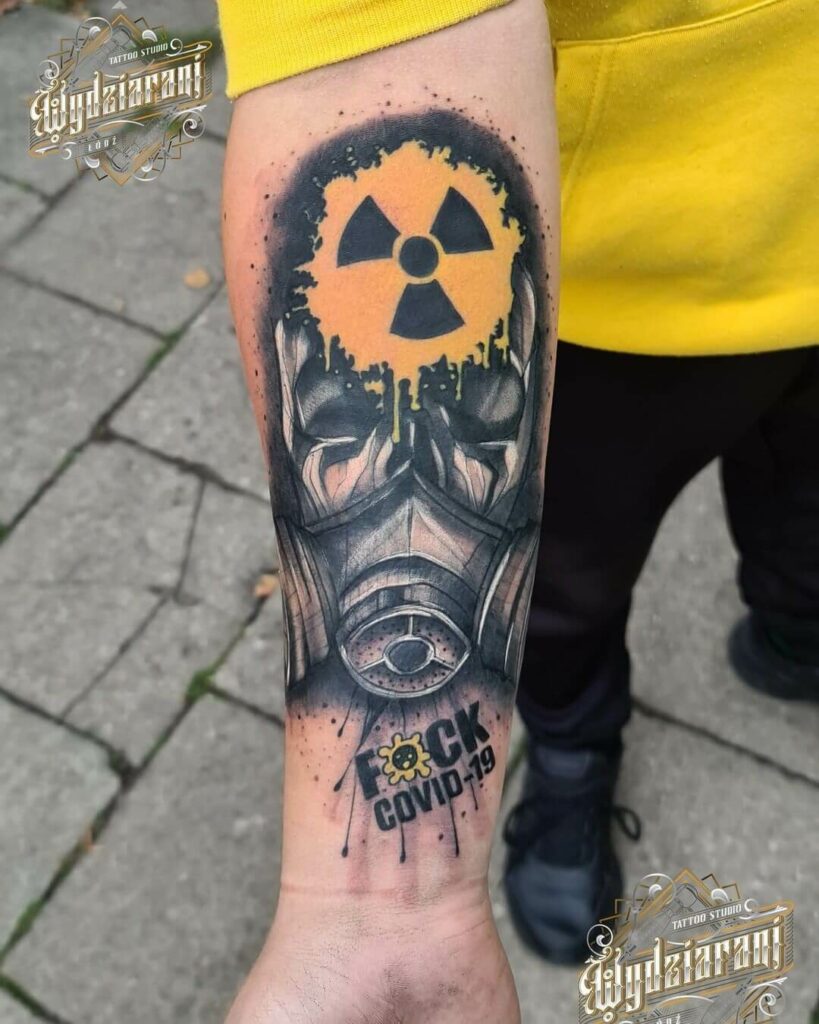 This half sleeve tattoo with colorful arm sleeve designs is so cool with the mask man image and a radioactive symbol above it. Also, 'F*CK COVID-19' is written at the end of the tattoo design. This tattoo shows the anger and frustration of people due to the covid scenario and the hard times that the covid has brought onto the lives of ordinary people. You can get this tattoo on your upper shoulder and wear sleeveless tops to show off the skilled tattoo artist designs of the cool half sleeve tattoo. The intricate detailing is perfectly fine and shows the creative sides of the quarter sleeve tattoo artist and designer. However, the cool half sleeve tattoo designs could be taken for their artistic creativity and accepted by the people.Such detailed tattoos would look amazing on the arm or leg as well.
Monsoon Storm & Prickly Pear Half Sleeve Tattoo
This cool half sleeve upper arm tattoo is stunning with the tattoo design choice and artwork done by the body tattoo artist. With so much creativity and panache, this is one of the best half sleeve tattoos we have seen here. This upper arm unique half sleeve tattoo design uses an image source of various designs and concepts. The coloring and framing given to these best half sleeve tattoos bring life to the image source of the desert and plants and the thundering clouds. You can get this quarter sleeve tattoo as full sleeve tattoos as well. Take this design to your tattoo shop and get this tattoo on your upper arm getting into the armpit area. This upper arm tattoo design has attractive flowers and cactuses of colors and a grey desert background with the monsoon storm thundering in the desert sands. This contrast in the tattoo where part of it is greyscale while the other half is colourful and bright makes this tattoo even more appealing.
Black Cat Men Half Sleeve Tattoos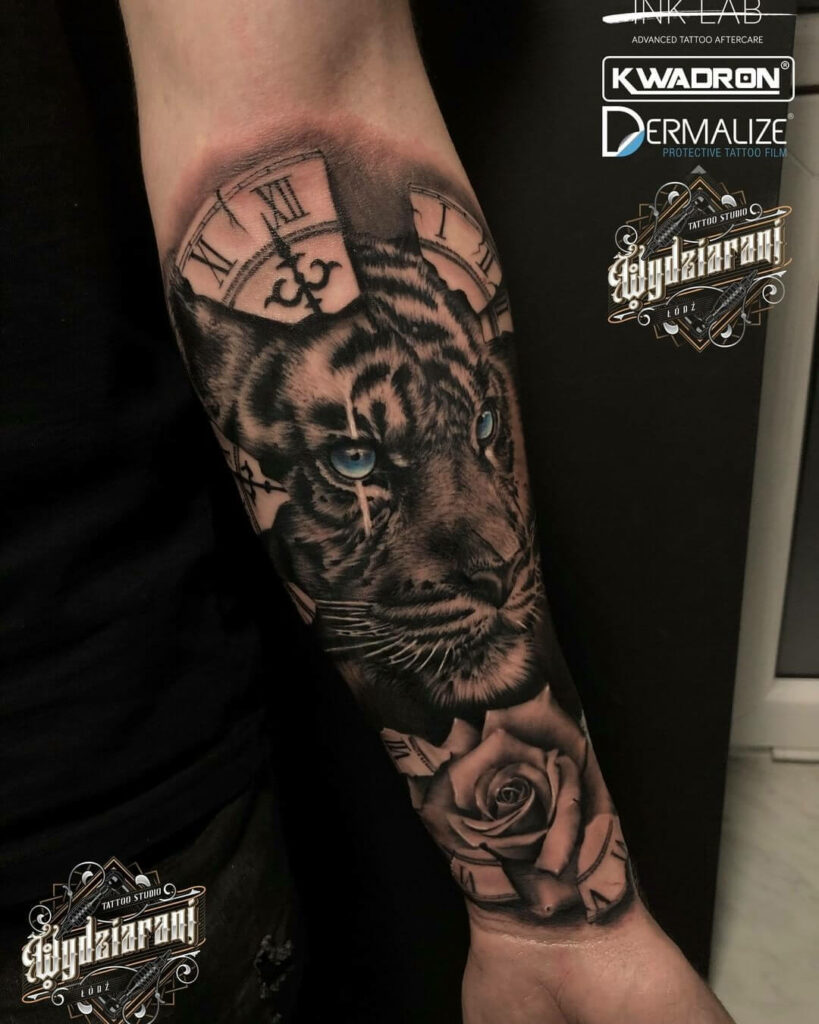 These tribal tattoos style entirely black inked half sleeve tattoo designs are so dope.
These half sleeve tattoos hurt due to the significant detail and size of the picture tattooed all over the upper arm sleeves and the elbow region. This tattoo features a blue-eyed tiger in the center, surrounded by the broken pieces of an analog wall clock. At the bottom of the design is a lovely grey rose. The entire tattoo, except the eyes, is inked in black and white ink.
These tribal tattoos can be transformed into full sleeve tattoo designs or even shoulder tattoos for men and women. Similar to wolf tattoos, these best half sleeve tattoo designs for your lower arm can become an attractive piece of body art. Also, these half sleeve cool, colorful designs tattoo designs cover up for men and their scars on their skin.
Colourful Rockstar Half Sleeve Tattoo Design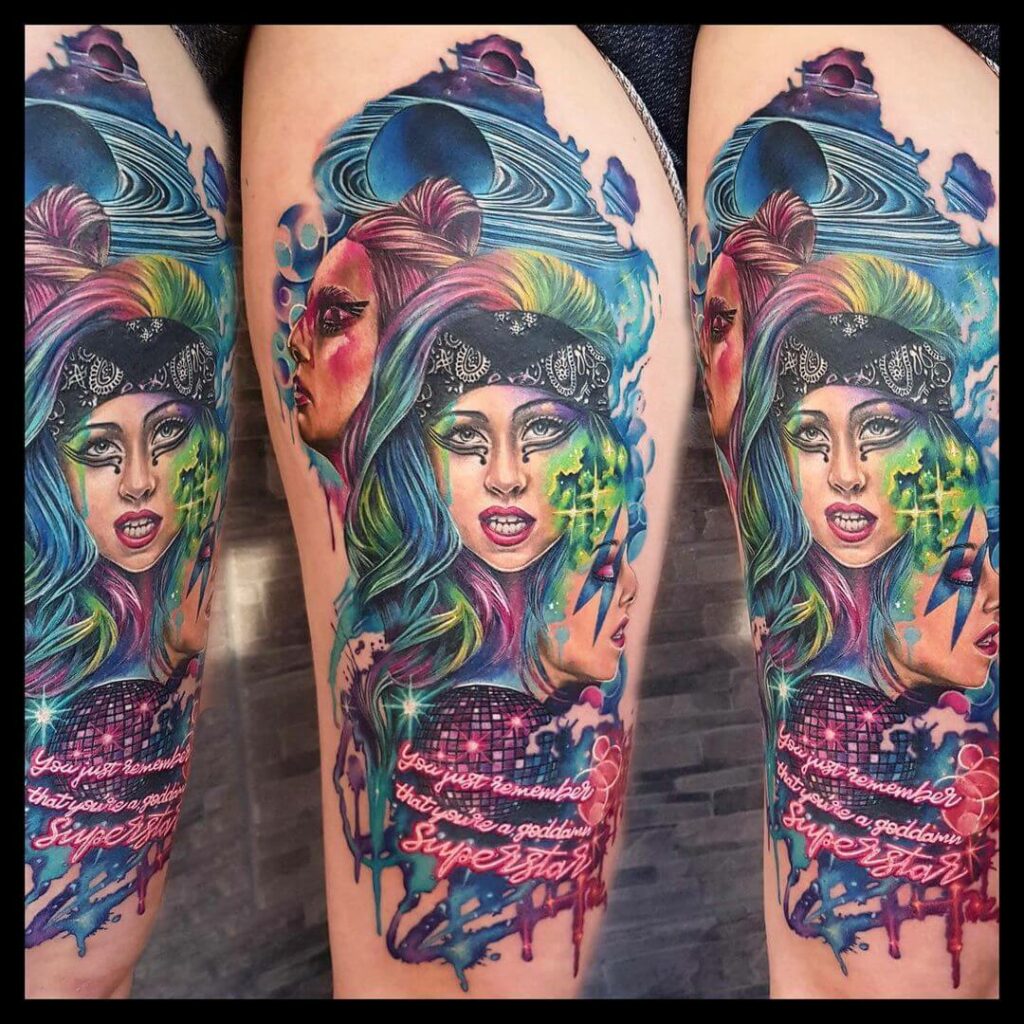 This one of the best half sleeve tattoos as it honours as the superstars of the music world. The artist has depicted the three faces quite well in these half sleeves tattoo designs. Above the faces, the tattoo artist has depicted to beautiful planets in blue and purple.
The brilliant selection of colors inked in this half sleeve tattoo design perfectly matches the concept of the half sleeves tattoo designs and styles. A half sleeve tattoo like this could brighten up your day. So many sparkling effects and colors are added to this half-sleeve tattoo that none of a half-sleeve tattoo design could have gotten until now. These half sleeve tattoo ideas are inspiring as well as a role model to motivate yourself. The sentence, 'you just remember that you are a goddamn superstar' is written below these fantastic half sleeve tattoo designs.
Realistic Half Sleeve Tattoos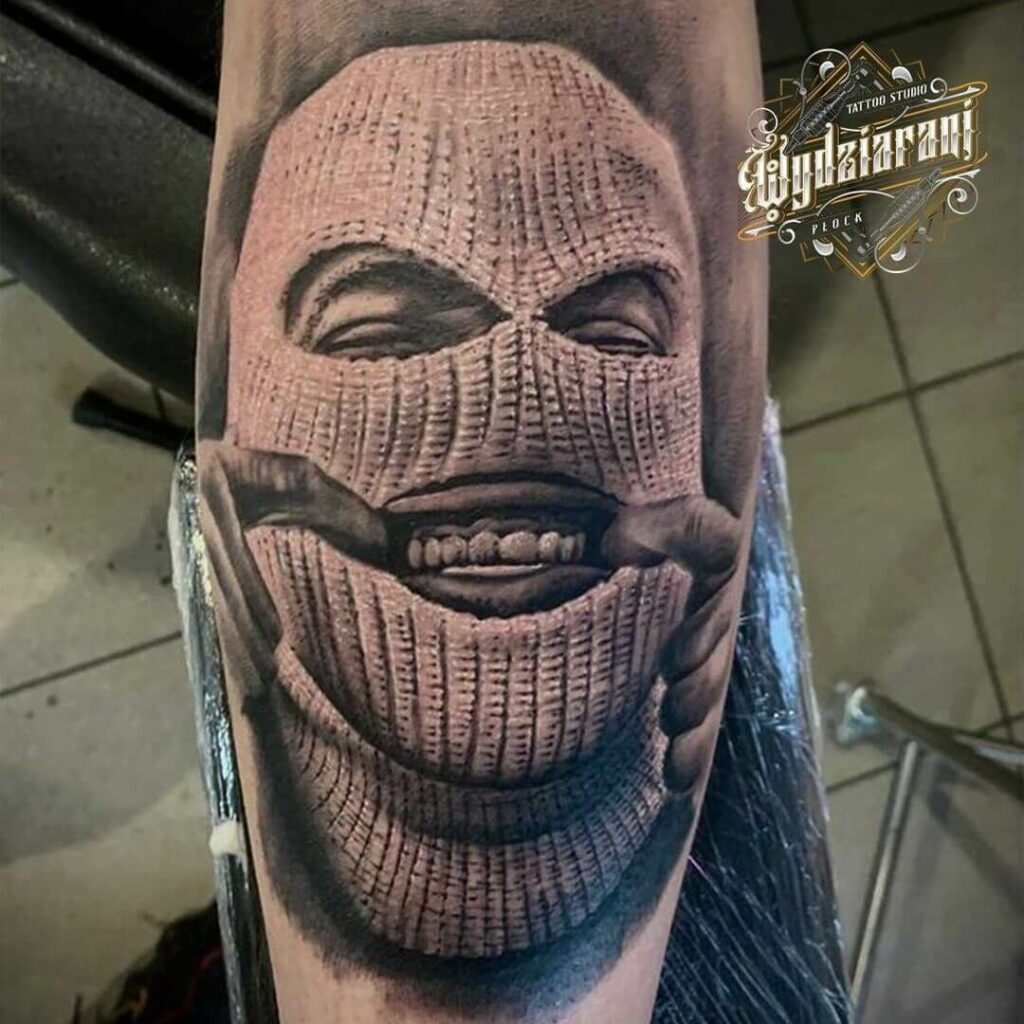 These tribal half sleeve tattoo designs are so realistic and are very well tattooed by the body artist. These half sleeve tattoo designs show different unique design ideas of a person with a sock mask on his face and biting a rope in his mouth. A half sleeve tattoo like this is quite a madman's creation. But still, the half sleeve tattoo gives a realistic feel to the tattoo design ideas on the elbow or shoulder. You can get this detailed real man head half sleeve tattoos on your shoulder, arm, or legs with lower pain tolerance. Some tattoos are generally cheaper, but this one tattoo design would be pretty expensive due to the tattoo artist's realistic feel in this half sleeve tattoo design.
Lady Half Sleeve Tattoo Ideas
These tribal half sleeve tattoos are best to get on arm and shoulder regions. When you search keywords like a tribal lady of black beauty half sleeve tattoos, you might see this beautiful creative half sleeve tattoo in the list. The focal point in this tribal half sleeve tattoo design is the lady's eyes and pink coloring around her eyes. This colorful, sacred half sleeve tattoo is indeed a beauty. Some elements like orange flowers decorating her face or the cigarette in her hand really pop out of this design.
War Monstrous Tattoo Half Sleeve Tattoos
These colorful tattoo half sleeve designs for men are so scary and fierce. The tattoo artist very well does the detailing of the half sleeve tattoo ideas for men. These metal and sheet-style tattoo ideas for men have this amazing texture of smothered and fiery metal that enhances the beauty of the half sleeve tattoos. The fire kind of spark is shown to be glowing from the metal eyes of the tattoo design.
For more inspiration and tips, browse the other colorful half sleeve tattoo ideas here on Alexie.co
Feature image from Pinterest – Want your tattoo to look brighter? Try "Tattoo Balm"