Most common tattoos are popular and have stayed in the trend for a long time. Let us check out some of the most beautiful designs here.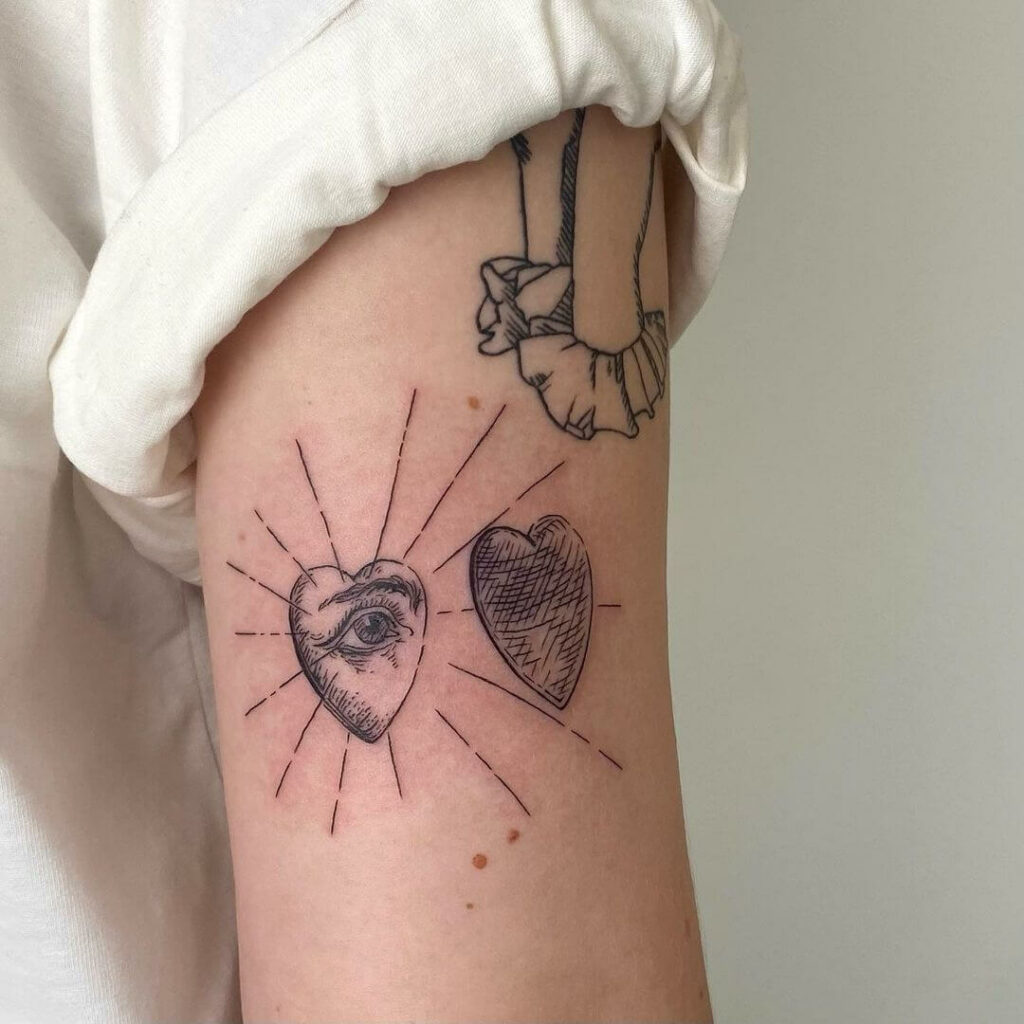 Today, in the online savvy world, people are obsessed with following trends.
Well, trends start when many people approve of and follow the same idea. It can be about wearing the same designed clothes, follow a similar style, or even copy similar ways of living.
The same trends and popularity have a significant impact on tattoo designs as well. People look forward to getting a popular tattoo that will make them stand out in a crowd and be part of an exceptional or popular group. Animal tattoos have made their way to the top of most popular tattoo designs, leading to script/character tattoos and flower tattoos. Some people may fall for cliche tattoos like song lyrics, cross patterns, feathers, and even name tattoos. Whatever trend it is, the first-ever tattoo that a person gets is about an inspiration that they might have felt for or have obtained from. That sentimental aspect that has become a part of their personal life is being made into a tattoo.
Koi Fish Japanese Tattoo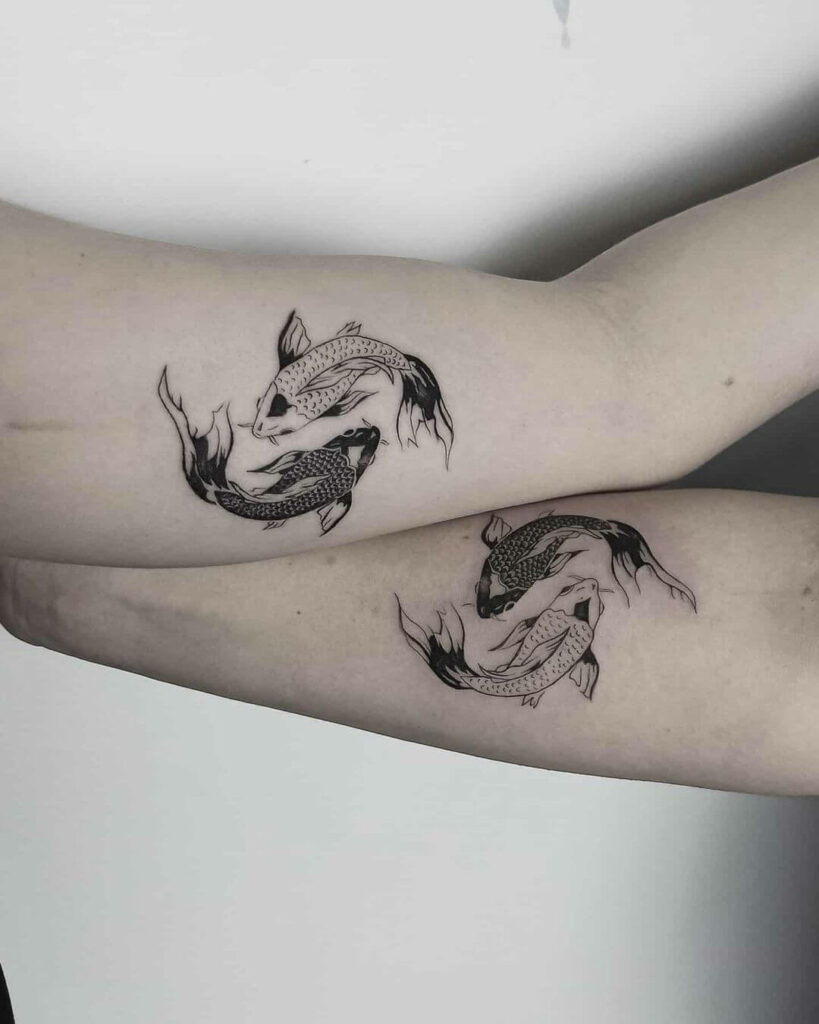 This duo of koi fish tattoo designs in a Japanese tattoo style is so cool. One of the most common tattoo designs that we can find in Japanese tattoo styles is the yin-yang-themed koi fish tattoo design. One of the fish is inked heavily in black with tons of detail, while the other one has a minimal black outline and empty inside. This black linework tattoo can be placed on your arms, shoulders, or chest.
A high level of creativity has been shown in these concept-rich tattoo ideas from these tattoo artists. These most popular tattoo designs that are considered as best tattoos have long history connecting to real life. These popular tattoo styles, similar to dragon tattoo designs, show rich history with a bold statement. The intricate patterns used in this simple tattoo are very well-detailed, making the famous tattoo designs look realistic. You can get inked with black and white ink colors as well as other color patterns of your choice.
Bird Of Paradise Tattoo Ideas
This common bird tattoo design is artistic. The regular bird tattoos that we have seen are not at all like these tattoo designs. In a simple black outline, this Bird Of Paradise tattoo is inked on the side torso. The bird of paradise flower is related to the banana family and is known for its bright-orange plumage. It represents paradise and freedom. It is also a sign of faithfulness and makes for a lovely gift to a loved one, spouse or partner. While this tattoo is designed only in black, you may choose to fill it with bright colours to match the bird of paradise flowers found in the wild. Designs like these are honor loved and are today considered as aesthetic and minimalistic. These flower tattoos would be the first tattoo design to represent a hidden meaning of bird in them.
Little Leopard Portrait Tattoo Ideas
These days, animal tattoo lovers are everywhere. More and more people are becoming nature enthusiasts and environment lovers. People have finally understood the importance of animals in nature and understanding and letting them live as they also have the right to live in this world, just as much as we do. This overall black ink tattooing has done a great job to give the leopard the right skin effect and the plants an excellent minimalist tattoo feel. On a black canvas, this tattoo design in white ink would make a good wall art design. Even though this image can have bright colors, in reality, the black ink detailing is done brilliantly to show the leopard spots. The leopard is sitting next to a plant with little flowers and leaves. This animal tattoo is placed near the ankle.
Tiny Dancing Skeleton Tattoo
Many tribal designs of the most popular tattoo styles show or represent visual arts or performing arts elements. These matching tattoos of two skeletons dancing with their hands and legs up as if they are levitating. These are stunning small tattoo designs. These matching tattoos of minimalist tattoo designs can be inked in your stomach, arm, legs, or shoulder regions of your body. Line tattoo designs like these could do well as a neck tattoo. Similar to a cross tattoo and a music tattoo, these dancing skeletons would fit well in the small space of the neck region. It can bring out the crazy, whimsical side of you. The black ink in this popular tattoo uses the negative space very well. This body art paves the way to many more such tattoo ideas like small angel tattoos and name tattoo designs for small spaces to show the funky creepy fun side of you.
Constellations As Common Tattoo Ideas
Constellation tattoos are now among the most popular tattoo designs, especially among people who believe in astrology. This popular tattoo design has the constellation pattern of Aquarius and Aries. You can also get these patterns as a family tattoo with your loved ones. As the practice of crown tattoo, these constellation tattoos are also of the design of lion tattoo, scorpion tattoo, owl tattoo, etc. Some skull tattoo designs to show spooky cuteness use these star patterns and the common blue violet tattoo background of galaxy skies. Similar to family crest tattoo designs, these meaningful tattoo designs go greatly inked on the back of your arms or shoulders. These tattoo ideas make good wrist tattoos too. These most popular tattoo designs sometimes get a little similar to the patterns of a family tree. These art designs are inked in painful places for some as per their decisions. Well, it's all about your suggestions and needs for where and how you want to get these most popular tattoo designs on your body.
Bouquet of Wildflowers Tattoo Ideas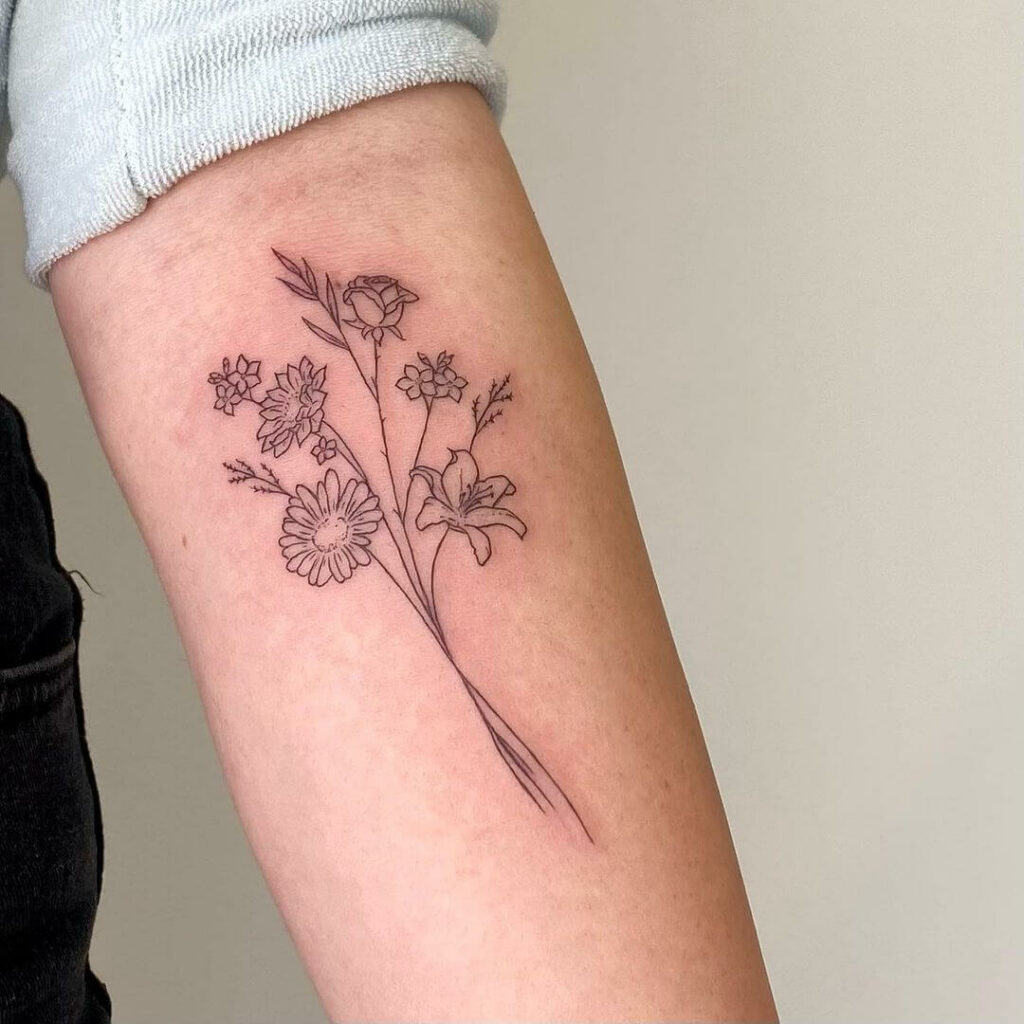 Flowers are popular choices people select to get it done as body art from a tattoo artist. Tattooing these flower designs is fun, and it also increases the beauty of the famous tattoo designs in general. In the little bouquet tattoo here, there is a rose, a sunflower, a lily and some little leaves sprouting from long stems. These rose tattoo designs look wonderful as wrist tattoos. You can pick your favourite flowers while getting this tattoo. While the design here is simply black, you can make your tattoo more radiant with the use of bright colours.
Even tattoo artists today try to combine Celtic knots and flowers into a tattoo design. Surprisingly, the Celtic knots and flowers go well together, making the tattoo designs even more unique and creative. People love to get tattoos like these in their hands. Flowers make people happy. And that is the main reason why people opt for these floral bouquets as a tattoo design, making it a standard popular tattoo design among people.
Common Tattoo Of Duck With A Gun
These tattoos are quite a creative artwork of the tattoo artists. The duck standing in this tattoo design has a gun in its hands. The long rifle gun is pointed at something in the distance. The entire tattoo is inked in black lines and dots, however, the duck's black beady eyes stand out! The tattoo artist perfectly inks the detail of the duck body. These kinds of cool concept tattoos are now getting popular among youths. They bring such cool tattoos on their shoulders to show their fierce and brave nature to people and society. The concept of small scary animals like ducks getting more daring and intense that it could even take a gun against you is shown through these tattoos. The black-lined tattoos can be given other colors as per your choice. And it could be done in any place as well in your body. Animal tattoos getting a lot of attention is considered to be a popular tattoo design.
Butterflies As Common Tattoo Ideas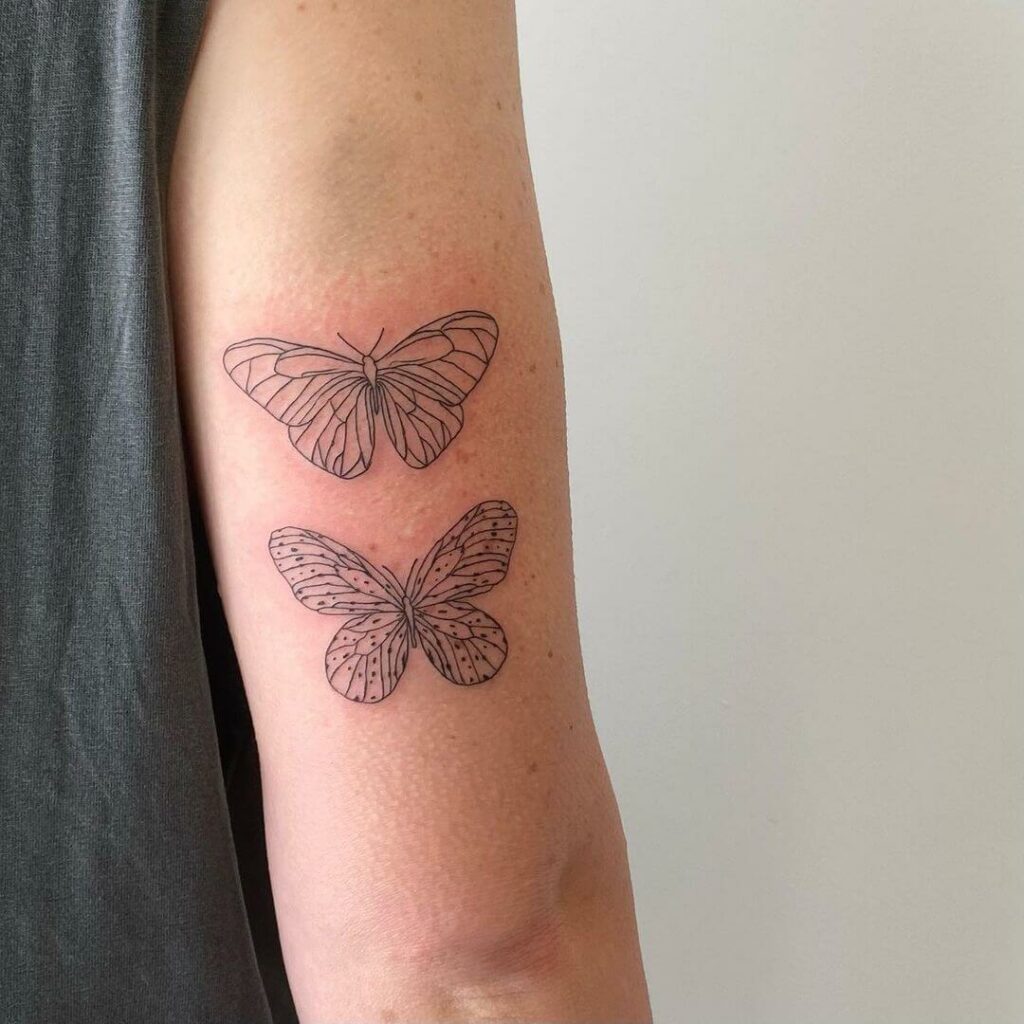 Butterflies are just the best designs to get on a tattoo. It has beauty, geometry, colors, shapes, literally everything. Butterflies change every perspective of things in tattoos. They could portray good happy things. And the same butterfly with a dark black design could mean an evil and dark perspective. But still, standard tattoos with butterfly designs make it even prettier. The design gives us positivity. Looking at the butterfly design tattoos makes us happy and calm, and peaceful. Butterfly tattoos are in many types among popular tattoos as well. Single line black butterflies to complicated, detailed, colorful ones. The minimalist tattoo design to an elegant tattoo design. More and more butterfly designs are evolving for tattoos like this one.
Into The Space Tattoo Ideas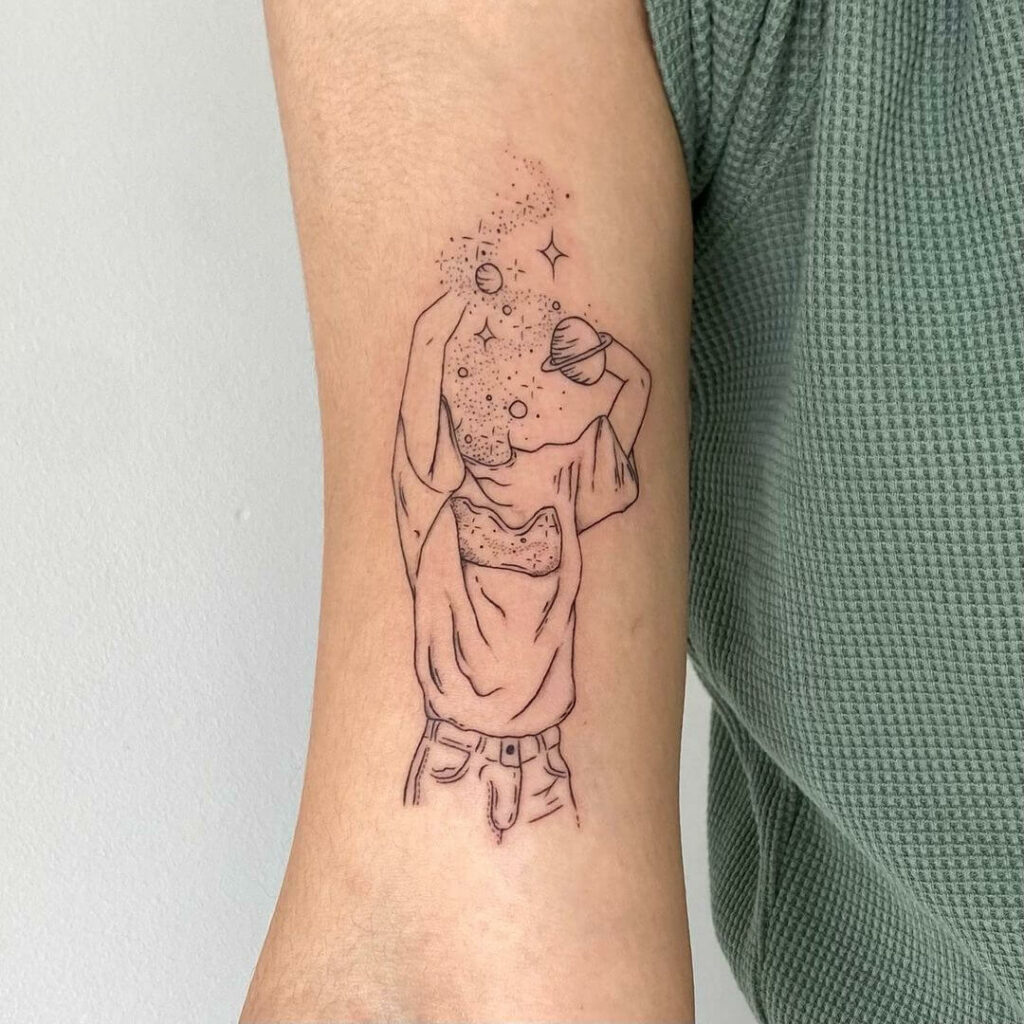 This beautiful creative tattoo is so cool. Tattoos like this would shine more brightly if lit colors were given or filled into the tattoos. People have always fancied galaxy skies and space. These tattoos bring out people's inner desire to go to or see space and galaxies in front of their eyes. The tattoo design includes a young human's body that only has the torso and the hands till the wrist, and the galaxy sky and space replace the remaining upper body parts of the head and palms with the planets and stars. If you often find yourself wondering about the stars, planets and outer space, you can consider getting this tattoo.
Common Tattoo Symbols Of The Sun And Moon
Sun and the moon are two elements that represent the meaning of life in tattoo designs. Sun and moon tattoos are eye-catching and are a popular choice among tattoo enthusiasts. Well, this unique tattoo design has been done on two people. One hand has the half sun design with the dots finishing the circle on the other side, while the other hand is given a moon shining in the other half with a dotted circle fully covering the shape of the full moon. These small and aesthetic tattoos could be done as pair tattoos or couple tattoos. Black ink is used for dotting out the tattoo design on the hands.
Feature image from Pinterest – Want your tattoo to look brighter? Try "Tattoo Balm"