Hey tattoo lovers! Are you bored of the typical tattoo styles and want a cool corpse tattoo? Here we have the ten best corpse tattoo ideas for you.
Many people love scary and spooky things. These people love to add spookiness to every aspect of their life.
If you are one of those and want to have a spooky tattoo, then why not a corpse husband tattoo? It is fantastic and creepy. Don't you want a corpse husband and BTS tattoo?
If you are a fan of the YouTuber corpse husband, there's no introduction for this famous musician. So, corpse husband and BTS tattoos are one of the popular forms of fandom tattoo. Other than a corpse husband tattoo, many different options are available for a relaxed and spooky tattoo. You can have a permanent corpse tattoo on your body or just a temporary one for a Halloween party. A dark and creepy tattoo can be a perfect choice for all spooky lovers. So, let's have a look at some fantastic corpse tattoo ideas.
Youtuber Corpse Husband Tattoo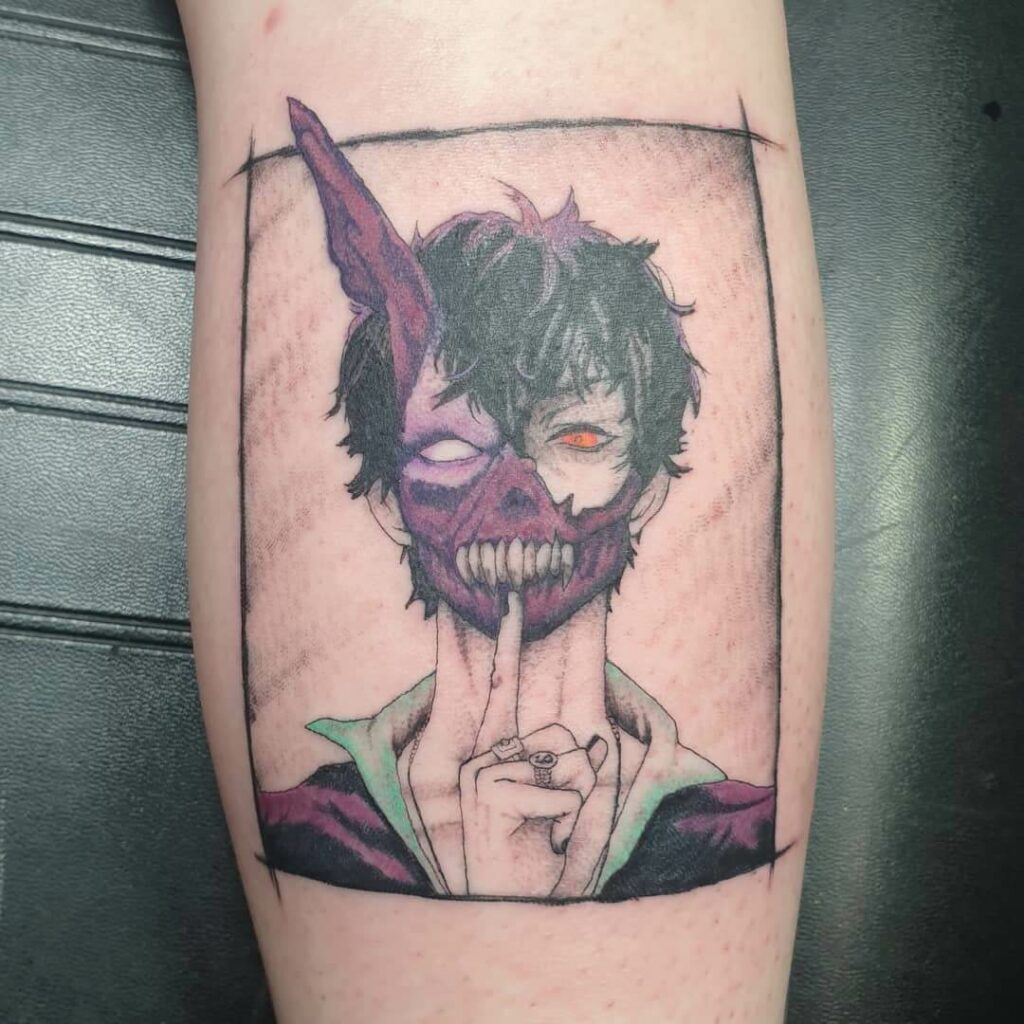 This tattoo shows a man with a partially purple and devilish look, with sharp teeth jutting out of his mouth. "Corpse husband" is a very popular American musician. He is most famously known for his music and his faceless works on YouTube. He is a 24 years old guy who is a famous icon on the social media platform. You can have a corpse husband tattoo to flaunt it on your social media platform account. Corpse husband is an amiable guy and responsible to his fans often. So corpse husband fans, what are you waiting for? Go and get your corpse husband tattoo now.
Skull And Cactus Tattoo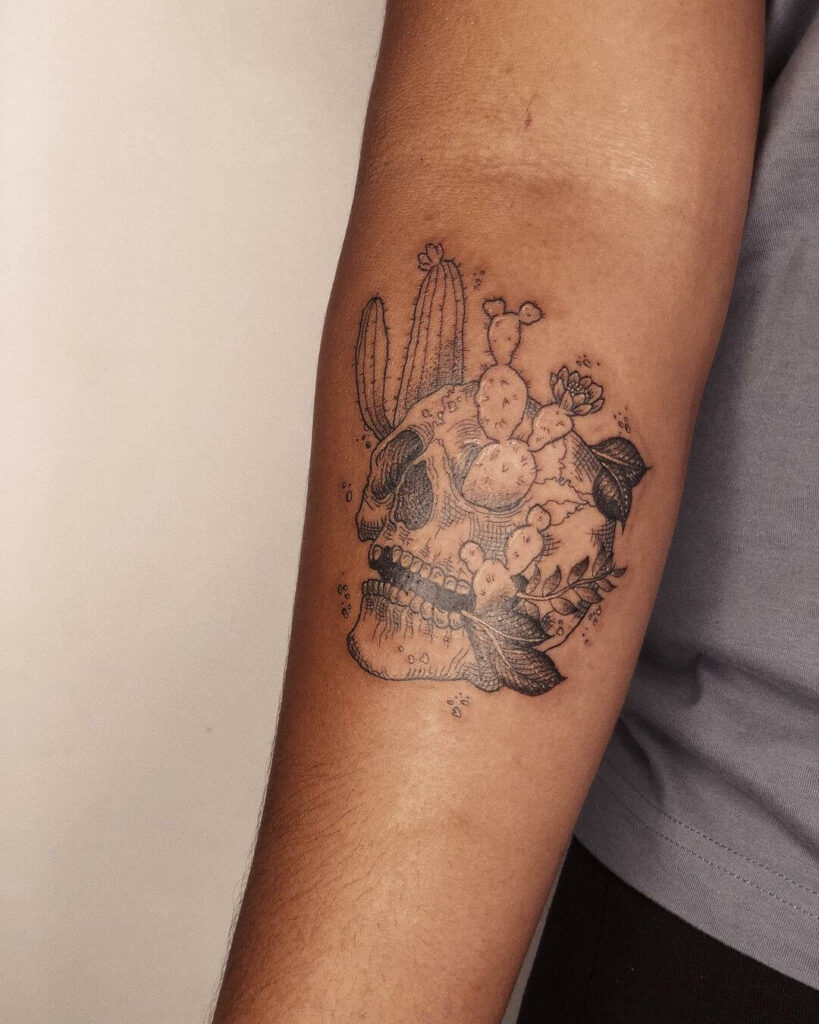 How is it possible that we're talking about spookiness and without bringing up a skull design? Skull is the first thing that comes into the mind of someone when they hear the word scary, spooky, Halloween. Some roses or bones generally accompany a skull tattoo. But in this tattoo, there are cacti with the skull. The cactus in a tattoo is a symbol of the survivor. This can be an excellent tattoo idea for someone who has survived or recovered from a severe disease and wants to have a tattoo. If you have recently recovered and are looking for a tattoo to represent your struggle, this is the perfect tattoo idea for you, as it describes how you escaped death.
Spider Corpse Tattoo
Spooky without spiders is not a legitimate feeling. The spider in this tattoo is so scary and deadly. The big mouth on its body looks like it is about to bite you and can kill you with that bite. This giant poisonous spider can be a great choice of tattoo for your Halloween party or can also be a fantastic choice for a permanent tattoo to scare everyone from this. This spider looks like an unearthly creature. If you want to strike mercilessly in the hearts of those around you, you can consider this eerie spider corpse tattoo.
Full Body Corpse Tattoo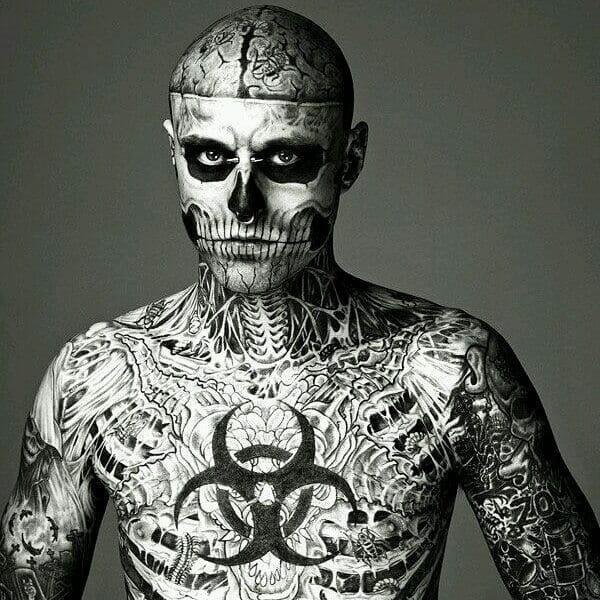 Ooo! What a terrifying tattoo. This is one of the best baddass tattoos to strike mercilessly on Halloween. This full-body tattoo is such an excellent idea for your Halloween party. You do not need any costume, just a tattoo. This tattoo alone can make you look so scary among your friends. This temporary spine-chilling tattoo can help you to scare your friends anytime. You need a good paint artist or a tattoo artist who can paint this thrilling design on your body. You also may need some patience for this tattoo journey, but the result is worth it.
Cute Corpse Tattoo With A Ghost
Just look at this cute and spooky tattoo. This tells us that not all ghosts are scary. Some can be friendly and cute, like Casper. The bats, pink sparkles, and skeleton in a coffin make this an alluring tattoo. This tattoo is an excellent combination of cuteness and spookiness. If you love difficult things but want a cute pinky tattoo, then this is the one you are looking for.
Spider With Skull Tattoo
No Halloween can be complete without skulls and spiders! This tattoo looks like a spider is wearing a human skull so that you can imagine its size. Yes, it is a pretty giant spider that can kill you with its poisonous bite. It was probably cursed and stuck to the skull, but no one knows the real story. This mysterious tattoo is a fantastic tattoo for horror lovers.
A Battle King Corpse Tattoo
Not all the warriors win, despite their great struggles. This half-dead warrior is an excellent example of this. The corpse of this warrior is still ready to fight its enemies. No one can defeat such a brave soldier. It is wearing a crown which is a symbol of the king. It might be a king's corpse, a bold and courageous king's corpse. Don't you want to have a tattoo that inspires you not to give up?
Fish And Skeleton Corpse Tattoo
Doesn't this tattoo remind you of the lockdown days? Those days when no one is allowed to get out of their house, everyone is stuck inside it. This is exactly what everyone felt at that time. This is an excellent representation of that time. As you can see, the corpse looks happy, which means it does not want to get out of it. It loves to be isolated. The skeleton corpse is holed up inside the skeleton of a huge fish. If you are looking for a similar spooky design, you can pick this one or personalise it per your preferences.
Corpse In Agony Tattoo
No one can understand the agony of a half-dead corpse. But you can try to understand and represent that sadness. This tattoo also means that no one can understand anyone's pain and sufferings, no matter how closely you know that person. The person has to go through it alone, though there are people to support them. This is such a deep meaning conveyed by this simple cannibal corpse tattoo.
Broken Red Wine Glass With Corpse Tattoo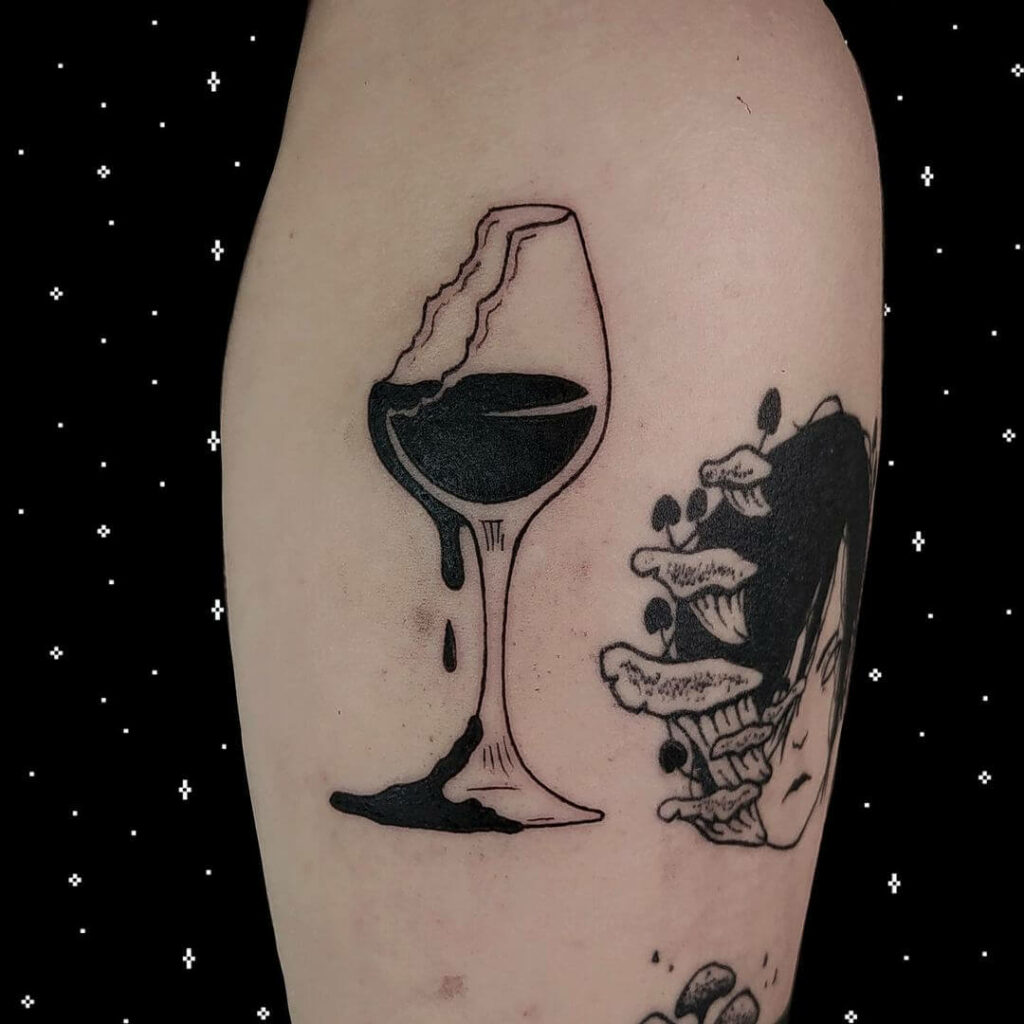 The red wine here represents the red blood, and the cracked glass represents the dead body. This tattoo represents the dead nature of the wearer. The dead nature here is not the negative aspect of human beings, but a person's sadness. There is a tiny margin and securing the difference between these two is not easy. The dripping red wine represents the dripping blood of the corpse. This can be a great piece in your tattoo journey.
Feature image from Pinterest – Want your tattoo to look brighter? Try "Tattoo Balm"