Looking for a tattoo that embodies courage in the face of mortality? Let us introduce you to some fantastic cow skull tattoo designs that might just be the perfect fit for you!
You might be wondering, "What does a cow skull tattoo symbolize?" While the meaning behind this design may seem a little dark at first, it's actually quite empowering.
A cow skull or bull skull represents fearlessness in the face of death. While the skull itself is a reminder of our mortality, it also suggests that there's something more beyond our earthly existence. In essence, a cow skull tattoo encourages living life to the fullest and making the most of every moment, as we are all destined to face the end someday.
Moreover, in many cultures, cows symbolize universal motherhood and are revered as gentle beings embodying piety and patience. So, when you opt for a cow skull tattoo, you're not only embracing a fearless attitude towards life and death but also honoring the profound symbolism of this gentle creature.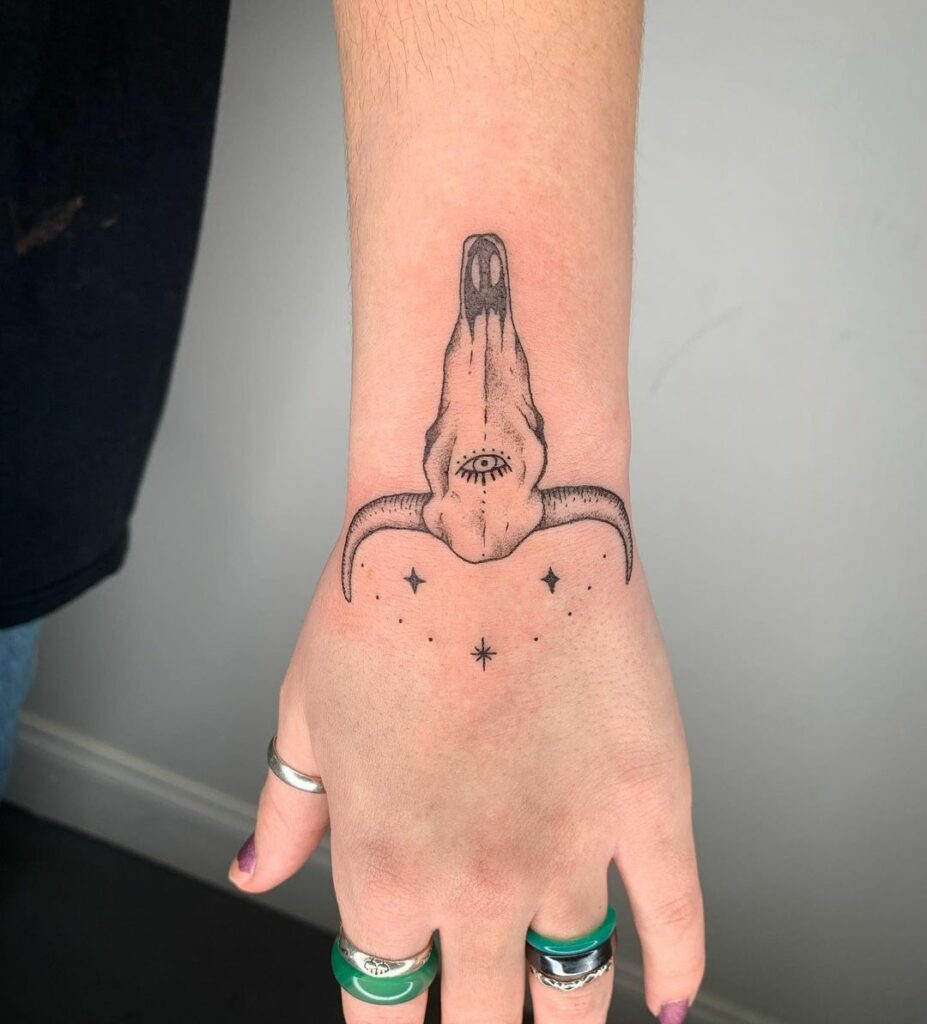 Minimal Cow Skull Tattoo Design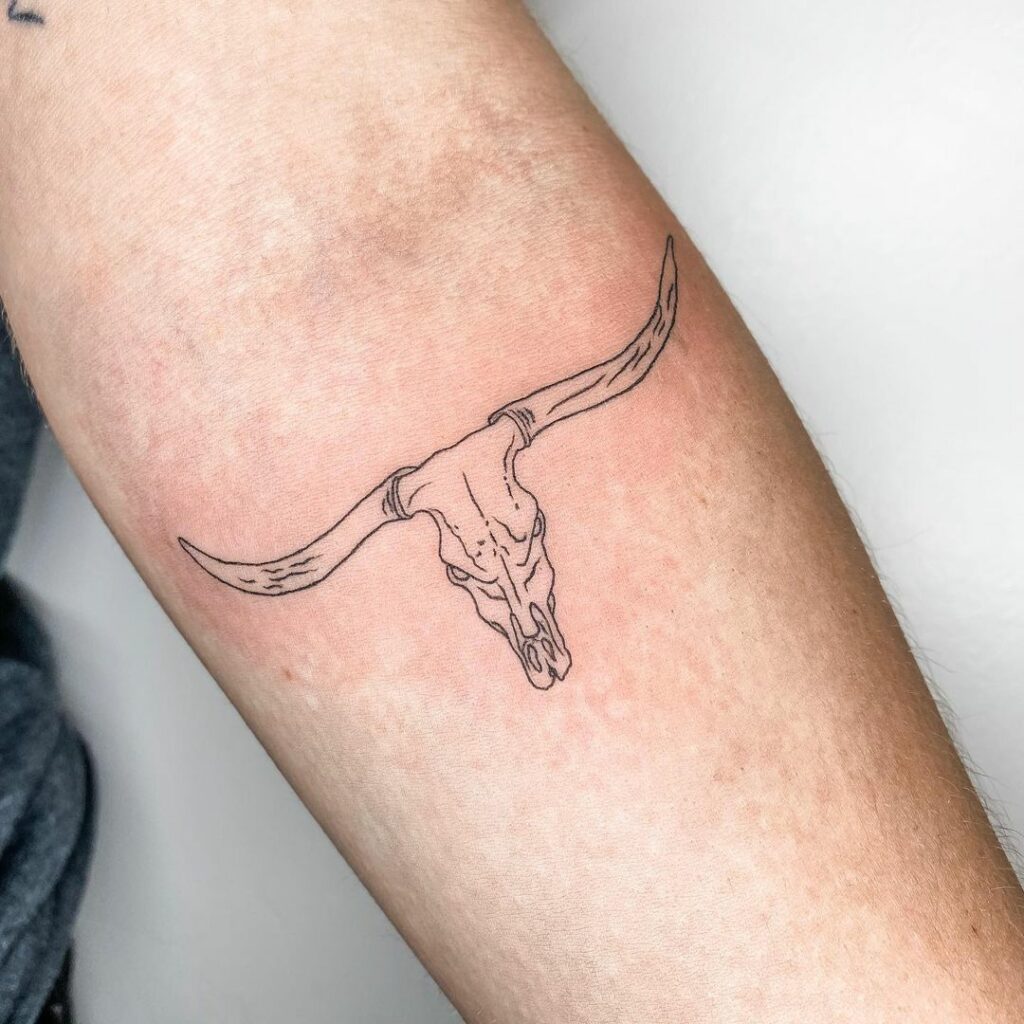 For those seeking a subtle yet impactful tattoo, a small cow skull design might be the perfect choice. When discussing your preferences with your tattoo artist, be sure to mention your interest in minimal and clean designs that align with your personal taste.
One such example features a precisely crafted cow skull tattoo on the arm. The artist has skillfully captured the contours and lines of the skull and horns, maintaining a sense of simplicity and elegance. This understated approach to the cow or bull skull tattoo retains its inherent meaning while presenting a refined appearance.
In the hands of a talented tattoo artist, this modest cow skull design can become a stylish and meaningful addition to your body art collection. The end result is a sophisticated tattoo that speaks to your unique sensibilities while celebrating the beauty of this iconic symbol.
Ideas For Colorful Cow Or Bull Skull Tattoo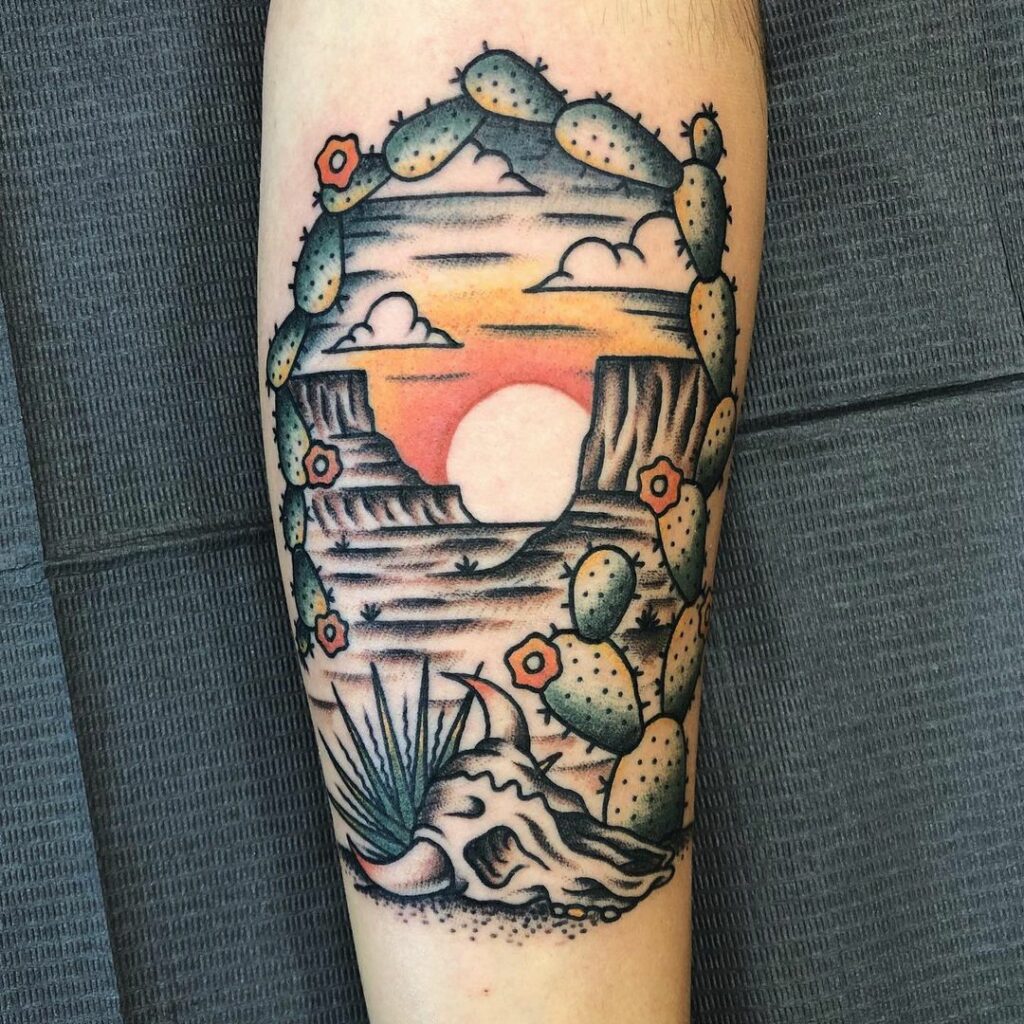 Colorful tattoos have taken the spotlight in recent trends, as more and more people are opting for vibrant designs over monochromatic ones. If you're looking to join this lively movement, simply discuss your color preferences with your tattoo artist, and they can infuse your skull tattoo with a brilliant array of hues.
Adding a splash of color can truly transform a tattoo, making it an eye-catching and visually stunning piece of art. This creative approach allows you to personalize your design with your favorite colors, resulting in a unique and appealing tattoo that reflects your individuality.
So, go ahead and embrace the vivid possibilities of colorful ink. With the help of your skilled tattoo artist, your skull tattoo can be elevated to new heights of beauty and self-expression.
Ideas For Dark And Edgy Cow Skull Or Bull Skull Tattoo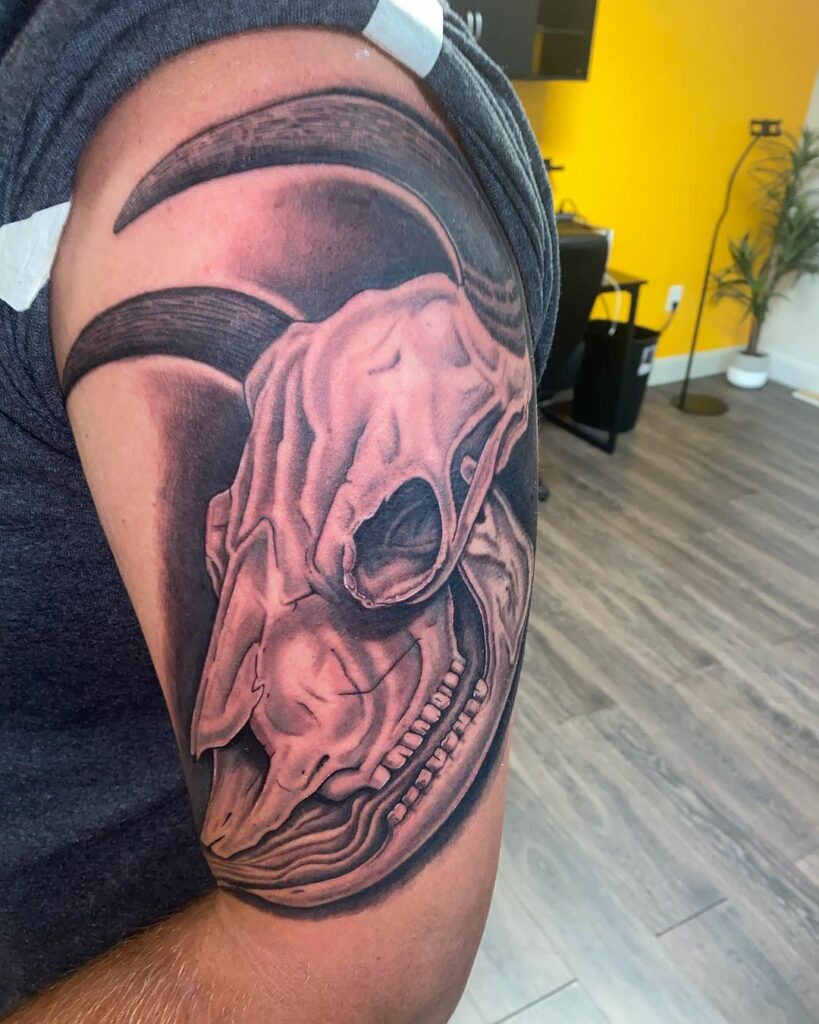 While cow skull tattoos may carry a certain degree of darkness and intensity in their symbolism, they also serve as a meaningful reminder of life's transient nature. Throughout history, skulls have played a significant role in reminding us of our own mortality.
For a dramatic and visually striking design, consider the example shown above, featuring a cow skull tattoo shaded in red and black. This bold color palette, combined with the skull's imposing horns, creates a powerful and somewhat mysterious effect.
In the hands of a skilled tattoo artist, a cow skull design can become an evocative and thought-provoking piece of body art. The resulting tattoo serves not only as an eye-catching adornment, but also as a poignant reminder of the fleeting nature of life and the importance of living each moment to the fullest.
Heavily Shaded Dark Cow Skull Tattoos
Cow skull tattoos carry a deep and significant meaning, often associated with fearlessness in the face of life's greatest unknown: death. If you're drawn to the original symbolism of this powerful design, consider enhancing it with a skillful shading technique.
As demonstrated in the featured image, the use of detailed black ink creates a richly shaded and captivating effect, lending a sense of mystery and intensity to the tattoo. This realistic cow skull design, when displayed on your body, serves as a statement of your courage and resilience in the face of life's uncertainties.
Embracing the true essence of the cow skull tattoo can result in a bold and evocative piece of body art, one that reflects your inner strength and fearlessness, and leaves a lasting impression on all who see it.
Unconventional Cow Skull Tattoos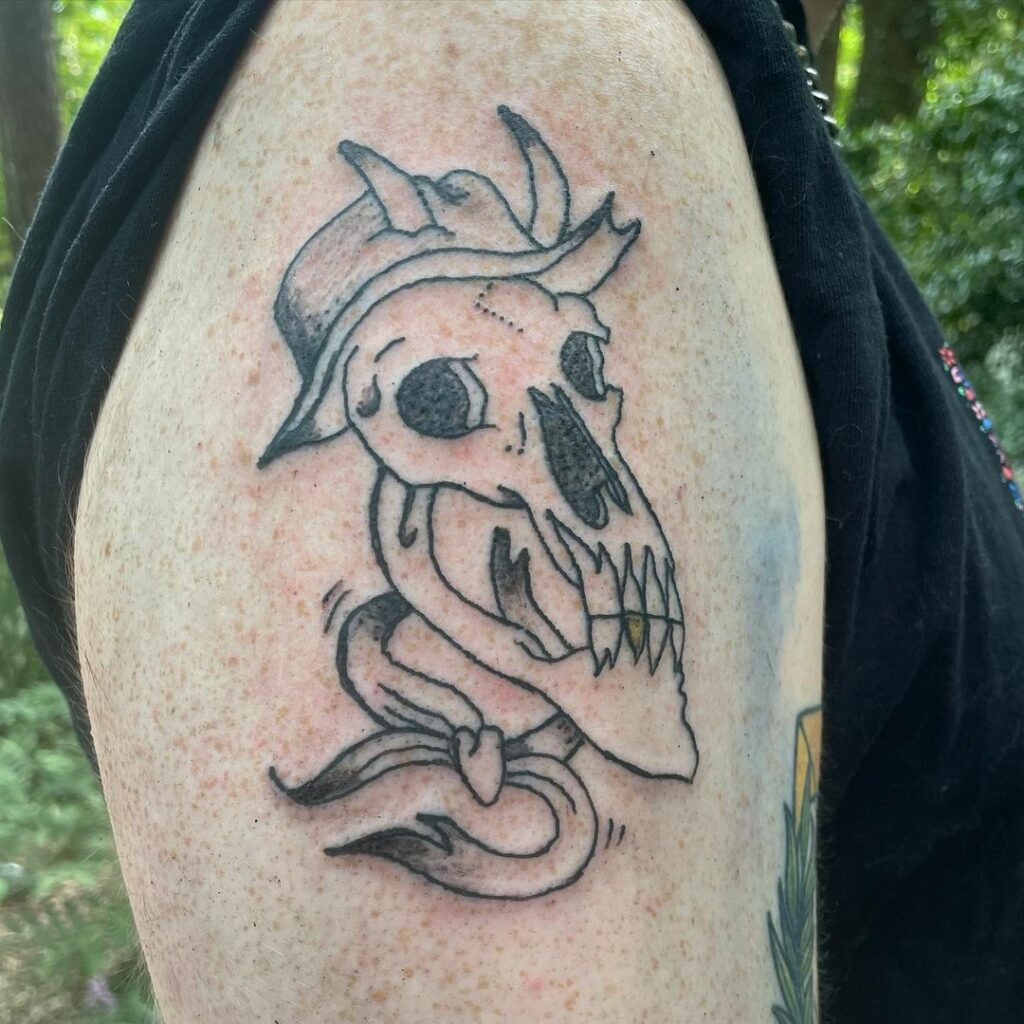 Tattoos offer a unique opportunity to express your creativity and personal style through body art that stands the test of time. With countless design possibilities, you can find inspiration in various images online or even from someone sporting a tattoo that captures your imagination. The most important thing is to choose a tattoo that resonates with you and reflects your individuality.
When seeking a more unconventional and distinctive design, don't hesitate to discuss your vision with your tattoo artist. Collaborating with your artist, you can create the perfect cow skull tattoo that not only embraces its rich symbolism but also showcases your one-of-a-kind personality.
Remember, the beauty of tattoos lies in their ability to tell your story and express your unique identity through captivating and meaningful art.
Quirky Cow Skull Tattoos
Throughout history, various cultures across the globe, including Native American traditions, have viewed skulls as symbols of death. Interestingly, these same cultures also hold the belief in a continued existence beyond death. If your perspective on skull tattoos is similarly unique and you'd like to encourage people to embrace life wholeheartedly, consider getting a quirky tattoo.
Opting for a funky, imaginative design can serve as a powerful symbol that reminds everyone to face life fearlessly rather than succumbing to fear. A distinctive and creative skull tattoo can be the perfect conversation starter, inspiring others to appreciate life's beauty and make the most of every moment.
Cow Skull Tattoos With Other Symbols And Motifs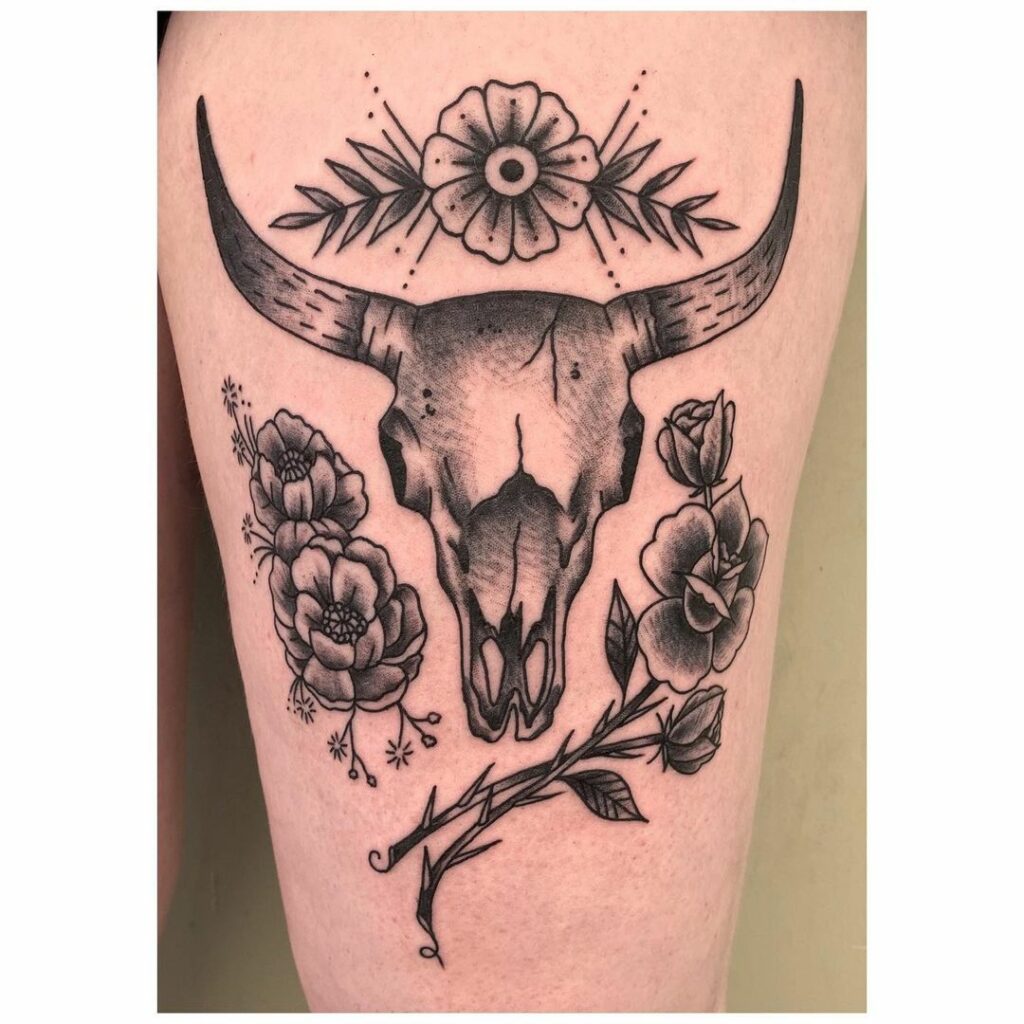 In numerous cultures, including Native American traditions, cow skulls are revered for their deep symbolism. Within these communities, the skulls are often adorned with various flowers as part of their worship rituals. As such, incorporating flowers or other significant symbols related to Native American ceremonies into your cow skull tattoo design can add a layer of cultural depth and beauty.
If you're also on the lookout for captivating floral tattoo inspiration, don't miss these stunning yellow rose tattoo designs. These captivating and timeless pieces of body art are sure to leave you inspired and eager to create a meaningful and visually striking tattoo that reflects both your personal taste and cultural appreciation.
Elaborate Cow Skull Tattoo Ideas For Your Body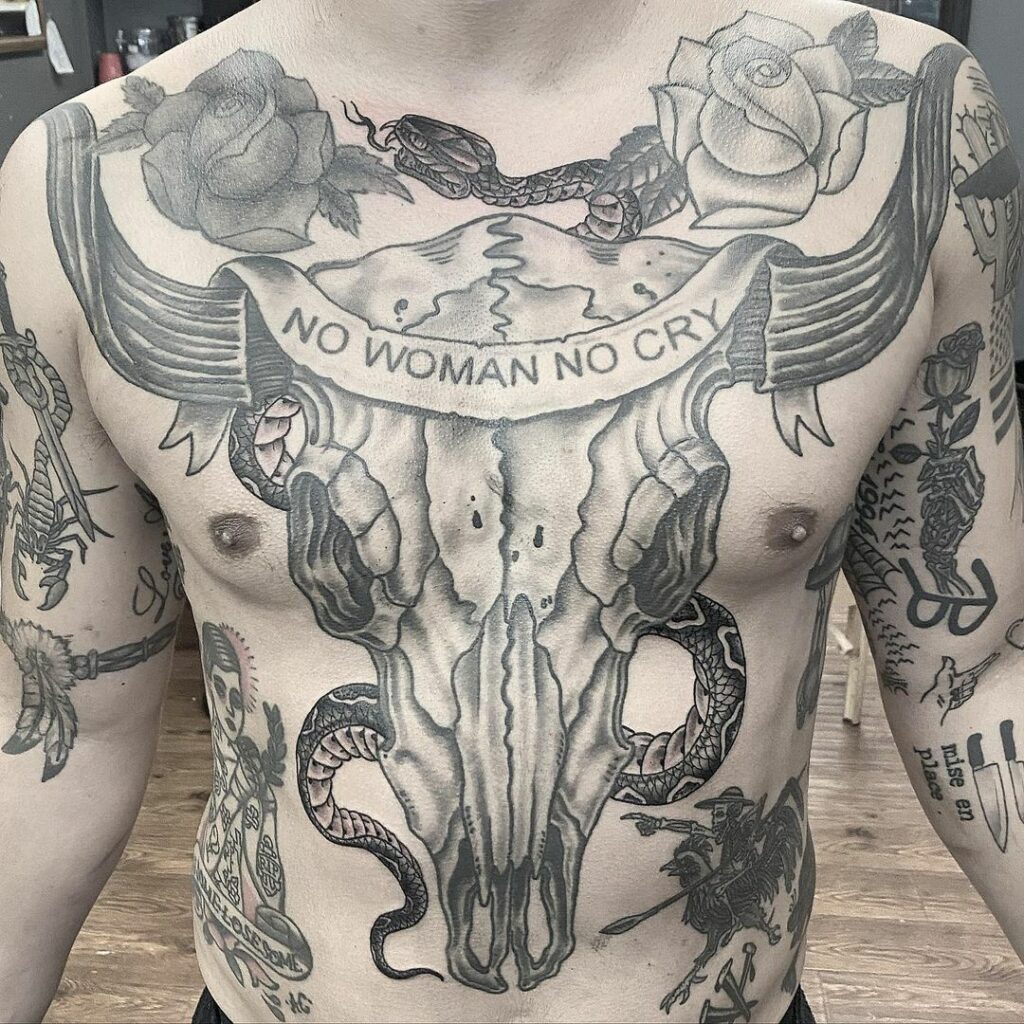 For some tattoo enthusiasts, bigger is definitely better. If you're one of those individuals in search of a large, intricate cow skull design, your tattoo artist can be a valuable resource in crafting the perfect piece tailored to your preferences. Feel free to discuss your vision with them, sharing your desired scale and details for the tattoo.
Additionally, browsing through online galleries and social media platforms can provide a treasure trove of inspiration for unique and eye-catching cow skull designs. Save the ones that resonate with you, and use them as a starting point to create a one-of-a-kind tattoo that truly captures your essence and style.
Cow Skull Tattoo For Your Shoulder
The shoulder is a favored location for many tattoo enthusiasts, as it offers both prominence and versatility in showcasing your ink. If you're considering a cow skull design, the shoulder makes for a fantastic canvas.
To further enhance the beauty and meaning of your shoulder tattoo, consider incorporating other elements such as delicate black butterfly designs. These captivating additions can add depth and visual interest to your cow skull tattoo, creating a truly unique and personal piece of art. Explore the myriad of black butterfly tattoo designs available to find the perfect complement to your cow skull design.
Cow Skull Tattoo Idea For Your Leg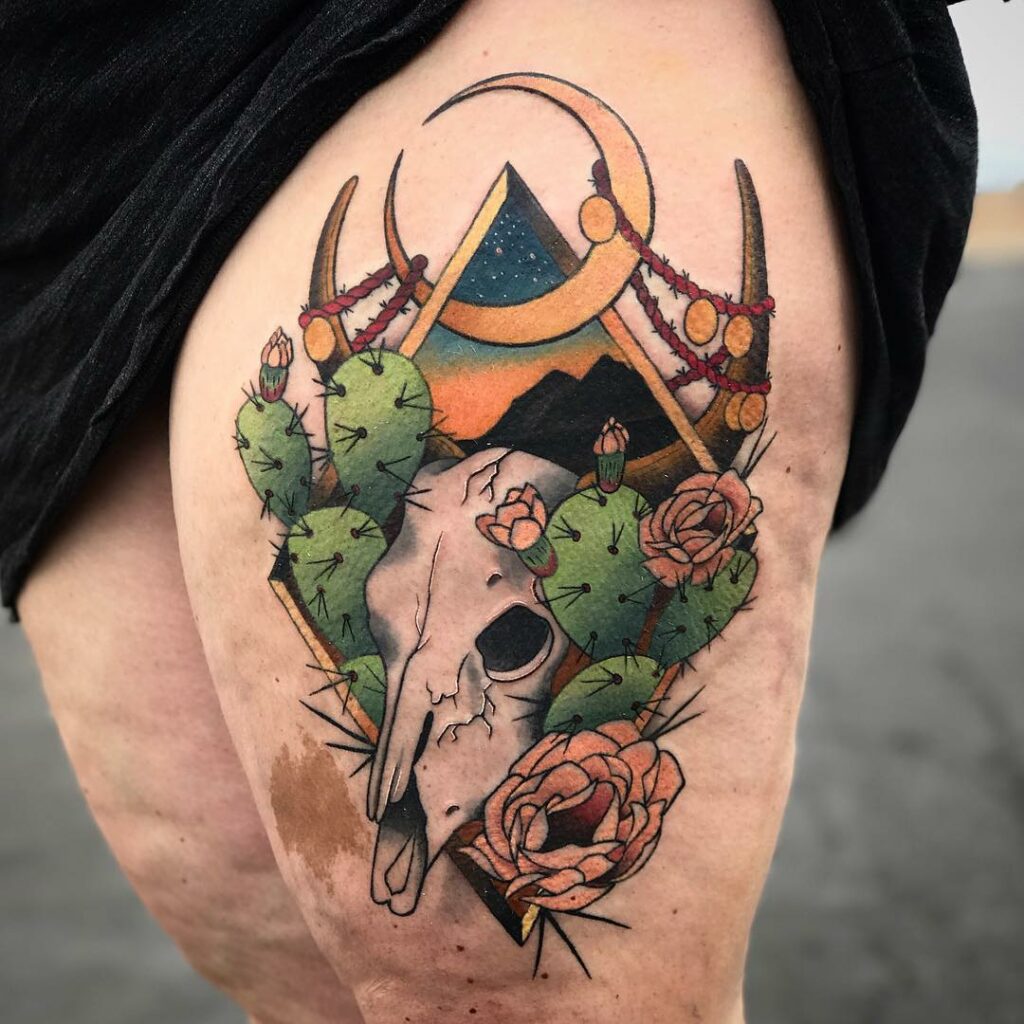 The back of the thighs or legs may not be the most conventional location for tattoos, but they have gained popularity among those seeking a more unique and trendy placement. As illustrated in the accompanying image, an elaborate cow skull design can look striking and eye-catching on the wearer's legs.
One of the key tattoo trends in 2021 revolves around seeking designs that carry profound meaning and significance. This has led many people to gravitate toward more unconventional tattoos that communicate deeper sentiments. If you're searching for a tattoo that embodies your fearless and bold spirit, don't hesitate to explore the vast array of stunning cow skull tattoo designs available. They just might be the perfect fit for showcasing your individuality and strength.
feature image from Pinterest