Searching inspirations for a cross tattoo on hand to add to your impressive collection? Here, we have an amazing list to blow your mind.
Cross tattoos have always been popular among people for many reasons.
Be it a symbol of Christian faith or a sign of carrying God's infinite love with you at all times; people have found reassurance in this since possibly the time tattoo designs became popular. A lot of people all over the world still keep coming back to this as a mark of grounding themselves in everyday life.
As a result, Cross tattoos are as popular as ever. They look cool, and there is always a design that fits everyone's style without having to look far. The best thing about cross tattoos is that since the main structure design is very simple, it can be customized in a lot of different ways. From little personal add-ons to flowers, animals, or anything you can think of under the sun. All of them are relevant and meaningful yet cool enough that they will never go out of style. This is why we have curated a list of the best cross tattoo designs to make your search easier. Whether you are looking for a simple cross tattoo design, something extravagant, or even if you want to experiment with the gothic style, we have it all here. So, go through the list below to find your best fit or at least inspiration for some Cross tattoo ideas right here!
The Hooded Angel X Cross Tattoo Designs
At the top of the list, we have this breathtaking fusion of a hooded guardian angel and cross tattoo design for you. This black ink tattoo is not only intricately detailed with the layers of the angel's robes and wings, but it also highlights the cross perfectly. Add to that the Bible verses, and you have a unique design that is sure to portray your taste for culture, your beautiful personality, and your unshakable belief at once. This beautiful piece is sure to attract attention wherever you go, so if you are ready for that, go get this now.
The Cross X Purple Rose Tattoo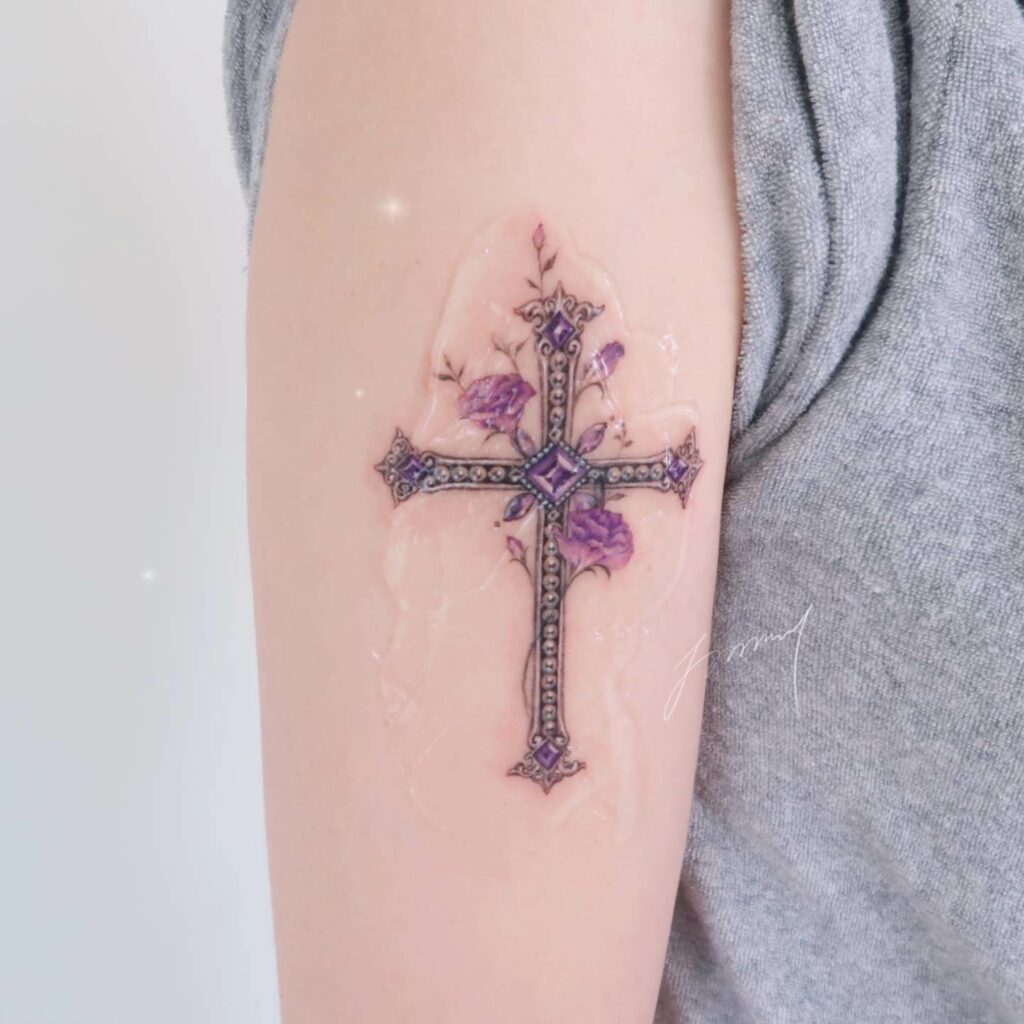 This fantastic design is a custom piece with ornamentations and flowers. Faith and flowers always go hand in hand, so what better way could there be to let people know your love for both? The beautiful purple diamond in the middle of the cross adds glory to the design and symbolizes the diamond heart of the Holy Spirit, while the flowers add a certain cute and delicate charm. This is a beautiful piece for anyone who wants to experiment a little with a cross tattoo design and add their personal touch. If this idea matches you, you can try this one out. The best part is that although it is an arm tattoo design, it is small enough that you can get it done on your wrist if you prefer wrist tattoos.
The Minimalistic Tiny Cross Tattoo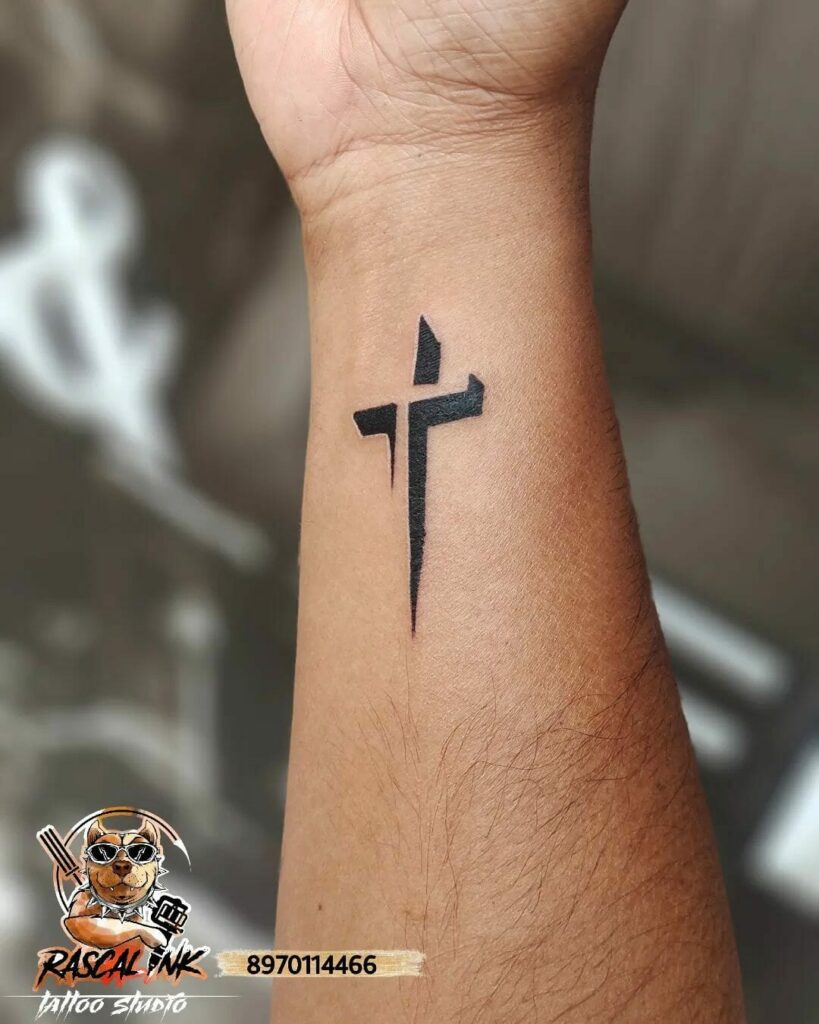 This is possibly the coolest design on the list. This black ink 3D tattoo is very simple, yet it leaves its impact on the viewer all the same. This small cross tattoo highlights the basic human truth that even without any sort of extravagance, you can leave your impact if you just do your job well. A beautiful depiction of the Christian cross, this can show your class, standards yet humble and kind spirit to the world. If you are someone who believes that simplicity is the best way, this is definitely your cup of tea. You can even try this cross tattoo with white ink if it suits your taste.
The Gorgeous Ornamented Gothic Cross Tattoo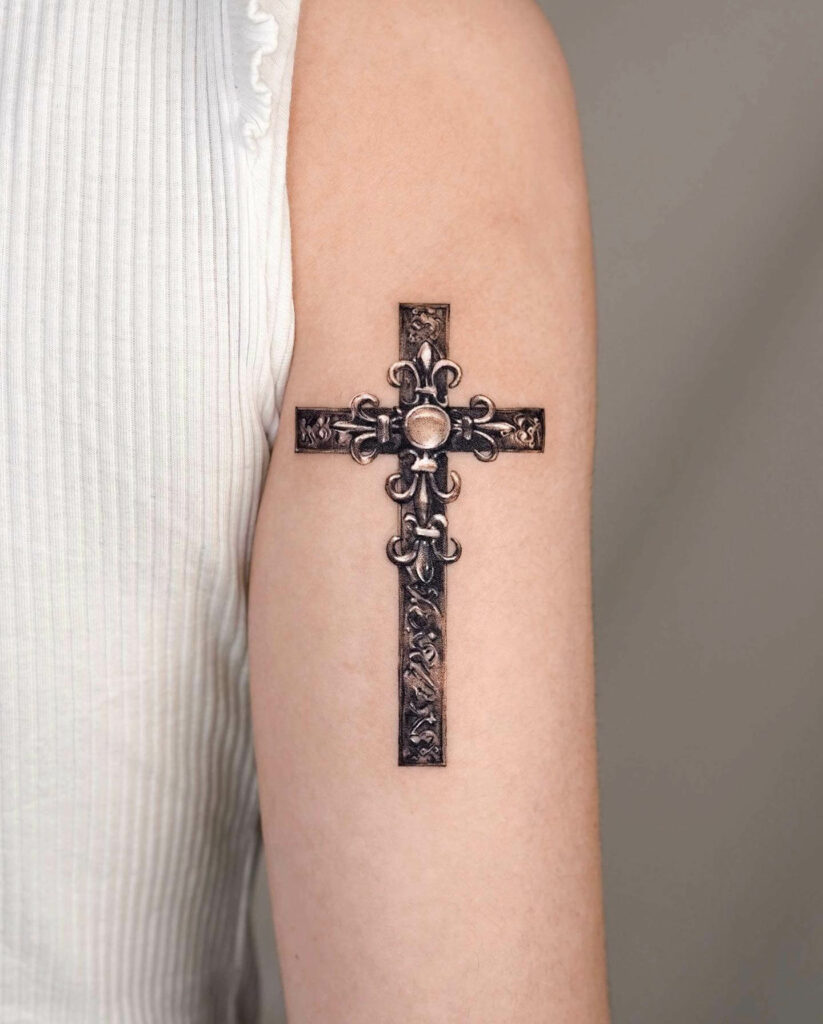 Gothic design at its finest, this is one of those cross tattoo designs that carry a royal charisma with them. The ornamentations become a significant symbol in this piece by portraying the glory of the holy symbol. The black cross with white ornamentations looks breathtaking and cleanly detailed as if they are flourishes of an ancient symbol. If you are looking for something small yet extravagant that will definitely up your style game, make sure to add this small cross tattoo to your list. You can even try this one on your shoulder blade or work it as a chest tattoo design to make it more impactful.
The Cherubs X Rosary X Cross Tattoo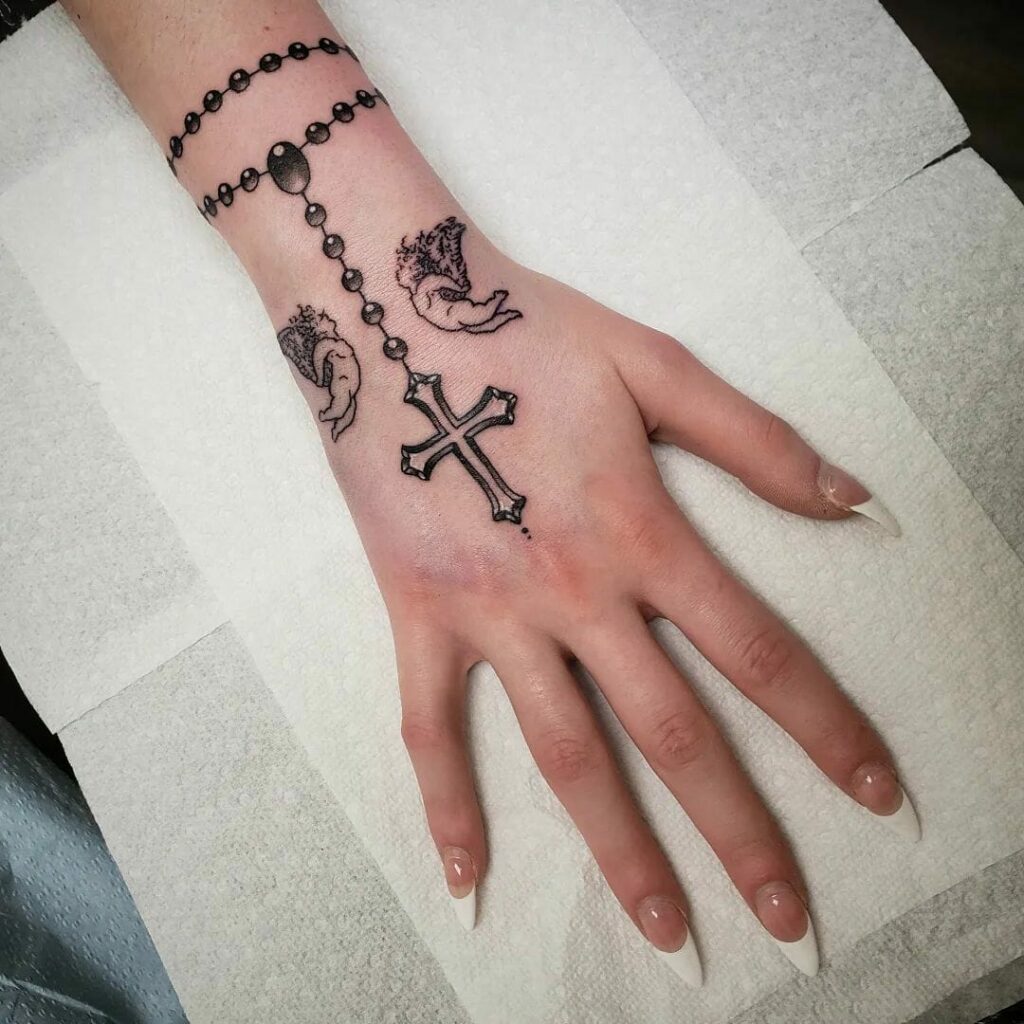 Cherubs, rosaries, and crosses go hand in hand as symbols of faith. However, combining them all in a tattoo design is pretty unique, especially if the result is beautiful. It is at once cute and delicate, and the wrist placement makes it all the more charming. This simple cross tattoo is for those who want to portray their inner soft personality and childlike innocence through their designs. You can even get this as a cross necklace tattoo, as the detailed rosary beads will look amazing in framing that area. The wrist tattoo looks amazing but you can also go for a Cross and Rosary tattoo design on your forearm.
The Breathtaking Cross Shoulder Tattoo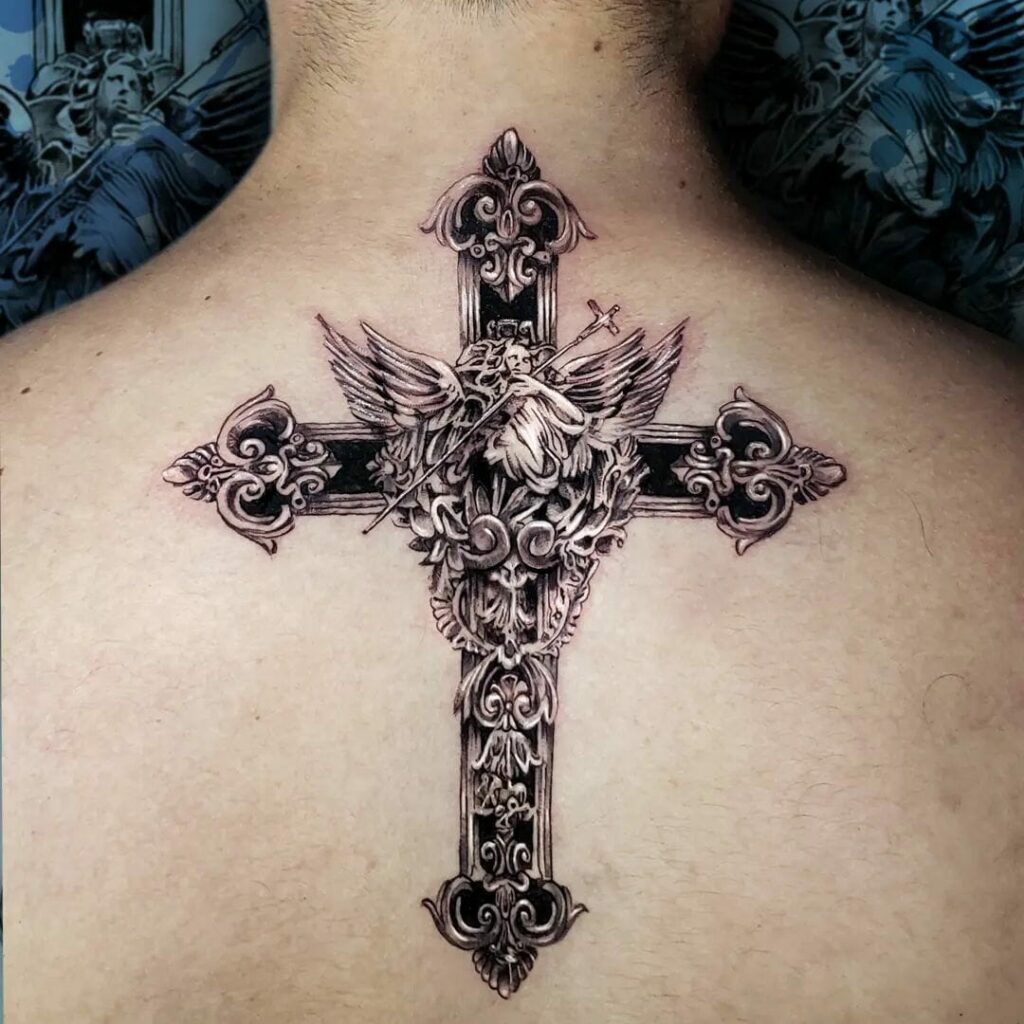 This magnificent piece of art looks like it came straight from the picture of a classic painter. The cleanly drawn lines and intrinsic details, even in such a small area, really bring out its beauty, making it one of the best cross tattoos out there. The beautifully drawn angel holding yet another cross gives it a meaningful symbol of a gentle fighting spirit. People who want to decorate their tattoo designs with detailed artwork can go for this one. You can also try and customize it with a maltese cross or even a Celtic design to better fit your taste. The tattoo is done in black and grey, which makes it look classy and elegant.
The Black Ink Large Cross Tattoo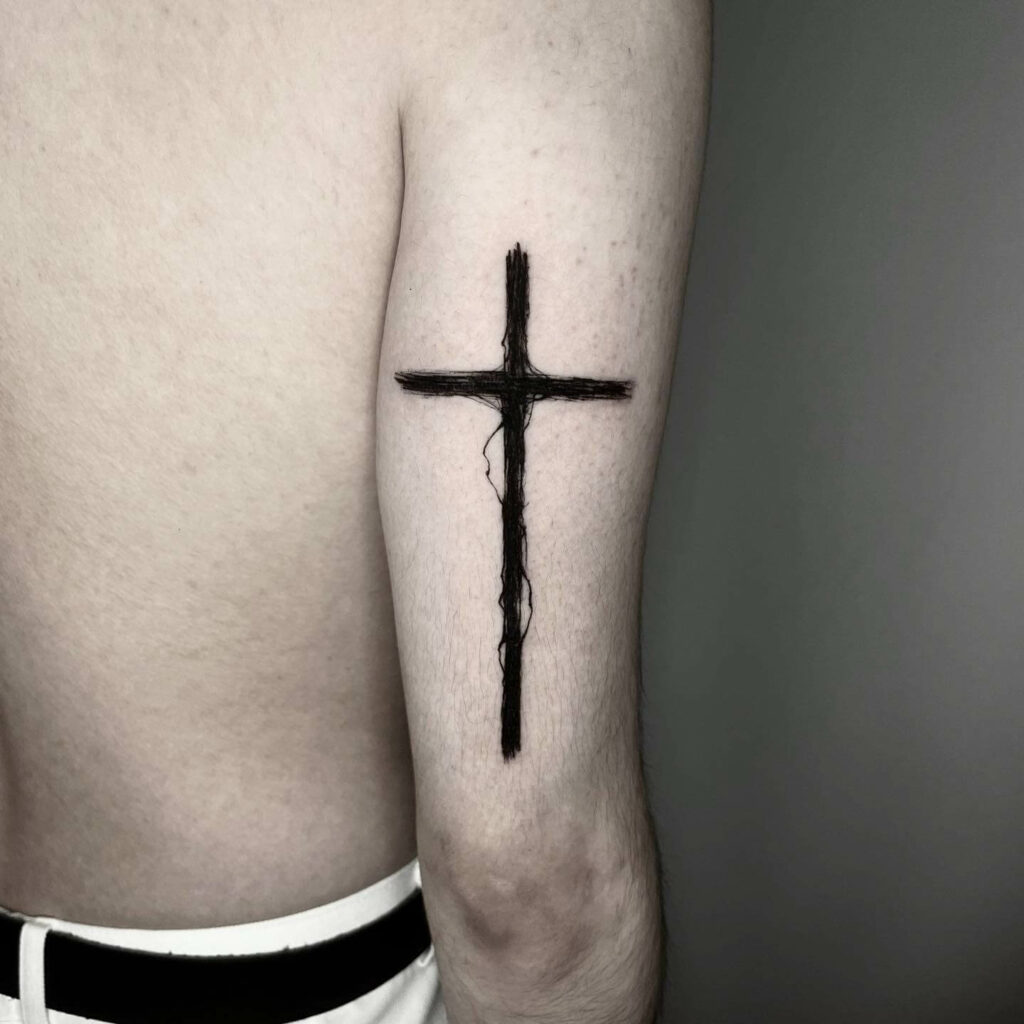 This is a plain cross tattoo with seeming thunder wrapped around it. Completely in black ink, this is one of the cross designs that seemingly portrays the Lord's justice. As astoundingly cool as it looks, the best part is that it can be customized any way you want since it is such a tiny tattoo. You can change its placement from the right arm to the left shoulder, your ring fingers, or even behind the ear. You can add personal decorations as well in it with an infinity symbol depicting eternal life, or knives, skull, swords, etc. If you are looking for inspiration that will leave you with a lot of space to include your own touches, this might be the one for you.
The Abstract Floral Cross Tattoo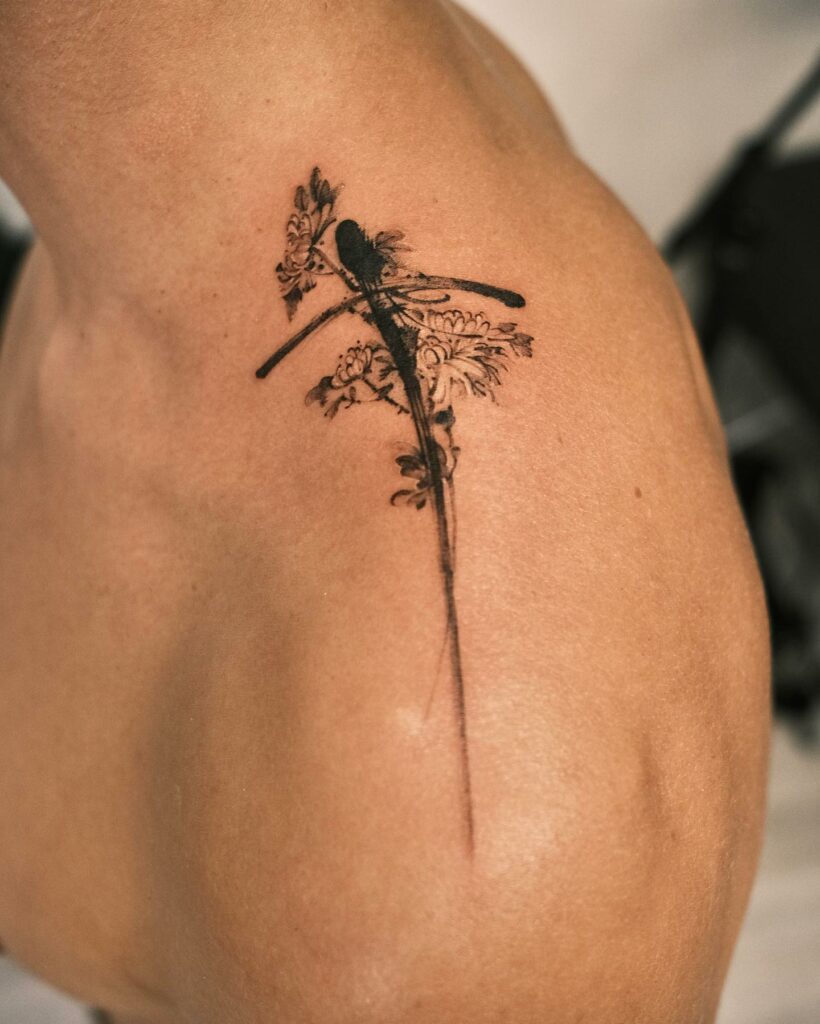 As we mentioned before, the amazing result of these cross designs is that, in the end, it leaves a lot of space for imagination. This artist has done an amazing job of portraying that with this abstract piece with florals and a cross tattoo design that looks like a Koi fish. At once, it signifies happiness, good luck, and faith in the Lord. You can add colors to it to make this small tattoo more interesting. If you are looking for one of those small cross tattoos that will give off a soft aesthetic vibe, then get one of these crosses tattooed right now!
The Cross X Dice Sleeve Tattoo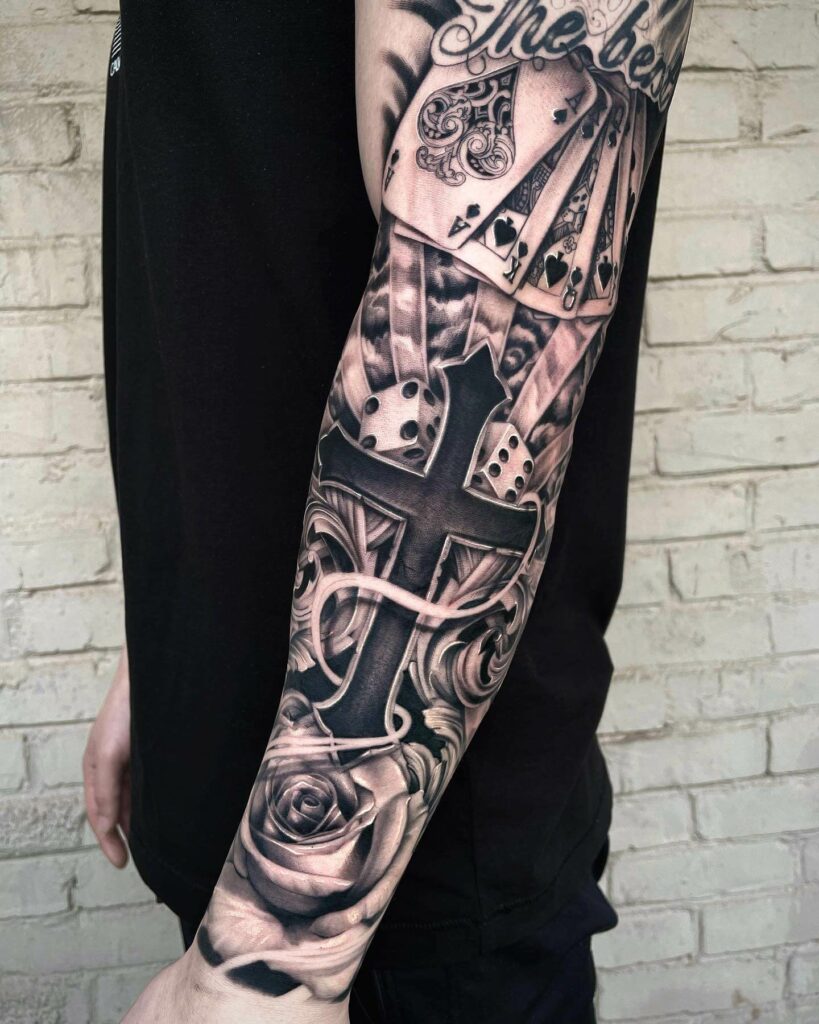 Fans of sleeve tattoos, this one is for you. This bold piece of roses, dices, and the cross is for the risk takers, who not only never shy away from a challenge but also maintains the patience to see it through to the end. It is indeed a unique take on the faith tattoo with bold lines and an extravagant combination. This cross tattoo represents the indomitable spirit of the person wearing it. You can customize it with a tribal cross tattoo or a maltese cross tattoo to add even more layers to it. If you feel like you match the description, then don't be late for the party! Book your next tattoo appointment right now.
The Realistic Jesus Christ X Cross Tattoo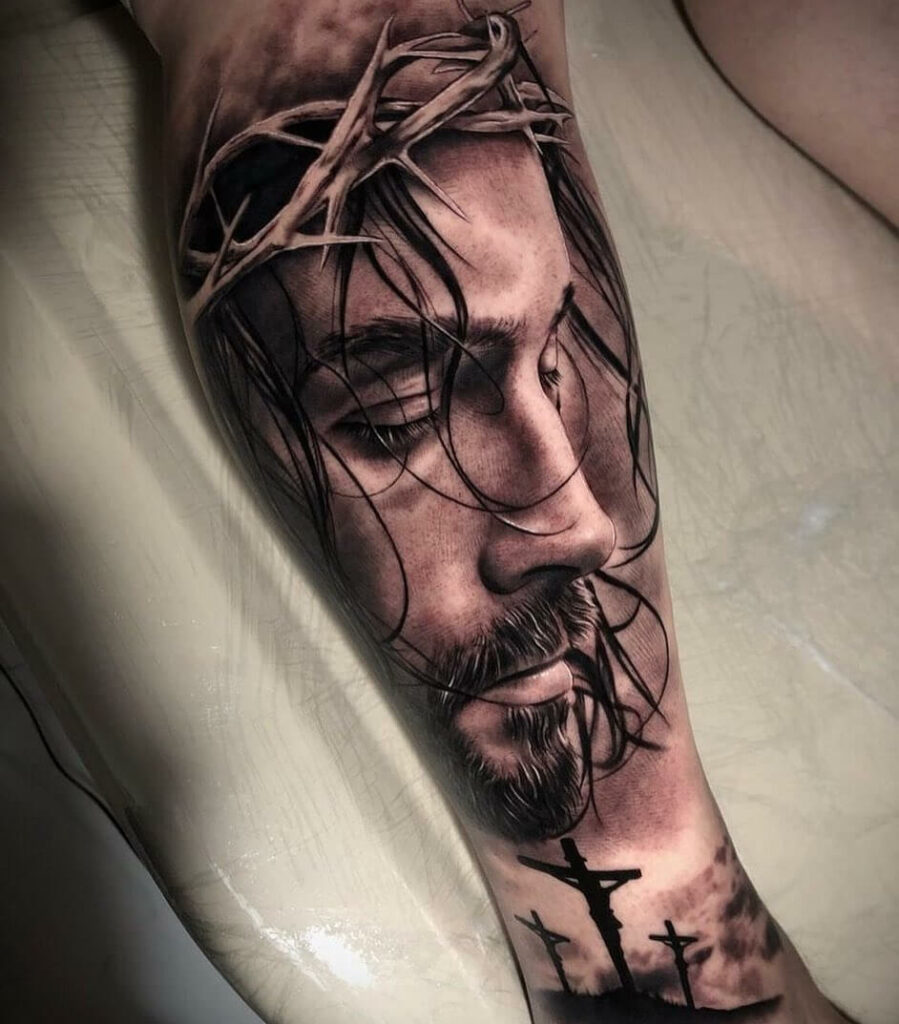 This is possibly the most realistic-looking tattoo on the list. A beautiful depiction of the face of Christ with the three crosses tattoo will possibly lure everyone to take a second look. If you think you can handle that attention, this will be your best bet for a cross on hand tattoo. This tattoo is for the devout Christians and will help you showcase your love for Christ and God. This is a pretty large tattoo, so if you are someone looking for a larger piece, you should go for this design.
Be very careful when choosing your tattoo, as they really make the first impression about who you are. So always try and choose a tattoo that fits you best, and then communicate with your artist properly about what you want. As long as both of you are clear on that front, it can prevent a lot of future misunderstandings from occurring.
Feature Image from Pinterest – Want your tattoo to look brighter? Try "Tattoo Balm"
Last reviewed and updated on June 27, 2023