A crows nest tattoo is a unique natural vibe tattoo design that gives you a really cool outlook. Various styles and designs of crow's nest tattoos can be found.
Crow's nest tattoo is usually a way to explore exclusive black ink ideas and their profound connotations.
Crow tattoos come in a wide variety of designs, sizes, and colors. Currently, crow's nest tattoos rank among the most distinctive tattoo styles.
People who are fond of the color black are attracted to crow tattoos. The symbolism of a crow tattoo is thought to represent darkness and secret. Get this tattoo design at your own risk because some people believe that getting a crow tattoo is a sign of bad luck. However, the crow's nest tattoos unquestionably provide you with an extremely spectacular and distinctive outlook! As crows nest tattoos are unique, you must go for an experienced tattoo artist with a very clean shop. You can have a safer experience by following the tattoo artist's instructions.
Crow Nest With Flowers Tattoo
This crow tattoo, located on the lower portion of the right bicep, is entirely black ink-designed with certain features drawn sharply to give it an artistic appearance.
With this crow's nest tattoo, the tattoo artist unquestionably did a terrific job. Every flower's petal and the smallest details on the crow's nest and eggs have been meticulously done in black ink.
The black-inked minute outlines inside the tattoo's leaves and flowers are the most exquisite feature of this crow's nest tattoo. Although crow tattoos are typically associated with death and doom, this one attempts to make a different point. This crow's tattoo can suggest that not all crows should be taken as a bad omen because flowers prominently represent love and generosity. Such crow's tattoo ideas are ideal for women. This tattoo has no redness around it, and by the looks of it, the tattoo healed fast.
Crow's Cup Nest Tattoo
A beautifully rendered crow's cup nest tattoo can be seen on the upper thigh.
The cup nest has been tattooed intensively in pure black ink in this image. It is a very plain and uncomplicated representation of a crow's shelter.
Crow tattoo meaning is sometimes associated with deceit and wisdom, according to some traditional tribes. This specific piece of body art highlights simplicity as it does not involve any extra complex tattoo designs.
This tattoo is strongly related to loss and death. In this body art, a skull depicted as the crow's nest can be shown as a fitting remembrance. People usually get this tattoo to honor the memory of a deceased loved one. Tattoos that are big pieces like this one are essentially an excellent match for people with a big body frame.
Crow's Nest Matching Tattoo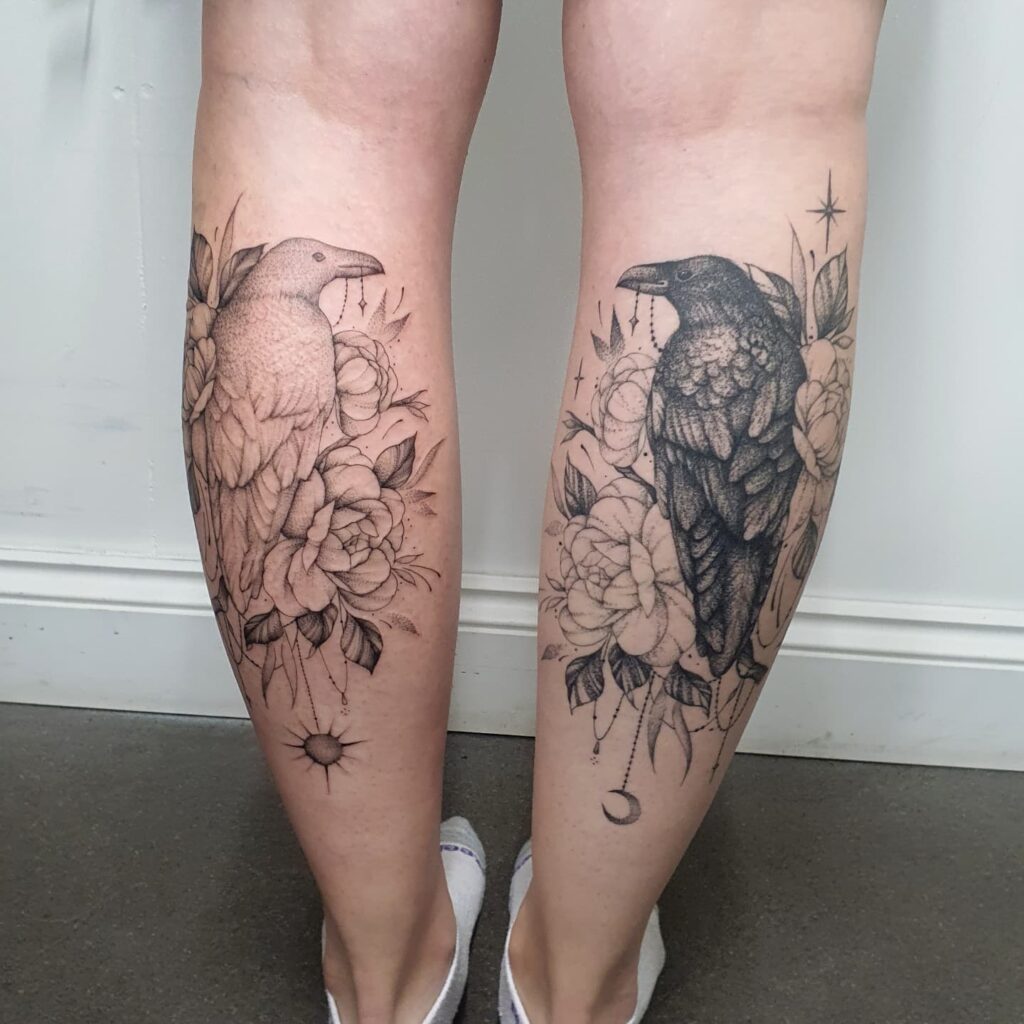 On both legs, there are matching tattoos of a crow nest. Black ink is used to shade the one on the right leg, whereas black ink is used only to outline the one on the left leg.
Flowers have been delicately drawn in both matching tattoos with pure black ink. Below the crow on the right leg, there is only a minimal tattoo of the moon, and below the other, there is a tiny tattoo of the sun.
The crow's nest in this art is also made of flowers and filled with leaves The two crow figures are identical in terms of size, shape, and orientation. They are facing one another, and each has a thin, short chain in its mouth. This crow tattoo stands out because matching tattoo designs are extremely uncommon. This body art is ideal if you are looking for an exclusive tattoo design.
Gothic Crows Nest Tattoos
In this crow tattoo, the majority of the crow's body is darkened with black ink in this tattoo, which is considered to be a work of gothic art.
The fact that the crows' nest is drawn in a circular shape makes it particularly distinctive. The tattoo looks absolutely amazing on the thigh.
Even though the crow is totally painted in jet black ink, the smallest details of its feathers are highlighted with a few hints of white ink. The crow's head is observing the opposite side while firmly grasping the circular branch. Due to the extensive use of dark shading throughout the tattoo design, it has strong influences from gothic art. This tattoo design is what you should get right away if you like gothic art.
Crow's Rose Nest Tattoo
This art, which might be termed a half-sleeve tattoo, features a rose in place of the crow's nest.
This dark tattoo is entirely done in black ink, which is used just to shade the crow, rose, and foliage. Here the crow nest tattoo can be regarded as a raven rose tattoo with certain features of gothic art.
As it is a half-sleeve tattoo, the placement is on the right bicep. One of the great tattoos that have gained a lot of popularity among young people has to be this black crow's nest design. The placement of this tattoo design is ideal for first-timers because it hurts much less on the biceps. You can have this distinctive crow nest tattoo as your very first tattoo!
Arm Sleeve Crow Nest Tattoo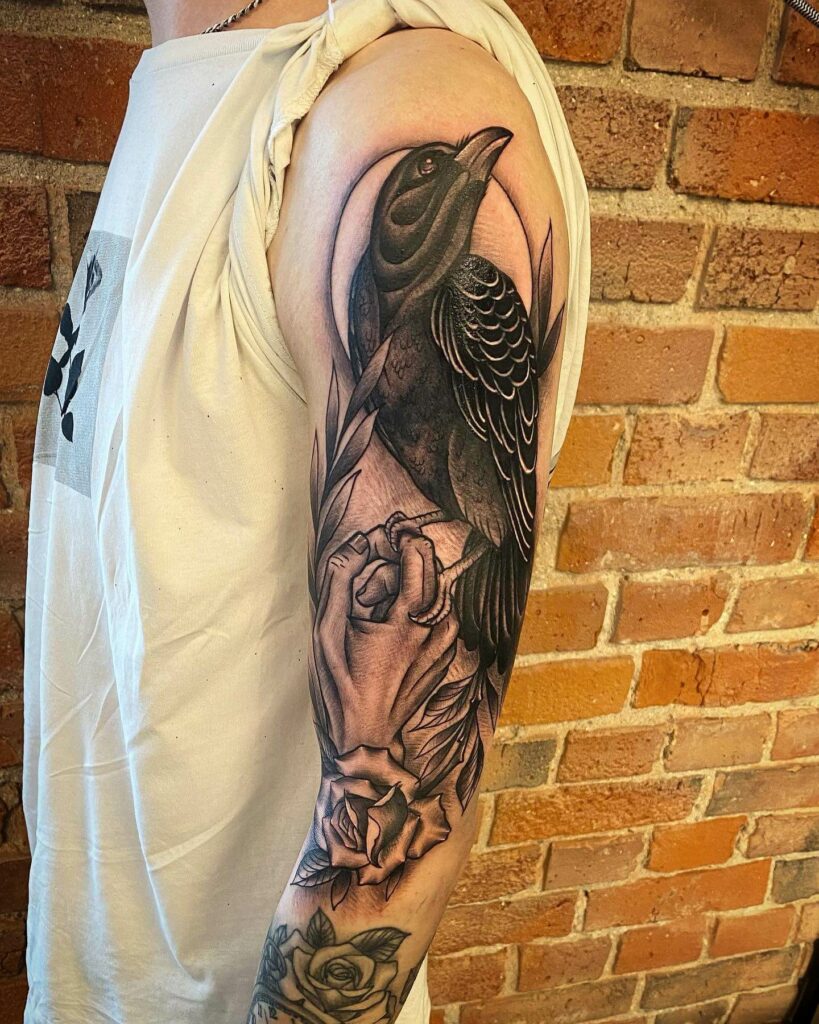 In the image above, a crow tattoo on the left sleeve of the arm is shown gripping a hand of a man.
Additionally, the tattoo artist did a terrific job. The smallest details in this work of art, including the crow, the hand, and the roses, have been painstakingly sketched with black ink with a tinge of white ink that is used for the outlines.
This left sleeve arm tattoo is significantly symbolizing death. It illustrates how the crow is removing the deceased's soul from this realm and bringing it to another. So the crow is holding the two fingers of the dead guy and staring up. Such tattoo ideas are generally for people who want to remember a deceased loved one with a tattoo.
Floral Crows Nest Tattoo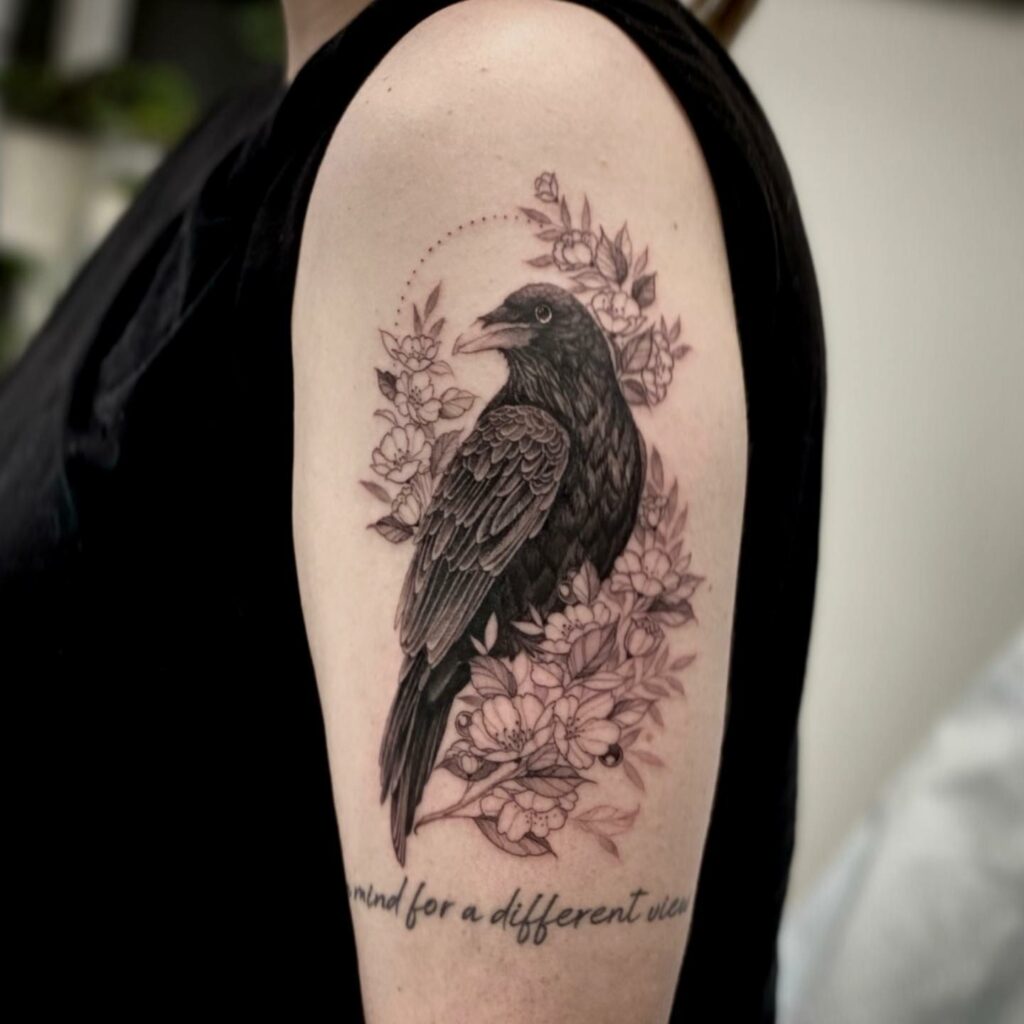 The crow's nest is built on a bouquet of flowers which is why the tattoo has a beautifully delicate appearance.
This tattoo is not darkly colored, unlike the majority of crow's nest tattoos. The quote "mind for a different view" has also been added to this work of art beneath the floral nest.
Only the crow has been colored in with black ink in this tattoo design; the nest of flowers and leaves is not. This can also be seen as a left sleeve arm tattoo. This crow doesn't appear to represent death or loss in this context; rather, it simply encourages people to stand out and be special. Girls, if you're seeking a unique tattoo, this tattoo design is the one for you. You can customize this tattoo to have certain features and improve your aesthetic.
Leaves Nest Crow Tattoo
This tattoo of a crow sitting on a leaf-only nest is located on the lower forearm.
This tattoo design excludes the use of flowers and certain features of the typical crow tattoos. With the exception of the slightly angled crow and the foliage, it is a rather simple tattoo.
This crow tattoo design has recently gained popularity among many great tattoos. There are many different cultures that use this tattoo style since it is so adaptable. Because of this, there are various symbolic interpretations associated with crow tattoos. Whatever a crow tattoo implies, it certainly makes for an absolutely amazing dark tattoo. This is a great option for a first tattoo as it is minimalistic yet easily visible.
Colored Nest Crow Tattoo
This colorful tattoo depicts a crow building its nest out of blue blossoms, with the sun's apparent background illumination.
The blue flower tattoos here allegedly attempt to convey humility and thankfulness even though it is thought that crows symbolize death and loss. As the majority of crow tattoos are inked in black ink, colored crow tattoos are very uncommon.
By blending light and dark green, the leaves have gotten their color. While the sun is dark red, the flowers are of a bright sky blue color. A basic light brown color characterizes the crow's eye. This might be the tattoo for you if you enjoy colored ink tattoos. The precision of the tattoo is fully credited to the tattoo artist and the crows' nest tattoo parlor where this tattoo was inked from.
Simple Nest Tattoo
Without a single crow, this nest tattoo has been carefully draped over the shoulder.
The fact that there is no crow in this tattoo distinguishes it from the others. It merely depicts a crow's nest with eggs in it.
The only color used to draw the tattoo is black. The branches that support the crow's nest have fruits and leaves instead of flowers. Since there is no crow tattoo here, this design cannot be regarded as a bad omen. Such rad shoulder tattoos have become very popular among women. What does this tattoo stand for? It stands for solidarity and gracefulness at the same time.
Feature Image from Pinterest – Want your tattoo to look brighter? Try "Tattoo Balm"