Are you looking for some cute seasonal tattoos? What about a jack o lantern tattoo or maybe a cute pumpkin tattoo? Let's see some cute pumpkin tattoos!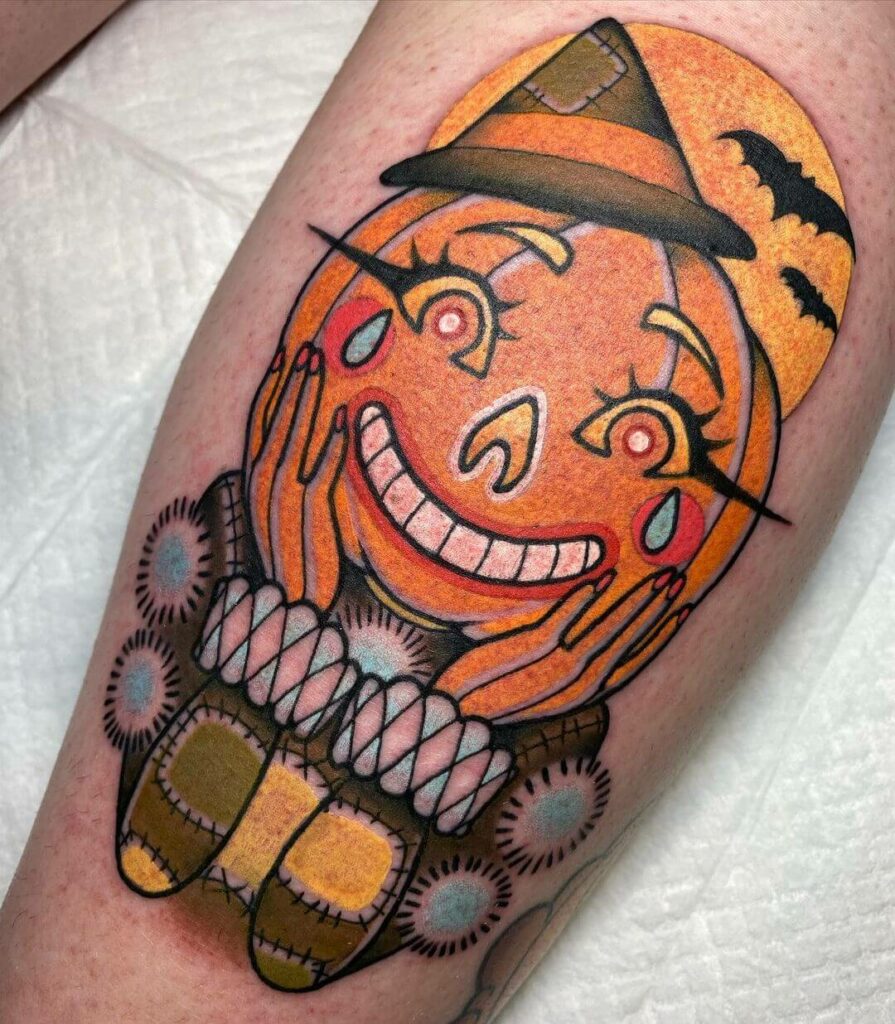 Pumpkins are mainly known for the Halloween season and are generally portrayed as evil spirits.
But if you want a pumpkin tattoo that does not portray any spookiness and is a cute and charming one, then here you are. Pumpkin tattoos are not a very popular kind of tattoo but are greatly loved by many people like you and us.
Pumpkins are the symbol of prosperity and happy life. Having a pumpkin tattoo represents prosperity in your life. Being associated with Halloween, several pumpkins are tattooed in many ways. Some like spooky, and some like cute pumpkin tattoos. You are here. This means you like cute pumpkin tattoos and are also willing to have one. So, let's see some adorable and charming pumpkin tattoos for you and finish your search.
A Basic Cute Little Pumpkin Tattoo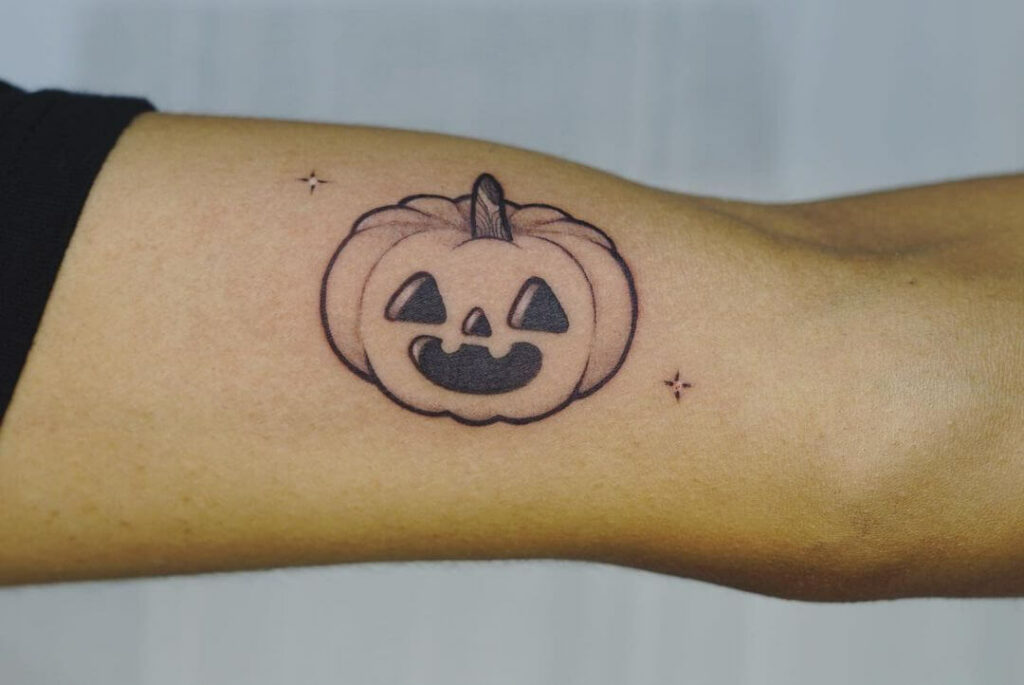 A cute little happy pumpkin! Just look how jolly and charming this pumpkin tattoo is. This is one of the stunning creations of the tattoo artist. It is one of the simple pumpkin tattoos but still excellent. If you love basic and simple things, then this is the perfect choice for you. This is not a colourful or fancy pumpkin tattoo, but just a happy and adorable one.
A Tea Party Pumpkin Tattoos
Such excellent creativity is reflected in this pumpkin tattoo. This pumpkin tattoo reminds us of Alice in Wonderland. A friendly pumpkin with flowers and leaves and a cute smile, and a cute ghost. The ghost is not ghoulish but an amicable one. This pumpkin tattoo is not a creepy or a dark one but a friendly one.
A Highlighted Pumpkin Tattoo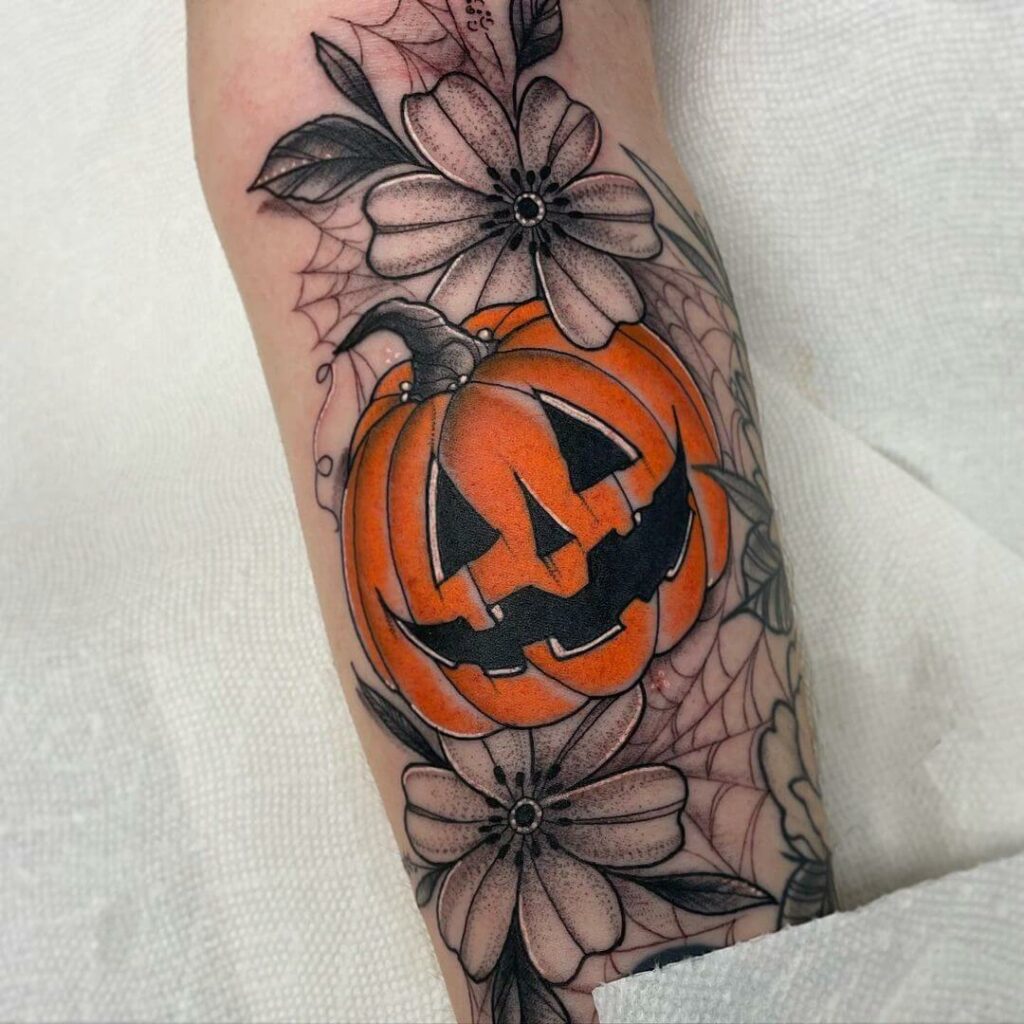 This is a perfect and subtle orange and black ink tattoo for your arm, which you can have somewhere else too. This is a creative style of pumpkin tattoo. This is not an all-black ink tattoo nor a bright, colourful one. It has the perfect use of colours and patterns. This is one of the creative Halloween tattoo ideas, especially for women, because they love flowers in their tattoos. If you also love flowers and want a unique style of tattoo, then go with this one.
A Cute Pumpkin And Mushroom Tattoo
You can get one more black ink pumpkin tattoo with fantastic variation and details. This tattoo has mushrooms along with pumpkin. Just like the pumpkins, mushrooms also represent prosperity. This is one of the cute and easy pumpkin tattoo sketches to have as a tattoo. This pumpkin tattoo is like an inspiration carved on the arms. If you are a person who loves such awesome things, then this can be the right choice of tattoo for you.
A Cute Ghost And Pumpkin Tattoo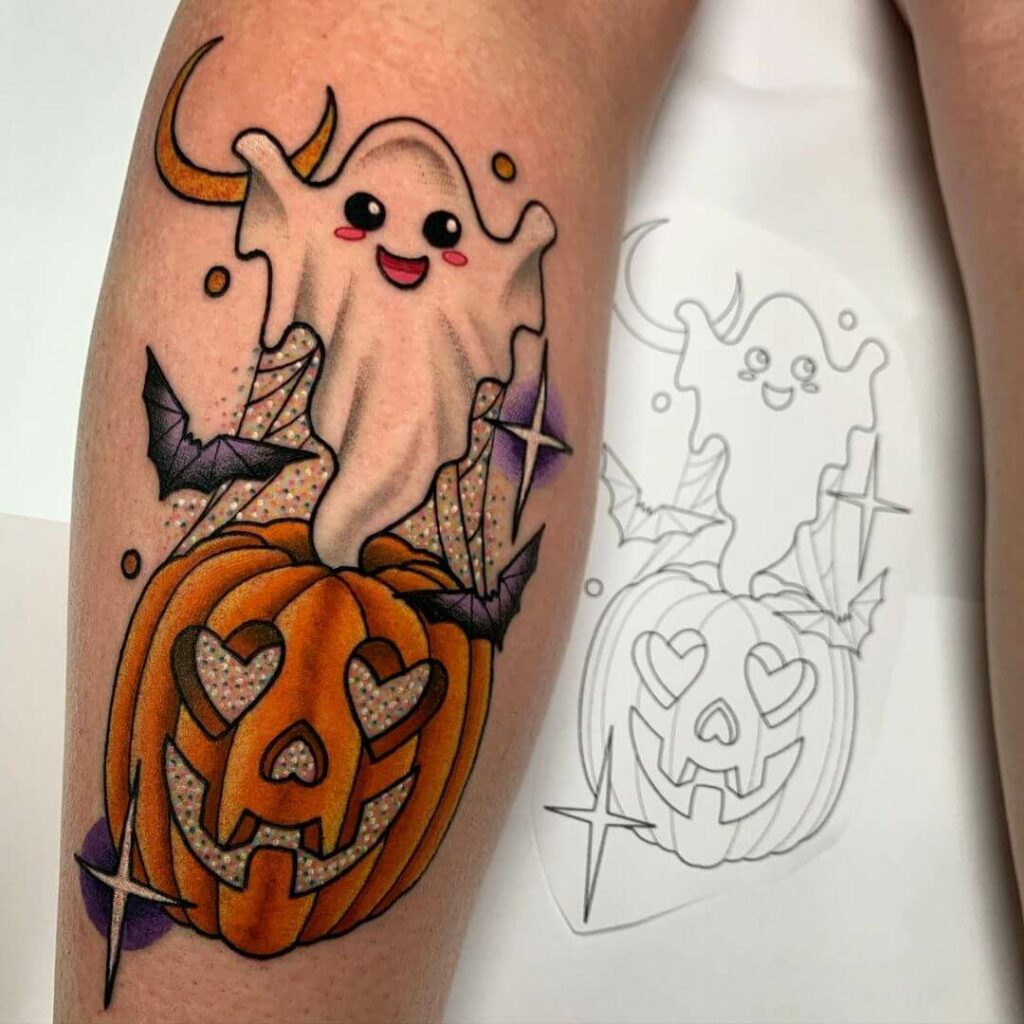 Awwww! Just look at the cute smile of the ghost and its shiny bright eyes. The orange pumpkin with purple vampiric bats is just an excellent idea for a cute pumpkin and bat tattoo. This combination of orange, purple, and white ink is just reflecting Halloween vibes. If you want to be in the mood for Halloween all the time, then this is an excellent choice of tattoo to make you feel those seasonal vibes daily.
A Bulbasaur And Pumpkin Tattoo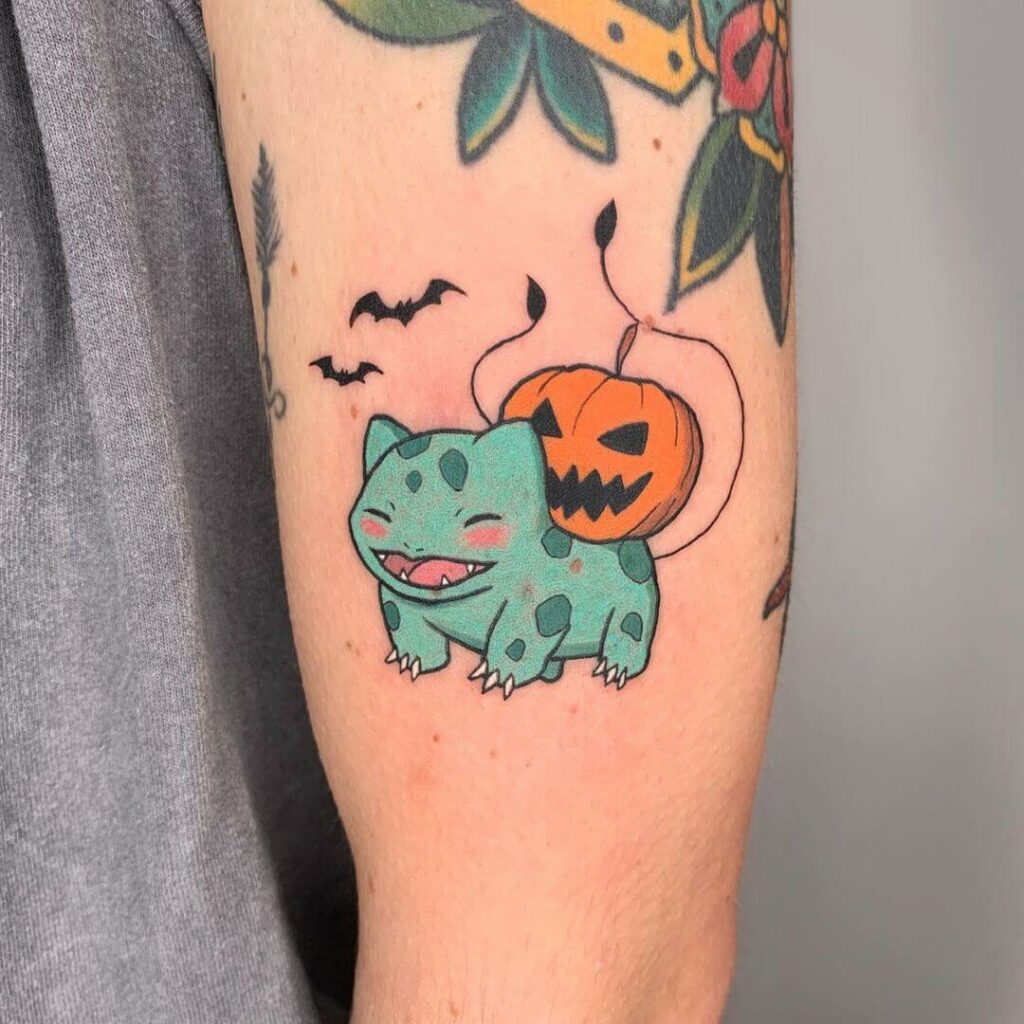 This is such a creative idea to merge a cute and a spooky element in one tattoo. The pumpkin on Bulbasaur's back might attack the evil spirits with pumpkin seeds, and the attractive smile of the Bulbasaur might not make you feel sad anytime. And the bat in the background is just icing on the cake. No doubt, this cute pumpkin face tattoo is the cutest of all.
A Simple Colorful Pumpkin Tattoo
This is just a big orange pumpkin tattoo, but still an adorable one. If you are looking for some cute pumpkin tattoo ideas for moms, then your search has come to an end. This is like a reddish-yellow centrepiece for your forearm. This is one of the cute pumpkin tattoo designs which you can wear with grace.
A Pumpkin Tattoo With Susuwatari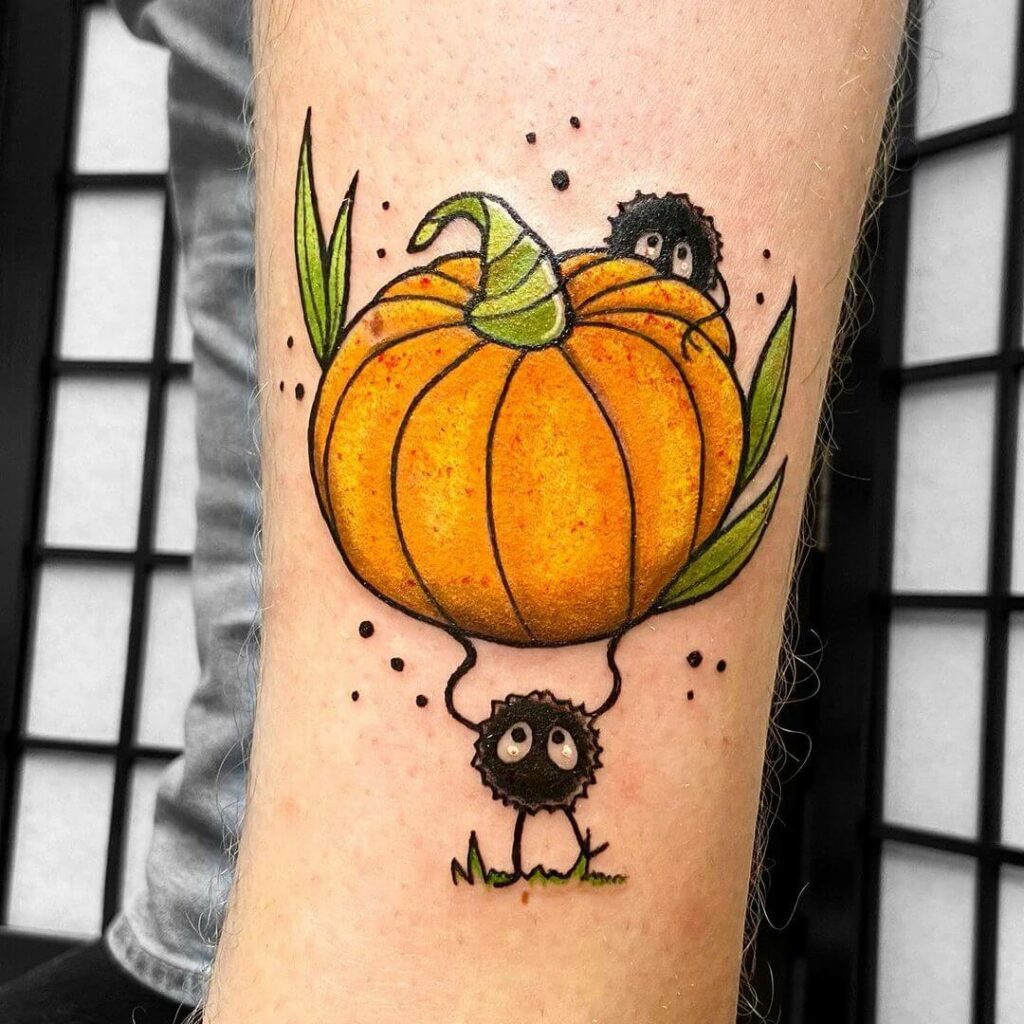 Susuwatari, the famous and greatly loved Japanese character, makes this simple orange pumpkin tattoo a cute and creative one. If you are someone who loves Susuwatari, then you could absolutely have this tattoo. This is an attractive and small tattoo that can be inked on your wrist as well. So, what are you waiting for? Go and have this cute pumpkin wrist tattoo and ace your fashion skills.
A Halloween Themed Pumpkin Tattoo
This is a cute pumpkin tattoo with a funny look and reminds one of Halloween and the holiday seasons. This is a tattoo with brighter hues and a not-so-scary component. This tattoo is a complete package for a Halloween party. You can find everything related to Halloween in this tattoo.
A Harry Potter-Themed Pumpkin Tattoo
If you are a big Harry Potter fan, then you must have remembered that scene where Harry hides behind those jumbo-sized pumpkins in Hagrid's garden. This pumpkin tattoo depicts that scene. A die heart Harry Potter fan will never say no to this tattoo. This is an excellent treat for you. This is one of the unique pumpkin tattoo designs.
Pumpkin tattoos may be considered an odd choice by some, but they can definitely be designed the way you want them; and also, if you enjoy the fall season, this is the tattoo symbolizing that time of the year.
Feature image from Pinterest – Want your tattoo to look brighter? Try "Tattoo Balm"