Bored with tattoos in odd places? Want to make yourself attractive with shoulder tattoos? Here go the best cute shoulder tattoo ideas that will blow your mind!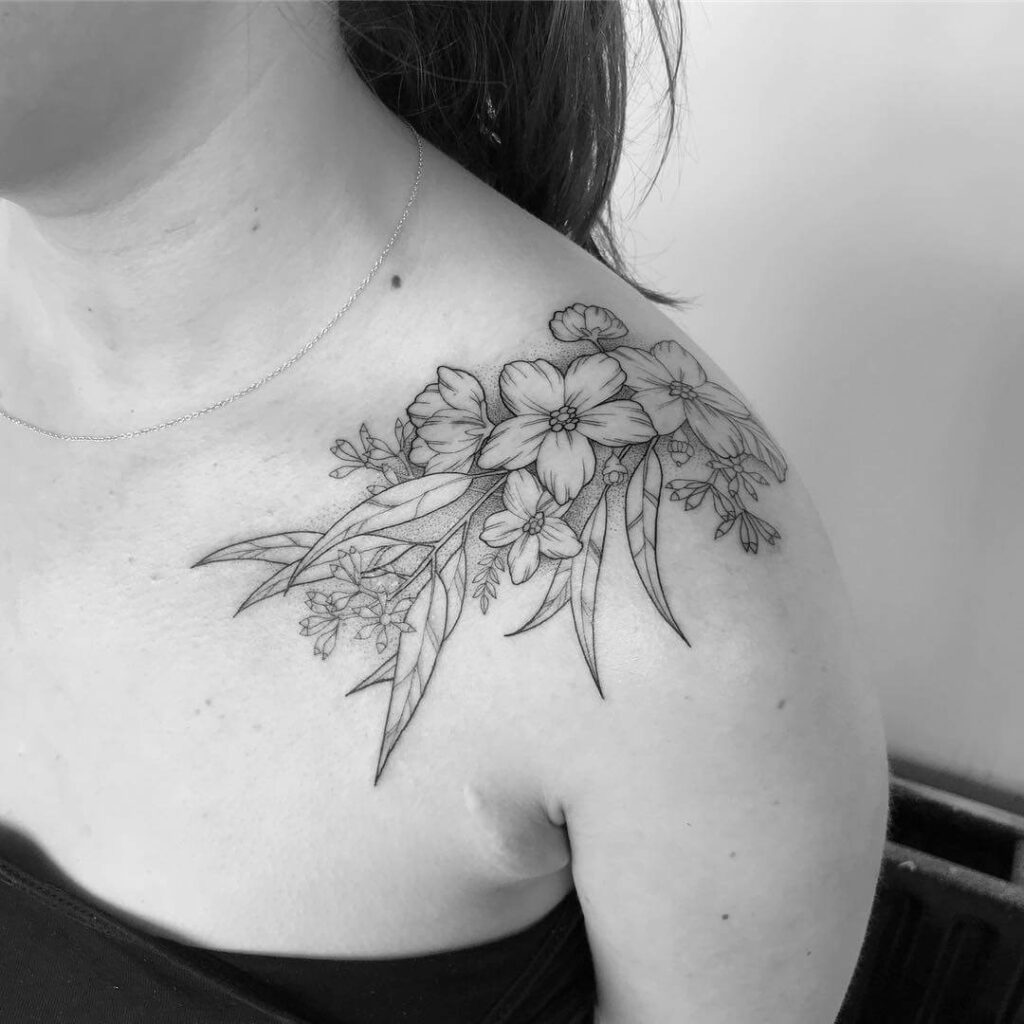 A shoulder tattoo is amazing body art, which can be stretched from the deltoid to the trap on both sides – left or right.
The great importance of shoulder tattoos is that it is a prime spot for inking amazing and creative tattoo ideas. A shoulder tattoo is a perfect opportunity for any tattoo artist to exhibit their artistic flair as the shoulder covers a large area – front and back shoulder covering upper sleeves and chest as well.
The time to ink a shoulder tattoo depends on its size and design. Each shoulder tattoo carries different meanings and different emotions. There are a variety of shoulder tattoos for women and men. One can go for feminine designs like delicate and soothing tattoo ideas. Both men and women can choose their shoulder tattoos according to their skin tone. Different shoulder tattoo ideas are available with intricate details to blow the minds of tattoo lovers.
Do tattoos on the shoulder hurt? This question concerns people the most. A study says getting a shoulder tattoo done is the least painful experience as the skin thickens on the shoulder area. A piece of shoulder tattoo adds beauty to the personality of a person even more since it bears a certain symbolic meaning. So what are you waiting for? We are here to enhance your charm a bit more with a handful of suggestions on cute shoulder tattoos one can ink with. Go through the list and grab your favorite shoulder tattoo.
Maori Tattoos
Maori tattoo, which is also known as ta moko, is one of the wonderful ideas among tribal shoulder tattoos. It is not only a tattoo form but also an identifier of the Maori tribes. It is believed to be a very sacred tattoo form. This Maori tattoo has roots in native American culture and life and is an incarnation of power, protection, and conquest it is used to prevent bad dreams to keep away negative thoughts. Maori shoulder tattoos for men symbolize their marital status, achievements, and ancestry.
The process of inking Maori tattoos is considered very complex. Traditionally these tattoos were inked with knives and chisels instead of needles. The best place to ink a Maori tattoo is the face. But this Maori shoulder tattoo also looks amazing and holds the traditional touch of the Maori tribes. Both men and women can ink this traditional Maori tribal shoulder tattoo.
Shoulder Cosmic Tattoo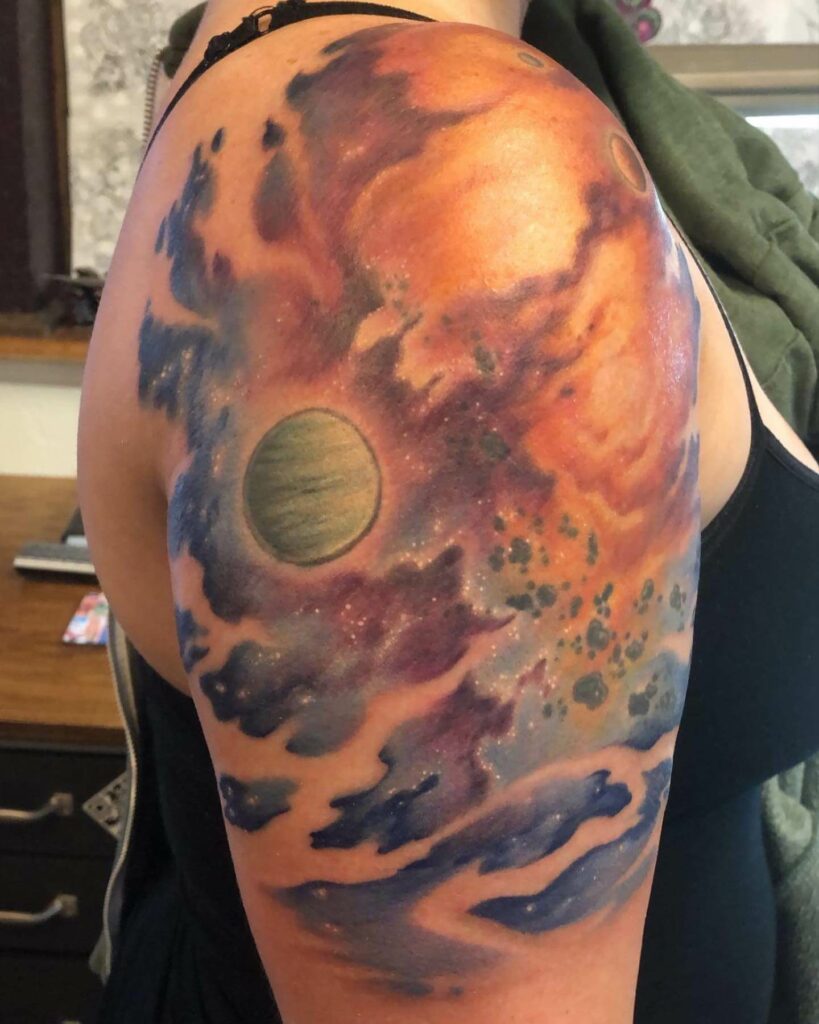 Do you nurture the feeling of being enormously celestial, or do you believe in the afterlife? Cosmic shoulder tattoos can be a bold statement for your style enhancement. People who are passionate about the cosmic entities of space can easily go for this space-themed shoulder cosmic tattoo design. As space is a vast area, so are the designs of cosmic shoulder tattoos.
This colorful shoulder piece also falls under the upper arm sleeve tattoo as it covers the sleeve down the shoulder. The use of different colors adds a special charm to this brilliant shoulder tattoo. The glittering shade helps in getting the cosmic, mysterious feeling. Both men and women who have a love for cosmic ideas can jump into this tattoo design and wear it on.
Chinese Dragon Shoulder And Half Sleeve Tattoo
There is nobody who is not appreciative of the concept of dragons. And it becomes more interesting when it comes to Chinese dragons. The Chinese dragon is popularly known as huge in size and is considered a mythical creature of China. Chinese dragons come in various animal-like forms. And in the Chinese zodiac sign, the dragon is the fifth animal. According to Chinese culture, the dragon is the embodiment of strength and also the male element known as 'Yang'.
This small tattoo of a dragon on the shoulder would enhance the beauty of a person. And the thing that makes this tattoo stand out is its choice of red color. This red-colored dragon tattoo is also marked as an amazing small shoulder tattoo.
Flower Shoulder Tattoo
Who is not inspired by flowers? Women especially love flowers and flower tattoos. The freshness of the flowers gives a fresh start to life. Flower tattoos are symbols of refreshment, purity, and so on. A flower shoulder tattoo looks cute as a shoulder blade tattoo.
This cute shoulder blade tattoo is one of the best ideas among shoulder tattoos. This cute flower tattoo for women looks special as it is a rose tattoo design in black ink. One can wear a yellow rose or rose of any color. One can ink other flowers too instead of roses, such as orchid flowers.
Cherry Blossom Shoulder Tattoo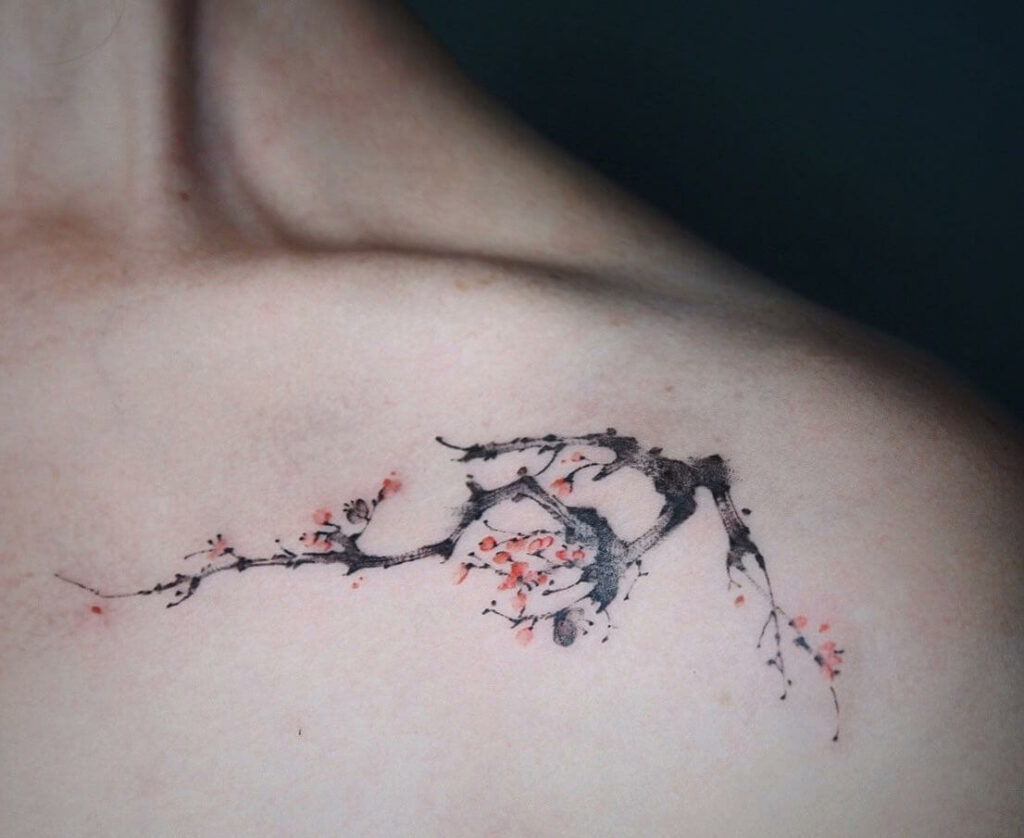 This particular design of cheery blossoms is a wonderful tattoo for women. It is unique among smaller tattoos. This cherry blossom tattoo is perfect for shoulder placement. Cherry blossom flowers look really amazing in orange color with black branches.
This cherry blossom flower shoulder tattoo is a gorgeous tattoo among shoulder tattoos, for it carries grave symbolism. It symbolizes the renewal of life and the fleeting nature of life. Women who are thinking of getting their first tattoo must go for this beautiful cute small front shoulder tattoo.
Cute Front Shoulder Tattoo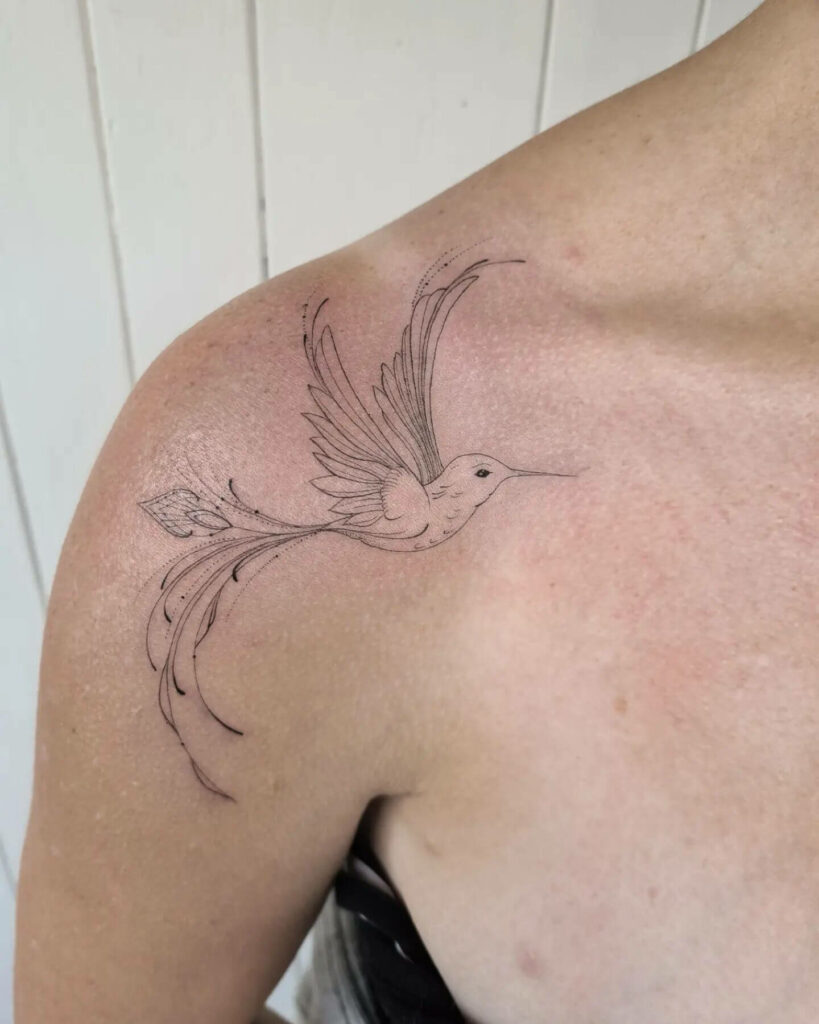 Everybody loves bird and their ability to fly freely. Though it should not be the only option for women to go for a cute front shoulder tattoo inked with a bird, the grace and beauty of a bird can melt anyone's heart with love.
This smaller tattoo adorns a delicate hummingbird which goes well as a cute girl's front shoulder tattoo. Simple strokes of black lines make this the best tattoo ever among simple shoulder tattoos. This cute tattoo also can enhance anyone's personality if he/she wears it on the shoulder blade. But if you want people to notice your cute front-shoulder tattoo, go for a tank top.
Back Shoulder Tattoo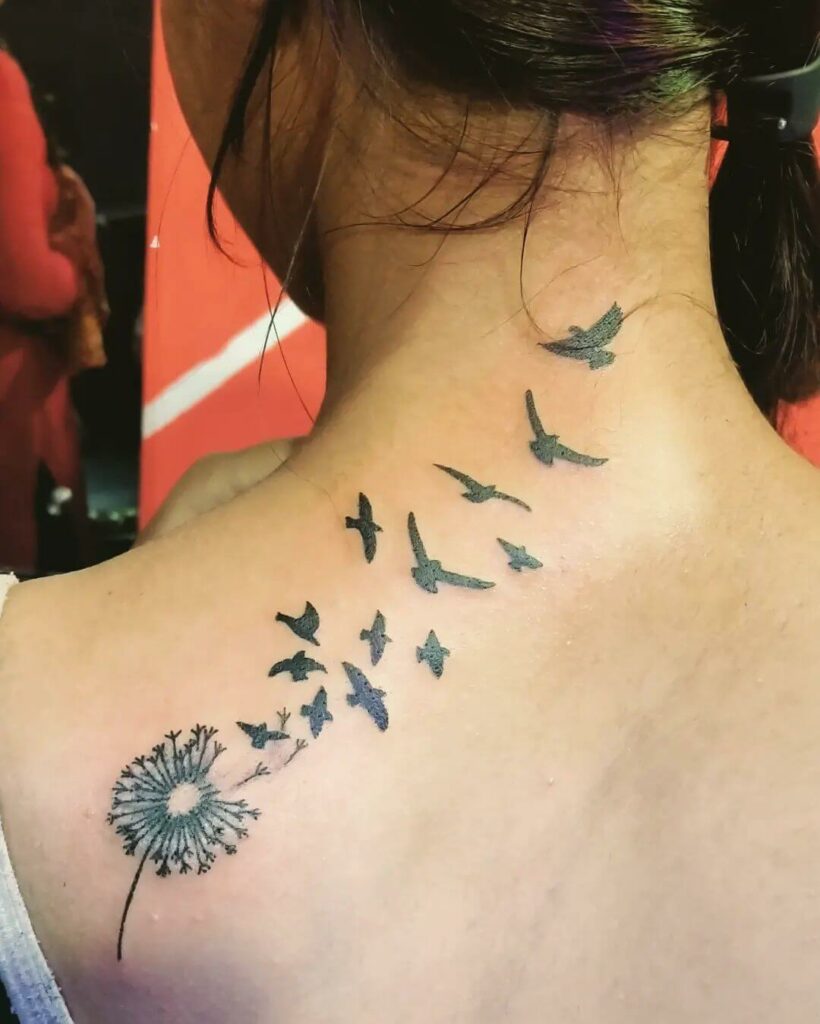 The option of a black shoulder tattoo is one of the best tattoos in the tattoo world. What could be a better back shoulder tattoo idea than a dandelion with a flock of birds flying high and fluttering their wings?
This back shoulder tattoo carries different symbols – a dandelion symbolizes rebirth, strength, and power. And the birds are the incarnations of freedom. This bundle of joy would look amazing on the shoulder blades of both sides. This whole tattoo is inked with black ink, but if one wants, he/she can ink it with colors. Women especially tend to cherish these kinds of back shoulder tattoos a lot.
Small Butterfly Shoulder Tattoo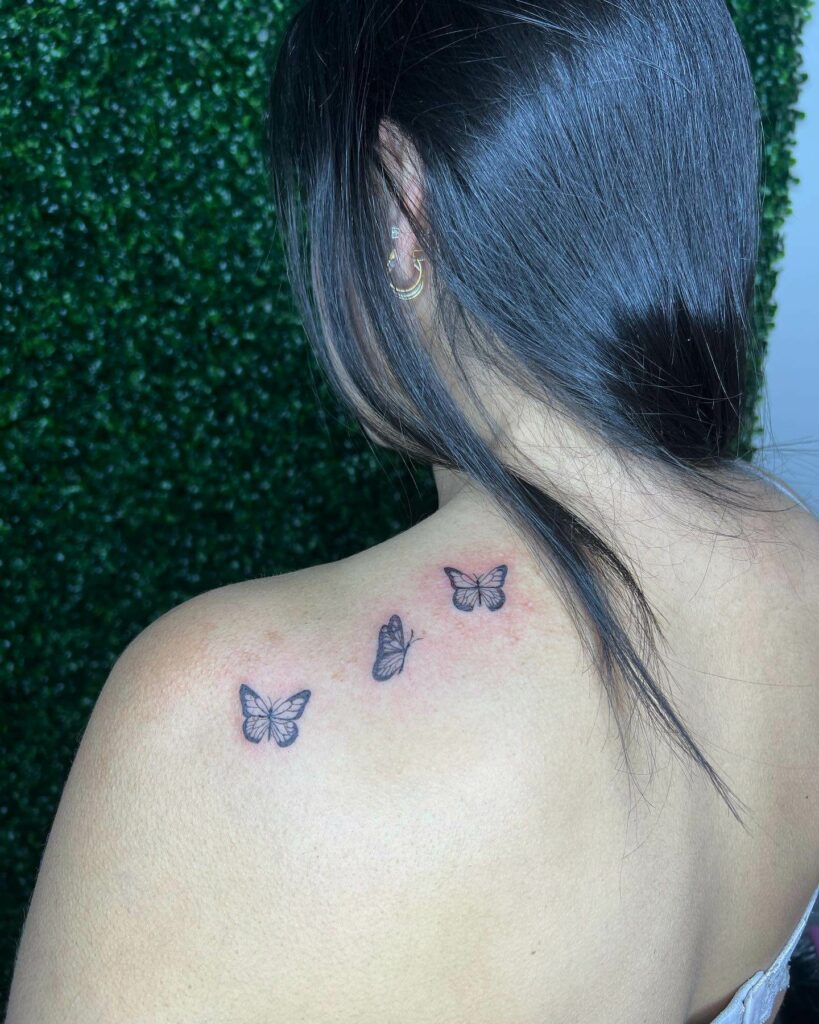 There are a variety of options in the field of shoulder tattoos for women, especially when it comes to small shoulder tattoos. A kaleidoscope of butterflies is one of the best ideas to ink as a back shoulder tattoo. A butterfly is an incarnation of transformation and rebirth.
A single butterfly can enhance the look of any tattoo as body art. There are three small butterflies to adorn the personality of women as the butterflies seem charming to women. Thus, it could be a good tattoo for women. Women can wear these kinds of small shoulder tattoos with colorful butterflies.
Cute Heart Tattoo on Shoulder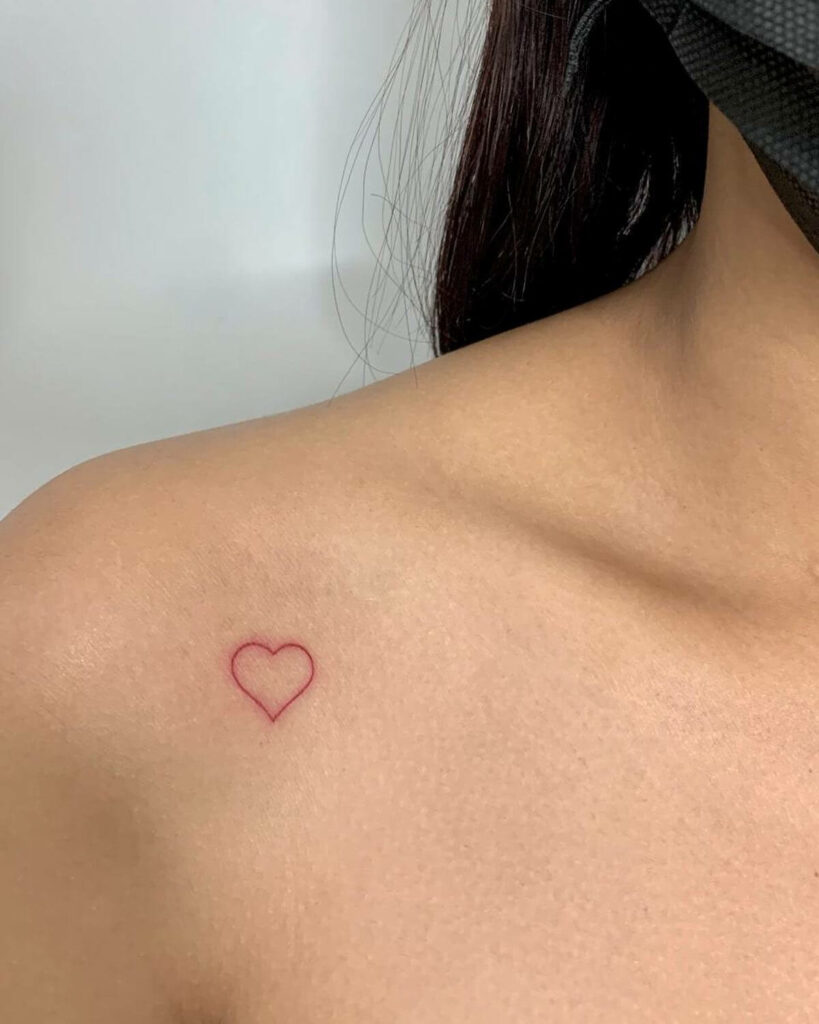 A small but unique red heart symbol on the shoulder is one of women's best small shoulder tattoos. A reddish heart is the symbol of love and passion. It is a mere symbol but can express a person's meaningful thoughts to the beloved even better than any detailed design.
This can be one of the best shoulder tattoos for women. Men can also wear these small tattoos and express their feelings for their love of life. Both men and women can wear this cute tattoo on their shoulder blades to add a special charm to their personalities.
Funky Shoulder Tattoo Ideas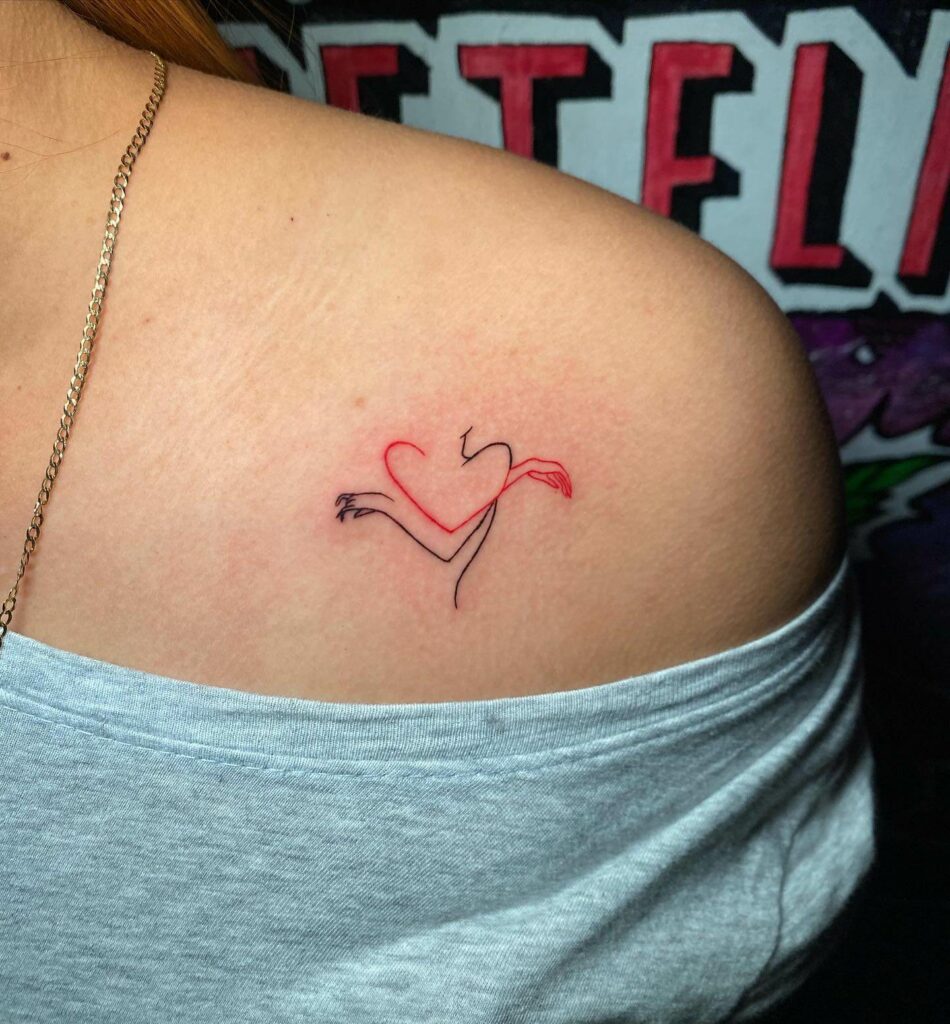 Are you looking for a funky and cute shoulder tattoo idea to embrace the sense of fashion? This funky and creative combined tattoo of red and black ink looks perfect on your front shoulder. Though there are various tattoo designs for funky shoulder tattoos, this one is special for the person who loves or wants to be loved.
What makes this funky-looking tattoo even more special is the black and red hands hugging each other and thus creating a love shape of both red and black color. This is one of the cutest shoulder tattoos for women.
It is very hard to choose between stylish and cute shoulder tattoos for both men and women. There are a variety of options for shoulder tattoos – they all vary not only in designs but also in shapes and prices. One should choose carefully cute shoulder tattoo ideas and then only should opt for getting tattoos. Those who do not like heavy designs as they cover a larger portion of the body and also are very price consuming can easily go for smaller shoulder tattoo ideas. But the persons who love tattoos and have no problem in inking large tattoo ideas can blindly opt for large shoulder tattoo designs. Do not waste your time in deciding whether to ink yourself or not. Choose any of these cute shoulder tattoo ideas from the above-mentioned list and wear them with confidence.
Shoulder Tattoo For Women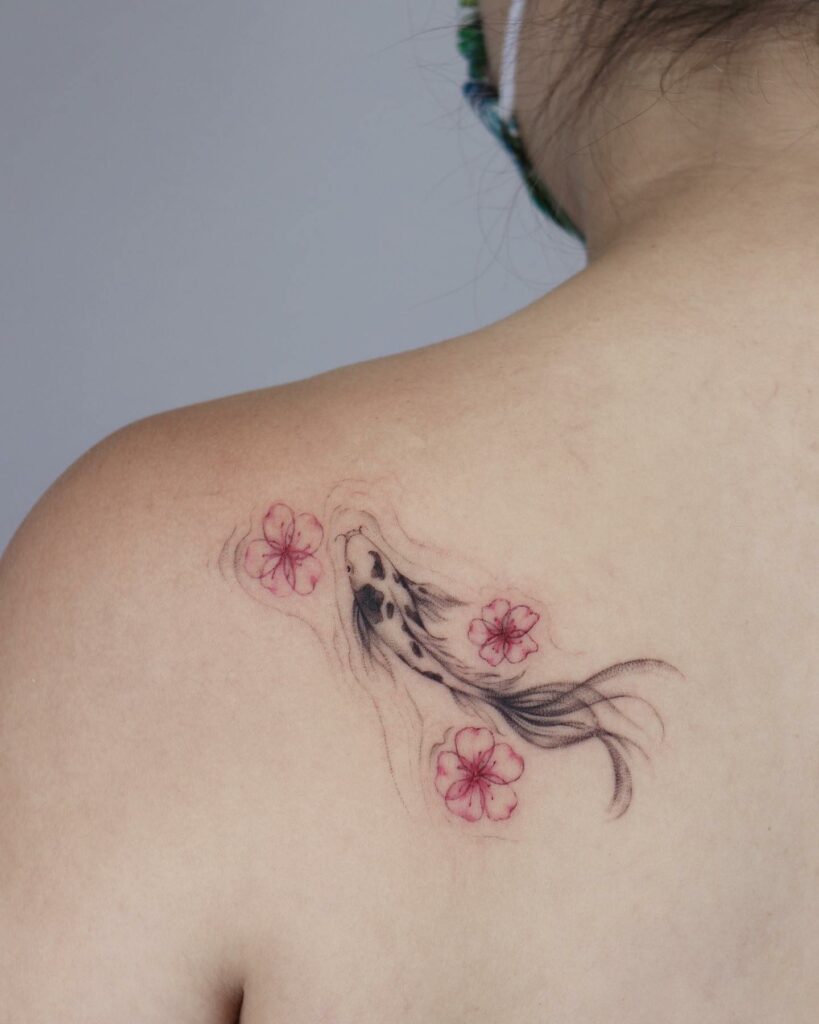 Still not contented with these shoulder tattoo ideas. Want to explore more ideas with significant signs and meanings so that the shoulder tattoo looks cute and unique?
Rose Shoulder Tattoo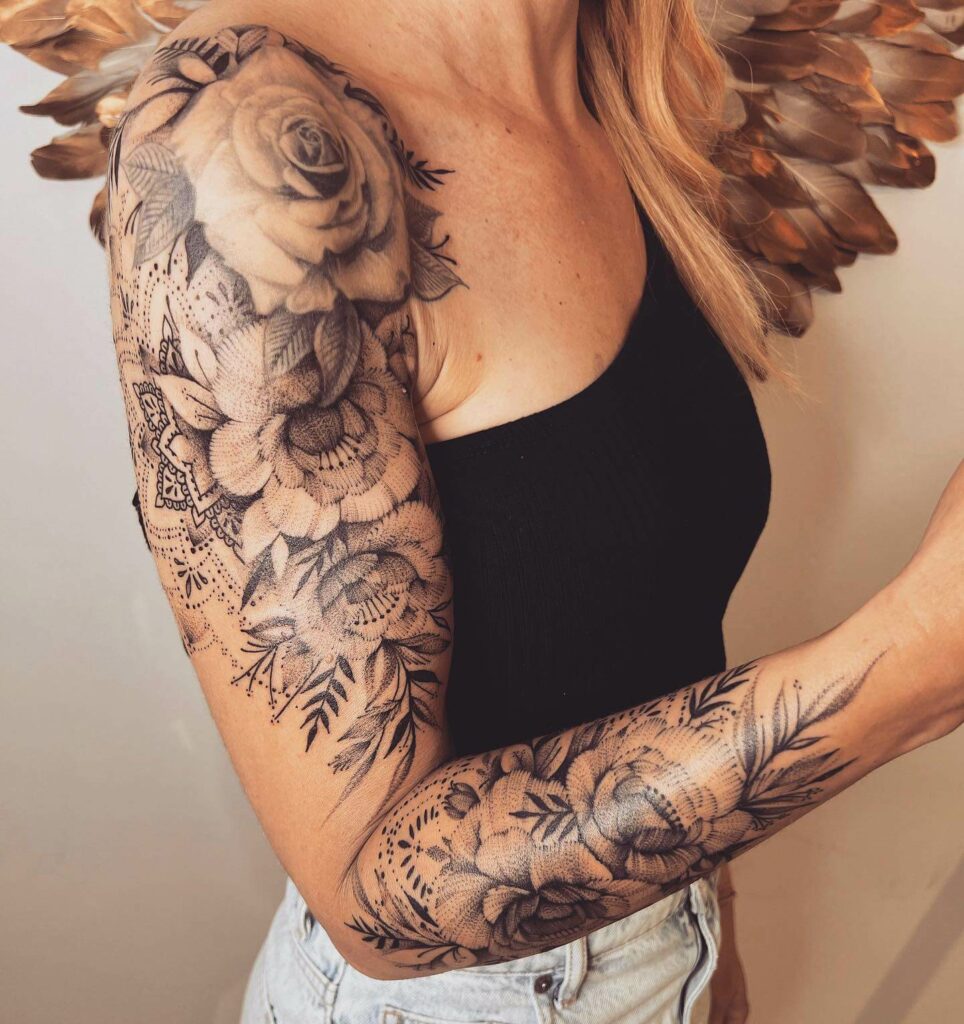 Shoulder Tattoo Small
Shoulder Tattoo Cute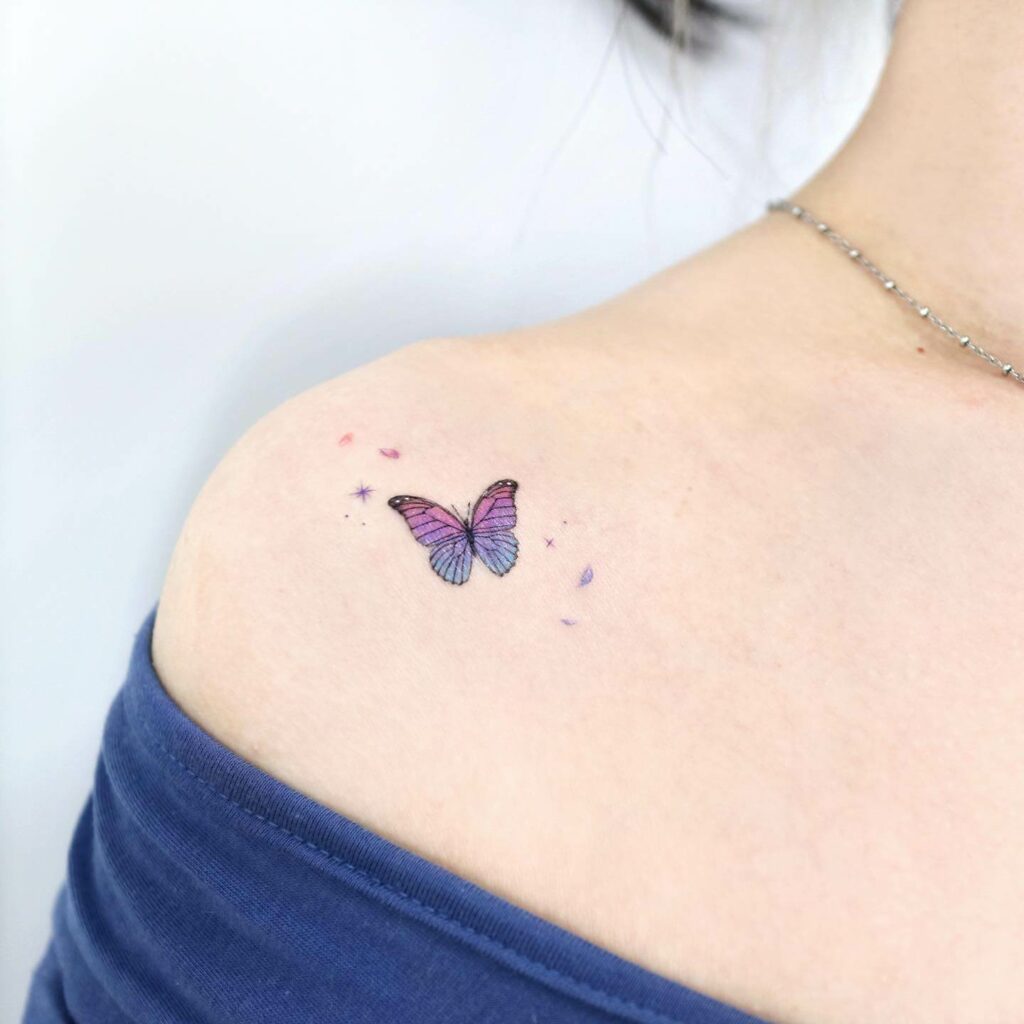 Feature Image from Pinterest – Want your tattoo to look brighter? Try "Tattoo Balm"