Are you looking for cute small tattoos for trying out your first tattoo experience? Head to this page for the best list of dainty tattoo designs that have been collected just for you.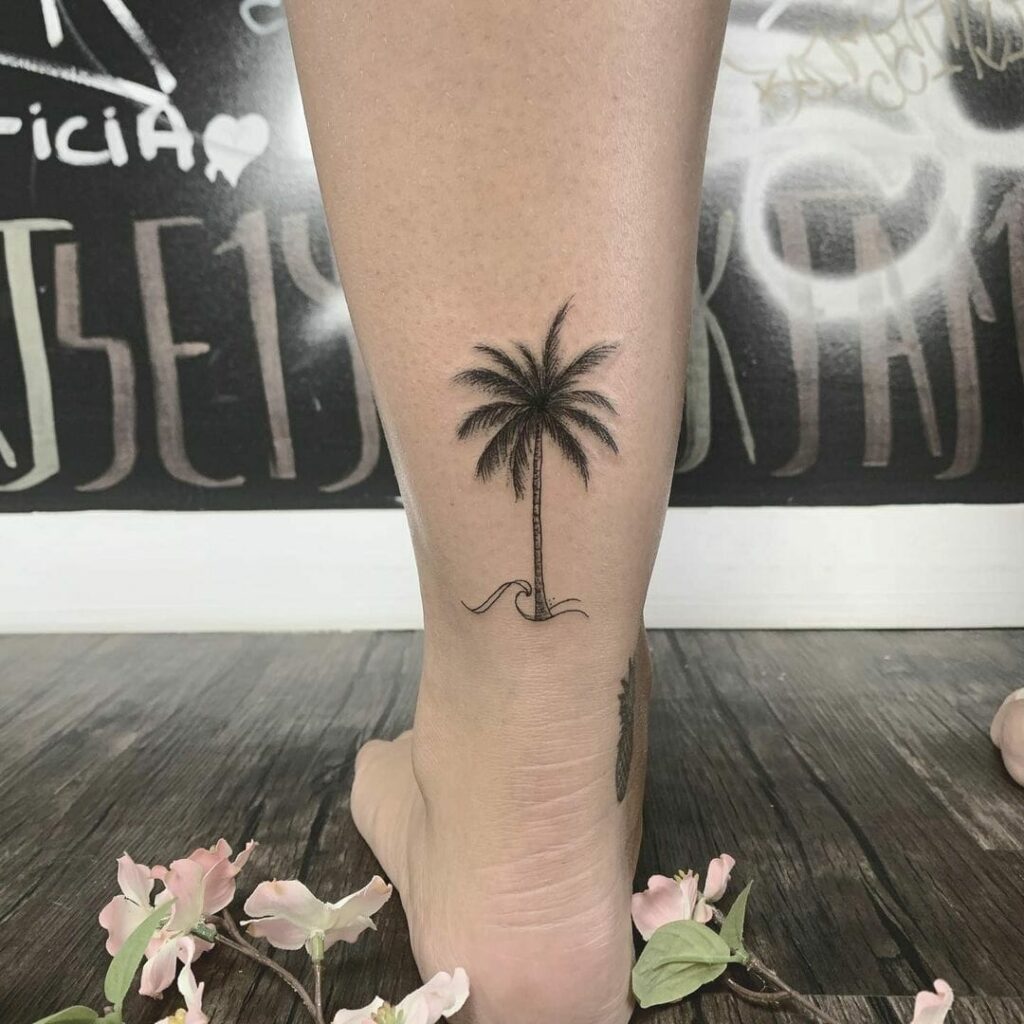 Cute tattoos are very popular among men and women and even among those who want to get into the world of tattoos for the first time as beginner tattoo enthusiasts.
Tattoos for women can be of various types depending on the mood and temperament of the person getting inked on their skin. The placement of such tattoos varies from bold and edgy armpit tattoos to small little anklet tattoos.
Cute and small tattoos are as meaningful as any other work of art for example paintings or photographs. If your tattoo artist is experienced and loves detailed work, then they can put enough details even in a small tattoo and make it pop. Cute tattoos are generally bright and often come in small packages to make the most bang. For many people tattoos are personal and so, they do not opt for large tattoos. In such a case, a small tattoo is very effective as it can be inked at a convenient area of your body. That way you can keep your tattoo within close circles or if needed, for you yourself.
Small tattoos are even ideal for those who love minimalist tattoo designs. Simple and tiny meaningful tattoos are better than huge tattoo sleeves or large back tattoos.
The following list of cute small tattoo ideas has been created for men, women, and all other gendered people of the world.
Cute Dragon Tattoo
The mythological creature dragon is a popular tattoo design for people who love fantasy. A dragon is a popular symbol of good luck and this tattoo might just be the one for some fortunes to come your way. The flying dragons can be a great representation of you breaking the shackles of life and taking a flight to the skies. The best part of dragon tattoos is you can also go for a smaller version and get a minimalistic one.
If you are a Game of Thrones fan, you can modify the dragon tattoo with tiny characters or the logos of the royal families. You can add some fire design for great stand-out tattoo art.
Pokemon tattoos are one of the most popular tattoo designs even today. Using small tattoo designs featuring the pocket monsters can add a subtle pride to the fans of the anime. And what better way than use a small Dragonite tattoo to flaunt your love for Pokemon? You may also use a small Charizard tattoo if you prefer the fire-breathing Pokemon.
Cute Dinosaur Tattoo
Dinosaurs may have gone extinct a long time ago but they still rule our hearts. Dinosaurs ruled the earth several million years ago in the Jurassic and Cretaceous ages. The popularity of dinosaur tattoos is by and large due to the 'Jurassic Park' film franchise which began in the 1990s.
You may think dinosaurs are large animals and it is better to ink a big dinosaur tattoo on the arm or the back. But it is quite possible to use small tattoo designs related to dinosaurs on the inner wrist or on the shoulder. You may use a single dinosaur like the triceratops surrounded by flowers to make a cute design or you can try a range of dinosaurs such as the one in the above image.
Get these cute baby dinosaur tattoos with your best friend for a unique form of friendship. These are very cool small tattoos which are really suitable for everyone, men and women alike. You might even use a baby dinosaur with wings.
Minimalistic Rose Tattoos for Women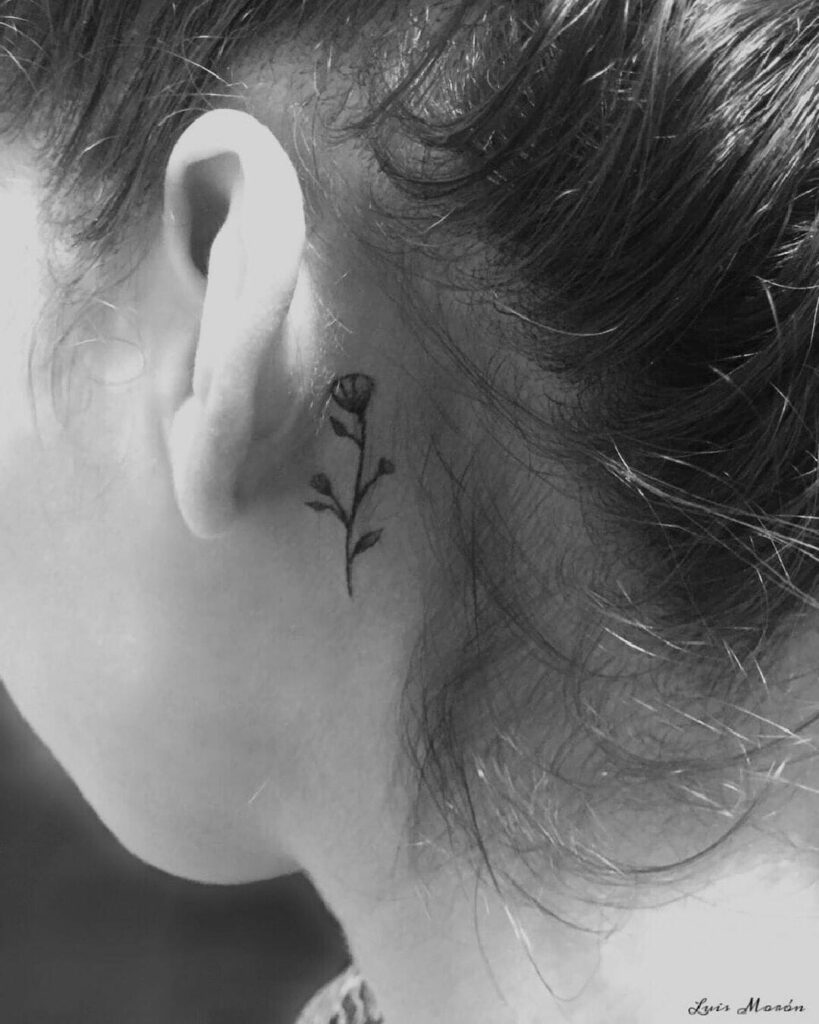 A subtle tattoo like this one behind the ear is perfect for people who want to keep a personal tattoo snuggled behind the ears. A tree of roses has a meaningful value for many people. It is a reminder of the lost love.
The small flower is a cute symbol of something that can be beautiful even though they are small. The rose tattoo seems very realistic with the branches jutting out of the stem. It does not matter even if it is a small minimalist tattoo – the details uplift the tattoo.
A tattoo can also show how the world of nature and how the processes of nature work. Both the rose and the butterfly signify beautiful natural life. You might even opt for a sunflower and bird tattoo instead of a rose and a butterfly tattoo. The choice is yours. But talk to your tattoo artist first and get an idea of what exactly the design will look like.
Lotus Themed Small Tattoo
A lotus flower is a great option for a cute small tattoo design. A symbol of peace and spiritual awakening, the lotus flower is one of the popular tattoos for women. The simple design of this small tattoo with clear lines looks very elegant. The placement of this tattoo is ideal for the lower chest which you might want to keep covered up at the office but flaunt at family gatherings.
The presence of star around the flower design provides depth to the beauty of nature. Another great choice for this tattoo would be on the lower arm region of your body.
Yet another lotus tattoo design that stands as a symbol of love. Try this design with some changes like adding a cross if you are a religious person or maybe a heart shape in your inner wrist region.
Small Finger Tattoo Ideas
Finger tattoos look really cool on the body. Ideal for small tattoo design, it can be customized with anything you like, be it a butterfly tattoo like the photo above or a tree of life tattoo with small but intricate details on it.
These can be as tiny as a grain of rice or maybe a little bigger to fit on a finger. You might use a word which you associate with yourself to amp up the style quotient of your fingers, a part of your body that is often overlooked in the crowd of arm tattoos and shoulder tattoos.
Try a tiny rose finger tattoo with black ink for more small tattoo ideas. A great example of a first-time tattoo, you might use the sunflower instead if that suits your style. Or you could ask your artist to use a bird like a sparrow for simple and great tattoo art.
Cute Small Delicate Lion Tattoo
Lio is the king of the jungle and can be a great tattoo to opt for. It is a symbol of royalty fit for a queen. The lion looks majestic as well and if you want, you can also turn it into a cute tattoo.
The dreamy tattoo shows the elegance of the lion, almost as if the lion is enjoying the fresh air of the jungle from a cliff. You may think about getting a similar tattoo as a reminder that you can be brave and overcome many obstacles. This tattoo can be a great one if you are a Leo. Add a heart tattoo to this for a new style of a minimalist meaningful tattoo on your body.
This small tattoo symbolizes courage. It is an ideal tiny tattoo for a courageous person who is not afraid to do whatever she wants in her life. You may get a lioness tattoo or tattoos featuring cubs if you are a mother and fiercely love your children.
Small Lion King Tattoos
The Lion King is one of the best movies of all time. People who are now in their middle ages have fond memories of watching this film in 1994.Getting inked with tattoos inspired by the film can be a trip down memory road for many.
The main character Simba finds expression in this cute and tiny tattoo. It is a reminder of the birth of Simba when Rafiki drew this same design on the tree trunk to celebrate the arrival of the future king.
The inspiration behind this minimalist lion king tattoo is the friends Simba, Timon, and Pumbaa who took care of the cub after he left his family. You can add the words 'Hakuna Matata' to this tattoo to remind yourself not to worry because you have the love of your friends. Try adding a heart tattoo to make this more special.
Cute Little Elephant Tattoo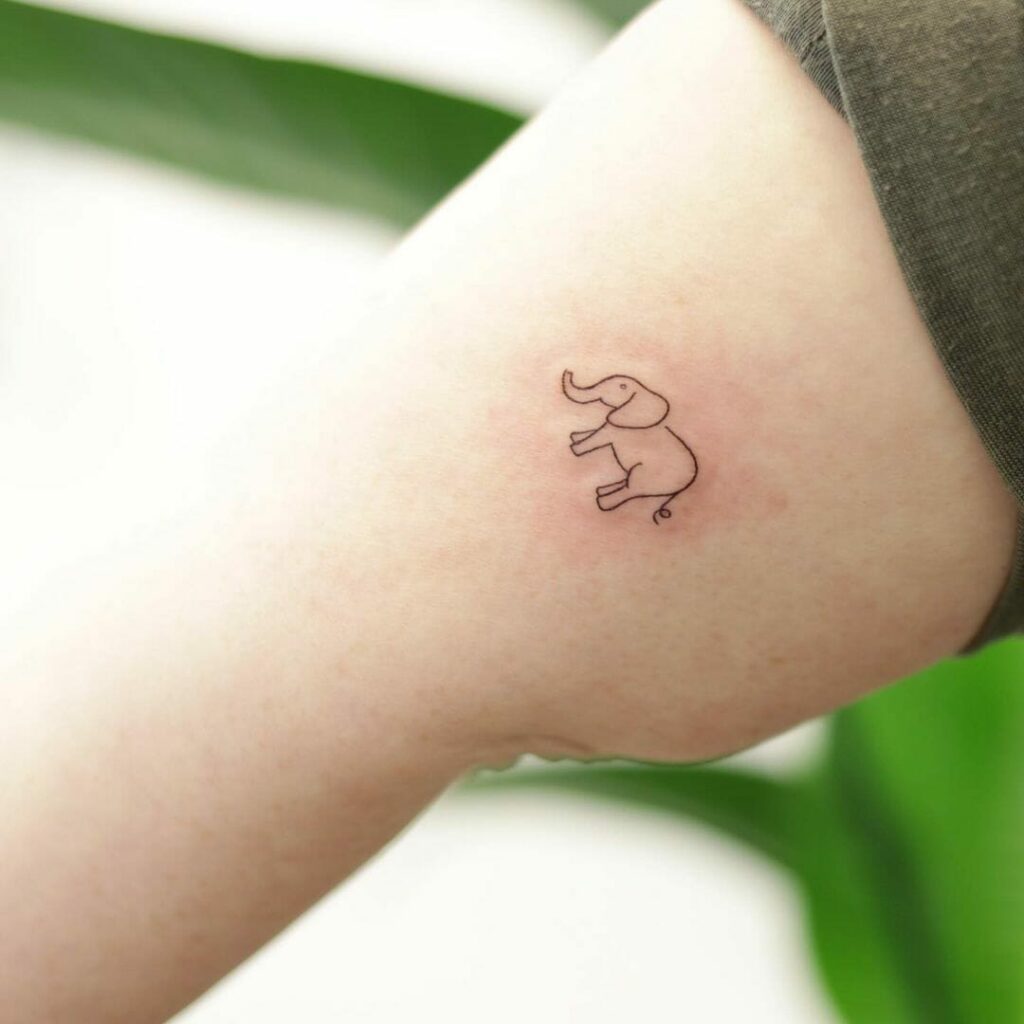 A small elephant tattoo with a single line of ink could be your new friend. Elephants are a symbol of good luck. If you want a lucky tattoo of this large beast, then this can be a good tattoo. Quite a simple design, this small tattoo is ideal for behind the ears.
A more detailed elephant tattoo can be quite an artistic choice. You know elephants are the strongest animals on land and what better way to show your inner strength than getting this tattoo on your wrist! Add some butterfly wings or maybe a cross behind the animal for crazy designs that nobody has thought of before.
This small colourful elephant tattoo with an abstract touch can be a great choice for the artist inside you. Geometrical patterns bring out the quirky side of the tiny tattoo. The use of colour ink is a highlight of this tattoo that looks as if an origami has been drawn on your body.
Sparkling Small Sun and Moon Tattoo
A simple small sun and moon tattoo with ornamental work like this is a tattoo exuding beauty and spiritual meanings at the same time. The moon and sun are two opposing forces of nature. While one stands for light the other signifies darkness. To get a small tattoo of these celestial bodies means you know how to balance yourself from the good and evil forces in life.
This pair of two small and tiny tattoos are perfect for best friends or a mother and a daughter or maybe even siblings. Both of you complement and complete one another. This shows your bond to the outside world. Maybe you could add a line joining the two at some part of the tattoo.
If you are Christian you may think of getting adding a small cross and not shy away from your belief. A tattoo can be a great way to show your faith to the world.
Cute Small Animal Tattoos
If you love small animal tattoos, then get this detailed leopard tattoo done. Animal lovers are everywhere and this tattoo might be a good way to inform people about the need to conserve the large members of the cat family who are slowly becoming endangered today.
You can add a simple small skull design or maybe a butterfly with withering wings to show how animals are dying and we are the cause of it. Adding flowers like the rose will even show that you love nature as a whole.
This is one of the cutest tattoos. The rat eating ice cream surrounded by flowers such as rose and lilies make this a unique small tattoo. The star of this small tattoo is definitely the rat who is cute and detailed. Small tattoos can be modified to anything with no limitations.
Feature Image from Pinterest – Want your tattoo to look brighter? Try "Tattoo Balm"