In a world brimming with roses and sunflowers, there's an unsung floral hero making waves in the tattoo scene: the delightful Daisy. An emblem with roots steeped in ancient lore, the daisy—revered in Celtic tales and Nordic myths—has blossomed into a favorite pick for the tattoo enthusiasts of today.
Why, you ask? Well, if a picture paints a thousand words, a flower tattoo, my friend, scripts a heartfelt narrative, a unique expression of one's soul. And what better emblem to portray your story than a daisy—synonymous with beauty, love, and fresh starts. This unassuming bloom could just be the perfect ink you've been seeking.
Allow me to share a few intimate tales from the folks who've had their lives transformed by a little daisy tattoo.
Meet Alice, a software engineer by day and an ardent hiker by weekends. She told me about the daisy tattoo on her wrist, inspired by her childhood memories of making daisy chains with her grandmother in their sun-drenched garden. For Alice, the daisy tattoo is a tribute to her cherished memories, a constant reminder of the strength she derives from her past.
Then there's Sean, a retired Army Major, with a tiny daisy etched behind his ear. A symbol of resilience for him, the daisy mirrors his journey—surviving the harsh military life and blooming against the odds, just as the daisy does through a crack in the pavement.
These stories are but a glimpse into the deep, personal narratives that a simple daisy tattoo can communicate. With each story, the daisy sheds its cloak of simplicity, revealing its profound ability to capture the complexities of human life and emotion.
In the upcoming sections of this article, we'll take you on a pictorial journey through a curated list of the 100 most inspired daisy tattoo designs, each carrying a unique tale. So, whether you're a tattoo enthusiast or simply a lover of heartfelt stories, stay with us as we delve into the world of inked daisies.
HISTORY OF DAISIES IN MYTHOLOGY
The humble daisy – an emblem as familiar as it is enchanting. Yet, behind its delicate petals lies a labyrinth of tales seeped in mythology and a spectrum of hues, each whispering a unique narrative. The world of tattoos has long recognized the expressive potential of the daisy, a flower that has spoken for centuries in the silent language of flowers.
Let's go on a journey back in time. Picture ancient Celtic lands where daisies were divine messengers of solace, believed to bring cheer to grieving parents. Today, the same flower adorns the arm of Martha, a new mom from Brooklyn, as a testament to her journey into motherhood, a symbol of joy, love, and strength.
Daisies don't just tell Celtic tales. Their saga spans across cultures and centuries. Remembered as the sacred emblem of Freya, the Norse goddess of love and fertility, the daisy has traveled to the wrists of many lovers seeking to honor their bond. As Steve, a tattoo artist in Chicago, shares, "It's not uncommon to see couples coming in to get matching daisy tattoos, a nod to their love, much like the daisy was for Freya."
And who could forget the tale of the relentless Roman god, Vertumnus, and his pursuit of the nymph Belides, who chose to metamorphose into a daisy to escape his advances. In the Middle Ages, the phrase "fresh as a daisy" came into being, connecting the flower's nocturnal retreat and daytime bloom to the wellness of those who slept soundly.
Today, the world "daisy" may not be synonymous with "doozy", but this simple-looking bloom has proven itself to be anything but ordinary, hiding a multitude of meanings beneath its sun-like center and white petals.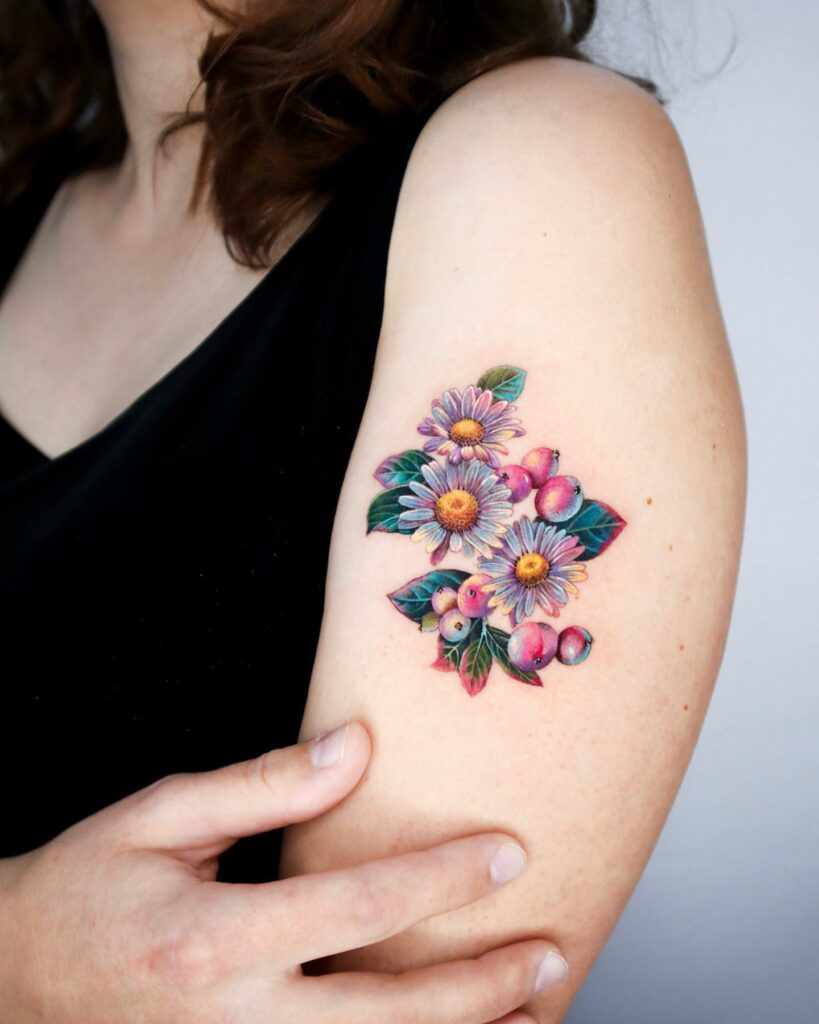 THE MEANING BEHIND DIFFERENT COLORED DAISIES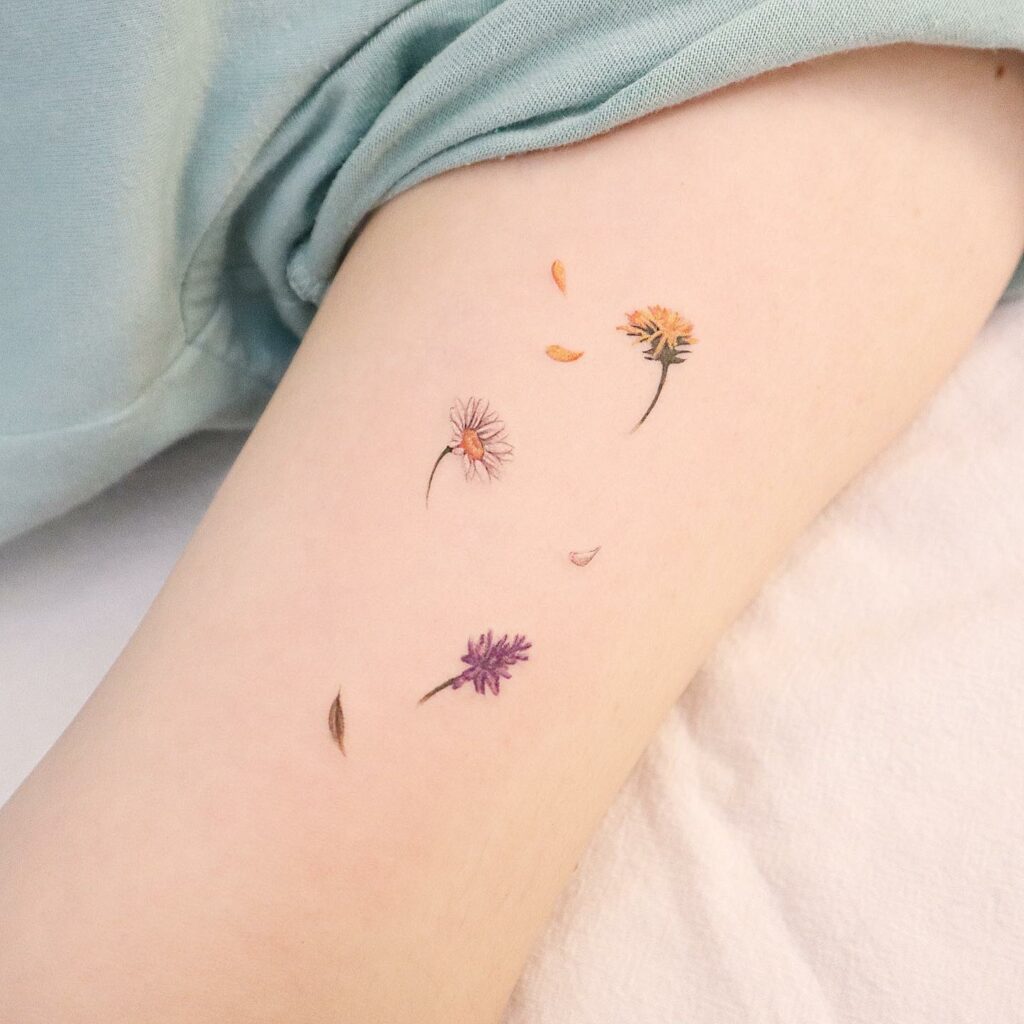 Color, too, adds another layer of complexity to the daisy's narrative. Much like the intricate designs on butterfly wings or the hues of roses, daisy colors carry distinct connotations:
White signifies purity and innocence, often featured in wedding bouquets, and even symbolizing the Virgin Mary's chastity in Christianity.
Yellow, a color emblematic of friendliness and creativity, finds its place on the arms of artists and innovators.
Green represents wisdom, Red stands for strength and courage, Orange suggests responsibility, and Blue encapsulates emotion and softness.
THE MEANING BEHIND DAISY TATTOO IDEAS
Daisy tattoos are as diverse as the people who bear them. They can symbolize happiness, sunshine, cheer, femininity, beauty, love, and more. Perfectly paired with quotes, scripture, other animals, or names, they allow their wearers to share a piece of their story in a uniquely personal way.
The humble daisy, a perennial presence in various cultures across different eras, bears with it an enduring appeal and deep cultural significance that's as multifaceted as its bloom. Let's embark on a little time travel, from the ancient civilizations to the contemporary world, to unfurl the story of this captivating flower.
In the verdant landscapes of Celtic tradition, daisies were woven into folklore as divine symbols of parental solace. They've served as comforting talismans for centuries, their perennial bloom symbolizing an eternal, unwavering force. Meanwhile, in the harsh landscapes of Nordic mythology, the daisy rose as a sacred symbol of Freya, the goddess of love and fertility. Its resilient bloom amidst harsh winters echoed the indomitable spirit of the goddess.
Fast forward to the middle ages in Europe, the phrase "fresh as a daisy" was coined, connecting the flower's nocturnal retreat and daytime bloom to the vitality and renewal of those who slept well. The daisy, in its unassuming simplicity, found its place in everyday language and popular culture, symbolizing freshness, wholesomeness, and resilience.
On the sunlit shores of Victorian England, the daisy found its way into the elaborate "language of flowers." Here, a daisy gifted was a symbol of innocence and loyal love, a message often whispered between lovers through delicately arranged bouquets.
Fast forward to modern-day, the daisy has made a robust resurgence, blooming on canvas, adorning fashion statements, and etching its symbolism on bodies as a tattoo. It's been reimagined and reinterpreted, its simplicity and cheerfulness offering a bold counterpoint to the complexity of our contemporary world.
From its Celtic roots to its modern interpretations, the daisy has proven that its simplicity belies a rich tapestry of symbolism, contributing to its timeless allure. Its place in art, history, and now, body art, is a testament to the flower's enduring cultural significance and the power of its understated beauty. So next time you come across a daisy tattoo, remember, it's not just a flower – it's an emblem of resilience, a symbol of hope, and a storyteller of human experiences.
DAISY TATTOO PLACEMENT
If you're asking where to place this versatile symbol of joy and love, the options are nearly as numerous as its meanings. Daisy tattoos, customizable and adaptable, can nestle on forearms, thighs, feet, wrists, and ribs. Or, they might sprawl across backs, chests, and shoulders. Deciding on the perfect placement depends on various factors including the size of your design, your comfort level, and the sage advice of your trusted tattoo artist.
The transformative journey of a daisy from the realms of mythology to the canvas of your skin is a tale as personal as it is profound. Whether you're an April-born soul seeking to honor your birth flower or someone looking for a symbol of resilience, remember – every daisy has a tale to tell, and it might just be the one you've been waiting to share.
Risks and Concerns Of About Getting A Daisy Tattoo
For those of you enamored by the symbolism and allure of a daisy tattoo, but held back by understandable concerns, let's take a moment to talk safety, procedure, and how to scout a trusted artist.
First off, remember that tattooing is a significant decision. It's not just a piece of art but also a commitment. When it comes to the procedure, hygiene should be at the top of your checklist. A professional tattoo parlor should be as clean as a doctor's office, with artists who are up-to-date on their health certifications. Sterile, single-use needles, fresh ink, and gloved hands are non-negotiable.
Now, onto the artist. Do your research. Browse through portfolios, read reviews, and don't be shy about asking questions. A good tattoo artist will welcome your curiosity and address your concerns. They should be able to walk you through their designs, explain their process, and provide clear aftercare instructions. If you're new to the world of ink, it might also be worth asking if they offer a consultation or a design discussion session.
Yes, getting a tattoo involves a degree of discomfort, and healing requires care. But with the right artist, adherence to safety protocols, and mindful aftercare, your journey to getting a daisy tattoo can be as empowering and beautiful as the bloom itself. The key is to walk into your tattooing journey informed, prepared, and excited. After all, you're about to wear your story, etched in ink, blooming like a daisy.
Conclusion
So, you've journeyed with me through the rich tapestry of daisy tattoos – from Celtic legends to color symbolism, and even to the unique anecdotes from the tattoo parlors. Now, let's get to brass tacks: where should this storytelling piece of ink be placed, and what's the damage to your wallet?
Placement is a personal choice. However, popular spots are often the forearm, thigh, foot, and wrist, or if you're going for a larger design, the back, chest, or shoulder. But remember, size, detail, and location all play into the cost equation. A smaller, simpler daisy tattoo might only set you back about $50-100, while larger, detailed designs can run up to $200-300, or more.
Remember to consult with your trusted tattoo artist to explore designs and find a placement that suits your comfort level and aesthetic. And of course, consider the healing process – some places might be more sensitive or take longer to heal than others.
While tattoos have become increasingly mainstream, let's not forget that it's a permanent modification to your body. There's always a risk of infection if not properly cared for, potential allergic reactions to certain inks, and some folks might even regret their choice down the line.
To summarize, my fellow ink enthusiasts, the humble daisy tattoo, steeped in rich history and symbolism, is a versatile and deeply personal way to express yourself. Choose wisely, care for it well, and your tattoo can bloom just as vibrantly as the daisies in a sun-drenched meadow. It's not just about the ink; it's about the stories etched on our bodies and the shared heritage that keeps us blooming. So, until next time, keep telling your stories, and may your tattoos always bloom!