Hey, all the Danny DeVito fans! Do you want a tattoo of one of your favourite characters? What about Danny DeVito? Check out some cool Danny DeVito Tattoos.
Danny DeVito is an American actor who has gained popularity in the UK, the USA, and in other parts of the world for his works in the television series 'Taxi' and 'It's Always Sunny in Philadelphia'.
He is also famous for other things like the gun meme on social media platforms. People love tattooing their body parts with the tattoos of celebrities, making videos of them every time, and posting them on social media platforms to gain popularity and show their love to that celebrity.
Danny DeVito is among one the many celebs who are greatly loved because of their career activity. If you are also a fan of Danny DeVito and want to tattoo him, then here we have some funny and unique tattoo ideas for you. Let's have a look at them.
Danny DeVito Tattoo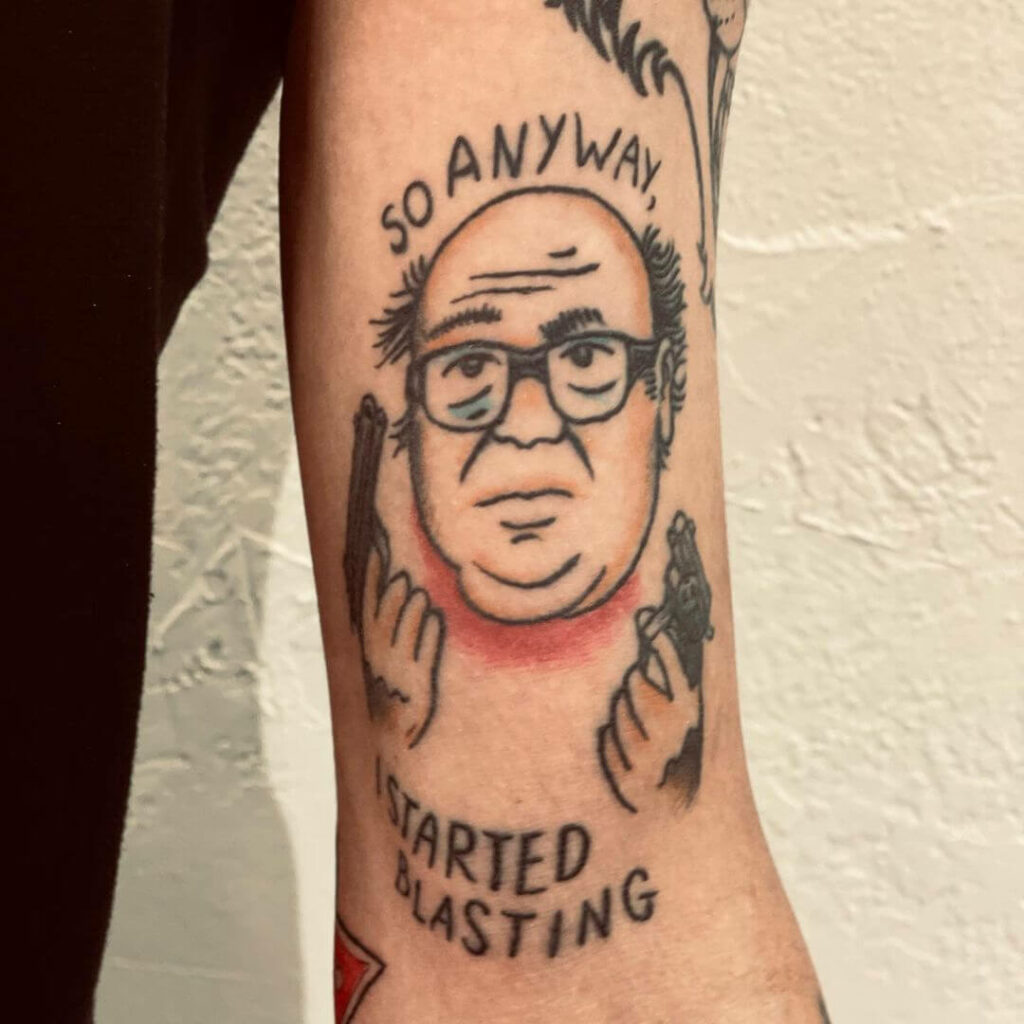 Danny DeVito is not only famous for his filming activity but also for some social media content. One of the most famous memes related to him is this one in which he is carrying guns. You may have seen this meme a lot of times on the internet.
Some videos become great content for the internet, and this is one of them. This is an excellent tattoo option if you are a part of the Danny DeVito merch and love memes. You can also improve this tattoo design with other memes!
Danny DeVito (Frank Reynolds) Tattoo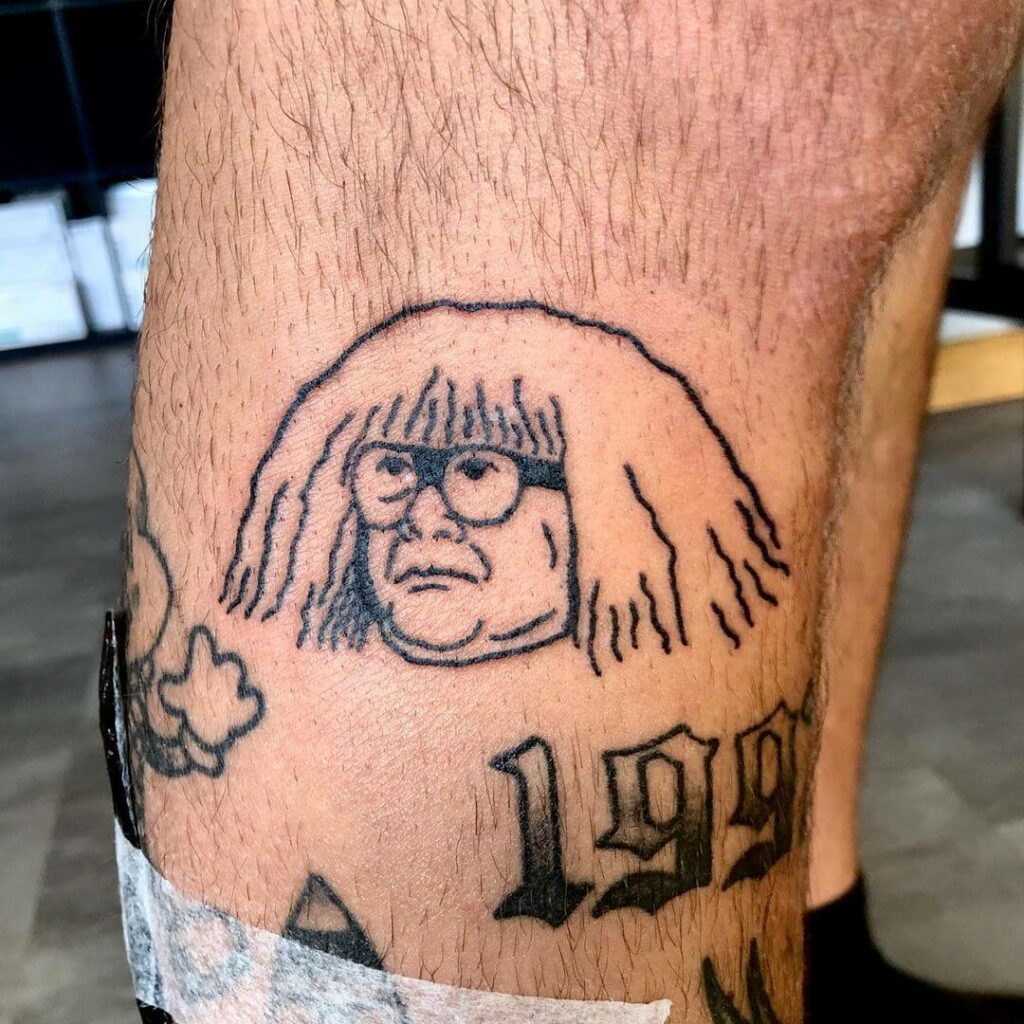 DeVito has worked in some series, and "It's Always Sunny in Philadelphia" is one. He is greatly loved for his role as Frank Reynolds in the series. If you are a big fan of this series, you must have known this hairstyle and that episode.
The series "It's Always Sunny In Philadelphia" is a greatly loved American TV series that has been winning people's hearts for many years. If you love Frank, then why not have a tattoo of him. Frank will love it. This tattoo from "It's Always Sunny In Philadelphia" is an ode to the great artist that he is.
A Small Danny DeVito Portrait Tattoo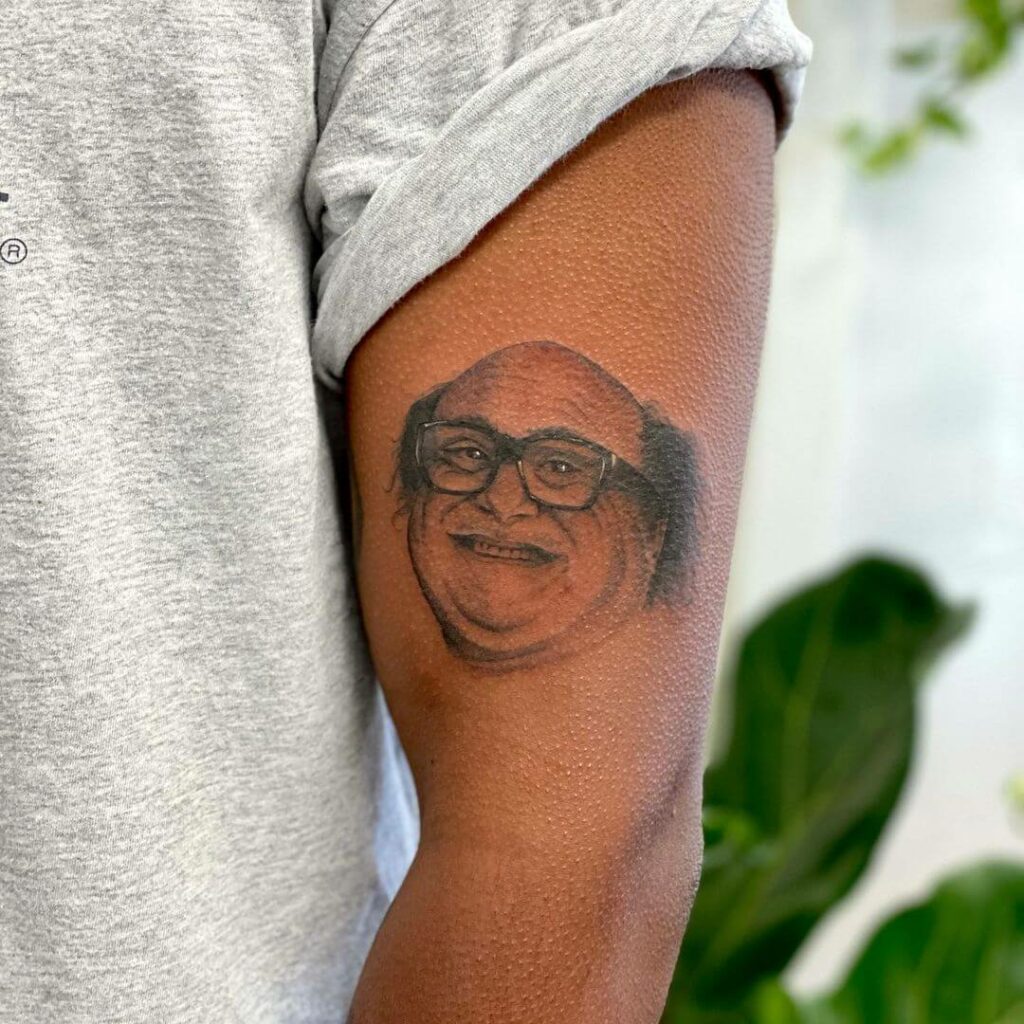 This is one of the cutest Danny DeVito tattoos so far. Portrait tattoos are the best to show your love for any of your favourite celebs. Sometimes an actor makes a significant impact on someone's thinking process and character development. If you think that he is the one who has shaped your thoughts, then you should choose this small and cute tattoo. This is not a big fancy tattoo, but a small and adorable one with cute content!
Danny DeVito Penguin Tattoo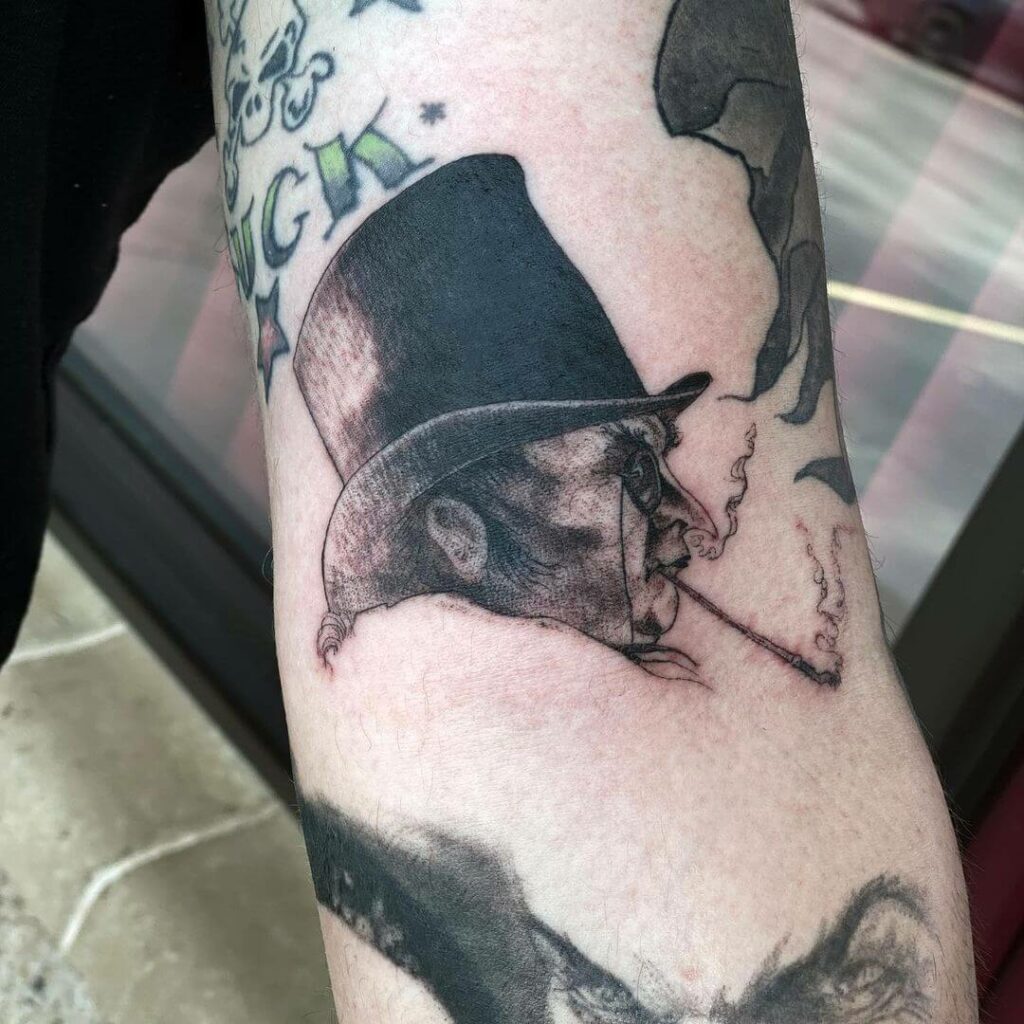 If you love Batman or you have read Batman comics, then you know who this man is. DeVito has done a great piece of work in the movie and has gotten a lot of attention.
His work in the film Batman Returns is outstanding. The character name was Oswald Chesterfield Cobblepot, but he was also known as Penguin in the movie. He has contributed to making the movie an amazing one.
A Cartoonist Danny DeVito Tattoo
Things look more striking in their cartoon versions. If you visit the tattoo artist and he tells you to have a cartoon tattoo, do not deny that offer.
You can also ask him for more information about tattoos related to Danny DeVito. You can also find an image of DeVito and change that into a cartoonist version for being tattooed on your body. Just have fun in making your DeVito tattoo more funny and unique.
A Danny Dorito Tattoo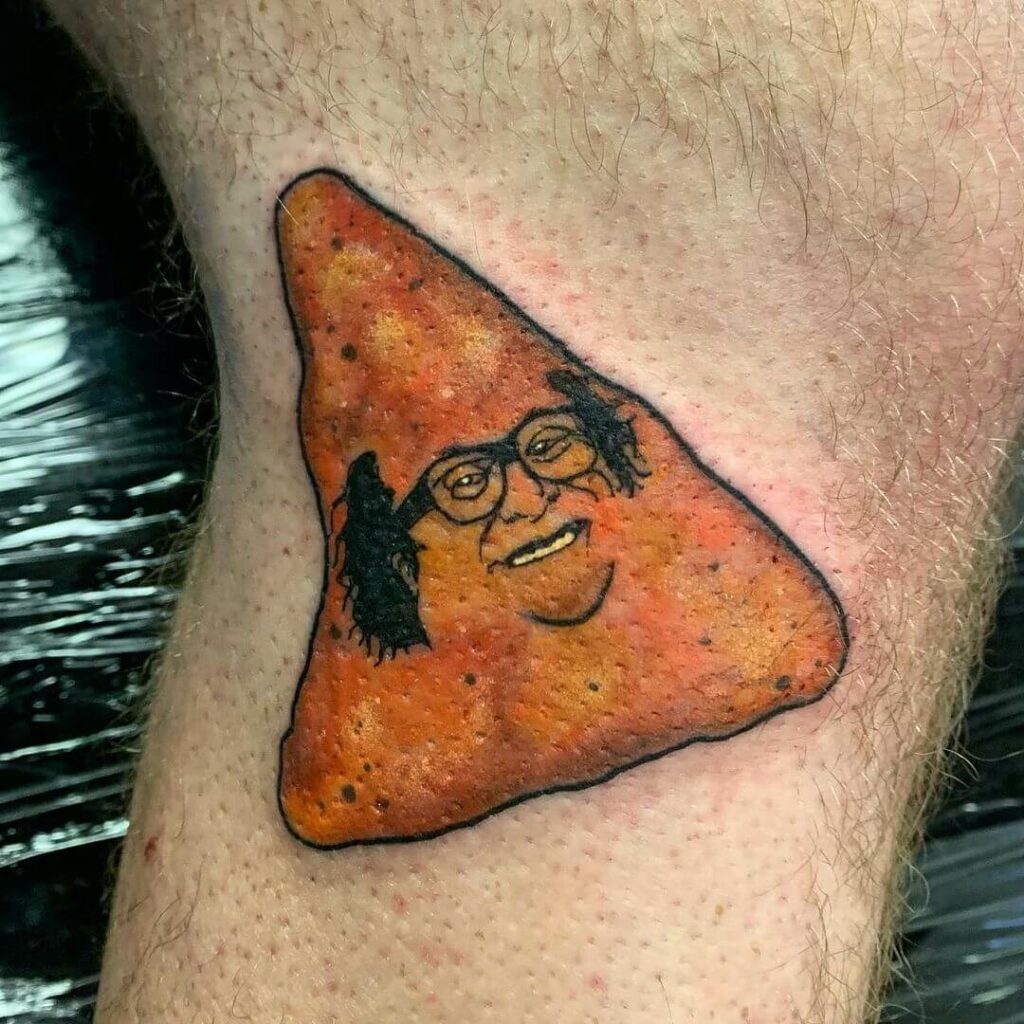 Having a simple DeVito tattoo is a common thing. So, let's have a DeVito tattoo in Dorito style. What do you say about a Danny Dorito tattoo? This is one of the most fun things you can see on a person's body if they have a tattoo of this kind. If your friends are also willing to have a DeVito tattoo, you can all have this Dorito tattoo to mark your Sunny gang.
A Funny Danny DeVito Tattoo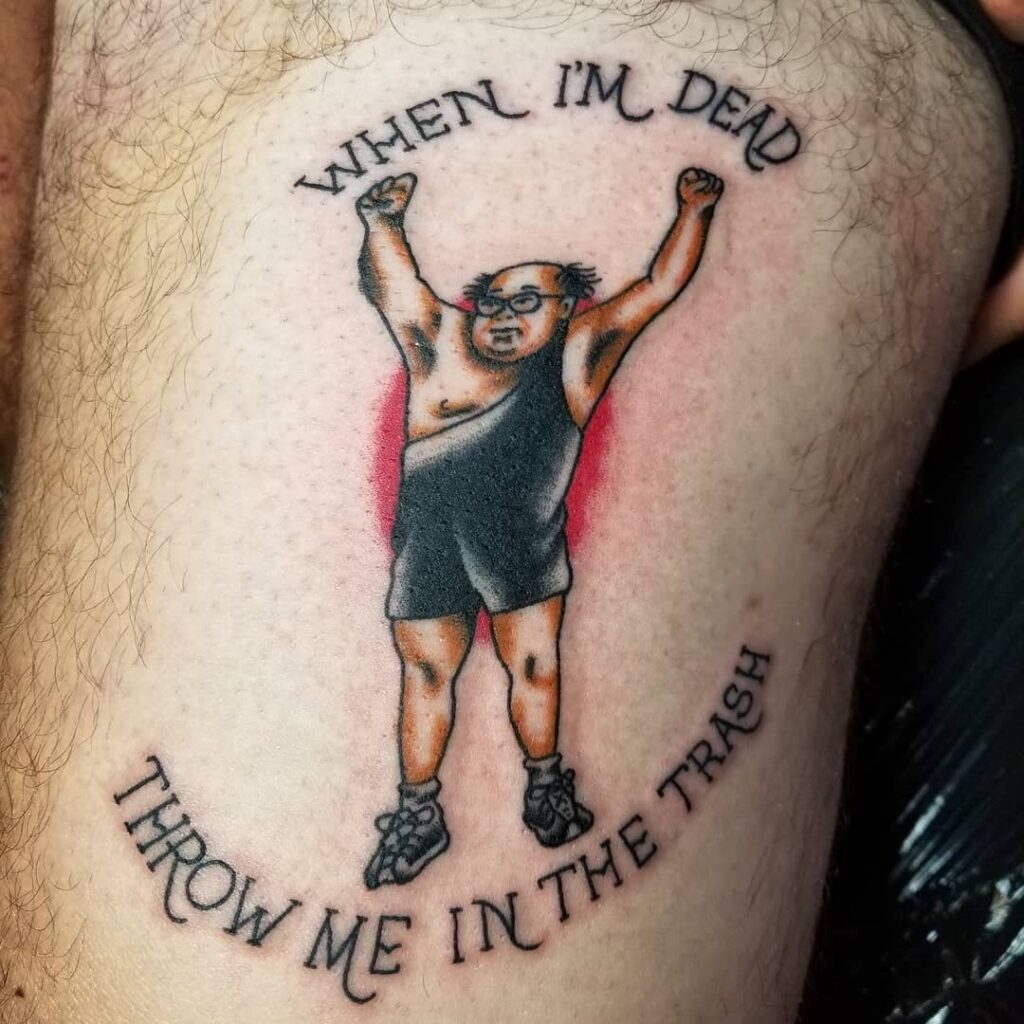 This is one of the funniest pics of DeVito. If you visit the Danny DeVito Instagram account, you can find this pic of him in the feed. You also must have known the story behind all this. This picture was uploaded several years back but is still greatly loved and recognized by all because of the content.
If you want a Danny DeVito temporary tattoo, then this can be an excellent choice for you. We all know you are not going to put him in the trash.
A Realistic Portrait Tattoo Of Danny DeVito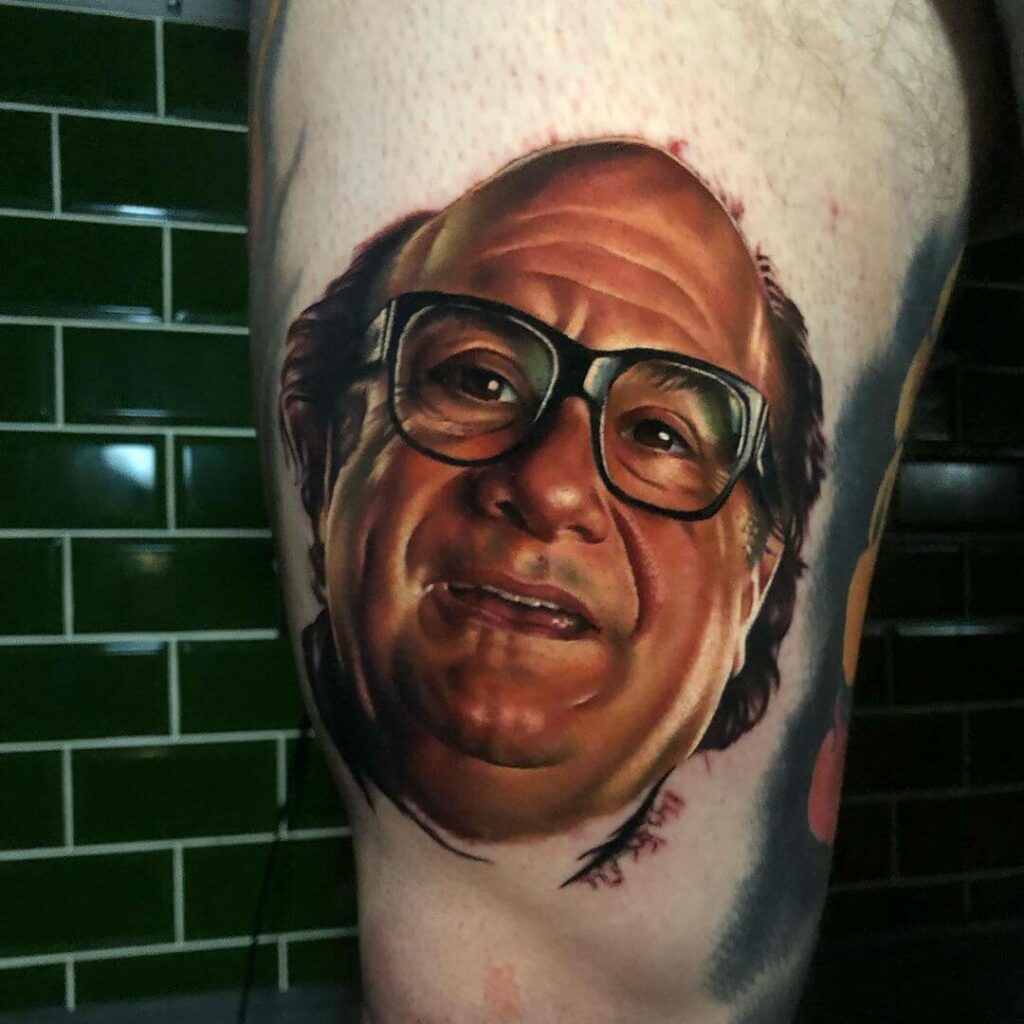 This Danny DeVito laughing tattoo is honestly one of the gorgeous masterpieces of all time. This is one of those tattoos which deliver and set excellent parameters for a stunning tattoo. Just have a look at the details and all the things in this tattoo. How can you, being a great fan of DeVito, say no to this tattoo? You can read his expressions and the details are just flawless. This artist's work can impact and motivate others to work hard and make a tattoo like this.
Danny DeVito Funny Icecream Tattoo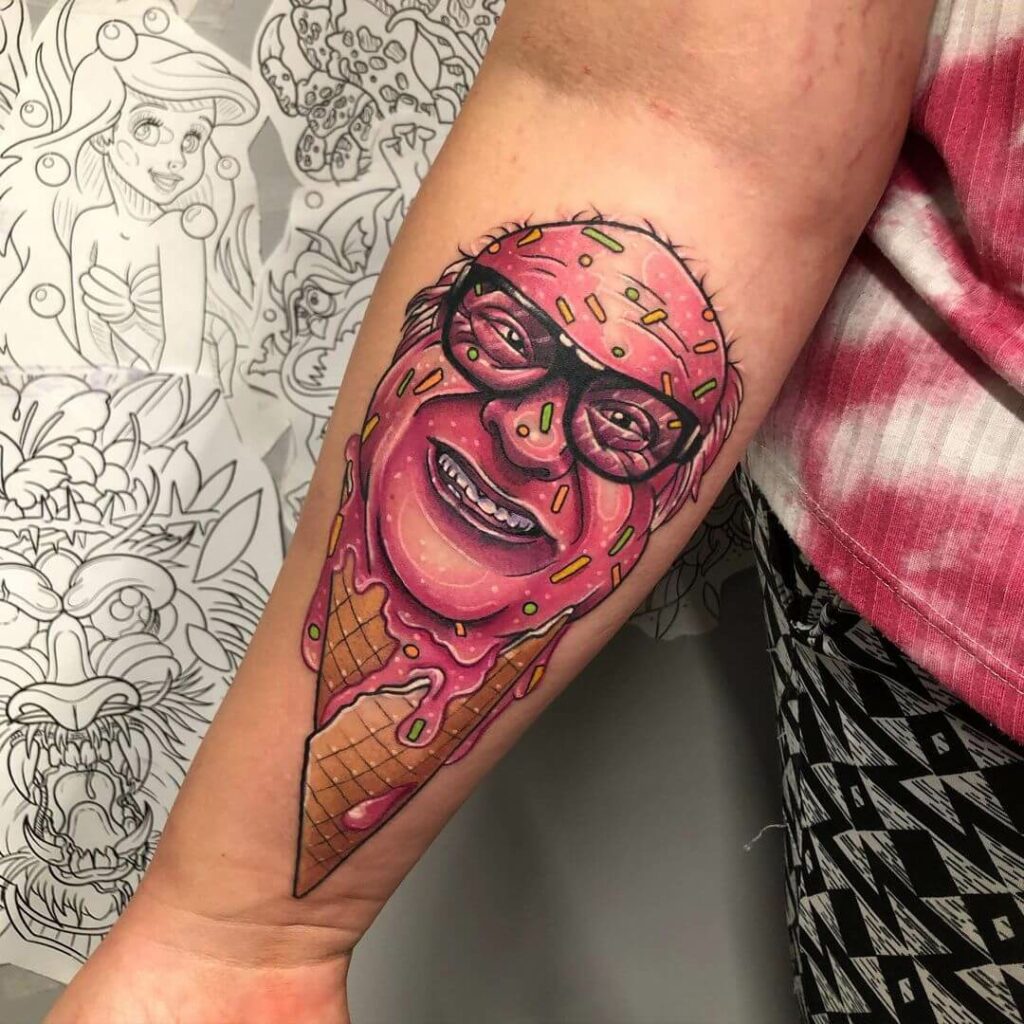 Again a funny DeVito tattoo. As an artist, Danny never fails to entertain us with his acting skills. This is a hilarious representation of DeVito in respect to that one episode of IASIP. If you love crazy things and want to have a DeVito tattoo in a crazy style, then this is the one for you.
This ice cream tattoo is an awesome tattoo for 'Sunny' DeVito lovers. This is a colourful tattoo which is also an exciting aspect of this tattoo. There are many ways in which you can also improve this tattoo with more IASIP content!
A Naturalistic Portrait Tattoo Of Danny DeVito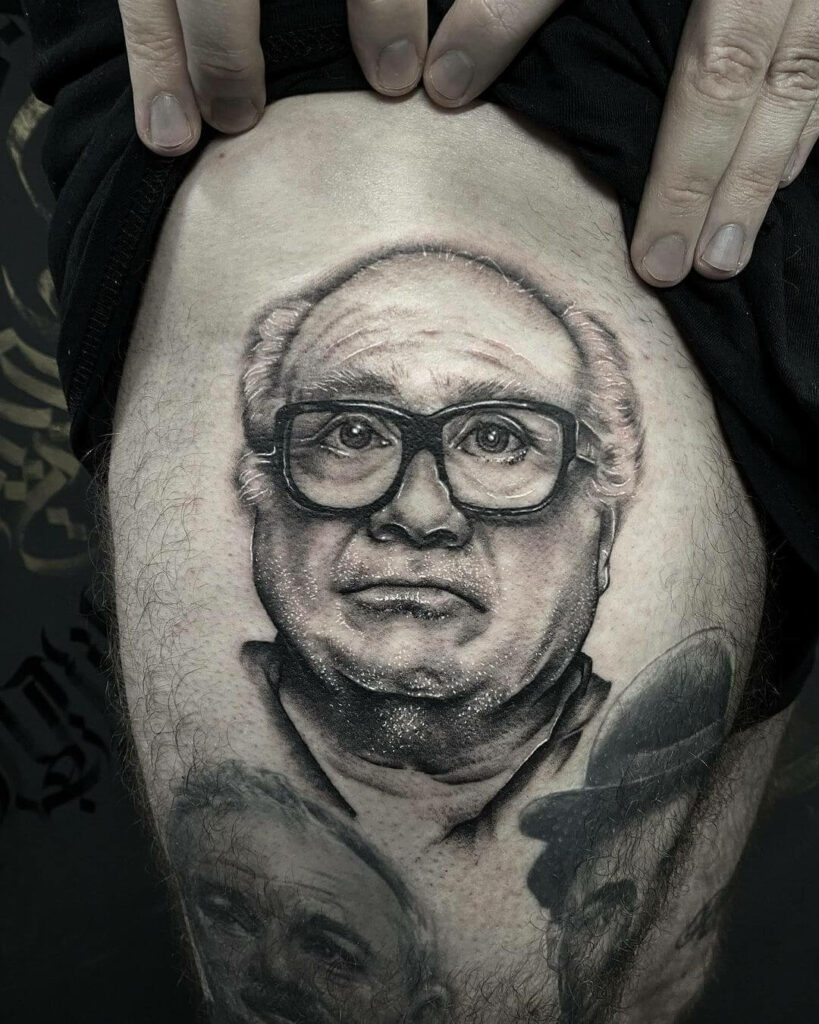 This is a hyper-realistic tattoo that does not even look like a tattoo. It seems like someone has printed an image of DeVito on someone's skin.
Just as you can read his expressions, you can see that he is not laughing but is in a natural calm mode. In most of the images, Danny DeVito is laughing, but this one is different and unique. This is a great tattoo option for DeVito lovers who want a realistic portrait of Danny on their bodies.
There are many classic comedians and the latest ones, too, who left an indelible mark on the comedy scenes from Hollywood. You can take inspiration from any of these stalwarts and get a tattoo too. An artist can affect us in many positive ways, and getting their face tattooed can be our way of telling them to thank you for spreading love, light, and laughter. Here are some more excellent examples of Danny DeVito or any other comedian you may like tattoo ideas:
Feature image from Pinterest – Want your tattoo to look brighter? Try "Tattoo Balm"
Last reviewed and updated on March 17, 2023