Hey there, are you looking to hide an old tattoo that no longer matches your style? Don't worry, we've got you covered! Our team of experienced tattoo artists has some amazing ideas for dark tattoo cover-ups that will blow you away.
Over time, tattoos can fade or lose their appeal, but that doesn't mean you have to live with them forever. With a cover-up tattoo, you can transform your old ink into a bold and beautiful new design.
Our artists specialize in cover-up tattoos and can work with you to create a design that meets your needs. We can match the base layer of your old tattoo or use laser removal to create negative space for your new design. Whatever the reason for your cover-up, we're here to help.
Our talented artists use a variety of techniques, including blending colors, shading, and detailing, to create stunning designs that draw attention away from the old tattoo. When choosing a cover-up, it's important to consider factors like the saturation of the old tattoo, the size of the area to be covered, and your flexibility with the design outcome.
So, what are you waiting for? Take a look at our gallery of 10 beautiful cover-up tattoos and find the design that speaks to you. We can't wait to bring your new tattoo to life!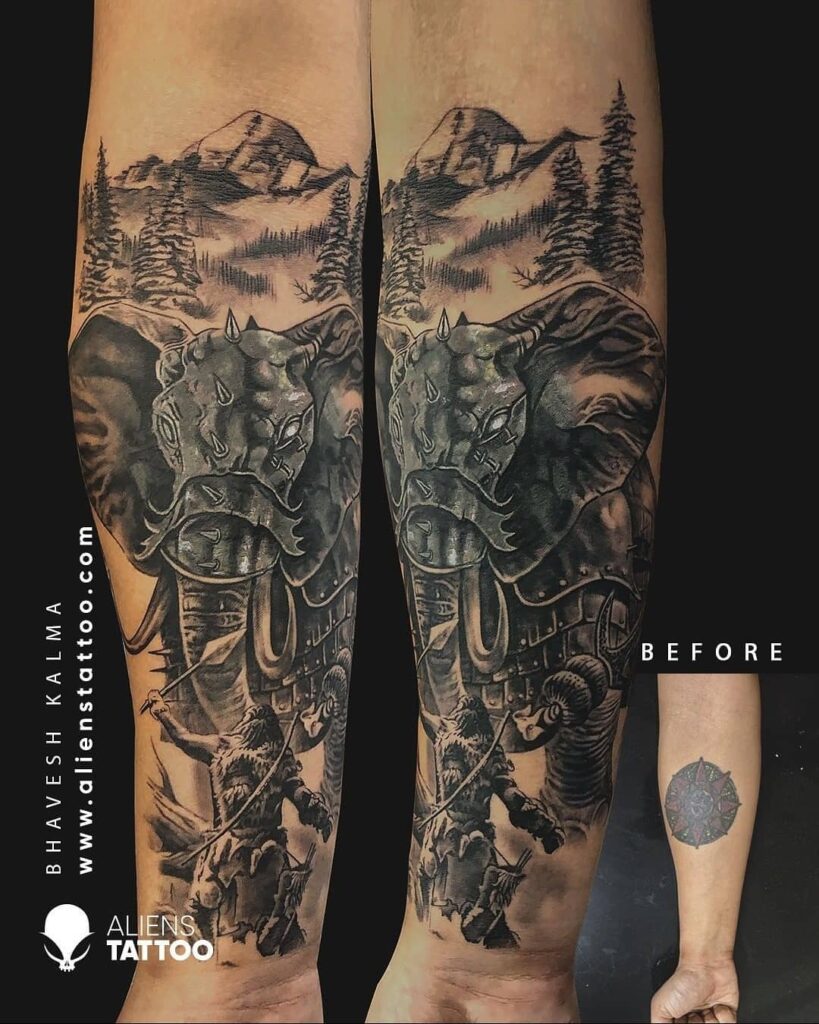 Dark Flower Tattoo Cover Ups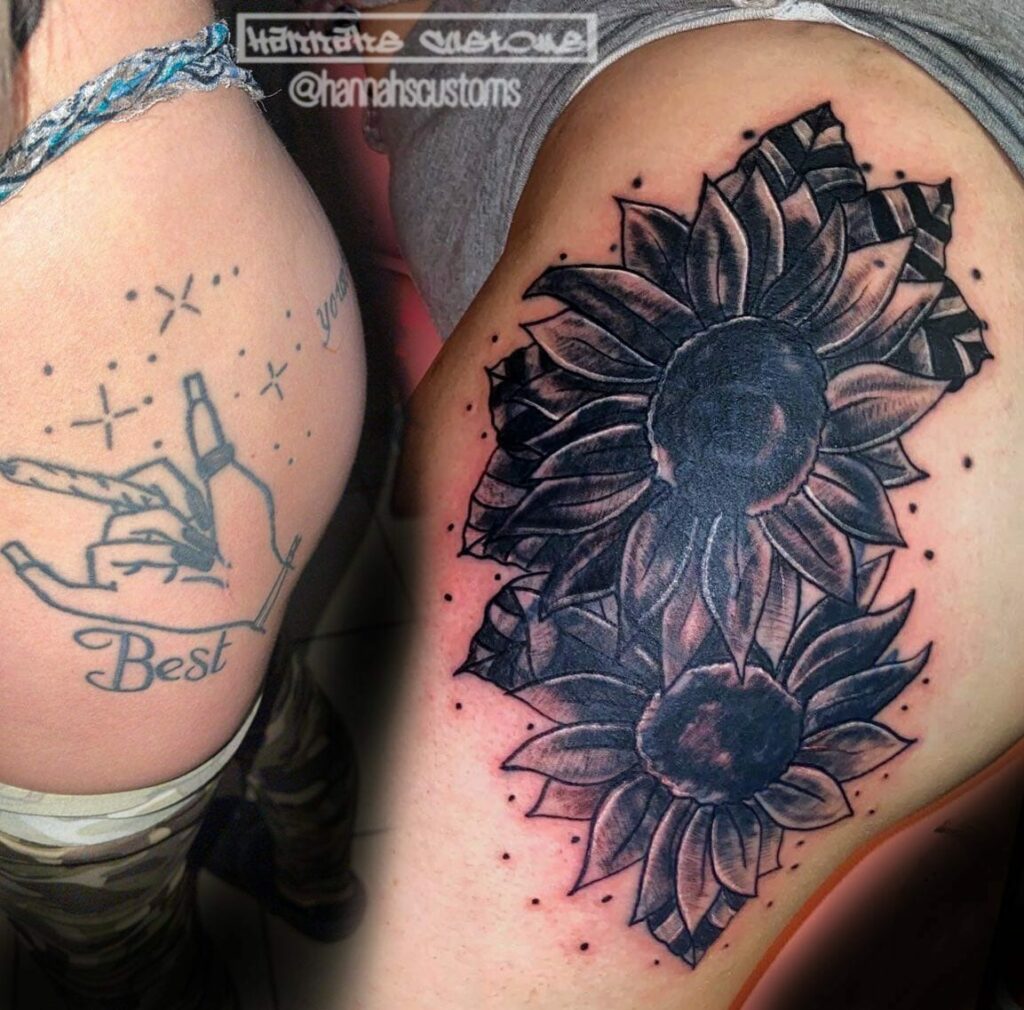 Many people get tattoos when they are young without fully considering the meaning behind them. As a result, these tattoos can become outdated or lose their original appeal over time. If you find yourself in this situation, a cover-up tattoo might be just what you need.
In this particular case, the original tattoo featured a hand holding a cigarette with the word "best" written below it, all done in black ink. To cover it up, the artist created a beautiful design featuring sunflowers. Black sunflowers are often associated with intelligence, good luck, and longevity, making them a great choice for a cover-up tattoo. The artist used black, grey, and white ink to create a stunning, dark design that effectively covers up the previous tattoo. The end result is a beautiful piece of body art that you'll love to show off.
Darth Vader Cover-Up Tattoo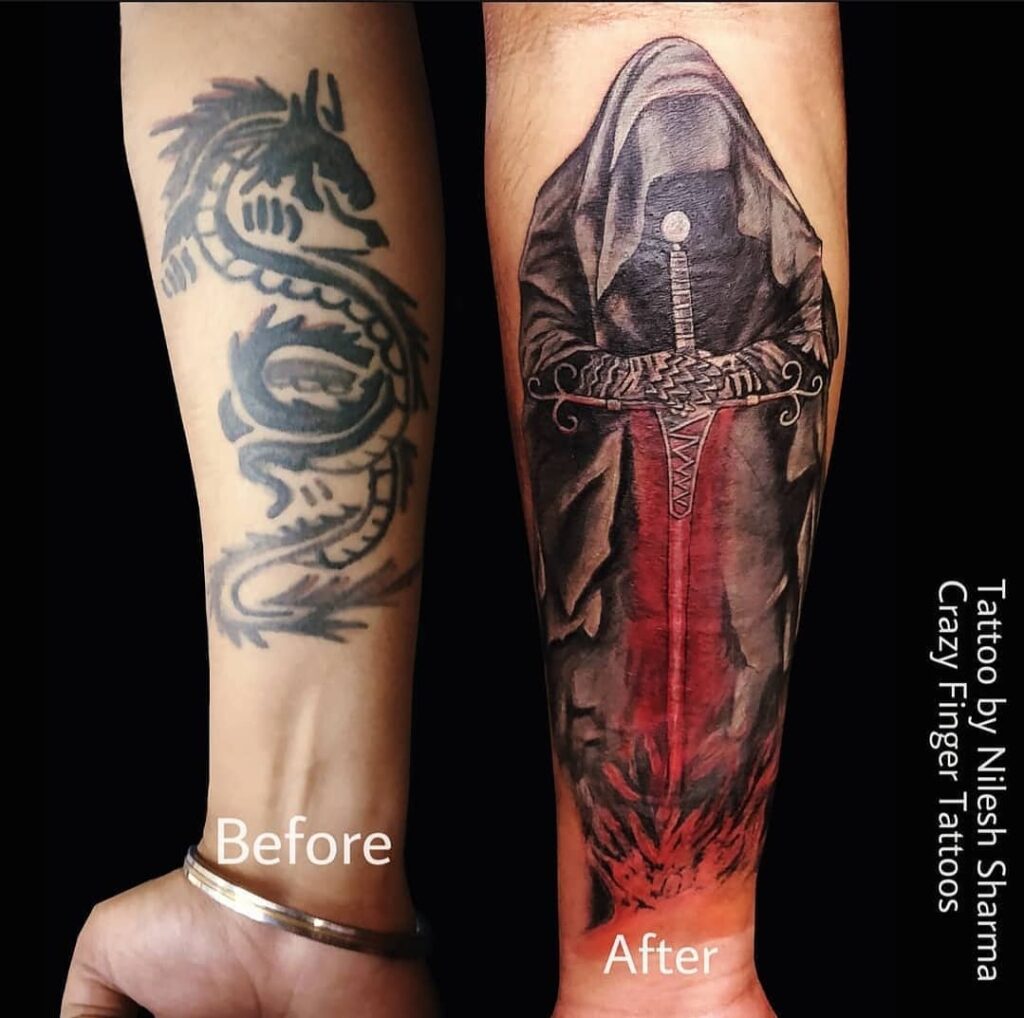 This design features Darth Vader, one of the most iconic characters in the series, and is a great option for a cover-up. The original tattoo was of a dragon on the person's forearm, but with this new design, the artist has created a detailed and realistic portrait of the Sith Lord. The use of black, grey, white, and red inks gives the design depth and contrast, making it stand out on the skin. The addition of the bright red lightsaber is a nice touch and adds to the overall appeal of the tattoo. If you want a cool and trendy design for your cover-up, this tattoo is definitely worth considering!
Koi Fish Cover-Up Tattoo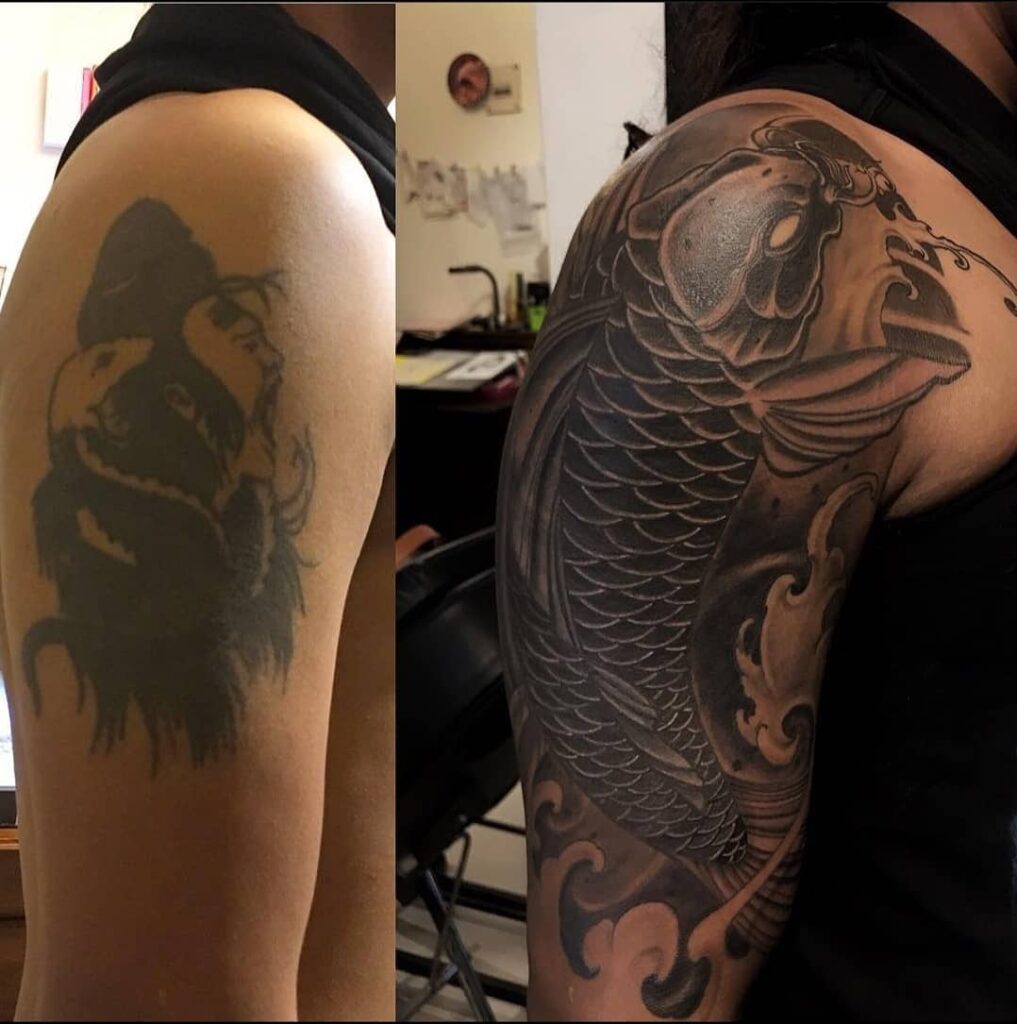 Koi fish tattoos are very popular in Japanese culture and it's no wonder why – they're stunning! Although koi tattoos are typically made with bright colors, this design is created with shades of black, grey, and white to cover up a faded previous tattoo. A black koi fish is a symbol of masculinity, fatherhood, and overcoming struggles in life. In this particular design, the previous tattoo was of Lord Shiva and a snake. The koi fish was used to cover up the faded tattoo and has been beautifully detailed with intricate lines and waves in the background. The end result is a stunning work of art that you can wear on your body with pride.
Dark Rose Tattoo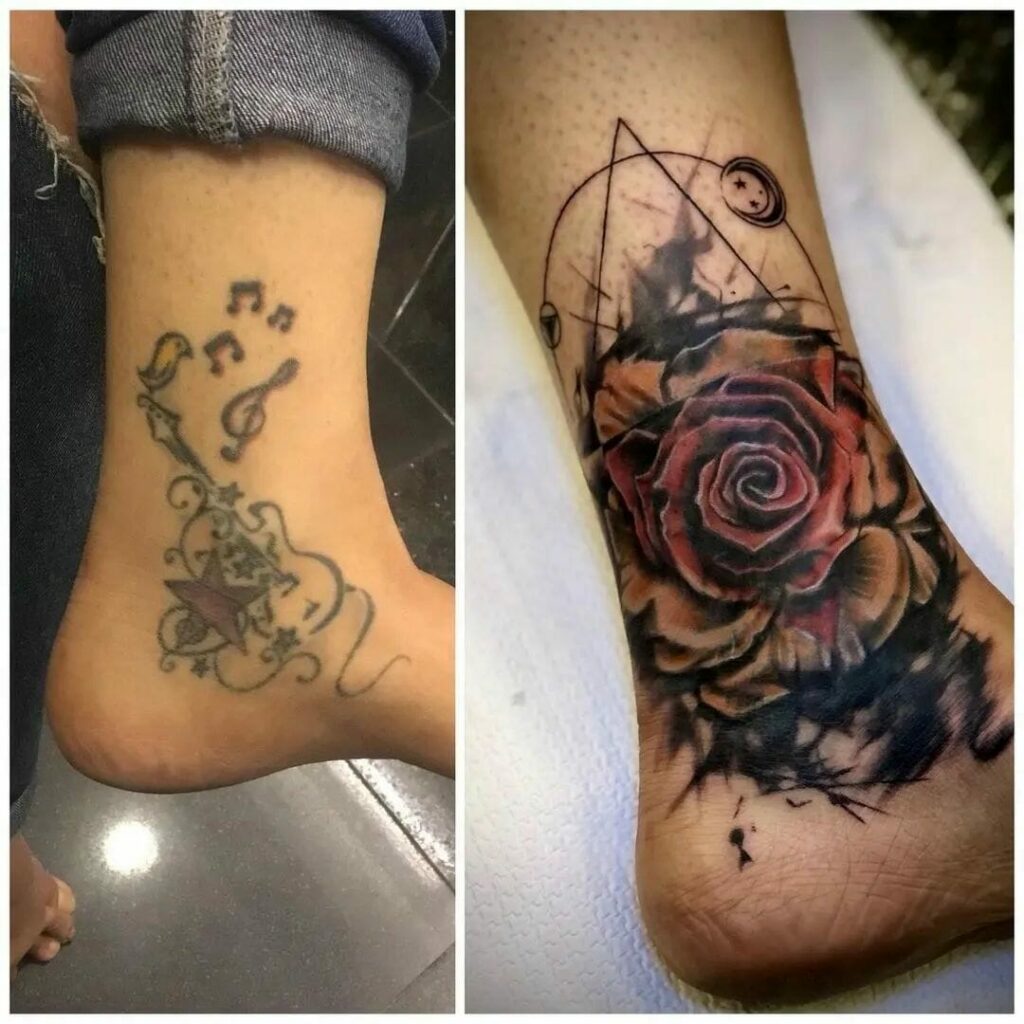 When it comes to cover-up tattoos, a rose design is a classic choice that can be customized to your liking. The rose is a timeless symbol of love and devotion, and the color of the rose can have different meanings. In this particular design, the previous tattoo featured a black statue with a guitar, stars, and a bird that had faded over time. To cover it up, the tattoo artist created a stunning and realistic rose in shades of white, pink, and red. To give the tattoo maximum coverage and a more modern look, they added splashes of black ink and geometric designs in black. The result is a beautifully balanced and unique design that tells your personal story.
Owl Cover-Up Tattoo
In various cultures, the owl is a symbol of mystery, magic, and wisdom, and is often associated with the afterlife and spirituality. Owls are believed to bring good luck in some cultures, making them even more special. The original tattoo on the person was a foreign word and a portrait of a lady that had been faded using laser tattoo removal surgery, leaving an opportunity for a beautiful cover-up. The artist used black and grey ink to create a detailed and realistic owl design with fine line work. The owl's eyes were highlighted with white ink, giving them a striking look. The artist's skillful use of shading gives the owl a sense of depth and realism. This dark and enchanting tattoo design is an excellent choice for anyone looking for a meaningful and captivating piece of body art.
Celtic Knot Cover-Up Tattoo
This design has deep spiritual significance and represents the unity of the internal and external world.
The previous tattoo in this design is a bit hard to make out, but the talented artist has completely covered it up with a large and stunning Celtic knot. The knot itself is made up of shades of black, grey, and white, and the artist has used the white ink to highlight certain parts of the design. The background of the knot is also made with black and grey shades, giving it a bold and striking look.
Beneath the knot, you'll see a gorgeous lotus flower tattoo. The lotus flower represents the desire to become a better person and has been inked in black and grey, adding to the beauty of the overall design. This is a large and stunning cover-up tattoo that has deep spiritual meaning and will look incredible on your body.
Black Panther Cover-Up Tattoo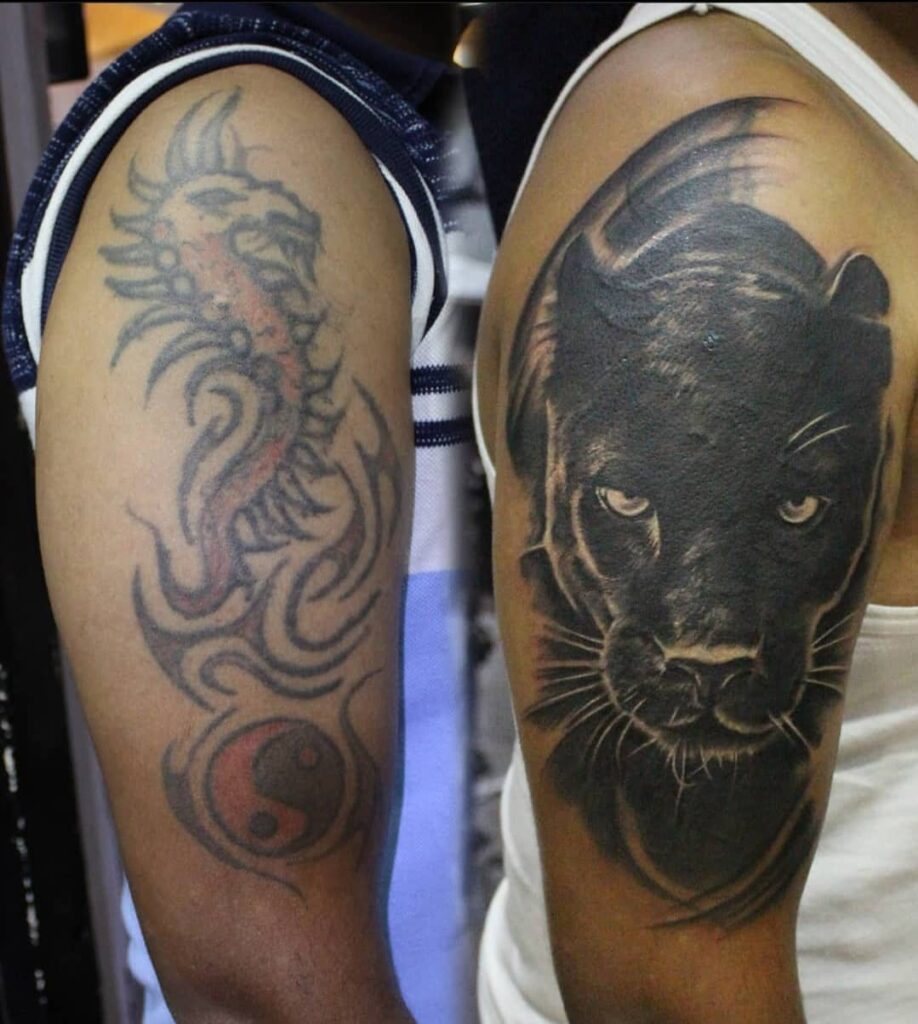 It represents strength, loyalty, and courage. It's also associated with guardianship and freedom. In this particular tattoo design, the previous tattoo on the upper arm is faded and not very clear. To cover it up, the tattoo artist has created an amazing Black Panther design using black ink. The detailing of this design is impressive, with white ink used to highlight certain areas of the tattoo. The beautiful artwork of the Black Panther on the arm will make you feel empowered and strong. It's an excellent choice for those looking for a cover-up tattoo that represents power and protection.
Elephant Cover-Up Tattoo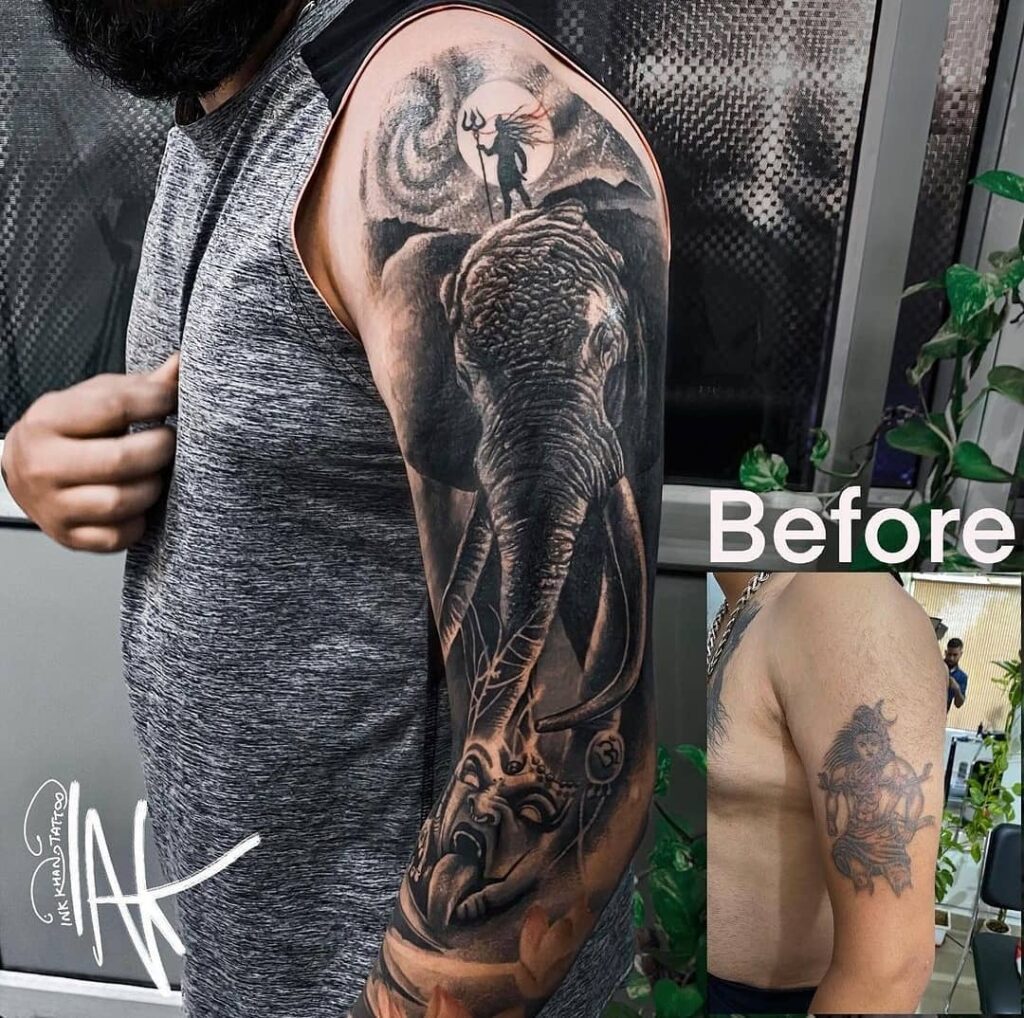 Elephant tattoos are often large and grand designs that symbolize loyalty, strength, good luck, and divinity. With the help of a talented tattoo artist, a well-planned elephant tattoo can look truly majestic on the body. In this case, the elephant tattoo has been used as a clever and easy cover-up for a smaller, faded Indian God tattoo. The artist has used black and darker shades of grey to create this large design, which makes for an effective and visually striking replacement for the previous tattoo. If you're looking for a meaningful and visually impressive tattoo design, the elephant tattoo is definitely worth considering.
Tiger Cover-Up Tattoo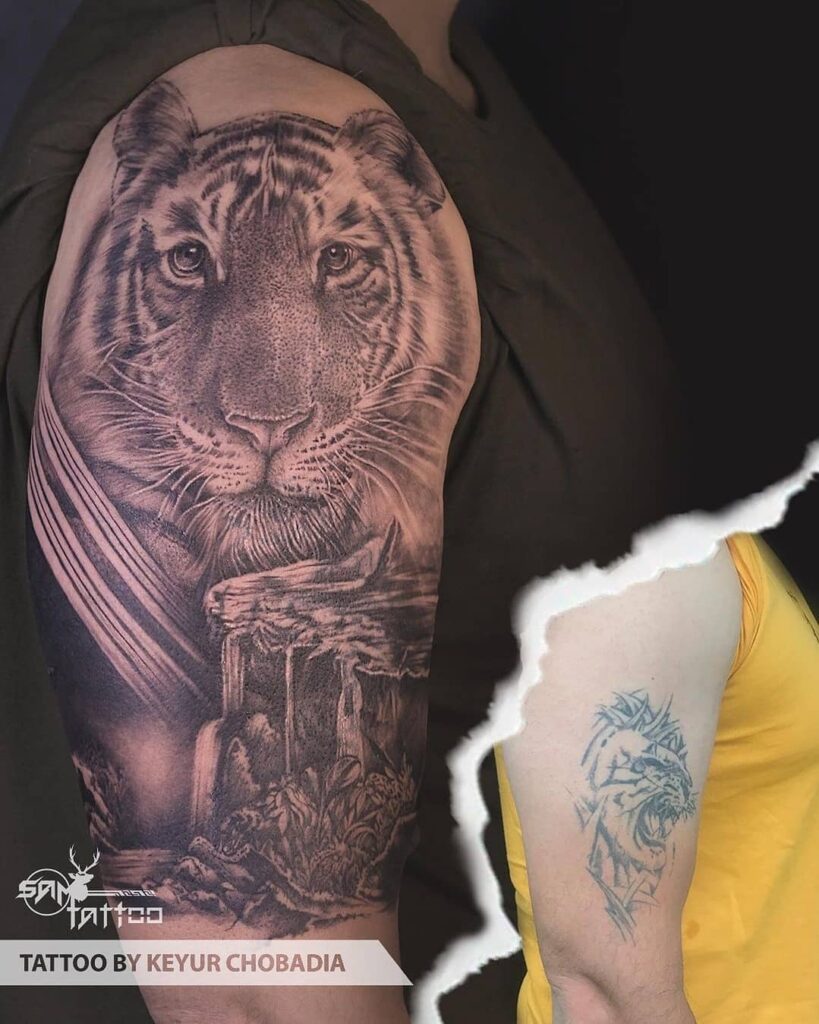 Tiger tattoos are some of the most popular designs in the tattoo industry. They represent strength, power, independence, and freedom. The previous tiger tattoo on this person's arm had faded, so the decision was made to cover it up with a larger, more intricate design. The new tattoo artist used fine line work and dotwork art with shades of grey ink to create a beautifully detailed image of a fierce tiger. Each stroke is so intricate and delicate that it gives the tiger a sense of realism. This new tiger tattoo is a stunning work of art that perfectly covers the old design while also making a powerful statement.
Cat Cover-Up Tattoo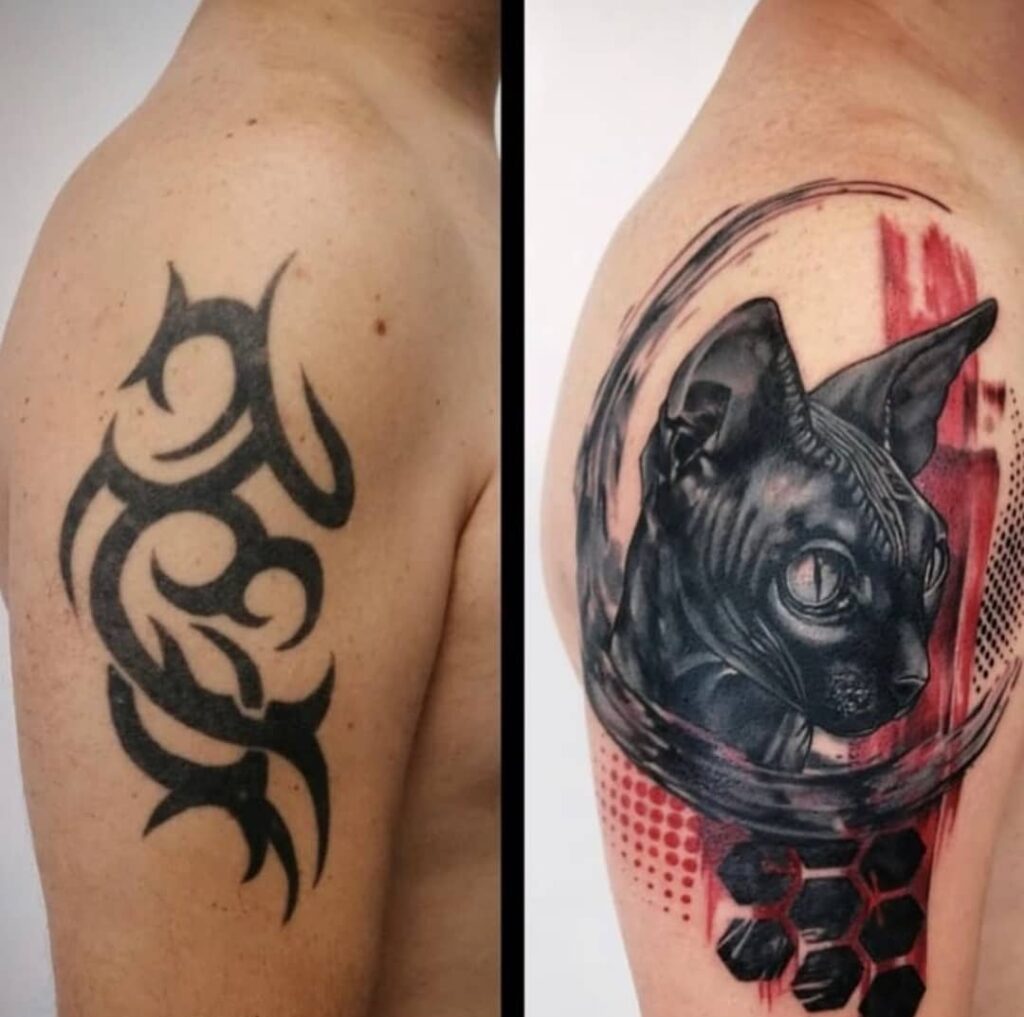 A person goes for a cat tattoo, either in memory of their previous pet or to bring good luck to their lives. The previous tattoo design appears to be of some Greek runes which have been made in solid black ink. The new tattoo is of a black colored cat. The artist has used shades of black, grey, white, and red to complete this design. A pet tattoo makes a meaningful coverup tattoo.
We hope you liked our ideas of covering up your existing tattoo with some beautiful new designs. One must carefully decide which design to put on their existing inks so that it looks brand new. If these designs are not enough.
Still looking for inspiration, then checkout this blog post about dragon tattoos
feature image from Pinterest – Want your tattoo to look brighter? Try "Tattoo Balm"