Hey there, Marvel fans! If you can't get enough of the wisecracking, unpredictable Deadpool, you've come to the right place. We've put together a must-see list of Deadpool tattoos just for you.
We all know Deadpool is far from your average superhero.
The 2016 'Deadpool' movie, starring Ryan Reynolds as the iconic Wade Wilson, took the world by storm and quickly became a fan favorite. With its box office success, it was no surprise when a sequel followed a couple of years later.
But what sets Deadpool apart from the countless other superheroes with movie franchises, TV shows, and video games? It's simple: Deadpool's unique brand of crazy. Reynolds' spot-on portrayal of the character's quirks, combined with a highly successful social media PR campaign, catapulted Deadpool to the top of the superhero charts. Sure, his origin story might be a familiar tale of a mercenary turned superhuman, but it's Deadpool's off-the-wall personality that keeps fans coming back for more.
So, if you're a die-hard fan eager to show off your love for the Merc with a Mouth, look no further. We've carefully curated a collection of awesome Deadpool tattoos that you'll be proud to wear.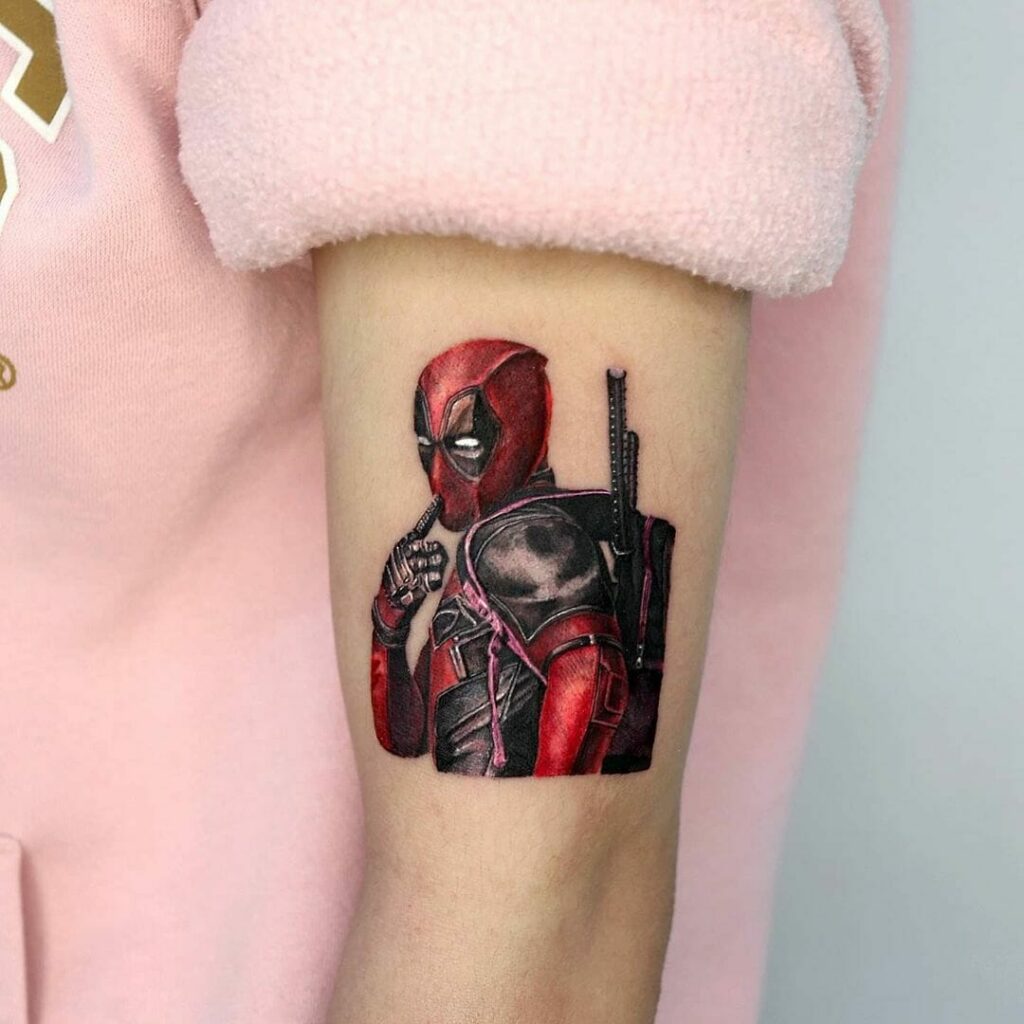 The Dynamic Grayscale Deadpool Tattoo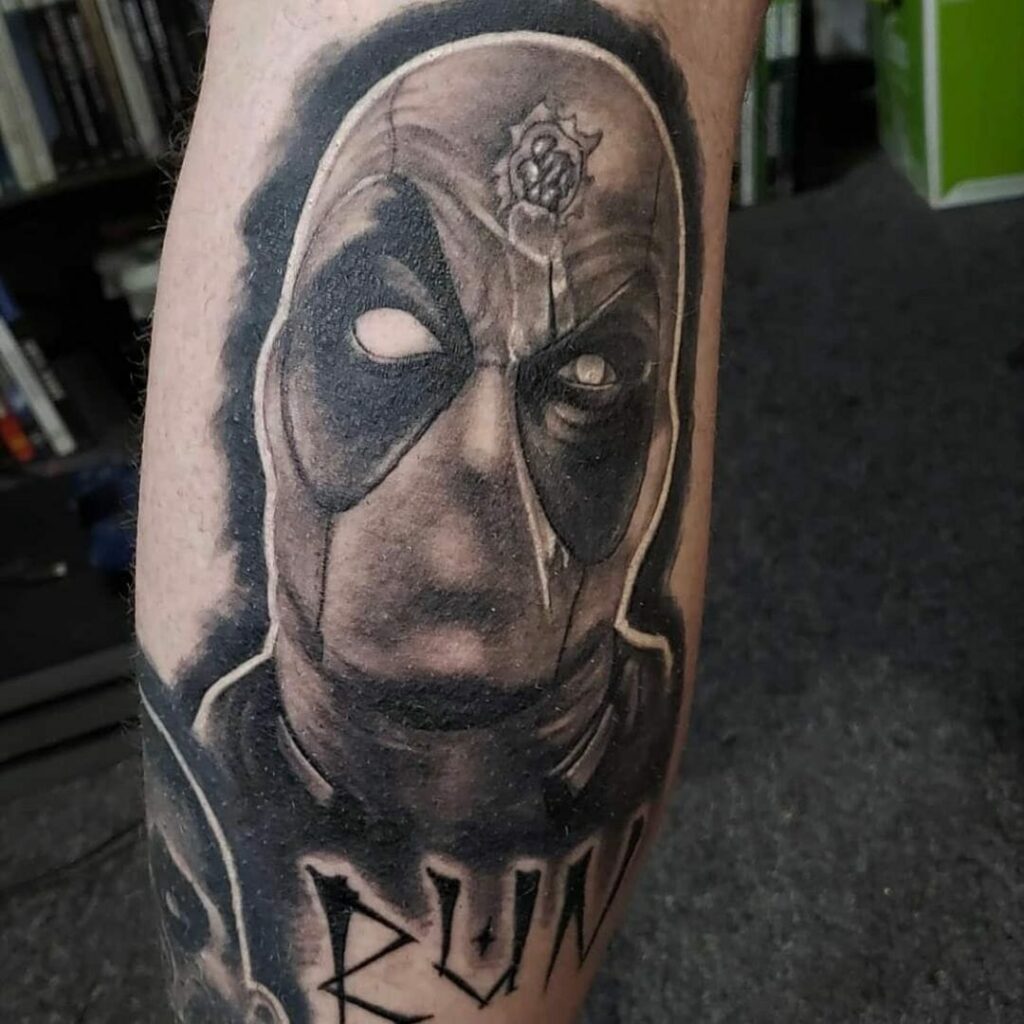 When it comes to tattooing, black and grey are the traditional and most preferred colors. But, for those Deadpool fans who are uncertain about how the iconic red suit will look in these shades, we have got you covered! These black and grey Deadpool tattoos will put all your speculations to rest. These tattoos showcase that with the right shading, Deadpool's classic bright red suit can still look dynamic and striking in monotonous colors. With the right balance between darker and lighter shades, the artist can create a crisp and stunning design. To achieve this look, it's crucial to select an experienced and professional tattoo artist who is well-versed in solid linework and shading techniques.
The Friends And Deadpool Crossover Tattoo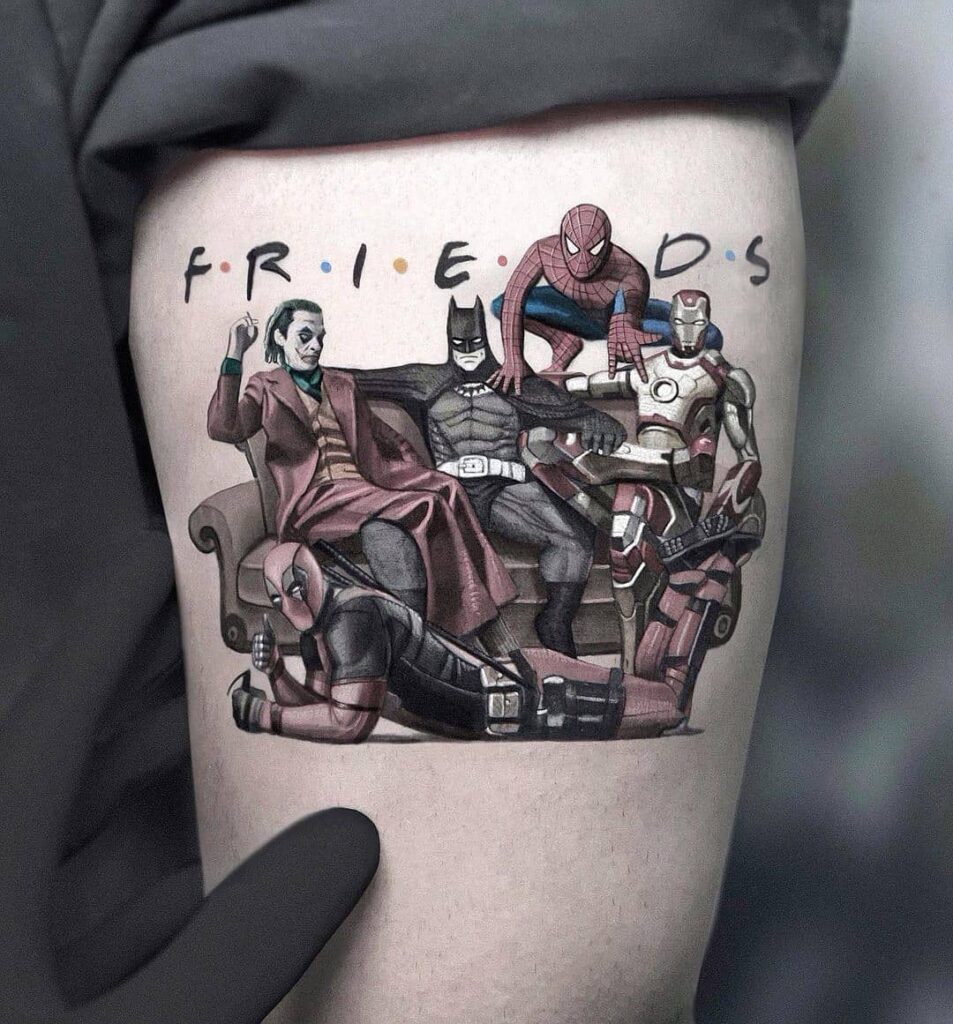 This Deadpool tattoo is definitely one of our favourites. It's the perfect blend of humor, satire, and a bit of seriousness from the comic world. If you're a fan of the hit TV show Friends, you'll love this design that features Marvel and DC heroes arranged in the iconic Friends pose, complete with the show's name in the background. It's a fun and unique way to showcase your love for both comic universes, and it's sure to grab attention wherever you go. Make sure to find a skilled tattoo artist who can bring this design to life with precision and attention to detail.
The Deadpool Tattoo For The Pop Culture Fans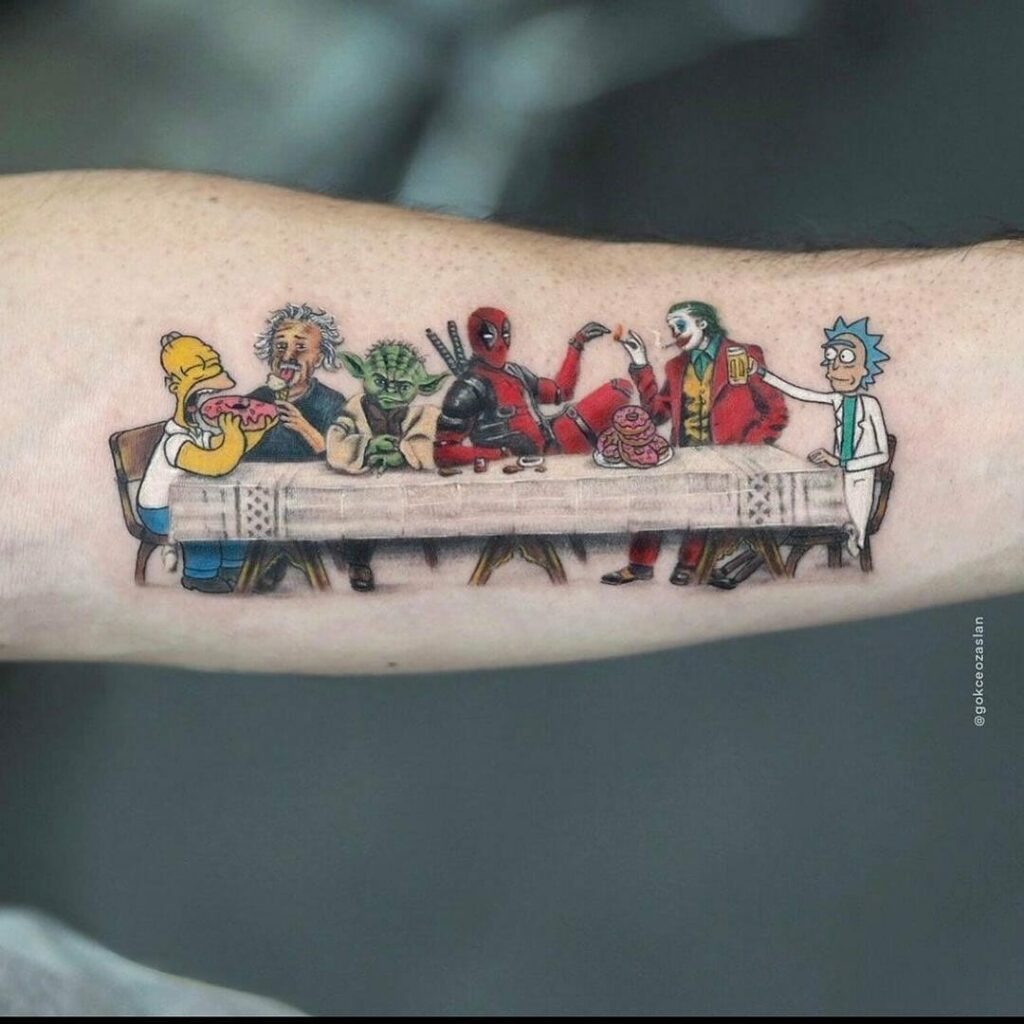 Get ready to blow everyone's minds with this fantastic tattoo design featuring some of the most iconic characters from the worlds of comics, TV and movies, all sitting together in a parody of Leonardo da Vinci's famous painting, 'The Last Supper'. Imagine the likes of the brilliant-yet-unhinged scientist Rick from 'Rick and Morty', the enigmatic and sinister Joker, the wise and powerful Yoda, the lovable troublemaker Bart Simpson, the irreverent and humorous Deadpool, and even the legendary scientist Albert Einstein himself, all gathered around a table in a hilarious and unforgettable tattoo. This design is perfect for anyone who loves pop culture and wants to show off their unique sense of style. Don't miss out on this one-of-a-kind tattoo!
The Guardians Of The Galaxy And Deadpool Tattoo Sleeve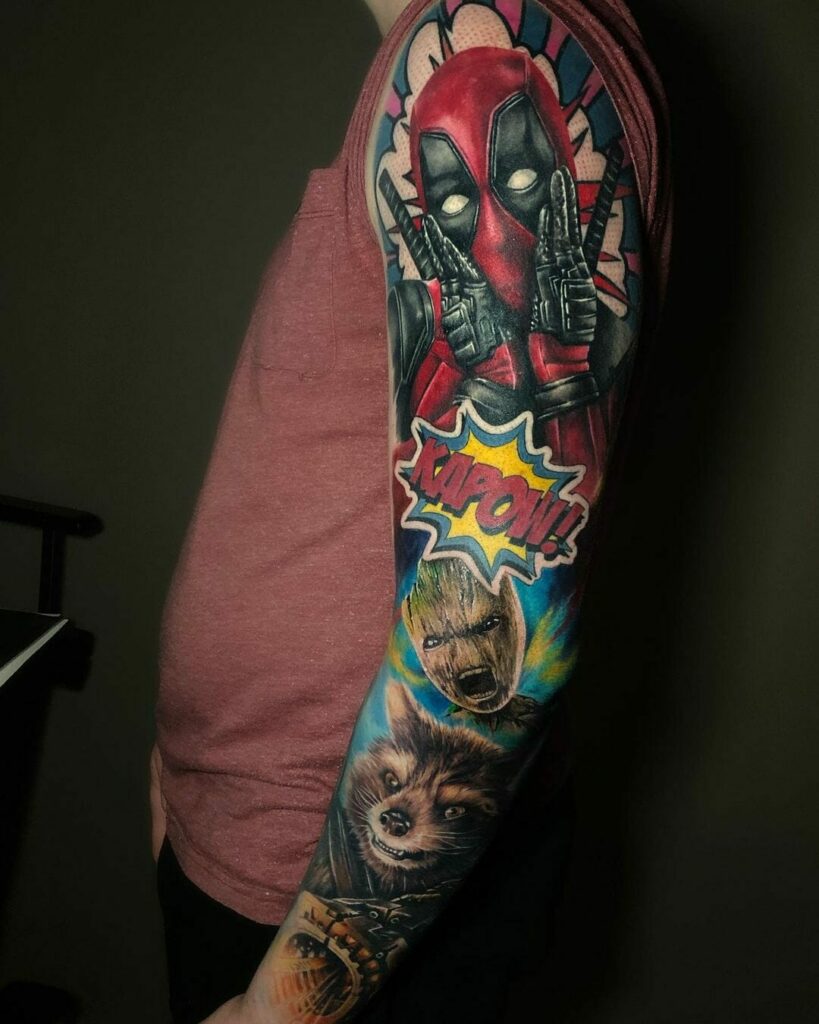 Marvel fans who are also tattoo enthusiasts can now rejoice as they can have their favorite characters etched on their skin. This piece of body art is perfect for fans who can't get enough of the Merc with a Mouth, Deadpool. This hyper-realistic tattoo design features Deadpool alongside two fan-favorite characters, Groot and Rocket from the Guardians of the Galaxy. Inspired by the Avengers films, this tattoo design includes Deadpool as part of the hero ensemble, much to the delight of fans who have been waiting for his presence in the franchise. It's a great way to show your love for the Marvel universe and your favorite characters all in one tattoo.
The Deadpool Logo Tattoo For First-Timers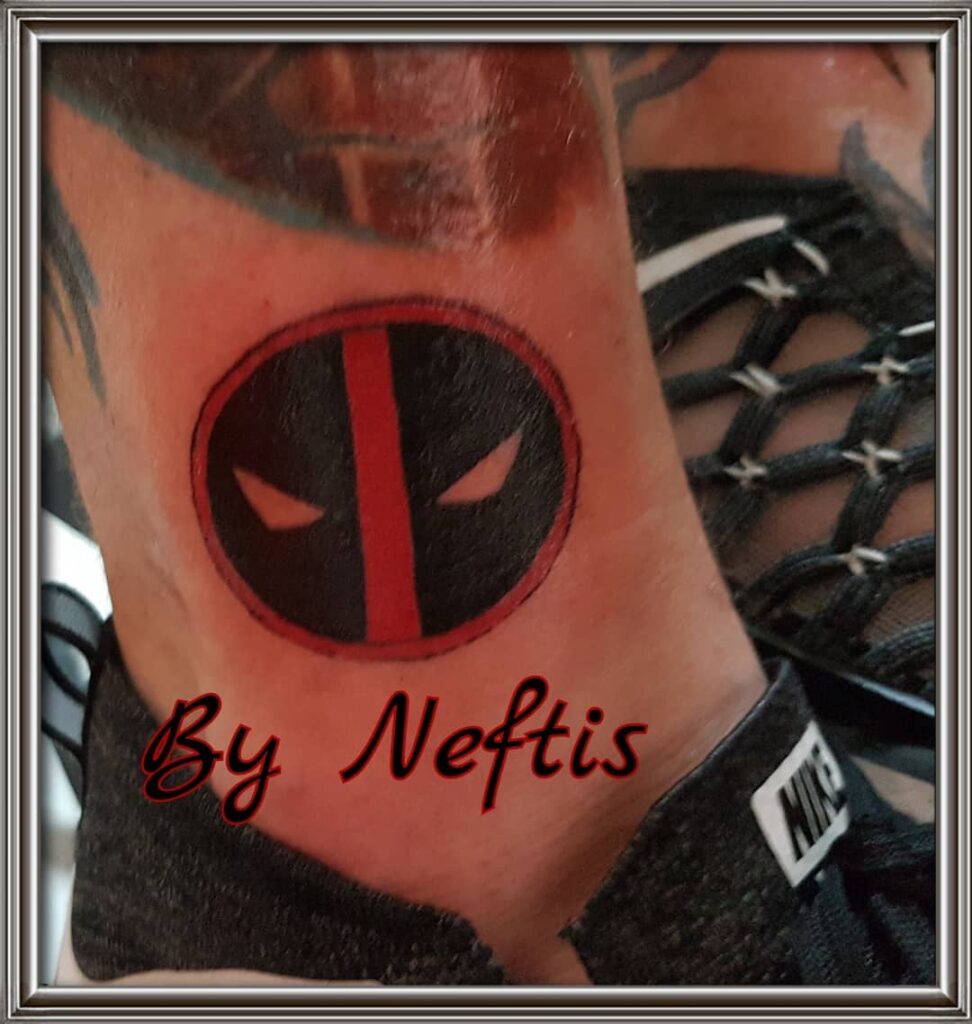 Some tattoos can be complex and a bit too much for many people. Especially if you are a first-timer looking to get inked for the first time or someone on a tight budget, some tattoo designs might be quite a bit difficult for you. If you fall in either of the above categories, fret not we got you covered. This Deadpool logo is not only a little and simple tattoo, but the minimal approach gives it a rather cool look. These types of minimalist tattoos are not only cost-effective but also need very little space and commitment for the customers. Hence if you have never got any tattoos before, go for this cool one surely.
The Lego Themed Little Deadpool Tattoo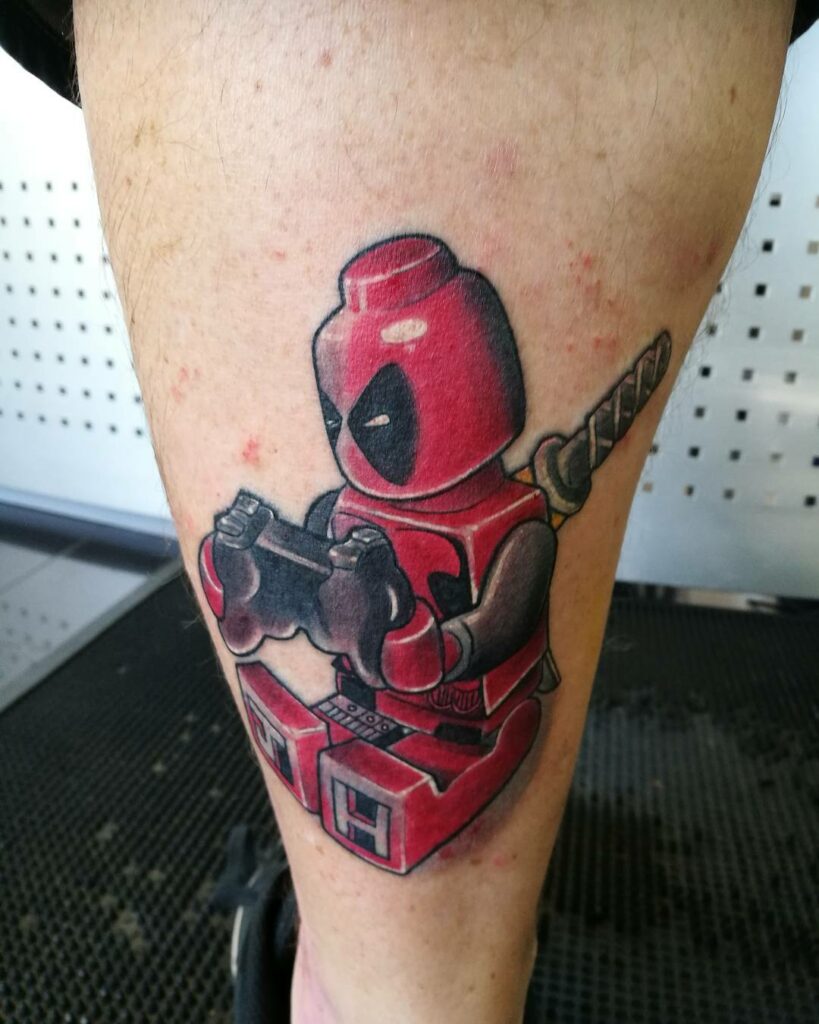 Who doesn't love the 'Lego' film franchise and the 'Deadpool' movies? The combination of the two brings out some of the most lovable characters in cinema, and these Lego-themed Deadpool tattoos are perfect for fans who want the best of both worlds. The cute and charming designs add a touch of eccentricity to the character, which is true to Wade's charisma. These small Deadpool tattoos are not only loveable, but they also melt the heart of anyone you show them to.
The Deadpool Tattoo For The Original Comic Book Geeks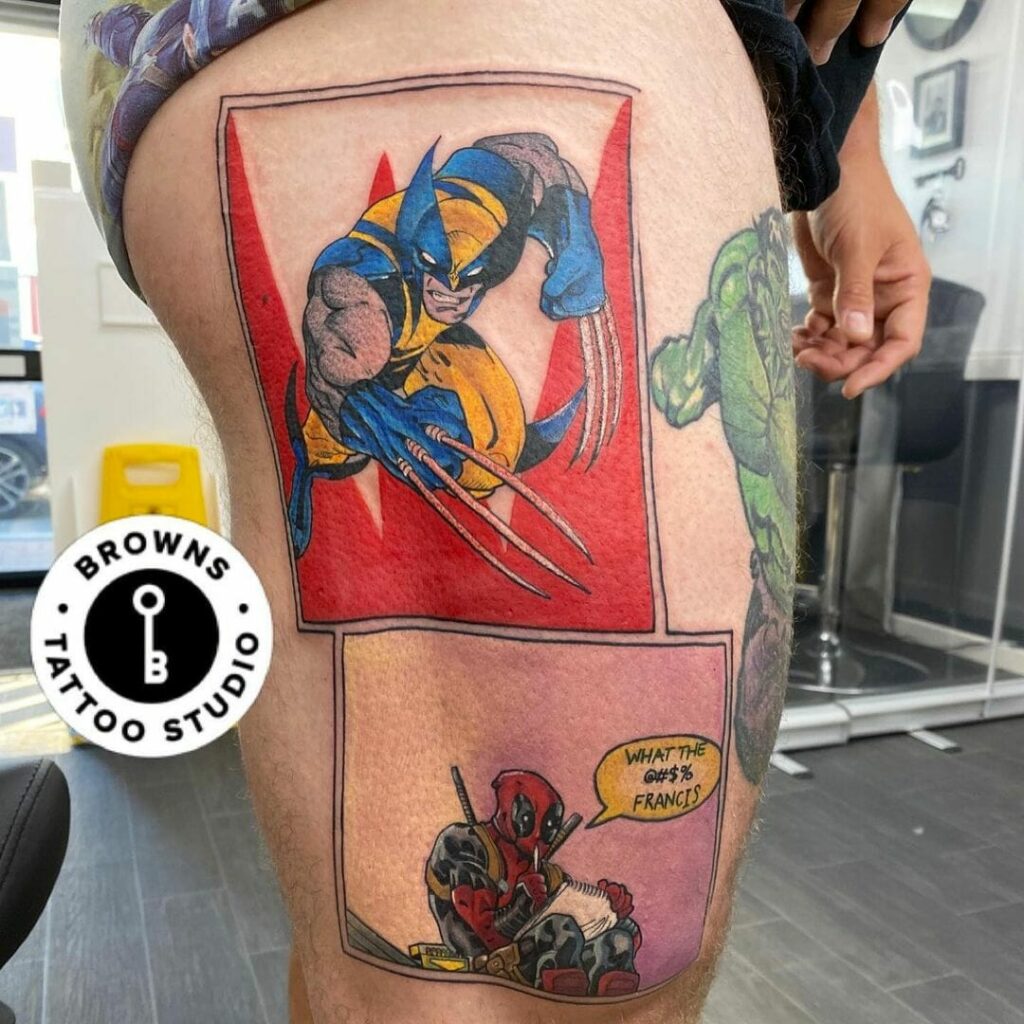 For those who have been fans of the character Wade Wilson long before the movie franchise, these Deadpool tattoos are perfect for you. The 90s comic book culture played a significant role in popularizing the character, and these tattoos pay homage to that era. With the help of the original comics, these tattoos create a compelling narrative that can be customized according to your preferences. You can select any panel from the best Deadpool comics and turn it into an iconic tattoo. The yellow speech bubbles in the designs usually contain some of the character's most iconic dialogues, making it a unique piece of body art that showcases your love for the original comics.
The Badass Deadpool Holding A Rocket Launcher Tattoo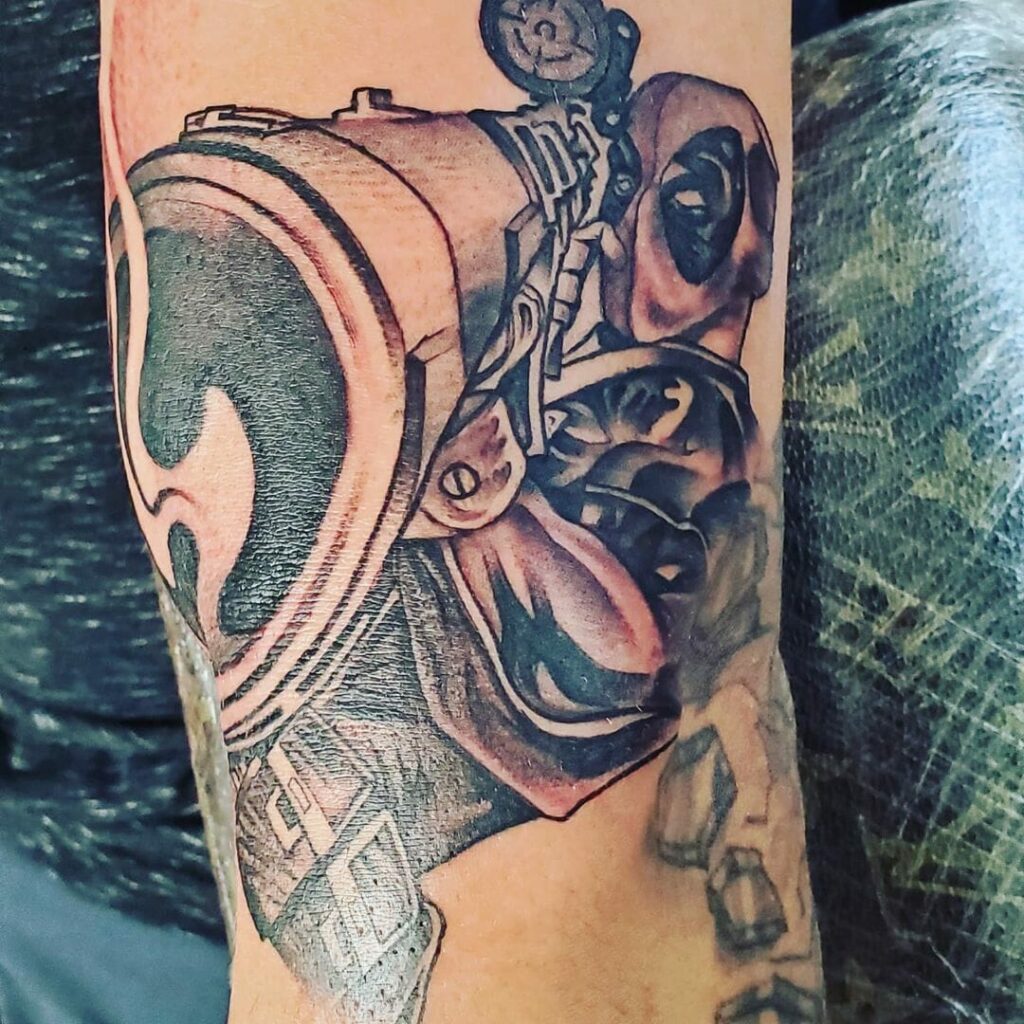 Deadpool's popularity as a character is not just due to his flashy appearance or pop culture references, but also because of his sarcastic attitude and quirky humor. Fans adore his offbeat personality and his witty dialogues, making him one of the most beloved characters in the Marvel Universe. Therefore, no list of Deadpool tattoos would be complete without the iconic red-suited mercenary holding his trademark firearm, such as a rocket launcher, in his typical style, breaking the fourth wall and addressing the audience. This tattoo is not only badass but also represents Deadpool's signature style, making it a must-have for any die-hard fan.
The Harley Quinn And Deadpool Tattoos For Anarchists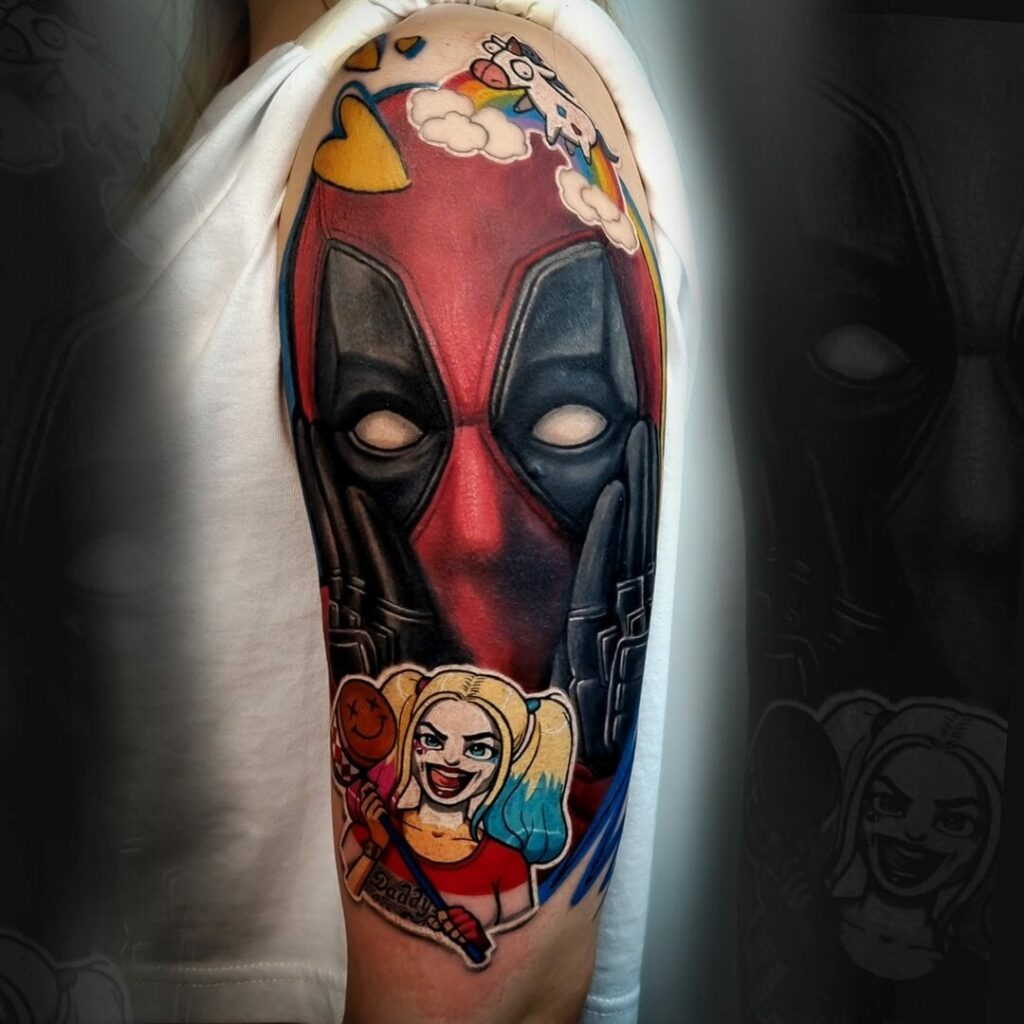 When it comes to characters who embody a desire for chaos and anarchy, it's hard to find a better pair than Deadpool and Harley Quinn. They're eccentric, unpredictable, and always up for a good fight against the bad guys. These unique personalities have earned them a massive following, and it's no wonder that they're a popular choice for tattoos. If you feel the same way about authority and love to shake things up a bit, then a Deadpool or Harley Quinn tattoo might be just what you need to express yourself.
The Venom And Deadpool Tattoos For The Antihero Fans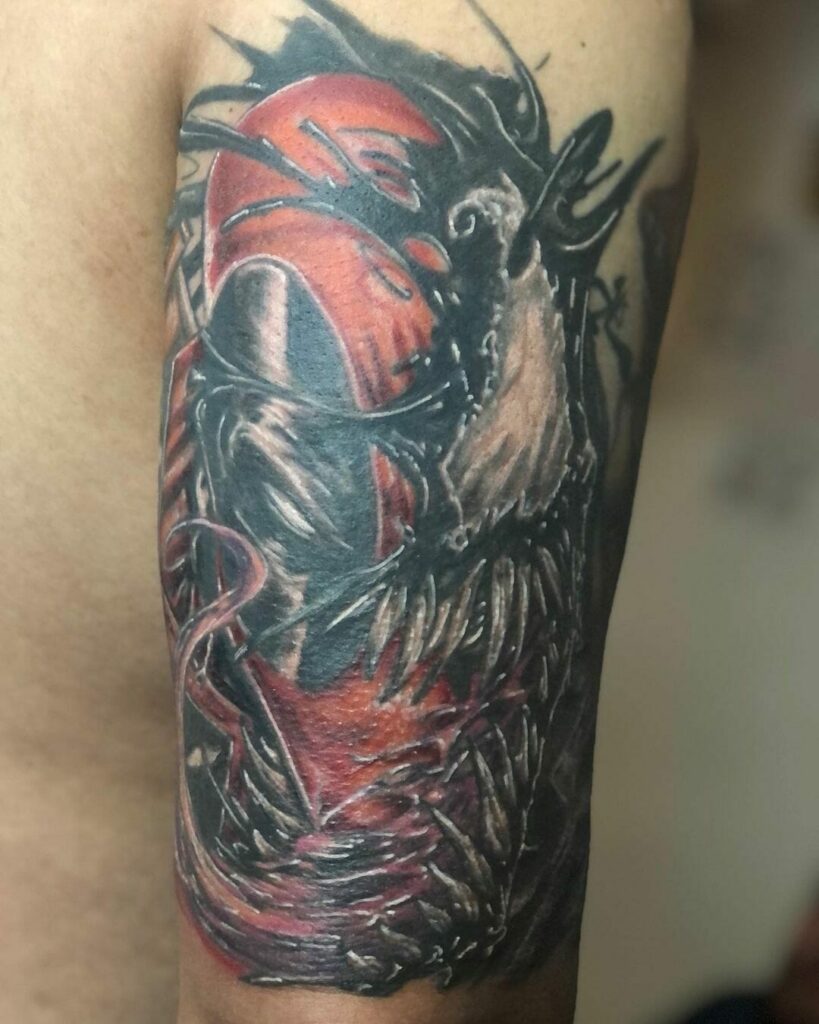 Deadpool and Venom have gained immense popularity among fans due to their complex, morally grey characters. Unlike traditional heroes and villains, they are more realistic and relatable, making them an instant hit among viewers. Marvel took notice of this and gave them standalone films, which further cemented their popularity. If you find yourself drawn to these antiheroes and their complex personalities, getting a Deadpool or Venom tattoo might be the perfect way to show your appreciation. However, before you take the plunge, it's important to consider whether a Deadpool tattoo aligns with your personal style and values. Keep in mind that these tattoos can be expensive and require careful consideration before committing to them. Additionally, always choose a skilled and experienced tattoo artist who can bring your design to life with precision and accuracy.
feature image from Pinterest
Last reviewed and updated on May 5, 2023