Do you hold a fascination for the curious, the enigmatic, and the outright eccentric in the world of nature? Is that fascination strong enough to find its way into your next tattoo? If so, consider exploring our meticulously curated selection of the top ten Death Moth Tattoo designs, a distinctive mark certain to catch the eye and spark conversation.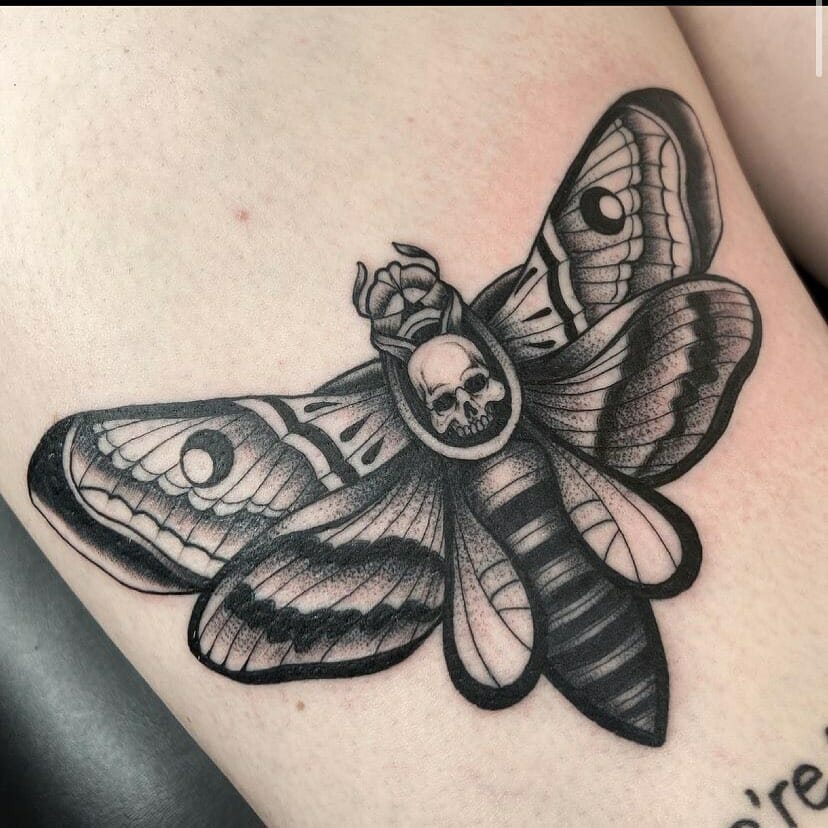 Drawing its unsettling yet intriguing inspiration from Acherontia atropos, more commonly known as the African Death's-Head Hawkmoth, the Death Moth Tattoo is a symbol steeped in mystery. This moth, recognizable by the skull-like pattern on its thorax, has been perceived as a harbinger of doom in some cultures—hence its morbid moniker.
Butterflies and moths, while close relatives, harbor profound differences—butterflies sport their wings in a vertical fold, often presenting bright, bold colors, whereas moths prefer a tent-like rest position, typically showcasing subtler, earth-toned wings. The Death Moth Tattoo captures these peculiar traits, lending a distinct aesthetic that deviates from traditional moth tattoos, which tend to represent rebirth and transformation. Instead, a Death Moth Tattoo is a provocative nod to mortality itself—a bold emblem of life's ephemeral nature.
With an array of artistic styles to explore, these designs offer a unique visual appeal and a layered, haunting symbolism. Dive into the depths of the Death Moth Tattoo's allure by delving into our carefully assembled list below. Let your imagination take flight in this darkly delightful corner of the tattooing world.
Death Head Moth Tattoo With Aggressive Skull Ideas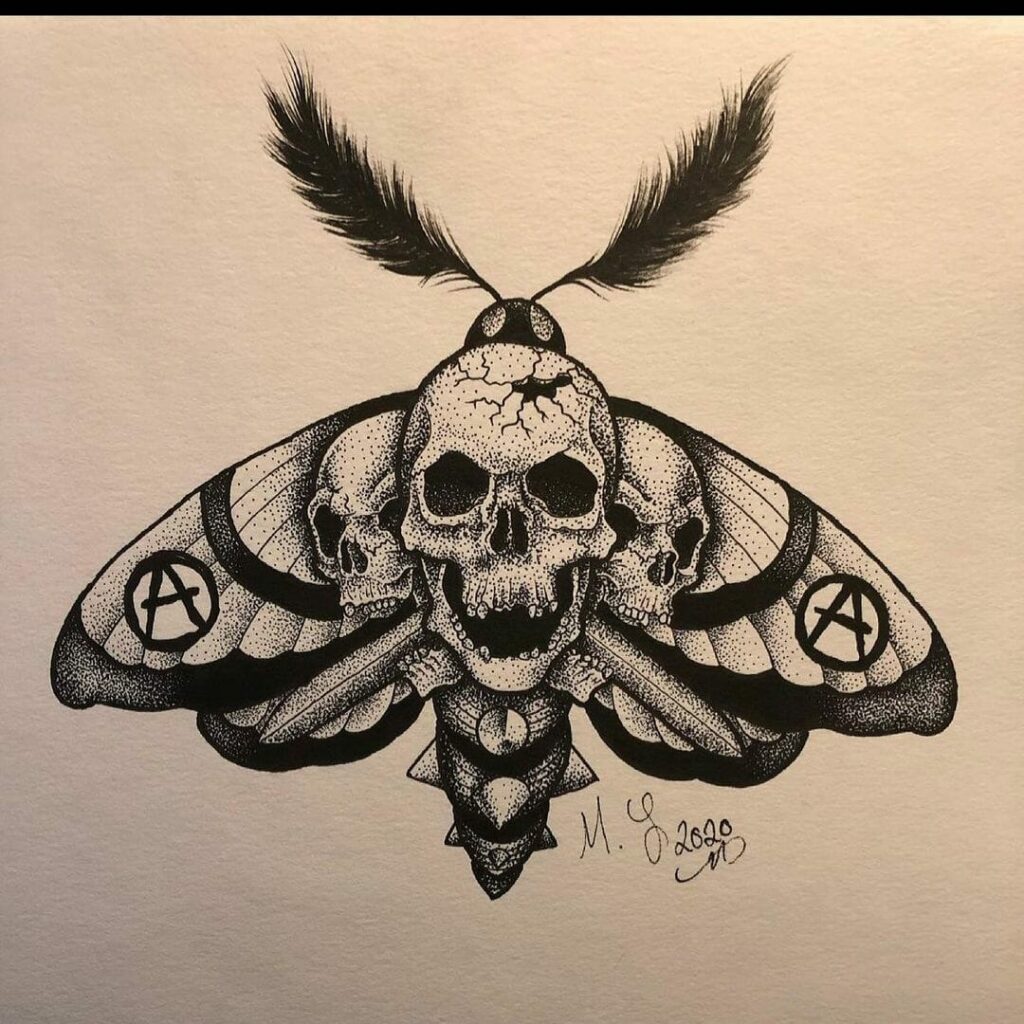 The Death's Head Moth Tattoo with a fiercely rendered skull might just be the right fit. This design, adorned with intricate, feather-like antennas, infuses an exuberant dash of punk attitude into the traditionally somber symbolism of the Death's Head Moth. This moth might represent death, but it can also evoke the concept of life after death, a theme seen in iconic representations like 'Silence of the Lamb'.
Death Head Moth Tattoo With Gloomy Skull Ideas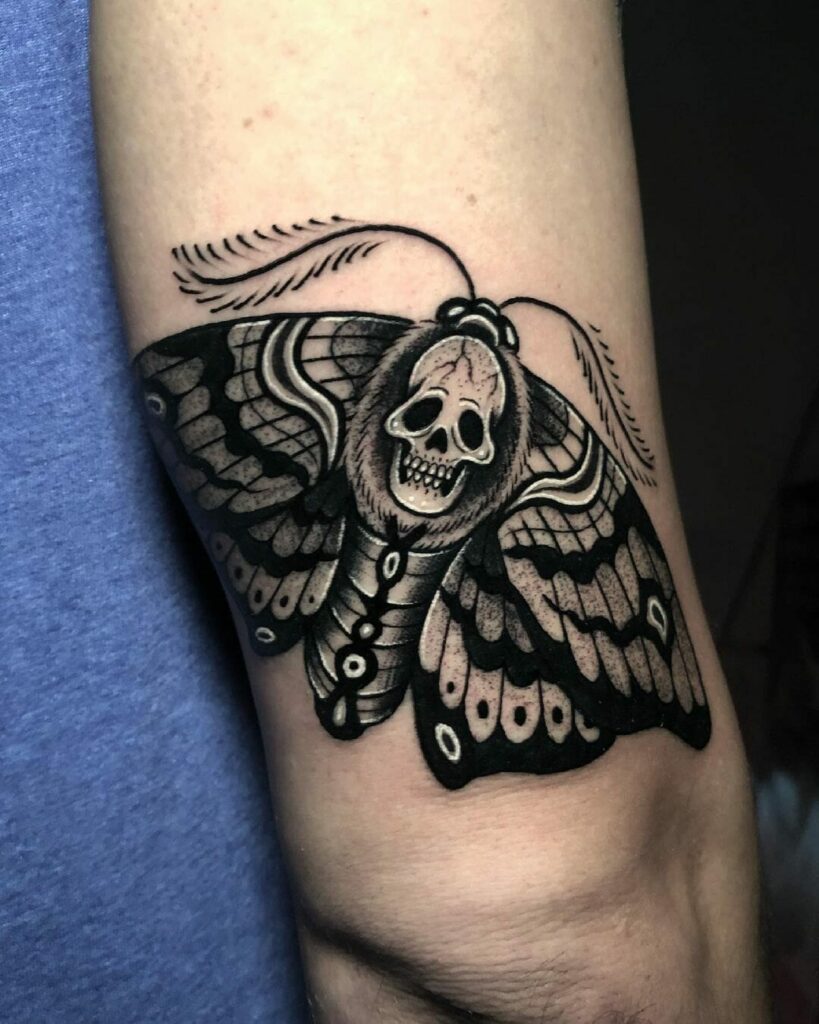 Death Moth Tattoo featuring a gloomy skull. This design, perfect for anyone with a flair for the eerie and mysterious, features a nocturnally-styled moth, its skull cracked and veiled in dark bands for a thoroughly gothic vibe. Designed to be applied to larger canvas areas like the chest or arms, this piece is a true testament to the night.
Black And Grey Traditional Death Moth Tattoos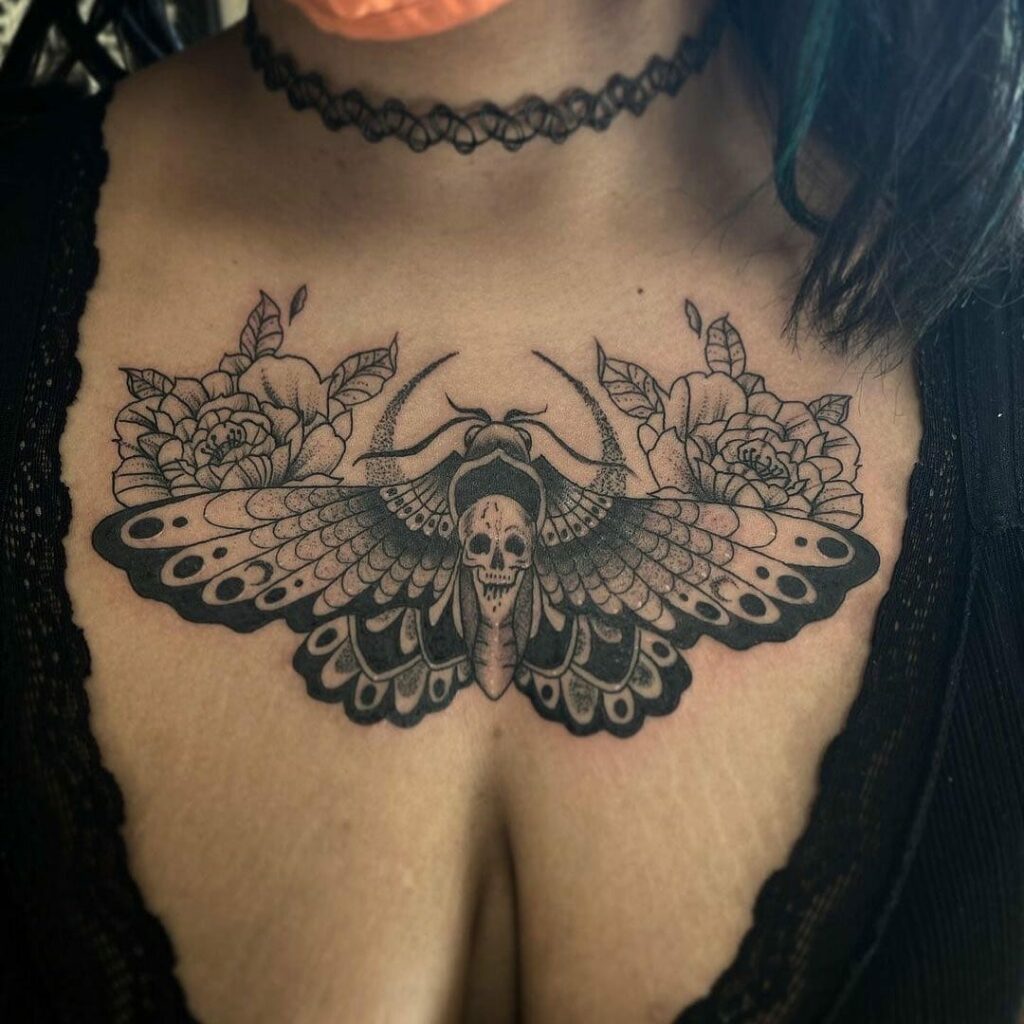 Black and Grey Traditional Death Moth Tattoos might satisfy that itch. These designs boast a monochromatic look that embraces the moth's butterfly-like silhouette, redefining the traditional moth symbolism. It reminds us that beauty can emerge even from the notion of death — a challenging, yet rewarding perspective to carry.
Death's Head Moth With A Dagger Tattoo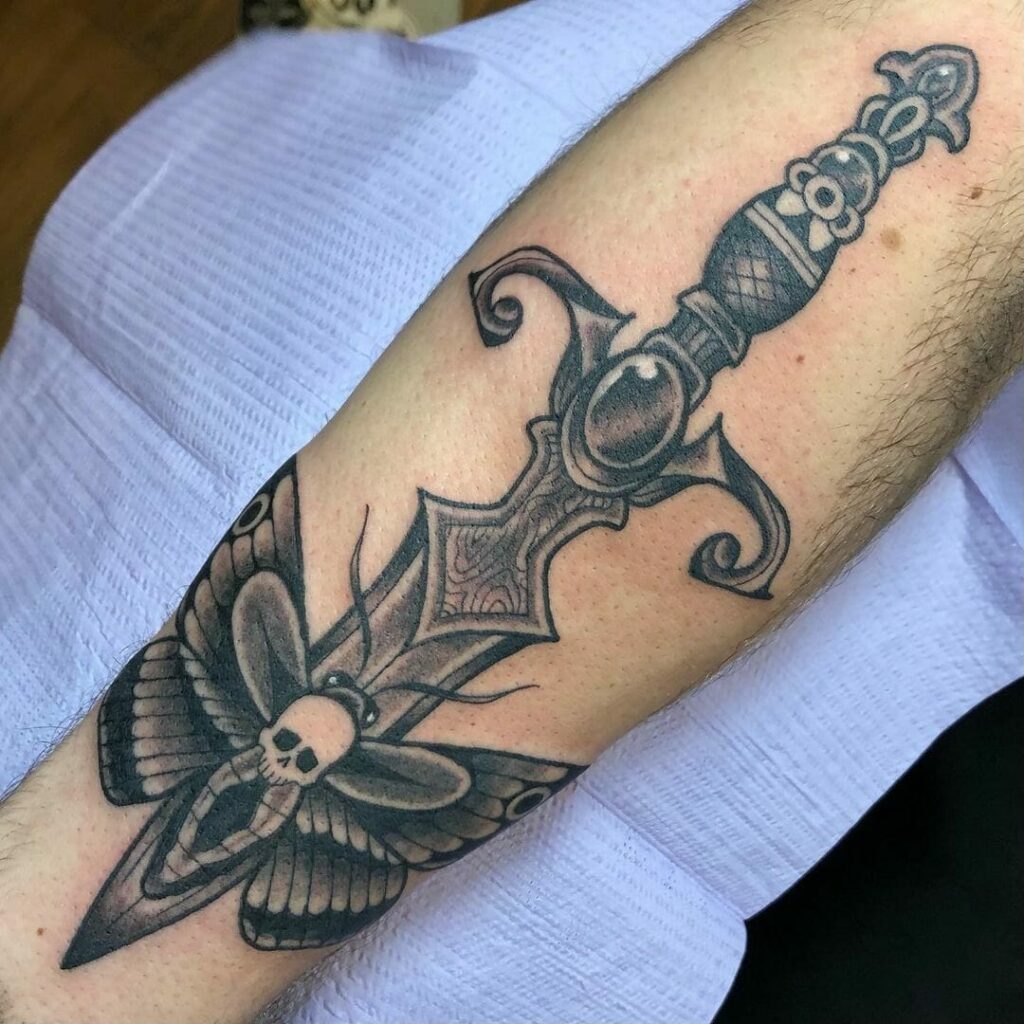 Death's Head Moth with a Dagger Tattoo blends richly detailed elements with a gothic flavor. Drawing from the similarity between the moth and the dagger — a likeness even reflected in the existence of the American Dagger Moth species — this design is a popular choice on social media, offering a unique twist to Death's Head Moth symbolism.
Colourful School Death Moth Tattoos
Colourful School Death Moth Tattoos break away from the typical monochrome, introducing vibrant splashes of color into the otherwise gothic scene. This design, while preserving the classic skull motif, adds a touch of lightness and contrast, making it a fantastic option for those wanting to shake up their tattoo palette.
Death Moth With A Pair Of Flowers Tattoo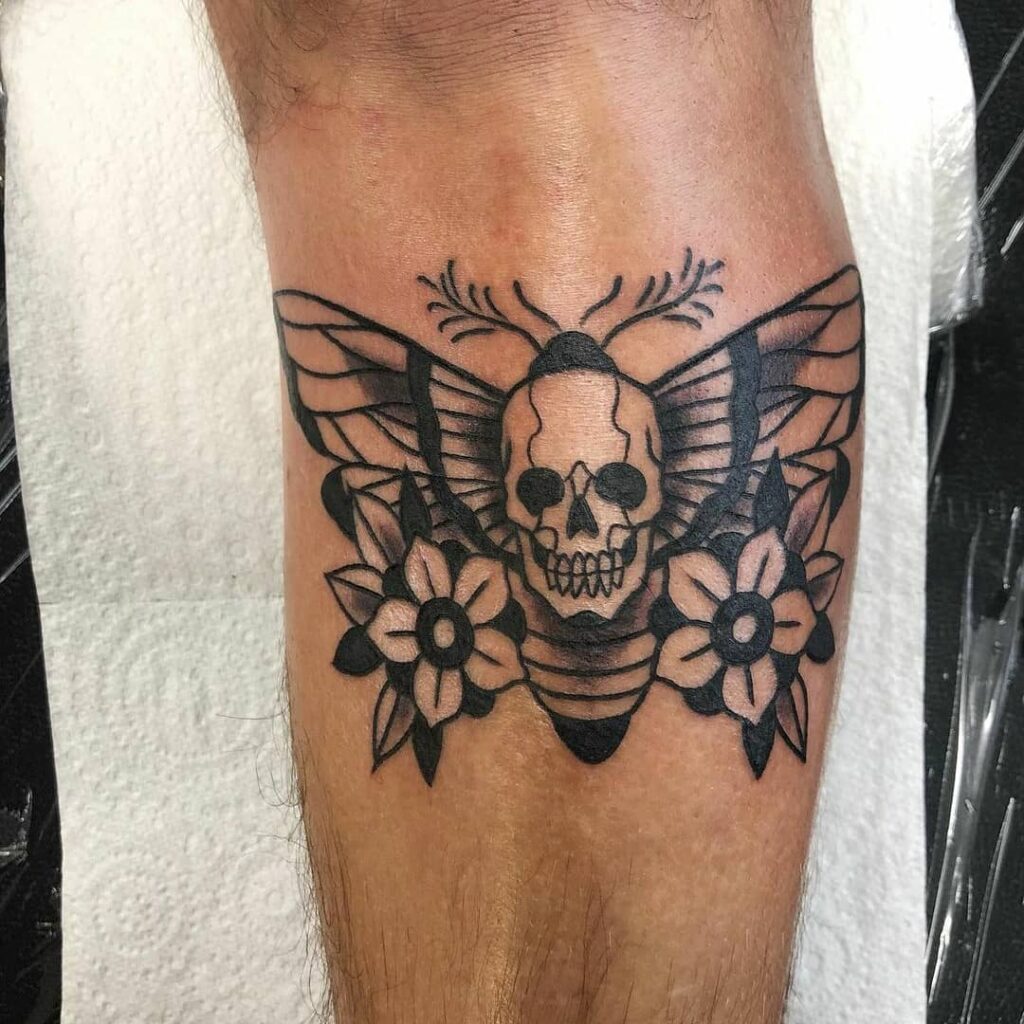 Death Moth with a Pair of Flowers Tattoo appealing. This design combines the stark concept of death with the serene beauty of flowers, creating a piece that's both aesthetically pleasing and philosophically intriguing.
Abstract Black Eyed Death Moth Tattoo
Abstract Black Eyed Death Moth Tattoo. This design draws the observer in with its subtly surprising twist: the moth's dark eyes, on closer inspection, reveal themselves as the form of a skull, adding an unexpected layer of depth.
Dark Flower Tattoo Moth Ideas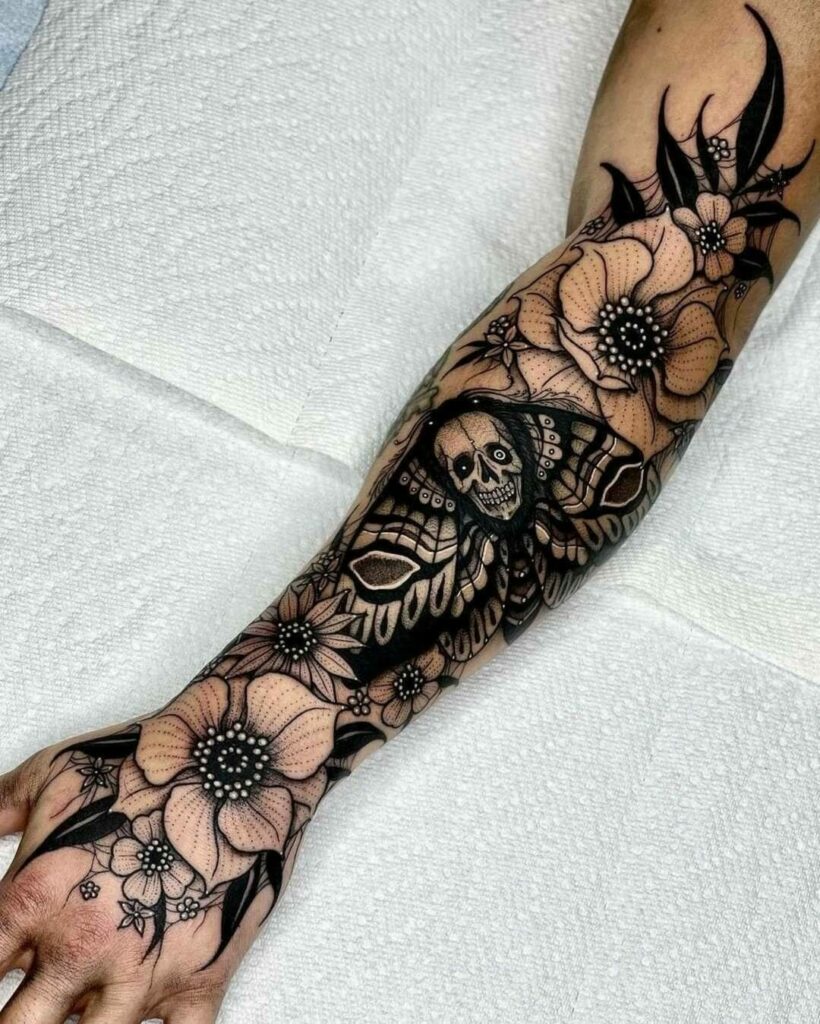 Dark Flower Tattoo Moth Ideas, a design capable of spanning the full sleeve. By marrying the themes of blooming beauty and death through the use of blackwork and dot work, this design presents an intricately detailed vision of the classic Death's Head Moth motif.
Death Head Moth Tattoo With Vibrant Colours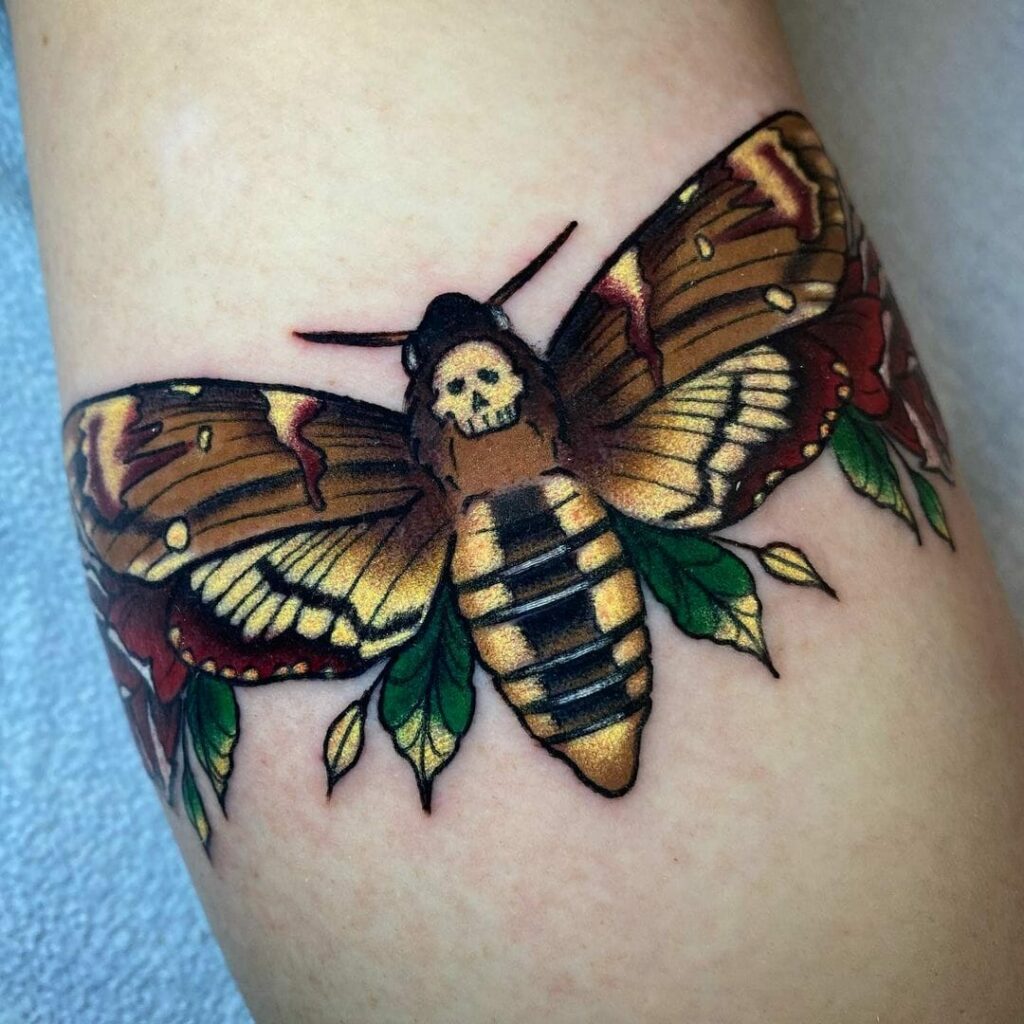 Death's Head Moth Tattoo with Vibrant Colours appealing. This design features a dazzling array of hues and incorporates nature motifs, demonstrating how tattoos can reimagine and transcend reality.
Death Moth With A Crescent Moon Tattoo
Death Moth with a Crescent Moon Tattoo celebrates the moth's nocturnal nature. Using the crescent moon as a symbolic source of light, this design adds a touch of the uncanny, perfect for those in search of the unusual.
Conclusion
Embracing the darkness has never been more intriguing or artistic, as illustrated by the numerous variations of Death's Head Moth tattoos. From the blackened skull motifs to the vibrantly colored renditions, there's a design to resonate with every personality. When it comes to placement, consider the size and detail of your chosen design — larger areas like the chest, back, or arms could be perfect for more intricate pieces. As for costs, they can range widely depending on the complexity, size, and the expertise of the tattoo artist, so do your homework to avoid any surprises. Remember, while tattoos can be a beautiful expression of individuality, they are also a form of body modification, so potential risks include allergic reactions, infections, or scarring. It's crucial to ensure you choose a reputable tattoo artist who adheres to all health and safety regulations. So, explore your options, consider the inherent symbolism, and embark on this journey of inking your narrative, fully informed and completely excited.