Hey there, are you looking for a tattoo that's feminine, delicate, and unique? If you're tired of the usual spots like the arm, leg, or back, then you should definitely consider getting a sternum tattoo! These tattoos are super popular among both men and women because they look cool and stylish. A sternum tattoo is usually placed in the middle of your chest, but it can also stretch to other areas like your upper chest, stomach, or ribs. Keep in mind that sternum tattoos can be quite painful, so make sure you're ready for it. But if you're up for the challenge, a lovely and delicate sternum tattoo could be the perfect choice for you! So why not try out one of these amazing sternum tattoo ideas and make a statement with your next tattoo?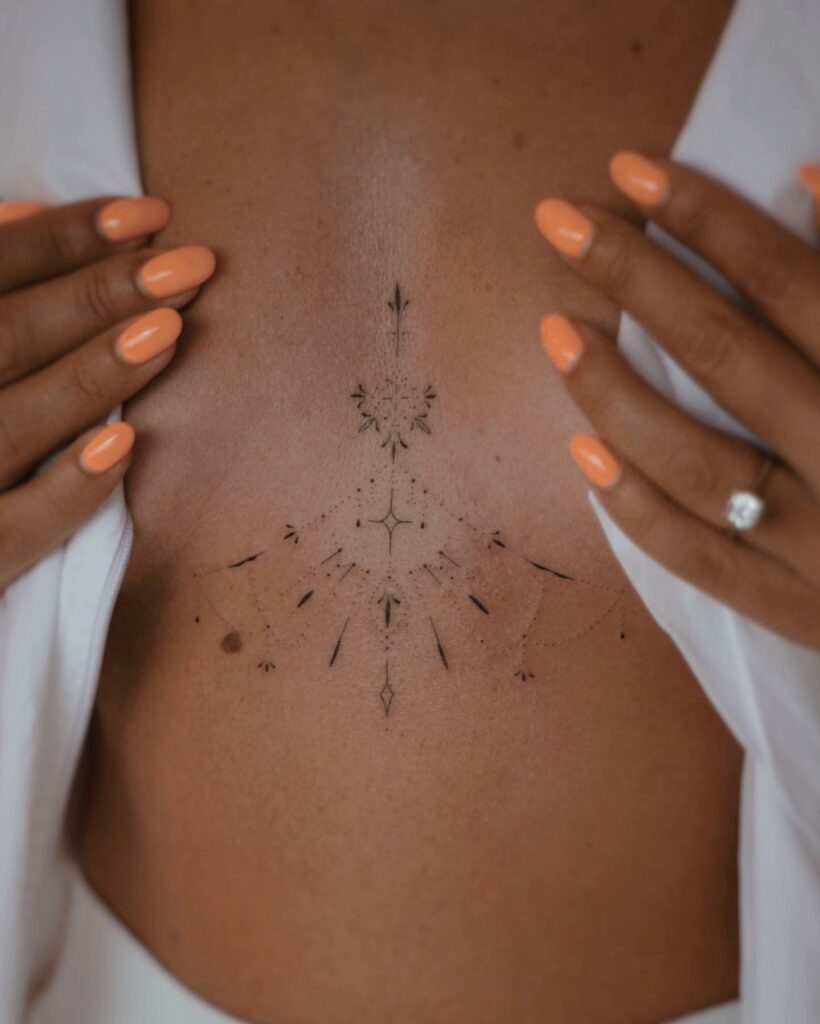 Minimal And Delicate Sternum Tattoo Designs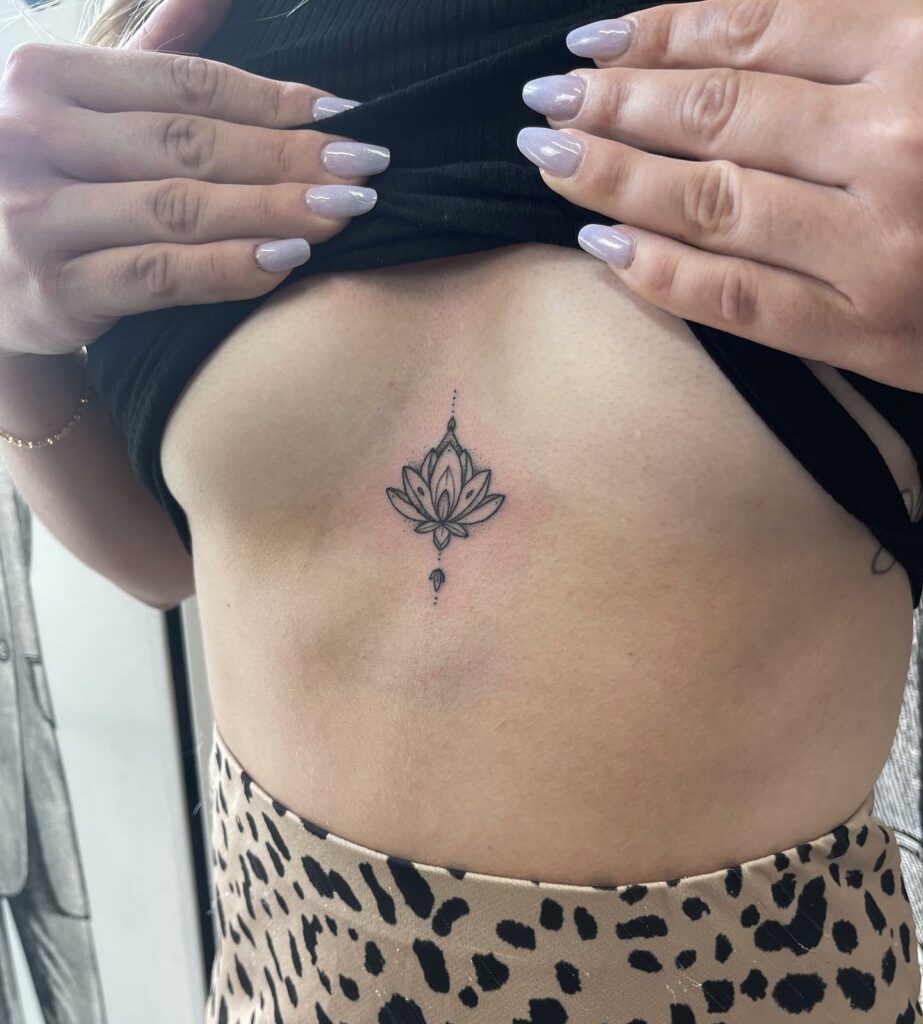 Are you a fan of minimalist style and looking for a tattoo that reflects that? If so, then you'll definitely want to check out small, delicate sternum tattoo designs. These tattoos are known for their intricate and detailed minimalist designs that aren't too large in shape or size. They're the perfect choice for someone who wants a discreet yet powerful tattoo. And the best part? They're easy to conceal with a covering top if needed! When you go to your tattoo artist, just ask to see some sternum tattoo designs and choose the one that speaks to you. You'll love the stylish and minimalistic look of your new tattoo!
Delicate Linework Sternum Tattoo Designs
If you're looking for a delicate and intricate sternum tattoo design, then you should definitely consider linework tattoos. These tattoos are stunning when done with precision and skill by a talented artist. With the linework style, you can create beautiful floral designs or abstract patterns that will make your sternum tattoo stand out. If you're a fan of minimalistic tattoos, you'll love the clean and simple look that linework tattoos offer. So, don't hesitate to ask your tattoo artist to show you some linework tattoo designs and find the perfect one for your sternum tattoo. Get ready to rock your new and beautiful linework sternum tattoo!
Floral Sternum Tattoo Ideas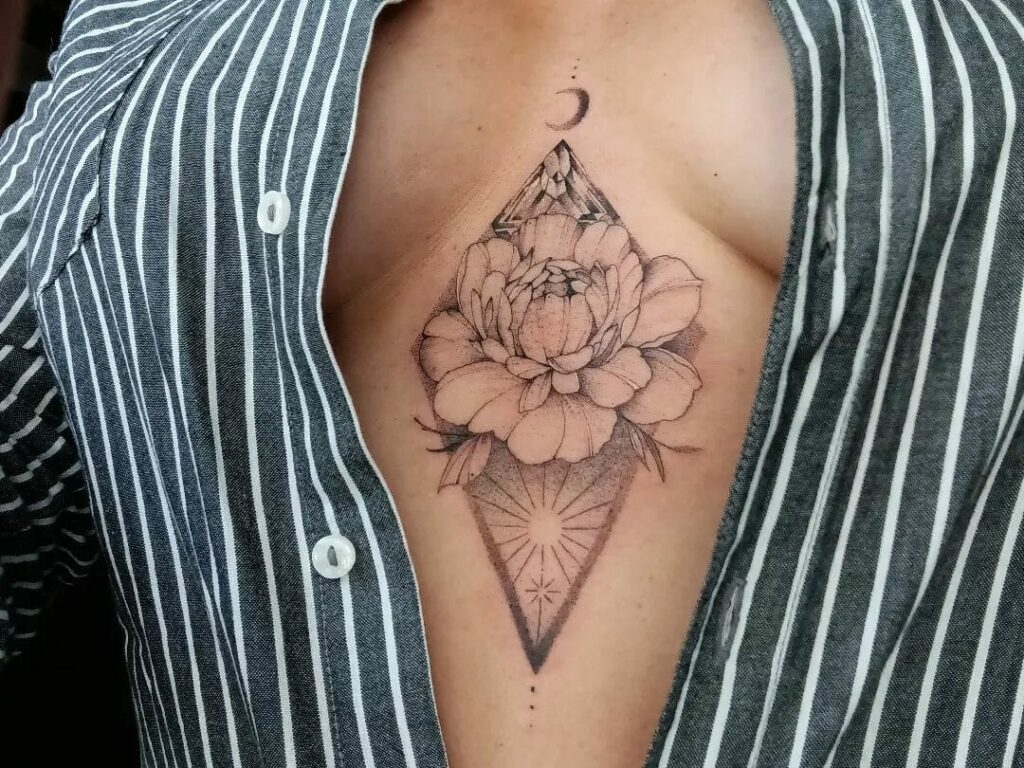 Are you on the hunt for a sternum tattoo design that's suitable for everyone? Look no further than flower tattoos! Flowers are one of the most popular tattoo designs, and for good reason. They can fit in well with every other tattoo design or be placed on any part of your body. For a cute, light, and minimalistic sternum tattoo, a delicate flower design is a perfect choice. The rose and lotus are two of the most popular options for sternum tattoos, but there are so many other beautiful flowers to choose from. Each flower has a special meaning that you might want to express through your tattoo. For instance, an acacia flower symbolizes yearning and concealed love, while the pink camellia represents desire. Yellow iris flowers stand for passion, while lavender flowers symbolize grace, serenity, and calmness. There's a perfect flower out there for everyone! So, if you're looking for a piece of beauty to add to your body, consider a delicate sternum tattoo with a floral motif. And if you want some inspiration, check out these beautiful iris tattoo designs – they're stunning!
Awesome Ornamental Sternum Tattoo Designs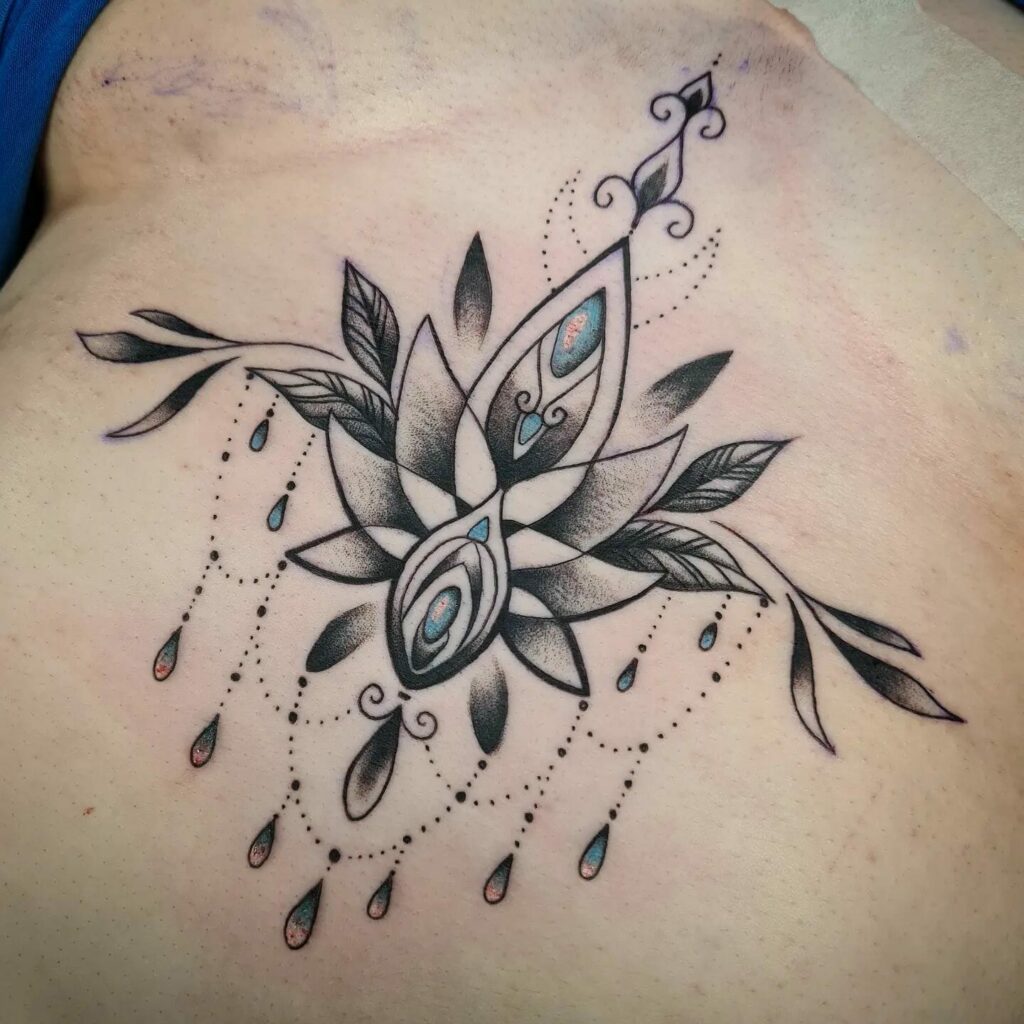 If you're looking for a popular and stunning sternum tattoo design, check out the ornamental motif. This design is inspired by delicate and beautiful jewelry, complete with gems hanging from the intricate patterns. Originally, this style was mostly used for hand or ankle tattoos, but nowadays, more and more women are embracing this design for their sternum and rib tattoos. If you want to make your tattoo even more special, consider adding a touch of color, just like the wearer in the image did. With the right tattoo artist, your ornamental sternum tattoo will look like a dazzling and unique piece of jewelry on your skin.
Delicate Hand-poked Tattoo Designs For Your Sternum
Looking for a unique and intricate sternum tattoo design? Hand-poked tattoos are the perfect option for you! These tattoos are created through a series of tiny dots and are also known as dot-work tattoos. Hand-poked sternum tattoos have become increasingly popular among women and offer an attractive and delicate appearance. Whether you want a butterfly or skull tattoo, or prefer abstract designs, hand-poked sternum tattoos can accommodate all preferences. If you're unsure about which design to go for, the butterfly symbolizes transformation and new beginnings and would make for a beautiful and meaningful tattoo. Be sure to browse the internet for some hand-poked tattoo ideas that will inspire your own unique design!
Quirky And Unusual Sternum Tattoo Ideas
Are you looking for a unique and unconventional sternum tattoo design? While geometric patterns and floral motifs are popular choices, there are many other options out there for the daring and adventurous. Consider a snake tattoo, which can be transformed into a stunning and sexy work of art by a skilled tattoo artist. If you prefer darker and edgier designs, a skull tattoo might be the perfect fit for you. And for something truly creative and eye-catching, take inspiration from the spider web design shown in the accompanying image, which cleverly extends over the stomach and includes a hanging spider.
If you're curious about more snake tattoo designs, check out this hand-picked selection of the best small snake tattoo ideas. Let your imagination run wild and choose a design that truly reflects your unique personality and style!
Delicate Sternum Tattoos With Geometric Shapes And Patterns
If you're someone who loves tattoos but prefers geometric shapes and abstract patterns to symbols or objects, then a geometric tattoo might be just the thing for you. These tattoos, with their clean lines and intricate designs, can be incredibly striking, especially when placed on the sternum. A talented tattoo artist can create a geometric tattoo that fits perfectly with the contours of your body and complements your personal style. Just be sure to do your research and find an artist with experience in creating geometric tattoos, as it takes a certain level of skill to make sure the lines and patterns are symmetrical and visually appealing.
Colorful Sternum Tattoos For Women
If you're looking for something a little more exciting than a plain black ink tattoo, you might want to consider adding some color to your design! While colorful sternum tattoos aren't as common, the great thing about tattoos is that you can customize them to your liking. You can choose to incorporate a wide variety of colors into your design, such as a rainbow symbol, a combination of different flowers like roses and lotus flowers, or even a moon or birds. The possibilities are endless, and you can really make your tattoo unique and personal to you. And if you want a more delicate look, you can always opt for soft, muted colors like pinks and beiges to create a subtle and beautiful design. Just make sure you choose an experienced tattoo artist who can help you bring your colorful vision to life!
Feminine And Delicate Sternum Tattoo Designs
I can tell you that the sternum is a great spot for a feminine and delicate tattoo design. Women have a wide range of options to choose from when it comes to selecting a symbol or object for their sternum tattoo. You could opt for a meaningful symbol to represent a loved one or select an object that has inspired you, like a butterfly. In the picture above, you can see a stunning butterfly tattoo with detailed wings. Other popular options for feminine and delicate sternum tattoos include the sun, moon, stars, or flowers. With so many choices available, you can select the design that speaks to you and showcases your personal style.
Creative Sternum Tattoo With Various Symbols And Figures
While geometric shapes are popular choices, you can also opt for a tattoo with deeper significance. You might choose a Sanskrit or Chinese lettering for a quote tattoo or a symbol from a favorite book or culture. For instance, fans of 'Harry Potter' often choose the Deathly Hallows symbol. Many cultures have symbols that may resonate with you such as the Egyptian goddess Isis. There are many options to choose from, so take your time and find a design that you love. Your tattoo artist can work with you to customize a design that fits your personal style and preferences. With a delicate sternum tattoo, you can showcase your unique personality and style.
feature image from Pinterest – Want your tattoo to look brighter? Try "Tattoo Balm"