If you are struggling to find the perfect and delicate tattoo with a special meaning for yourself to get into, have a look at these top 10 mini tattoo ideas.
The idea of small tattoos or fine line tattoos on any part of the body with a powerful meaning is quiet in style and even very beautiful.
Delicate tattoos are beautiful pieces of body art that usually comprise simple designs and deeper meanings and are beautiful. One small tattoo can carry a whole lot of meanings and can be a symbol of a lot of things like love, friendship, happiness, power, etc., and even can carry a spiritual meaning, that many a tattoo with a large design fails to express.
In general, the art of tattooing can be explained as the process of temporarily or permanently inserting ink of various colors into your skin with the help of a needle that can be of various sizes. Delicate tattoos are also known as fine line tattoos. A tiny tattoo can be tattooed on any part of the body like – the wrist, ankle, feet, neck, back, head, etc. A delicate tattoo is a type of tattoo that involves making a single fine line by using a small needle.
Delicate Bracelet Tattoo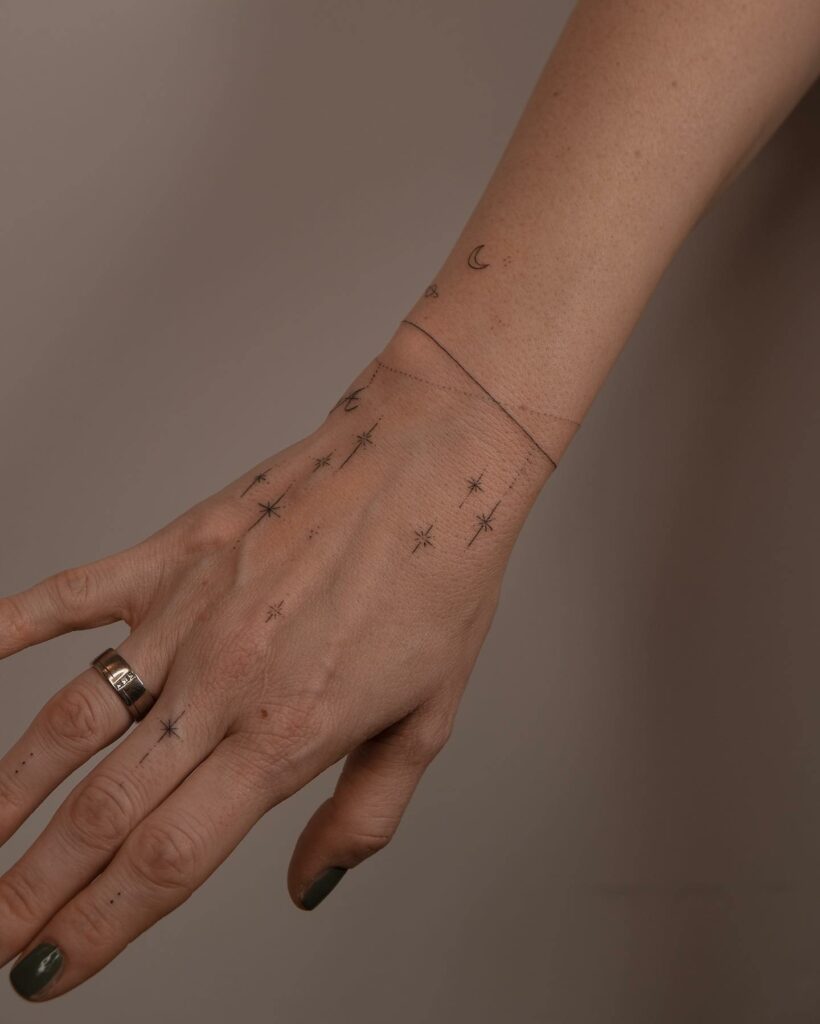 As mentioned earlier, tattoos can be both temporary and permanent. Temporary tattoos are made for a short period on one's skin. These kinds of tattoos are mainly chosen by those people who want to get their body tattooed but not for their entire lifespan. While on the other hand, permanent tattoos are chosen by people due to a wide number of reasons like – as a source of motivation or inspiration, as a sign of love, to remember someone or some incident for the rest of their life, or to remind them of certain new beginnings of their life, etc., and many more.
Band tattoos are a sign or a symbolic representation of a bond of love between two people that ties them together. These types of tattoos are mainly chosen by people who want to honor their love. Thus, it can be said to be a symbol to represent faith in love, strength, and even courage.
The above tattoo design of a band tattoo can be an ideal match for band tattoos for women. Thereby, if you too are planning to ink your hand with a band tattoo to symbolize your love, you can check out this tattoo once.
Delicate Butterfly Tattoo
Butterfly tattoos are among the most commonly used tattoo designs for tattoos of any size which means – simple tattoos, cover-up tattoos, rib tattoos, back tattoos, etc., and many more. Butterflies have different symbolic representations in different cultures.
In Chinese culture, a butterfly symbolizes the season of summer, happiness, eternal life, and even gracefulness. Two butterflies that are seen flying together also symbolize the young blooming love, the circle of life, transformation, even the freedom of life, and even rebirth. In Russian culture, a butterfly is a symbol of a grandmother. In the tribal tattoos or the Celtic tattoos, butterflies are an example that nothing is permanent in life and that everything has its temporary period.
This kind of tattoo can be chosen by both men and women as tattoos for men or tattoos for women, both of which look equally meaningful and gorgeous, though it is slightly more popular for women. A Cute butterfly with a simple design on it stands for a great feminine symbol. You must choose renowned tattoo artists to get inked with a thin line butterfly tattoo to obtain a perfect tattoo as every small mistake can be spotted clearly from these small tattoos. Thereby, if you too want to get yourself tattooed with symbols like butterfly tattoo with fine lines, do check out this design once.
Delicate Cross Tattoo For Forearm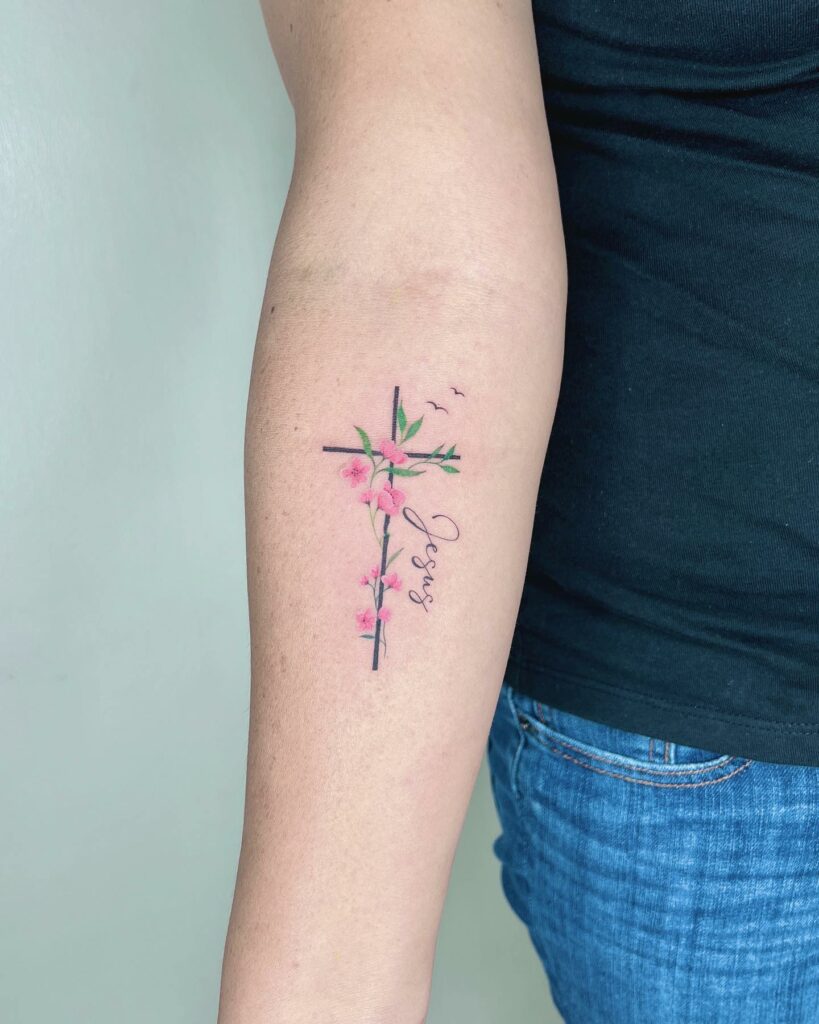 As mentioned earlier, tattoos can also be used as symbols of one's spiritual beliefs. Such an idea is a cross tattoo which is also quite in style nowadays. A cross tattoo on the skin is often done to symbolize one's faith in his/her religion. It is also used by some people as a symbol of respect for their near and dear ones who have passed. In the Christian culture, the cross is a symbol that is a representation of their lord Jesus Christ who had unconditional love for all the living beings and lost his life-saving humanity from the dark. The cross is also believed to be a strong symbolic representation of a person's lost love.
A cross tattoo design can also be used for inking their skin by both men and women. The best places to place a cross tattoo design on your body are – the forearm, behind the ears, the side of the neck, shoulder blade, etc., and several other parts.
If you too are planning to get a cross tattoo done on any part of your body, you can check out this single-line cross tattoo design for once.
Delicate Sternum Tattoo
Sternum means the area between the boobs of women. A sternum tattoo can be a great tattoo idea for those women who are planning to get their first tattoo done but is a bit worried about how it will turn out, as a sternum is a place where many kinds of tattoos can be easily hidden. It is also addressed as an under-boob tattoo, however, there is no specific meaning or symbolization attached to it. According to the reports of the tattoo artists, many women who have got their sternum tattooed, have mentioned the sternum tattoo pain that they have experienced.
Tattooing your sternum with a thin sternum tattoo comprising fine lines can be a great idea to flaunt your body shape. However, other than women, men also seem to take up these sternum tattoos sometimes for getting inked. It is usually done to keep up with the latest style. A sternum tattoo can also cost a little more amount as compared to the tattoos inked on any other body part as the sternum is a sensitive area that requires skilled hands and a lot of hard work and attention from the tattoo artists.
Thereby, if you too are planning to get your sternum tattoo done shortly, do check out these designs once.
Delicate Flower Tattoo For Fingers
Flower tattoos also fall on the list of popular small tattoos. The symbolic meanings of flowers differ widely with their wide variety. In general, flowers are the symbols of good luck. Some of the flowers and their symbolic representations are – gladiolus flowers symbolize power and loyalty, lily symbolizes fresh beauty, roses, and tulips symbolize love, lavender represents longevity, camellia represents affectionate nature, iris symbolizes desire, oriental lilies symbolize eternity, daisy represents good luck, etc., and many more.
There is a common belief that flower tattoos stand for or represent the feminine characteristics of women, but nowadays it is often seen to be chosen by men too, and if placed properly by the tattoo artists, can bring out the masculinity in men.
Thereby, if you too want to try out some small tattoo ideas to get tattooed on your back, wrist, hand, thumb, finger, etc., or specifically the flower tattoo design, you must check out this design once.
Delicate Heart Tattoo For Shoulder Blade
A heart tattoo design is also a common design used by people to symbolize their love. On the other hand, the shoulder blade is the place where you will feel the least pain due to the thick layer of muscles beneath it. Thus a shoulder blade and a heart is the best combination to get a minimalist tattoo placed and done.
Thereby, if you too want to try out a shoulder blade heart tattoo design for getting inked, you can check out this design once.
Delicate Tattoo For Best Friends
A best friend is such a thing that every people have in their lives. Best friend tattoos combined with fine line tattoos are the best tattoo designs that can be done by two best friends to symbolize their never-ending friendship.
Thereby, if you too are planning to get a matching tattoo done with your best friend. you can try out this beautiful fine line rose tattoo design at least once.
Delicate Sun, Moon, And Stars Tattoo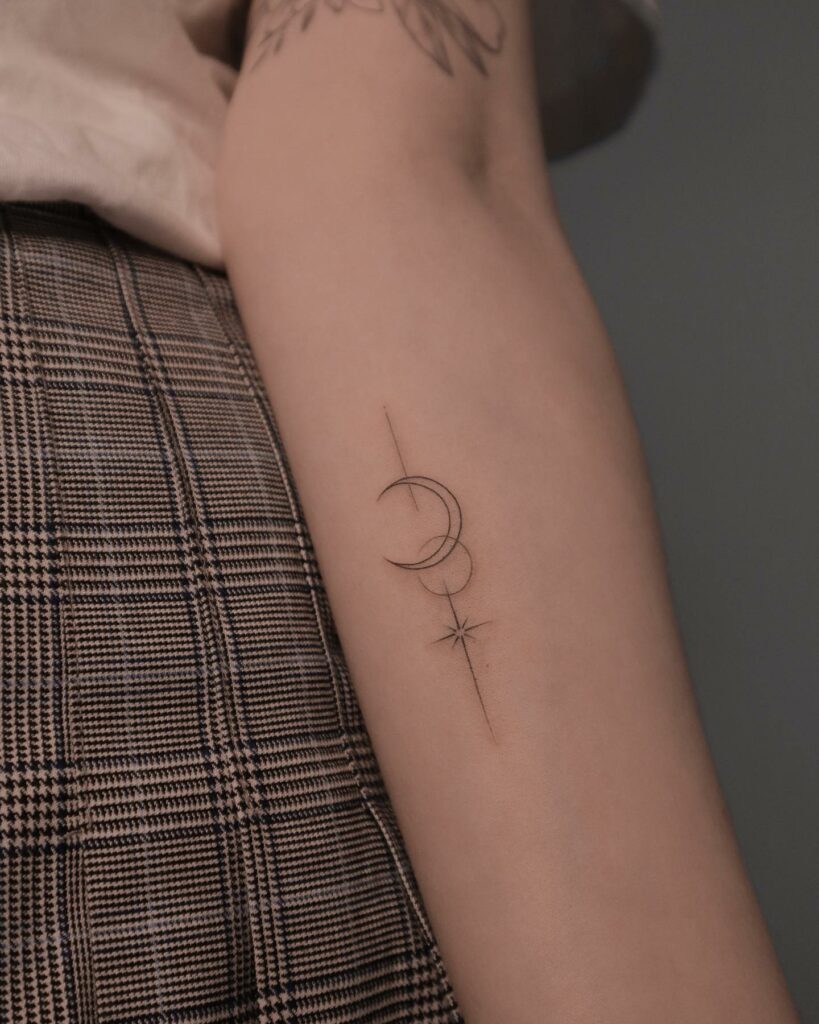 A sun, moon, and stars tattoo symbolizes hopefulness and correct direction. This tattoo design is an ideal example of a tiny and cute tattoo that can be done using any color of ink. If you too are having ideas to try out such a tattoo design, do check out this idea once.
Delicate Tattoo Design For Wrist Tattoo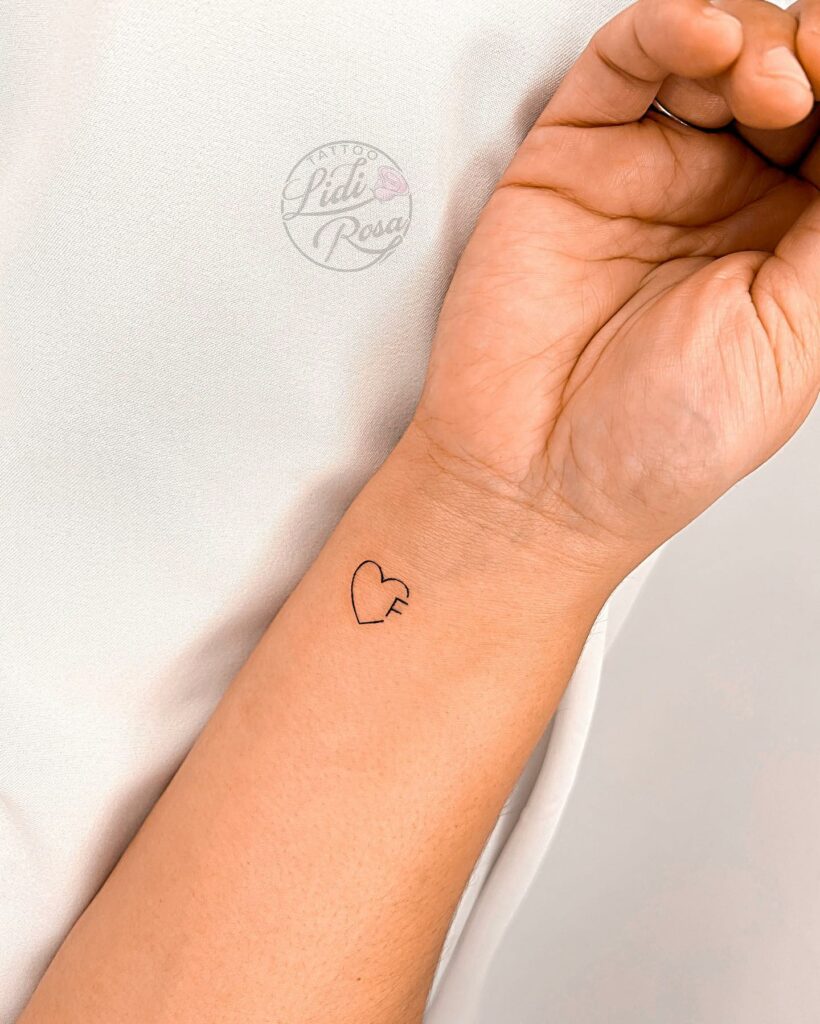 A wrist can be considered a bold position for inking among all other positions in your body. A wrist tattoo can be also considered to symbolically represent strength. Thus, if you too are planning to get some delicate tattoos done on your wrist, do check out these designs once before getting inked.
Delicate Animal Tattoo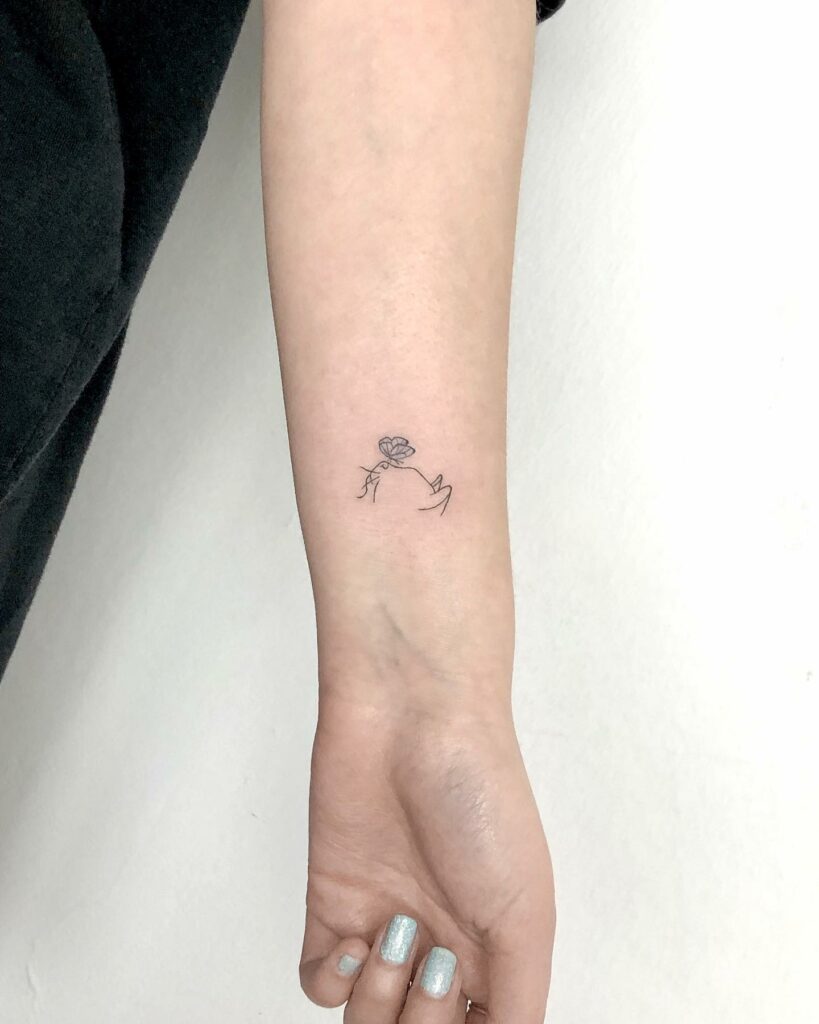 Animal tattoos are mainly chosen by someone who is either a pet parent or a by-heart lover of animals. Unlike flower tattoos, animal tattoos have varied symbolic representations based on their varied types. An animal tattoo can have both positive and negative symbolic meanings.
If you too are an animal lover or a pet owner who wants to get inked with a delicate animal tattoo design, do check out this idea once.
feature image from Pinterest – Want your tattoo to look brighter? Try "Tattoo Balm"