Has the beauty of delphiniums always fascinated you? Then check out this list of amazing delphinium flower tattoo ideas for your next tattooing endeavor!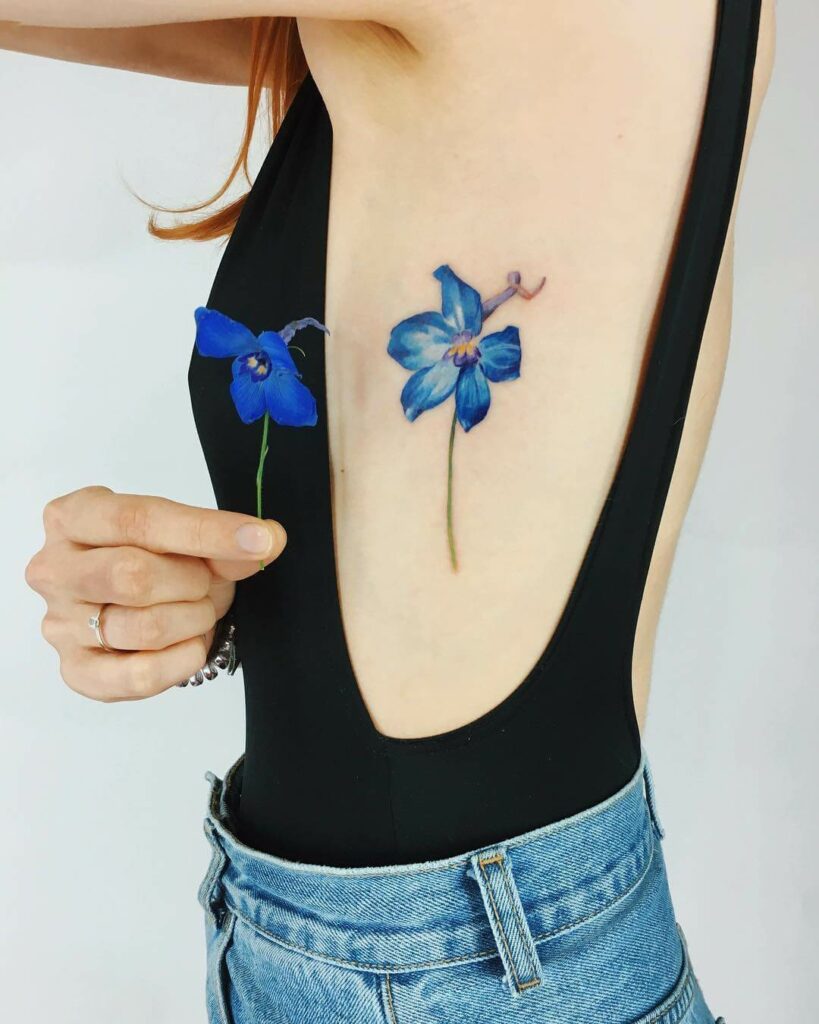 Among flower tattoos, the delphinium flower tattoos are a popular choice in body art, and most women get tempted to have them tattooed because it adds a delicate beauty to the wearer's style statement.
People who want to get inked with a delphinium flower tattoo often get confused between delphinium and larkspur flowers. Therefore, in this article, we will not only provide you with some amazing delphinium tattoo ideas but also try to answer the common questions frequently asked by people regarding delphinium and larkspur flowers.
Delphinium and larkspur are two different flowers though they look quite identical and are members of the buttercup family. The major difference between a delphinium and larkspur is that the former blooms perennially and the latter annually in the northern hemisphere. Both the flowers come in a wide range of colors, but among larkspur tattoo ideas, pink larkspur and blue larkspur are the ones people prefer the most to get inked with. In some places, the larkspur flower tattoo is associated with evil forces, but it is also symbolic of the first love. Larkspur tattoo is considered to be the July birth flower tattoo as well.
However, delphiniums could be found in shades of white, purple, red, indigo, and yellow. In many different cultures, delphinium has several symbolic meanings; it can mean eternal love, friendship, beauty, etc. One interesting fact surrounding delphinium is that in Greek mythology, the flower was dedicated to Apollo, the Greek god of the sun, and his daughter Parthenos. However, a delphinium tattoo symbolizes passionate love and people often dedicate this tattoo to their children. The list below contains the best delphinium tattoo ideas, which you can moderate according to your purpose and taste.
Delphinium Cross Tattoo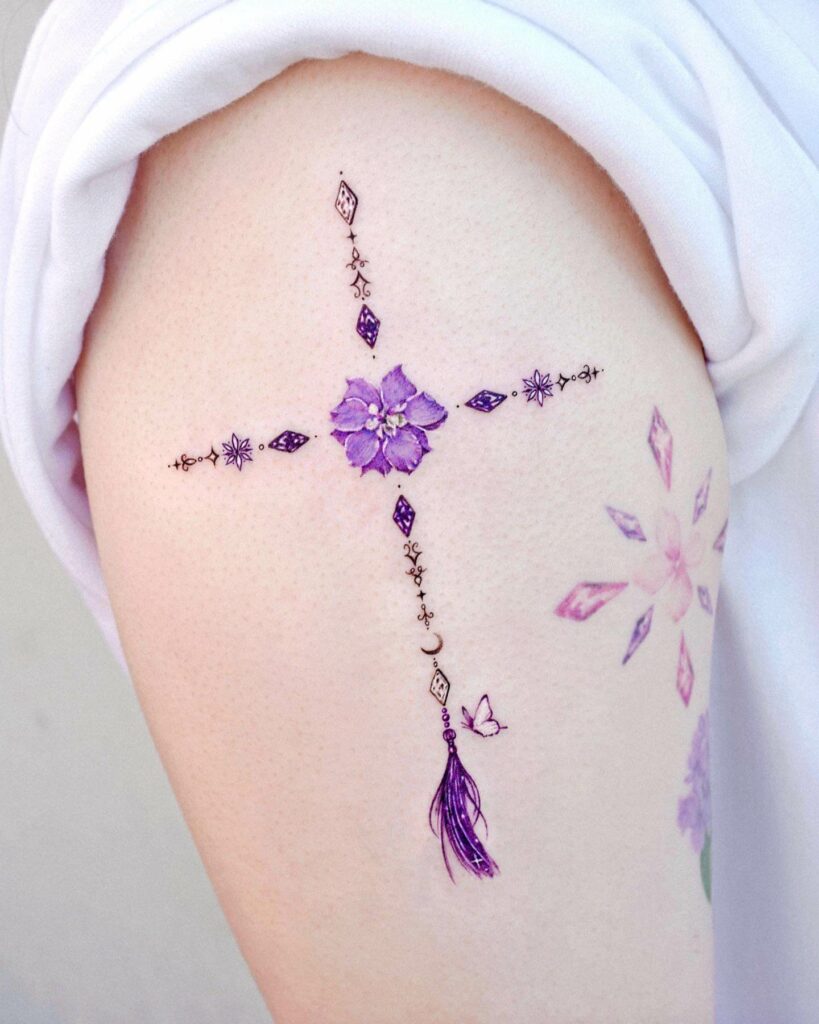 The combination of flowers and crosses is a very popular tattoo idea among people who have a strong belief in Christianity. Though the combination of rose and cross tattoo is a pretty common idea, this particular tattoo, which combines a cross with delphinium, is unique in form and style.
The tattoo artist has done a very detailed job in drawing the delicate texture of the delphinium petals, and the cross is also being experimented with. Since cross tattoos are symbolic of faith, devotion, and unconditional love, and the delphinium flowers represent goodwill and devotion in love, and this tattoo can be a perfect one for those who want a unique combination of passion and devotion together in their body art.
This tattoo is bound to look amazing on the center of your back, or you can also wear it on the thigh where the subtle art of the tattoo would have enough room to be done properly.
Delphinium Butterfly Tattoo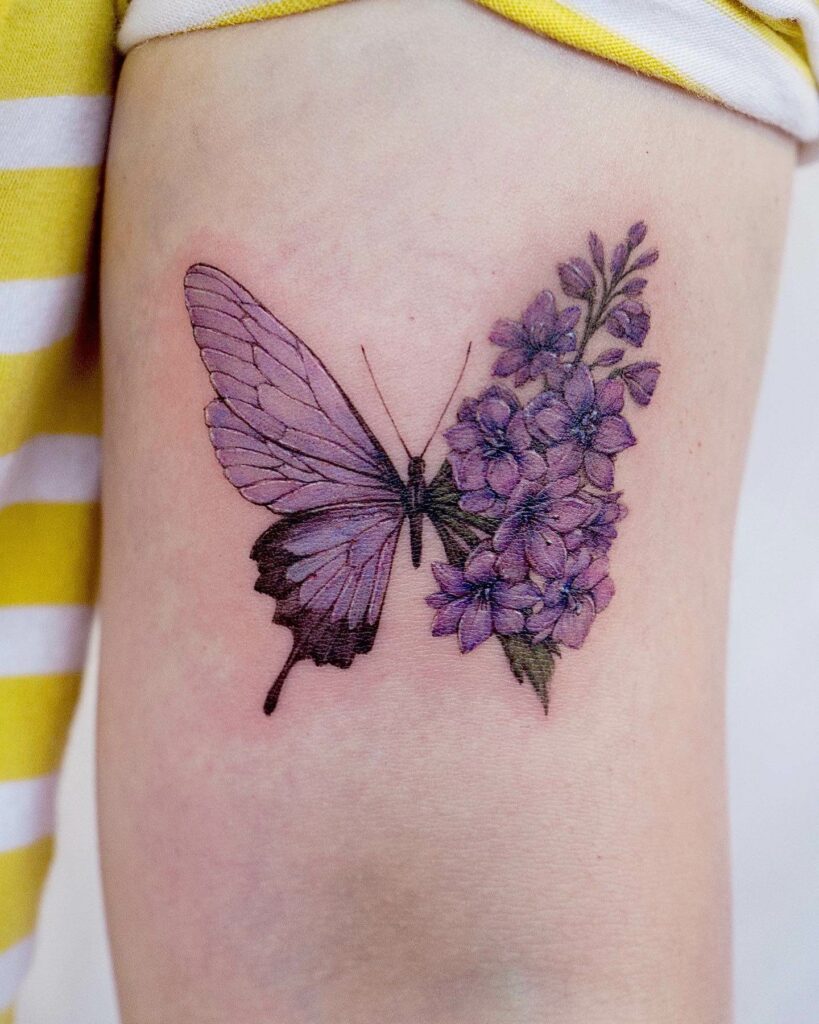 Apart from their beauty, butterflies carry many symbolic meanings as well. They fly effortlessly and are often associated with freedom. Butterflies also carry the symbol of transformation and rebirth.
The cocoon from which a full-grown butterfly releases itself is often seen as the symbol of battered past life. In this tattoo, the artist has done an amazing job by drawing one wing of this gorgeous, massive purple butterfly like a cluster of vibrantly colorful delphinium flowers. This amalgamation of delphinium with buttery conveys a sense of freedom and beauty. It also indicates the journey towards a new life.
Show off this marvelous tattoo on your shoulder, feet, or wrist. You can also ask your artist to experiment with the shape of the butterfly.
Delphinium Flower Abstract Tattoo
Abstract tattoos are pretty much in vogue. People love to get inked with abstract tattoos because they are very diverse and offer ample space for experimentation. Abstract tattoos exhibit the effect of external reality on the human mind and invoke inner thoughts through different shapes, forms, and colors.
This watercolor, nature-inspired delphinium tattoo is done by using black, indigo, and grey ink. The stems carry the special trait of abstract art; they are slightly distorted. But the flowers are kept intact to represent the strong, determined mind of the wearer. This tattoo will look stunning on your sleeve, but you can also wear it on the back or front of your forearm or your calf.
Delphinium With Cinnamaldehyde Structural Formula Tattoo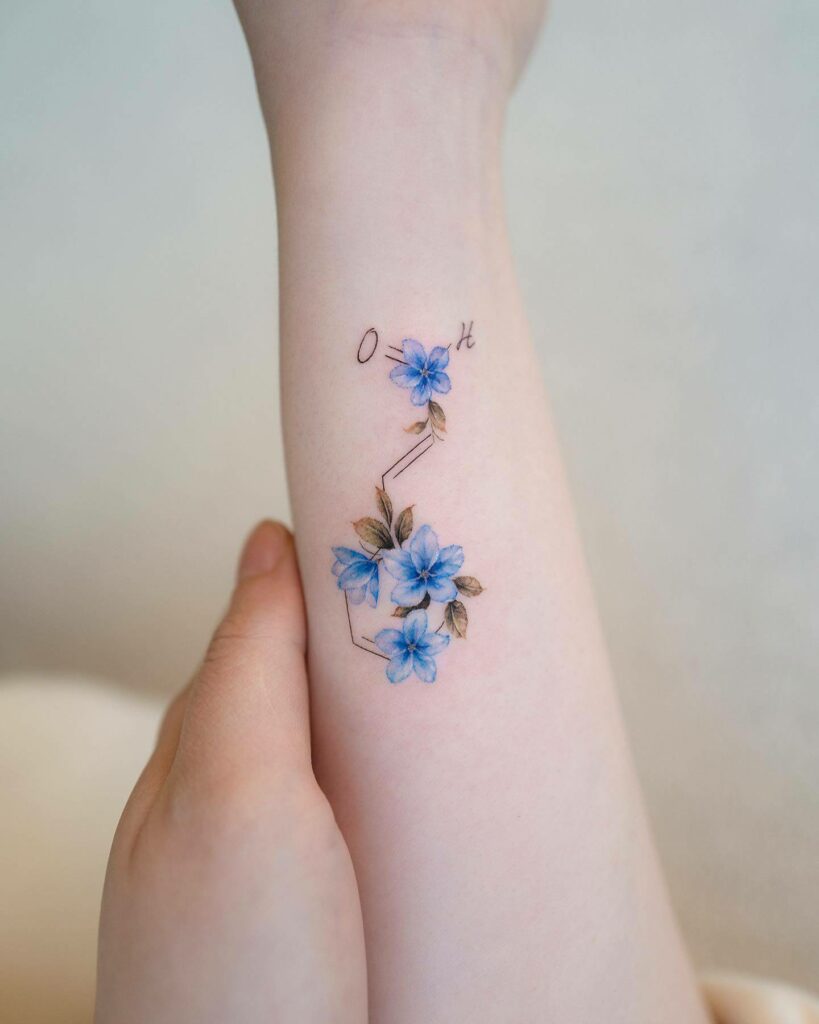 If you love the strong, aromatic, flavorful spice called cinnamon, then this crazy cinnamaldehyde structural formula tattoo embellished with pretty delphinium flowers is exactly what you need for your next tattoo journey.
Cinnamaldehyde is usually used to add flavor to ice cream or other sweets. The complex structural formula is skillfully inked on the skin using black ink to add extra sweetness to the entire tattoo. The flowers' blue and white shades also add vibrancy to this extraordinary tattoo. Flaunt this tattoo on your calf, shoulder, or forearm and get a lot of compliments from the onlookers.
Snake And Delphinium Flower Tattoo
Snakes have different symbolic meanings in many different cultures across the globe. Unusually, snakes are associated with evil forces. But in many cultures, snakes represent love, passion, and even wisdom.
Snakes' venom and skins are important ingredients in medicine and potion making. However, this tattoo must have reminded you of the Dark Mark from Harry Potter. But instead of looking ominous, this tattoo looks magnificent. The snake is coiling around a cluster of delphinium flowers, producing a magical look altogether. The neat needlework on the tattoo compensates for the absence of colors. You can flaunt this tattoo on your ankle or wrist to startle the onlooker with utter amazement.
Delphinium And Constellation Watercolor Tattoo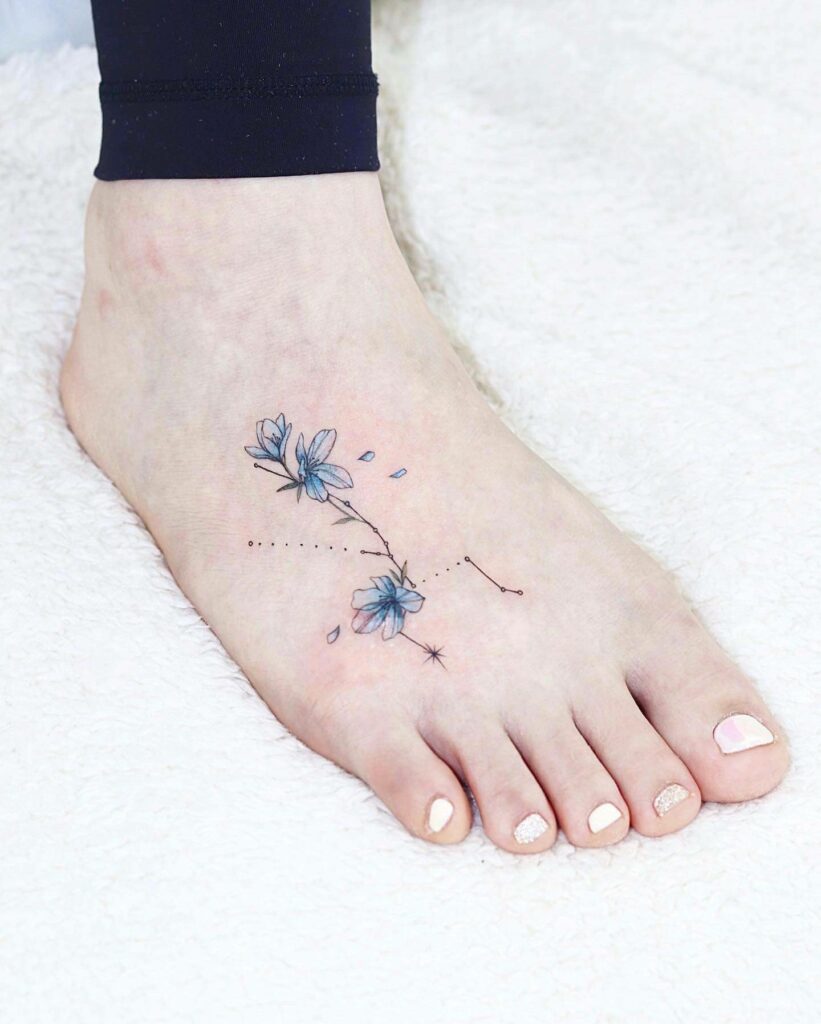 Watercolor tattoos and constellation tattoos are very fashionable these days, for they offer endless variations and look unique on your body. In astrology, the Taurus constellation is a popular earth sign and is said to be ruled by Venus, the goddess of love and pleasure.
A Taurus constellation usually symbolizes energy, protection, and guidance. However, in this watercolor tattoo, the artist has placed the beautiful blue delphiniums in between the joints of the Taurus constellation, which has been drawn using black ink. The blue flowers and the thin lines of the construction are together, creating an extraordinary design. This beautiful amalgamation of blue delphinium and constellation tattoo will fit best on your feet, waist, or wrist.
Delphinium And Lioness Tattoo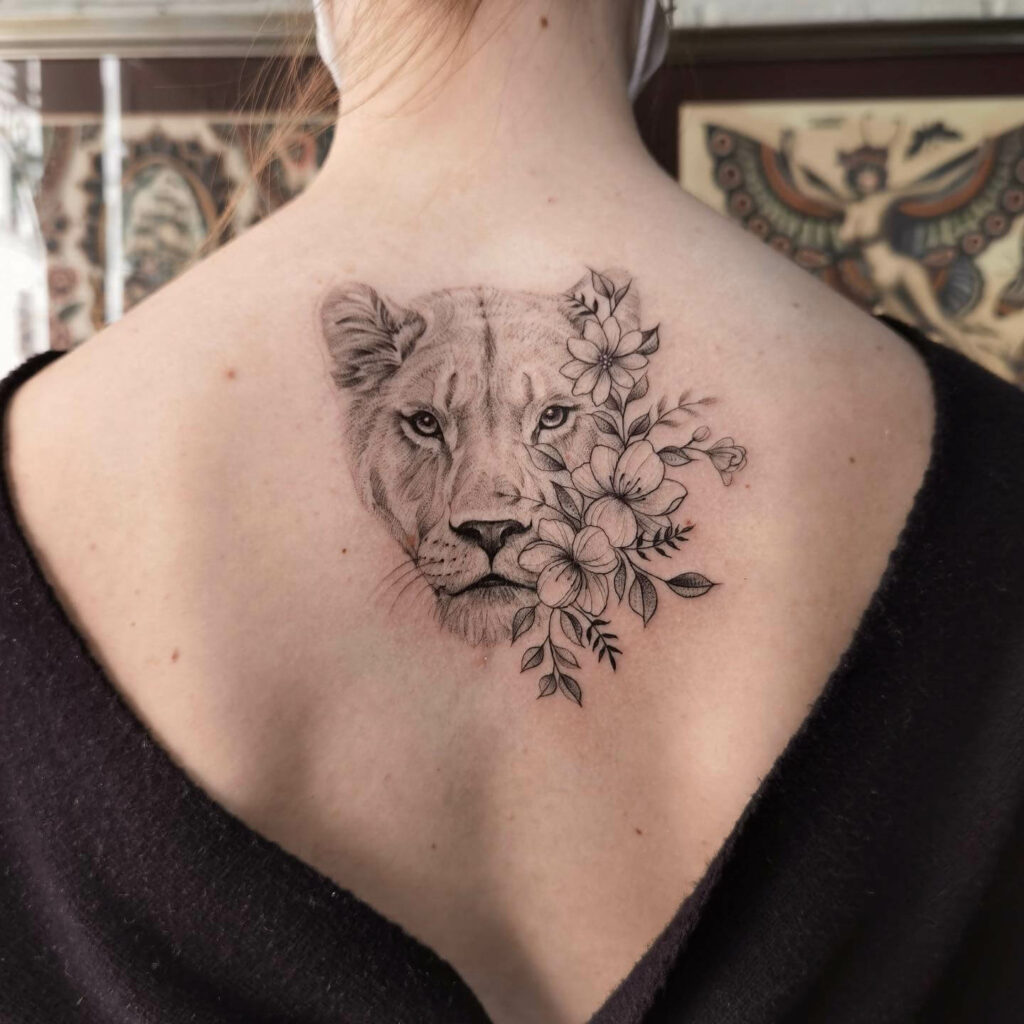 Lioness is the symbol of beauty, safety, strength, and wisdom. It is a well-known fact that a lioness is way more protective of their children than lions.
This tattoo shows a cute, realistic portrait of a lioness with delphinium flowers and vines drawn on the left side of its face. The eyes of the lioness are filled with black and grey shades. The facial features of the lioness are full of minute detail.
This gorgeous lioness and delphinium tattoo will look mesmerizing on your shoulder, thigh, arm, or any other exposed area of your skin.
Delphinium And Lily Bouquet Tattoo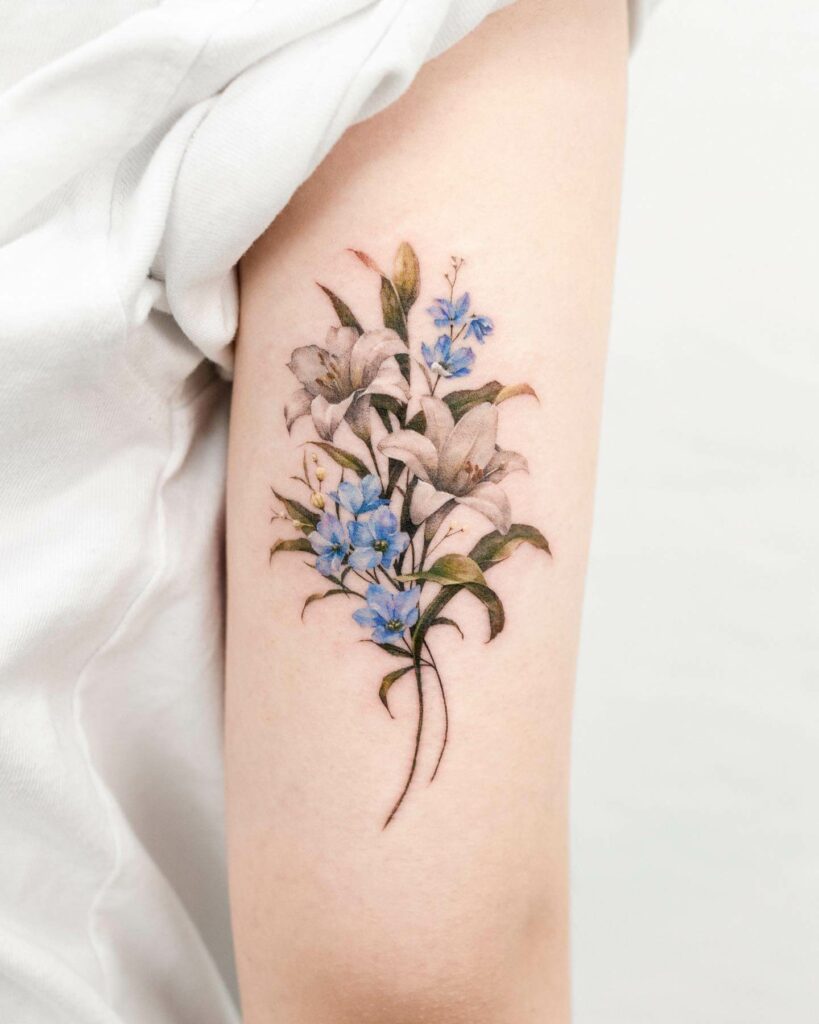 A bouquet with assorted flowers is always a sought-after tattoo design for women. This colorful tattoo has two amazing flowers, namely, delphinium and lily. Lily is the flower of purity and devotion.
A lily flower tattoo is usually considered to be the May birth flower tattoo. In this tattoo, the white color of the lily, the light blue color of the delphinium, and the sap green color of the stems complement each other well, and together they make the tattoo look even more realistic.
Get yourself inked with this cute tattoo on your back, arm, or shoulder. You can replace lilies with other flowers to your liking as well.
Delphinium Dolphin Tattoo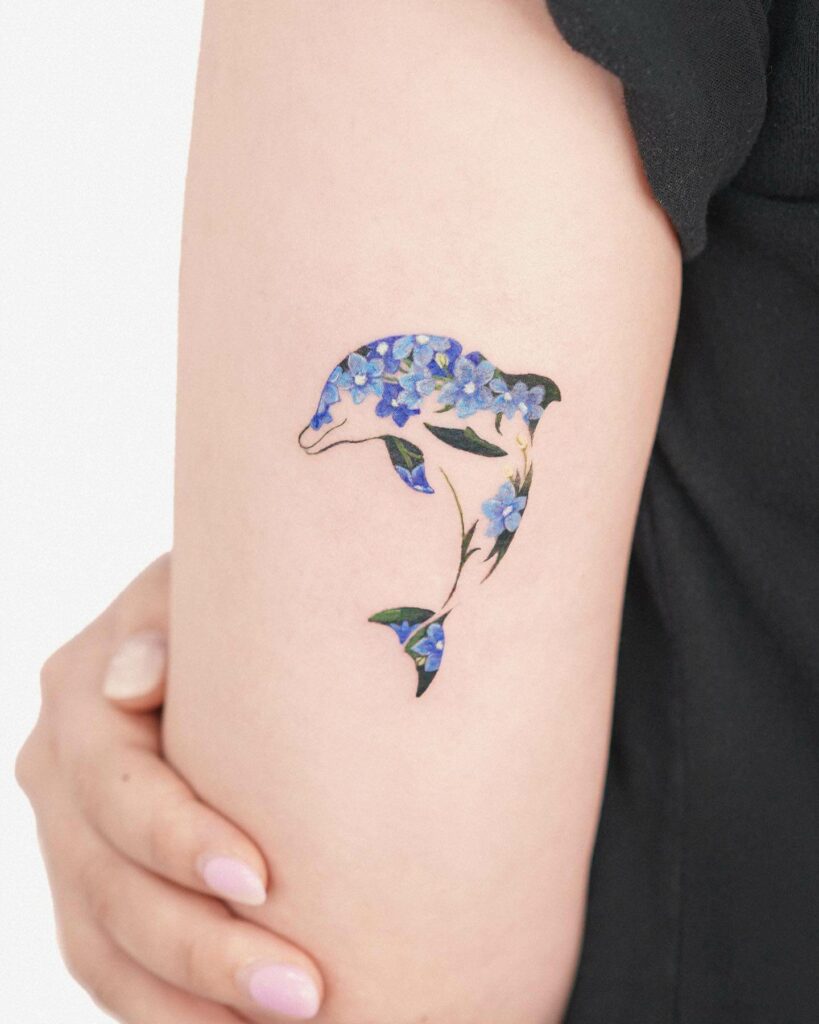 Did you know that the name delphinium came from the Greek word "delphinino" which means dolphin? These flowers got their name because they resemble the nose of dolphins. For many people, especially mariners, dolphins carry the symbol of good luck and protection. Numerous accounts are there that bear the testimony of dolphins saving the lives of sailors in distress.
In this tattoo, the tattoo artist's skillful hand has given the stem of delphiniums the shape of a dolphin. The tiny, pea-green leaves have replaced the dolphin's tail and fins to make the tattoo look even more adorable. You can wear this tattoo on your neck, forearm, or spine so people can easily notice it.
Fine Line Delphinium Birth Flower Tattoo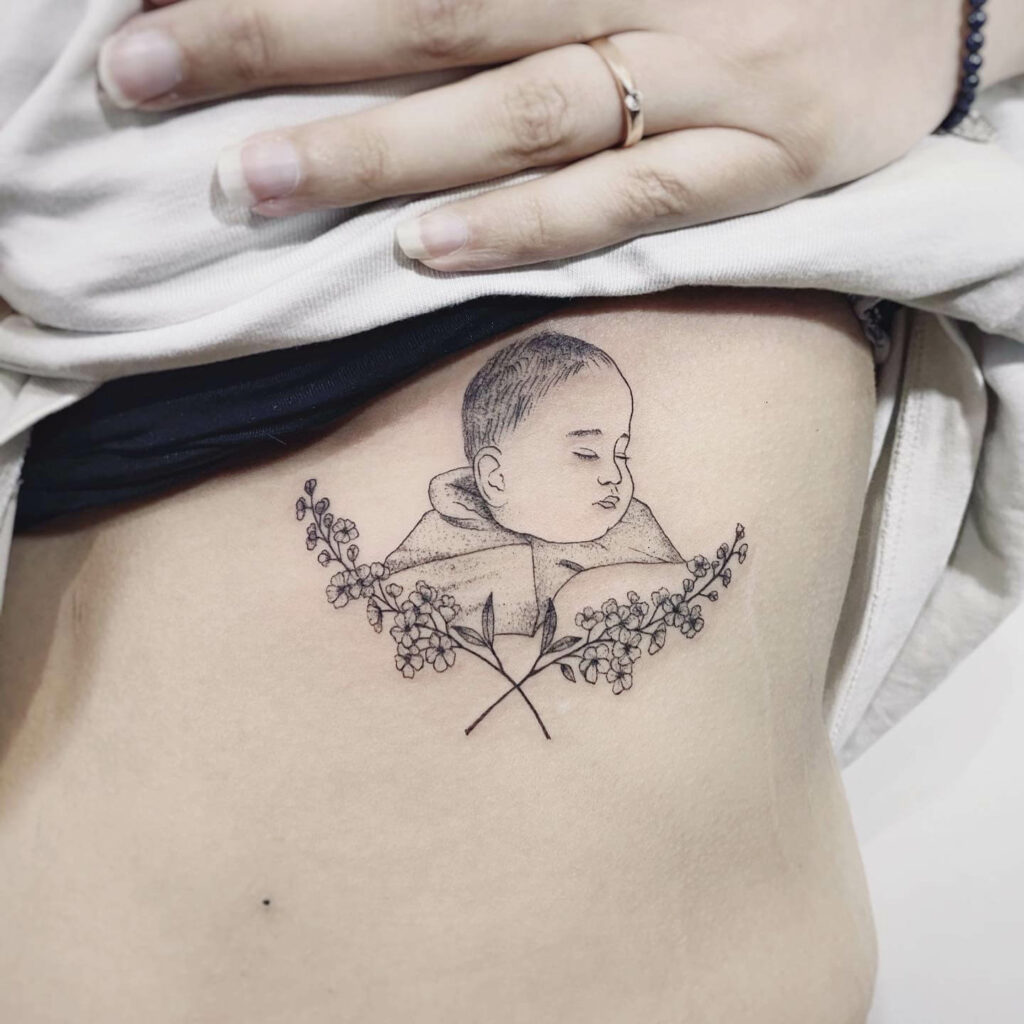 Being a birth flower, delphinium tattoos are worn by mothers who want to dedicate the tattoo to their children. In this beautiful fine line tattoo, the artist has done a really good job by placing the portrait of the newborn baby in the middle of two sticks of delphinium flowers. The tiny, delicate details of the flower petals have been done very minutely.
This awesome fine line delphinium tattoo will also look gorgeous on your waist, back, and thigh. You can ask your tattoo artist to keep the portrait of the baby in black and add some color to the flowers.
If you want a colorful delphinium flower tattoo, then make sure your tattoo artist doesn't use cheap ink because the tattoo might risk fading easily. Ask your artist to use fresh ink. You can experiment with your delphinium tattoo by incorporating elements to your linking and using several different colors as well. The cost of these tattoos would vary according to their quality and form, and it also depends on how much time it takes to be done properly. 
Feature Image from Pinterest – Want your tattoo to look brighter? Try "Tattoo Balm"