Are you fascinated by the tattoos of the American singer Demi Lovato? If you want to get similar tattoos, here is a list of Demi Lovato tattoos.
Demi Lovato is an American songwriter, singer, and actor who went through a lot from an early age.
Known initially as Demetria Devonne Lovato, she was born in Albuquerque, Mexico. Her biological father Patrick Lovato is both a musician and an engineer.
Lovato, the former Disney star, began her career at the age of seven. When did Demi Lovato get a tattoo? Although she got her first tattoo when she was sixteen, she could not be vocal about this body art to portray a clean image to the public. However, over the years, the singer of 'Tell Me You Love Me' became more outspoken about the issues that she faced in her life. Before we get into the various tattoos that she has on her body, it is essential to know the influences that led her to get inked multiple times.
Demi Lovato has been in several relationships right from 2009. However, on July 23, 2020, Demi Lovato declared her engagement with Max Ehrich, the actor. Even though the two eminent personalities called off their engagement within a short period, both were vocal about their sexuality. Demi Lovato never shied from proclaiming herself as pansexual. There is a strong reference to her openness in relationships and sexual fluidity in one of Demi Lovato's tattoos that states 'Choose love.' In an interview, Demi clearly stated that she was aware of her queerness and has accepted it now. Also, she expressed her pride in being a part of the LGBTQ community. According to Demi Lovato, love is more important than anyone's gender.
By May 2021, Demi publicly declared herself as non-binary. She also decided to change her gender on social media platforms. So, before you click on her display picture to check her Instagram story, you will find the pronouns 'they/ them/ she/ her.' To bring this change, Demi had to undergo a lot of mental transformation and reflect more on herself, as stated by her.
Another impactful incident of her life that Lovato talks about openly is her stay in rehab at the age of eighteen due to self-harm, bullying, and bulimia nervosa. Lovato confessed to the media that she had cut herself, and had undergone self-medication with alcohol and drugs just like any other teen. To keep Lovato away from addiction to the intoxicants, she was kept in a sober living house in Los Angeles for one year. Her rehab journey has been rightly documented in the film 'Demi Lovato: Stay Strong.' The poster of this documentary has the image of a beautiful tattoo on both her wrists where the words 'Stay Strong' are inked.
Some of the other traumas that led Demi to get more tattoos on her body include her drug overdose in 2018 and rape trauma. Demi added that it was due to the excessive drug overdose that she had to face several other health complications like heart attack, strokes, brain damage, and problematic vision. It was due to the issues in Demi's personal life that she became one of the most Googled persons in 2018 along with other eminent personalities like Logan Paul, Meghan Markle, etc. At the age of fifteen, Demi Lovato claims to be raped by her co-star which resulted in causing her self-harm and bulimia.
During her stay at the rehab, Demi not only recovered physically but also drew inspiration from other patients admitted there in the form of tattoos. Some of the common Demi tattoos include love and fear tattoos, 300 tattoos, choose love tattoos, spider tattoos, infinite universe lyrical tattoos, butterfly tattoos, fallen angel tattoos, and the like. Want to know what Demi Lovato's tattoo says? Here is a list of Demi Lovato's tattoos.
The Fallen Angel Tattoo
There is a brief history attached to this fallen angel tattoo of Demi Lovato. Right after her performance at the Grammys and at the Super Bowl, where she sang the National Anthem, Demi revealed this large tattoo that adorns her back. It is the image of a fallen angel with dark wings being saved by the Holy Trinity.
Generally, the fallen angels symbolize those people who no longer can have a relationship with the Almighty. In a nutshell, this fallen angel tattoo suits people who have sinned. Here, the dark wings represent an act of falling from grace.
Stay Strong Wrist Tattoo
Another new tattoo that grabbed the attention of the media as soon as Lovato inked it was this 'Stay Strong' tattoo. The purpose behind getting this 'Stay Strong' tattoo right on both her wrists is to help her keep herself away from addiction and self-harm. In a way, it can be said that Demi took to the art of tattooing and let the negative thing turned positive.
Her inspirational journey is quite evident from her tattoos. Indeed, her tattoos taught us many things. She tattooed stay strong to cover up the scars that she has on her wrists. These scars were made due to her self-harming tendency. The tattoo 'Stay Strong' is simple yet elegant. The cursive font that she chose makes the tattoo eye-catching.
Demi Lovato Head Tattoo
After the completion of her stay in the rehab, Lovato began the new year with this spider tattoo on her skull. By the end of 2021, her fans and followers got to see this freshly inked tattoo on one of her Instagram stories. To unveil this newly made spider tattoo, Lovato wrote this in an Instagram photo – 'It was Grandmother spider who taught us many things.'
Demi Lovato further added that Grandmother Spider taught us about pottery and weaving. She also taught us about fire, the light, and the dark. According to Lovato, the way we are connected on the web is also credited to the Spider.
'I'm a warrior' Tattoo at the Back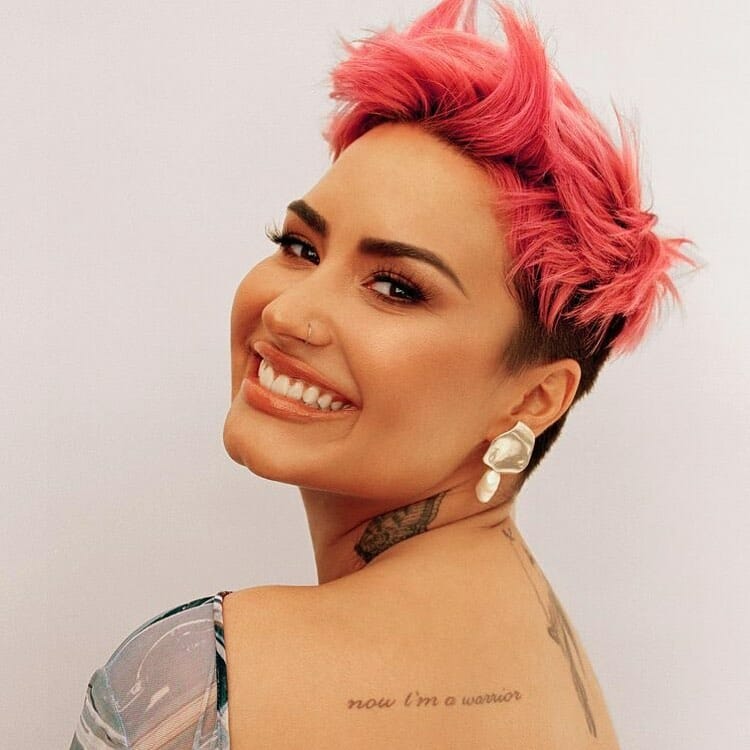 It has already been mentioned that Demi Lovato went through a lot of turmoil in her life. However, to justify the struggles and hardships through which she came out victoriously, she has got this tattoo that says, 'now I'm a warrior.'
This phrase that she has tattooed is basically the lyrics from her closing song titled 'Warrior.' She considered it to be an extremely meaningful song and an inspirational song as well. She conveyed to Jimmy Fallon that this warrior tattoo is more like a tribute to the difficulties that she has had to overcome and to the album she has created.
Demi Lovato Portrait Tattoo
If you are an ardent follower of Demi Lovato and prefer following her ideals, this portrait tattoo of Demi Lovato is suitable for you. This portrait image can be a great Demi Lovato hand tattoo, provided it is done with the correct shading. The serene image of Demi Lovato inked beautifully with brown by the tattoo artist makes it look more like an old tattoo. However, if you do not want to attach this conventional idea to the tattoo, ask the tattoo artist to add some colors to it.
Lovato Inspired 'Choose Love' Tattoo
Demi Lovato got this 'Choose Love' tattoo very recently on the occasion of the war teeming up between Ukraine and Russia. The reason behind getting this tattoo was to collect a relief fund and send in support of Ukraine. These two words 'Choose Love,' can be inked at the side of the middle finger. Another theory of Lovato that resonates with this tattoo is the urge for love over gender. According to Lovato, the gender of a person should not stop him to profess his love.
Roman Numeral Tattoo
Demi got a series of Roman numeral tattoos from the Bang Bang tattoo studio. The roman numerals that she has inked on her body honor the birth dates of a few of her near and dear ones. Therefore, if you want to honor some of your family members, tattooing their birth dates in roman numerals can be a great move. Likewise, Demi has five roman numerals.
Dreamcatcher Tattoo
What does Demi Lovato tattoo on her side say? It was the first tattoo that Demi Lovato got at the age of sixteen. The design is that of a dreamcatcher. Unfortunately, she had to hide it for a long time for maintaining her professional reputation. She got this tattoo in the name of God in a tattoo artist's apartment. So, if you are interested to get some matching tattoos, ask your tattoo artist, to follow the dreamcatcher design of Demi Lovato.
Rose Tattoo on Arms
Sometimes back, Demi had a pair of lip print tattoos on her arms. These were highly criticized. Therefore, soon she found a way to get rid of all kinds of criticism in a rose tattoo. The tattoo of a rose that she has on her forearm basically covered the lip tattoos. Similarly, if you are bored with any tattoo design and want something new, cover it with roses or your preferred flowers.
Song Lyric Tattoo
Did you notice the lyric tattoo that Demi has on her back? It is the lyrics of 'Beautiful,' a Bethany Dillon song. If a song's lyric has stuck on your mind, get it inked like Demi. The lyrics can be some part of the beautiful chorus or any particular line that you are most attracted to.
Therefore, Demi Lovato is a true inspiration not just for tattooing, but also for the struggle and hardships she has undergone. The way she has come out of her weaknesses and turned his negatives into positives is worth applauding.
feature image from Pinterest – Want your tattoo to look brighter? Try "Tattoo Balm"