Hey there, fellow tattoo enthusiasts! Are you looking for a way to show off your love for diamonds without breaking the bank? Look no further than our collection of stunning diamond tattoo designs!
Symbolizing beauty and lasting love, diamonds are among the world's most cherished and valuable gems. But not everyone can afford to wear them around their necks or on their fingers. Luckily, with the rise of body art, diamonds can now be celebrated through beautiful and intricate tattoo designs.
Not only are diamond tattoos a stunning way to adorn your skin, but they also hold significant meaning as a symbol of wealth and strength. Many tattoo artists are inspired by the intricate designs of these precious stones, and they are now highly in demand among young tattoo lovers.
Whether you're drawn to the classic diamond shape or prefer something a bit more unique, there are countless diamond tattoo designs to choose from. So why not add a touch of sparkle and sophistication to your ink collection with one of these exquisite diamond tattoos? Check out our list of top designs to get started!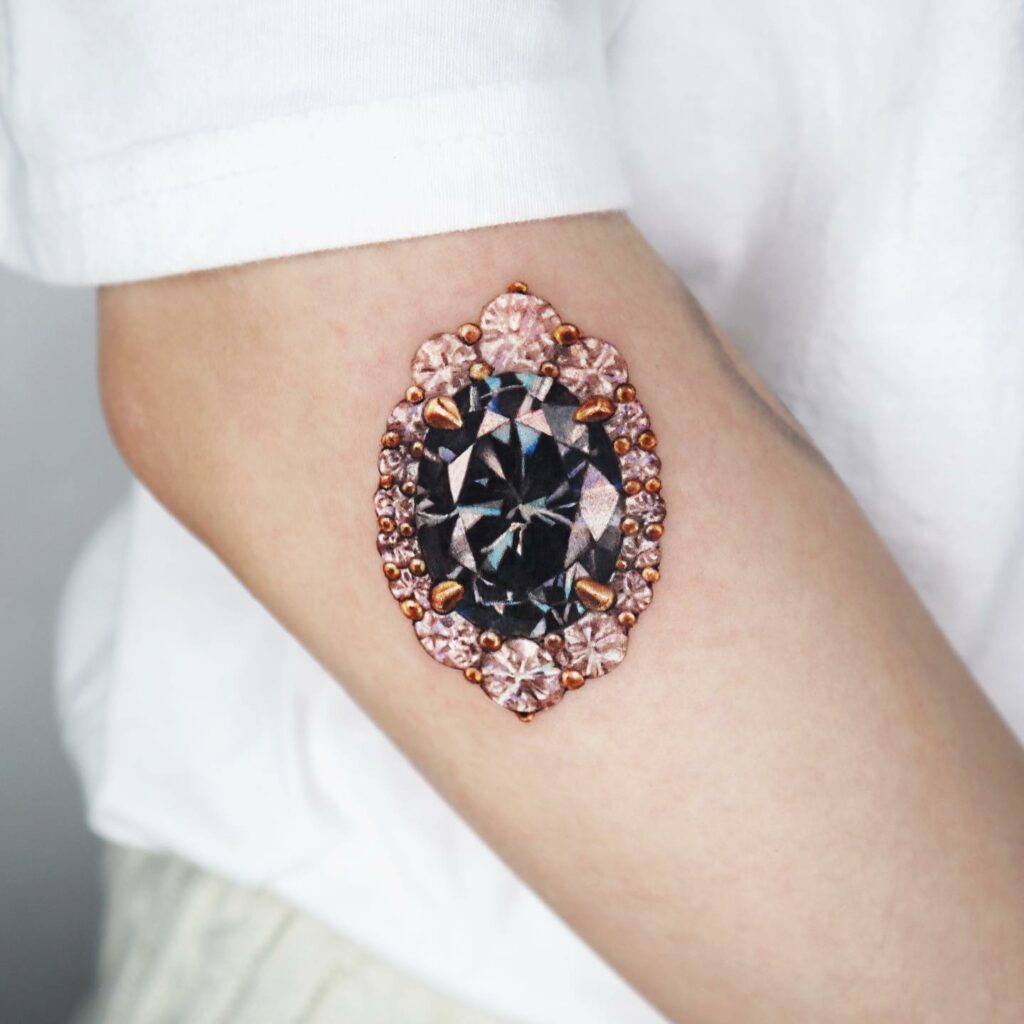 Snake And Diamond Tattoo Designs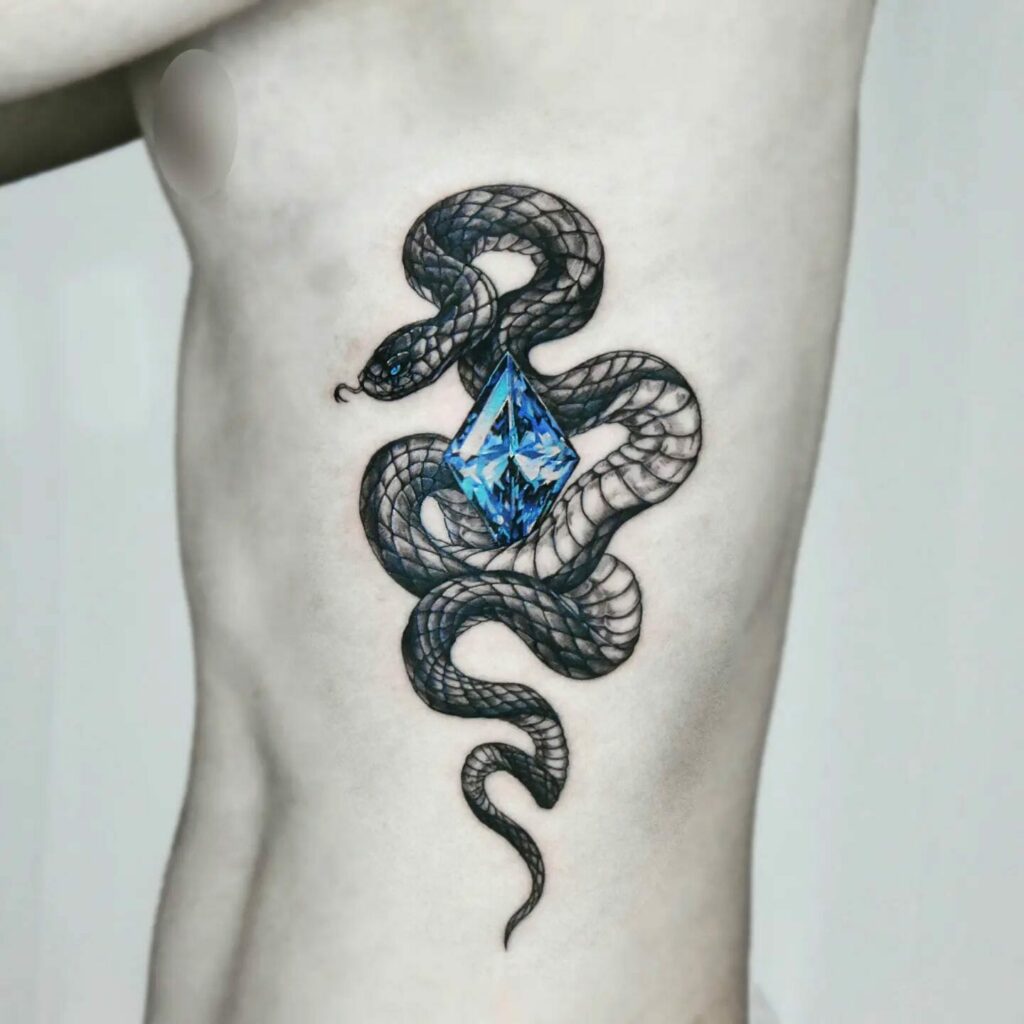 Diamonds are known for their preciousness and are often associated with wealth and luxury. This tattoo design featuring a diamond being protected by a snake is a beautiful representation of the value and importance of diamonds. The contrast between the striking blue diamond and the bold black snake creates an impactful artwork that demands attention. The addition of a snake in this tattoo design not only adds an element of protection but also doubles down on the symbolism of invincibility that is often associated with diamond tattoos.
The tattoo artist has paid great attention to detail in creating this artwork. The snake's scales are intricately shaded in various shades of gray, giving it a realistic appearance. Similarly, the diamond is beautifully colored with just the right amount of blue and white to create the illusion of reflecting light. Overall, this tattoo design is a stunning piece of art that beautifully captures the essence of the diamond's value and importance.
Traditional Diamond Tattoos Small Design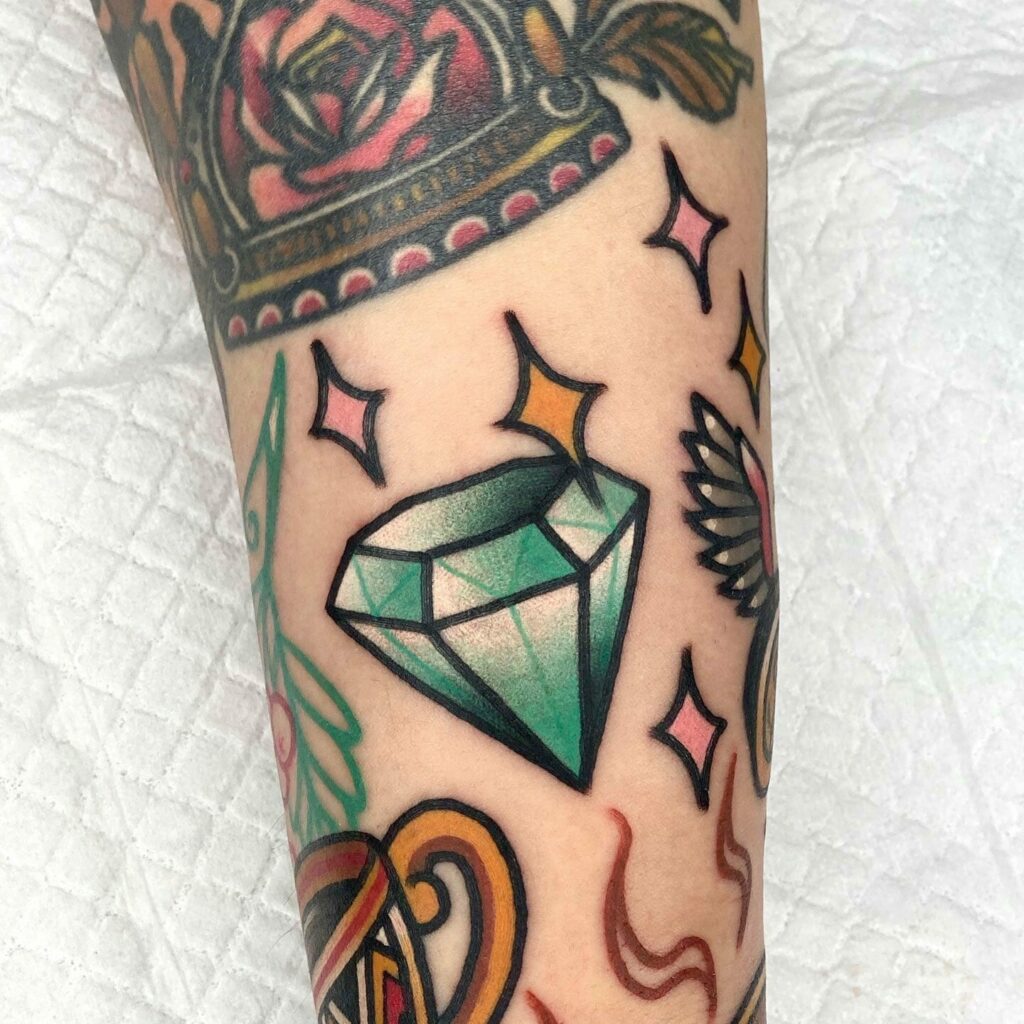 Diamonds are often seen as symbols of wealth and eternal love, and this tattoo design offers a unique take on that tradition. The tattoo artist has created a small, simple diamond tattoo with bold lines and dark colors, showcasing a classic tattoo style.
While this design may be smaller and less detailed than other diamond tattoos, its impact is just as strong. The artist has skillfully added intricate shades to the tattoo, which gives it depth and texture. This diamond tattoo is a great choice for someone looking for a subtle yet meaningful tattoo, perfect for adding to a larger sleeve or getting on its own.
Pearl And Gems Precious Jewelry Diamond Tattoo Ideas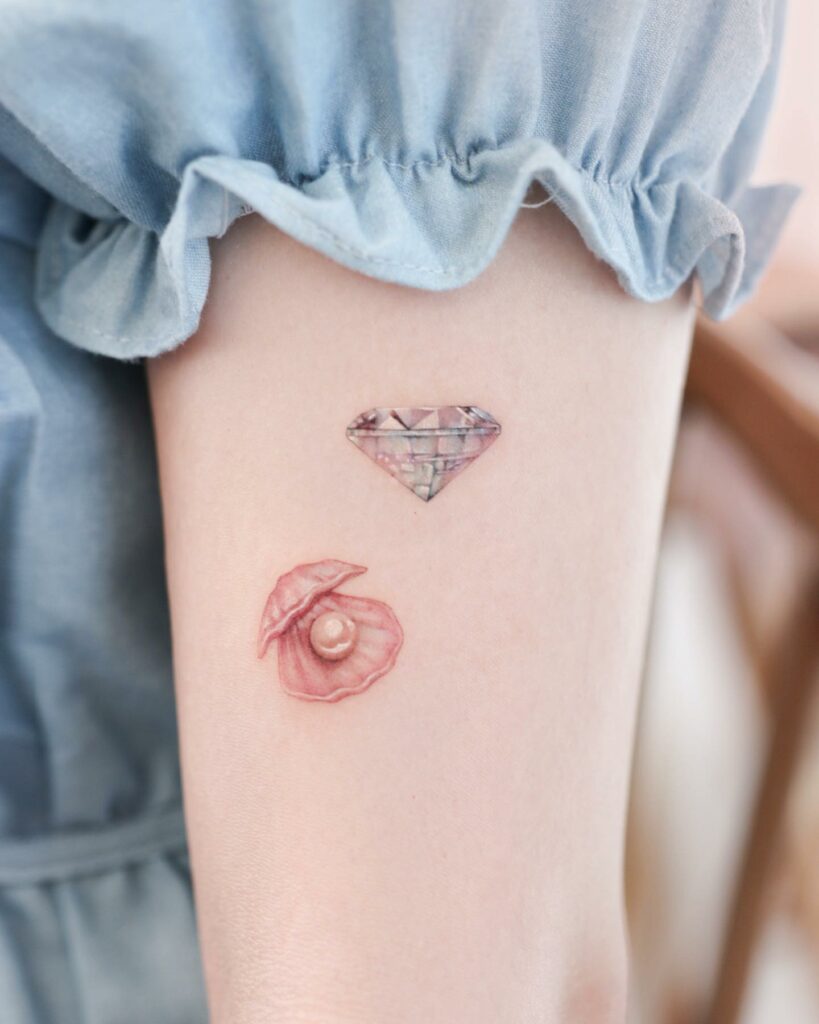 If you're looking for a realistic diamond tattoo that stands out, then this tattoo design is perfect for you! The tattoo artist has captured the essence of a diamond and pearl within the shell in this design through the use of detailed color choice and shading techniques.
It's important to note that creating realistic body art requires skill and expertise, so you must choose a reputable tattoo parlor with experienced tattoo artists to ensure that your diamond tattoo turns out perfectly. The intricate colors and shades require a steady hand and a keen eye, so don't settle for anything less than top-notch quality when it comes to tattooing something that will stay with you forever.
Realistic Diamond Tattoo Design With Floral Frame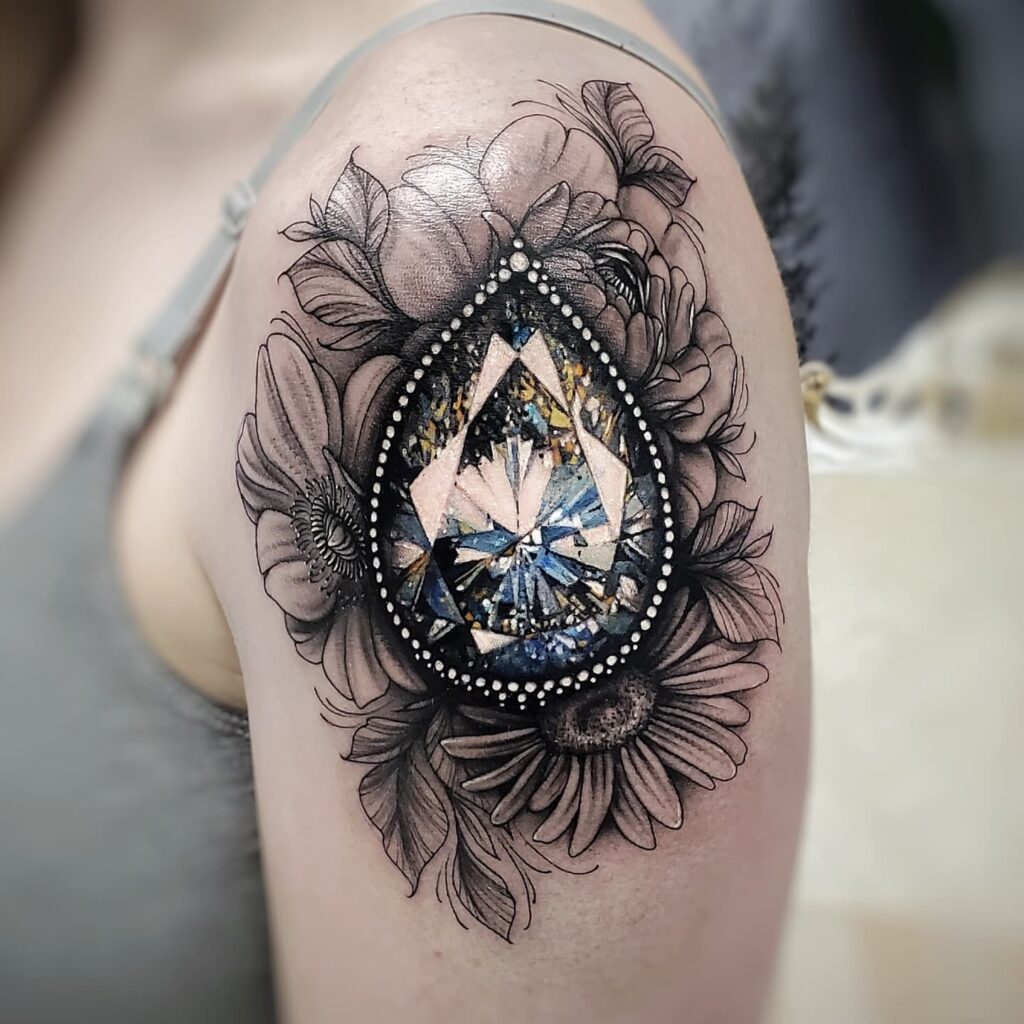 Gemstone tattoos are some of the most time-consuming designs to perfect, and the one above is no exception. Featuring a heavily detailed, crown-inspired diamond at its center, the artwork is surrounded by intricate floral line art that acts as a frame to highlight the luxurious centerpiece.
Diamond tattoos like this one can easily steal the spotlight from neighboring designs, so it's important to keep your tattoo sleeve free of other distracting elements. However, you can personalize the meaning of your diamond tattoo by adding your own unique tweaks and modifications.
Women Birthstones And Gem Tattoo With Cat
When it comes to diamond tattoos, there are endless possibilities for adding a creative twist to your ink. The tattoo mentioned above is a perfect example of how you can blend different elements to make it unique and personalized. In this design, a diamond is combined with a cat to make a unique tattoo that symbolizes love for felines and precious gemstones.
For those looking for a sentimental touch, you can incorporate meaningful elements like your pet or loved ones in your diamond tattoo design. This tattoo is a great example of how you can add your personal touch to your diamond tattoo while keeping it realistic and detailed. The combination of gentle colors for the cat and vibrant blue for the diamond creates a beautiful and impactful tattoo design that will surely turn heads.
Grey And Black Diamond Tattoo With Crown
The black diamond tattoo is a powerful symbol of wealth and royalty, as inspired by the regal crowns. The artistry in this tattoo lies in the way the diamond is held by a human hand, enhancing the perception of power and strength. Additionally, the large crown depicted above the diamond reinforces its royal symbolism and purity.
The innovation in this tattoo is apparent in the fine details, with the highlight and shading creating an illusion of the human hand being made of a shiny material. Achieving such an effect requires years of practice and skill, so it's important to choose a reputable tattoo parlor and a skilled artist to bring your tattoo ideas to life.
Anime Silhouette Diamond Heart Tattoo Drawing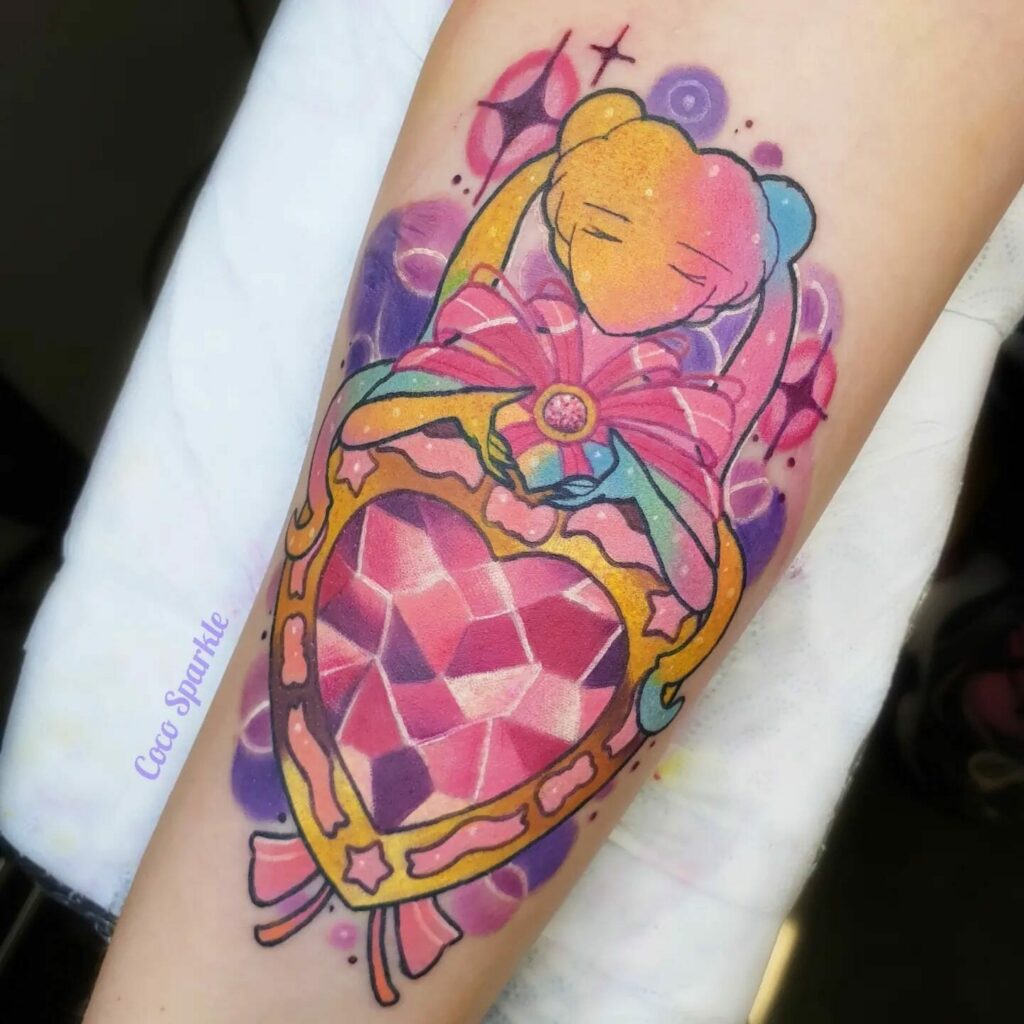 If you are a fan of Sailor Moon, then you'll be excited to know that you can incorporate the anime into your diamond tattoo. This heart-shaped diamond tattoo has a silhouette of the Sailor Moon character within it, making it a perfect addition to your tattoo collection. The bright colors and fun illustration add a playful touch to the tattoo design.
If you want to personalize your diamond tattoo, consider adding other symbols or elements to accompany it. The possibilities are endless! You can choose your favorite cartoon character or play around with colors to make it unique to your taste. This type of tattoo is perfect for women and young adults who love to show off their fun and creative side. So, take inspiration from this design and create a tattoo that truly represents you.
Rose And Diamond Tattoo Drawing
The combination of flowers and diamonds can create stunning artwork, and this tattoo design is a perfect example of it. The intricate diamond-cut, surrounded by beautiful rose flowers, makes for a delicate yet impactful thigh tattoo. The tattoo artist has added precise line art to frame the diamond and roses, creating a cohesive design. This design is perfect for women who want a delicate and elegant tattoo that also symbolizes wealth and status. The detailed artwork of this tattoo design demands expertise, so make sure to visit a reputed tattoo parlor and choose a skilled artist for your design.
Unique Tattoo Diamond Drawing In Leaf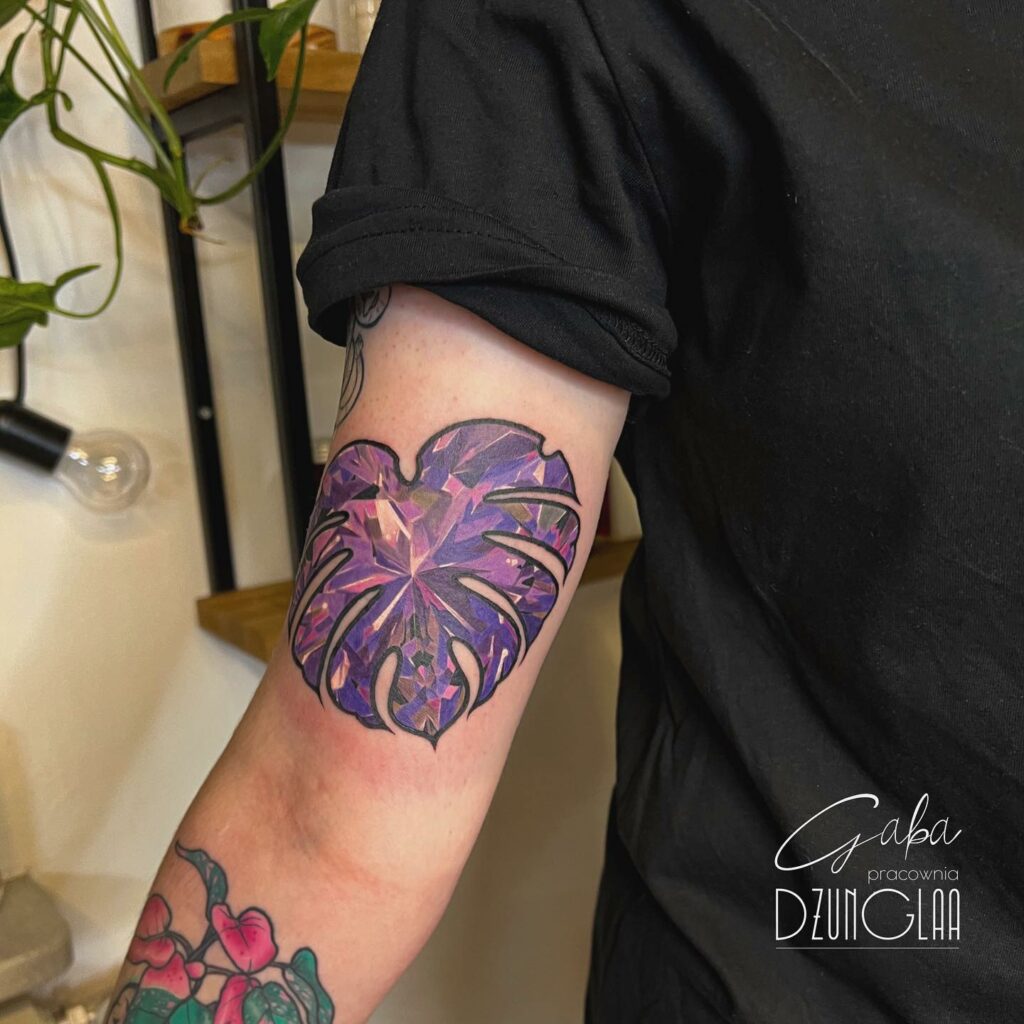 Diamond tattoos are a popular choice, but they usually come in the form of a simple triangle shape. However, the tattoo design above is a fresh and unique take on the classic diamond design. It incorporates a beautiful Monstera leaf, making the diamond tattoo look like it's melting into the leaf.
When it comes to choosing diamond tattoo designs, it's essential to look for something that stands out from the crowd. This particular design is a perfect example of an innovative take on the traditional diamond tattoo. The purple diamond used in the design adds a touch of royalty and luxury. The realistic effect on the leaf creates an exquisite and elegant look that will impress anyone who sees it.
Diamond Tattoo Designs With Geometric Patterns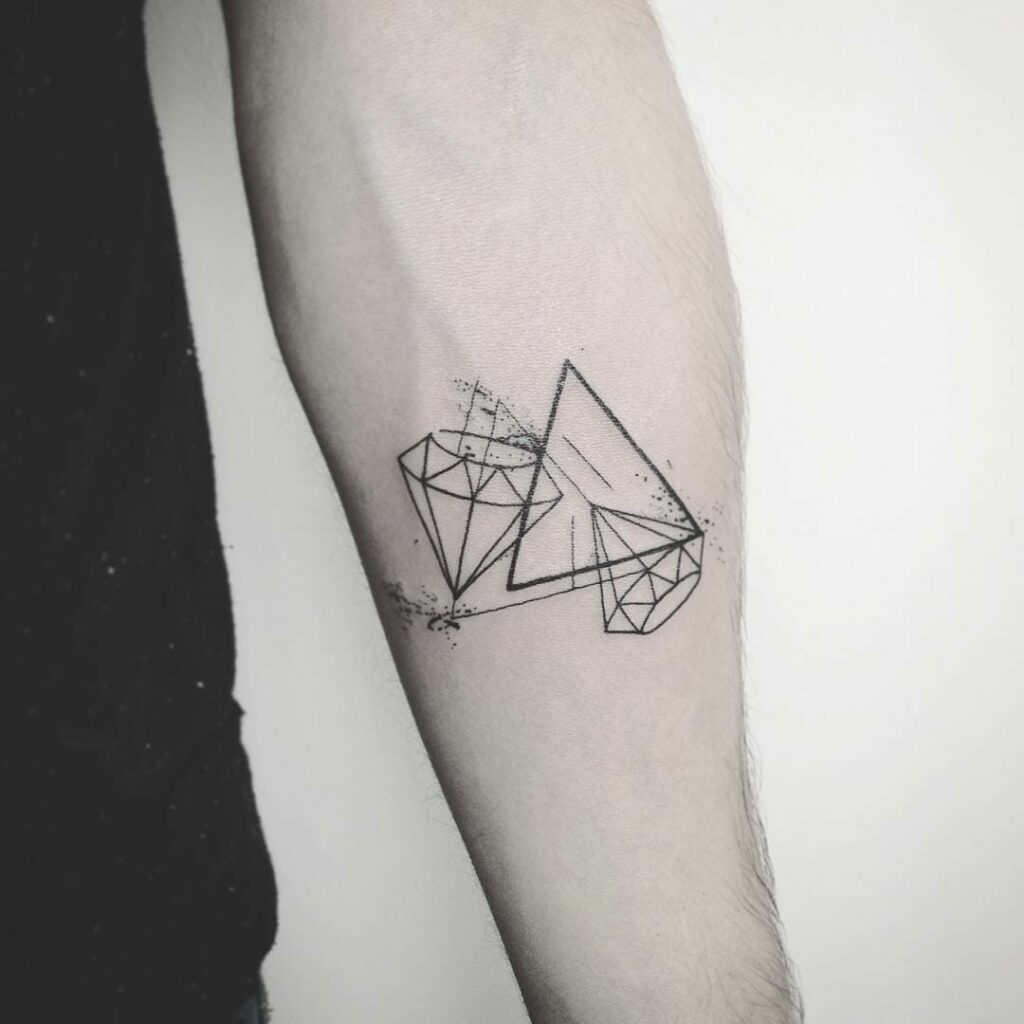 Diamond tattoos may seem like a luxurious addition to your tattoo collection, but they can also be achieved in minimalist designs. The tattoo design mentioned above is a great example of this. It features geometric diamonds and simple black splashes, creating a unique and impactful design.
Minimalist diamond tattoos are versatile and can be placed anywhere on your body. They are perfect for those looking for a small yet significant tattoo. You can choose to add other elements to your tattoo, such as flowers or wings, to personalize it to your style.
Tattoo artists have made it possible for everyone to have their own diamond jewel through tattoos. The designs mentioned above are just a few examples of the many possibilities for your next tattoo.
feature image from Pinterest – Want your tattoo to look brighter? Try "Tattoo Balm"
Last reviewed and updated on April 21, 2023