Want to get something sparkly and shiny on your skin? How about a diamond tattoo as a statement piece? Check out our top 10 diamond tattoos and ink your fancy!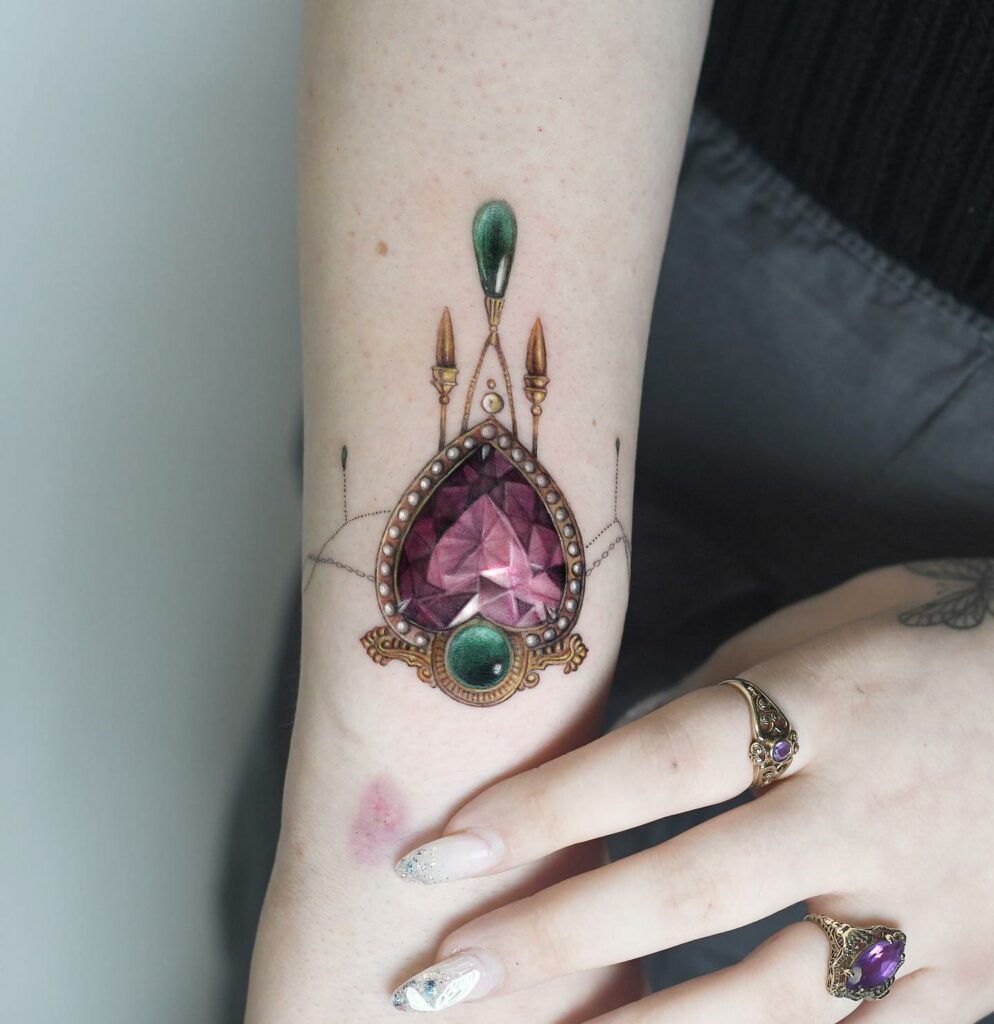 Diamond tattoos speak luxury, status, power and wealth in every way possible.
A diamond tattoo is a crowd favourite amongst men and women who love an exquisite tattoo symbol that encompasses layers of meanings. Diamonds as precious stones define elegance and style, but the stone symbolises a vast multitude of things in a tattoo design.
Diamonds are promptly called a girl's best friend for they represent femininity and power. Likewise, the ancient rulers wore diamonds as a mark of authority and control. Diamonds are the epitome of strength and stability. These unbreakable stones are often associated with everlasting bonds and relationships. The versatility of a diamond can make a statement standalone piece and even combine with other elements to hint at the intended meaning. These precious stones are so manageable that they can be inked on a number of sites to create subtle and grand images depending on your taste in body art. Be it for a symbolic purpose or a purely ornamental one, a diamond tattoo can never fail in charming anyone. Excited to see the many tattoo designs based on this priceless gem? Keep reading and brace yourself to be dazzled!
Simple Diamond Tattoos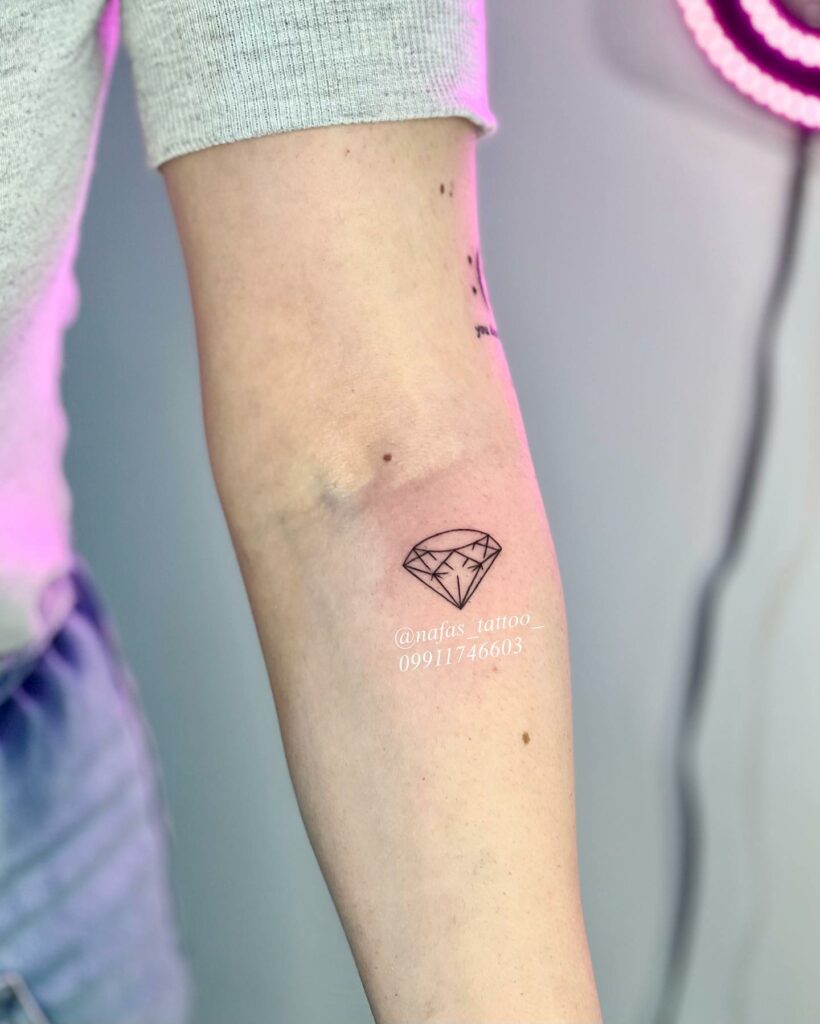 The easiest way to wear a diamond tattoo is to get a plain outline of its features. This tattoo design shows how you can draw a pretty accurate account of a medium-size diamond with the use of black ink. Though simple, the transparent tattoo pops up to highlight the purity of the stone.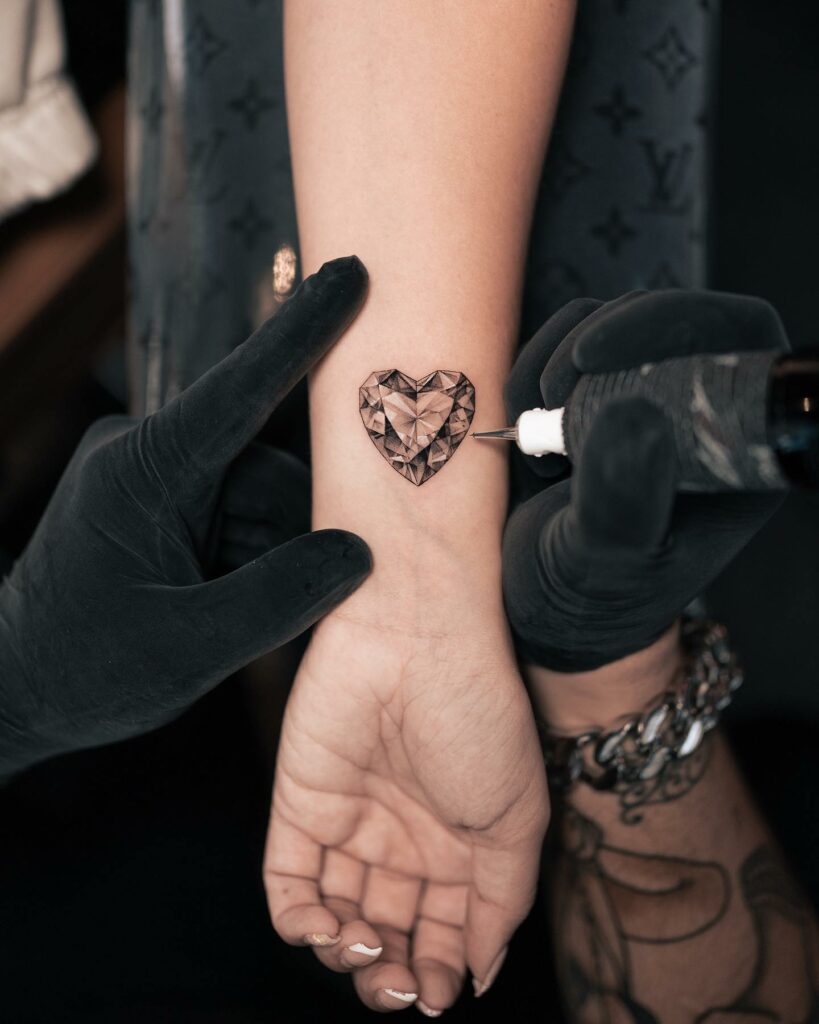 But if you want more depth to enhance certain features of the stone, try a 3D diamond tattoo on the hand that will grab attention with no exception. The artist adopts sleek shading with black ink, which leaves the impression of the diamond glistening. Simple but stunning, these diamond tattoo drawings are forever!
Realistic Diamond Tattoos On The Chest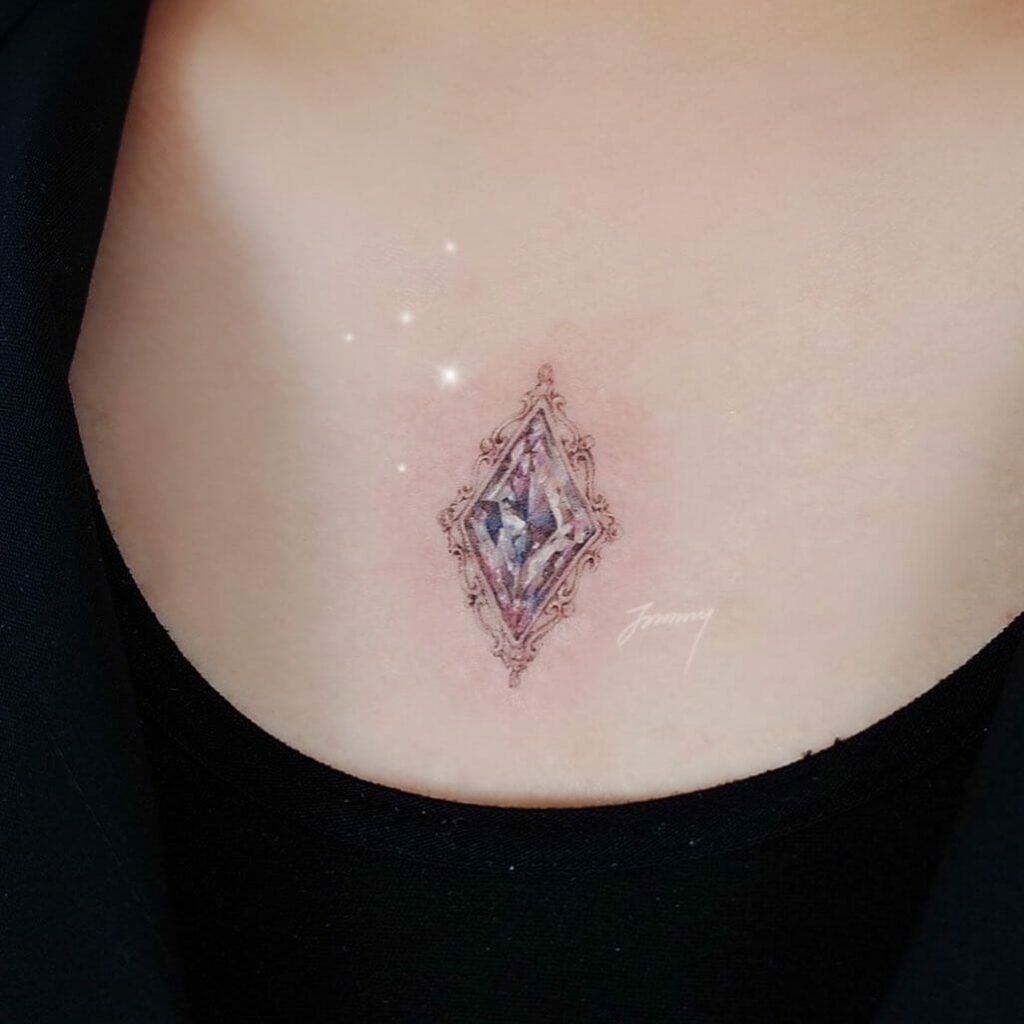 A diamond tattoo at the very centre of the chest contours the charm of the site. This dainty white diamond tattoo glistens just how real gems would under the influence of light, leaving the impression of a pendant fixated at the very centre. The golden embellishment surrounding the stone adds a touch of royalty to the design.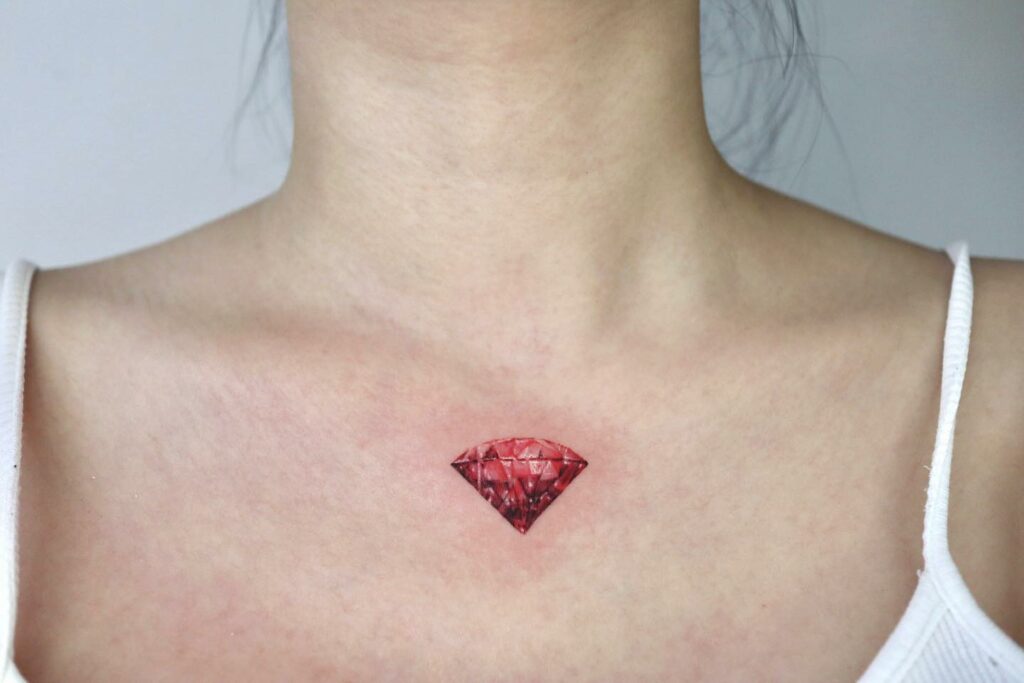 This intricately drawn red diamond tattoo features a Ruby-like blood diamond that is just too stunning to miss out on! The tattoo artist tackles the top of the diamond with more light while the bottom with more black streaks, presenting an illusion of 3D styles. Moreover, a red diamond symbolises fiery passion and desire. Be it for romantic love or as a sign of personal demeanour, red diamonds will say it all without much explanation. Experiment with more options for colour and symbolic meanings and place them on the chest.
Gothic Diamond Tattoos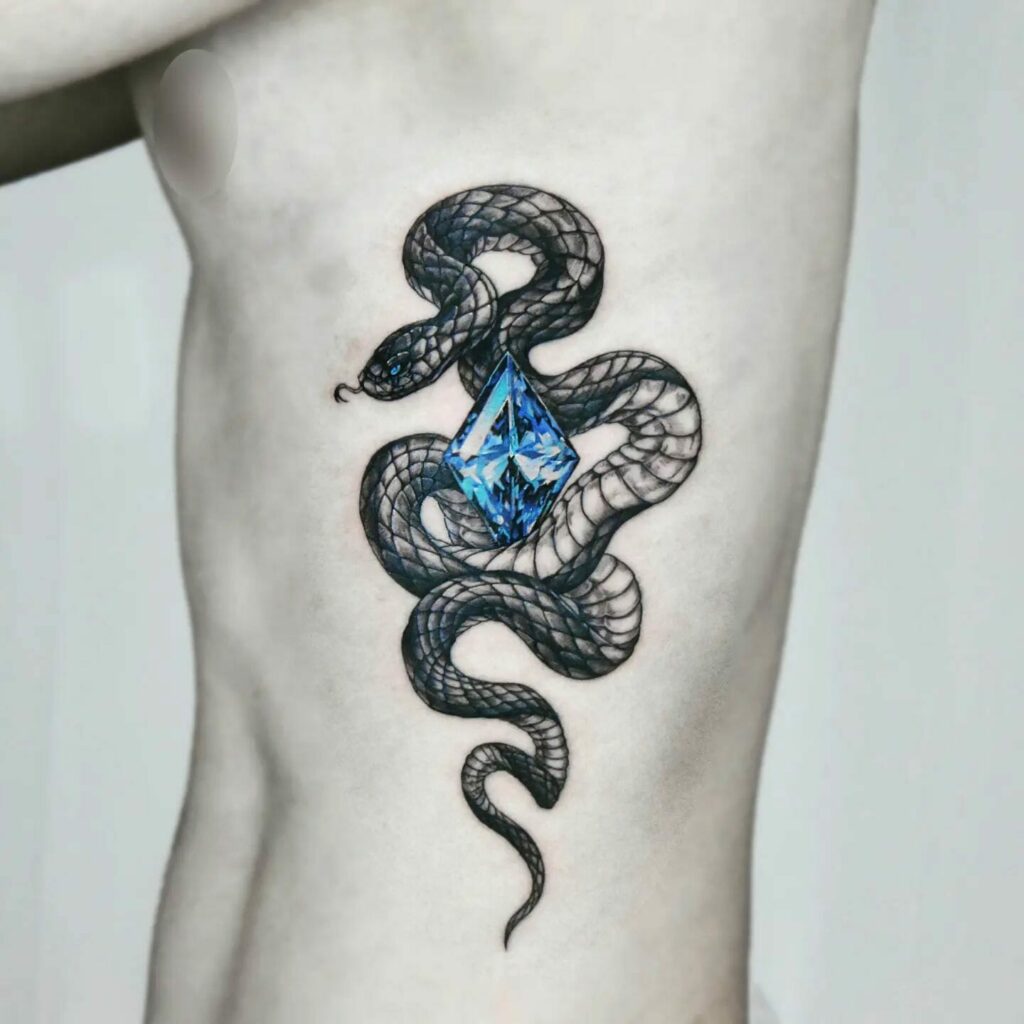 These dark tattoos are apt for men who shy away from a shining diamond tattoo. The blue diamond is sparkly, but when it is enwrapped by a lethal snake, the body art does not at all seem easygoing. The blue of the diamond can also be traced in the serpent's eye, posing as a protector to the gem. A blue diamond can be interpreted as a peaceful symbol of the wearer's life which the serpent tries to protect.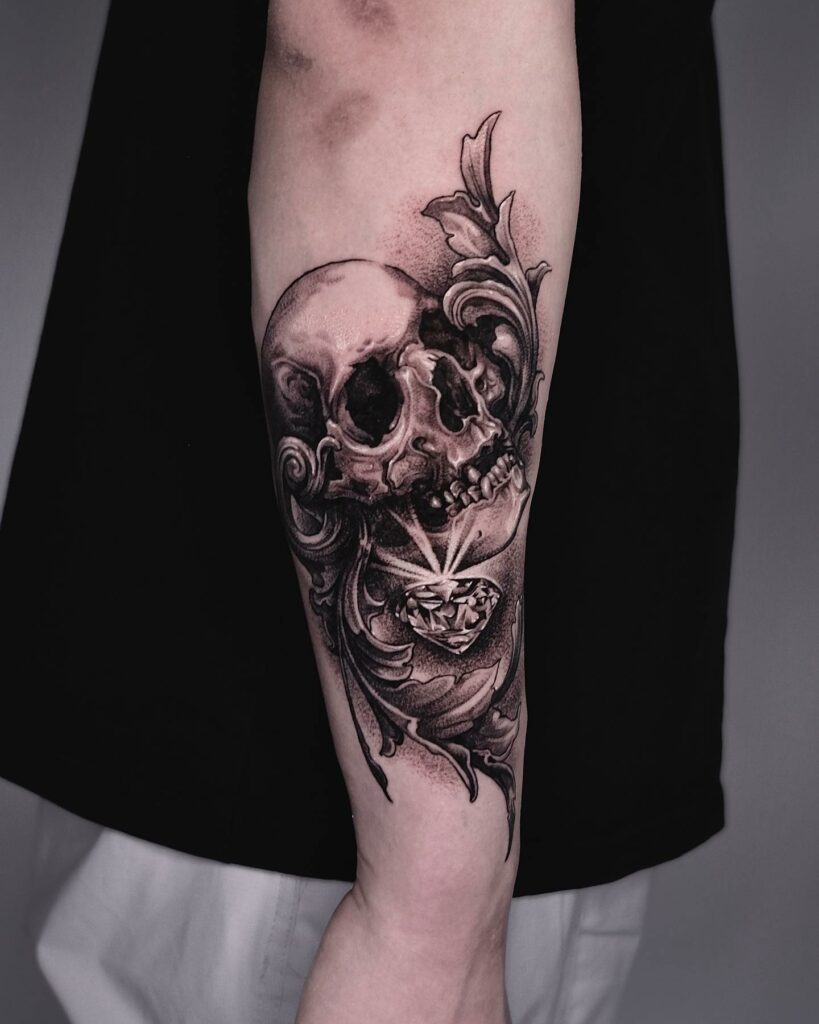 Similarly, the artist here draws a black diamond alongside a skull. A black diamond is generally symbolic of commitment, love, and strength, but when these notions are paired with that of a skull, the imagery tends to be of lament. You can opt for these different tools and motifs alongside your diamonds, creating more options for dark diamond tattoos.
Diamond Tattoo With Crowns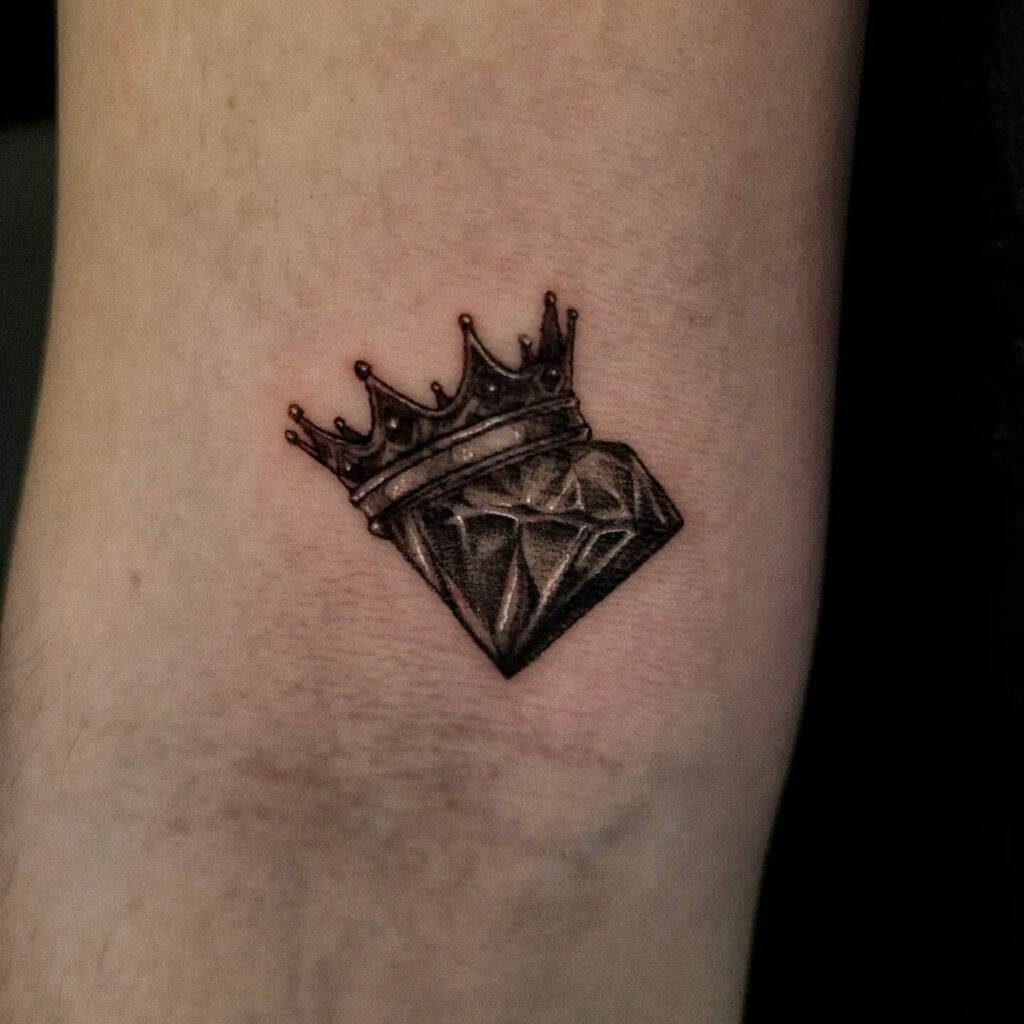 Tattoo artists often account for people's interest in the representation of a black diamond tattoo alongside crowns. The gemstone is often associated with royals and adding a crown to the existing image only accentuates its intensity. This tiny diamond and crown tattoo is an example of how you can craft a glorious picture with simple shading techniques.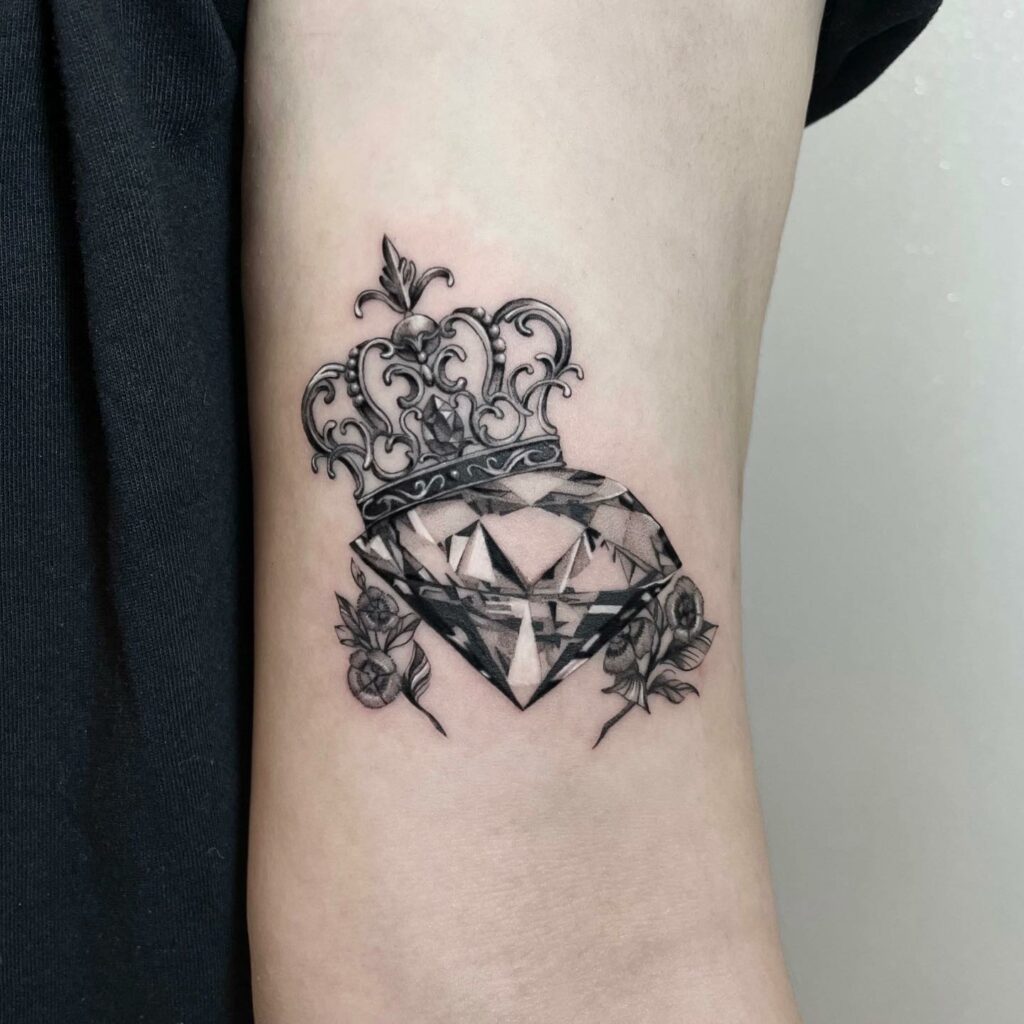 This diamond and crown tattoo takes the image a step further and creates a more glamourous tattoo design than the one above. The unmistakable shine in the stone and metal produces a comprehensive picture that radiates grandeur.
Diamond Tattoos With Floral Imagery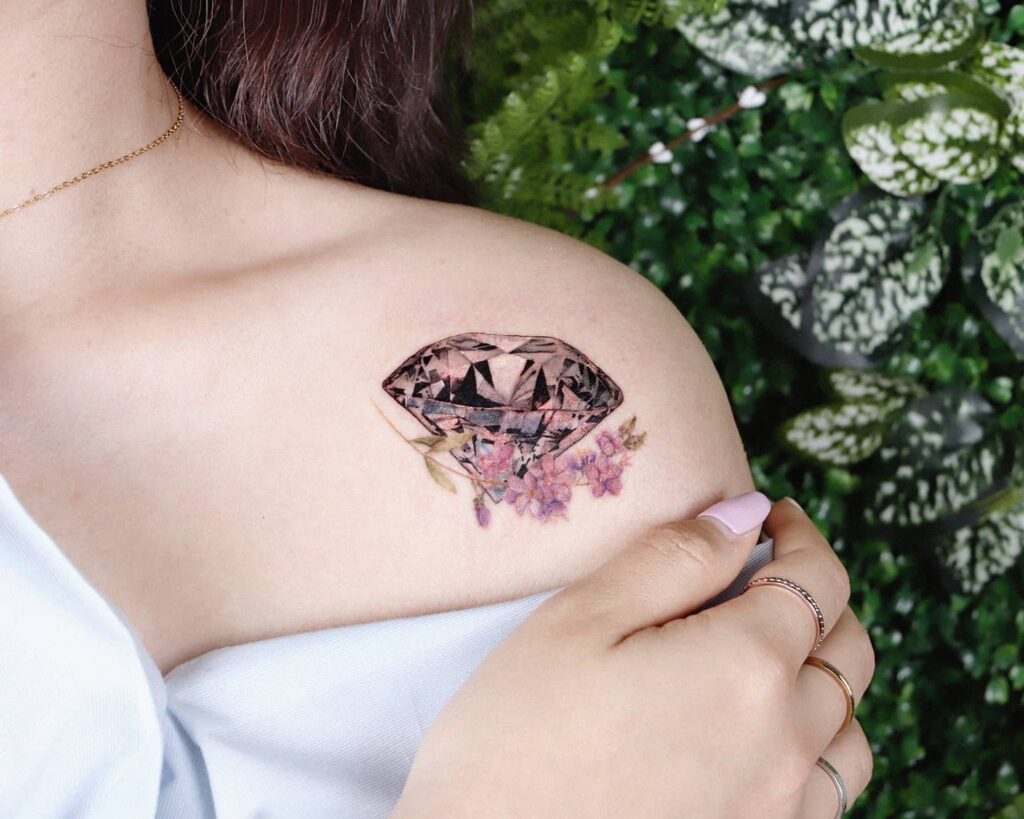 Flowers and diamonds go along really well in tattoo designs for women. For example, this clavicle tattoo exhibits a skillfully crafted diamond alongside a tiny twig of pink flowers to underline the potent feminine essence.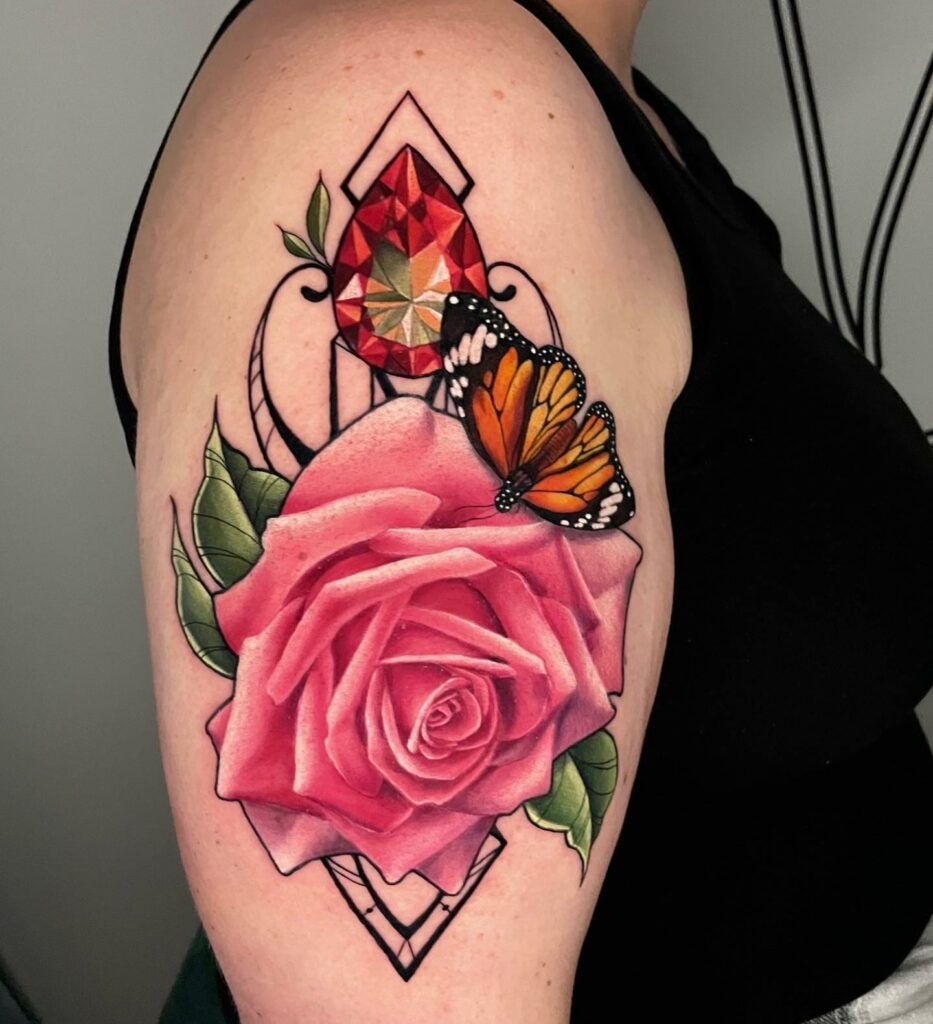 The diamond and rose tattoo trope is a widely popular one when it comes to designing a floral image with diamonds. This design features a classic image with a red teardrop diamond and a pink rose. Pink roses stand for innocence and romance and together with the diamond, serve a promise of unbreakable love and romance using old school tattoo techniques.
Diamond Tattoo Armlet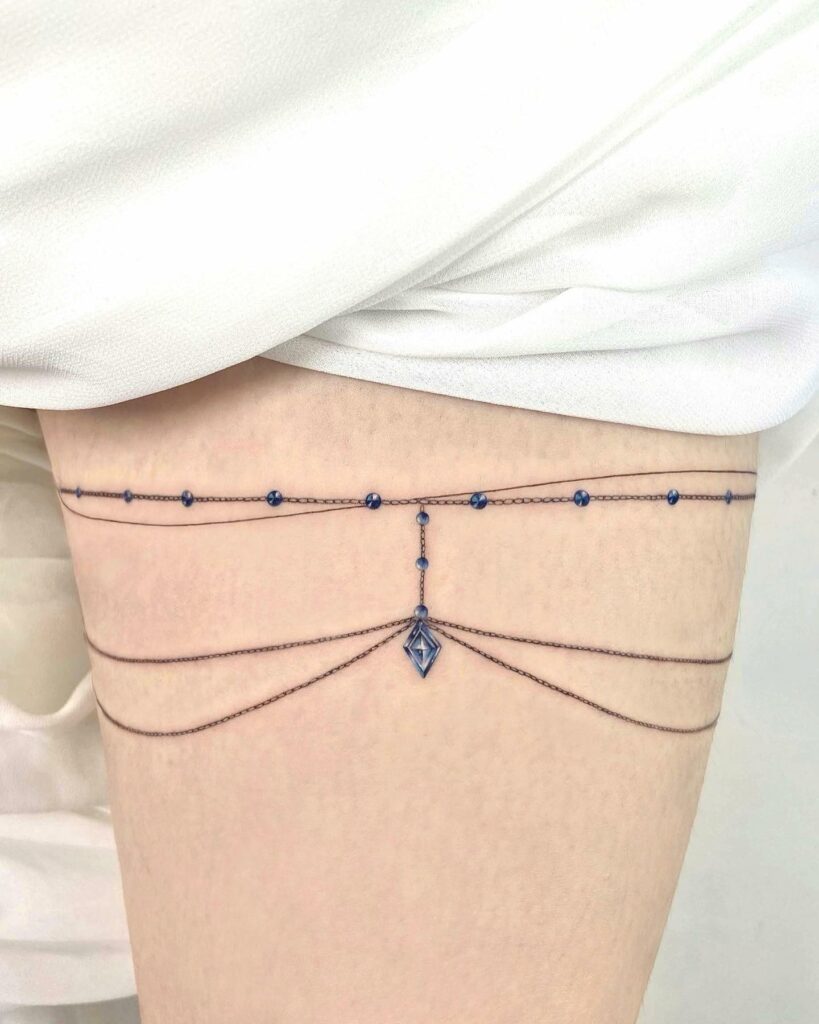 Women can also opt for a dainty diamond chain jewel that can be inked anywhere on the skin. This realistic armlet features a minuscule blue diamond hanging by the chain, making a stunning ornament from a tattoo on the person.
Similarly, this bracelet beautifies the lower portion of the forearm by using a black diamond instead of a colored one. Both these tattoos are a medium of etching luxury on your body simply with differing tools.
Off-Beat Diamond Tattoo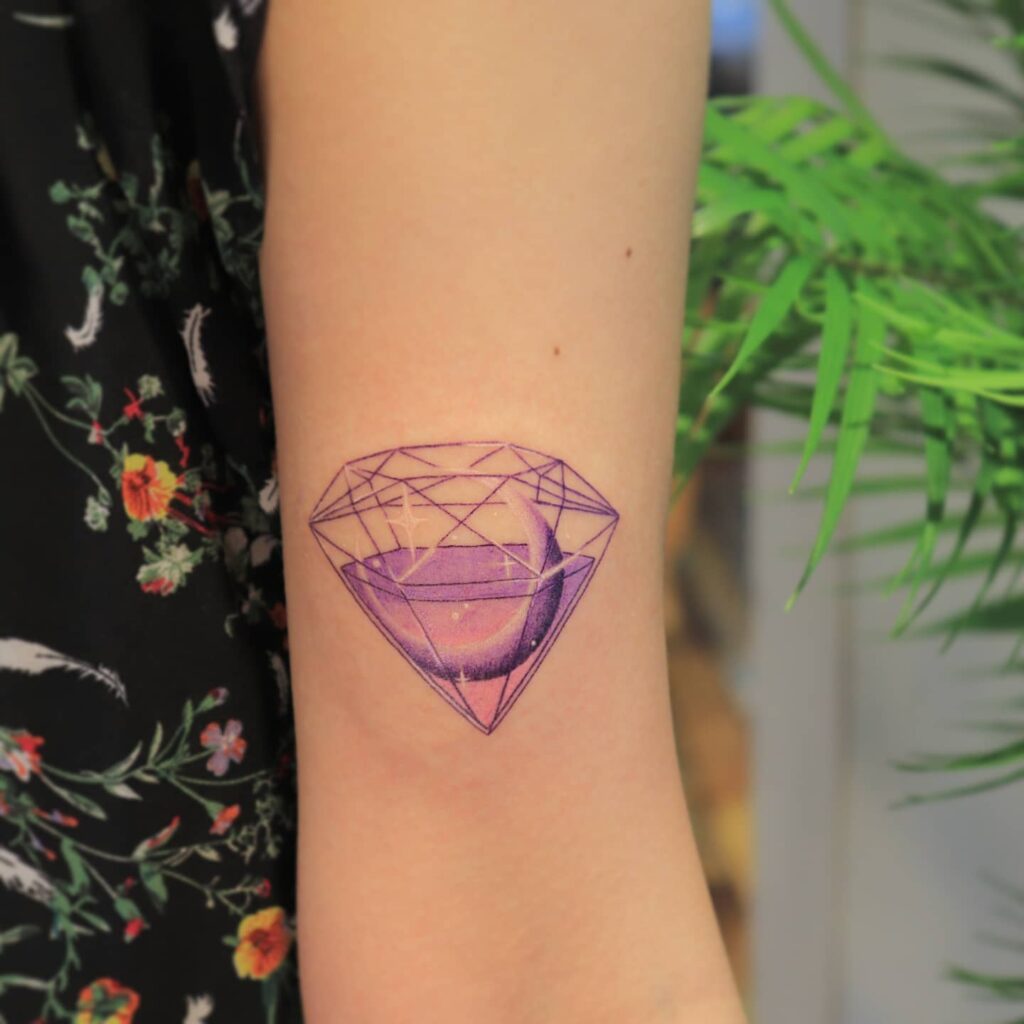 It is not often that you get to see a lilac diamond tattoo half-filled with colour for the crescent moon to surface. Cute, original, and dreamy, this body art shows how you can mix and match in many other ways than just the commonly seen elements like flowers or crowns.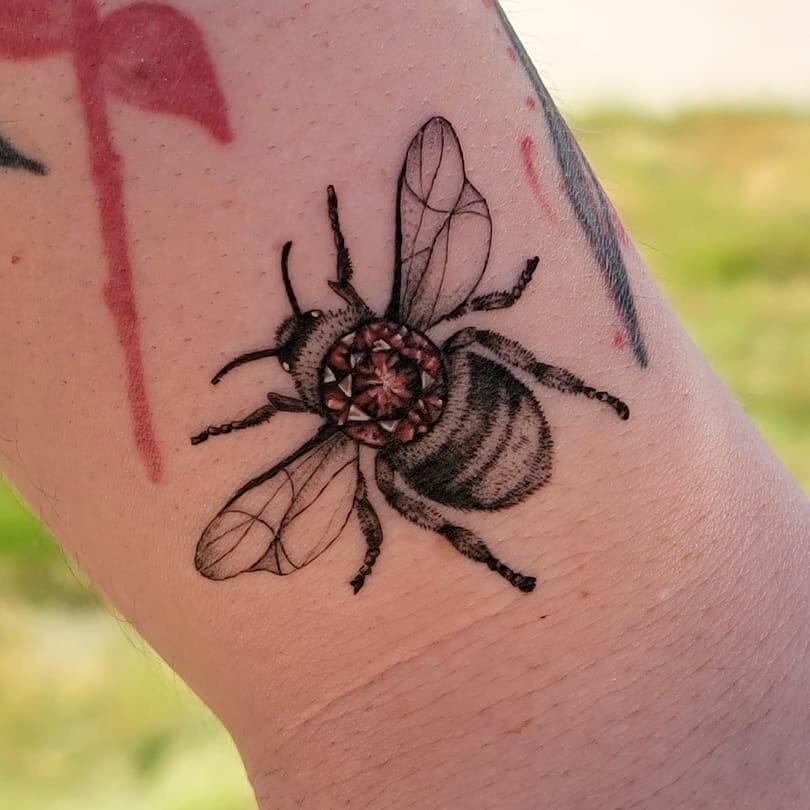 Here the red diamond has become a body part for a small bee in black. The many intricacies of the bee complement the cuts on the diamond, bringing out the best of both entities.
Diamond Tattoos At The Back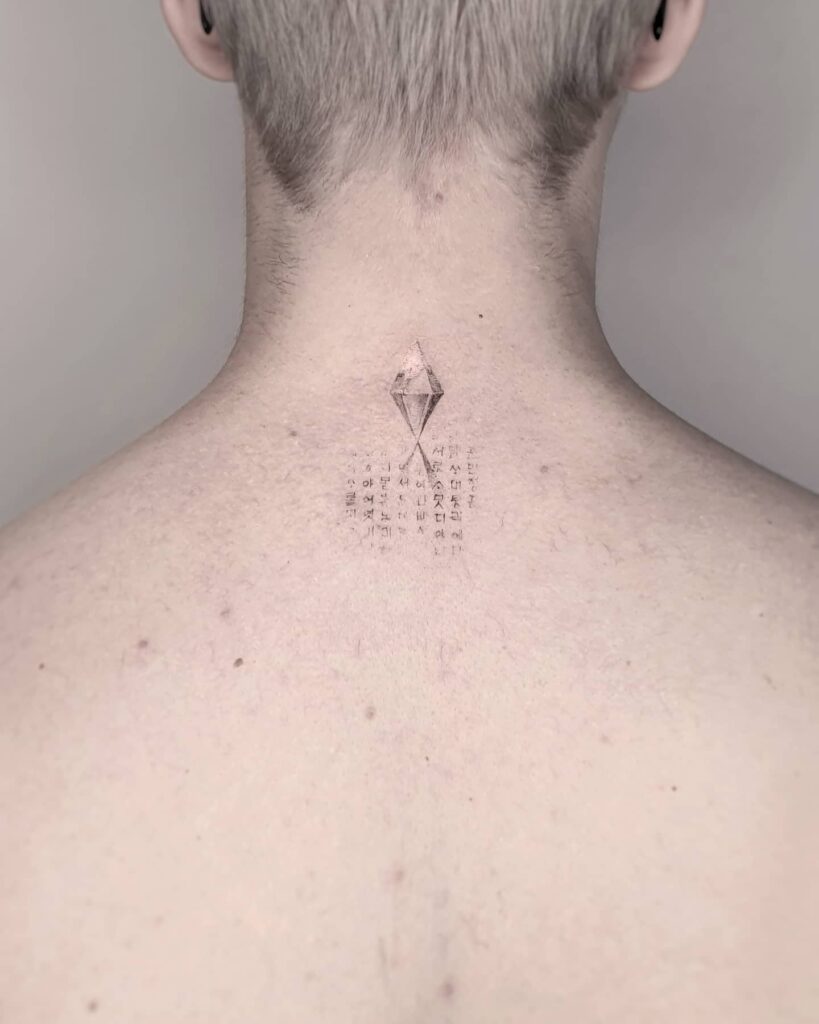 Ink your diamonds at the nape of your neck and watch how they turn heads! This chiselled diamond tattoo is so intricately drawn that it looks almost ethereal. You can use a black diamond instead of this light coloured one to direct more attention to the piece.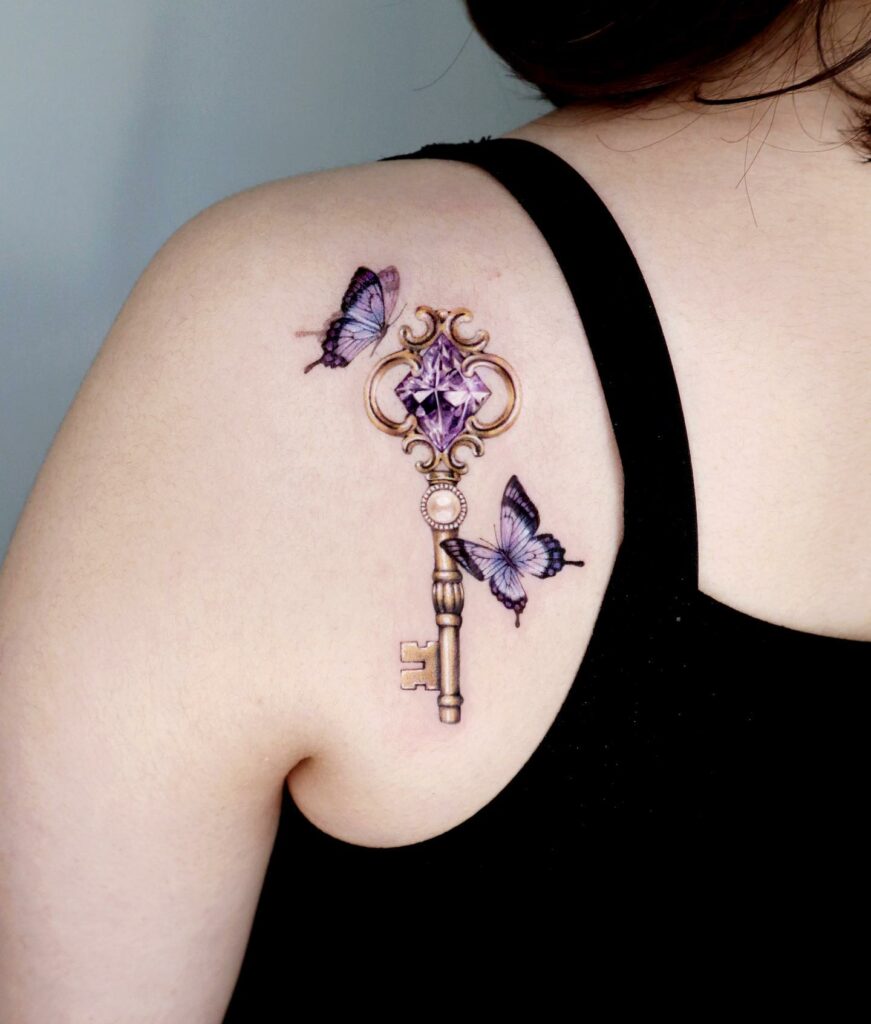 This back tattoo for women showcases a purple diamond at the head of a golden key that is surrounded by purple butterflies. The image of the toned-down butterflies contrasts the glossy key, producing a tattoo design that brilliantly captures the royal essence.
Diamond Tattoos On The Wrist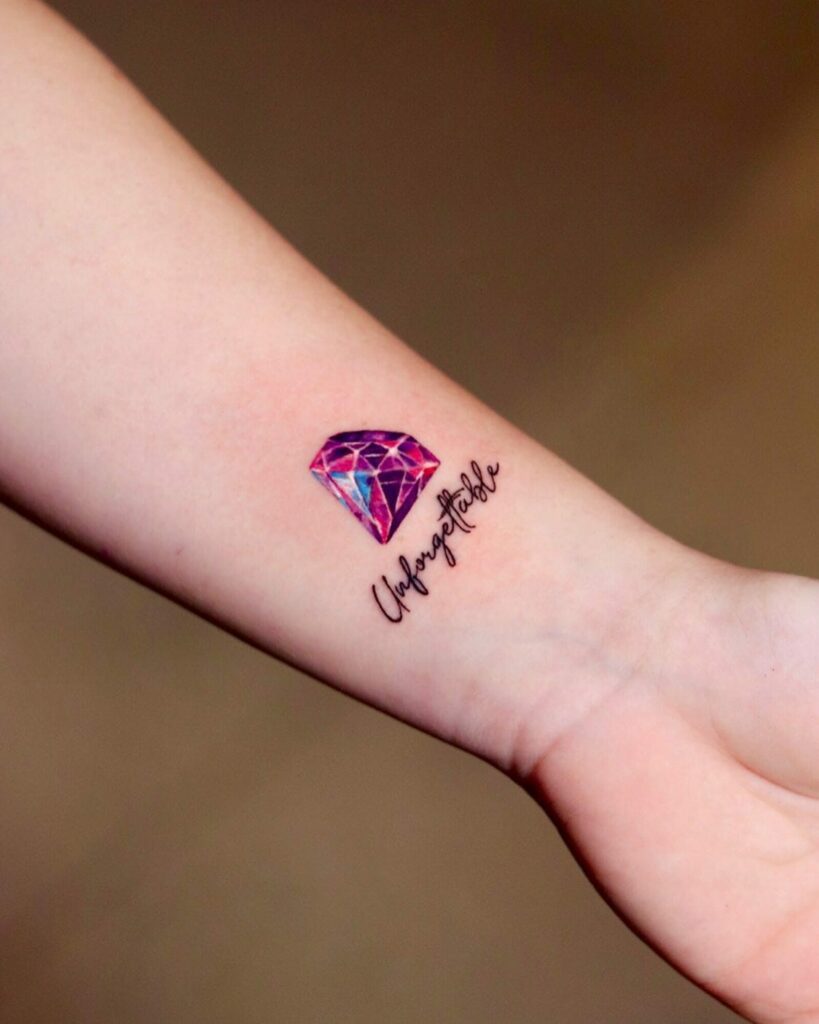 The wrist is undoubtedly one of the best placement sites for any tattoo design. But placing a red diamond tattoo here can only mean taking up the centre stage. The diamond is sharp and exhibits a queer shade of blue and purple mixed together that further aggravates its aesthetics.
The lettering is in a casual font which is suggestive of the main theme, but it is also sidelined by the glow of the diamond. You can add some special dates or a phrase underneath the diamond to clarify the purpose of your tattoo.
Diamond Tattoos For Upper Arm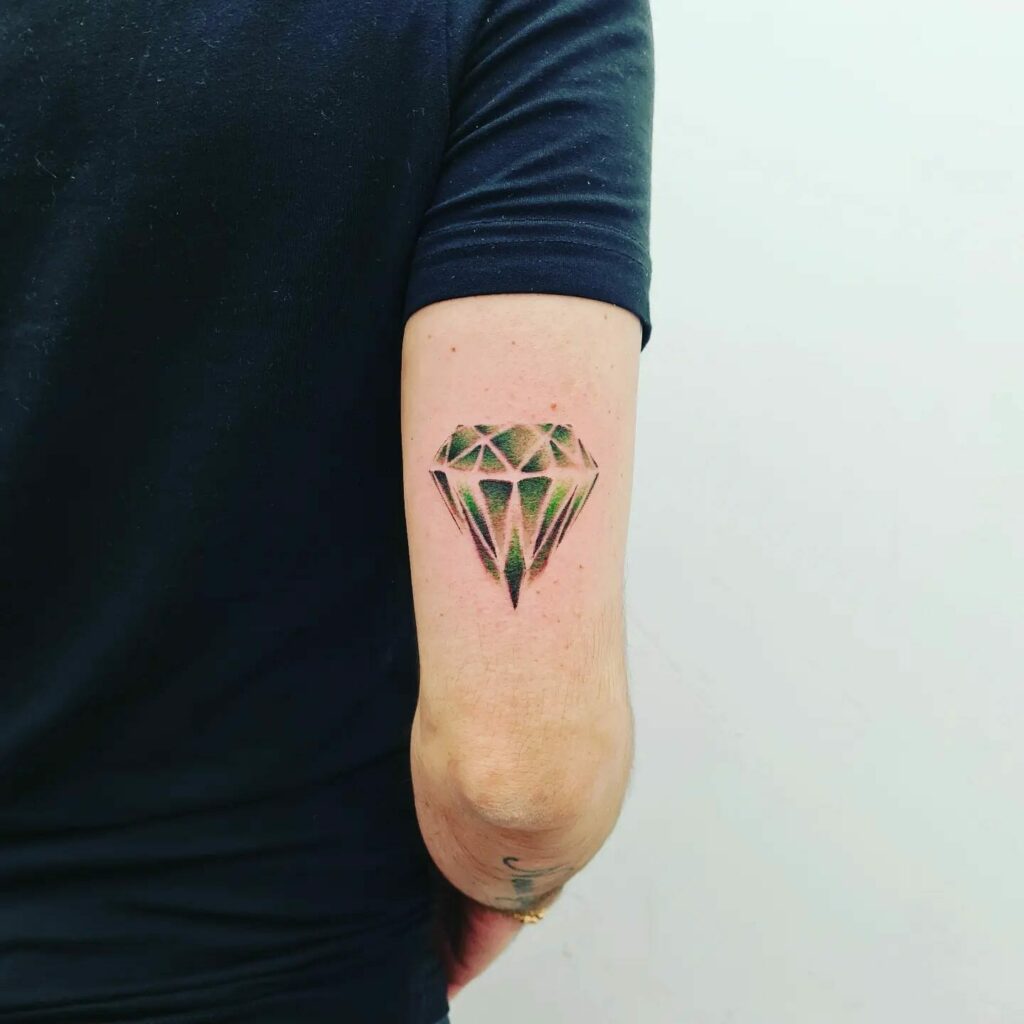 Men, if you feel lost with so many feminine designs, this green diamond tattoo could just change your mind for the better. Green symbolises jealousy or envy, but when used in a diamond tattoo it highlights overcoming these negative emotions. This tattoo is also a bit different from the ones stated above for the artist has demarcated the cuts on the stone with the absence of colour than plain outlines.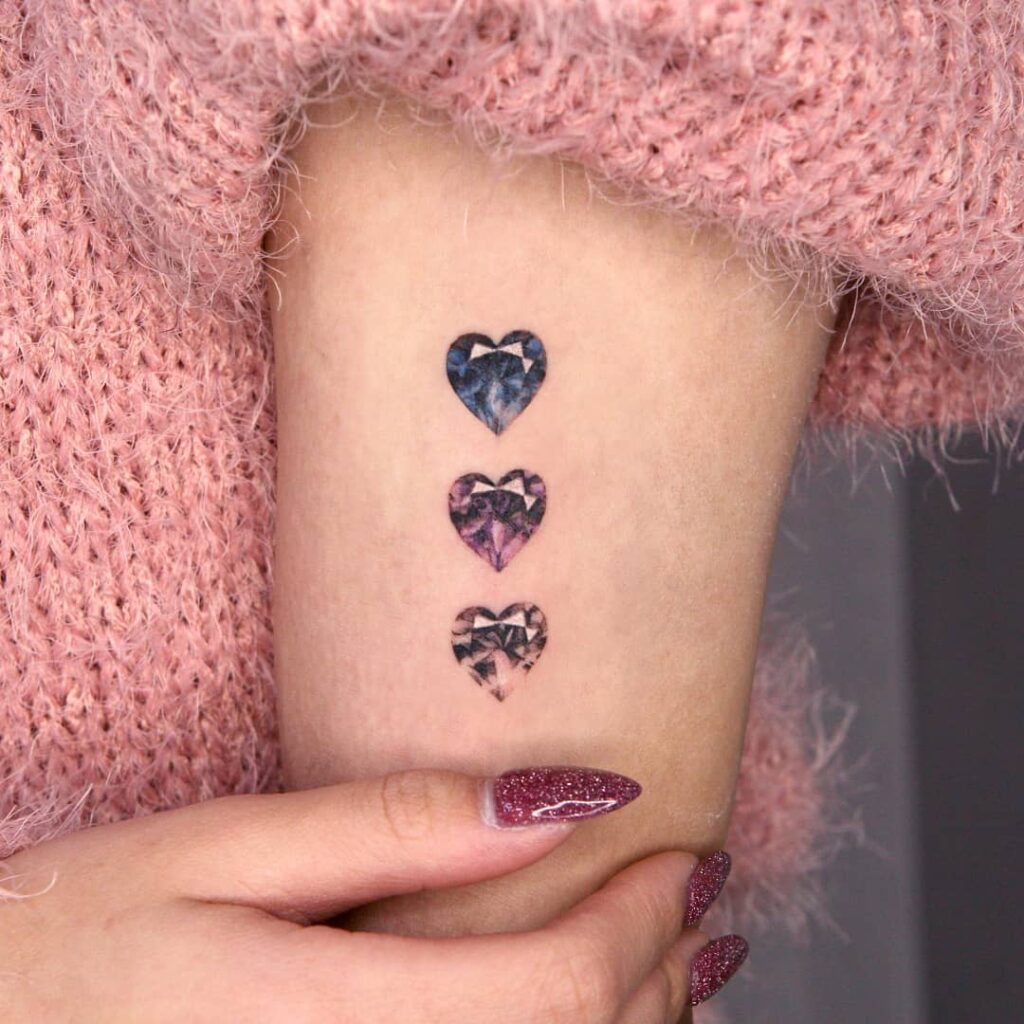 Diamond tattoos in the shape of hearts could be an intended romantic hint or a simple attempt to ornament the body. You can place this on the upper arm, forearm, and even at the sides of the wrist for a good chance of exposure.
Tattoo artists are forever on the quest of bringing you novel ways to review an age-old tattoo symbol. The diamond tattoo motif is an immensely popular interest within the tattoo community. Thus, it is not a surprise when you see new designs emerging every day. Whether diamonds are your birthstones or an object of immense fascination, a diamond tattoo is never a bad idea to get inked with. Now that you have the knowledge of how to experiment with the symbol, start brainstorming for different other ways that you can implement it on your skin.
feature image from Pinterest – Want your tattoo to look brighter? Try "Tattoo Balm"