The timeless bond between man and dog – a tale as old as time, etched deeply into the annals of human history, and increasingly, onto our very skin. With their origins tracing back to a time when humans were mere hunter-gatherers, dogs were the first animals to cozy up to us. Their kinship with the wild yet noble wolf, and our shared journey of domestication that predates the advent of agriculture, has forged an alliance that's truly the stuff of legends.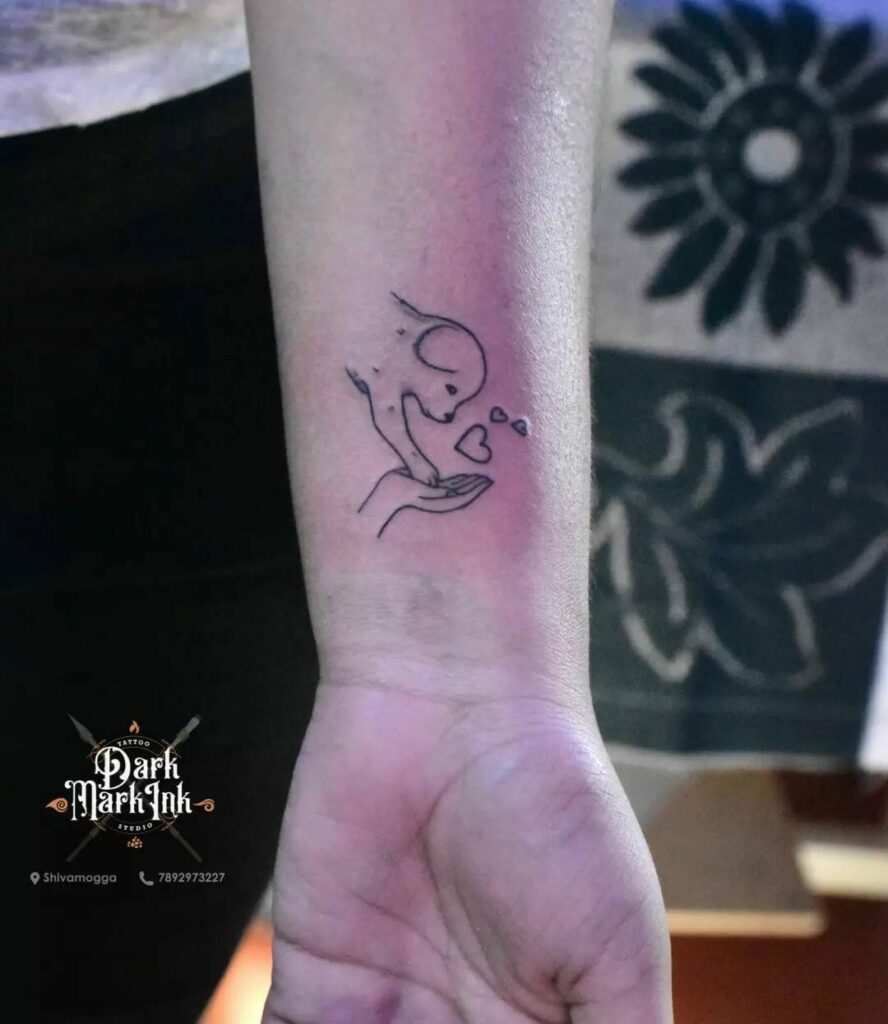 Over millennia, we've selectively bred our four-legged companions to hone their diverse attributes – shapes, sizes, colors, and characteristics as varied as the people who cherish them. From faithful companions to skilled hunters, from the watchful eyes of law enforcement to sturdy load bearers – dogs have proven their mettle in myriad ways. Boasting an intelligence that's a marvel to behold and a lifespan averaging between 10 to 13 years, it's no wonder that dogs hold a special place in our hearts.
And now, our affection for these loyal companions has found a fresh avenue of expression – the art of tattooing. A dog outline tattoo is no mere whimsical body art; it's a declaration of love, a tribute to a companion who leaves paw prints on your heart. From the ardent dog lover to those seeking a symbol of courage, loyalty, or love, dog tattoos have emerged as a popular motif, celebrating our bond with these incredible creatures, one ink stroke at a time.
Simple Dog Outline Tattoo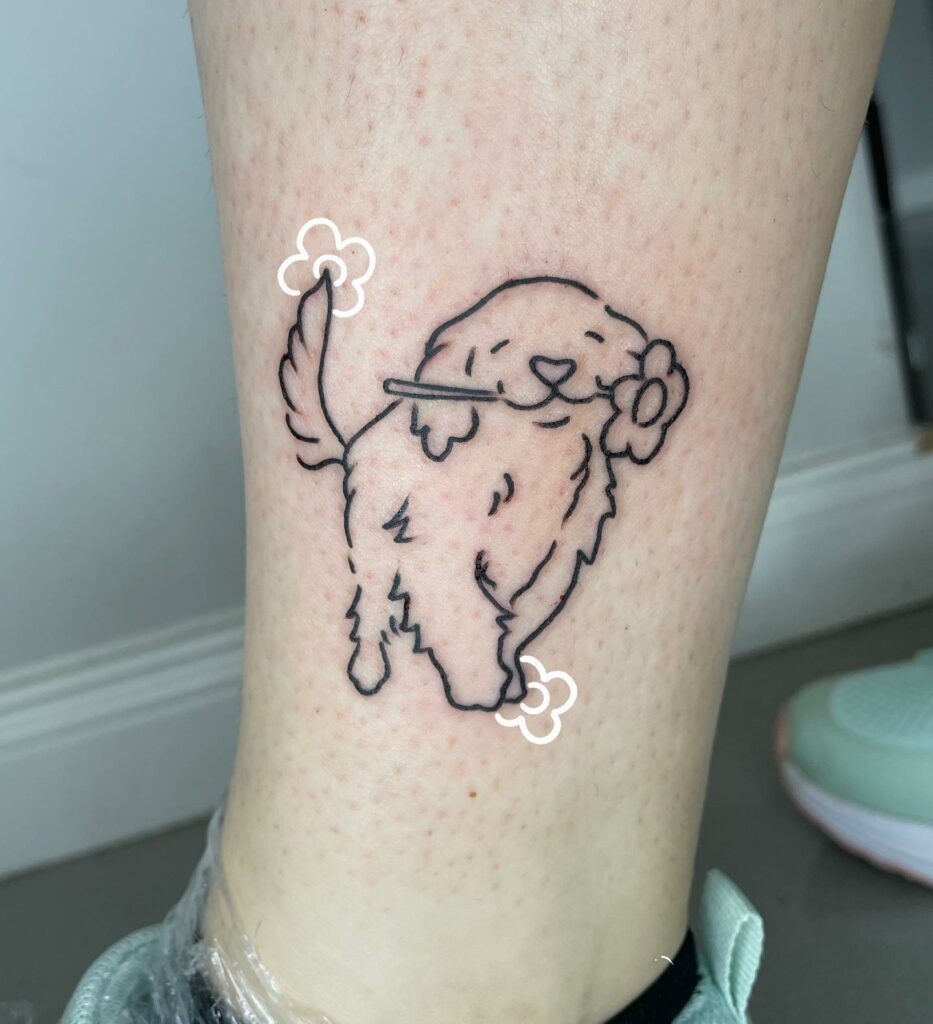 The affection between man and man's best friend finds a tasteful canvas in the subtle elegance of a simple dog outline tattoo. Rendered primarily in black ink, these minimalist masterpieces capture the essence of a beloved pet with an economy of lines and space. The design has a unisex appeal, gracing the skin of both men and women, and the versatility of placement is its other charm – from the forearm to the shoulder, the bicep, ankle, or back. Size variations span from petite to medium, with motivations as varied as the love for a pet, a tribute to a furry friend who's crossed the rainbow bridge, or to signify the bond that the person shares with their pet. This modest design is also a recommended choice for beginners due to its relatively lower pain factor.
Finger Dog Outline Tattoo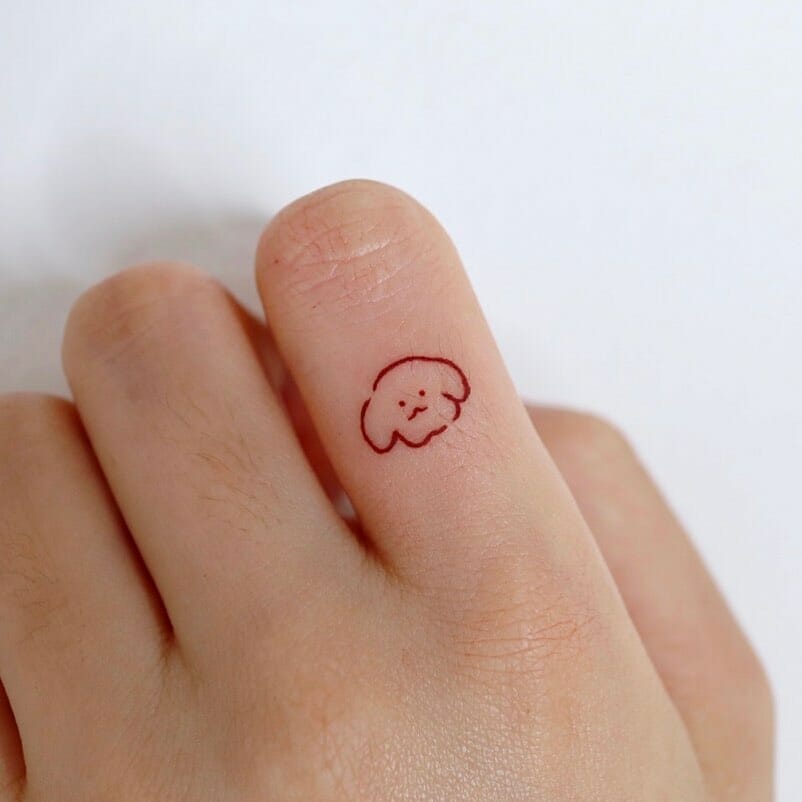 Fingers, with their heightened visibility, serve as a compelling canvas for a dog outline tattoo. The design's resemblance to a ring implies a vow, a bond, a connection that's as deep as it is enduring. It is not merely a declaration of one's relationship with their pet, but also an emblem of their taste in tattoo design. However, due to the thin layer of skin and the nerve endings, finger tattoos can be more painful than others – a small price to pay for a constant reminder of your four-legged friend.
Couple Dog Outline Tattoo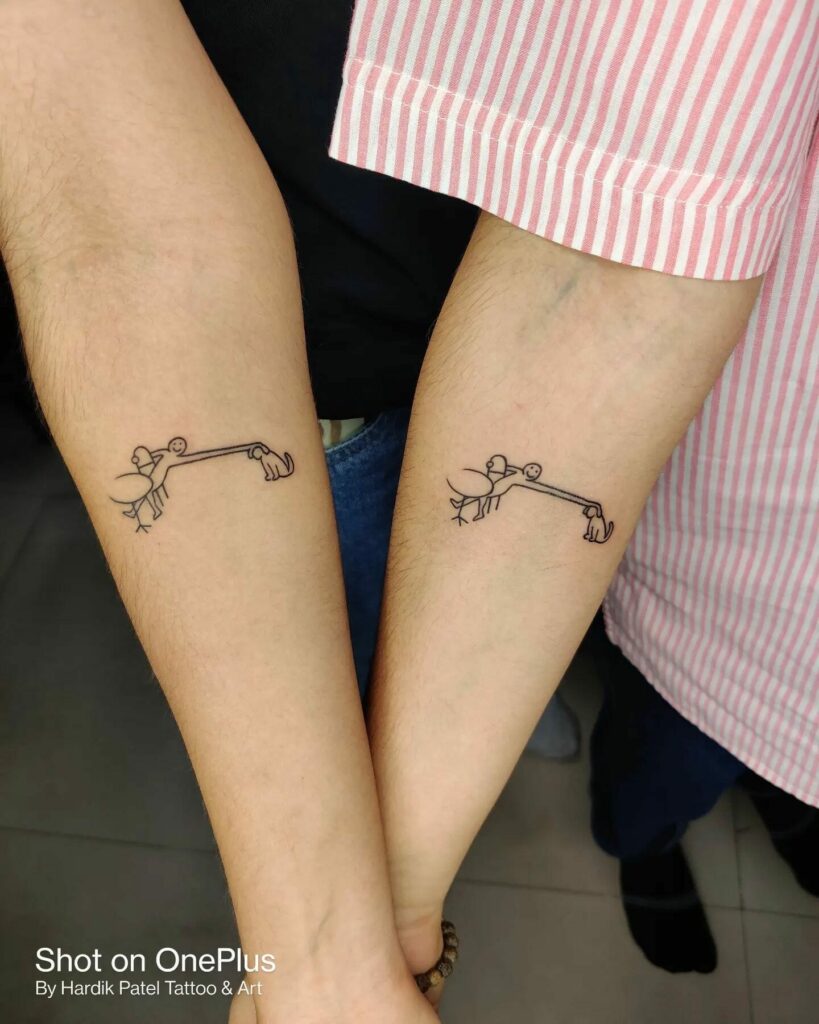 For many, pets hold a familial status, akin to children. A significant number of couples express this nurturing love by getting matching dog outline tattoos, a visible testament of their shared affection. Primarily in black ink, these tattoos are usually placed in visible areas such as the forearm, wrist, bicep, calves, or fingers. These paired tattoos also mirror the strong bond that the couple shares, unified by their shared love for their furry child.
Geometrical Outline Dog Tattoo
A contemporary trend that's making waves in the tattoo industry is the application of geometric patterns. The dog outline, combined with geometric elements, encapsulates symbolic attributes such as harmony, friendship, loyalty, protection, order, and stability. These designs, favored by both men and women, require ample space for the geometric patterns to fully bloom, often finding homes on larger skin real estates like the shin bone, thighs, calves, forearm, bicep, and back.
Dog Outline Ankle Tattoo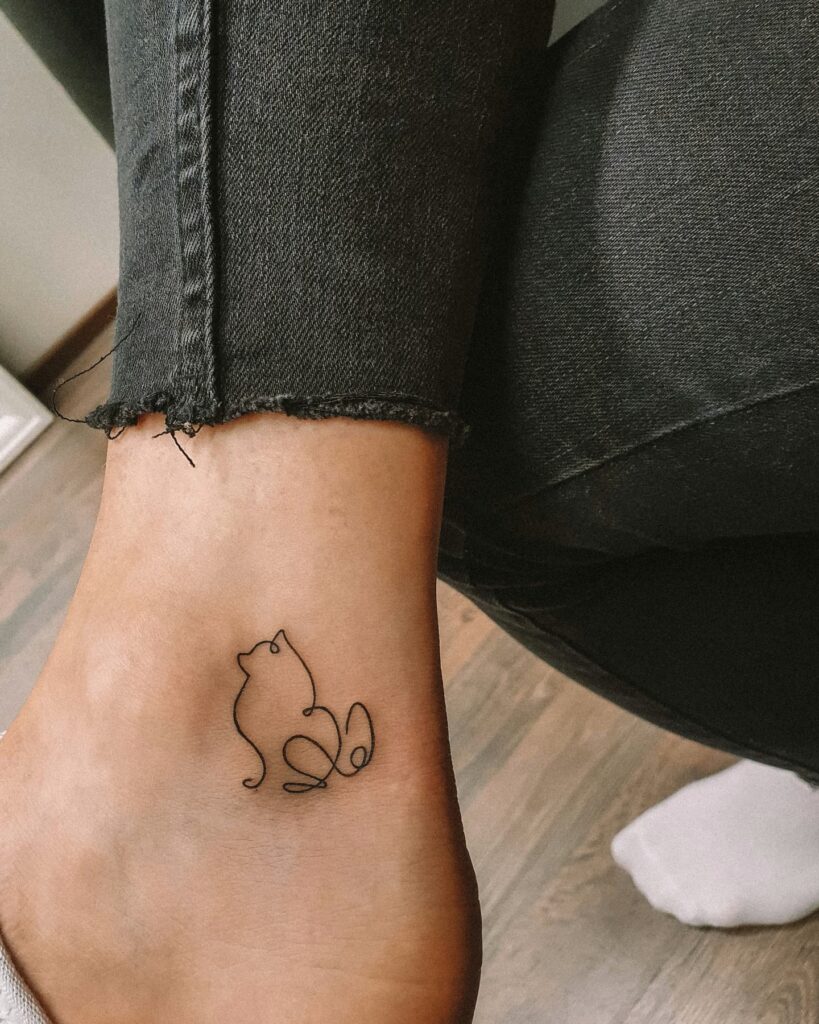 The ankle has emerged as a popular site for dog outline tattoos, especially favored by those who prefer to keep their personal sentiments close yet unobtrusively visible. Though recommended caution for beginners, as the relative lack of muscle and tissue might escalate the pain during the process.
Dog And Flower Outline Tattoo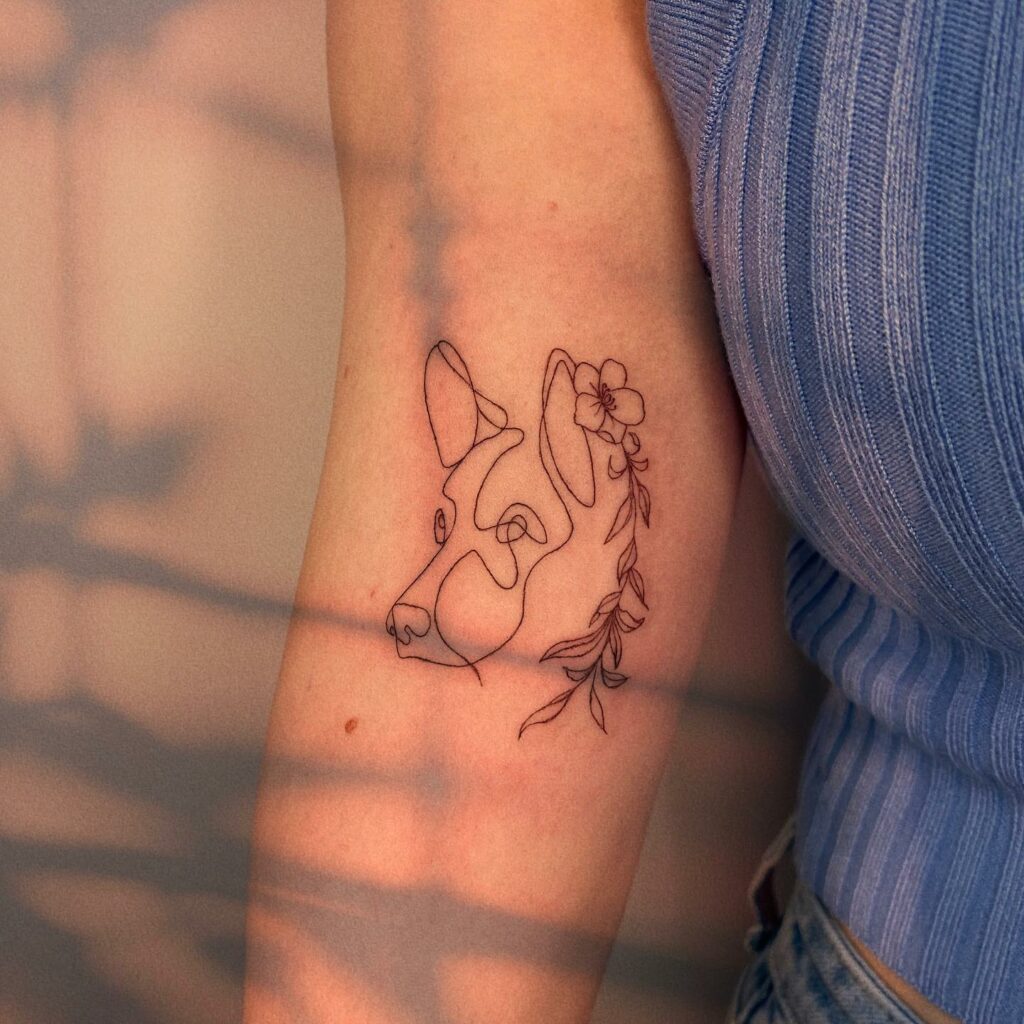 The combination of flowers and dogs as tattoo motifs paints a captivating tapestry of grace and strength. Commonly etched using black ink on the forearm, wrist, ankle, bicep, or back, this design pays homage to the dual nature of both dogs and flowers – their gentleness and their potential ferocity. This motif is particularly popular among women.
Two Dogs Outline Tattoo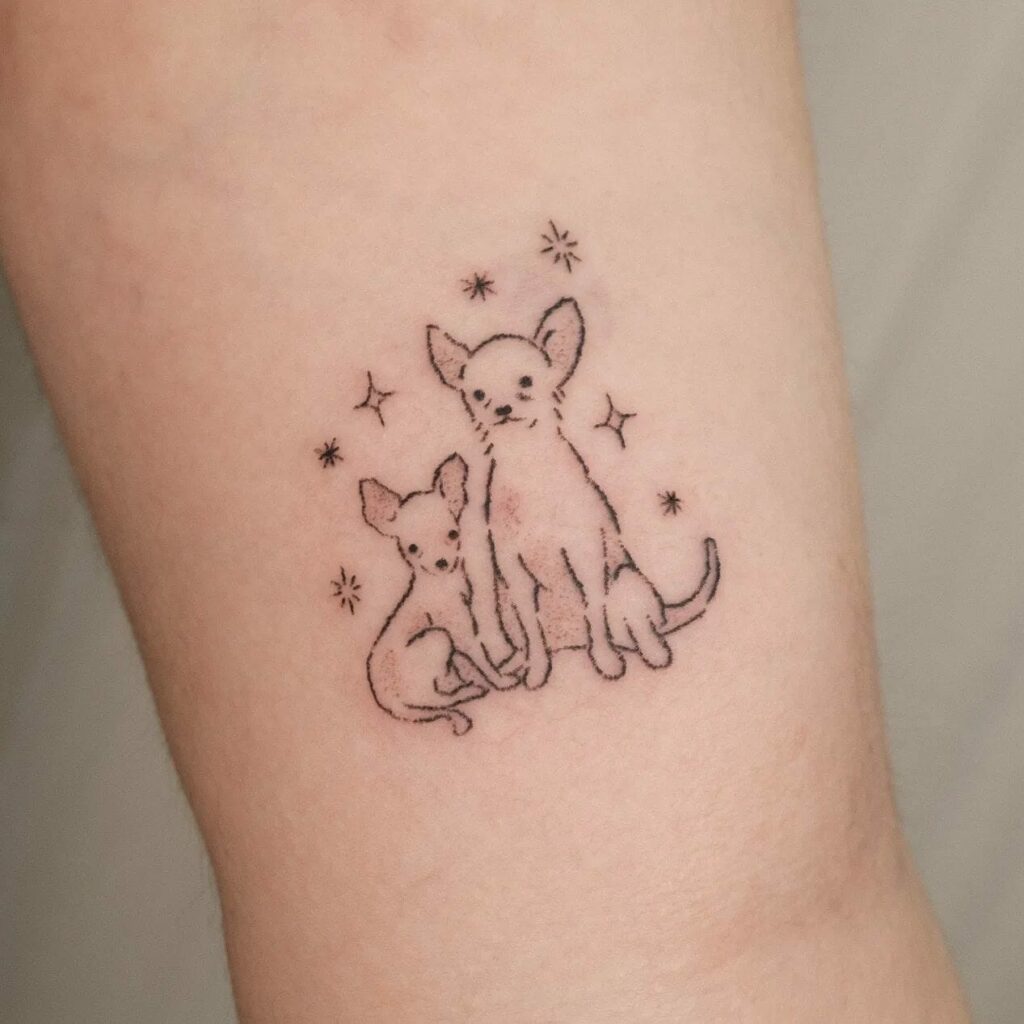 For those who have more than one furry companion, a two dogs outline tattoo immortalizes their relationship. This design primarily finds its place on the forearm, chest, back, or upper arm, with black ink being the popular choice.
Outline Minimalist Dog Tattoo
Drawing inspiration from the minimalism art movement of the 1960s, an outline minimalist dog tattoo uses a reduced color palette, minimal lines, and embraces negative spaces. These designs are perfect for those seeking a subtle tribute to their pet that can be easily concealed if required.
Dog Ear Outline Tattoo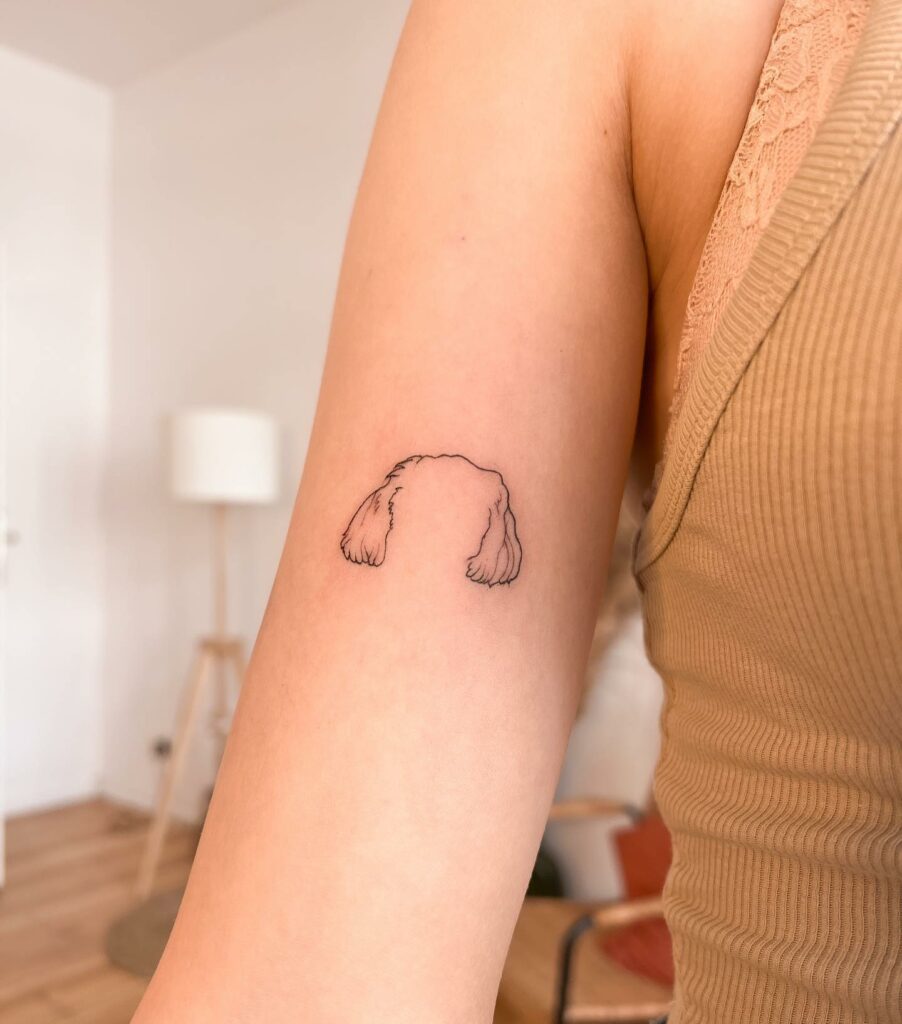 Dog ear tattoos celebrate the uniqueness of your canine companion. It also serves as a powerful symbol of identity and respect for rescued pets, who often carry an identification tattoo on their ear.
Monochromatic Dog Outline Tattoo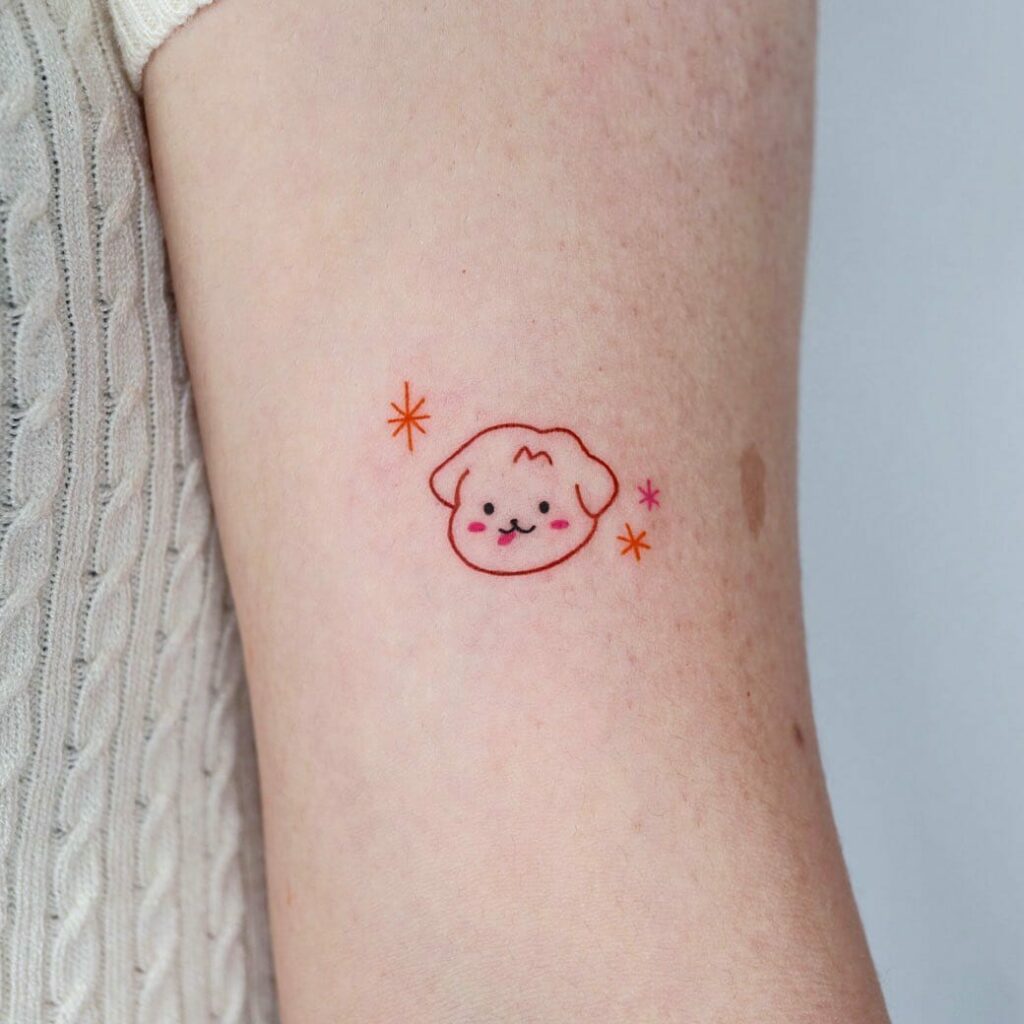 Monochromatic dog tattoos demonstrate that sometimes, one color is all it takes to create a stunning design. These designs – a tribute to curiosity, commitment, adventure, trust, and friendship – can be further personalized with elements like toys or bones.
Conclusion
In the vibrant realm of body art, the humble dog outline tattoo stands as a testament to our enduring bond with our four-legged companions. From minimalist silhouettes to intricate geometric designs, these tattoos find homes on diverse skin terrains – the forearm, ankle, wrist, or even as a permanent ring on a finger. Placement, of course, is largely a matter of personal preference, dictated by factors like visibility, pain tolerance, and individual aesthetic.
As with any body art, the cost can vary depending on the complexity of the design, size, and the expertise of the tattoo artist. A small, simple design might start from as low as $50-$100, but intricate or larger designs can easily run into hundreds of dollars.
While tattoos can be a profound way to express one's love for their canine comrade, it's crucial to approach the process mindfully. Some potential risks include allergic reactions to ink, skin infections, or complications with healing. Therefore, it's recommended to thoroughly research reputable tattoo artists, understand aftercare instructions, and always prioritize your health and safety.
Remember, the joy of a tattoo lies not just in the beauty of the design, but in the memories it encapsulates, the stories it tells, and the love for your pet it perpetuates – a constant reminder of your faithful friend, forever etched onto your skin.
feature image from Pinterest
Last reviewed and updated on October 12, 2023