Are you an ardent fan of Harry Potter? Here are some fantastic Draco Malfoy tattoo ideas that will pique your interest for your next tattoo inspiration!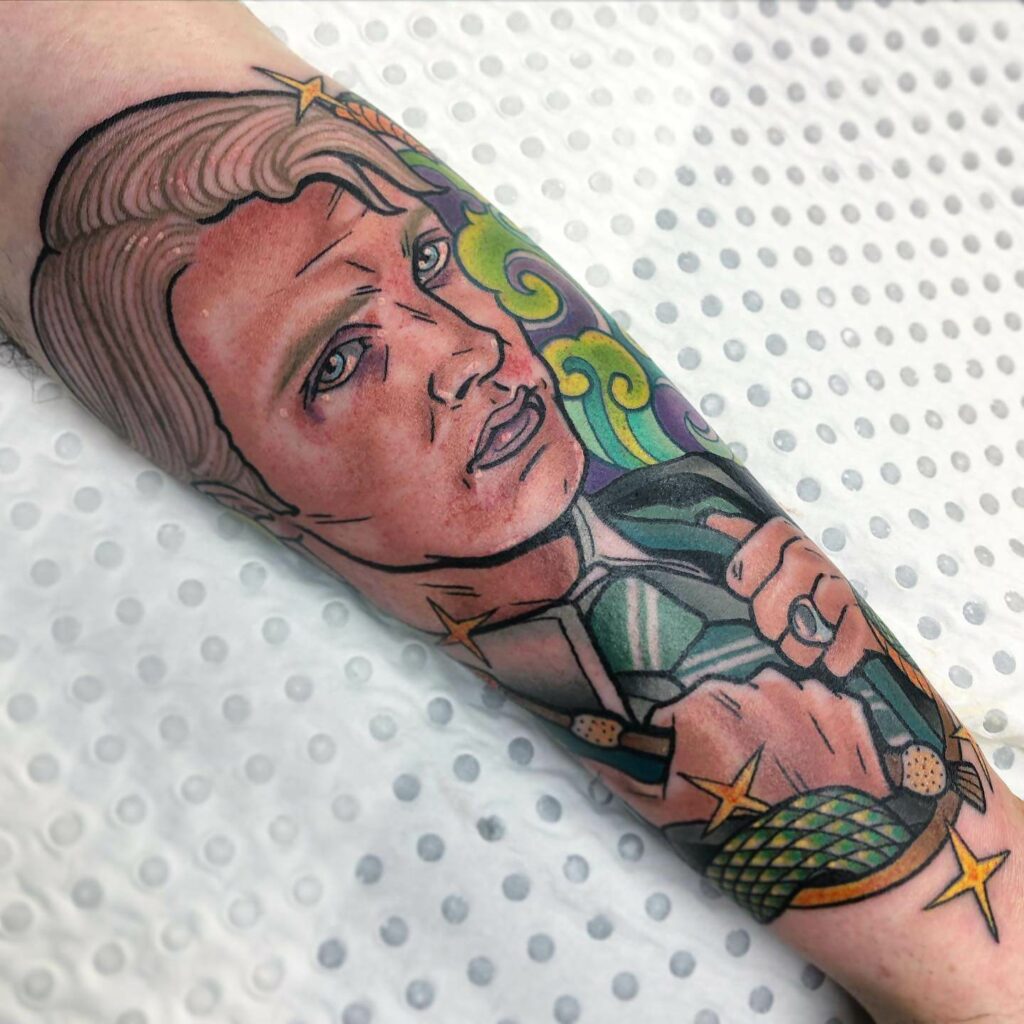 Draco Malfoy or Draco Lucius Malfoy is a fictional character created by J.K. Rowling.
Draco Malfoy is a famous character in the Harry Potterverse. Draco Malfoy belongs to a pureblood house of Malfoy and is placed in the House Slytherin; where most of the Dark wizards originate from.
Draco Malfoy has often been characterized as a cowardly bully who always fights for good and bad among himself. He is accompanied by Vincent Crabbe and Gregory Goyle. They blindly follow Draco Malfoy's orders and work as their henchmen. Draco is often considered to be the archenemy of Harry Potter, Hermione Granger, and Ron Weasley- the famous trio created by JK Rowling. Draco is often known to be boastful among his friends because of his pure-blood status and always tries to compete with Harry Potter.
Draco Malfoy has often been characterized as a character stemming from bigotry, snobbishness and always looking down upon people. Draco is always judging people based on their blood lineage other than how much they have achieved in life. He has called Hermione Granger, "mudblood" multiple times; which is a derogatory term for people who are muggle-borns. However, the portrayal made by Tom Felton as Draco Malfoy has won millions of acclaim, and is now a beloved character in Potterverse.
The term Malfoy was inspired by the French term, "mai foi" which means "bad faith." Several fan fictions talk about the relationship of Hermione Granger and Draco Malfoy stirring, despite their blood lineage which juices up your imagination. Keep reading to know about the love of the fans for Draco Malfoy and how it is an inspiring tattoo for all.
Anime-Inspired Draco Malfoy Tattoos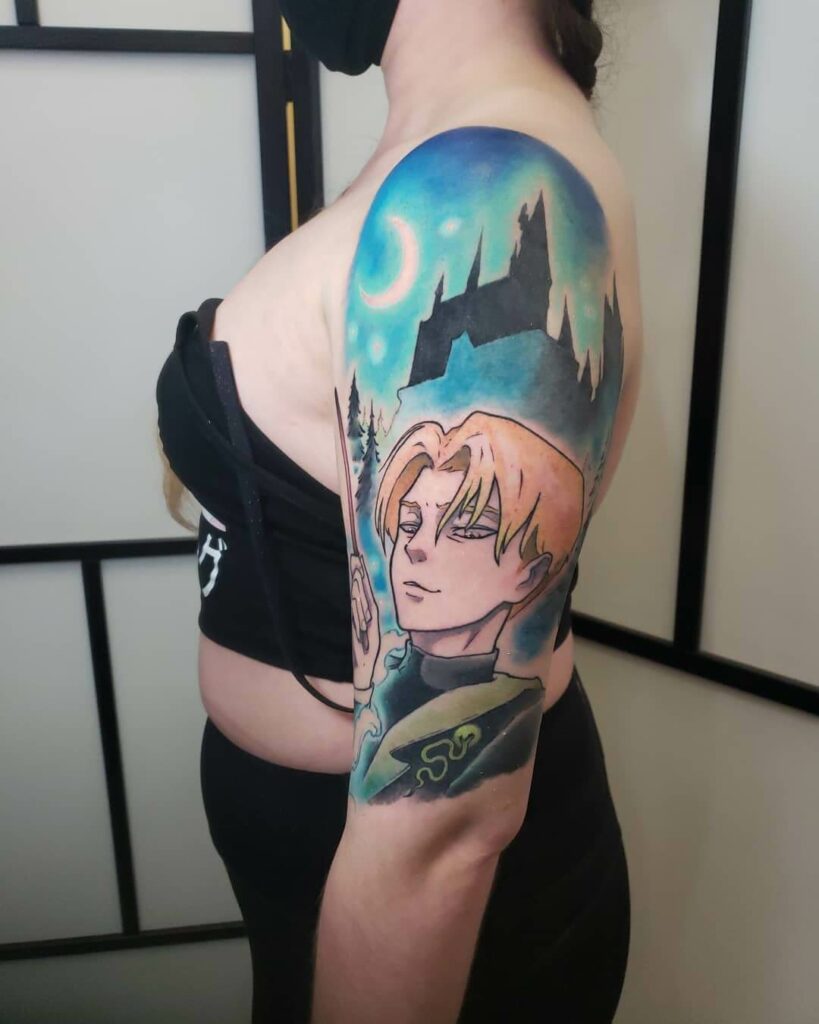 If you are an anime fan, along with your undying love for Harry Potter, (especially Draco Malfoy) this tattoo is an amazing choice for you. The tattoo is made with inspiration from anime animations which makes Draco look handsome.
Above, you can see the full image of Hogwarts and it looks amazing. The night sky of Hogwarts looks really beautiful. His hair of Draco looks absolutely on point and is fantastic to look at. The tattoo looks amazing. The silhouette effect of Hogwarts perks up the look. The tattoo is made on the upper arm, it will look amazing on any body art and this is going to perk up your look.
Draco Malfoy Dark Mark Tattoo Ideas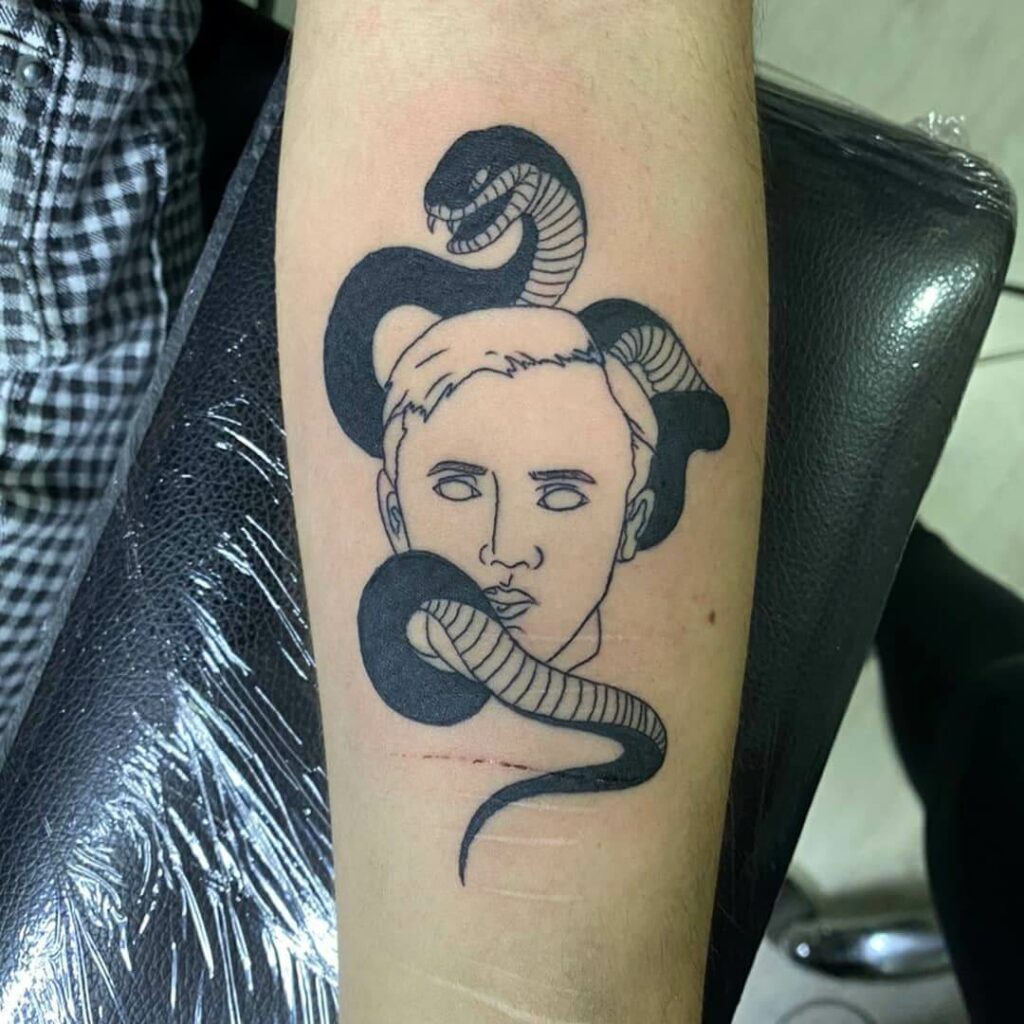 We did not see much character development of Draco Malfoy until the 6th movie, The Half-Blood Prince. Draco was always known to be the snobbish bully who tries to compete with Harry and wants to have his place. However, in this movie, it could be seen that Draco was bestowed by Voldemort with a very important task.
A task to finish off Dumbledore and finally make it to be a death eater. This tattoo is made in the pattern of Medusa and snakes tattoo where Draco seems to be possessed by the dark powers of Lord Voldemort. The tattoo is simply just made with bold black ink and the design of the snake looks phenomenal. If you want a quirky tattoo making a medley of different fandoms, this is a perfect tattoo choice for you.
Dark Mark And Deathly Hallows Tattoo Ideas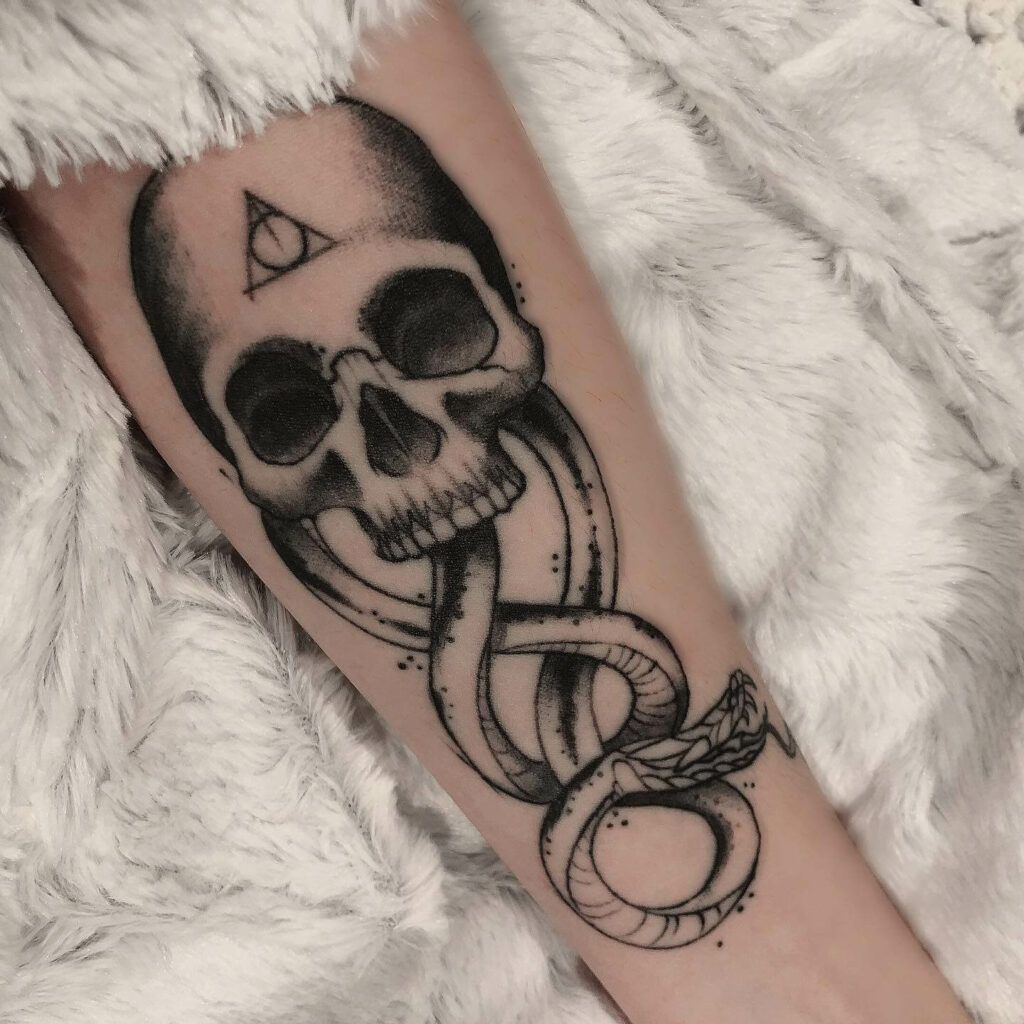 The Dark Mark is generally associated with death eaters. The death eaters or the followers of Lord Voldemort are marked with a particular tattoo to show their allegiance. The tattoo consists of a skull and a snake which is the main symbol of Lord Voldemort.
It is a very symbolic tattoo depending upon his allegiance. His grandfather used to be the founder of the Slytherin house, Salazar Slytherin, which commemorates the belonging of the snake. The skull does give a Gothic and deadly look which is a big symbol of Voldemort. The tattoo is the same as Draco had on his arms. This however looks much more deathy and Gothic. If you are a huge nerdy fan of Gothic styles, this tattoo is a fine example for you.
Draco Malfoy Wand And Slytherin Color Tattoos
As it is known, the wand of Hawthorne with swishy flexibility and unicorn hair core is the wand of Draco Malfoy. The wand later became Harry's when he won it away from Draco in Malfoy manor. This wand is made in the same form as Draco Malfoy's wand.
The dot structures have been made as per the Slytherin sigil, the house Draco belonged to. The dot work of green and black with silver looks amazing and perks up the look and can upgrade your style statement. You can customize the wand as per your allegiance (given on the Wizarding World website) and make it one of a kind.
Draco Malfoy Voldemort Tattoos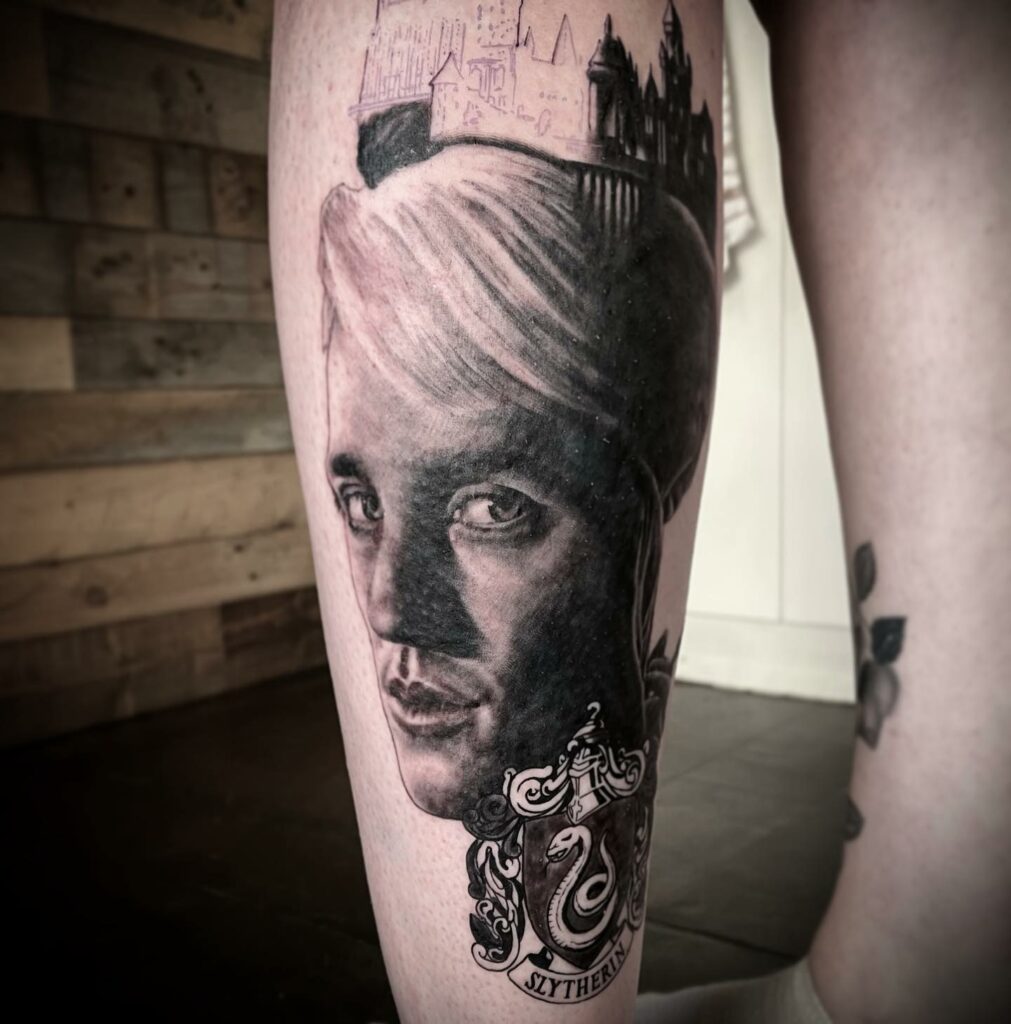 This tattoo is highly symbolic and beautiful. The tattoo looks stunning. The tattoo consists of one side of Draco Malfoy's face, and on the other side, is the face of The Dark Lord. In the background, Hogwarts can be seen. Below, the Slytherin sigil can be seen.
The tattoo is symbolic of the fact that Draco and Lord Voldemort are two sides of Slytherin. It is not always necessary that a person belonging to the Slytherin house will turn out to be evil. The tattoo is absolutely beautiful and looks nice on the leg of the wearer. It has a huge symbolism and can vogue your look.
Draco Malfoy Daddy Tattoos
Draco Malfoy as per popular culture is sometimes referred to as "Daddy" because of his smoldering good looks. The tattoo is made near the thigh of the wearer. This symbolizes that the wearer admires the tattoo and has a strong sensual connection with Draco Malfoy or Tom Felton in particular.
The tattoo is really lovely and flatters the original look of Tom Felton beautifully. The "Daddy" inscription below is class apart. It brings out the beauty of the tattoo and makes it look amazing. The tattoo is one of a kind and looks quirky.
Watercolor Slytherin Sigil With Dark Mark Harry potter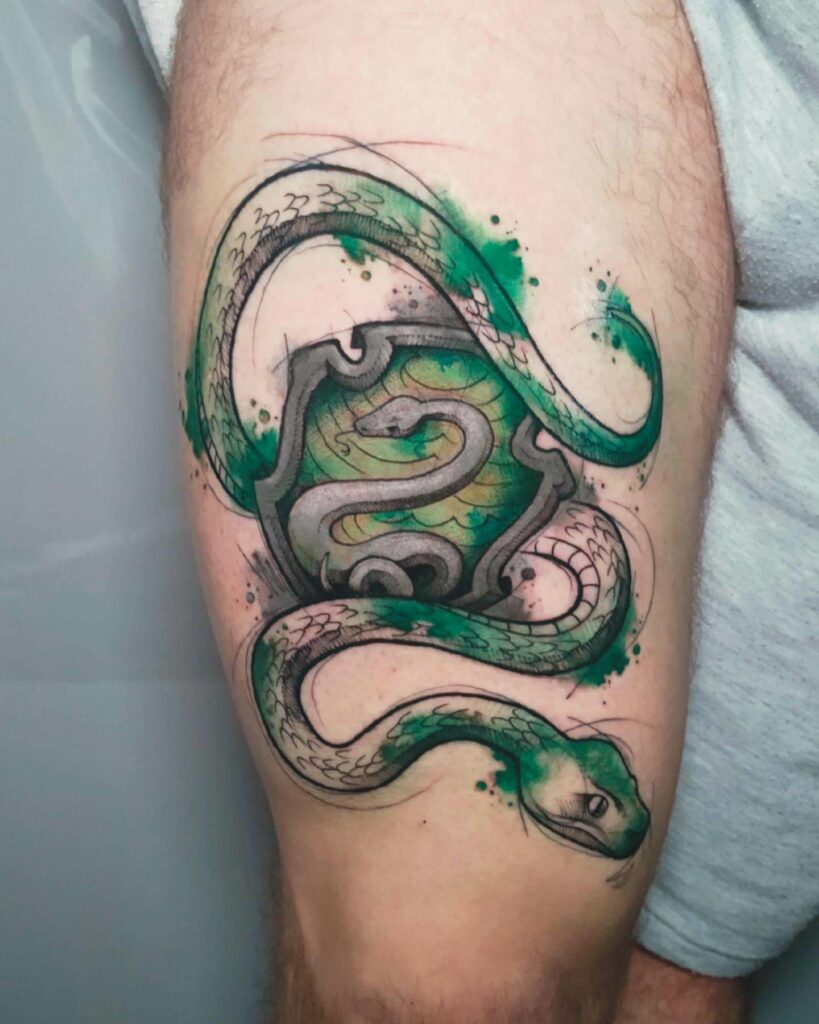 Did your Pottermore sort you to Slytherin? Do you want to flaunt your style now where the sorting hat puts you in? Then look no further. This tattoo will match your preference. The tattoo is a fine example of a Slytherin sigil in the mix with a dark mark. The watercolor effect on the tattoo looks gorgeous and is amazingly inspired by the arts on Tumblr.
The snake below the sigil looks amazing with the amazing dark green color palette. It looks amazing for someone belonging to the Slytherin house. The usage of green and yellow color palette has perked up the look and made it look one of a kind. You can customize the tattoo your way as per your preference of Hogwarts house.
Always Tattoo With The Dark Mark Tattoo Harry Potter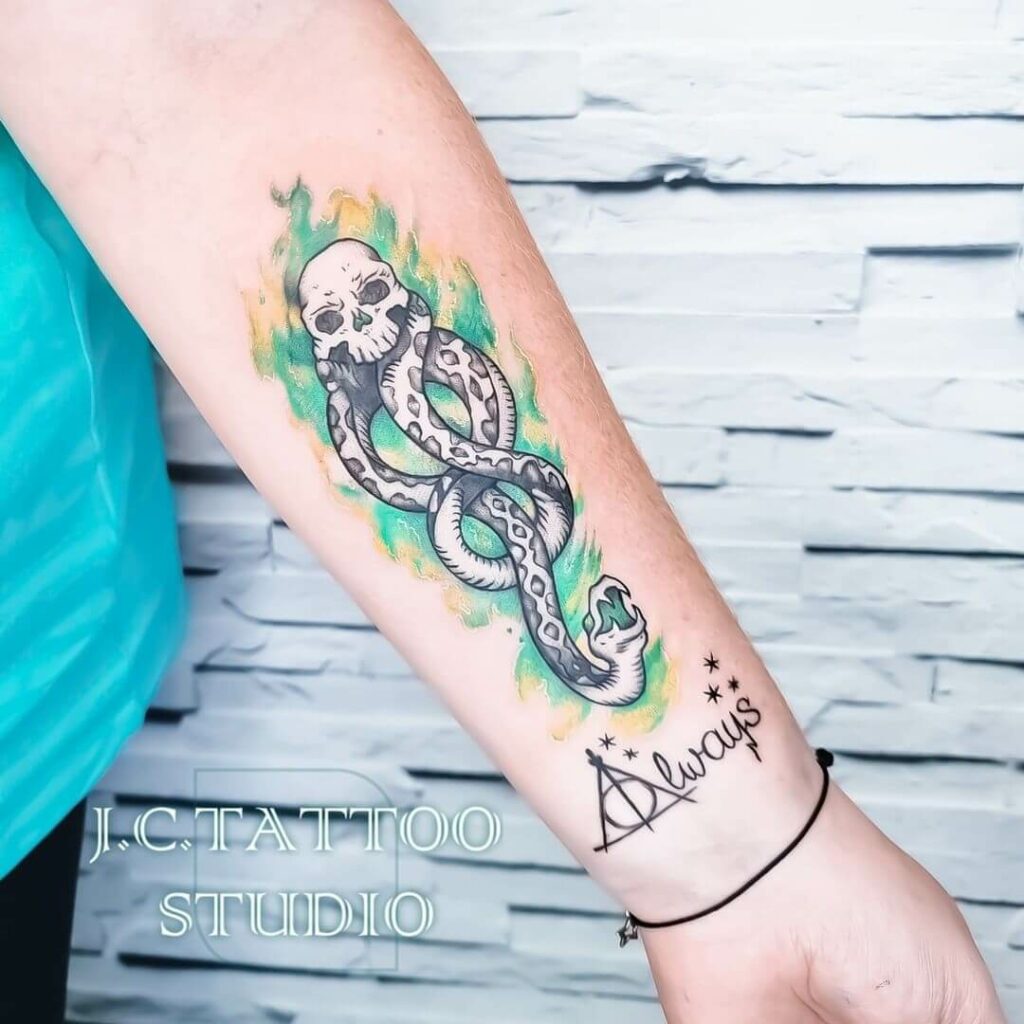 Tattoo artists have often said that this tattoo is one of the most popular tattoos among tattoo aficionados and vogues up the look of the wearers. The tattoo is of a skull with a snake below there is written "Always" with the deathly hallows.
This tattoo is a tribute to Severus Snape, who even though being a Death Eater always loved Harry's mother, Lily Potter, and was ready to double cross Lord Voldemort's plans. He loved her deeply which was unfathomable. He is a beloved character in Harry Potter for his portrayal of unconditional love for Lily and how he will always keep on loving her. The tattoo is symbolic and beautiful. If you want to show your gratitude towards Severus Snape, this is a good example for you.
Dark Mark Tattoos With A Skull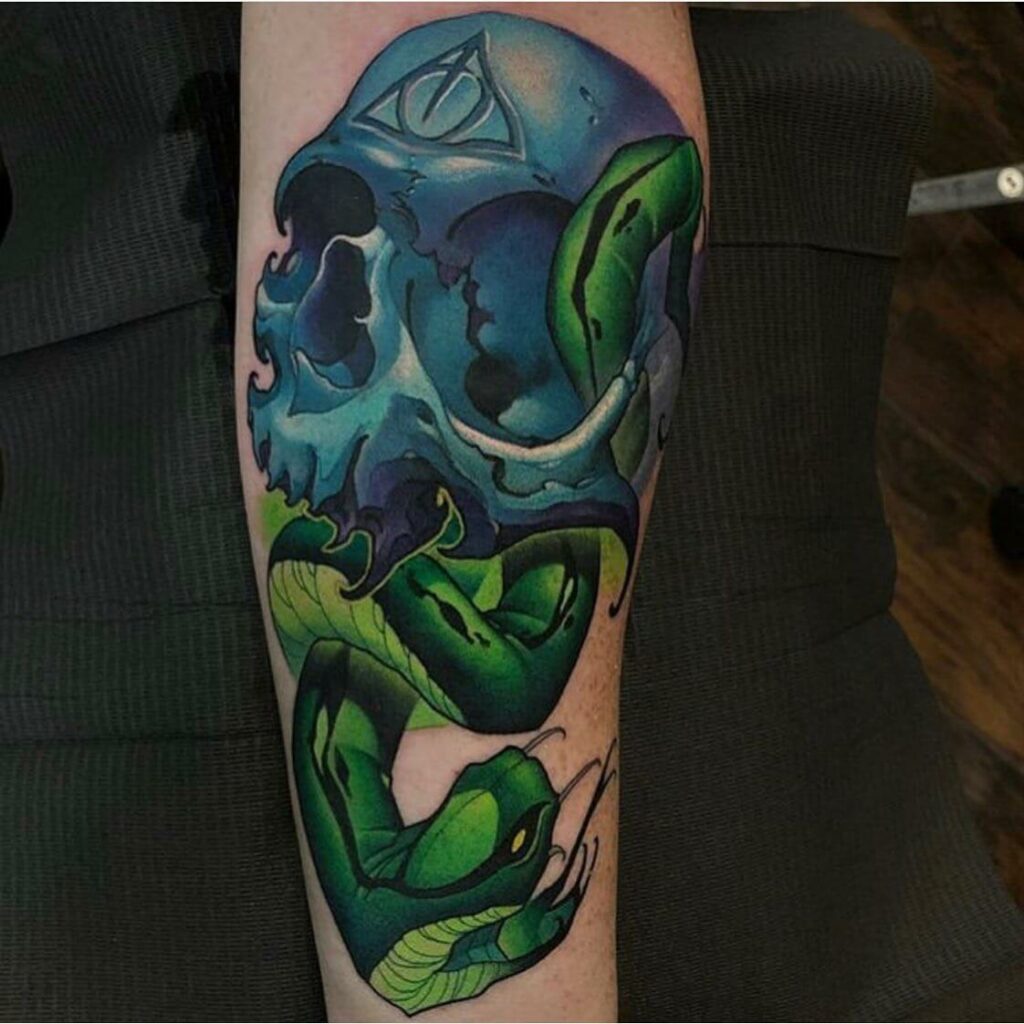 This dark mark tattoo is one of a kind. The skull is of blue color which symbolizes despair and loneliness. The snake below represents a basilisk which was the deadly creature in Chamber of Secrets as kept by Salazar Slytherin.
The color of the skull also reminds of the eye color of Draco Malfoy which is beautiful. The skull has a deathly hallow on the forehead which depicts how Lord Voldemort wanted to be the Master of Death after acquiring all three hallows. The tattoo looks beautiful and is one of a kind. If you want to get a tattoo symbolic and look this good, this is a good inspiration for you.
Elder Wand And Voldemort's Wand On Both Hands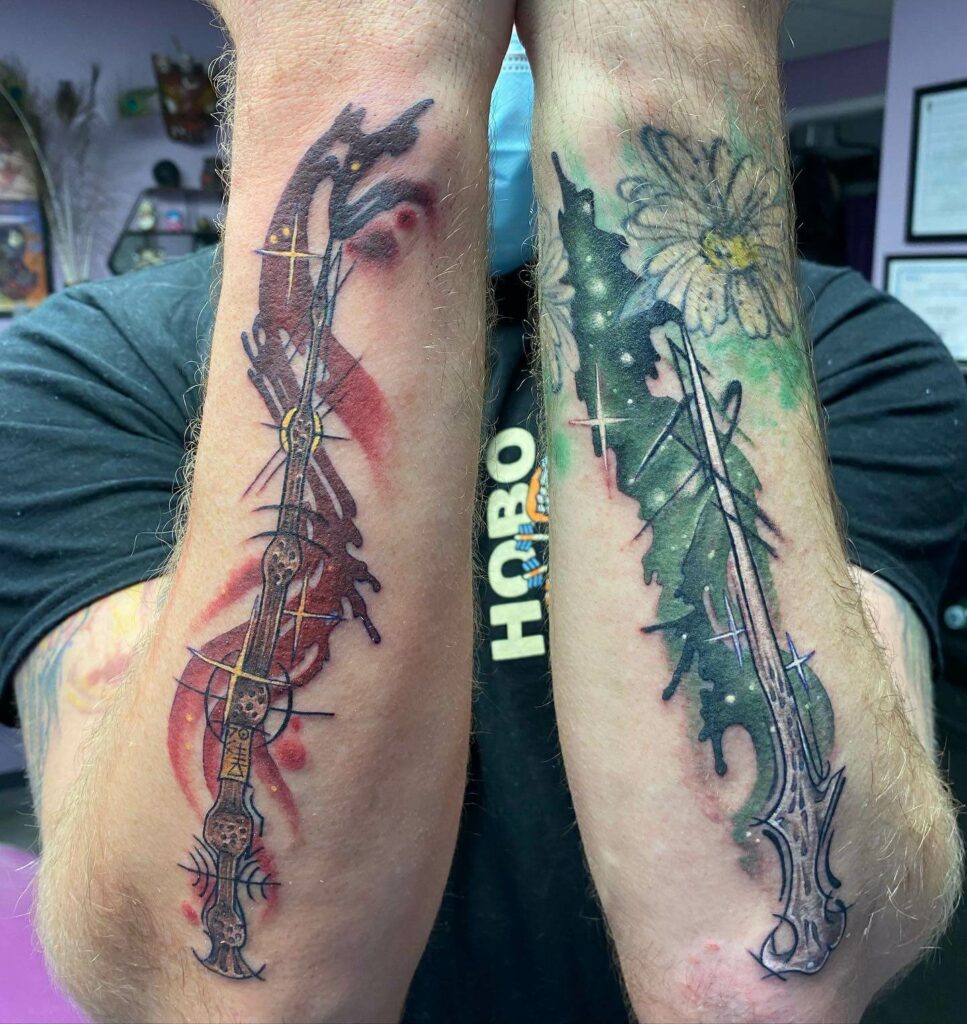 This tattoo is class apart and looks one of a kind. The tattoo talks distinctively about Slytherin and Gryffindor's rivalry. The tattoo is related to Half-Blood Prince where Lord Voldemort wanted Draco Malfoy to kill Albus Dumbledore and possess his Elder wand and become invincible. The left-hand remarks on the allegiance of the Elder Wand to Dumbledore, and the right hand denotes Slytherin and the wand of Lord Voldemort.
This is also going to remind you of the epic duel Dumbledore had in the Ministry of Magic against one another which rendered Voldemort to come in front of the British Minister of Magic, Cornelius Fudge. It is also a great symbol between Harry and Voldemort's fight in Hogwarts Hall and later defeating him by destroying the Horcruxes. The tattoo is really beautiful and can be a good idea for a couple. If you want a creative tattoo idea, you can get this done. You can use your wand which was given to you by the Wizarding World and make it special just for you.
Draco Malfoy is an exceptionally amazing character in Harry Potter. The portrayal of Tom Felton in the movies is phenomenal and looks amazing. The character was brought into life by Tom Felton immensely.
Feature Image from Pinterest – Want your tattoo to look brighter? Try "Tattoo Balm"