Are you a fan of drag queens and RuPaul's drag race? If you want a drag race tattoo to flaunt your fandom, check out these stunning designs.
The culture of drag queens has gained popularity in modern times.
What was earlier seen as an evil against the natural order has now been accepted and celebrated in various parts of the world.
Drag queens like Michelle Visage, Sharon Needles, Sasha Velour, Bianca del Rio, and Trixie Mattel, among several others, have inspired many to participate in the drag race events. The fashion statements of the drag queen are captured by the tattoo artists, including their accessories and expressions. These bold beauties are the rising talent in some areas of the world. There are several fascinating and mind-blowing tattoo ideas created especially for all the drag race fans out there.
Jolly Bianca del Rio Tattoo
This Jolly tattoo has a drag queen dressed in a fantastic outfit. The colorful dress and the lovely smile make this tattoo pretty popular. You can have this tattooed with a few sparkly elements and birthday poppers and streamers to create the look more festive and exciting. This tattoo design can be accompanied by stars and hearts with the colors of your choice.
Black And White Drag Queens Tattoo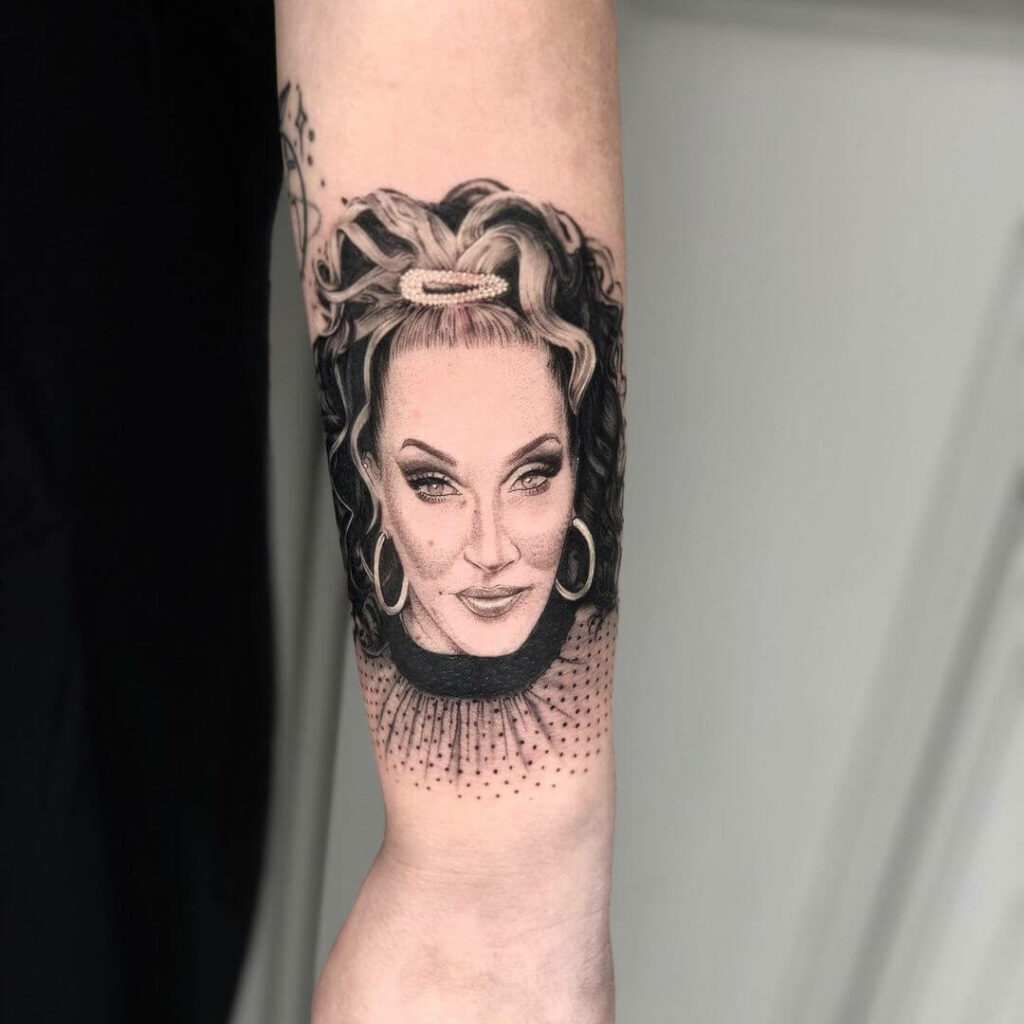 The drag queen can also look fabulous without adding any colored ink to the mix. A shade of black and white looks fantastic on the queen and can inspire an image as it can cover the skin with the stories of the drag queen. This form is prevalent among drag queen fans. These drag race tattoos can deliver a different form of the life of the queen. You may even ink other parts of the body with related Shasha and Bianca tattoos. Once tattooed on your body, the ink provides constant inspiration to many.
Pop Rupaul's Drag Race Tattoo
The pop tattoo designs made by tattoo artists are a great show of talent. The hair and the lipstick color on the drag queen make this tattoo pop and stand out from the others. The earrings, necklace, and the bold makeup while wearing a shirt which bravely declares, "Not today, Satan". The whole Naomi Smalls' look art inspired by the drag queen herself. This art is a cute guess of crazy fans and tattoo artists. These women are part of the world's drag race tattoos. All the world's people can hear their names and proudly ink them as race tattoos. These drag race tattoos are a sign of freedom and celebrating self-love. This RuPaul's drag race tattoo is an inspiration to many.
Drag Race Tattoo Sleeve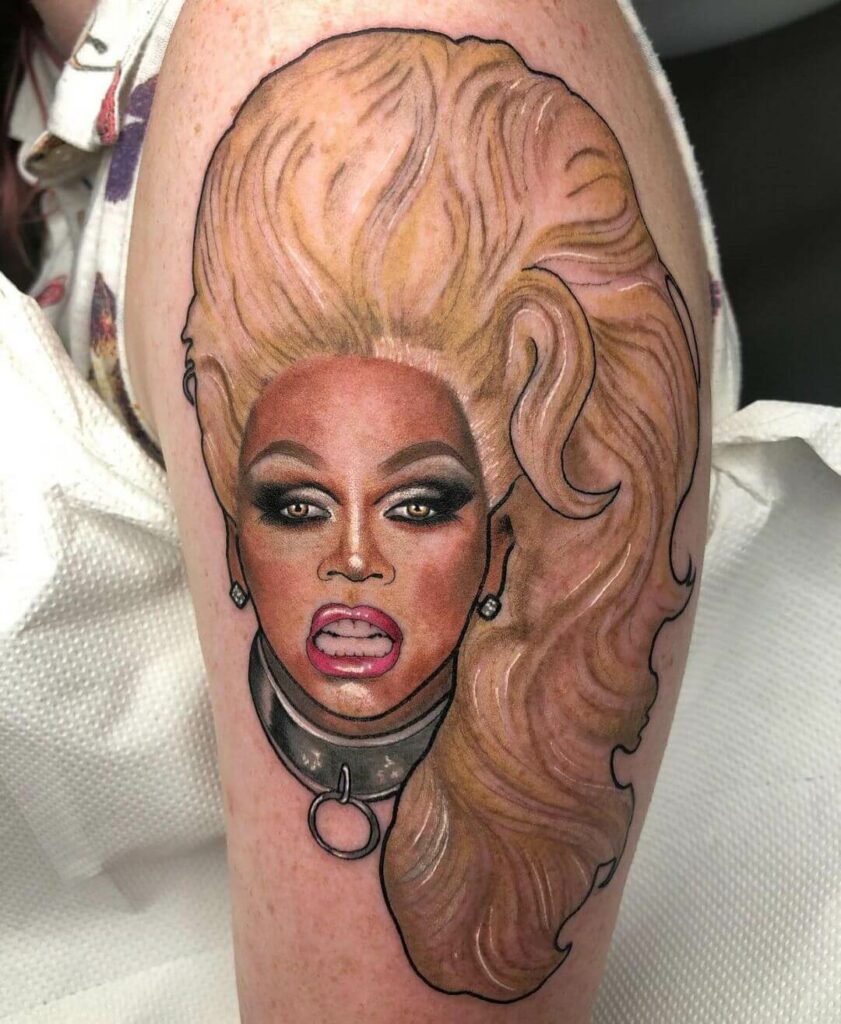 A sleeve tattoo can include a full realistic image of a drag queen. All the drag queens are a source of inspiration as they display confidence and ultimate independence to do what they wish for without the care of society. As the real drag queens march around and comment on the world's functioning and society's thinking, they have won the hearts of many. This ink on the body can be seen as a support for them. Whether it is Sasha, Bianca, or RuPaul, the comment on anybody is not appreciated any longer. As their lives revolve around the concepts of self-expression and contests among themselves, their portraits are made by crazy fans worldwide.
Outline Drag Queen tattoo
A black and white sketch tattoo is also an excellent look to carry on your body. Many people worldwide do not like colored ink and therefore form black shade tattoos on their bodies. It is seen as a cute tribute to fans who cannot physically reach their inspirations. Irrespective of the season, these portraits of Sasha, Bianca, Alaska, and the others come up as they march closer towards the drag queen competitions. Some people comment on the race tattoo, while others may portray surprise when they see Bianca on your legs or sleeves. Their Instagram lives also surprise many people as they show the rest of the reality to their fans.
Crystal Tea Shade Drag Race Tattoo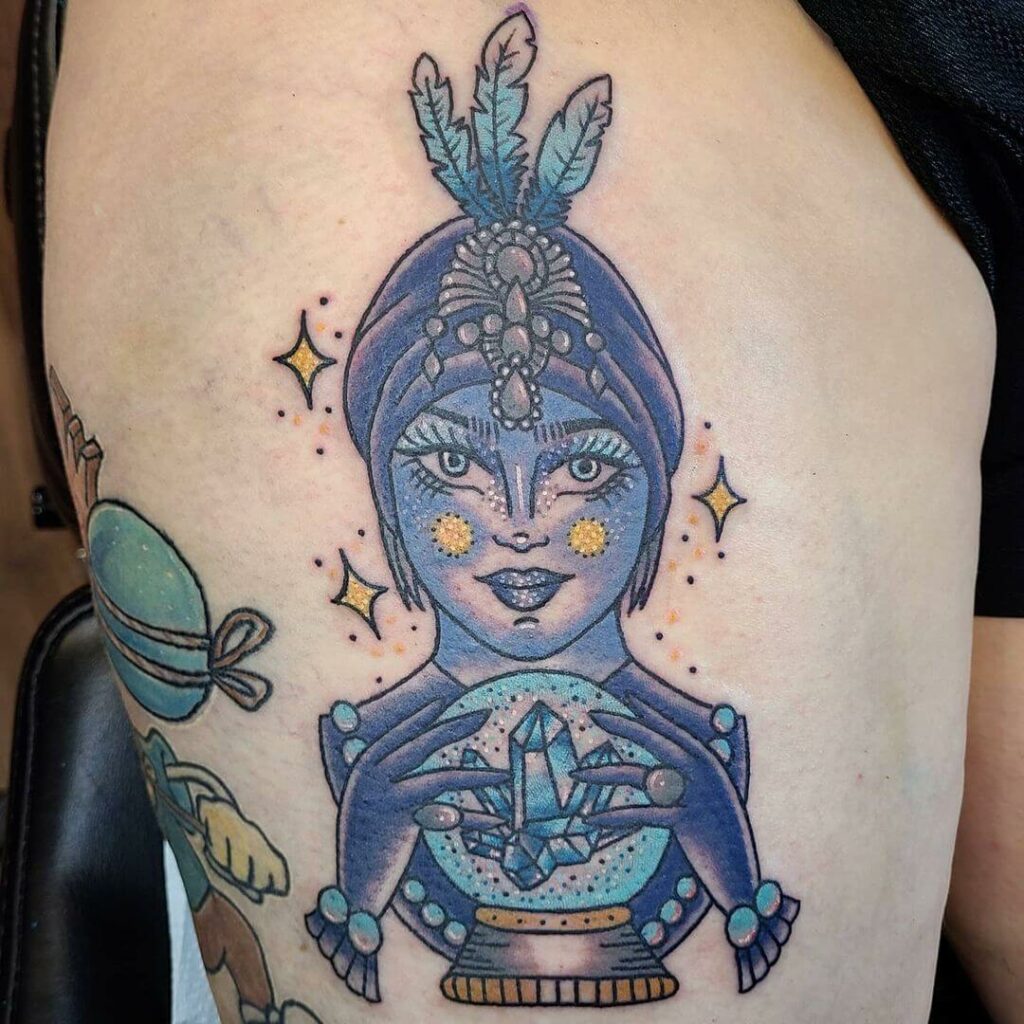 A crystal shade tattoo is blue. It means all the elements and objects within this tattoo will be a shade of blue. As life is shown moving across the stars in the blue shade crystal ball, the drag queen can be shown controlling it. Fans love stars and tributes, especially when the talent is inspired through art. Naomi smalls or Sharon needles can easily be transformed into such captivating artworks. Fans inspired by talent are the solid base of art. Such talent is not always appreciated. Most tattoo artists make these tattoos on the legs or sleeves of the fans. Rupaul's drag race is among the most famous ones yet. Although Sharon needles, Naomi Smalls, Michelle Visage, Sasha velour, Trixie Mattel, Bianca del Rio, and Miss Vanjie have also gained popularity. A few stars can also surround the tattoo.
Russian Doll Drag Queens Tattoo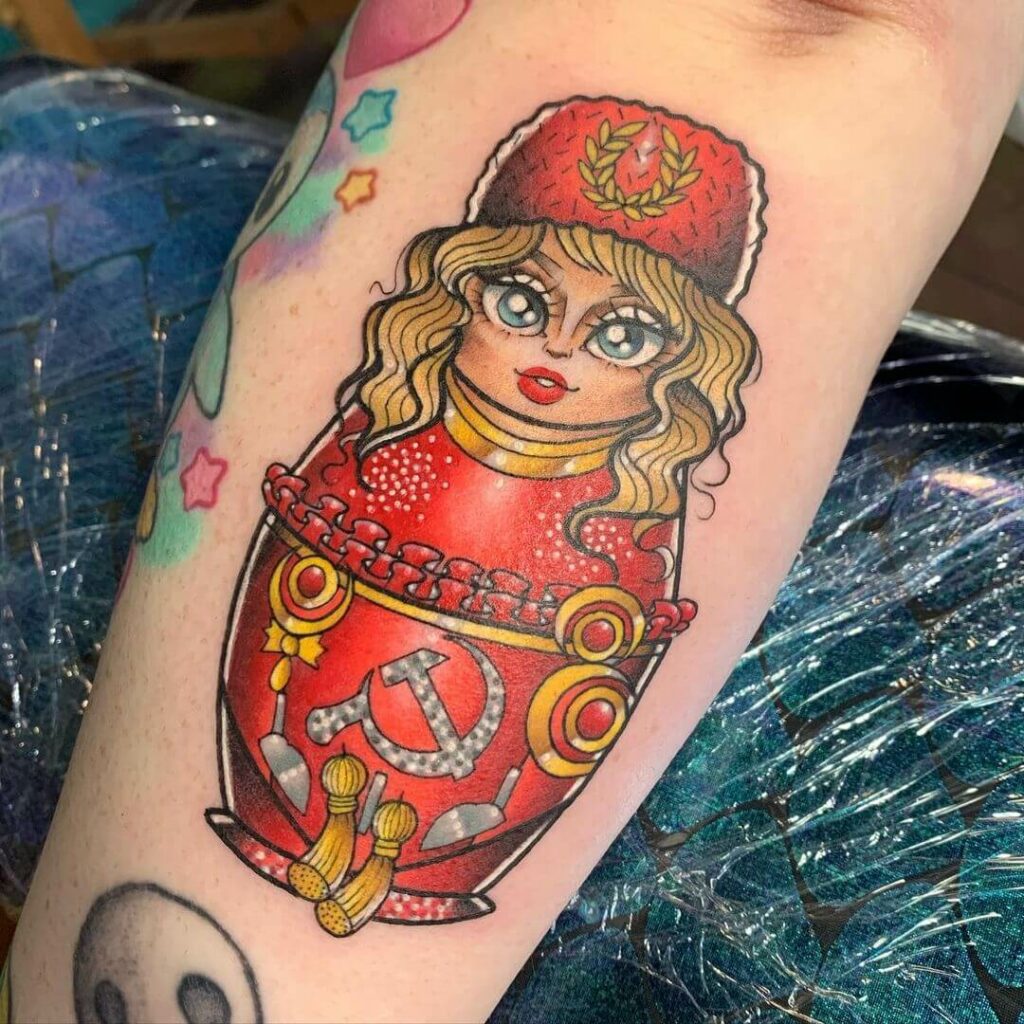 The drag queen can also be made as an art in the form of a Russian doll. Whether it is RuPaul's drag race or the drag race of Sharon Needles, Naomi Smalls, Michelle Visage, Sasha Velour, Trixie Mattel, Bianca del Rio, and Miss Vanjie, an actual work of artwork can include the demands of the client. The surprise comes when the drag queens are dressed like a Russian dolls. It might also be called a drag race tree tattoo because of small leaves present on and around the prominent tattoo.
Animal With Drag Queens Portrait Tattoo
Any animal can be included along with the face of a drag queen. Although the most preferred choice is a shark, this might change according to the preference or the favorite animal of the drag queen that you intend to ink on your body. This might even seem like an airbrush tattoo stencil drag race tattoo. However, as the drag queens march towards the competitions, their lives become more challenging, and they have to become strong and almost as vicious as sharks themselves.
Tree Drag Queen Tattoo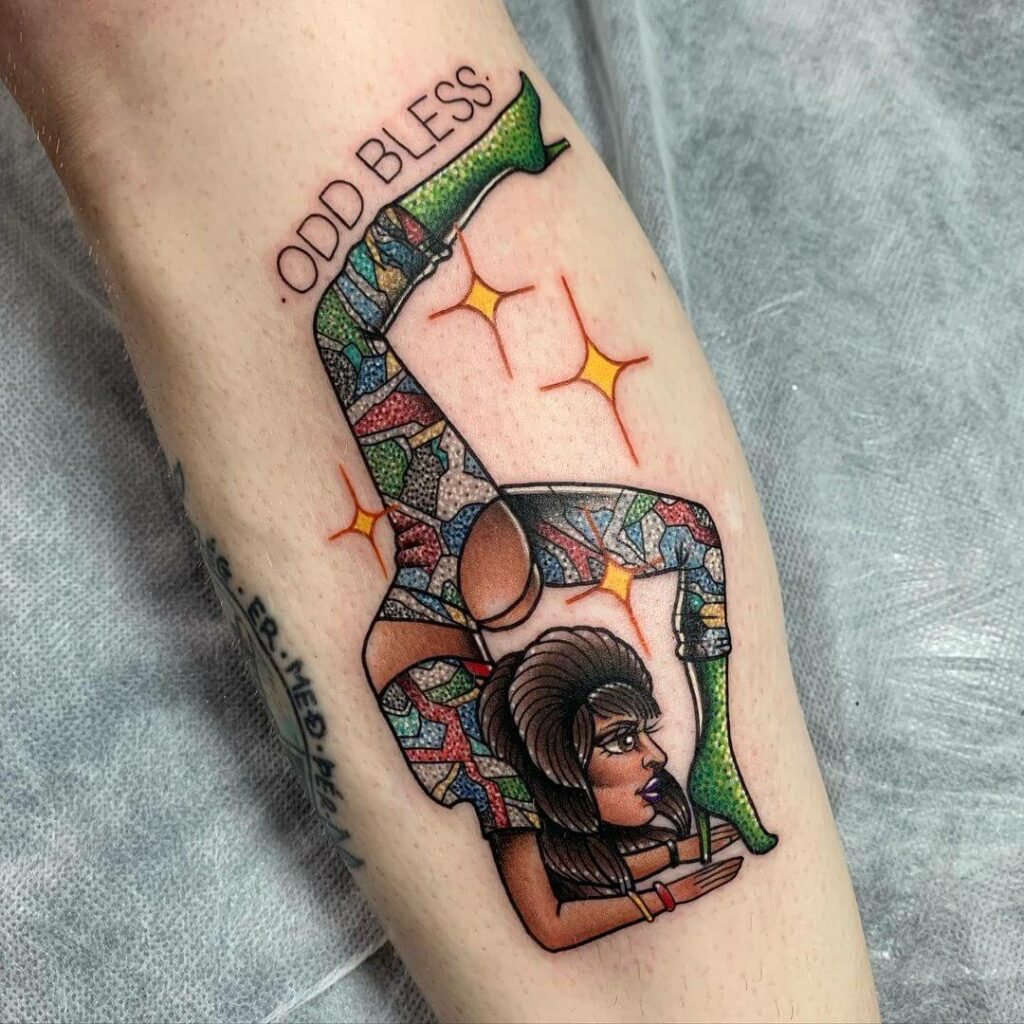 Drag queens may assume different poses and angles in reality and tattooed on someone else's body. A drag race Christmas tree tattoo is one such tattoo design. The drag race Christmas tree tattoo is unique, and the clothes are made with colors that relate to Christmas feelings. The position of the legs is what makes this a great drag race tree tattoo. The dresses are made glittery to ensure that a festive look is presented.
Drag Queen's Sketch Drag Race Tattoo
This is the most basic tattoo. This drag queen tattoo is a sketch outline of how the drag queen looks in reality. Irrespective of the season, a Jinkx monsoon tattoo can be added to your body. A great talent as a drag queen and a singer, Jinkx monsoon is an excellent inspiration for talent and performance. Jinkx monsoon has become as celebrated as RuPaul drag queen.
Feature image from Pinterest – Want your tattoo to look brighter? Try "Tattoo Balm"
Last reviewed and updated on March 17, 2023