So, you've been swept up in the nostalgic magic of Dumbo, have you? That charming little elephant with ears large enough to soar through the sky and a heart to match. His enchanting tale of resilience and triumph, of the tiny elephant that could, has left an indelible imprint on you, hasn't it? Well, what better way to pay homage to your love for this timeless tale than a vibrant piece of ink art?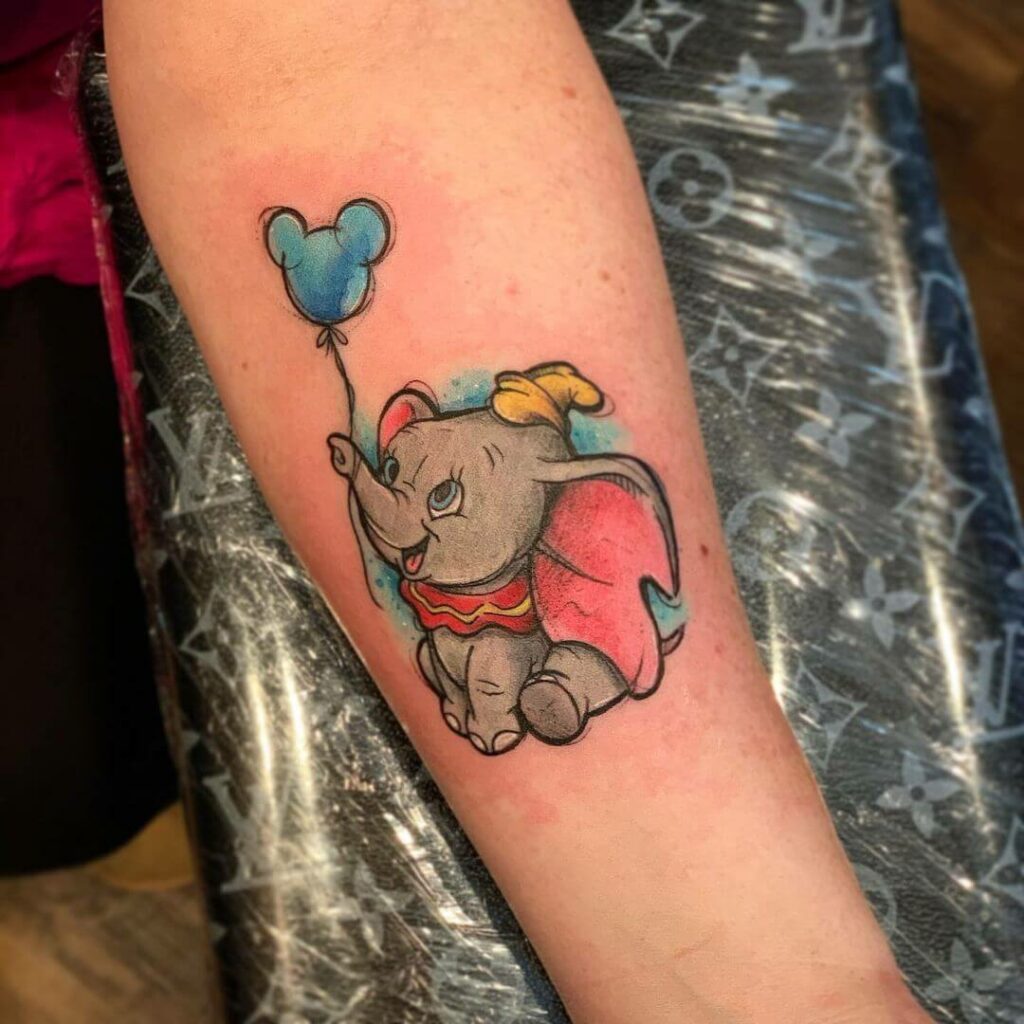 Immerse yourself in our curated collection of Dumbo-inspired tattoos that truly bring color and joy to life. After all, who said children's animation was only for the little ones? These stories, filled with wide-eyed innocence and profound wisdom, often evoke a sense of wonder and hope in us grown-ups too. And Dumbo, with his loveable persona and the triumphant narrative, is no exception.
Dumbo tattoos, be it the whimsical Dumbo Octopus or the classic character himself, hold a certain allure. They encapsulate the charm of this small elephant whose eyes brim with emotions. And as every seasoned tattoo enthusiast will tell you, the devil – or in this case, the delightful little elephant – is in the details. From Dumbo's expressive gaze to the shape of the whimsical balloons, each element presents an opportunity for personalization.
Perhaps you prefer a balloon that evokes memories of another beloved character like Mickey Mouse or Bob the Builder? The whimsy of Walt Disney's universe leaves plenty of room for a tribute to your favorite show. This isn't merely about adorning your skin; it's about capturing a piece of your childhood, a cherished memory, and keeping it alive.
So without further ado, allow us to present a spectacular array of Dumbo tattoo designs that are guaranteed to bring a dash of joy, a sprinkle of nostalgia, and an enduring smile to your life.
Dumbo Tattoo On The Back
Imagine Dumbo, that lovable animated elephant, gracing the nape of your neck, a symbol of loyalty and good fortune. Picture the warm, inquisitive eyes, his tiny yellow hat, and the fallen leaf he gazes at, encapsulating his enduring spirit. A careful rendering of this Disney gem, sitting with a gentle shadow on the back of your neck, could be a charming testament to your fondness for the movie.
Bubble Dumbo Tattoo Fever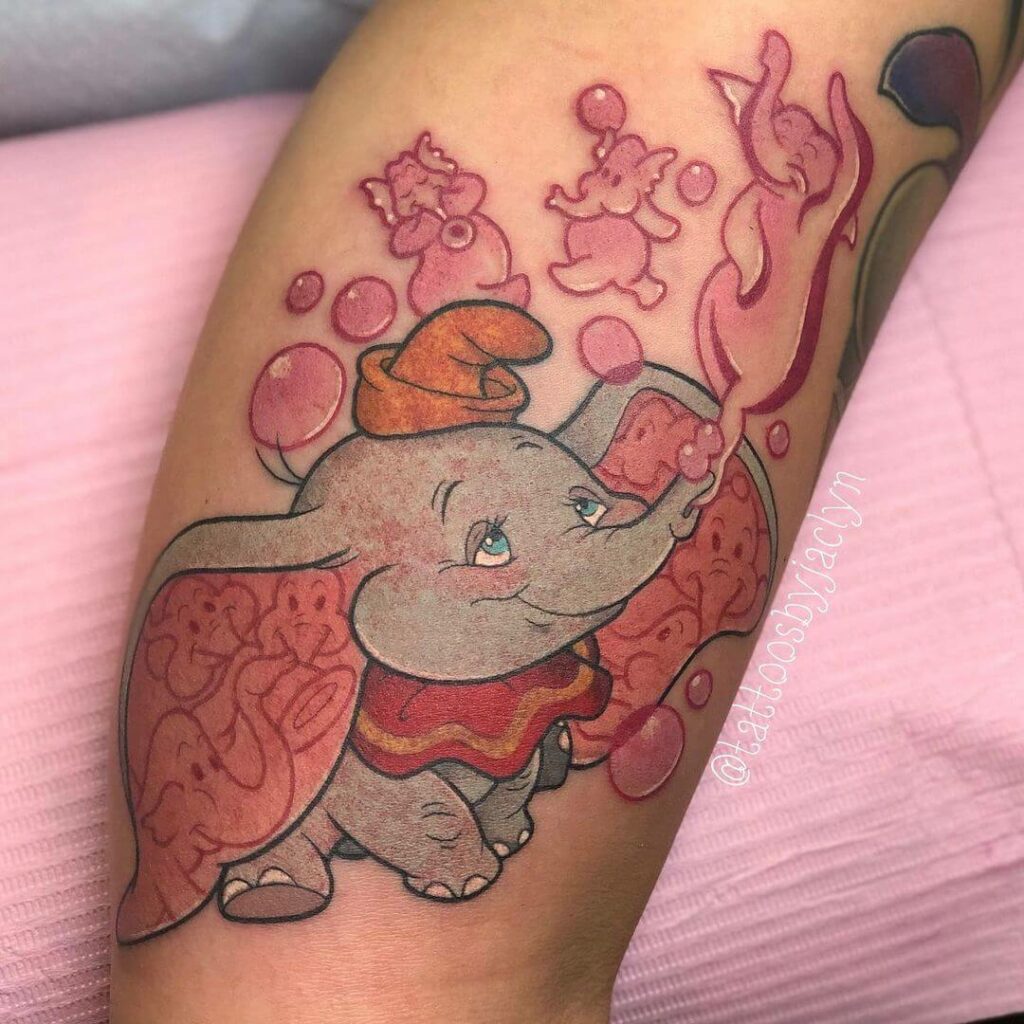 Now, if you've ever desired a tattoo imbued with a touch of whimsy and childhood nostalgia, consider the 'Bubble Dumbo'. A fantasy of soap bubbles shaped like adult elephants dancing around Dumbo, pink-hued, and evoking memories of our own childhood bubble-blowing endeavors. This artful depiction, combined with a slightly drowsy Dumbo, could be seen as a charming homage to the magic of dreams and the joy of simple pleasures.
Animal Kingdom With Dumbo Tattoo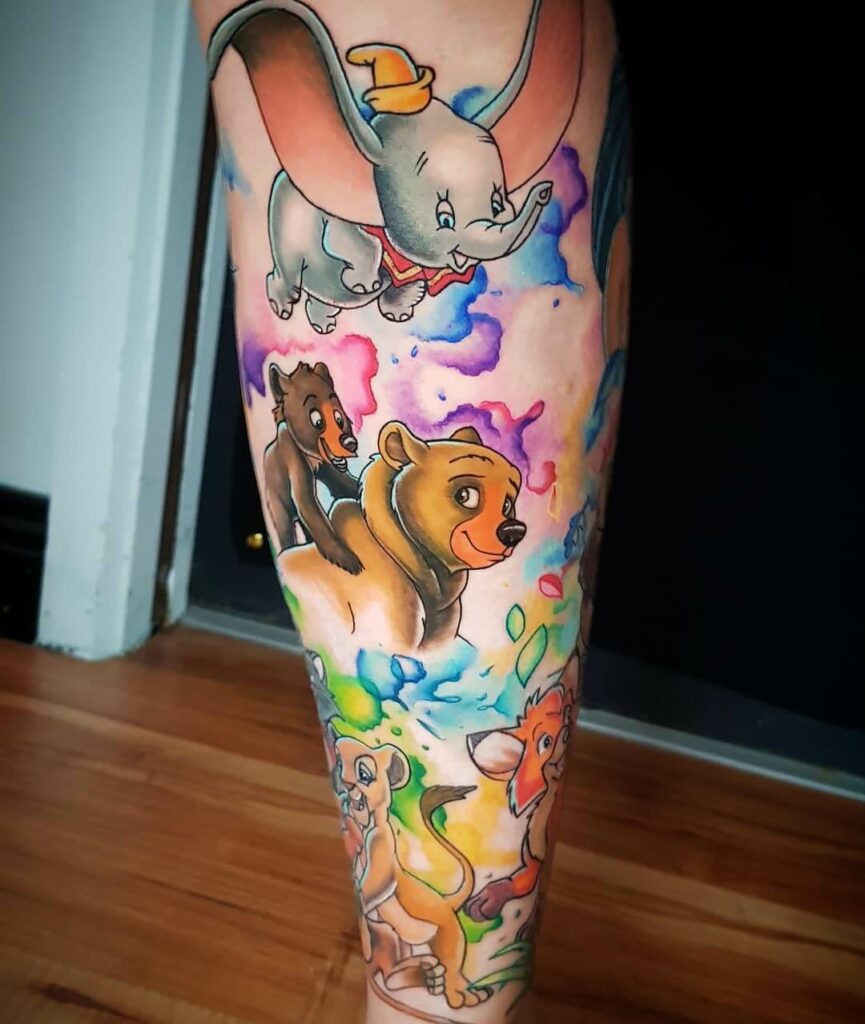 Perhaps you're someone with a fondness for Disney's diverse animated menagerie? If so, the 'Animal Kingdom' tattoo might be right up your alley. Imagine a canvas awash with watercolor splashes, each one representing a beloved Disney creature. A scene from Lion King on the leg, for example, topped by a flying Dumbo. This riot of color and character could be a jubilant celebration of camaraderie, love, and the iconic narratives that inspired us in our youth.
Floral Dumbo Tattoos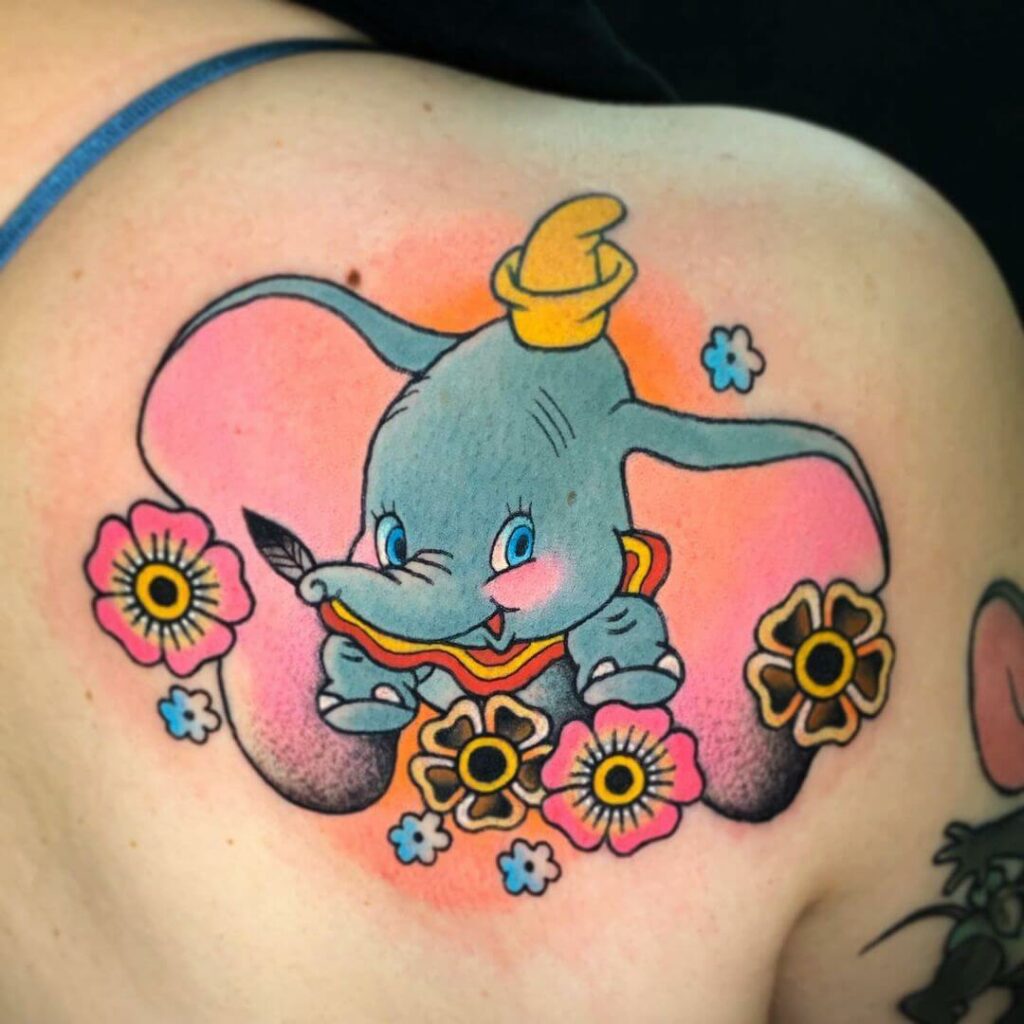 For the fans of floral aesthetics, the 'Floral Dumbo' design is a delightful blend of nature and animation. Picture a tender rendering of Dumbo, with his adorable oversized ears, holding a feather or a leaf in his tiny trunk, surrounded by a constellation of flowers. This approach delicately interweaves nature's beauty with the charm of our beloved elephant, creating an intriguing juxtaposition of art forms.
Black & White Dumbo Tattoos
In contrast, the 'Black & White Dumbo' design caters to those who prefer a more monochromatic palette. Visualize Dumbo, elegantly framed, swinging in his mother's trunk. Adorned with artfully etched sunflowers at the bottom, this design offers a serene elegance, encapsulating Dumbo's essence of hope and sincerity.
Fun Time With Dumbo Tattoo
If you're someone who revels in the power of friendship, 'Fun Time With Dumbo' might just be the perfect design. Imagine Dumbo and his mouse buddy frolicking, a floating balloon nearby. A joyful testament to enduring friendships, this tattoo could serve as a vibrant marker of companionship.
Ink Splash Dumbo Tattoos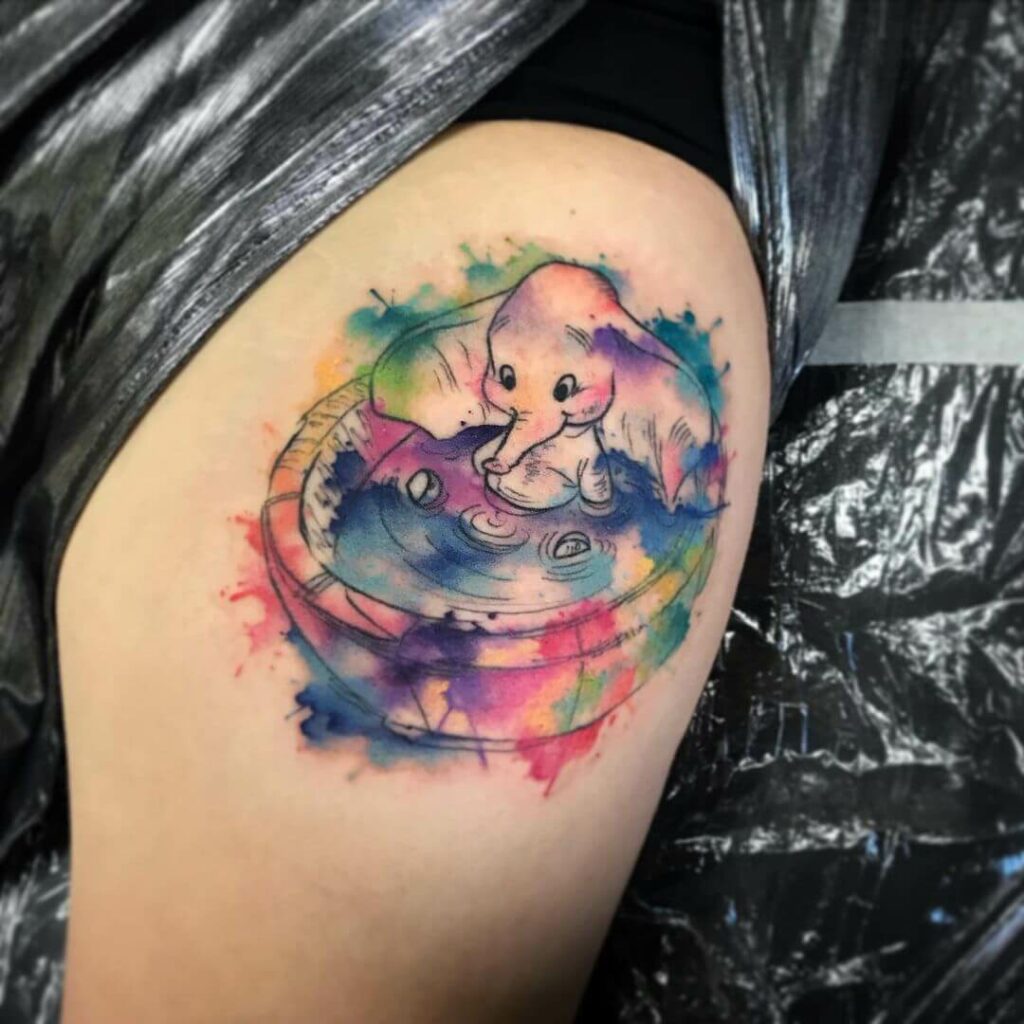 For lovers of color, the 'Ink Splash Dumbo' could be your dream come true. A lively scene depicting Dumbo in a bathtub, surrounded by an explosion of colors. The rainbow hues bring to life the playful nature of Dumbo's bath time, transforming a simple line tattoo into a vibrant splash of life.
Playful Bath Dumbo Tattoo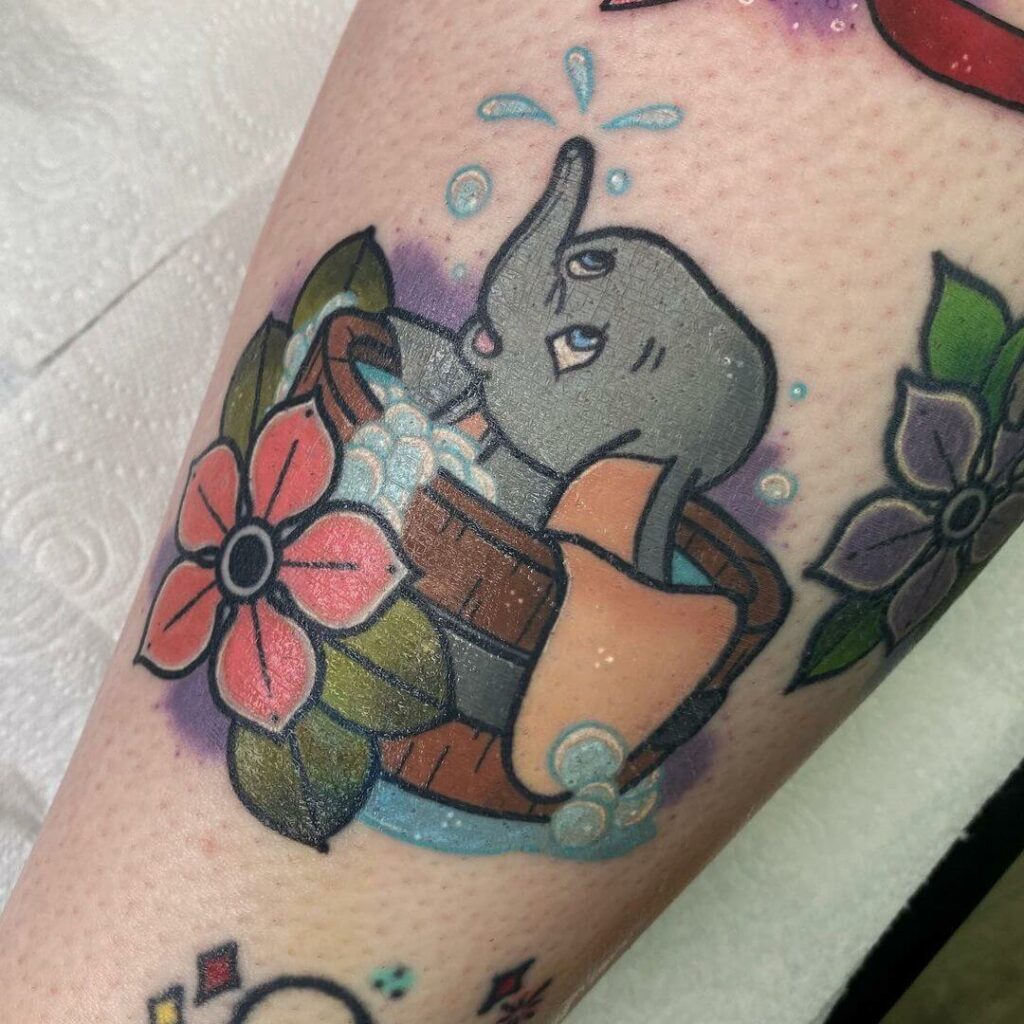 The 'Playful Bath Dumbo' tattoo presents another charming bath time scene, showing Dumbo partially submerged in bubbly water. This design, highlighting the blissful comfort of a bubble bath, evokes a sense of life's small yet meaningful moments.
Sparkling Dumbo Tattoo With Mommy
For those who appreciate the bond between mother and child, the 'Sparkling Dumbo With Mommy' tattoo is a celebration of that deep love and connection. This heartwarming piece shows a joyful Dumbo swinging from his mother's trunk, a visual epitome of maternal affection that can be further beautified with a splash of sparkle.
Watercolor Dumbo Tattoo With Feather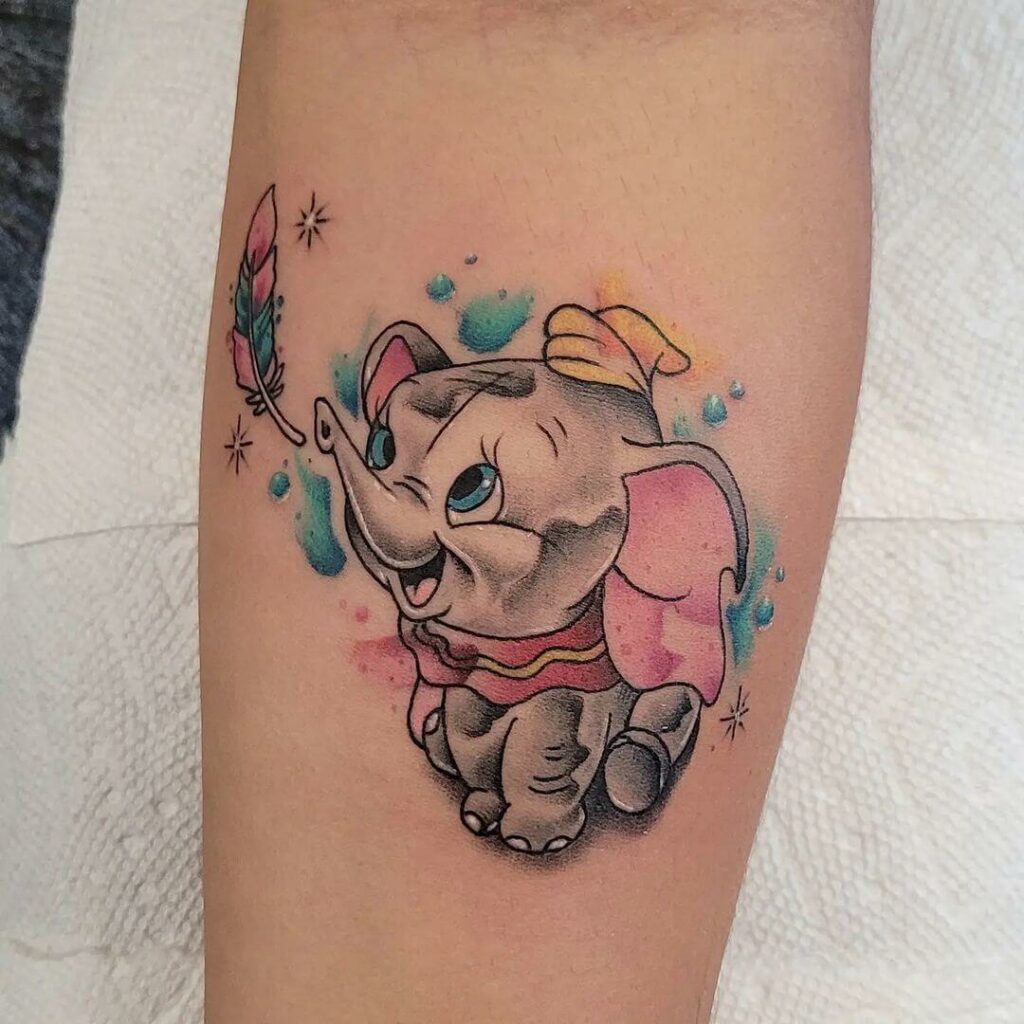 Lastly, consider the 'Watercolor Dumbo With Feather', a beautiful scene of Dumbo chasing a feather. This image could be an artistic metaphor for our individual pursuits, dreams, and aspirations, wonderfully capturing the essence of the human condition and our relentless pursuit of goals.
Conclusion
It's crucial to remember that when it comes to tattoos, your body is the canvas, and placement is a significant part of the artistry. Choose an area that resonates with you personally and complements your chosen design. While smaller tattoos like the 'Black & White Dumbo' might work well on the wrist or ankle, a detailed 'Animal Kingdom' would need a larger canvas, such as the back or thigh.
Your chosen tattoo's cost can vary widely, depending on the size, intricacy, and color palette involved. Typically, simpler designs might start around $100, while an elaborate 'Ink Splash Dumbo' could run into several hundred dollars. Keep in mind that these are rough estimates, and the final quote will be subject to your chosen artist's discretion.
And let's not forget the potential risks and side effects. While reputable tattoo parlors prioritize safety, remember that all tattoos come with a degree of risk, such as allergic reactions or skin infections. Proper aftercare is essential to mitigate these risks and ensure that your tattoo heals well.
Tattoos are about self-expression and meaning, so let your Dumbo design be a joyful embodiment of what the character represents to you. This little elephant, after all, reminds us that we can fly high, no matter what life throws our way.
Feature image from Pinterest
Last reviewed and updated on May 22, 2023