Today, we are diving deep into the ancient sand dunes and timeless tales of Egypt – the veritable birthplace of civilization and a cornerstone of our craft. Yes, you've guessed it, our topic of the day is Egyptian tattoos. Intrigued yet? Well, hold on to your scarab beetles because we are about to embark on a captivating journey that seamlessly blends history, culture, and art.
In the grand tapestry of tattooing, Egyptian symbols hold a significant place for their timeless appeal, diverse meanings, and sheer aesthetic charm. With a lineage that stretches back to the dawn of recorded history, these symbols have been etched into human skin and consciousness alike, traversing epochs to land on your Instagram feed.
This blog post will navigate through the hieroglyphic archives, decode the symbols, and unveil the stories buried within these intricate designs. We'll dig deep into the symbolic meanings behind popular choices like the Ankh, Eye of Horus, and the Scarab, while also surfacing some lesser-known symbols that are just as rich in lore and visual appeal.
For the budding tattoo aficionados, we'll provide a crash course in how to integrate these iconic Egyptian elements into modern design, offering a fresh perspective on an art form that's as old as the pyramids themselves. And, for my seasoned inkers, we'll examine the historical usage of tattoos in Egyptian culture, providing you with a wealth of knowledge to impress your next client or win your next trivia night.
Egyptian Tattoos
If ancient Egypt were a magnetic force, we'd all be metal shavings. From the larger-than-life stories of pharaohs and queens, to the intricate symbolism of hieroglyphs and gods, it's a cultural tapestry that continues to captivate and inspire. Just as an artist leaves her mark on a canvas, so too has ancient Egypt left its indelible mark on the world – and, for many of us, on our skin in the form of tattoos.
Let's face it, we all have our personal reasons to flirt with the inked world of Egypt. Maybe you're an avid history buff, or perhaps you're simply entranced by the mystique of a civilization that's so distant yet feels so close. Heck, I've got a client who wanted an Anubis tattoo simply because his dog reminded him of the god – I say, whatever floats your Nile boat!
So let's journey together down the winding river of ink, where each tattoo tells a story as timeless as the sands of the Sahara.
Cleopatra Tattoos
Cleopatra tattoos aren't just about beauty – they're about power, intelligence, and the kind of charm that could command an empire. Now, I remember the first Cleopatra tattoo I etched; the client was a high-powered lawyer, a real dynamo, who wanted a daily reminder that power isn't just about physical strength or brute force – it's about the strength of mind and the allure of character. If you're a Cleopatra fan, remember: it's not just about capturing her visage, but also her spirit.
Nefertiti Tattoos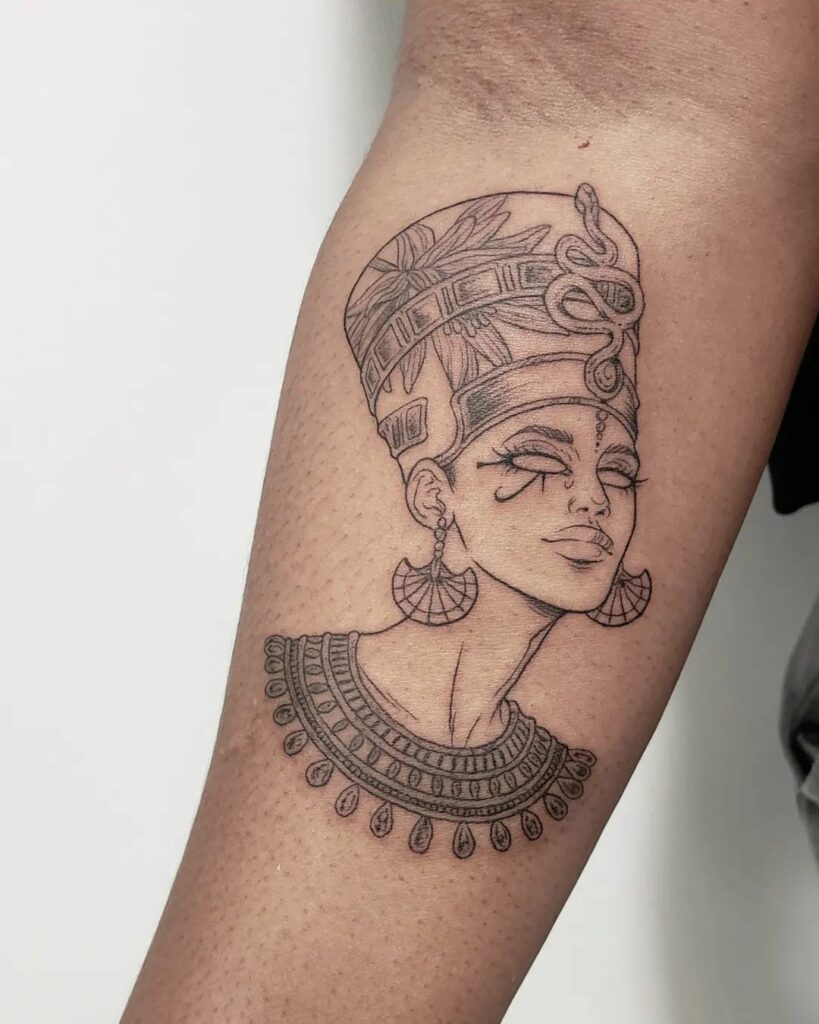 Every time I ink a Nefertiti, I'm reminded of the powerful allure of self-confidence. Nefertiti wasn't just a queen; she was a symbol of elegance, charm, and indomitable spirit. A woman I tattooed with Nefertiti on her shoulder once told me, "When I feel like I can't handle the world, I just remember that Nefertiti is walking with me". And you know what? That's the kind of power these symbols carry.
King Tut Tattoos
King Tut's tattoos aren't just about the love for intricately detailed artistry, but the call of leadership and destiny. These tattoos often resonate with those who see themselves as born leaders or those who feel a deep connection to the mystical world of Egyptian gods. A client of mine, a firefighter, got a King Tut mask to symbolize his daily dance with danger – a poignant symbol of his courage.
Osiris Tattoos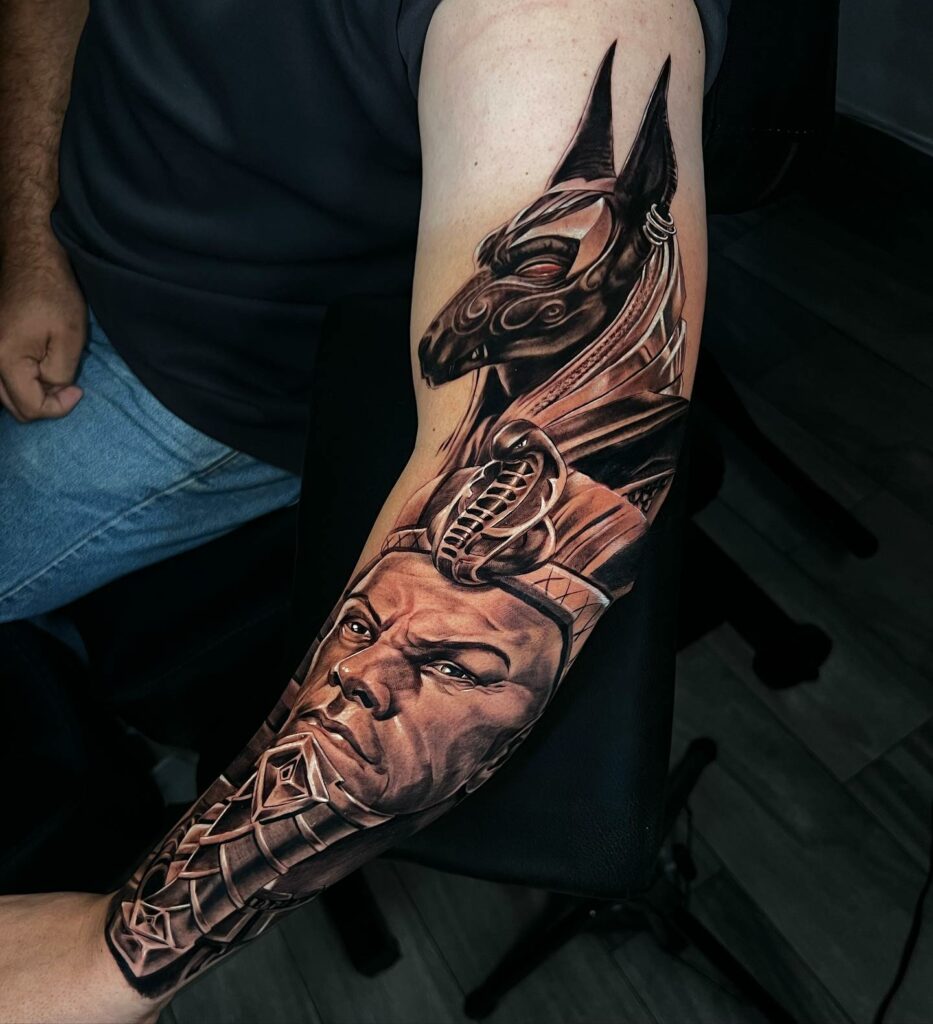 An Osiris tattoo is a commitment to embracing the cycle of life and death, of rebirth and transformation. It's a beautiful ode to the balance of nature, and for many, a personal symbol of having overcome difficult experiences.
Goddess Isis Tattoos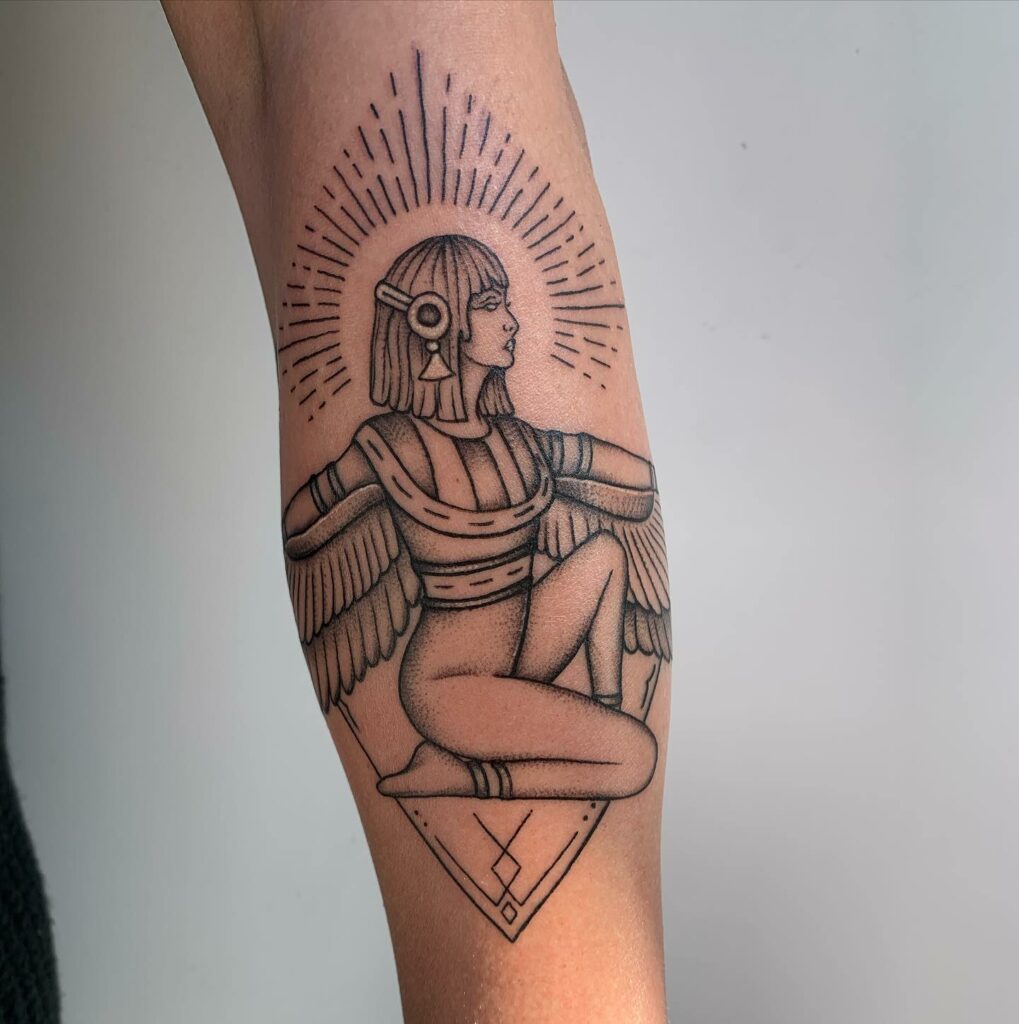 Isis tattoos, whether inspired by the legendary Cleopatra or the equally legendary Rihanna, are more than just gorgeous pieces of art. They carry the essence of wisdom, healing, and above all, maternal love. Every time I craft an Isis, I feel like I'm helping to create a personal amulet of protection for my client.
Pharaoh Tattoos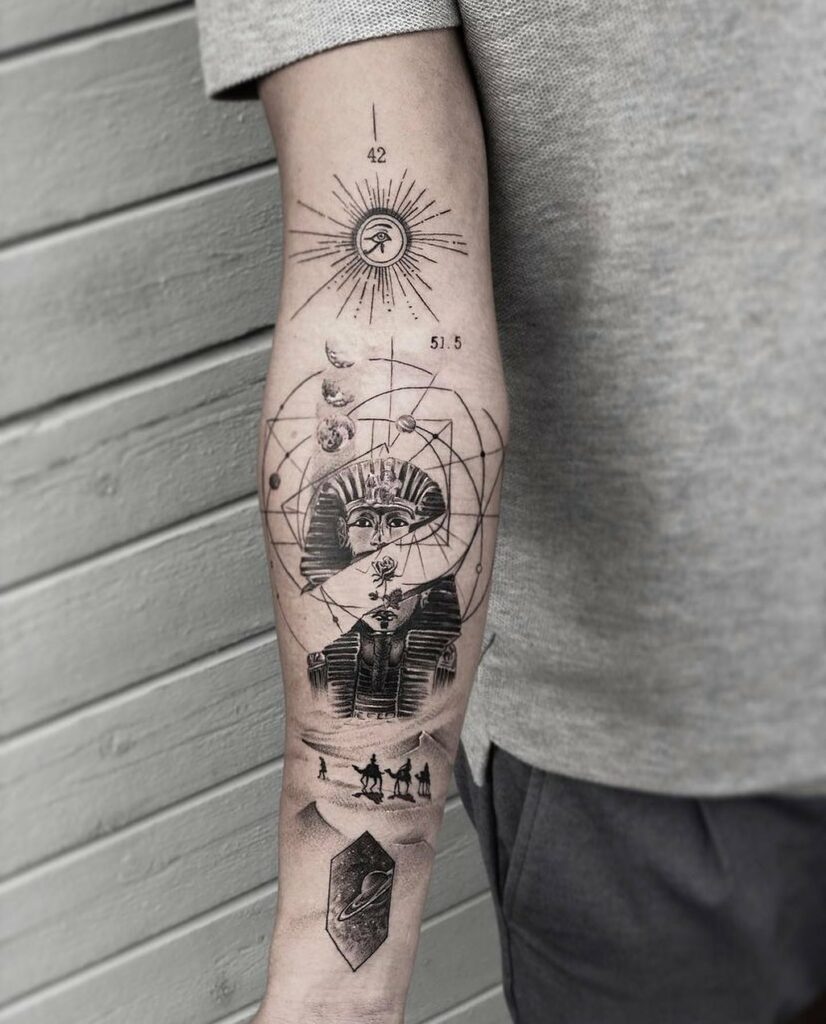 Pharaoh tattoos are a tribute to the rulers of yore, their wisdom, power, and the prosperity they brought to their people. There's a sense of drawing from this ancestral energy, hoping to channel their protection and strength into one's own life.
Hathor Tattoos
A Hathor tattoo is for the nurturer in you, honoring your love, beauty, and maternal instincts. Hathor serves as a unique symbol that stands out, and resonates especially with those celebrating the influential women in their lives.
Thoth Tattoos
Finally, let's talk about Thoth, the moon-associated deity often depicted as a bird-headed man, an ibis, or a baboon. Thoth tattoos represent the harmony of masculine and feminine energies within us, a poignant symbol for those seeking balance in life. And trust me, in my line of work, balance is everything!
Egyptian Tattoo Symbols
I've always been mesmerized by the world of ancient Egypt. The fascinating culture, mystical symbolism, and captivating myths provide such an array of imagery that leaves a lasting impression – on the mind, and in my case, on the skin. Let's explore some of the most significant Egyptian symbols in the world of tattoos and how you can bring them to life.
Ankh Tattoos
Ever come across a tattoo of a cross with a loop at the top? That's an Ankh, a symbol of eternal life and rebirth. I've worked with numerous clients who chose an Ankh to honor something they hold dear and wish to immortalize. It's like etching a piece of your heart and spirit onto your skin, a testament to their eternal significance.
Eye of Horus Tattoos
The Eye of Horus symbolizes protection, wisdom, and prosperity. As a tattoo artist, I find that these designs often serve as amulets for my clients, a wearable charm against life's adversities. It's a bit like having a personal guardian spirit – in ancient Egypt, they called these 'ka' or 'sah' – inked onto your skin.
Djed Tattoos
A Djed tattoo draws its inspiration from the ancient Djed pillar, symbolizing balance, fertility, and stability. Picture it as an emblem that helps you find equilibrium amidst life's storms. One of my regulars, a yoga teacher, got a Djed tattoo, seeing it as a constant reminder to remain centered and resilient, no matter what life throws at her.
Crook & Flail Tattoos
When you see a tattoo with a crook and a flail, know that it's a testament to inner strength and resilience. In ancient times, pharaohs used these symbols to assert their power. As a tattoo, it serves as a reminder of your inherent strength and your ability to overcome adversities. It's a silent declaration: "I am, and I endure."
Scarab Tattoos
Scarab tattoos are beautiful tokens of life's journey, transformation, and resilience. I recall a client who got a scarab tattoo as she started a new chapter after overcoming a tough period in her life. For her, it signified hope, change, and the dawn of brighter days.
Cartouche Tattoos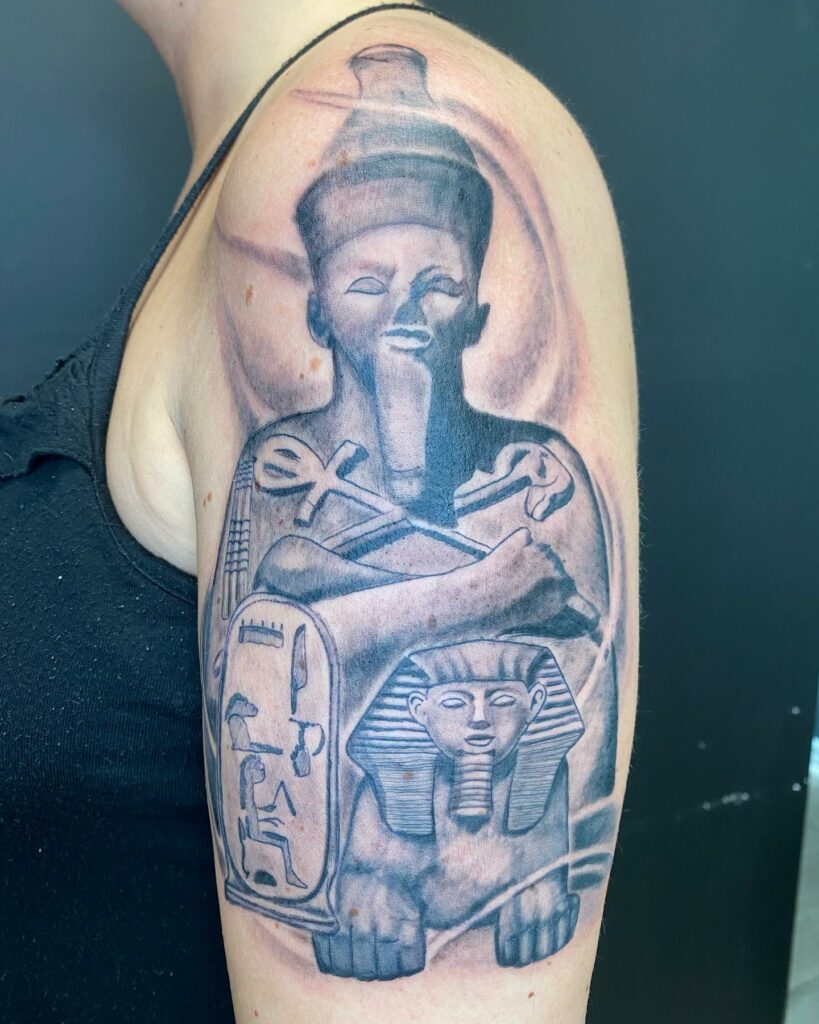 Cartouches are like personalized shields, believed to protect the bearer from evil forces. When clients ask for cartouche tattoos, I see it as their way of seeking a symbolic protective layer, a tangible reminder that they are capable of warding off negativity and inviting positivity into their lives.
Uraeus Tattoos
Uraeus, the rearing cobra symbol, represents renewal and protection. It's like carrying a piece of divine safeguard on your skin, a beacon against darkness. Each time I craft a Uraeus tattoo, it feels like bestowing a talisman of renewal and resilience onto the client.
Pyramid Tattoos
Pyramid tattoos are powerful reminders of humanity's potential for great achievements. They're not just architectural marvels but symbols of the dynamic energy within us. If you're considering a pyramid tattoo, remember to complement it with some symbols representing water, air, or earth to maintain a balance of energies.
Sphinx Tattoos
The Sphinx, with the head of a Pharaoh and the body of a lion, signifies wisdom, strength, and power. Sphinx tattoos are like wearing your power on your skin. It's a majestic symbol that captures the essence of ancient lore and human strength.
Egyptian Tattoo Styles
The allure of Egyptian symbolism extends across various tattoo styles, each with its distinct appeal. Let's delve into a few of them.
Neo-traditional Egyptian Tattoos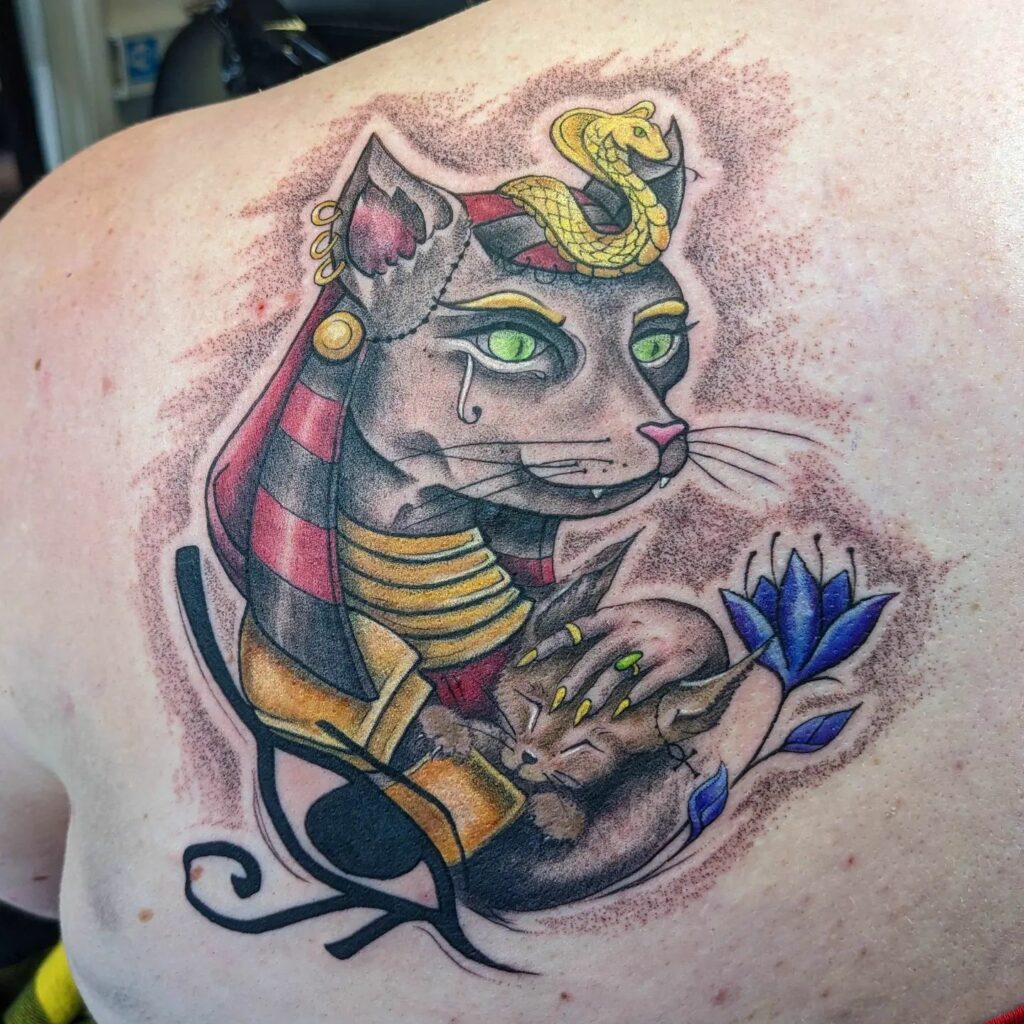 Blending the old with the new, Neo-traditional Egyptian tattoos bring ancient symbols to life with a modern twist. It's a vibrant fusion of past and present, where stylized, illustrative art meets timeless symbols.
Sketchy Egyptian Tattoos
Sketchy Egyptian tattoos capture the essence of designs as if they're etched in stone. These tattoos replicate the engravings often found on ancient Egyptian walls and tablets, adding a layer of realism to your personal piece of art.
Watercolor Egyptian Tattoos
Watercolor tattoos are a visual delight, blending bright hues and whimsical elements. This style works exceptionally well with less intricate Egyptian symbols like the cartouche or ankh, letting the vibrant watercolor tones truly shine.
Egyptian Sleeve Tattoos
The rich imagery of ancient Egypt offers limitless inspiration for unique tattoos. From Egyptian sleeve tattoos that weave a story around your arm, to large-scale Egyptian designs that transform your body into a canvas of ancient lore, the possibilities are endless.
Egyptian Skull Tattoos
Then there are the mysterious Egyptian skull tattoos, open to a myriad of interpretations, from symbolizing death to immortalizing life. And for those who love the intricate play of shadows, black & grey Egyptian tattoos are perfect, mimicking the architectural depth and realism of ancient Egyptian sculptures.
Remember, a tattoo is more than just a piece of art. It's a part of your story, a symbol of your journey. Choose symbols that resonate with you, styles that appeal to your senses, and create a tattoo that's uniquely yours. Let's ink your tale!
How Can Egyptian Symbols Be Integrated Into Modern Tattoo Design?
ncorporating Egyptian symbols into modern tattoo designs offers a fantastic opportunity to create unique pieces that are both beautiful and meaningful. While the traditional symbols hold significant historical weight, it's fascinating to see them in a contemporary light. Here are a few ways you can bring these ancient emblems to life in a modern context:
Combining Symbols: You can blend different Egyptian symbols together in a single design. For instance, an Eye of Horus entwined with an Ankh symbol can symbolize protection and eternal life. Or a Scarab beetle moving a Sun disk across your skin can tell a story of life's constant journey and renewal.
Incorporating Modern Styles: Use current tattoo styles like minimalism, watercolor, or geometric patterns to give an up-to-date touch to these historic symbols. For instance, you could create a minimalistic Ankh tattoo in a thin, sleek line, or bring a Djed pillar to life using bold geometric shapes.
Adding Personal Elements: Personalize your tattoo by integrating elements of your life with the Egyptian symbol. This could be a representation of your zodiac sign, a memorable date, or initials incorporated into the hieroglyphics.
Placing in Unique Areas: Placement of your tattoo can also bring a modern twist. Consider less traditional areas such as the sternum, inner arm, behind the ear, or even the fingers for smaller designs.
Play with Colors: Ancient Egyptian art was incredibly colorful, so don't be afraid to incorporate vibrant hues into your design. Watercolor style, in particular, can bring a touch of whimsy and individuality to the powerful Egyptian symbols.
Remember, tattoos are a form of self-expression, and while the Egyptian symbols carry deep meanings, they are not confined to their traditional representations. Feel free to get creative and collaborate with your tattoo artist to create a design that holds personal significance for you and resonates with your own journey.
Conclusion
Egyptian-inspired tattoos offer a rich tapestry of meaningful designs, each carrying a unique history and symbolism. As an experienced tattoo artist, my advice is to consider your choice of design and its placement carefully. Tattoos should not only reflect your individuality but should also harmonize with your body's natural contours. Costs can vary significantly depending on the size, complexity of the design, and the artist's expertise, typically ranging from $50 to $300 per hour. Be aware, though, that getting a tattoo isn't without risks. These can include allergic reactions, skin infections, or scarring. Always ensure that your chosen tattoo artist maintains a high standard of hygiene and uses quality ink. And remember, it's not just about wearing art on your skin; it's about embodying a piece of history, a symbol of your journey. Choose wisely, and let your tattoo tell your unique story.