Ready to make a statement with an "Est" tattoo? Celebrate your birth year or a special milestone with our curated collection of Est 1997 tattoos that you'll be proud to display!
Est tattoos have gained popularity among artists, celebrities, influencers, and tattoo enthusiasts alike as a way to proudly showcase their birth year or a meaningful event. The term "Est" is short for "established," signifying the beginning or founding of something important in one's life.
You may have seen tattoos featuring years like 1996, 1997, or 1998 that hold special significance for the wearer. These tattoos can commemorate the birth of a child, a cherished memory, or even a historic event from that year. For example, 1997 saw Princess Diana's passing, the rise of the Backstreet Boys and Radiohead, Mariah Carey's soaring popularity, and the iconic release of Titanic.
Our selection of Est 1997 tattoos serves as a guide to help you find the perfect way to honor a personal connection to this eventful year. Read on to discover a variety of tattoo designs and placements that will truly make your ink stand out!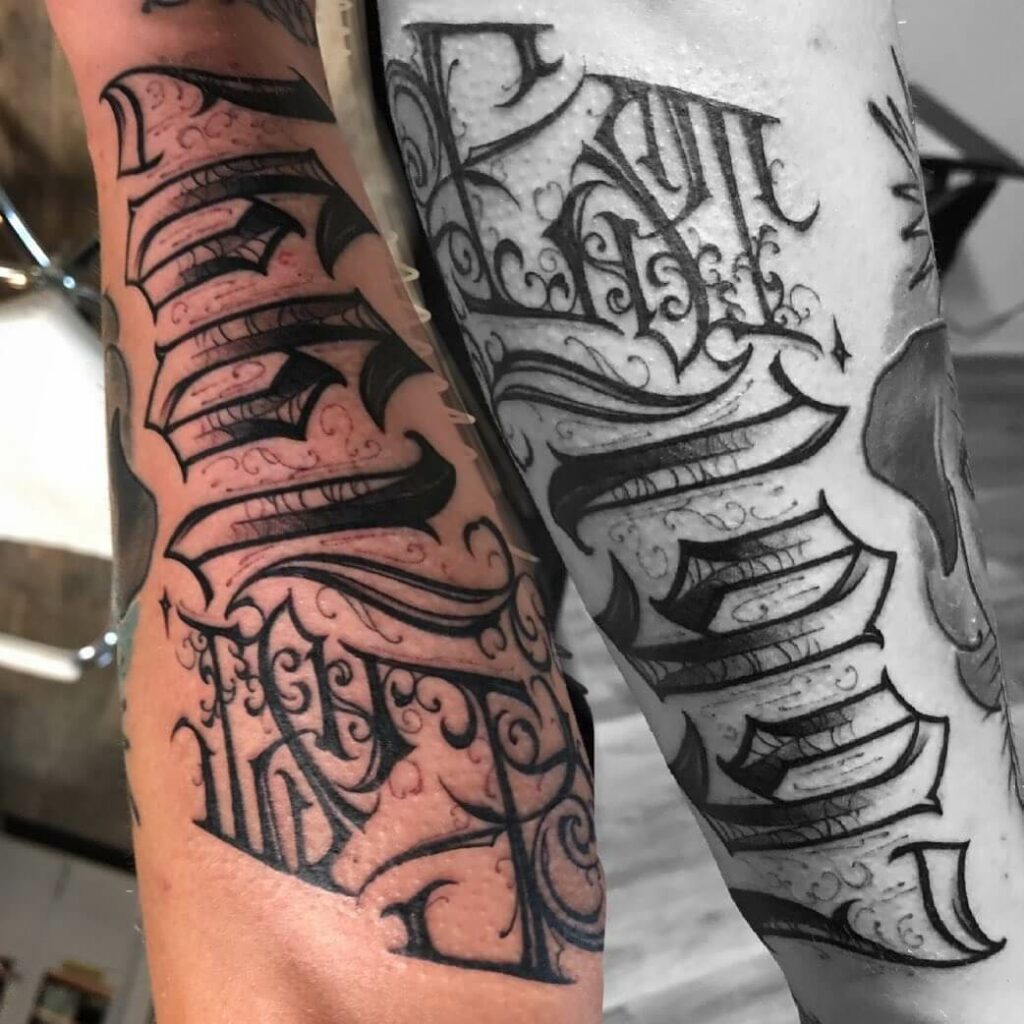 Super Cool Est 1997 Tattoo Designs
Tattooing birthdates on the back of the forearm is a timeless trend that continues to remain popular. These tattoos are an excellent way to express gratitude towards life, and they are always visible, making them a statement of the wearer's personality. In this design, bold black ink is used for the lettering, while the numerals are crafted in vintage fonts, creating a classic look that is both striking and elegant. The boldness of this tattoo will surely make your arm stand out and draw attention to your unique style.
Spooky Est 1997 Tattoo Designs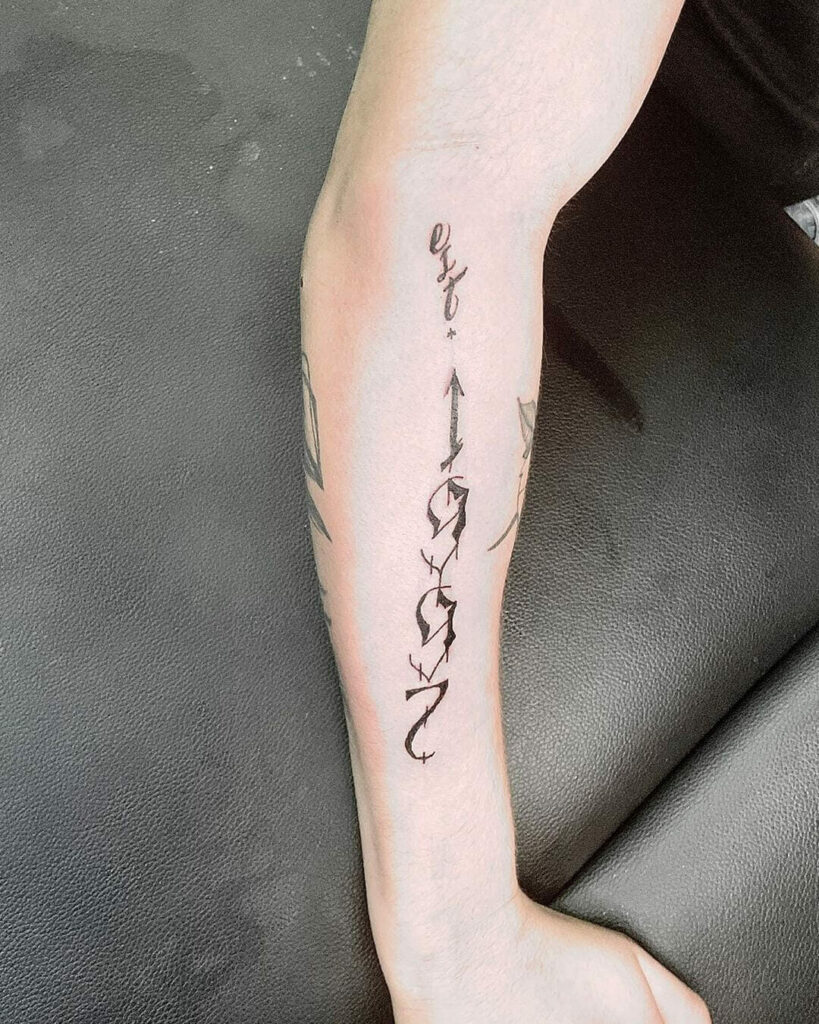 Looking for a tattoo that's unique and playful? Check out this vertical "est" tattoo! The artist uses a crooked font to give it a playful vibe. The black ink is used in a way that creates drips along the natural lines of the numerals, adding even more character to the design. This tattoo is perfect for someone who wants to make a statement with their ink while keeping it relatively small and subtle. If you prefer a more covered-up look, you can always get the same design on your chest or shoulder.
Minimal 1997 Est Tattoos
This unique twist on the classic birth year tattoo allows for endless possibilities in terms of font and style. Take inspiration from this design, which features a smaller, more subdued font for a cute and subtle look. This type of tattoo is perfect for those who want something easy to cover up if needed, and won't require a lengthy tattoo session. With so many font options available, the possibilities for a copyright birth year tattoo are truly endless!
Est 1997 Old English Font Tattoo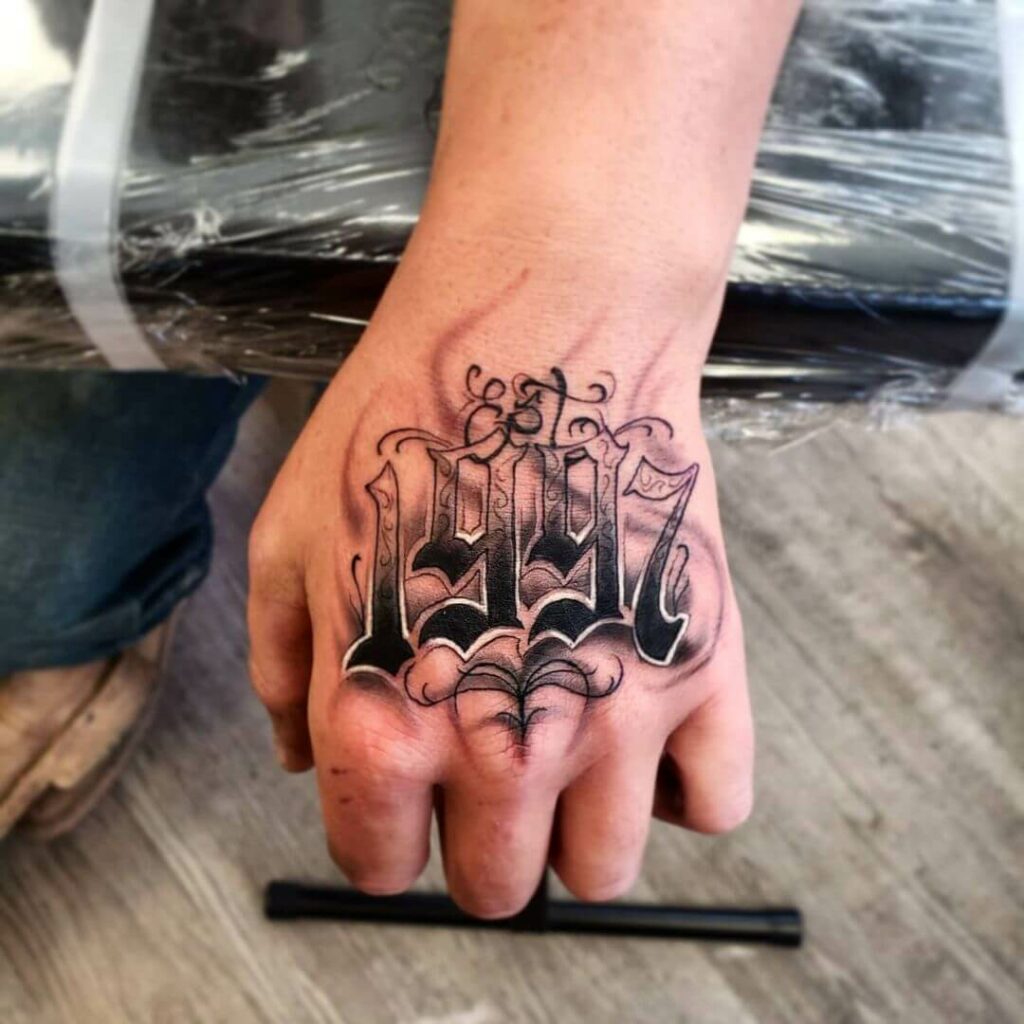 This tattoo features striking old English lettering against a smoky backdrop, creating an eye-catching design that showcases your personality and origin. The artist has paid close attention to detail, with intricate markings within the numerals and subtle white ink highlights along the edges. The back of your hand is a perfect spot for this design, as it is sure to draw attention and show off your deep roots. So why not flaunt your heritage with a unique and striking est tattoo?
1997 Est Tattoos Above The Elbow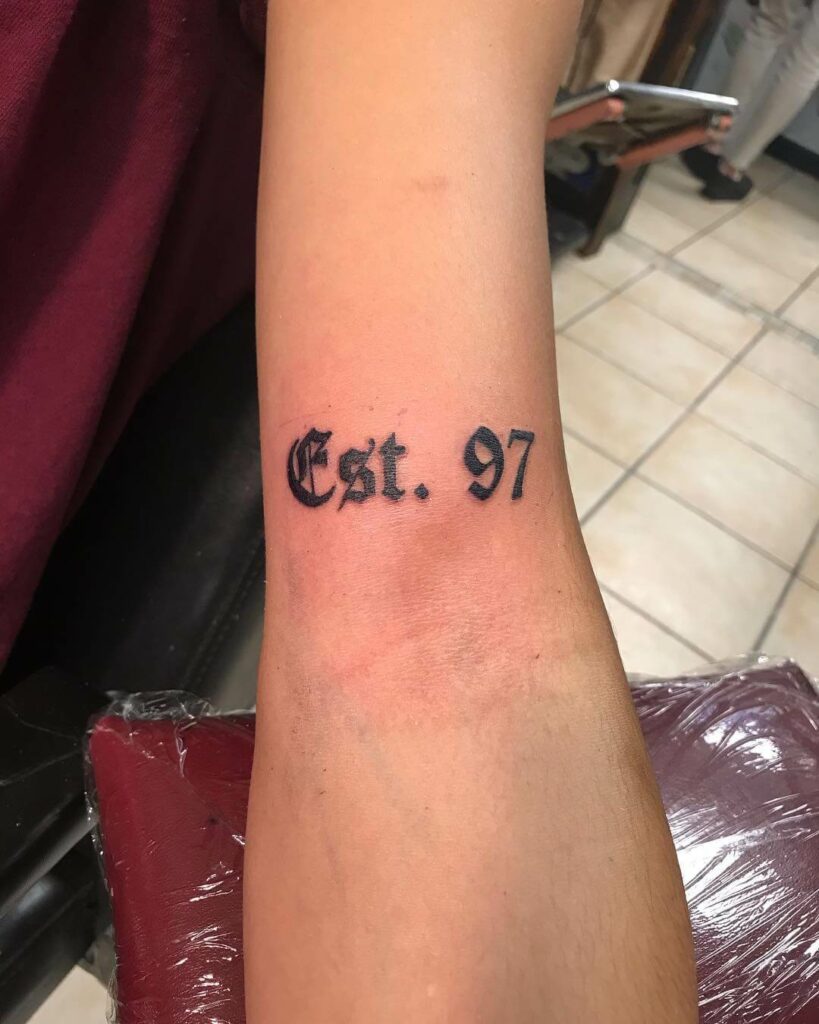 Looking for an est tattoo design that's both simple and classy? Check out this tattoo that features a compressed year in vintage lettering! The simple numerals balance out the boldness of the vintage font, making for a unique and stylish design. Plus, if you work in a professional environment that requires covered tattoos, you can always get this design above the elbow and hide it with a long-sleeved shirt.
Dual Toned 1997 Est Tattoos
Looking for a unique twist to your arm tattoos? Check out this dual-tone design! This tattoo employs black ink outlines with the last two numbers colored in pitch-black ink, creating a contrast that keeps the design from being missed out of sight. The subtle use of lighter shades in the outlining gives the impression of being colored, while the pitch-black ink adds depth and boldness to the tattoo. This technique is perfect for people who prefer a minimalist style, but still want their tattoo to stand out. You can customize this design to be inked on other body parts such as your chest, ribs, shoulder, or even the nape of your neck.
1997 Est Tattoos On Calf
If you are looking to give your est tattoo design a twist, then adding a "since" to the year can make a world of difference! This way, you can create variations without losing the original meaning behind the tattoo. A great example is this design on the back of the calves, where the artist has added "since" alongside the birth year. This approach is perfect if you want to avoid a tattoo that is too showy for the workplace. To add depth and texture, the artist has created a superficial outlining around the design. The ombre effect created using only black ink gives a unique edge to the design, making it anything but ordinary!
Solid 1997 Est Tattoo On Forearm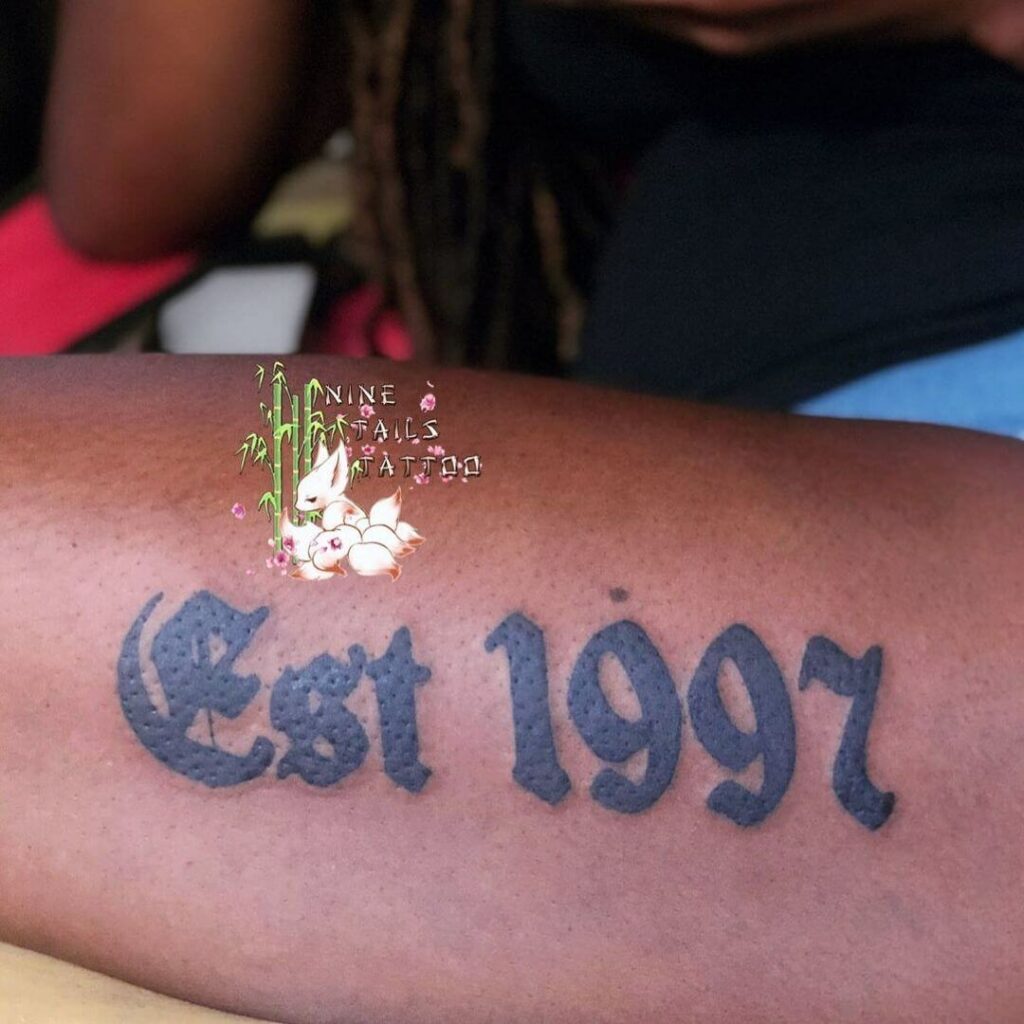 Ladies, are you searching for a simple yet elegant way to mark a special year on your arm? Look no further than this vertical year tattoo design that will not take up too much space or look overwhelming on your arm. The solid color used in this design makes it pop and it will stay looking sharp for years to come. Personalize it with your own unique symbols and make it a special reminder of the momentous occasion that inspired you to get the tattoo.
1997 Est Tattoos In Roman Numerals
Birth year tattoos are a great way to commemorate a special year in your life, and Roman numerals can give it a unique and elegant touch. Roman numerals are a popular choice as they add depth and cultural significance to your tattoo design. The background can be kept simple or rusty, depending on your preference. The numerals can be inked in a medium size to match the est design. Keep in mind the time and cost while choosing the tattoo design as it may vary based on the intricacy of the design and the artist's hourly charges. Generally, a Roman numeral birth year tattoo would cost around $100. With all these factors considered, you can get a meaningful and sophisticated tattoo that will stay with you for a lifetime.
Quirky 1997 Est Tattoos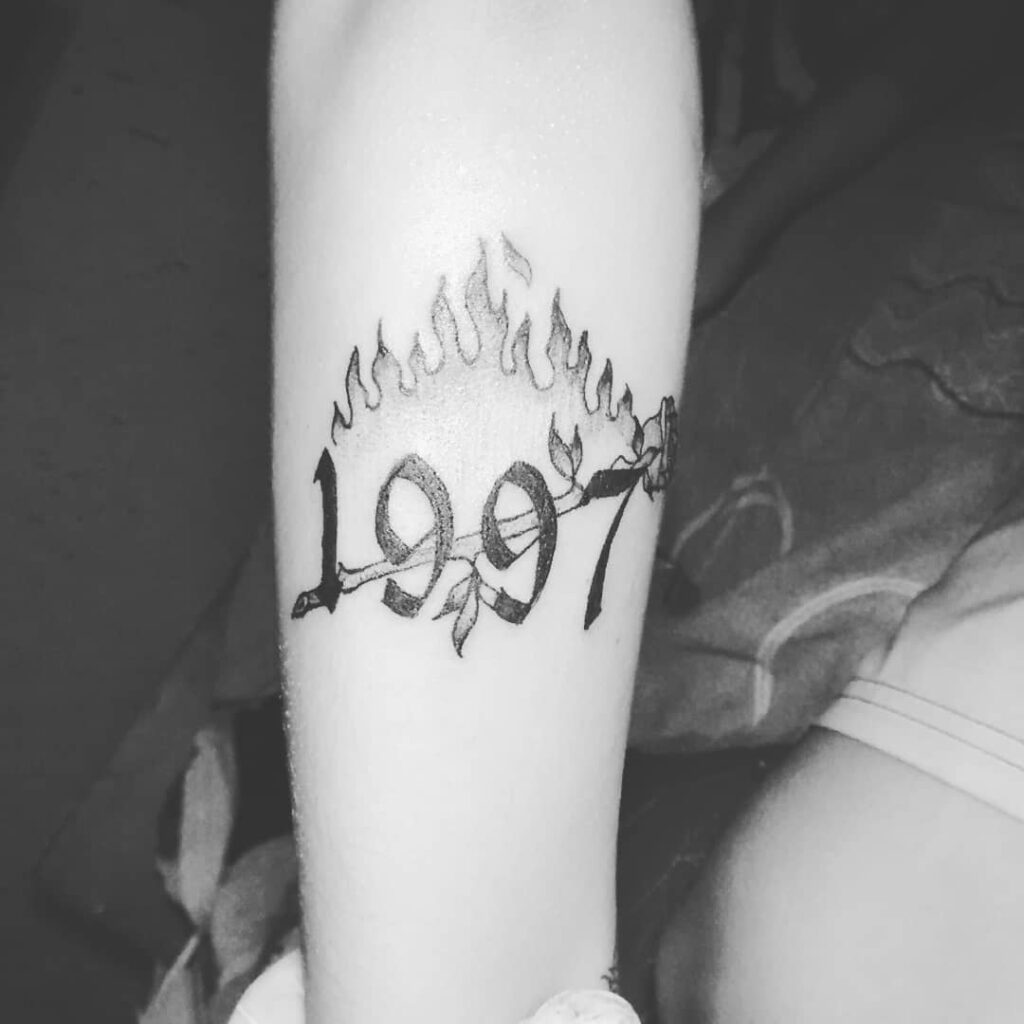 Est tattoo designs are a timeless choice for those who want to commemorate their birth year, celebrate their heritage or showcase their way of life. These tattoos also serve as a reminder of the experiences and events that shaped us into the person we are today. From good to bad, our journey is worth remembering and embracing. To add variety to your tattoo, you can use the full word "established" instead of the abbreviation "est" or other similar words. Colors can also be incorporated to make your tattoo stand out and become a statement piece on your body.
Feature image from Pinterest
Last reviewed and updated on May 4, 2023