Calling all enchanting souls and lovers of the mystical! It's time to spread your wings and add a touch of whimsy to your essence with our curated selection of fairy wings tattoos for your back. These designs are set to amplify the magical allure that you naturally exude!
Fairies, the charming inhabitants of folklore and fantasy, have always floated in the realms that blur the line between our everyday world and the magical unknown. Their ubiquitous presence in literature and cinema breathes life into our hopes and dreams, acting as a bridge between our reality and our yearnings.
In the world of body art, tattoos of fairies, nymphs, butterflies, and other winged sprites carry deep symbolism. They resonate with our innate connection to nature and encapsulate notions of freedom and hope. Moreover, fairies, in all their radiant innocence and unwavering loyalty, serve as beautiful reminders of the virtues we hold dear. In the gridlock of the ordinary, the tales of these mystical creatures rekindle our faith in the unseen wonders of the heart.
Tattoos have a way of expressing what words sometimes can't encapsulate. Adorning your skin with a fairy wing tattoo can act as a cherished emblem of your heart's silent wishes. They awaken the childlike wonder within, harking back to the times when waiting for Peter Pan at your window stirred a thrilling anticipation. They serve as a daily reminder that all beautiful things require patience to bloom.
So, if you're ready to let your spirit soar, allow us to guide you through ten handpicked fairy wing tattoo designs, each meticulously selected with someone as enchanting as you in mind.
Purple Themed Wing Tattoo Designs On Back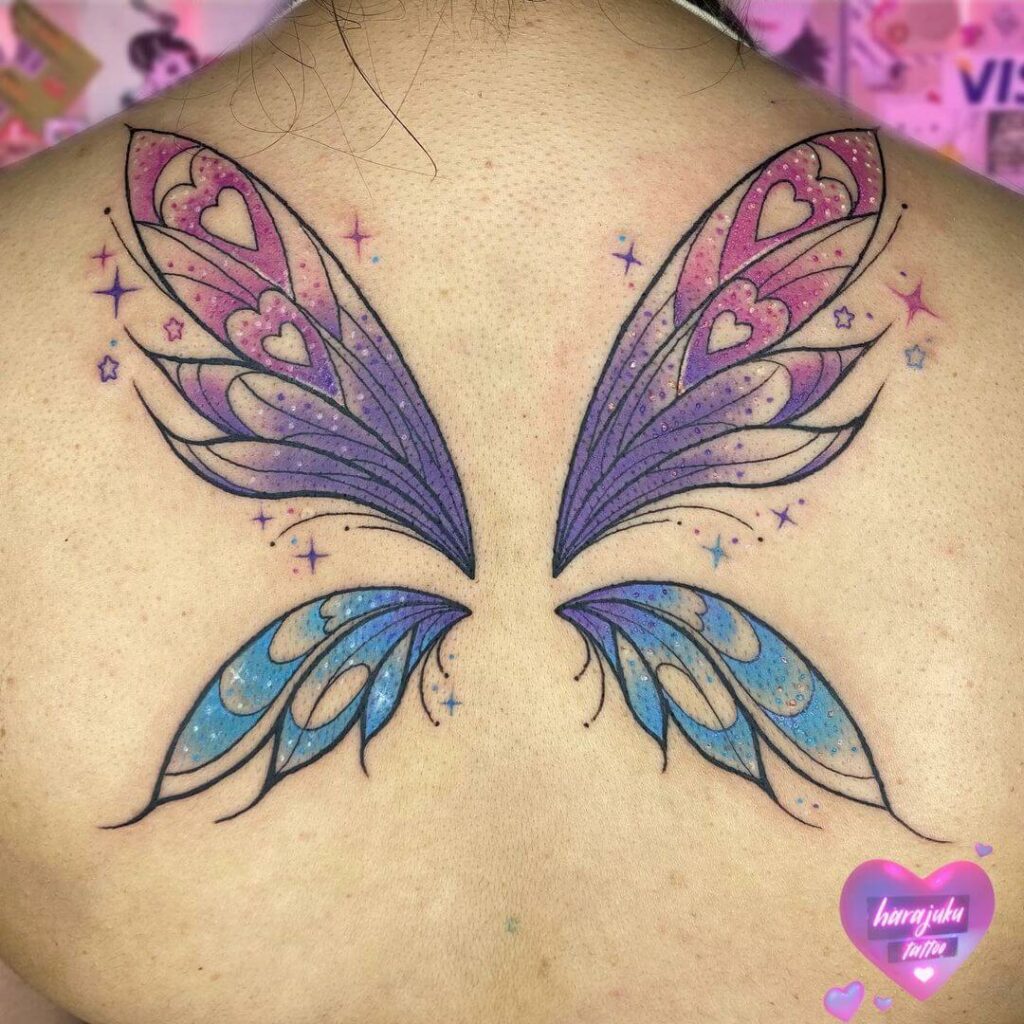 Revel in a vibrant dance of colors with this pair of captivating pink and purple hued fairy wing tattoos. The captivating design, detailed to perfection, ushers in a sense of grandeur that turns heads. The intricate blend of colors not only enhances the design but also breathes life into it, creating a spirited, playful look. These wing tattoos, situated perfectly on your back, serve as an emblem of your childhood dreams of flight, representing your innate desire to transcend mundane life for a realm of boundless freedom.
Fairy Wing Tattoo To Adorn Your Back
Elegance meets complexity in this bewitching fairy wing tattoo design. The tattoo showcases a fairy, her wings as delicate as a dragonfly's, blowing a tender kiss to the winds. The play of black and white shades creates an illusion of motion that's as tantalizing as it is tangible. Ideally suited for flat areas of the body with minimal undulations, this fairy tale beauty can enhance your shoulder blades, thighs, or the area just below the nape of your neck.
Elaborate Fairy Wings Tattoo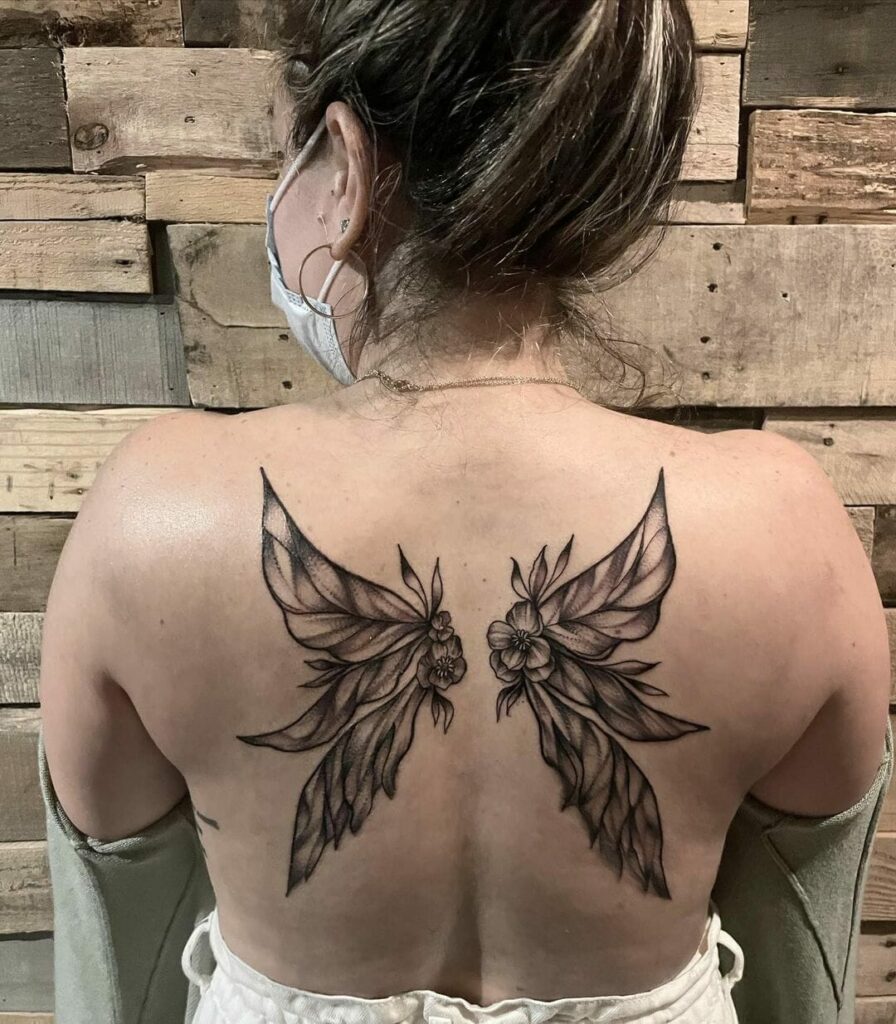 Prepare to be enchanted by this pair of stunning fairy wing tattoos. Their complex design, a labyrinth of black ink patterns, bears an uncanny resemblance to actual wings. The artistry lies not just in the detailed work, but also in capturing a sense of motion, offering an aesthetic that's refreshingly profound. While butterfly-themed tattoos are a common sight on women, the symbolic richness of these tattoos transcends gender boundaries, making them an ideal choice for anyone seeking to express their free spirit.
Gothic Fairy Wings For Back
Merge tradition with a touch of Victorian grace in this unique design of gothic fairy wings. Crafted meticulously in delicate black ink on the back, this grand design's standout feature is the curtain-like pattern along its edges. The pastel hues can lend an ethereal charm, turning this artistic masterpiece into a conduit to reconnect with your inner mysticism and spirituality.
Small Wings Tattoo In Black Ink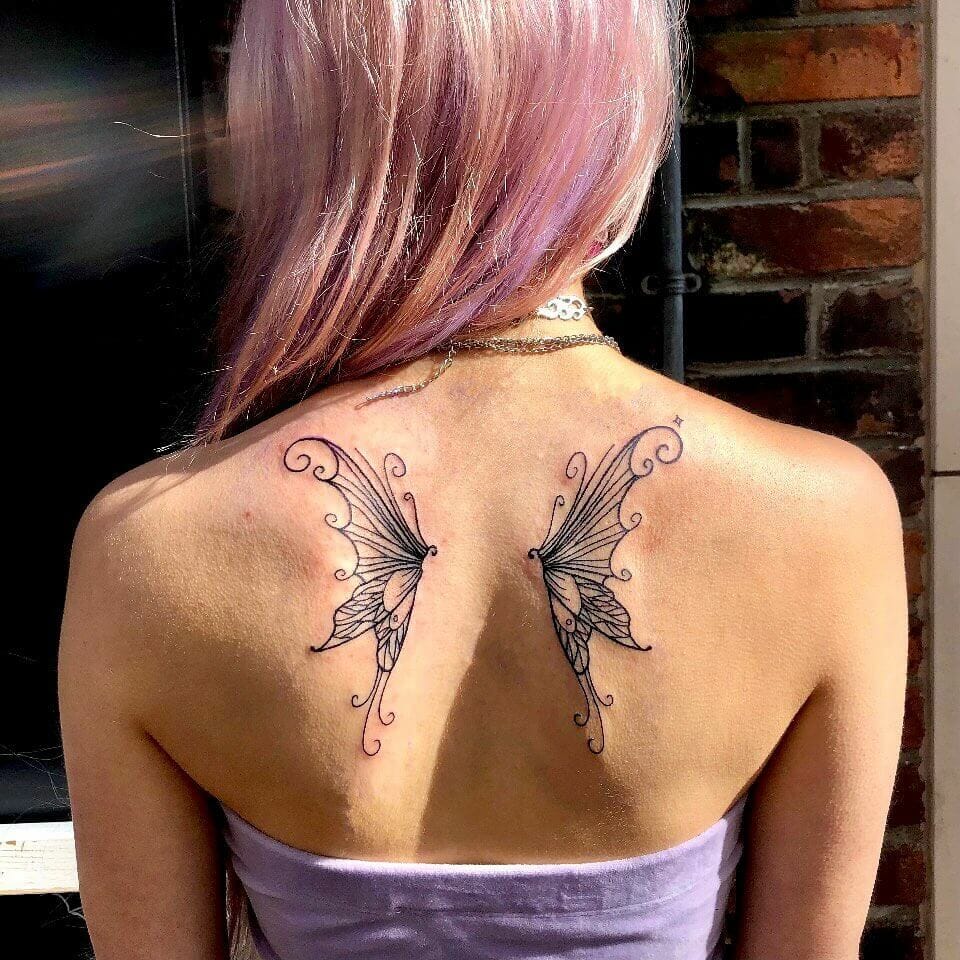 Embrace minimalism with this elegant pair of butterfly-styled fairy wings. This design, though simple, carries profound symbolic significance that can invite multiple interpretations. The intricate patterns within the wings are nothing short of breathtaking, providing an opportunity to experiment with color, size, and shape.
Wing Tattoos Featuring Dragonfly Fairy Designs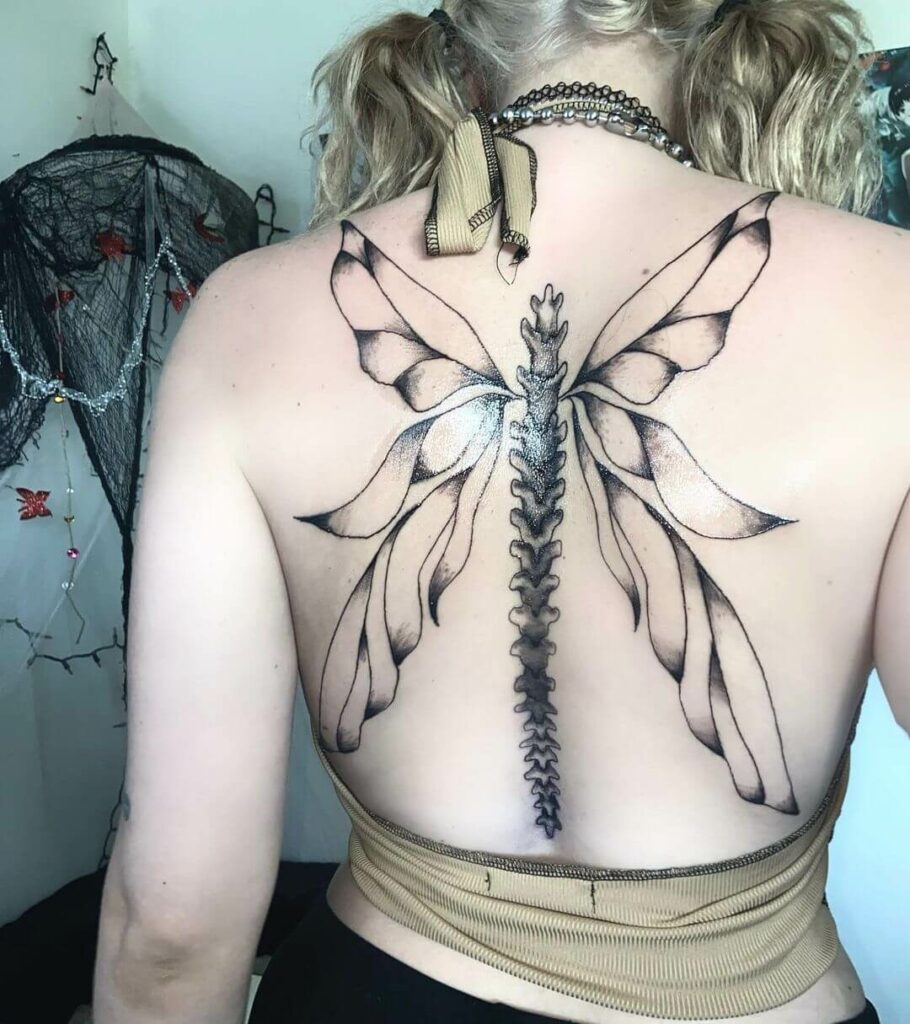 Innovative and liberating, this unique fairy wing tattoo design combines elements of a fairy and a dragonfly, resulting in an original masterpiece. The wings, detailed and grand, align beautifully with a spine tattoo resembling a dragonfly's body. Opting for a black-inked, shaded design intensifies the effect, making your back appear more toned and attractive.
Angel Wing Tattoo For Back
Experience the magic of symmetry with this pair of fairy wings tattoo, a quintessential design that breathes life into your movements. This ornate design, despite its intricate detailing, is well suited for broader and flatter shoulders, often a feminine trait. To truly make this design your own, experiment with bold colors for a fashionable twist.
Fancy Fairy Tattoo Featuring A Single Wing
Relive the nostalgia of fairy tales with this unique single fairy wing design. Its alternating light and dark shades emphasize the depth of the artwork. This tattoo, when placed correctly, helps maintain the integrity of the intricate details, reflecting the delicate nature of wings. Opt for vivid colors to draw the stars, complementing the primarily black and white design.
Gorgeous Fairy Wing Tattoo For Nape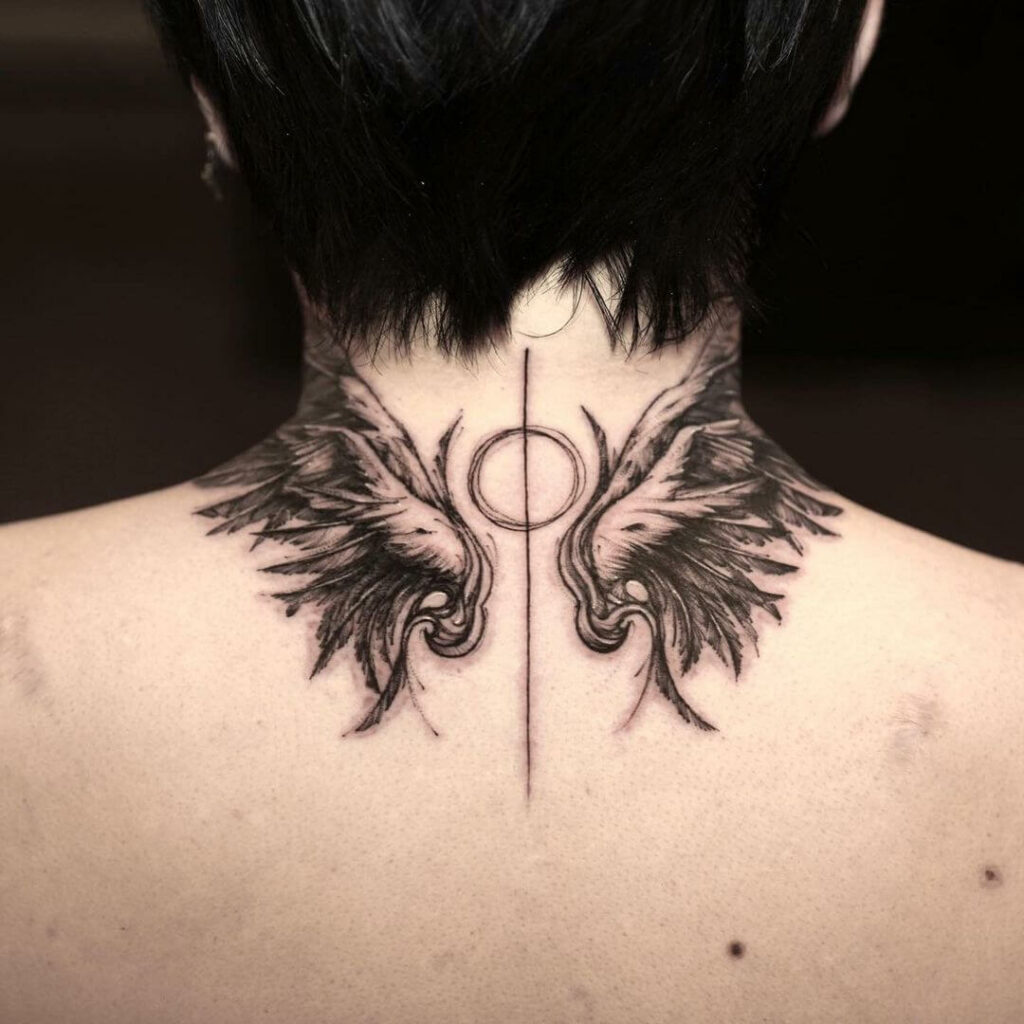 On the edge of gothic and macabre, this design features a pair of dark, heavily inked wings, centered around a vertical line passing through a circle. Incorporating your natural skin tone as part of the color scheme is a unique aspect of this design. The open-ended nature of the design invites a multitude of personal interpretations.
Coloured Pixie Wing Tattoo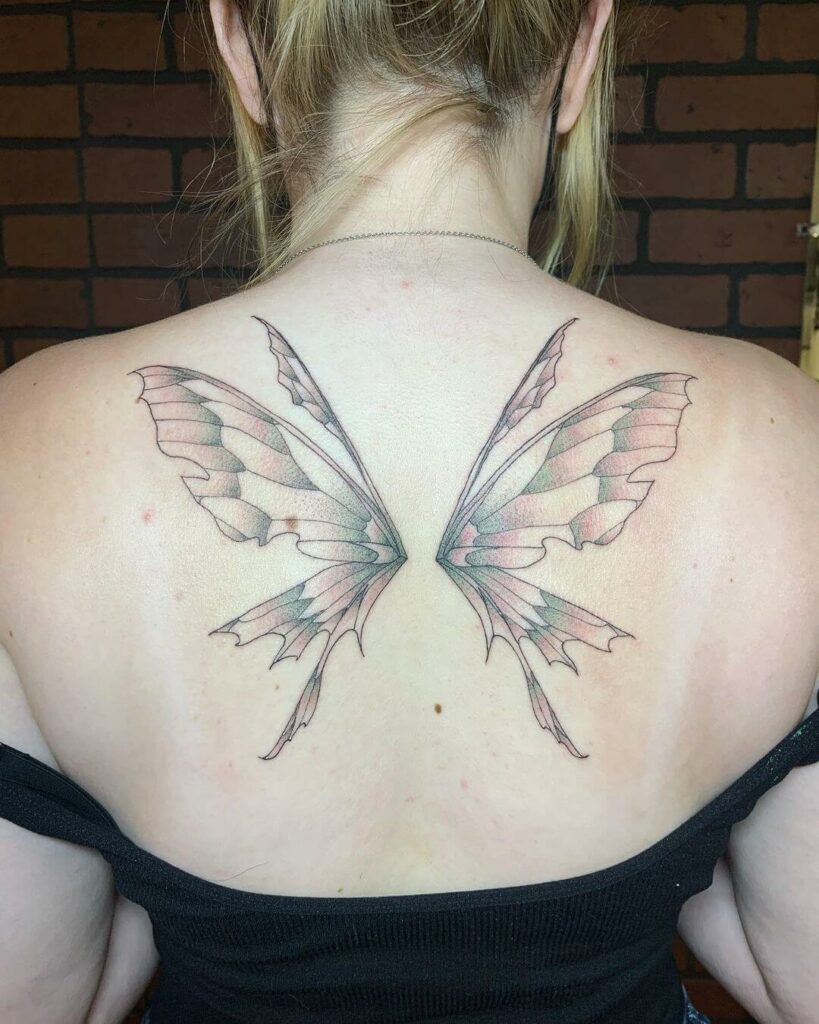 Step into a fantastical world with this realistic pixie wing tattoo. The watercolor style, coupled with a delicate blend of pale pink, offers a refreshing take on traditional fairy wing tattoos. With every fine stroke and meticulous detailing, this design embodies freedom and flight, bringing a timeless symbol of liberation to life.
Conclusion
Embracing the whimsy of the fairy world in the form of body art allows us to hold on to a bit of that magical childhood wonder. As we've journeyed through a colorful tapestry of fairy wing tattoo designs, we've discovered that choice of placement is key. Designs are ideally suited for areas with minimal curves such as the shoulder blades, thighs, or below the nape of the neck. While costs can vary depending on the complexity of the design, the expertise of the tattoo artist, and your geographical location, a mid-range estimate could be between $200 to $400. However, remember that price should not supersede quality and safety. It's worth noting that while tattoos can be a beautiful form of self-expression, potential risks such as skin infections or allergic reactions can occur. So, ensure your tattoo artist maintains high hygiene standards and uses quality inks. At the end of the day, the enchantment of your fairy wing tattoo will lie not just in its aesthetic appeal but also in its ability to resonate with your personal journey. After all, tattoos are more than skin deep – they're a narrative of who we are.
Feature image from Pinterest