If you're drawn to the captivating stories of Lucifer and the fallen angels, you're not alone! We've put together a collection of stunning fallen angel tattoos that are far from sinister, just for you.
Fallen angel tattoos have long captivated the hearts of tattoo enthusiasts worldwide.
While fallen angels are often seen as symbols of rebellion against divine authority, there's much more to the story. These once-perfect beings experienced not only a physical fall from grace but also a profound loss of innocence and faith. Throughout history, they've been portrayed as suffering souls, yearning for redemption and forgiveness from the heavens.
The meaning behind a fallen angel tattoo can be deeply personal, representing an individual's struggle to return to a better state or commemorating a significant loss. Ultimately, the interpretation of these tattoos varies from person to person. So if you're ready to explore the poignant beauty of fallen angel designs, check out our curated collection to find the perfect one for you!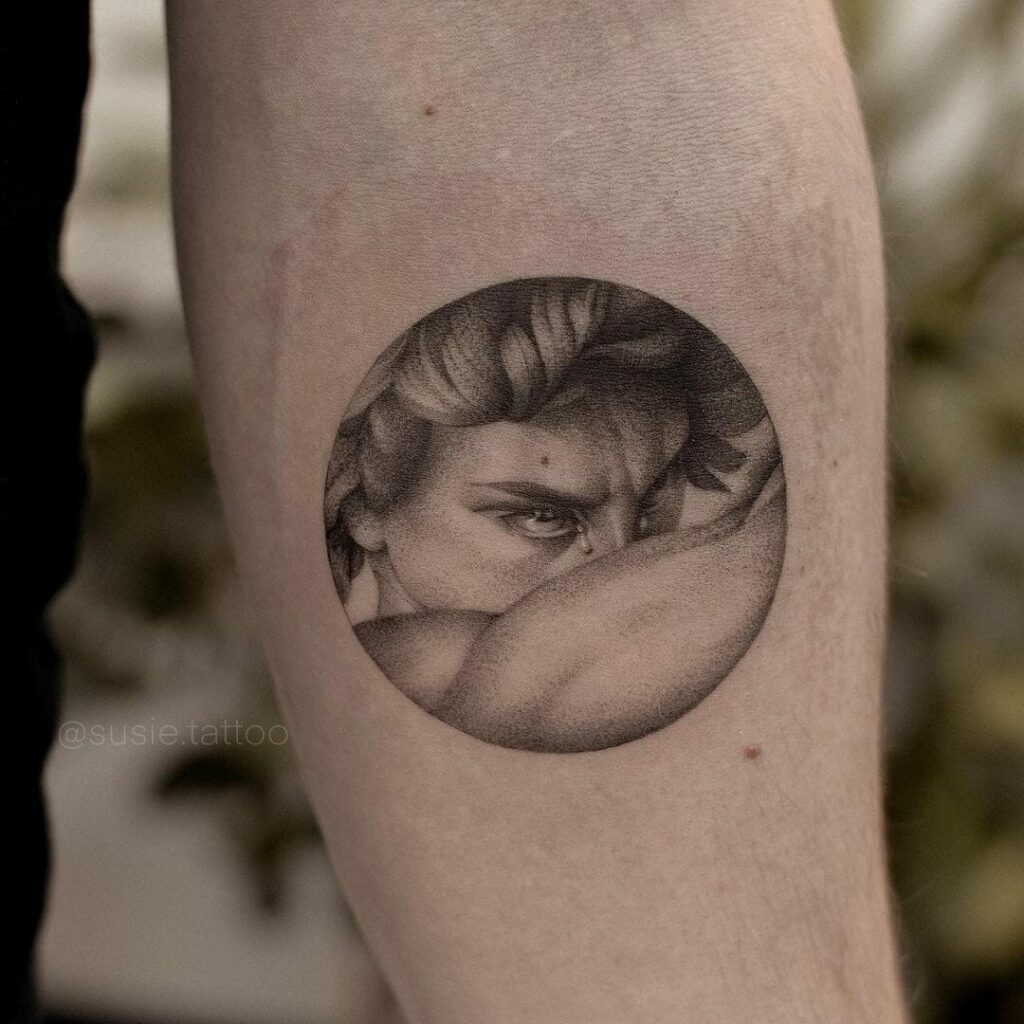 Fallen Angel Out Of A Canvas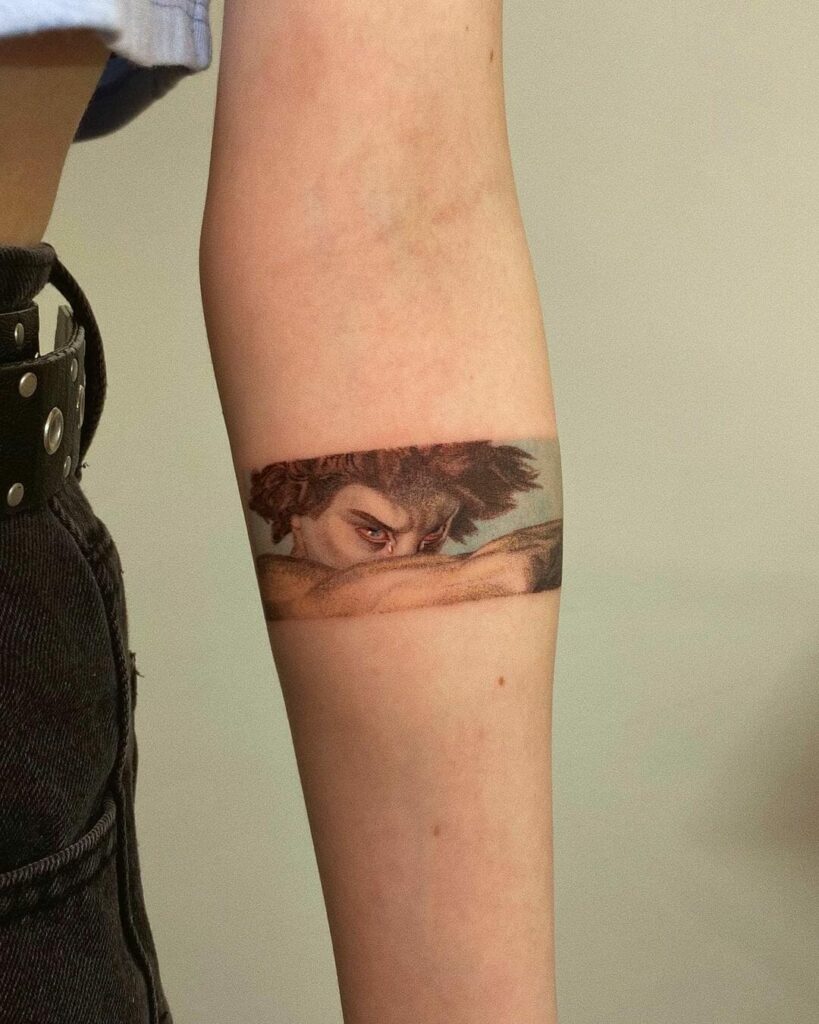 The French painter Alexandre Cabanel's painting of a fallen angel crying has been admired by art enthusiasts for years. Now, a talented tattoo artist has attempted to capture the true essence of the artwork with this stunning piece. The color gradient is preserved, and the micro-realistic fallen angel tattoo is the perfect size for your forearm. This design is an excellent way to display your appreciation for classical art while adding a touch of edginess to your personal style.
The Fall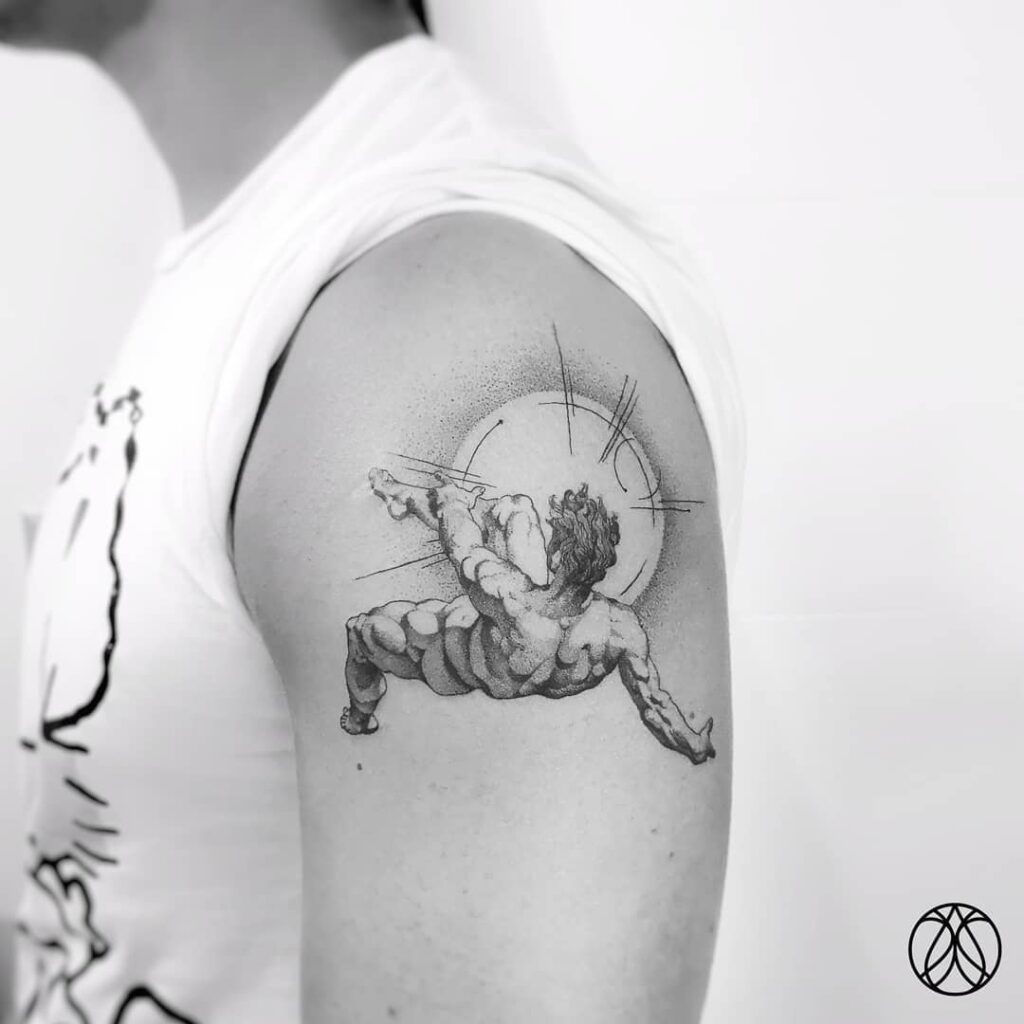 This breathtaking fallen angel tattoo is more than just ink on skin; it's a powerful representation of a biblical event. The skilled tattoo artist has managed to capture the essence of the angel's moral and physical fall in this piece. The depiction of the angel clinging onto the last shred of hope and light before falling into an endless pit is truly moving. The dot works halo and stretched fingers in the design only heighten the sentiment of the piece. Whether you're a lover of biblical art or just looking for a stunning and meaningful tattoo, this fallen angel design on your forearm is sure to be a showstopper.
Fallen Angel Tattoo On The Back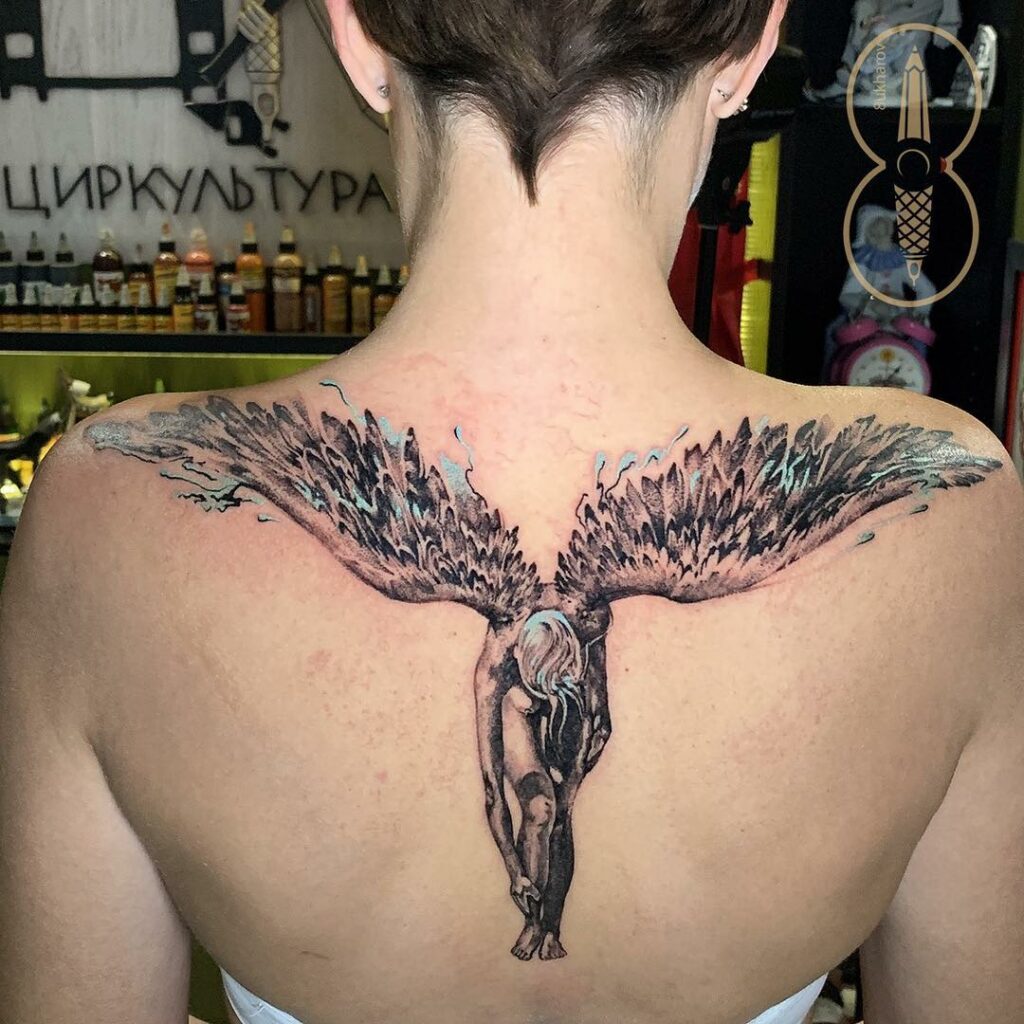 The loss of innocence and the yearning for a heavenly ideal is a common theme that resonates with many of us. This stunning portrait of a fallen angel captures the same emotions with its drooping head and somber expression. The masterful use of shading and fading luminescence in the wings create a dramatic effect, emphasizing the intensity of the loss. This fallen angel back tattoo is a great way to express your struggles and find solace through art. It is a powerful reminder that even in darkness, there is still beauty to be found.
Inspirational Fallen Angel Tattoo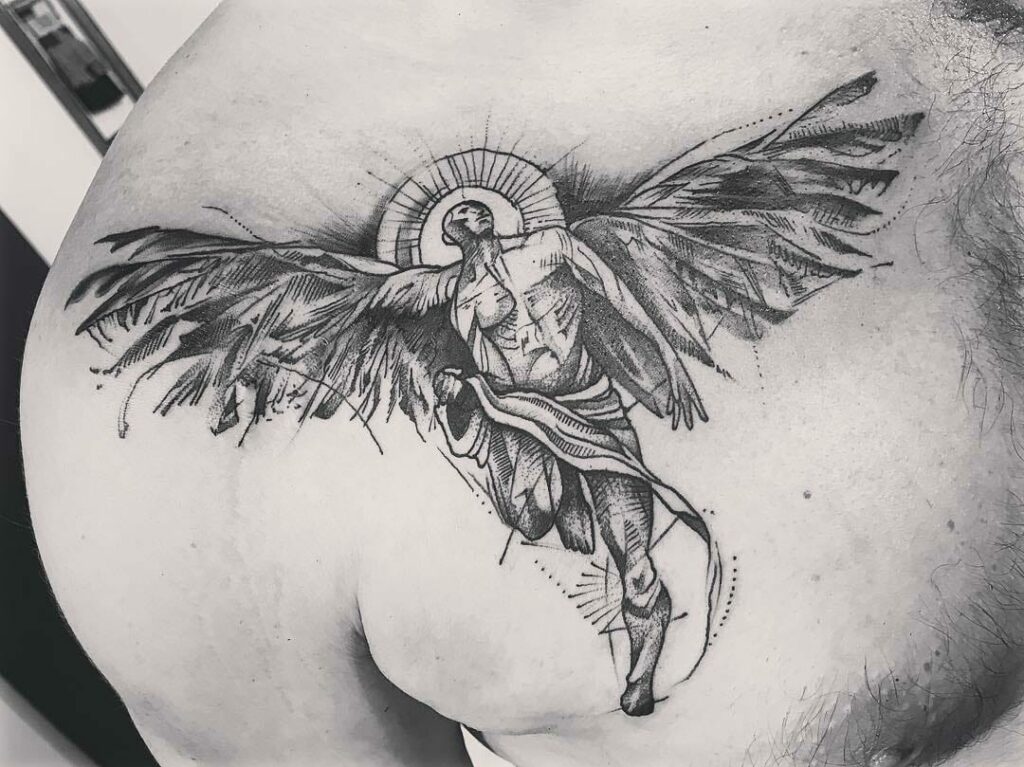 This stunning fallen angel tattoo placed around the clavicle area is an excellent example of the fine line work and shading techniques used by professional tattoo artists. The fascinating thing about this tattoo is that the fallen angel appears to be looking upwards with hope, rather than grieving. This design portrays the optimistic side of the fall and serves as a reminder that one can learn and grow even after experiencing loss.
Minimal Fallen Angel Tattoo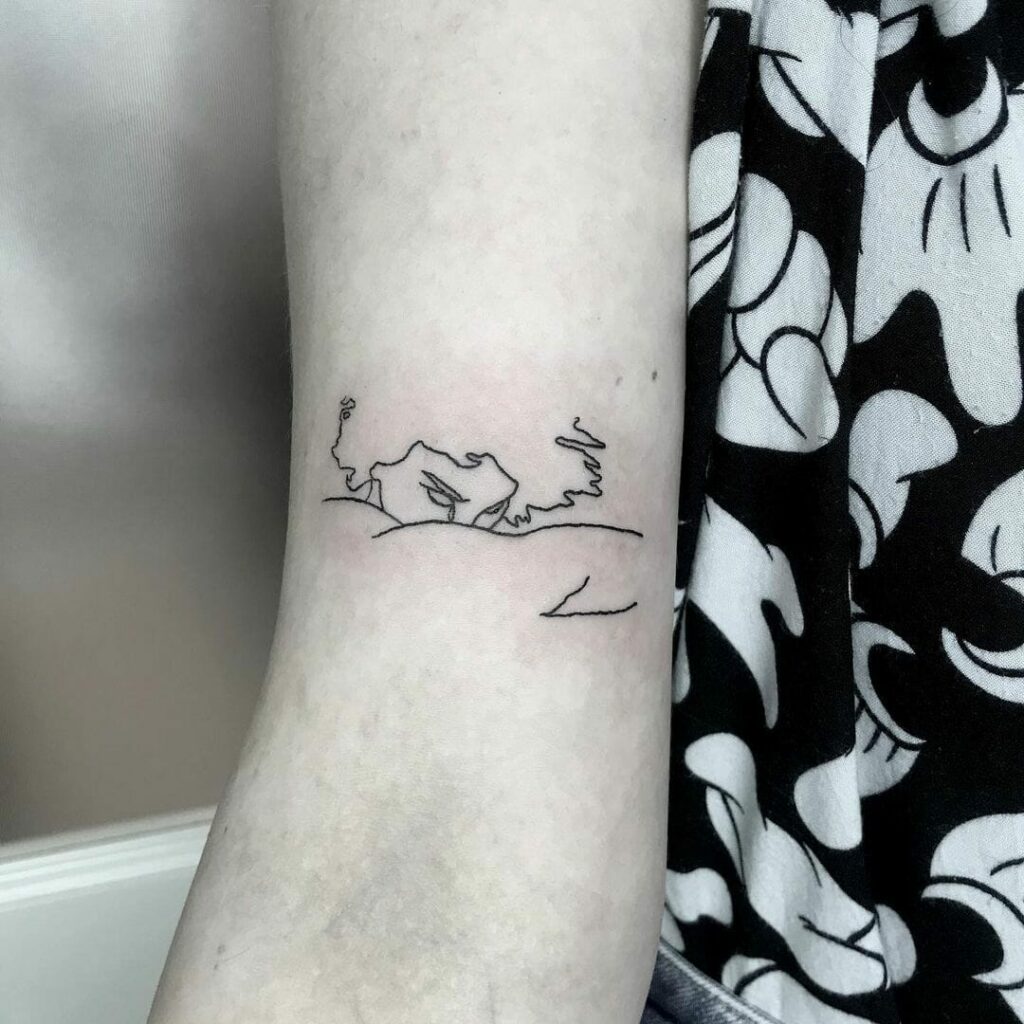 This tattoo design is inspired by Cabanel's famous painting of a fallen angel but with a modern, minimalist twist. The tattoo artist has opted for clean outlines to depict the suffering angel, while keeping the design simple yet elegant. Minimalist tattoos have gained immense popularity in recent times and this fallen angel tattoo is no exception. It would be an excellent choice for anyone looking for a sleek and stylish tattoo on their forearm or just above the elbow.
Fallen Angel Tattoo With Serpents
When it comes to angel tattoos for men, there are countless options to choose from. For those looking for a unique twist on traditional designs, this particular angel tattoo is a great choice. While the design features a defeated angel landing in hell, it's not necessarily dark or gloomy. Instead, the intricate details on the angel's wings add depth and contrast to the relatively simple body design. This tattoo can be placed on the arm, chest, or anywhere else you desire. Whether you're new to tattoos or a seasoned pro, this tattoo is sure to make a statement.
Fallen Angel Tattoo On Forearm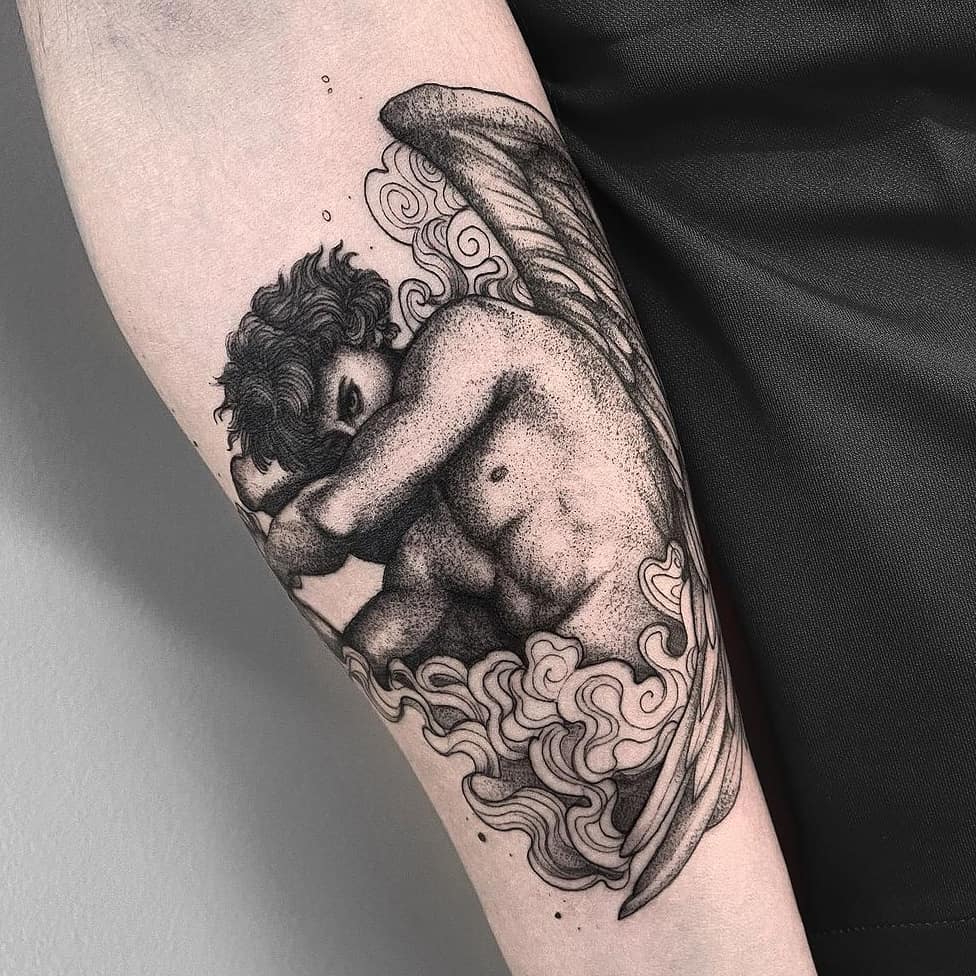 Forearm tattoos are often thought to be small and attractive, but this is not always the case. In fact, many tattoo designs can look stunning on the forearm. This fallen angel tattoo design is a great example. It features the fallen angel from Cabanel's painting, but with abstract patterns and fallen angel wings. The artist skillfully incorporates intricate patterns and dot work, usually reserved for larger tattoos, into this design. The background is not mundane but rather includes spiral lines that resemble clouds while falling. This stunning design will look amazing on your forearm and is sure to turn heads.
Fallen Angel Tattoo Sleeve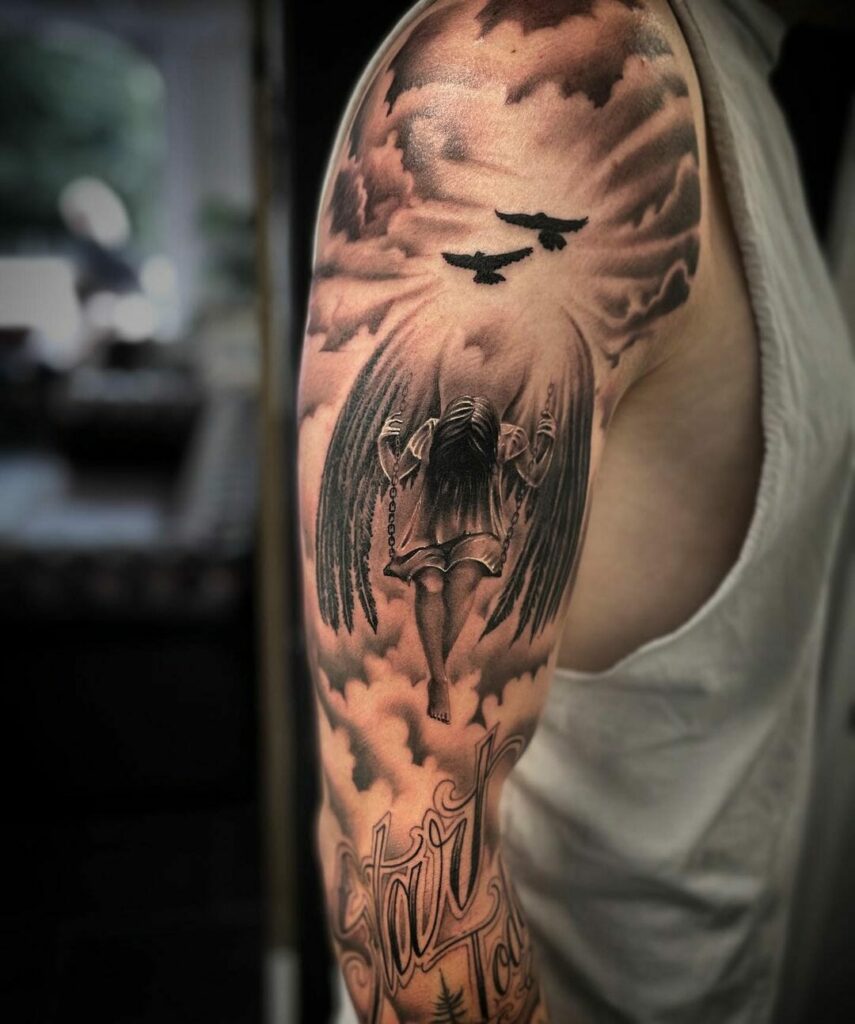 This full-sleeve tattoo is perfect for men who want to show off their inked arms. The design features a female fallen angel with a beaten and lost expression, symbolizing the loss of innocence. The background of the tattoo showcases different interpretations of heaven that have been around for centuries. The meaning behind this tattoo design is relatable to anyone struggling with their personal struggles and feelings of hopelessness. It's a powerful reminder that even in the darkest moments, there's always hope for redemption.
Fallen Angel Tattoo With Wrath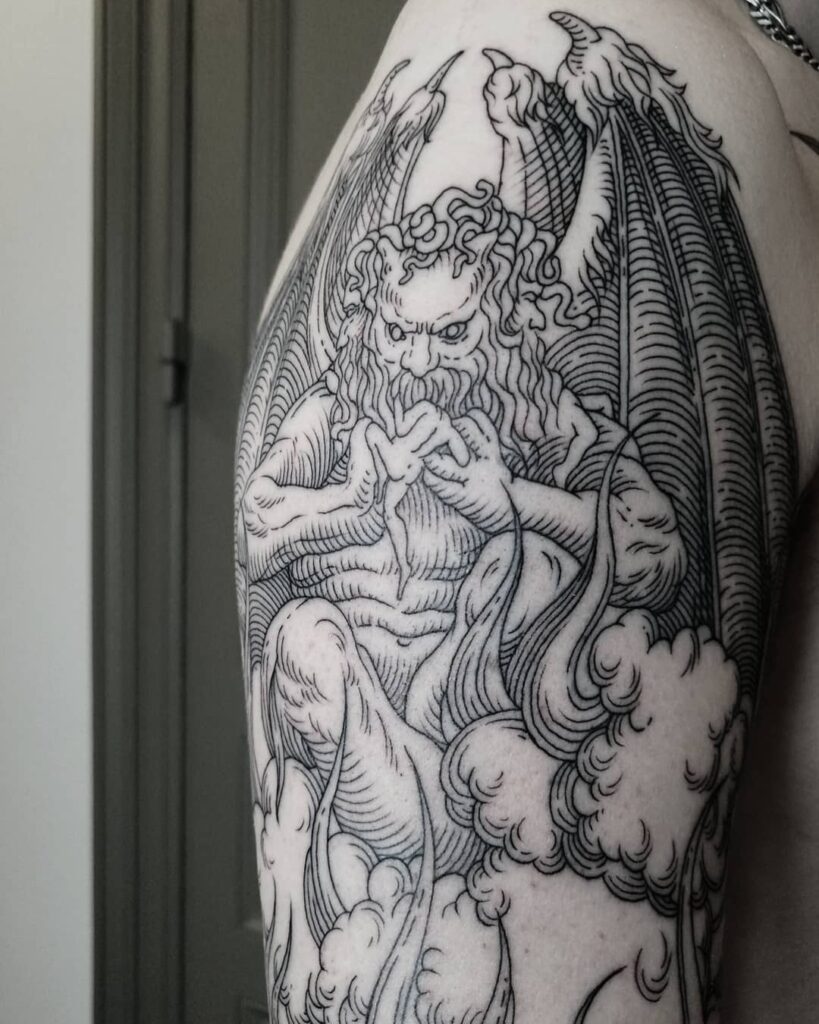 Looking for a tattoo design that strays from the conventional angel portrayal? Look no further than this unique fallen angel tattoo, which depicts Lucifer himself with a mischievous look in his eyes. The intricate details in the wings and body of the fallen angel add depth and dimension to the design. But this tattoo is not just about Lucifer – it also includes the male and female humans who succumbed to evil and lost their place in the Garden of Eden. This fallen angel tattoo is an excellent choice for anyone who wants a thought-provoking piece of body art that challenges traditional notions of angels and demons. And if you really want to make a statement, consider getting it inked on your back.
Fallen Angel Tattoo With Skulls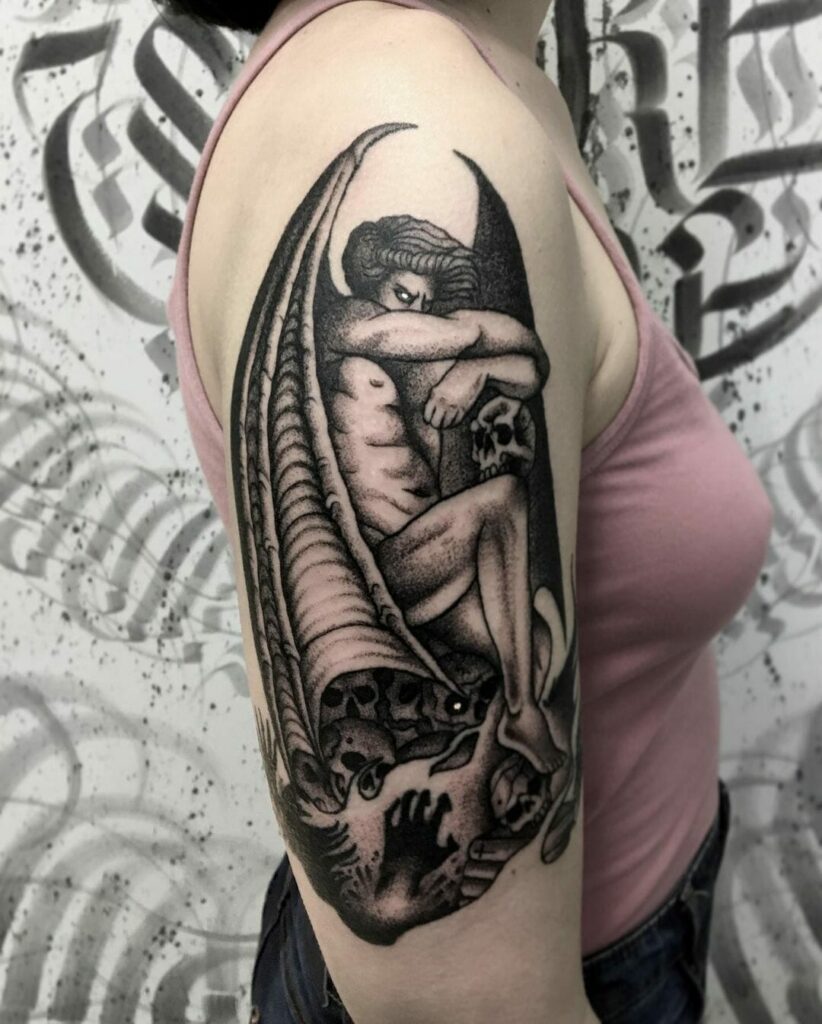 Fallen angel tattoos are a popular choice for both men and women, and they can be designed in a variety of styles and meanings. In this particular tattoo design, we see the fallen angel depicted in a state of despair and hopelessness, surrounded by symbols of death and decay. The intricate details of the skulls and handprints are accentuated by masterful shading and line work, making this design a true work of art. For those who want to showcase this design on a larger surface area, the calf is a great option. With the recent popularity of the show "Lucifer," which features a fallen angel as the main character, fallen angel tattoos have become even more popular among body art enthusiasts who love to experiment with creative and unique designs.
Still looking for inspiration, then checkout this blog post about angel tattoo ideas
Feature Image from Pinterest – Want your tattoo to look brighter? Try "Tattoo Balm"