Are you on the lookout for tattoo ideas that symbolize female strength? You've come to the right place! In this article, we've gathered an inspiring collection of meaningful tattoos that celebrate resilience and power.
Tattoos are a unique form of body art created by injecting ink beneath the dermis layer of the skin to form intricate and beautiful designs. They can serve as powerful reminders of one's inner strength and convictions.
For women, there's a wide array of symbols and themes that represent strength, loyalty, and stability. Each design carries a unique meaning and tells a story of personal resilience and empowerment.
Popular themes among women include intricate Norse mythology tattoos, as well as more subtle designs like a heart or spirit animal tattoo. These symbols allow women to showcase their emotional and physical strength while embracing their individuality. So, let's explore some of these fantastic tattoo ideas that you can consider for your next ink!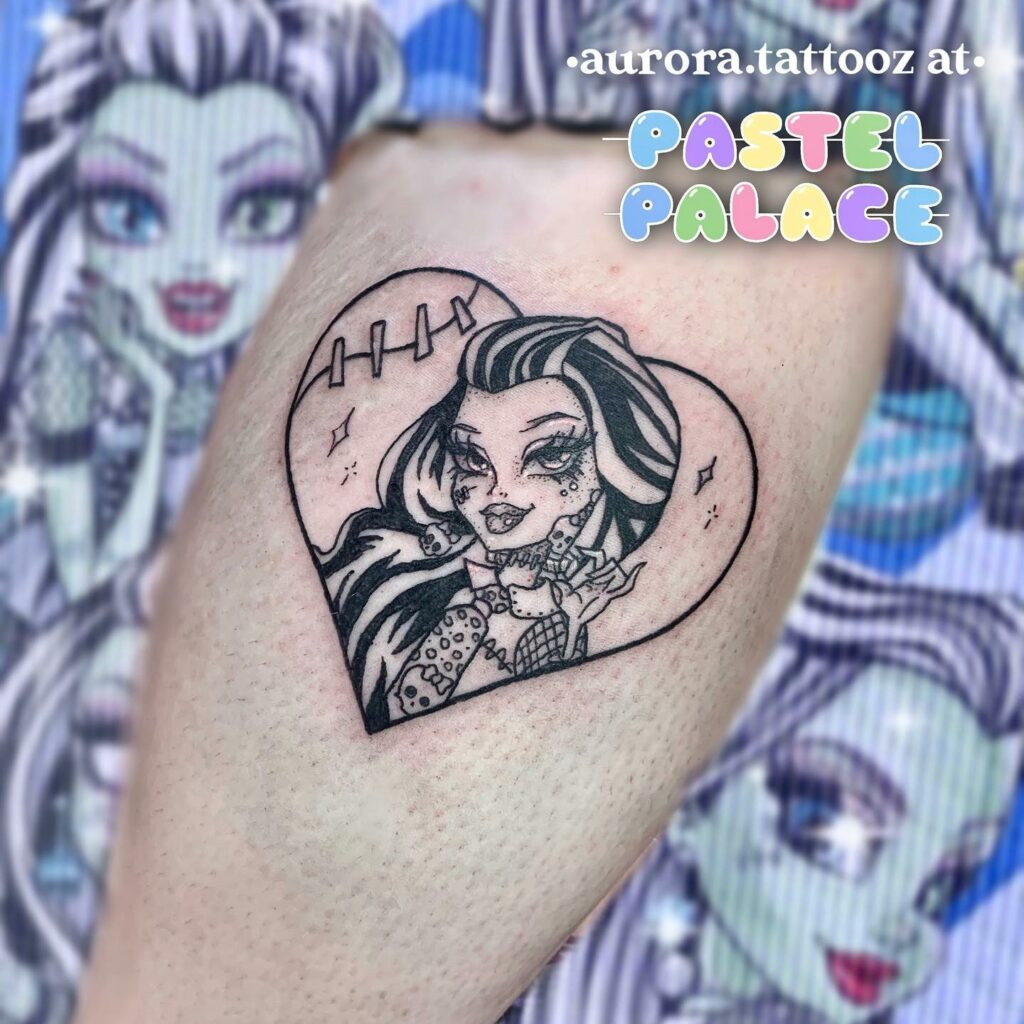 Meaningful Female Strength Symbol Tattoo
Small tattoos are a popular way for women to showcase their inner strength and resilience, and this design is no exception. Etched onto the forearm, it features a delicate lotus flower accompanied by a crescent moon. While this tattoo has a religious meaning, it also holds personal significance for the wearer.
The lotus flower is a powerful symbol with multiple meanings, representing wisdom, strength, and growth. It is often associated with those who are striving to better themselves and rise above adversity. The crescent moon, on the other hand, represents change and transformation. When combined with the lotus, this tattoo represents a continuous journey towards purity and personal growth.
Strength tattoos come in a variety of designs and styles, each with its own cultural and symbolic significance. This particular tattoo is a beautiful and meaningful way to showcase your inner strength and resilience.
Meaningful Small Female Strength Symbol Tattoo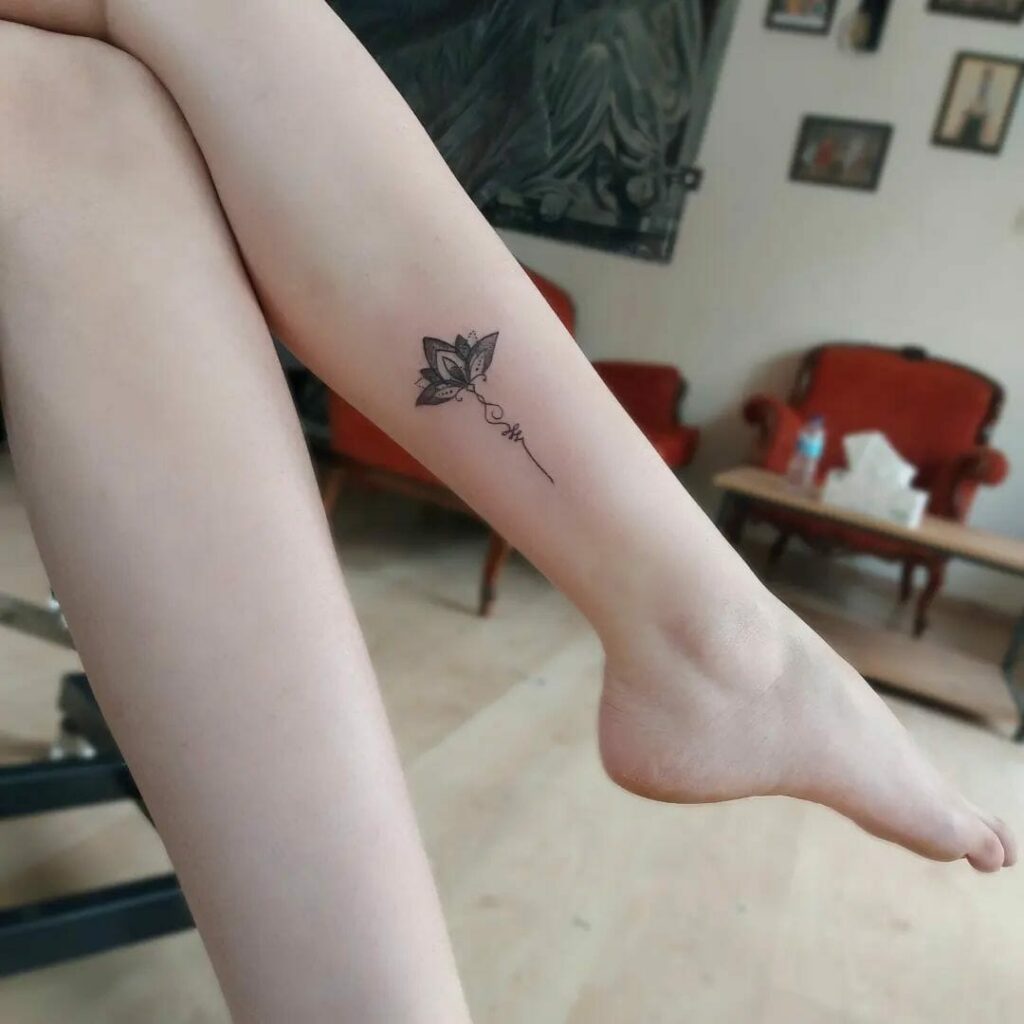 Tattoos have always been a way of reflecting our ideas, beliefs, and cultures. If you're looking for a popular and meaningful tattoo design, then lotus tattoos are the way to go. In this image, we can see a beautiful lotus flower tattooed on the leg of a woman. This kind of tattoo is becoming increasingly popular among girls, and the use of new ink has resulted in a more vibrant representation of the design.
The lotus flower is not only aesthetically pleasing but also carries a deep spiritual meaning. In Hindu culture, it has been a symbol of purity and spiritual awakening for centuries. The ancient symbol of the lotus flower also signifies the journey of becoming a better person, as it grows in muddy water and yet blossoms into a beautiful flower. Getting a lotus flower tattoo can be a way of reminding yourself of this journey towards self-improvement and inner beauty.
Deep Meaning Female Strength Symbol Tattoo Designs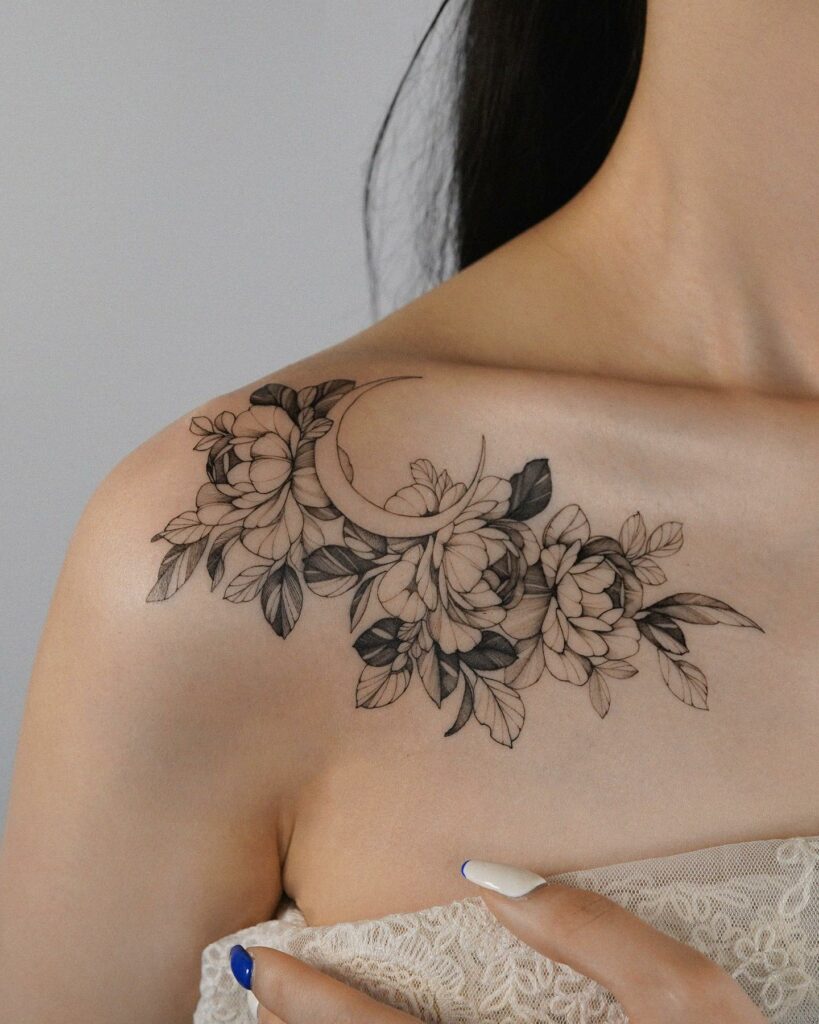 When it comes to tattoos, sometimes less is more. Small tattoo designs can be just as classy and alluring as larger ones. One popular design is the moon tattoo, often paired with roses for a romantic touch. The Flower Moon, which occurs in May, is a particularly popular time for moon tattoos. The image of a moon and flowers on the shoulder of a woman gives an ethereal, almost mystical vibe. The moon represents change, growth, and passing of time, while also symbolizing strength and good fortune. If you are struggling with mental health issues, this design could be a meaningful way to represent your journey towards renewal and growth.
Feather Tattoo Ideas For women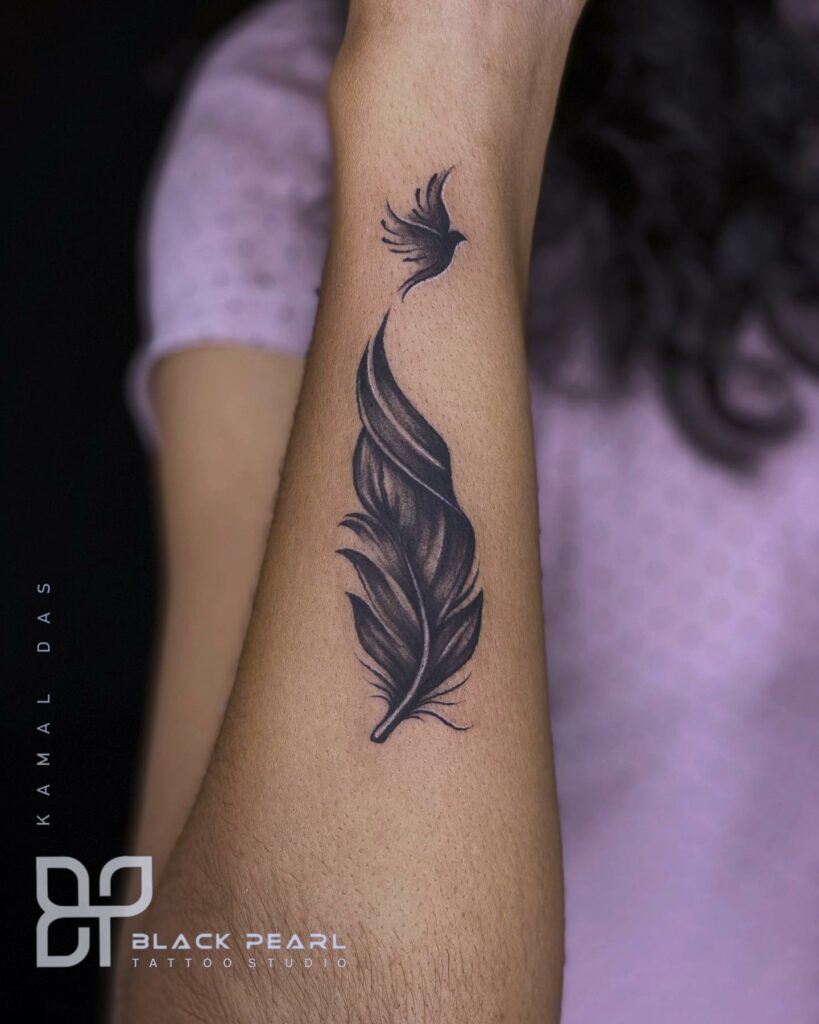 When it comes to tattoo ideas for women, it's important to consider the significance behind the design. One popular option is the feather tattoo, which is often inked on the wrist. This particular design is perfect for those who are sensitive to pain. The feather represents freedom, as it is often associated with birds. Additionally, the tattoo symbolizes courage, wisdom, and strength. The word strength itself means the ability to overcome difficult situations, making this tattoo a great choice for women who want to feel empowered. It can also bring good fortune. Small tattoos like this are cute and can enhance one's physical appearance.
Phoenix Tattoo Designs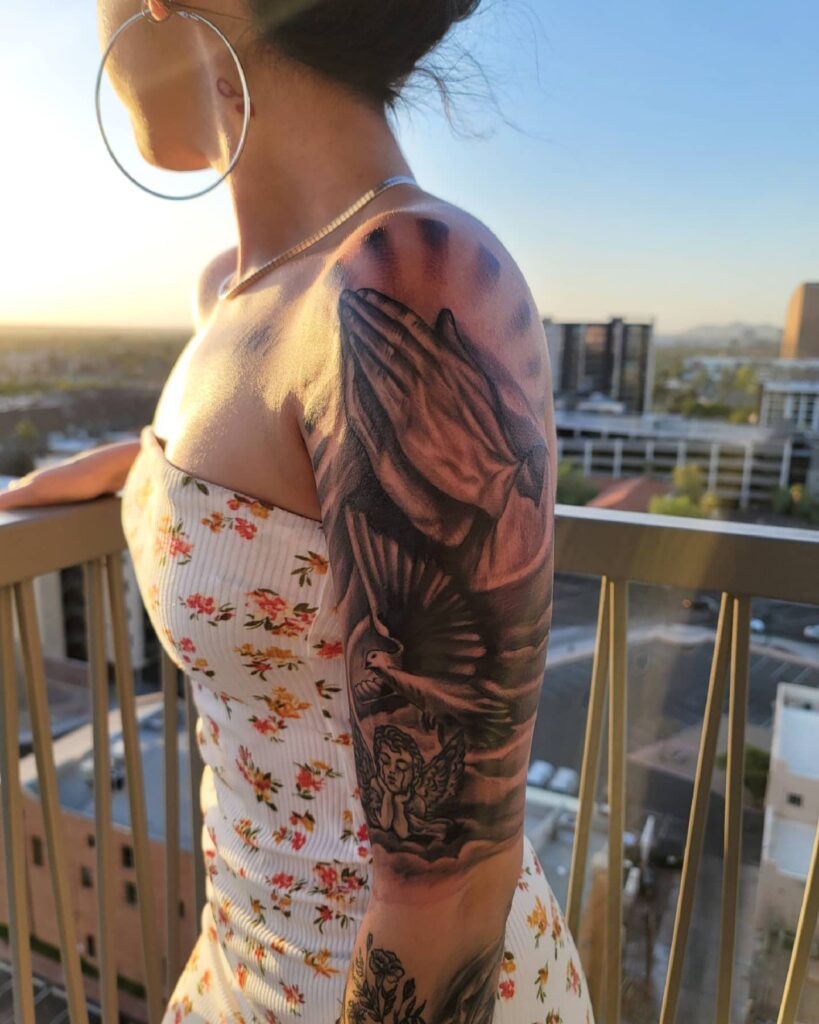 The Phoenix tattoo is an amazing design that looks great on the entire arm of a person. In this particular image, you can also see a flying dove and praying hands. The Phoenix bird has been a part of mythology since ancient times, and it represents the cycle of life and nature, and the concept of renewal. It is a perfect symbol of birth, death, and rebirth.
This tattoo idea is popular among people who want to signify a new beginning or a new chapter in their life. The praying hands indicate Christianity and the power of prayer. The image of the dove adds to the overall beauty of the tattoo and symbolizes love and peace. If you are looking for a tattoo that represents strength, power, and renewal, then the Phoenix tattoo is a perfect choice.
Angel Tattoo Designs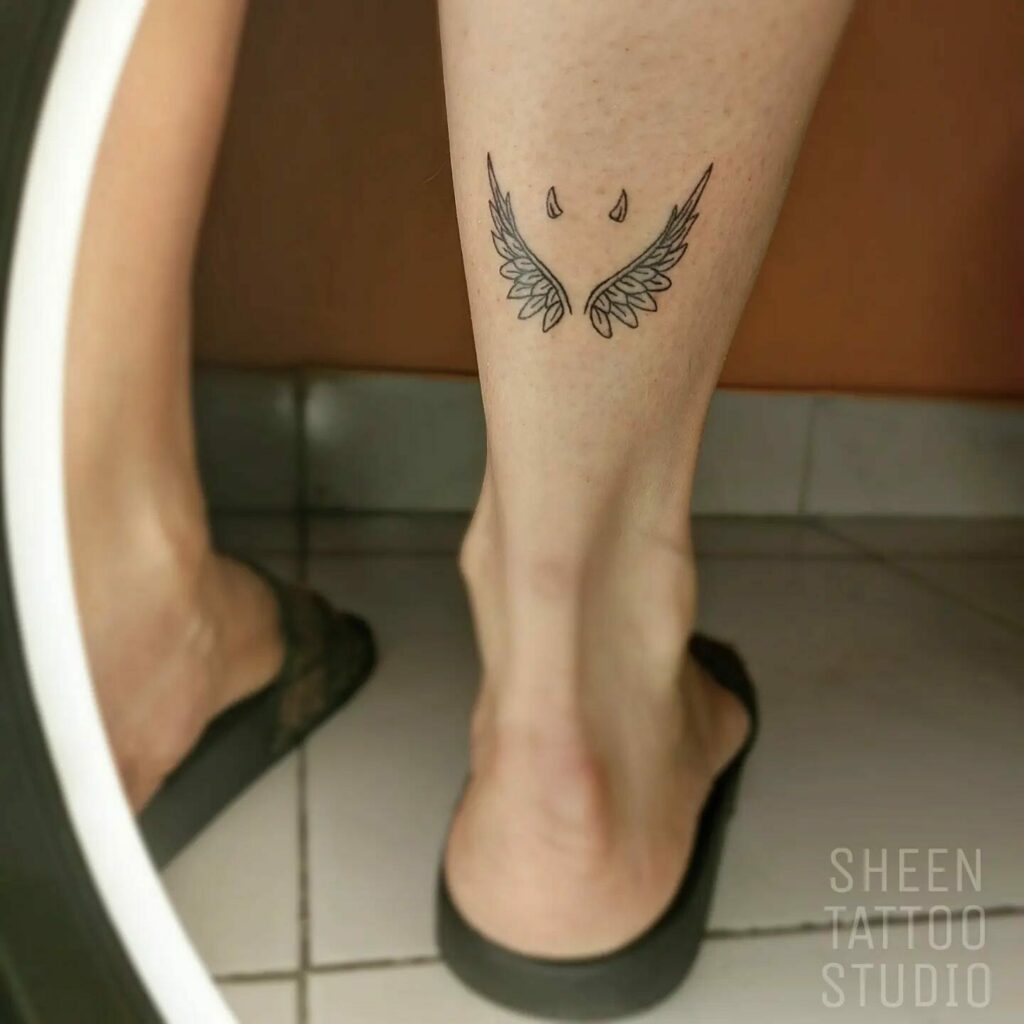 Angel wing tattoos are a beautiful way to express your faith and belief in divine protection. This tattoo design, in particular, is inked on the leg of the person, creating a unique placement that adds to its overall meaning. Angel wing tattoos are often seen as a tribute to a loved one who has passed away, serving as a reminder that they are now a guardian angel watching over us. They also hold a significant place in the Christian faith, representing the holy and angelic side of one's personality. If you're looking for a small tattoo idea to pay homage to a loved one, an angel wing tattoo may be the perfect choice for you.
Cross Tattoos For Women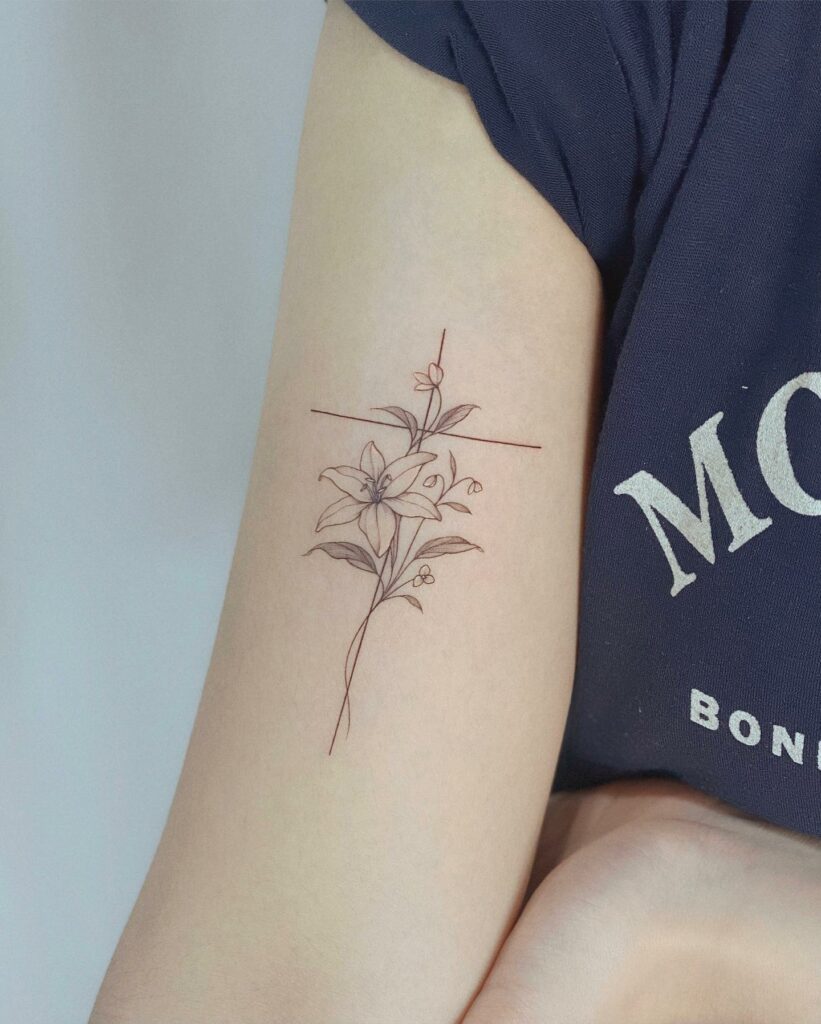 Cross tattoos have been a popular way of expressing faith and devotion to Christianity. This particular tattoo design features a cross on the upper arm of a woman, which represents her emotional strength and trust in God. The addition of a lily flower is also significant, as it symbolizes purity, loyalty, and rebirth. In Christianity, lily flowers are associated with the tears of the Virgin Mary, shed at the cross of Christ. The cross itself is a symbol of sacrifice and unconditional love, as it represents the place where Jesus died to save humanity. This tattoo design is a great way to show your devotion to Christianity and can be easily worn with a full sleeve dress.
Deep Meaning Female Strength Symbol Girly Hamsa Hand Tattoo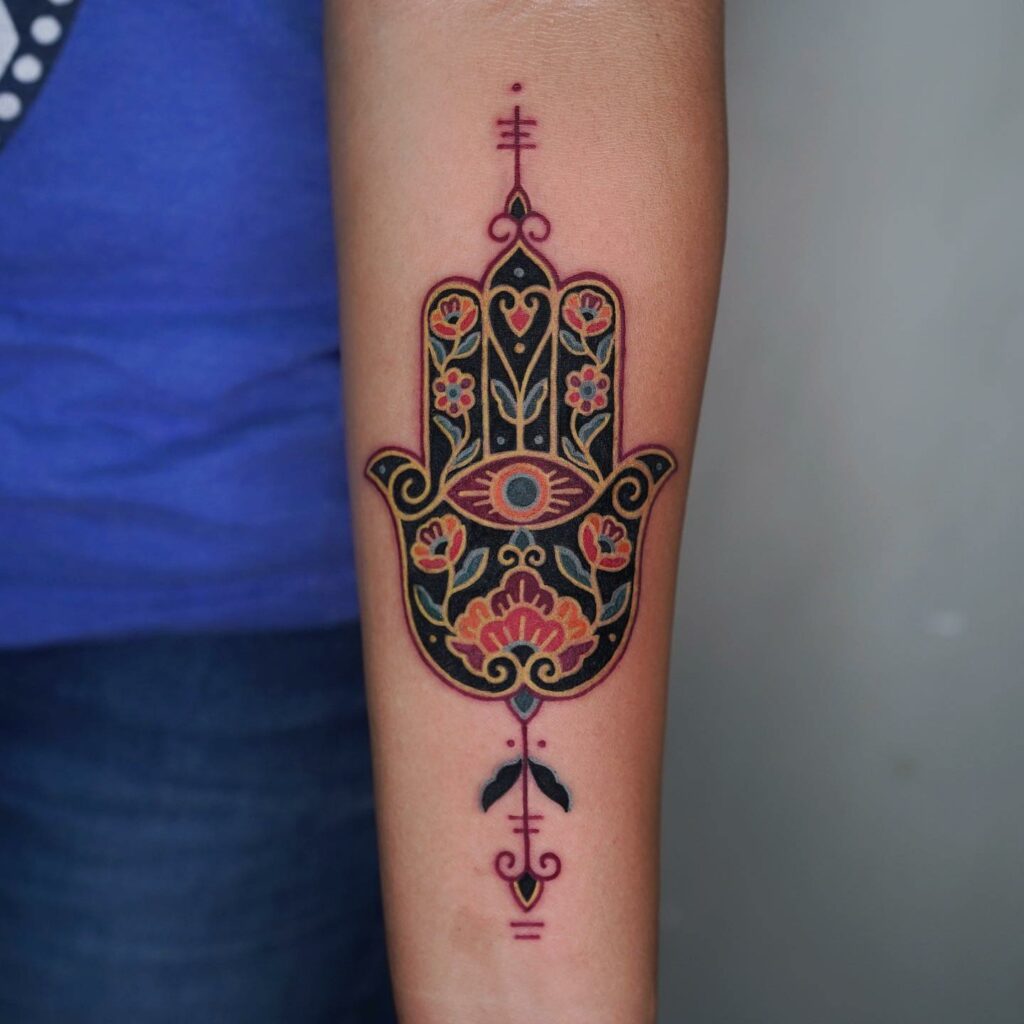 There are a variety of tattoos that people can choose from to express their emotional, physical, and mental strength. One such design is the Hamsa tattoo, which symbolizes the hand of God. In this particular tattoo, the woman has inked it on her upper arm, displaying her strong faith in God and his support in fighting against life's difficulties.
In today's time, Hamsa tattoos are gaining popularity as they are believed to dispel bad luck and bring good health, luck, and happiness to the wearer. The roots of Hamsa tattoos can be traced back hundreds of years to the Mesopotamian and Phoenician civilizations. These ancient artifacts provide insight into the cultural significance of the design and its lasting power.
Arrow Tattoos Designed For Women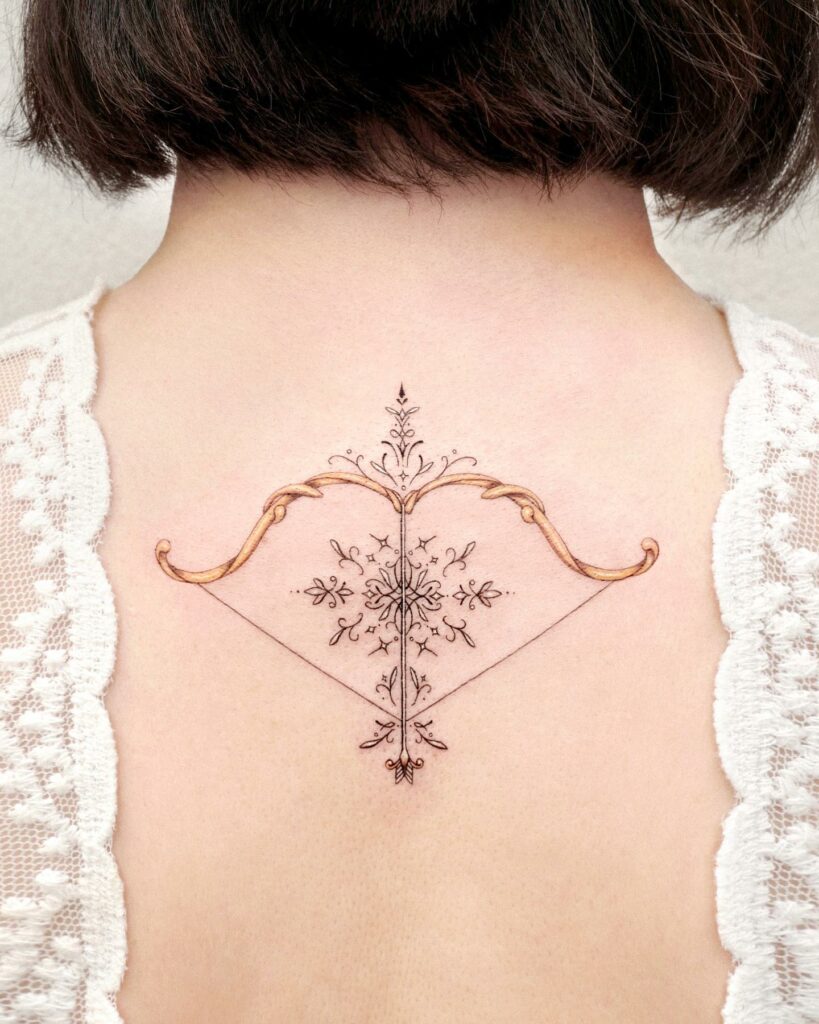 The arrow tattoo design is a perfect choice for those looking for a tattoo that represents struggle and triumph. This stunning design has been inked on the upper back of the girl with a golden bow giving it a touch of royalty. Historically, the bow and arrow were popular weapons used in battles and archery was a vital skill.
The arrow tattoo carries a deeper meaning, symbolizing life's struggles and triumphs. An arrow being pulled back by a bow signifies tension and conflict, whereas an arrow resting on a bow represents calmness. This tattoo design can serve as a reminder to stay strong during difficult times and to strive for victory. The arrow tattoo can also represent the need to let go of the past and focus on the present.
Tree Tattoo Design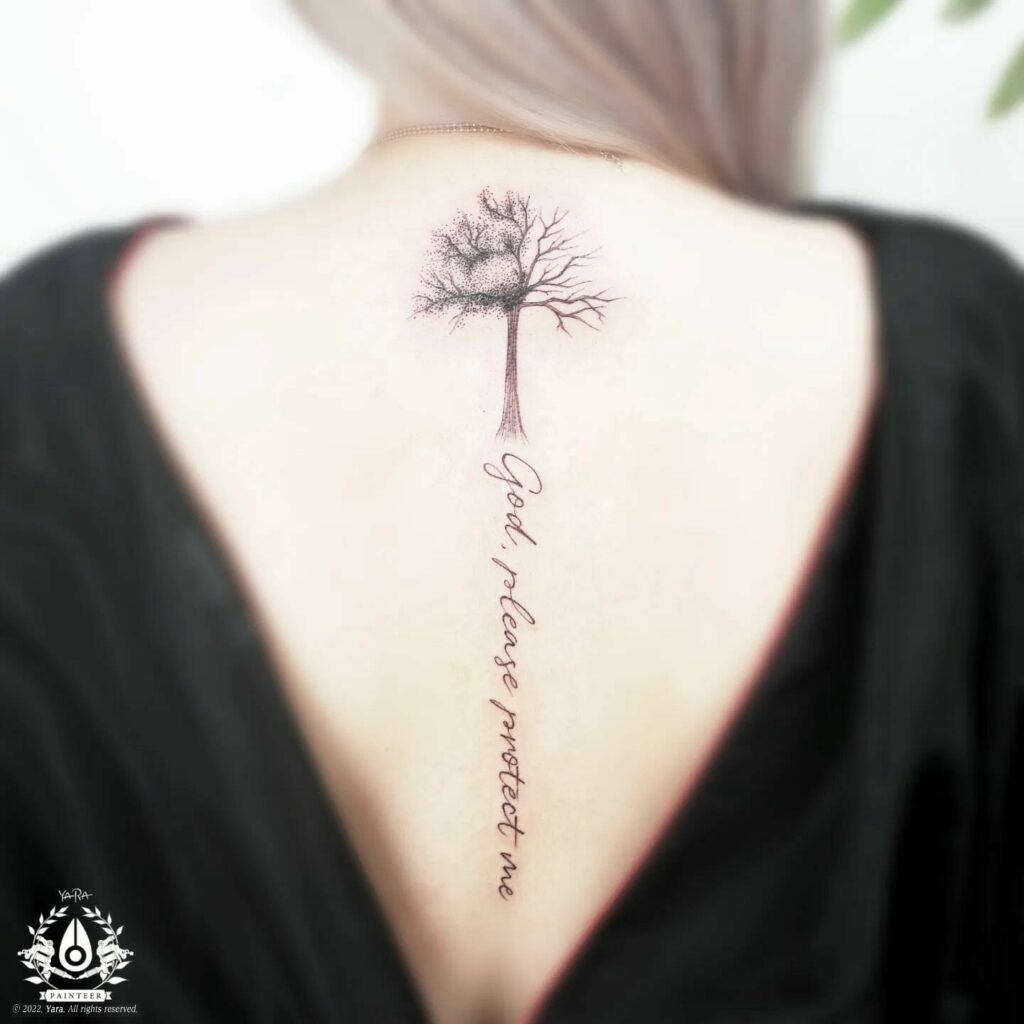 Tree tattoos are often associated with growth and symbolize knowledge, wisdom, and spirituality. They can also represent fertility, strength, nourishment, freedom, and immortality. The tree tattoo on the back of this woman is a beautiful representation of the wearer's connection to nature and their desire for protection from a higher power. Tree tattoos are often deeply meaningful and can be a powerful way to express one's inner strength. If you're looking for a tattoo that represents your resilience and ability to overcome challenges, a strength tattoo could be the perfect choice for you. There are many different strength tattoo designs that are specifically tailored to women, so you're sure to find one that suits your style and personality.
feature image from Pinterest
Need More Inspiration