Calling all Taurus ladies! It's time to hop on the trend and discover some fabulous Taurus tattoo ideas that will showcase your unique personality, written in the stars.
If you were born under the Taurus astrological sign, then you already know that you are known for your intelligence and dependability, making you one of the wisest zodiac signs out there.
Taurus is the second astrological sign that belongs to the Earth element and is represented by the symbol of a bull. If your birthday falls between April 20 to May 20, then you are considered to be a Taurean and exhibit typical Taurus characteristics associated with the Earth sign.
Zodiac sign tattoos have always been a popular choice among tattoo enthusiasts who want to carry a visual representation of their astrological sign on their skin. Taurus is just one of the many astrological signs that cherish their hard-working personality traits through Taurus tattoos. Represented by a bull in the zodiac, Taurus is associated with the Greek myth of Zeus. As an Earth sign, it is linked to everything that is solid, grounded, and strengthening, which all come together to represent the essence of a bull, making it a perfect match for Taurus's personality. Even a small heart tattoo is considered to be lucky for Taureans, who are ruled by the god of love and beauty, Venus, making it a suitable tattoo idea for both Taurus women and men.
To flaunt their unique personalities, Taurus men and Taurus women often rely on Taurus symbol tattoos as an introduction without having to say a word. From intricate designs featuring bulls to simple designs with a small symbol tattoo, Taurus tattoo ideas come in various shapes and sizes that match the Taurus personality traits. So, it's the perfect time to stop feeling confused and seek inspiration to curate a personalized Taurus tattoo design.
We have compiled a list of the best Taurus tattoos that will help you find the right one based on your dominant personality trait or qualities you want to flaunt. So, go ahead and explore the list to find the one that resonates with you the most!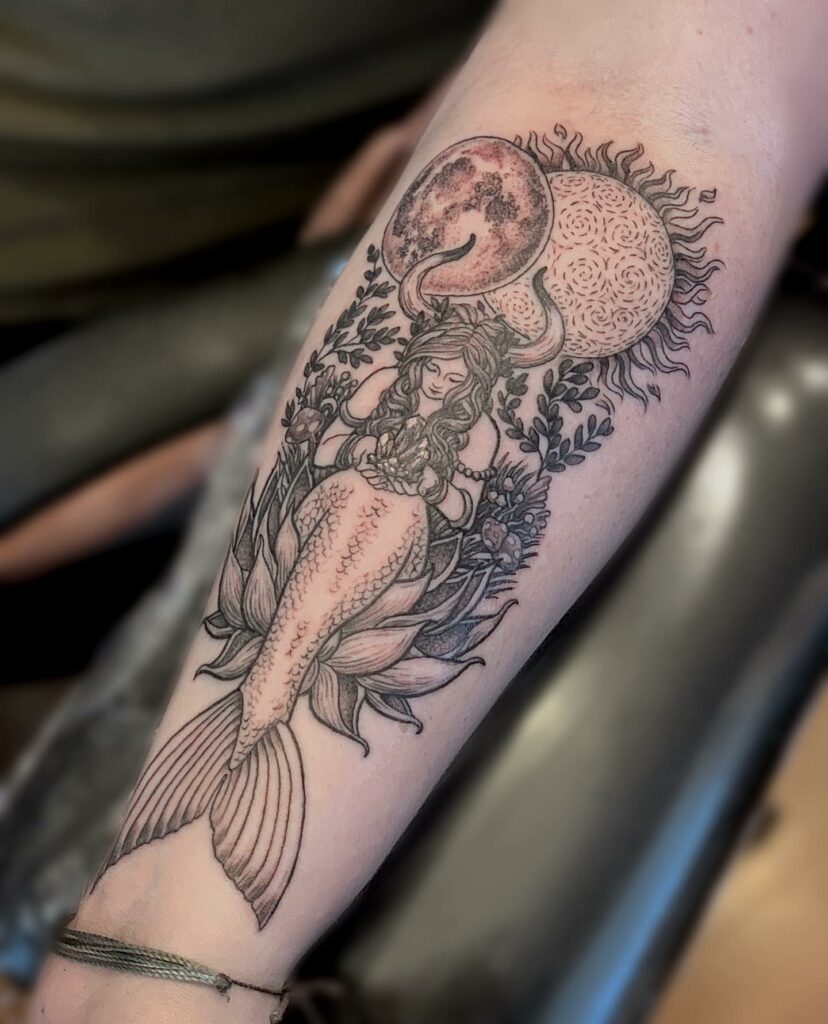 Detailed Taurus Bull Tattoo Design
This beautiful tattoo showcases a heavily detailed Taurus bull that has been inked with a sketch-like pattern. This design is perfect for adorning your forearm or shoulder and is sure to turn heads.
Inspired by the famous Charging Bull statue, this tattoo depicts the bull in a striking pose, creating an unforgettable image. To add more depth and meaning to the design, the Taurus constellation serves as a backdrop for the charging bull. This additional element makes the tattoo more meaningful for the wearer, as it ties into their zodiac sign. This is a fantastic tattoo design for those who want to showcase their Taurus pride in a unique and meaningful way.
Lady Taurus Tattoo for Female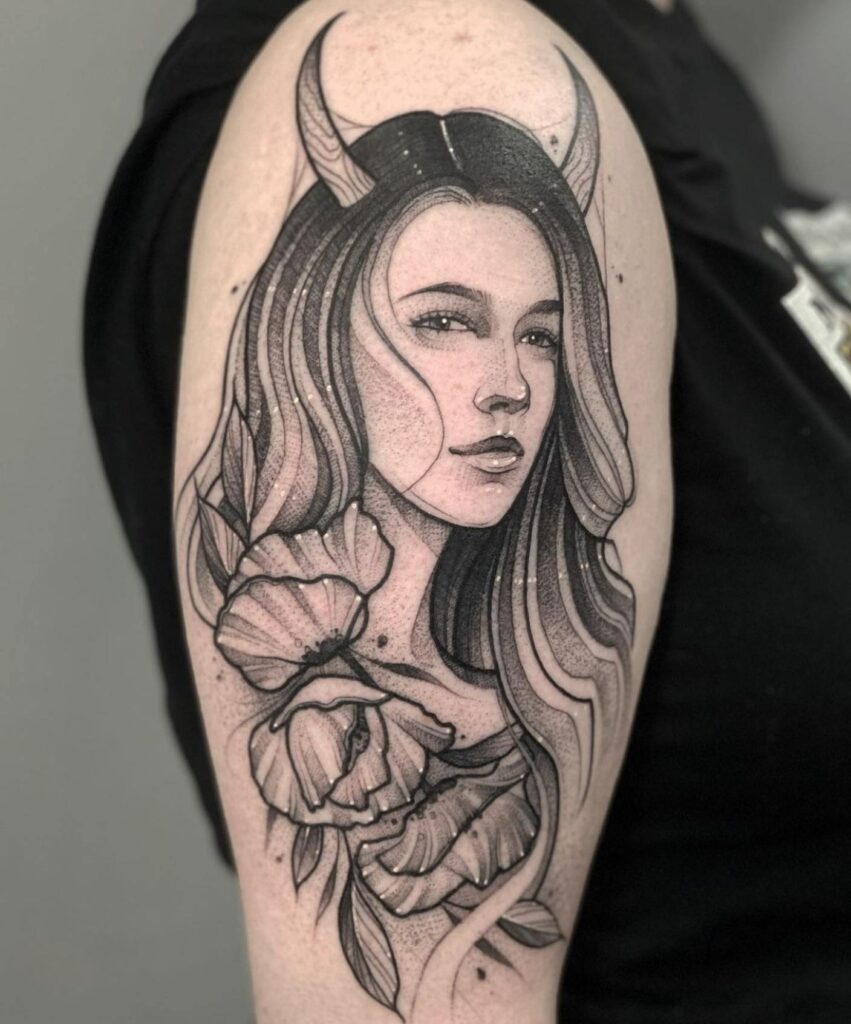 As astrology gains popularity among women on social media, many are searching for ways to express their love for it. If you're a Taurus female looking to get inked, a birth-related Taurus tattoo could be the perfect match for you, especially if you were born between April and May 20.
In this Taurus female tattoo, the recognizable features of the Taurus bull are combined with a portrait of a lady, giving her signature horns. Taurus women are known for their fierce and dedicated personalities, so the added horns are an exceptional feature that highlights their potential fiery attitude through ink. However, Taurus women are also recognized for their gentle composure, which is symbolized by the floral arrangement in the artwork, balancing the overall design and exhibiting the balanced Taurus nature.
Minimalist Taurus Tattoo Designs
Taurus zodiac tattoos are taking the tattoo world by storm, and minimalistic Taurus tattoo designs are gaining popularity as they are a subtle yet meaningful way to express one's love for astrology. Taurus is an Earth sign that features a bull as its zodiac symbol, which can also be represented by a ring-like pattern. For those who prefer smaller and more private tattoos, a simple Taurus symbol tattoo can be an excellent choice. It captures the essence of the bull horns in a smaller size, making it perfect for placement on the wrist, a preferred location for Taureans. So, if you're looking for a discreet but meaningful Taurus tattoo, this minimalistic design is a perfect match.
Skeleton Taurus Zodiac Tattoos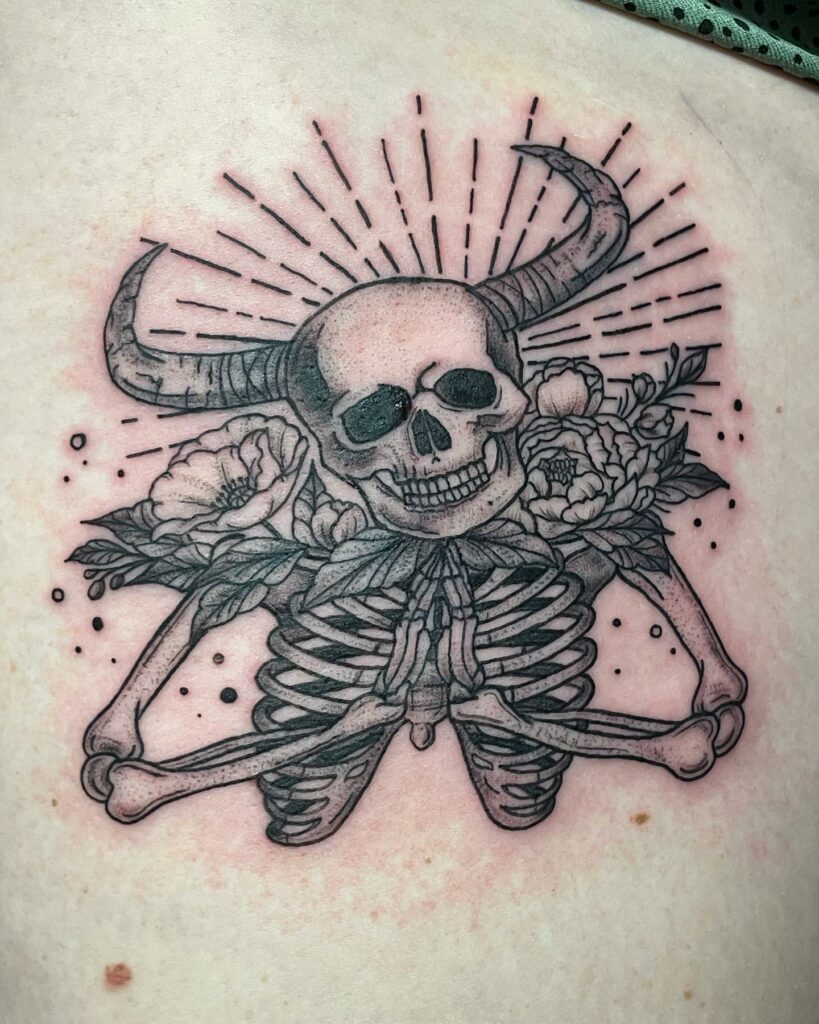 Looking for a zodiac tattoo that's unique and fun? Look no further than this Taurus symbol tattoo, which uses a bull skull to represent the sign. With a touch of humor and a wreath of flowers surrounding the skull, this design is sure to evoke laughs and happy memories. The use of dot work gives the tattoo depth and texture, while the absence of color keeps it sleek and simple. This unconventional take on a Taurus tattoo is a rare find, so don't miss the opportunity to add it to your collection.
Ornamental Taurus Constellation Tattoo Designs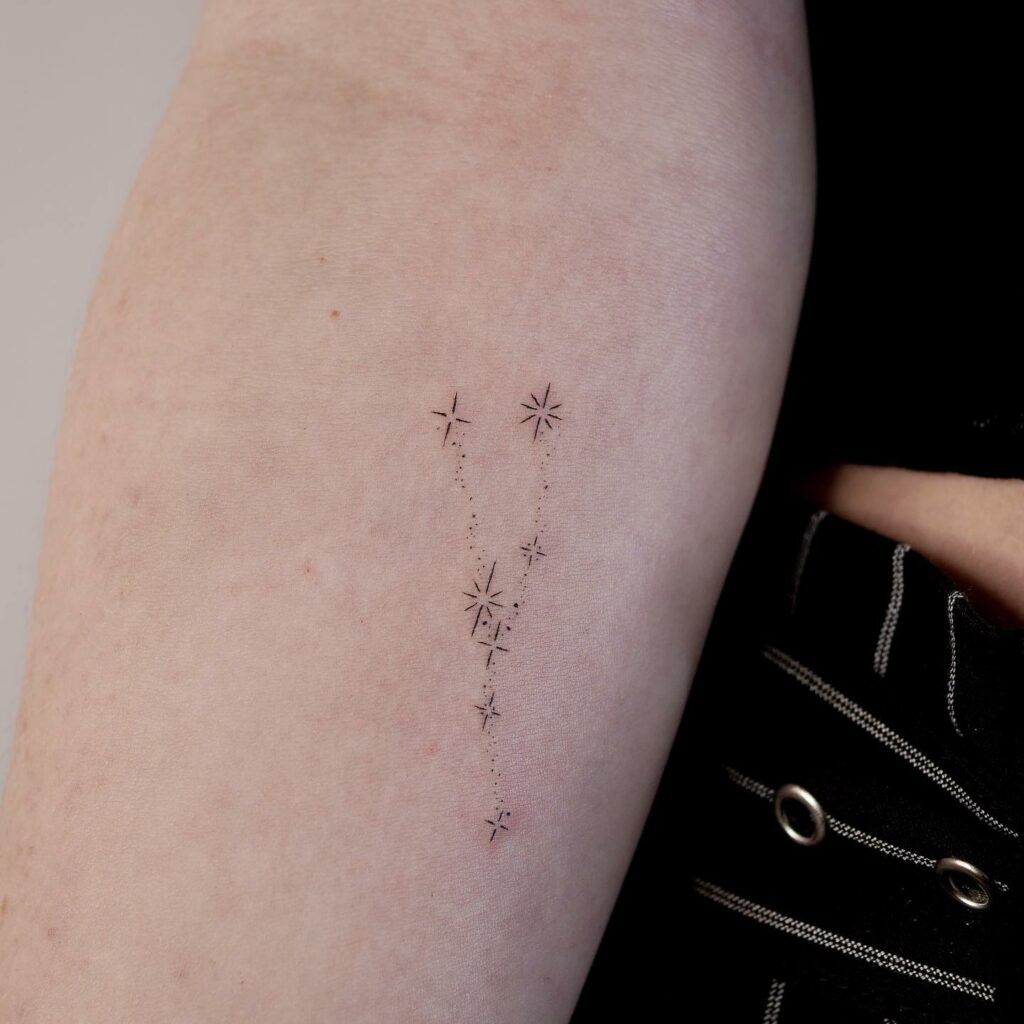 This minimalist design is perfect for those who prefer to keep their tattoos on the smaller side or hidden from plain sight.
Unlike the traditional Taurus symbol tattoo, which can be quite obvious, the constellation tattoo adds an element of mystery to the design. While bull tattoos or zodiac symbols are easily recognizable, the Taurus constellation design demands a bit more research to understand the significance.
But don't worry, that just makes it all the more intriguing! With this design, you'll have a unique and beautiful representation of your Taurus sign that's sure to turn heads.
Continuous Line Taurus Zodiac Sign Tattoo Ideas
One of the most innovative approaches to tattoo art is continuous line artwork, which uses a single line to create intricate illustrations. This technique requires skill and creativity to achieve detailed and coherent designs, as seen in the Taurus tattoo featured above. The one-line bull tattoo is a unique interpretation of the Taurus symbol, standing out among the plethora of overused ideas.
The tattoo artist skillfully crafted the Taurus bull tattoo in its iconic charging pose, using bold black lines to create a minimalist design. However, the distinctive illustration style sets it apart from typical Taurus tattoo designs.
Taurus Tattoos With Roman Numerals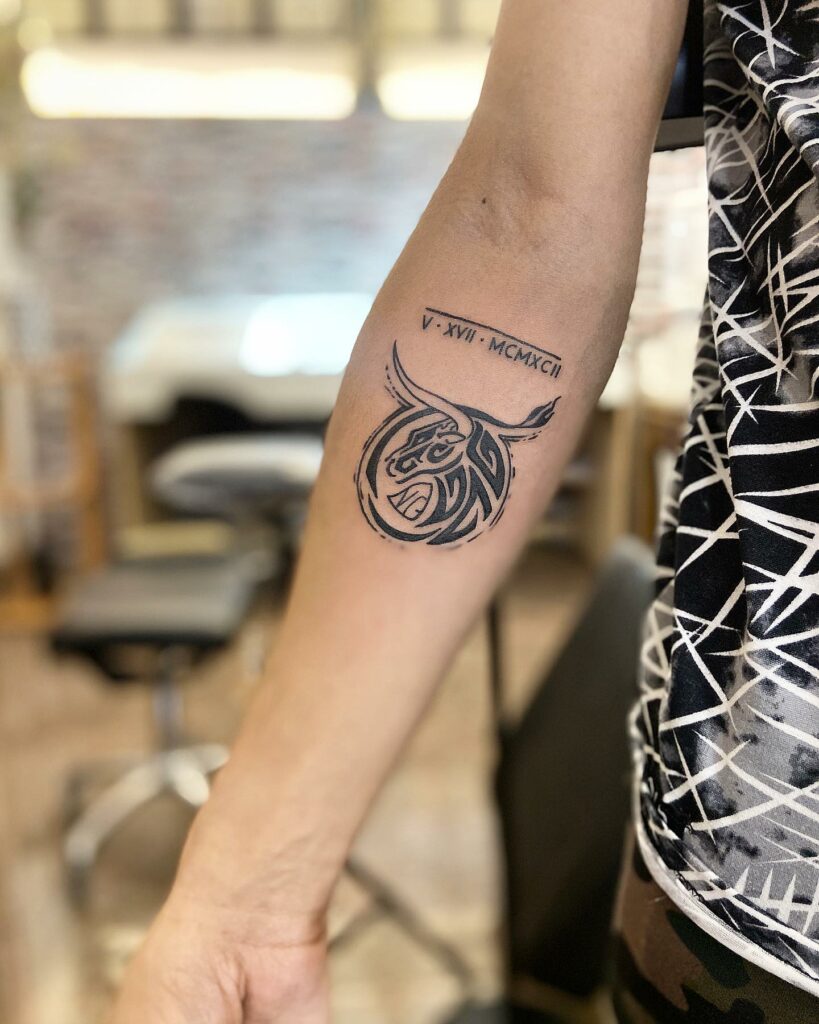 Combining traditional and modern tattoo styles, this design is perfect for showcasing your moon or sun sign with a cool, logo-like feel. Featuring a bold illustration of the Taurus bull and the date in Roman numerals, this piece is both visually stunning and full of personal significance. It's also a great way to pay tribute to loved ones by incorporating their special dates. Don't miss out on the chance to add this masterpiece to your tattoo collection!
Fierce Female Taurus Bull Tattoo Ideas
Another Taurus female tattoo design in our list is this exceptionally intricate portrait Taurus piece, elaborating on Taurus' most recognized characteristic- the fierce nature. Taurus women and men are known to be extremely dedicated to their work and have strong willpower, passion, and reliability, and the portrait conveys the same through its eyes.
Instead of using symbols and elements to display signature Taurus features, the tattoo directly illustrates a bull face on the head of the woman wearing it as a headgear, exhibiting the strong nature of a Taurus. You can add in constellation tattoo details to add depth to the tattoo background, though the tattoo in itself is pretty cohesive.
Abstract Taurus Tattoo With Other Designs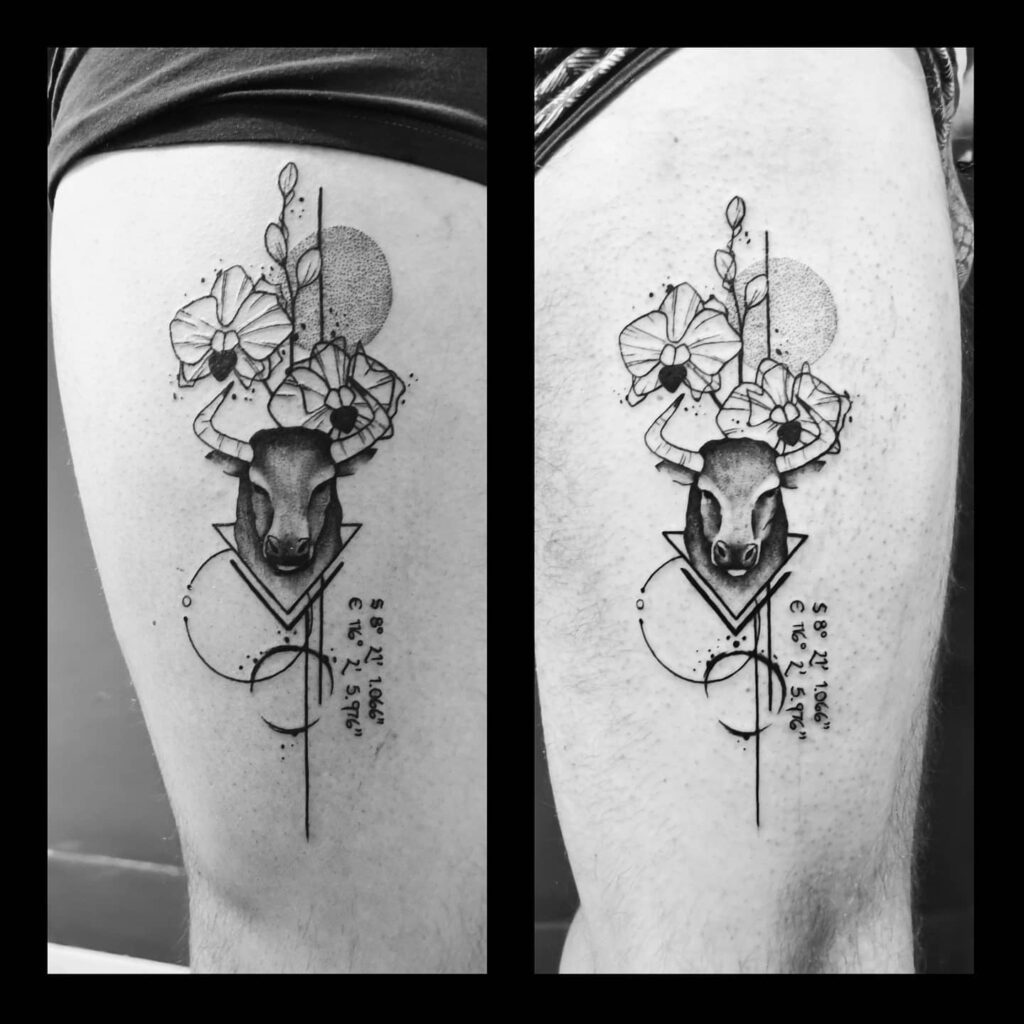 When it comes to Taurus tattoos, abstract designs are a popular choice for their ability to combine different elements into one cohesive piece. This particular design features the iconic Taurus bull head, paired with flowers and geometric patterns to create a visually stunning background.
The artist has opted for a monochrome ink and used dot work instead of solid colors, giving the design a unique texture and depth. The numbers in the design could represent coordinates of a significant location, but you can also personalize it by replacing them with important dates in your life.
This Taurus tattoo idea is perfect for those who want a unique and meaningful design that showcases their love for astrology and art. Whether you're a Taurus yourself or just appreciate the symbolism associated with the zodiac sign, this design is sure to make a statement.
Floral Realistic Taurus Bull Tattoos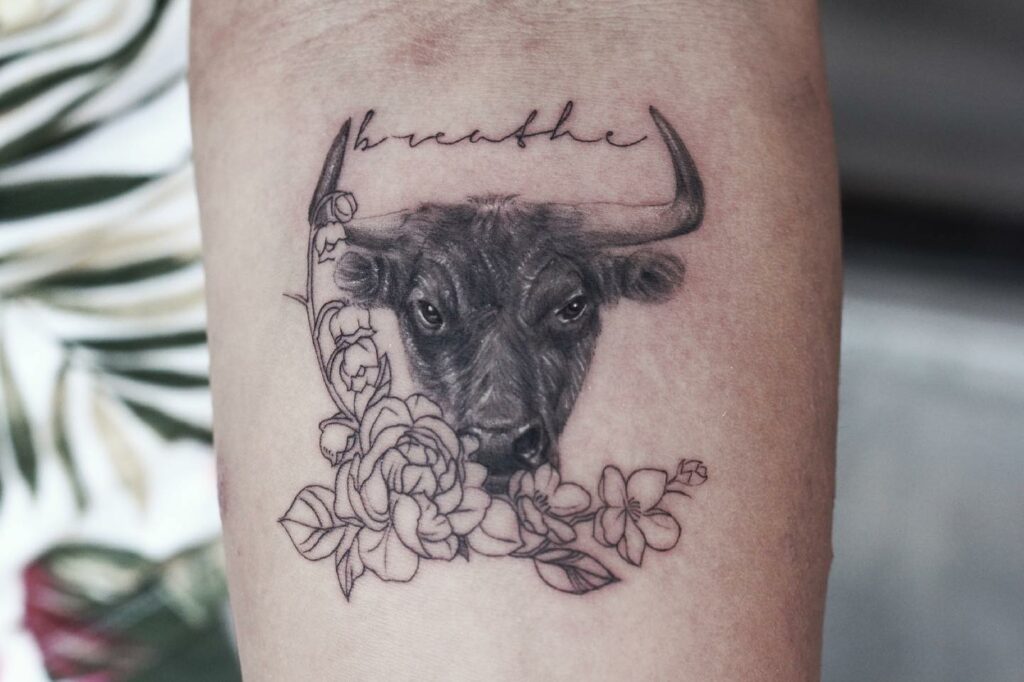 Taurus zodiac sign tattoos can be made more realistic, bringing the bull to life on the wearer's skin. This particular tattoo showcases a stunning bull's head with a beautiful floral arrangement and an inspiring quote, which encourages the wearer to stay strong through difficult times. Even though Earth signs are known for their stability, they sometimes need external support to maintain it. This Taurus tattoo can serve as a constant reminder to keep breathing and stay grounded during life's challenges.
Taurus tattoos often highlight the personality traits and characteristics of those born under the sign, which can be enhanced with additional elements. Bulls are the primary focus of Taurus tattoos, but there is plenty of room for creativity to make it unique and personal
feature image from Pinterest – Want your tattoo to look brighter? Try "Tattoo Balm"