Hey there, are you thinking about getting a subtle yet stunning tattoo that adds a touch of femininity to your wrist? Look no further because we have some amazing bracelet tattoo designs that will blow your mind!
Bracelet tattoos have become increasingly popular in recent years, and they are not just limited to women. These tattoos are great for siblings, family, and friends who want to get matching designs that symbolize their bond. While they may not always carry deep meanings, simple icons, and designs can be attached to these tattoos to make them all the more special.
There are many different styles and designs available for bracelet tattoos, including floral, tribal, Celtic, henna, quotes, and more. Not only do these tattoos add to your personal style, but they also enhance the beauty of your hands. They give off a subtle and natural look that is perfect for those looking for a small yet impactful design.
Bracelet tattoos are usually placed on the wrist, but you can also opt for a band around the forearm or an amulet on the upper arm. You can even get an ankle bracelet tattoo or a waist tattoo design. The possibilities are endless! These designs can be done in black ink, or you can add some bright colors to make them stand out.
Take a look at our collection of amazing bracelet tattoo designs below and find the perfect one for your next body art!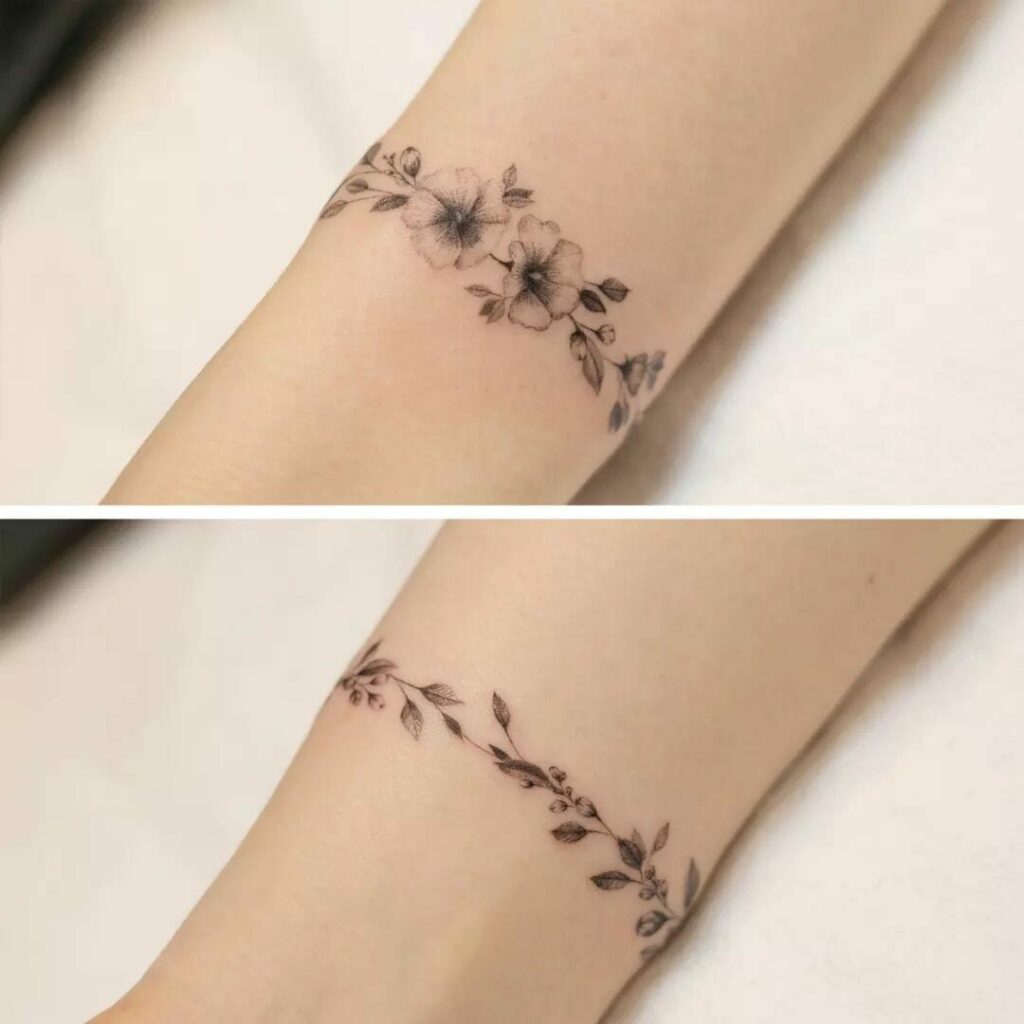 Freehand Bracelet Tattoo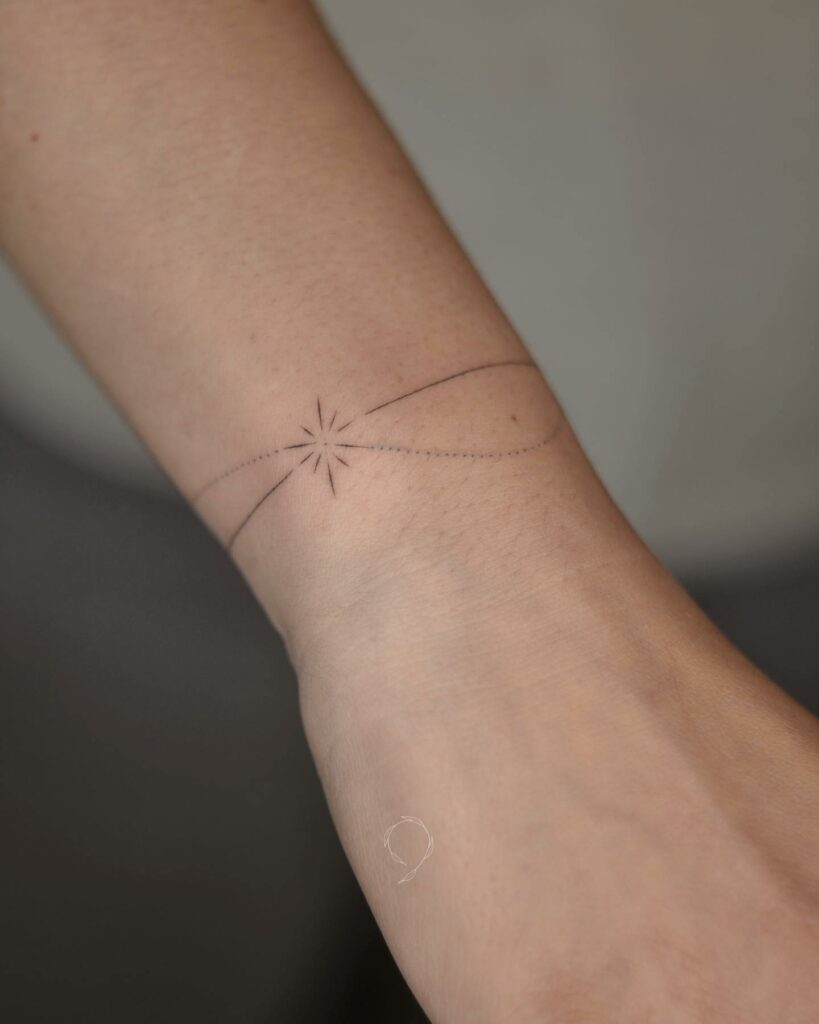 This design features a simple yet elegant black ink band with a star at its center, surrounded by carefully placed dots. The end result is a permanent bracelet that will add just the right amount of flair to your wrist without being too overpowering.
But that's not all! If you're looking to personalize your tattoo even further, there's plenty of room to get creative. Consider adding your name initials or incorporating different types of flowers or other symbols that hold a special meaning to you.
And don't worry about the process being a long and painful one – creating this type of tattoo is typically easy and quick, making it the perfect choice for those who are new to the world of ink.
Ornamental Bracelet Tattoo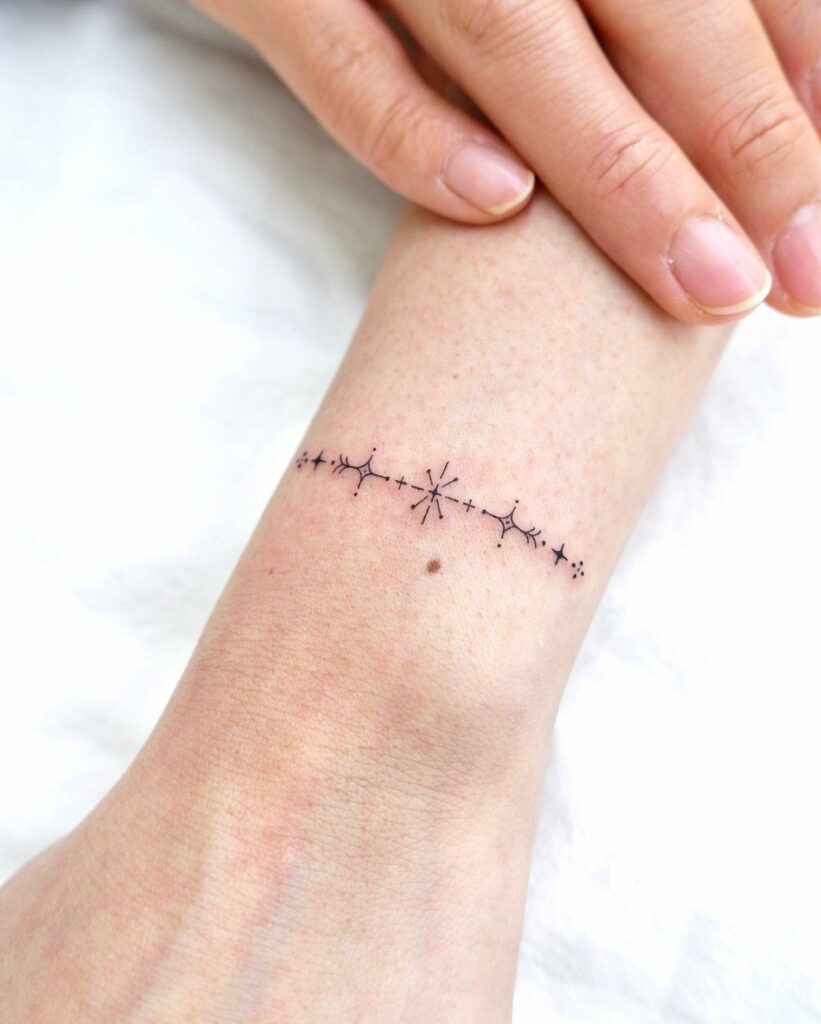 This design is a popular choice for people of all ages and backgrounds. The twinkling stars are a symbol of good luck, protection, and guidance, making them a beloved choice among sailors and coast guard members who rely on the stars to guide them through their journeys at sea. But stars are also a timeless symbol of hope and possibility, making them a popular tattoo choice for anyone who wants a little reminder that they are capable of achieving great things.
The addition of the arrows in this design takes it to the next level, representing triumph and struggle through conflict in one's life. Together, the twinkling stars and arrows create a powerful symbol of resilience and hope, serving as a constant reminder that no matter what challenges come your way, there is always a way through.
And let's not forget about the placement – this simple bracelet tattoo is designed to be placed on the wrist, where it can be easily seen and admired. Made with black ink, it's a subtle yet striking addition to any body art collection.
Wild Flowers Bracelet Tattoo
Wildflowers have long been associated with happiness and positivity in cultures around the world. With their bright colors and delicate beauty, they are a powerful symbol of hope and optimism. But even when rendered in simple black ink, the elegance of the wildflower shines through, reminding the wearer to seek out the bright side of life even in the darkest of times.
This particular wildflower design is a true stunner, made to look like a delicate bracelet wrapped around the wrist. The thin strokes of black ink create a sense of delicate beauty that is sure to turn heads. And the best part? You can customize this design to your heart's content, adding colors and elements that speak to your personal style.
So why not take the leap and add a little wildflower joy to your life with this stunning wrist tattoo? It's the perfect way to keep a little reminder of positivity and hope close at hand, no matter what life may throw your way.
Heart Tattoo Design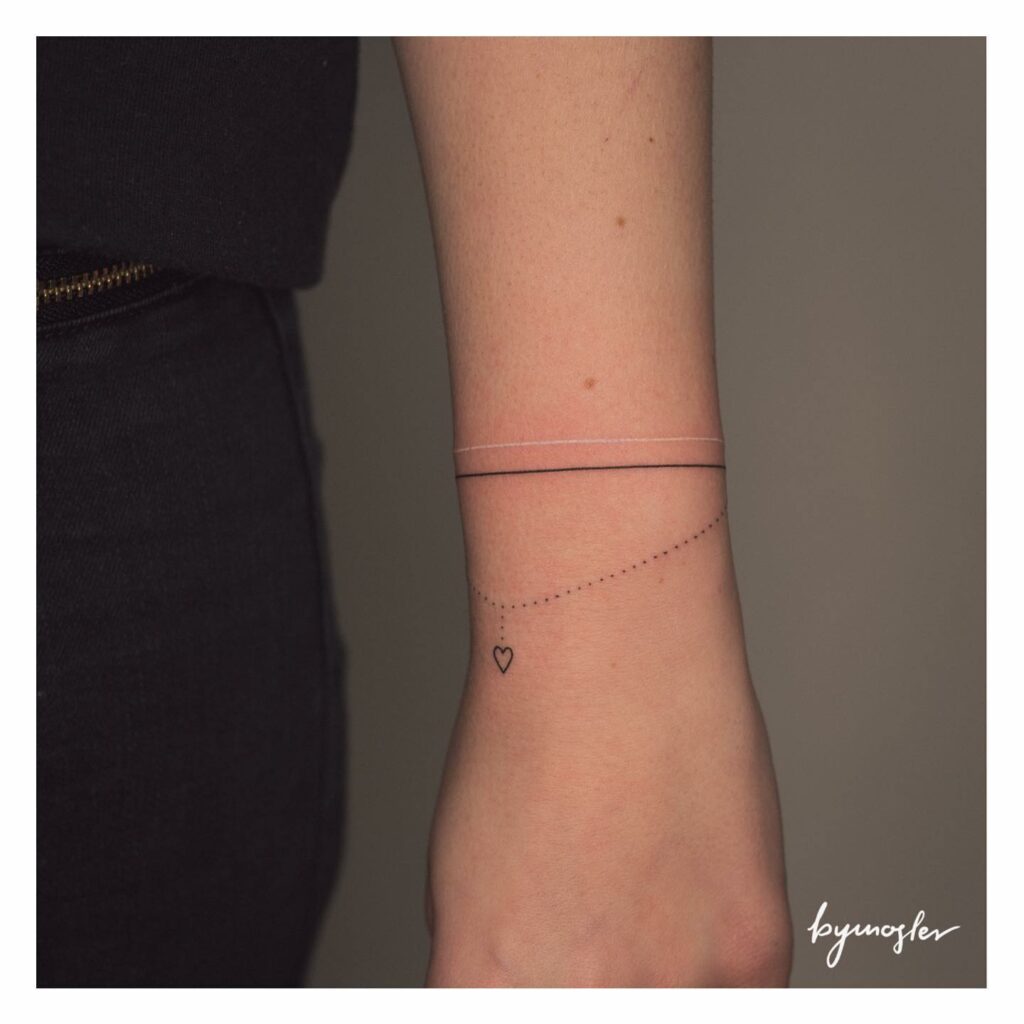 Whether you're looking to show love and desire for a special someone, celebrate a close friendship, or represent passion and energy, a heart tattoo is the perfect way to do it. And the best part? These designs can be placed anywhere on the body, making them a truly personalized work of art.
In this particular heart tattoo, the design takes on a charming and whimsical feel as it is added as a little charm on one of the strings of a bracelet. The bracelet itself is made up of three bands: one thick black line, one thick white line, and one string made with black dot work art that gives the impression of falling. The overall effect is simple yet stylish, with a touch of romance and charm thanks to the adorable heart charm.
So if you're looking to add a little heart to your next tattoo, why not try this delightful and unique design? It's the perfect way to express your love and personality in one beautiful, personalized work of art.
Mandala Bracelet Tattoo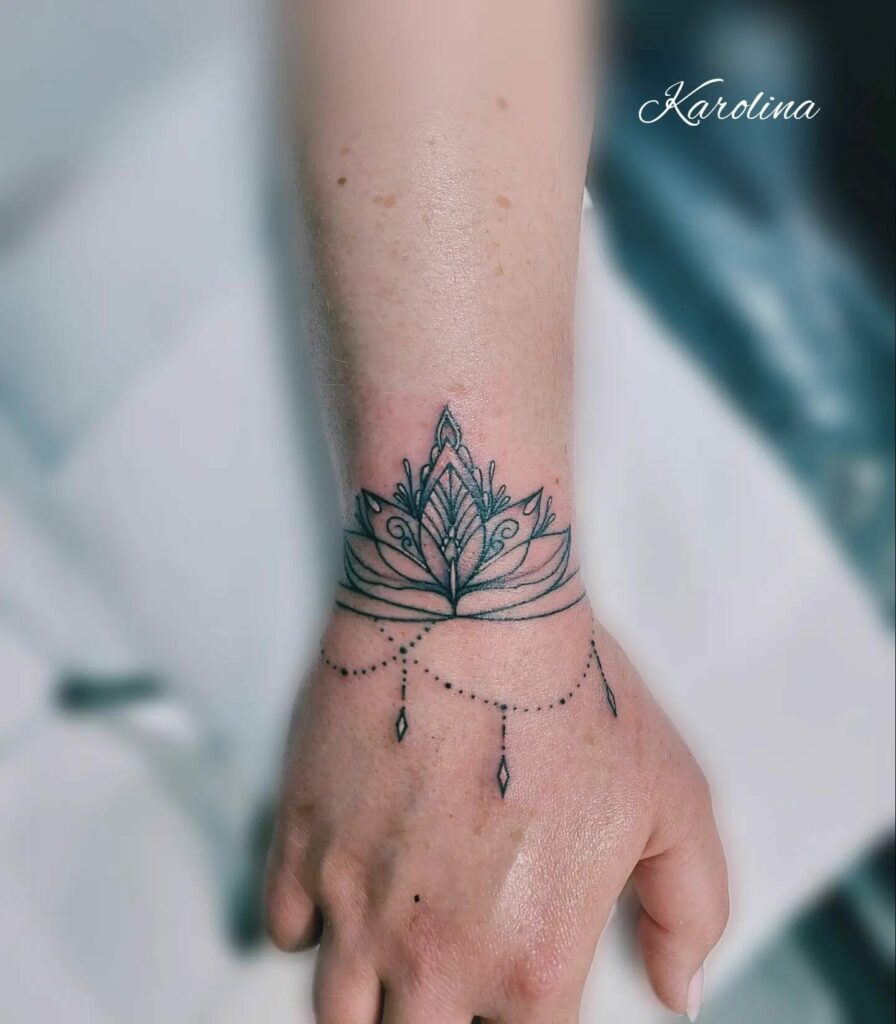 Bracelet tattoos don't have to be boring – they can be beautiful and unique with the right patterns and designs! One such design that has gained popularity is the mandala. Mandalas can be full or half designs and are known to symbolize eternity, perfection, and balance. Having a mandala tattoo could serve as a reminder of what is important in life and help you set your future goals.
This particular design is a half mandala made with varying thicknesses of black ink strokes, located on the edge of the wrist. There is a thin line of dot work that appears to be falling from the wrist onto the back of the palm. The tattoo also features small diamond-like charms that hang from it, adding a touch of elegance and charm to the design. The result is a bold yet delicate design that would be a perfect addition to your body art collection!
Personalized Bracelet Tattoo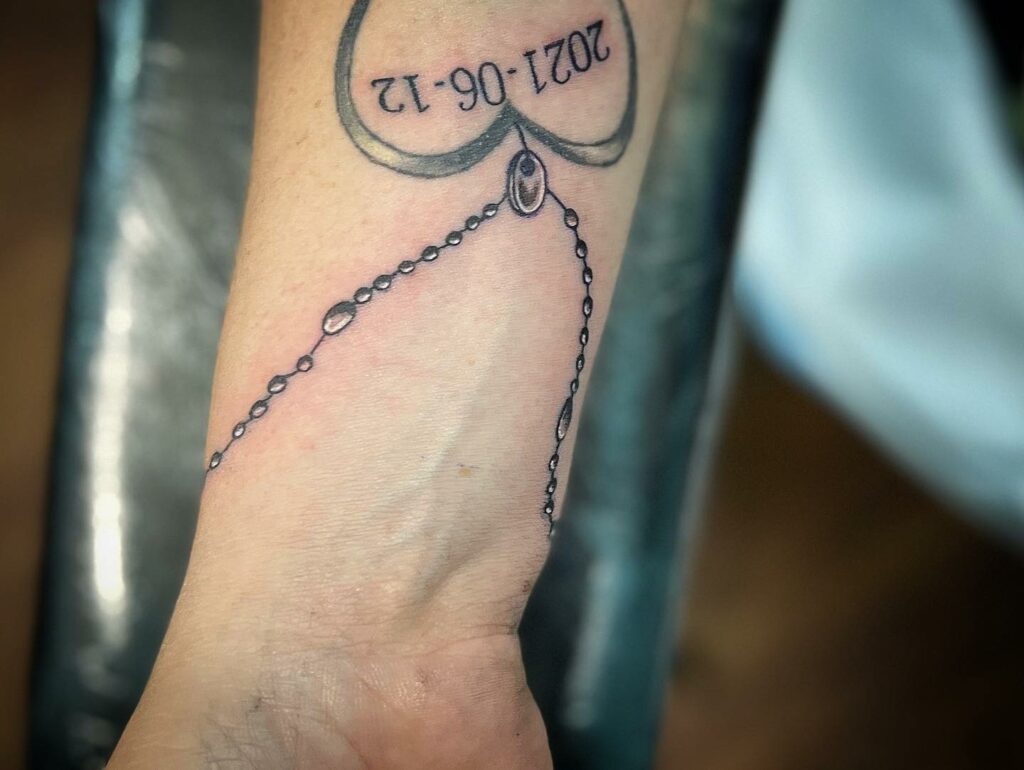 A popular design for such tattoos is the date tattoo, which holds great significance to the wearer. These tattoos can commemorate birthdays, anniversaries, or special events that hold a special place in someone's heart. The date can be presented in English digits or Roman numerals, making it a versatile design that can be placed on any part of the body. This particular bracelet tattoo is made up of beads of varying sizes, forming a falling bracelet around the wrist. The centerpiece of the design is a heart symbolizing love, with the date carefully inscribed in the middle. A simple yet meaningful design that will stand the test of time.
Garden Art Bracelet Tattoo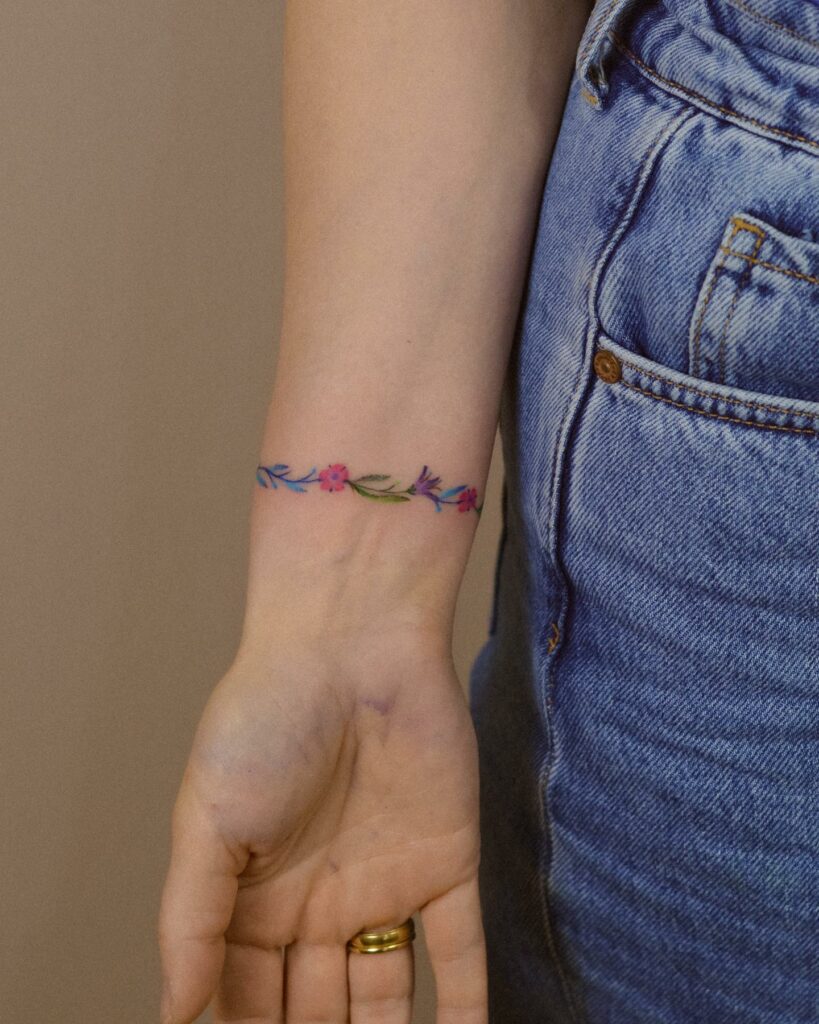 These tattoos are perfect for nature lovers or those who want a reminder of growth and strength in their life. The colors used in plant tattoos can vary from realistic to abstract, and the placement of the tattoo can vary from small and delicate to larger pieces that cover a significant part of the body. The possibilities are endless! So, if you're looking to get a tattoo that is meaningful, beautiful, and unique, consider getting a plant tattoo design that speaks to you.
Fine Line Bracelet Tattoo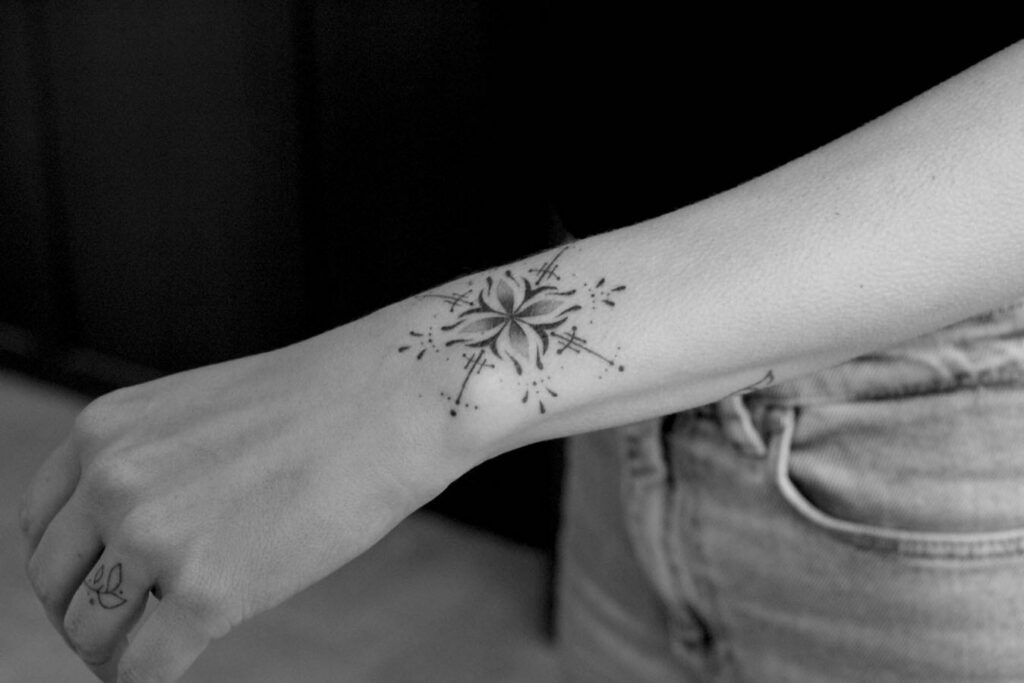 Floral bracelets have been a popular tattoo design for many years, and this particular design is a unique and modern twist on a classic favorite. The flower in the center of the tattoo is beautifully crafted with delicate lines, and the surrounding shapes and lines add a touch of elegance to the overall design. Unlike traditional bracelet tattoos, this one is not wrapped around the wrist but is designed to look like a bracelet, making it perfect for those who want to wear their ink without worrying about additional jewelry. The use of black and grey shades in the flower adds depth and dimension to the design. As with all tattoos, the meaning behind this design will vary from person to person, making it a truly personalized piece of body art.
Lotus Bracelet Tattoo
The lotus tattoo is a beautiful and meaningful design that carries different interpretations for each individual. It is often associated with personal growth and spiritual awakening, making it a popular choice for those who wish to express their journey of self-discovery.
This wrist bracelet tattoo features a stunning lotus design at the center, surrounded by two thick black ink bands. The lotus itself is intricately detailed with shades of black and grey, giving it a sketch-like quality. For those looking to add some color, touches of pink can also be incorporated into the design. This tattoo is a perfect choice for those who want a personal and stylish way to express their spiritual journey.
Moon And Stars Tattoo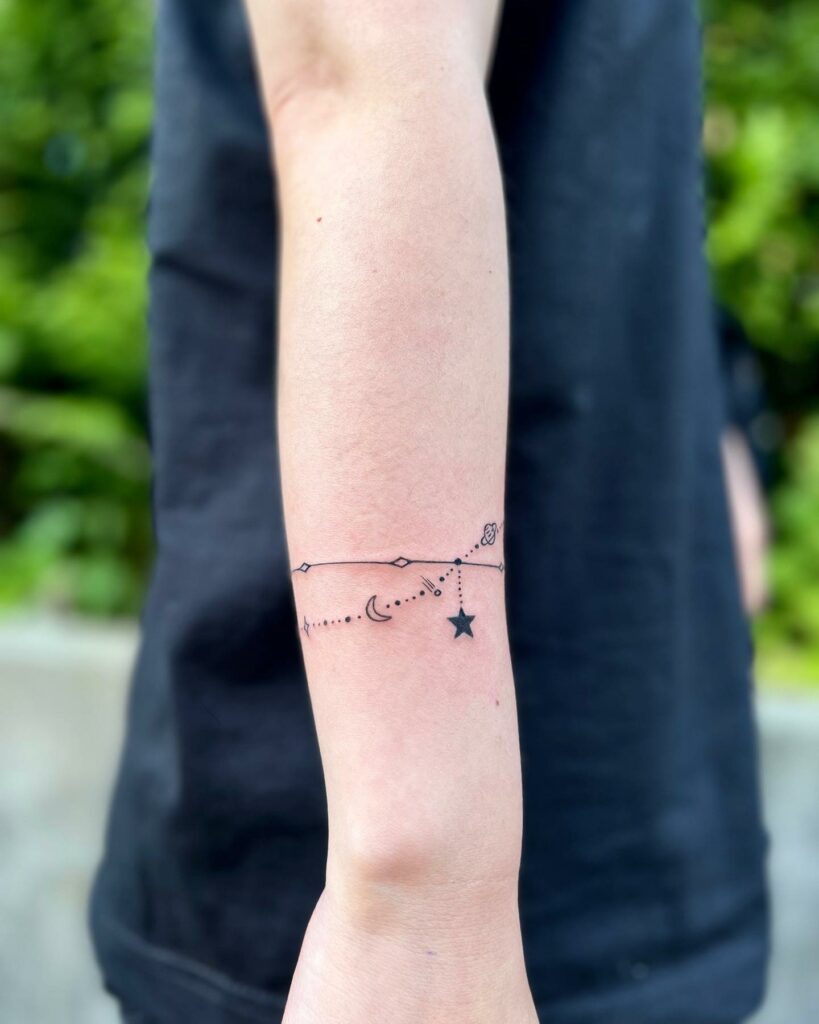 Moon and star tattoos are a popular choice among those seeking meaningful body art. These designs not only look beautiful, but they also symbolize hope and guidance during dark times, just as the moon and stars shine brightly in the night sky.
This particular tattoo features two intertwined bands that create a bracelet-like effect. Dangling from the bands are charming moon and star symbols, which add a touch of elegance to the design. If you're looking for a stunning and meaningful tattoo, this could be the perfect choice for you.
feature image from Pinterest – Want your tattoo to look brighter? Try "Tattoo Balm"