Looking for a feminine full-body tattoo design that will make you stand out? While full-body tattoos were traditionally associated with men and non-office jobs, there has been a significant increase in women getting them in recent years. Whether you're a businesswoman or a student, a full-body tattoo can make a powerful statement. There are endless options for designs that can suit your style and personality. If you're struggling to find inspiration, don't worry! We've rounded up the best full-body tattoo designs for you to choose from. So, get ready to be amazed!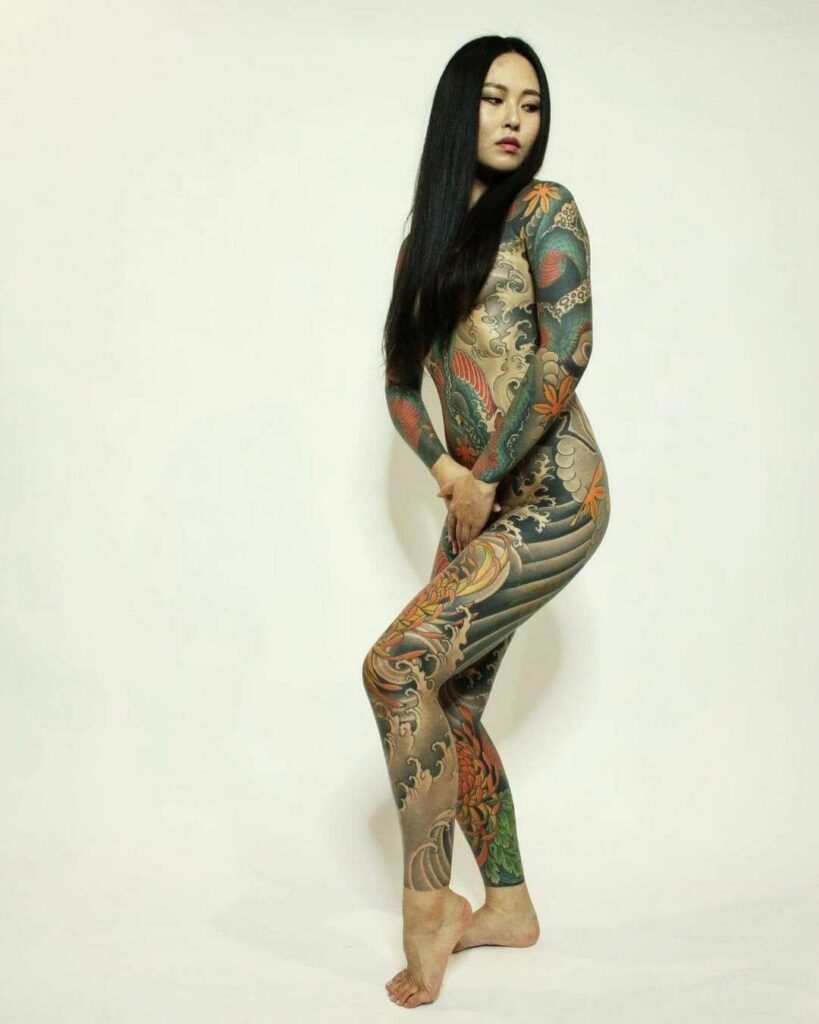 Whole Body Women Tattoo Designs
A breathtaking full-body tattoo with a variety of intricate elements. A beautifully designed wing on the upper back and a bold red flower with lush green leaves on the lower back are the central features of this tattoo. Both legs feature artfully crafted designs with curving lines and interweaving patterns. The full-sleeve design features stunning floral patterns that add to the beauty of this piece. The use of black ink in more than half of the tattoo adds depth and contrast to the design. If you're looking for a statement piece, this full-body tattoo is sure to turn heads.
Pattern Full Body Tattoo Design For Girls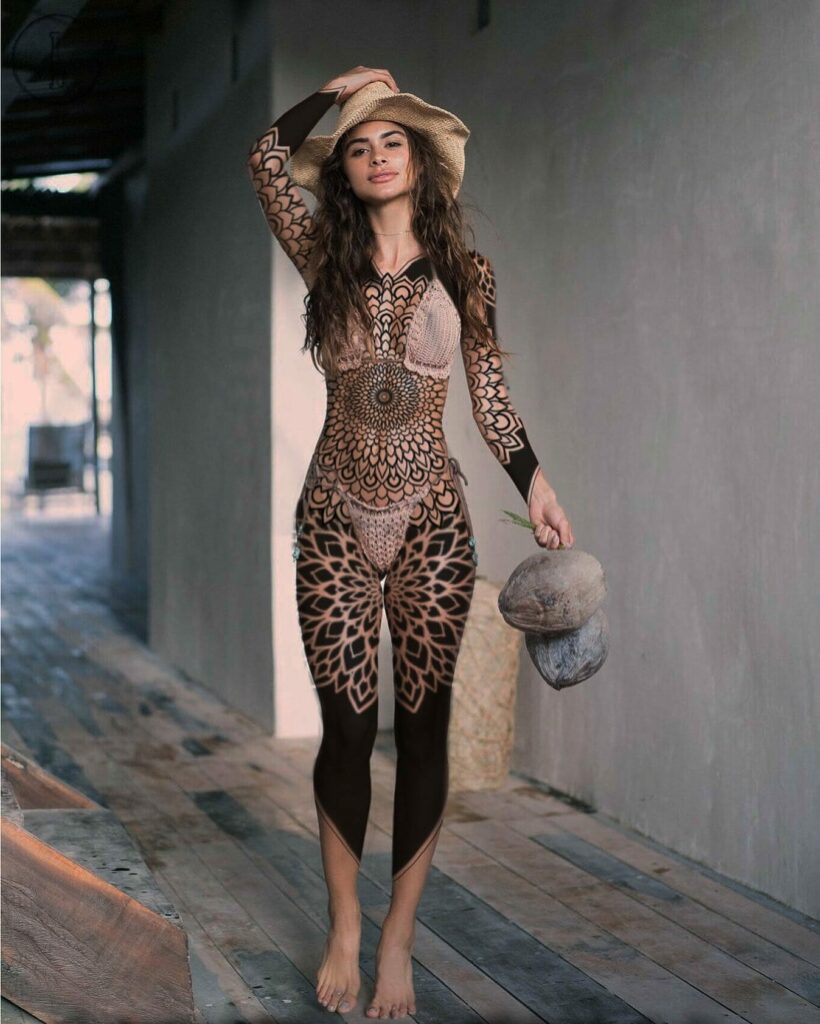 Full body tattoos used to be reserved for those who worked outside of traditional office settings, but recently, more and more professionals, both male and female, are opting for these tattoos. Geometric patterns are particularly popular, and we've chosen one of the most unique and striking examples of this style.
This tattoo features a mandala design on the belly, with petals that grow larger as they move outward from the center. The bold outline of the petals is done in jet black ink, while the color changes as it extends down to the thigh. The inner portion of the petals is shaded with black ink, while the outline is done with lighter colors. The arms have a similar design to the belly and chest areas. At the end of the limbs, the design stops and is replaced by solid black shading. This tattoo is truly unique and is sure to make a statement wherever you go.
Colorful Full Body Tattoo Ideas For Women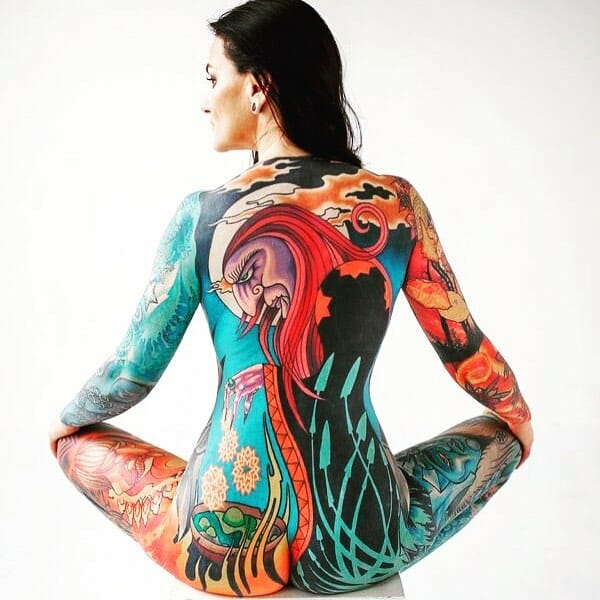 If you're tired of black ink tattoos and are looking for something more vibrant and colorful, we've got just the design for you! This full-body tattoo features a witch brewing a spell on a moonlit night. The witch has fiery red hair and wears a black robe with a striking orange border, adorned with green mushroom designs. She stirs her potion in a pot over a fire, while a dark, navy blue sky with orange-shaded clouds serves as the background. The highlight of this design is the full moon in white ink, completing the bewitching scene. This is the perfect tattoo for anyone who loves fantasy stories and wants to add a pop of color to their body art.
Traditional Full Body Tattoo For Women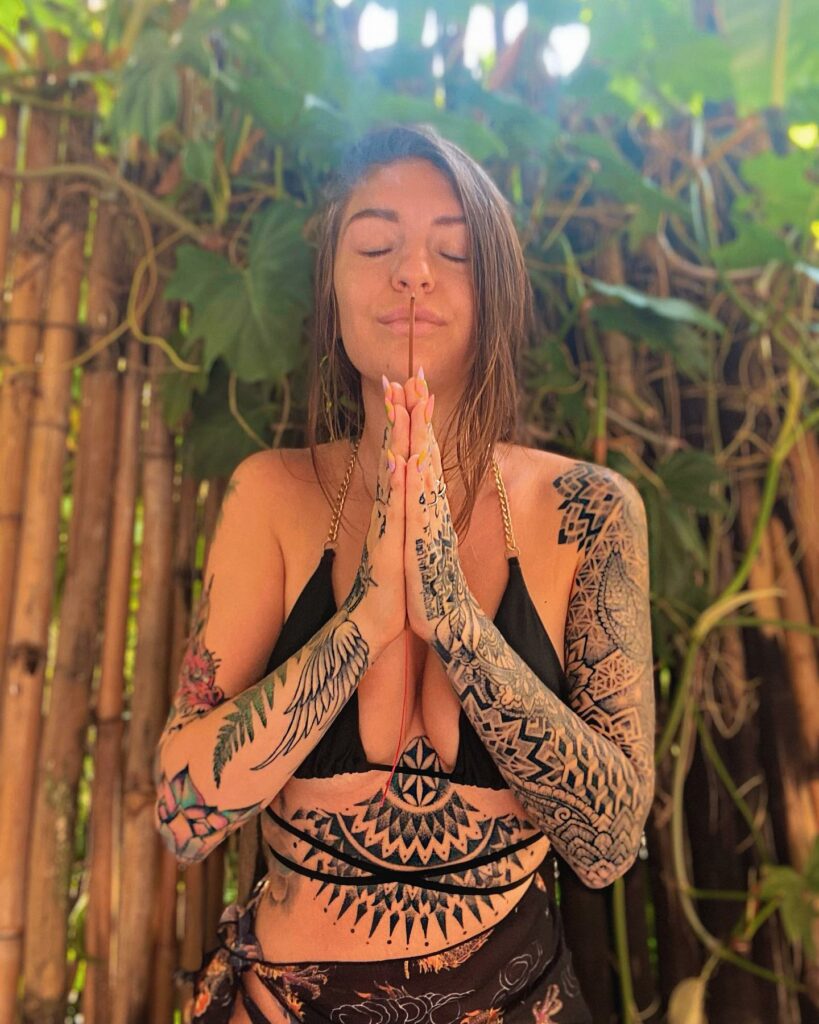 Starting with the belly mandala, this design is truly unique. Instead of the typical circular shape, the tattooist has opted for a semi-circle, creating a dynamic and visually interesting piece. At the center of the mandala lies a gorgeous flower, with intricate details and delicate petals. Beneath the flower, an inverted triangular design adds a bold and striking element to the overall piece.
Moving on to the arm mandalas, the tattooist has incorporated traditional designs to create a cohesive and visually stunning piece. The intricate details and symmetrical patterns of the mandalas are expertly embedded into the skin, creating a piece that is both beautiful and meaningful.
Overall, this mandala tattoo design is a true work of art. The intricate details and unique elements make it a standout piece that is sure to turn heads. So, if you're considering a mandala tattoo, take some inspiration from this gorgeous design and make it your own.
Gorgeous Full Body Tattoo Design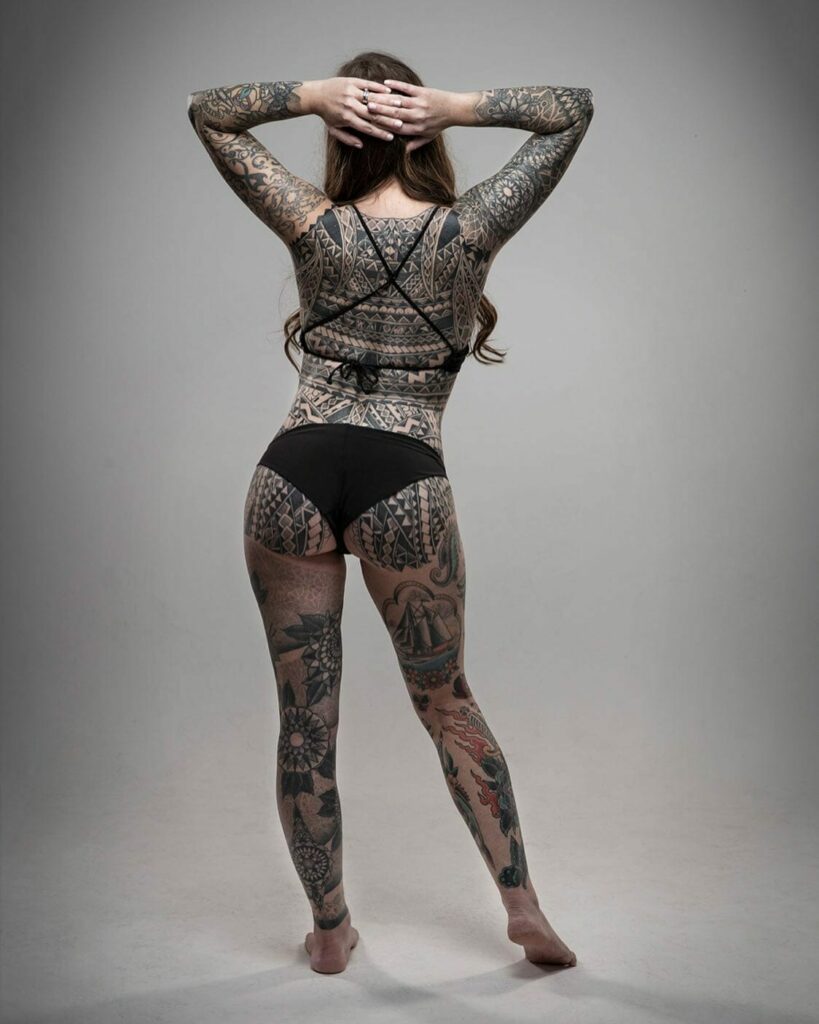 Starting with the back area, the tattooist has expertly linked various geometrical shapes to create a cohesive and visually striking piece. Triangles, semi-circles, diamonds, and more come together to form a beautiful and unique design. The use of black ink creates a bold and dramatic effect that draws the eye.
Moving on to the left arm, we see a traditional mandala design in all its glory. The intricate details and circular patterns are expertly executed in black ink, creating a stunning all-sleeve tattoo. On the right arm, we see more basic tattoo designs, providing a nice contrast to the more intricate designs on the left arm.
On the right leg, the tattooist has created three stunning floral mandalas using black ink, along with a few leaves for added depth and detail. Meanwhile, on the left leg, vibrant and colorful ink has been used to create a stunning image of a ship sailing on a blue ocean, surrounded by red flowers. The use of color adds a playful and whimsical element to the overall piece, making it all the more eye-catching.
In summary, this full-body tattoo is a masterful blend of geometrical and mandala designs, expertly executed by a talented tattooist. Whether you're a fan of bold black ink or playful pops of color, this design has something for everyone. So if you're considering a full-body tattoo, take some inspiration from this stunning piece and make it your own.
Floral Entire Body Tattoo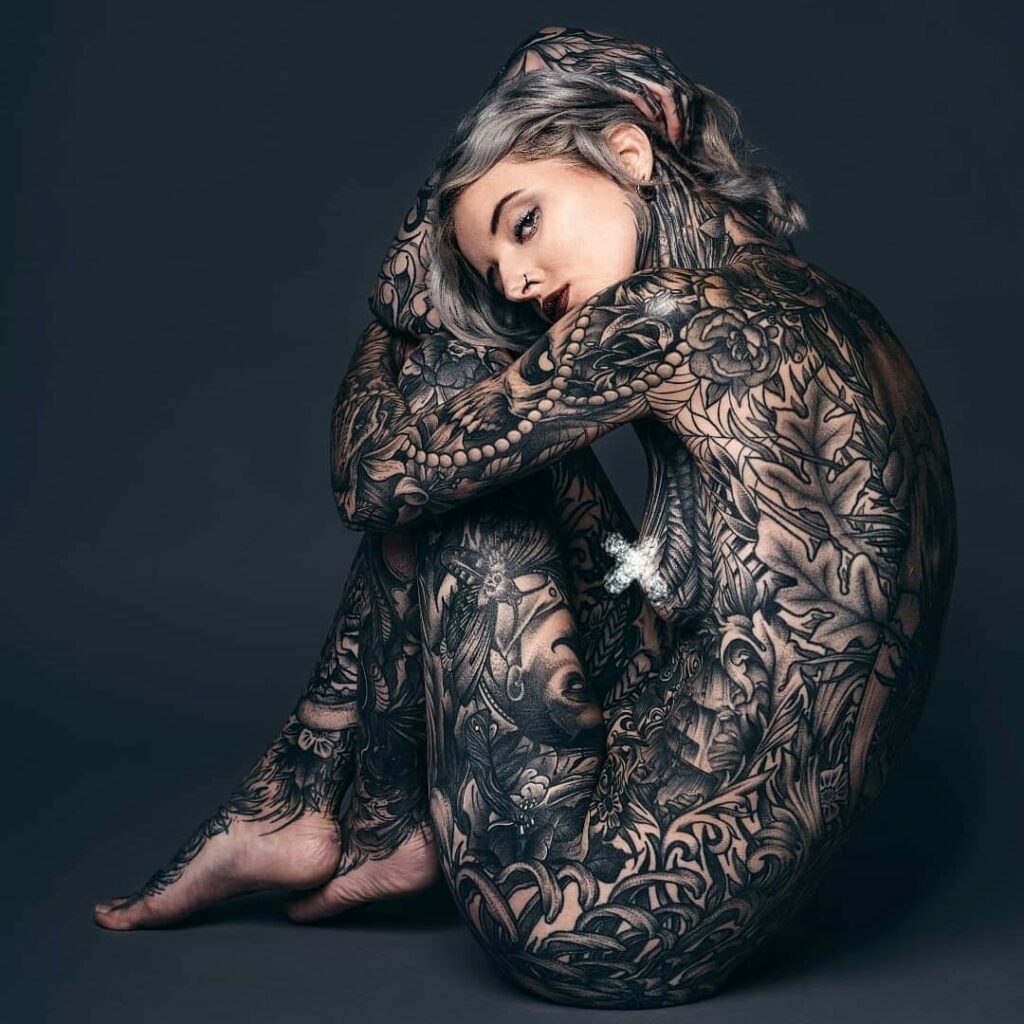 Starting with the back, we see a few flowers expertly inked along with leaves of different shapes and sizes. Just beneath the flower, a delicate spider web is nestled on the underarm region, adding a touch of intrigue to the design. Adjacent to the spider web is a striking skull tattoo on the forearm, adorned with a long string of beads. These elements work together to create a powerful statement that showcases the wearer's personality and style.
Moving down to the thigh, we see a male face tattoo accompanied by a moth with a skull head. Flowers and leaves are also present on the thigh, adding a touch of natural beauty to the design. On the lower leg, floral structures are inked in stunning detail, creating a truly captivating design that is sure to turn heads.
What sets this full-body tattoo apart is the incredible depth of meaning behind each element. From the flowers that represent growth and beauty to the skull that symbolizes mortality and the moth that embodies transformation, each element tells a story and adds to the overall narrative of the piece.
Completed entirely in black ink, the tattooist has expertly shaded areas to create a sense of depth and realism, making the design truly come to life. This full-body tattoo is a true work of art and a testament to the skill and creativity of the tattooist who brought it to life.
Amazing Full Body Tattoos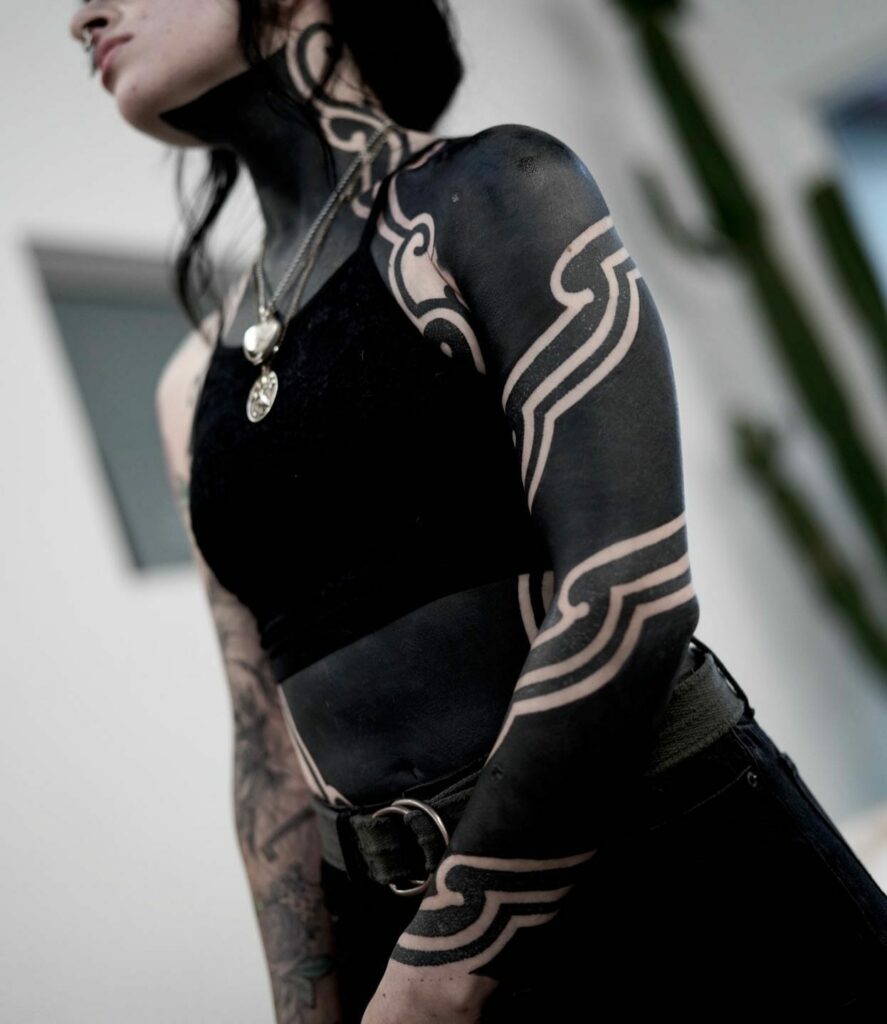 The world of tattooing is constantly evolving, and in recent times, full bodysuit tattoos have become the epitome of cool. Whether you're male or female, there is something special about the full bodysuit. If you're looking for a stunning design that will leave you breathless, we've got you covered.
This full-body tattoo is a work of art, with the entire body inked in jet black color. The artist has used the black ink to create intricate designs that are strategically placed across the body, including the arms, neck, chest, and belly. The design is bold and edgy, and it will look amazing with any outfit you choose to wear. From casual jeans and t-shirts to elegant dresses, this full bodysuit tattoo is a true masterpiece that will make you stand out from the crowd.
Eye Catching Full Body Tattoo Designs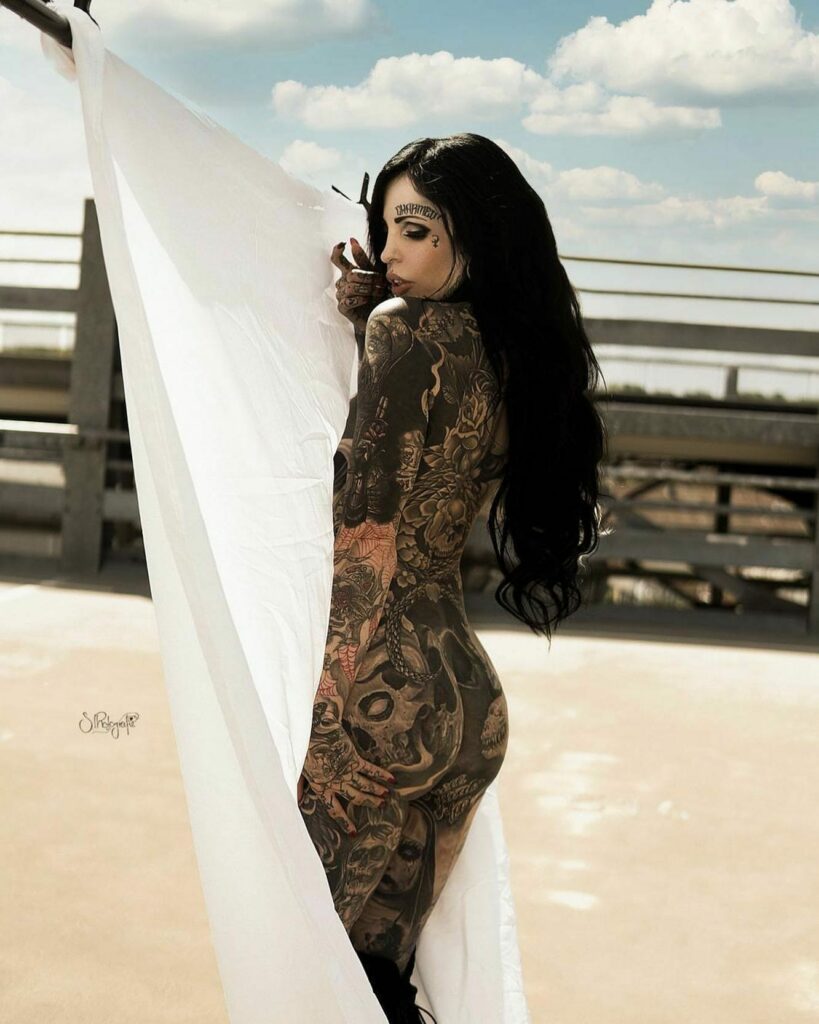 Full body tattoos are not just a mere style statement, but rather an art that adorns one's body. In this particular tattoo design, we can see the girl has adorned herself with various elements that hold a lot of symbolic meanings. The back piece is graced with a magnificent floral tattoo surrounded by leaves, and just below it, there are intricately designed skull tattoos of different animals that are sure to catch your eye.
The arm portion is a display of the tattooist's fine skills with tattoos of a spider, spider web, and a woman's face that is perfectly positioned on the wrist. You will also notice the tiny finger tattoos that are beautifully attached to the fingers, adding more detail to the design. One thigh is adorned with a skull tattoo at the back, and on the other, a haunting face of a nun is captured in the design.
The entire tattoo is crafted with the use of black ink, which is prominent throughout the design. However, the tattooist has added a touch of red ink in some areas of the arm that adds a pop of color to the entire tattoo. This full-body tattoo is a perfect reflection of artistry and creativity, and it will undoubtedly make the wearer look stunning with any outfit.
Face Tattoos For Women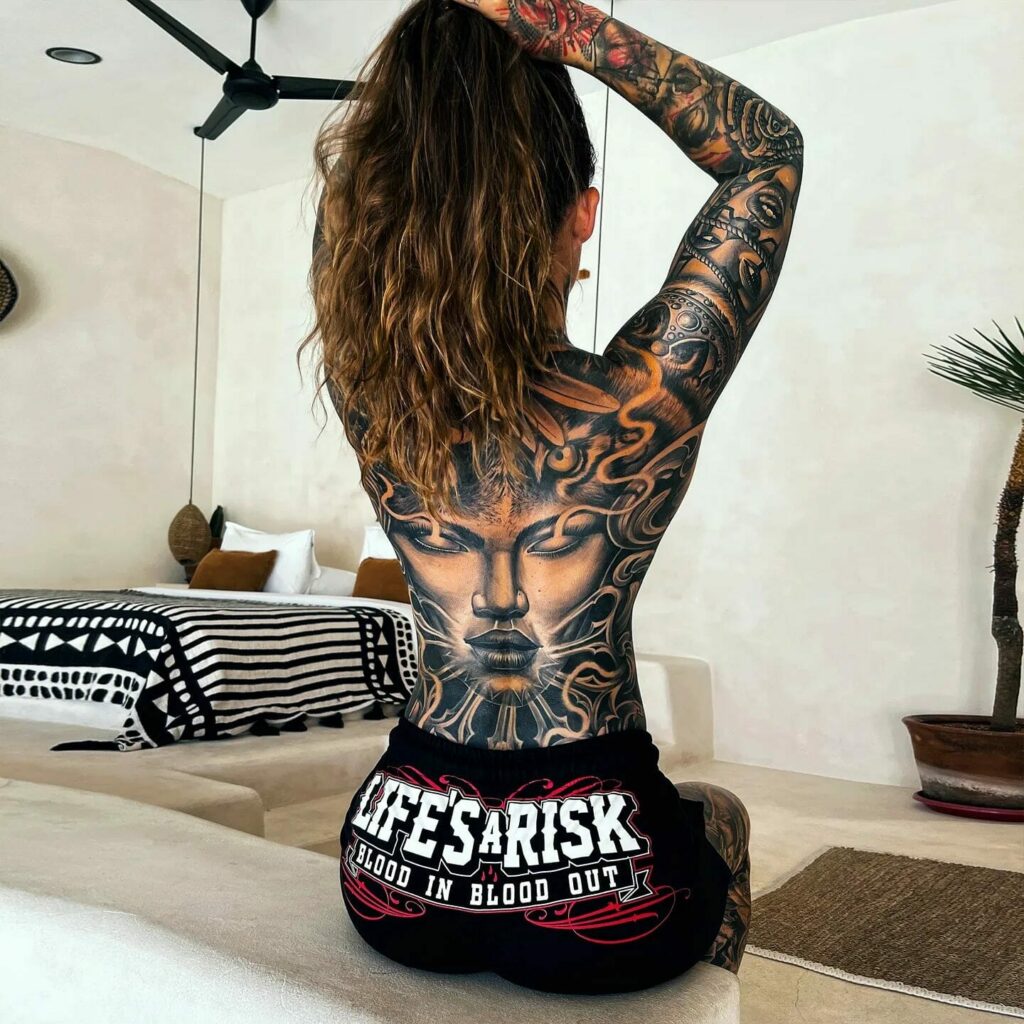 Full-back tattoos have been trending for a while now, and here we present to you a captivating tattoo design that will leave you mesmerized. This is a striking woman's face tattoo that is covered with a tiger's skin on the head. The tattoo artist has skillfully depicted a tiger's face on the back, which blends perfectly with the design.
The woman's face does not have any eyeballs, which gives it a unique, mysterious look. Energy-like patterns are emanating from both her eyes and mouth, giving it an aura-like quality. The tattoo artist has used black ink to create a sharp contrast and bring out the facial features such as the mouth and nose.
This bold and unique tattoo design is perfect for people who want to make a statement with their tattoo. The skilled tattoo artist has paid attention to every detail to make sure that the tattoo is of the highest quality.
Full Body Skull Tattoo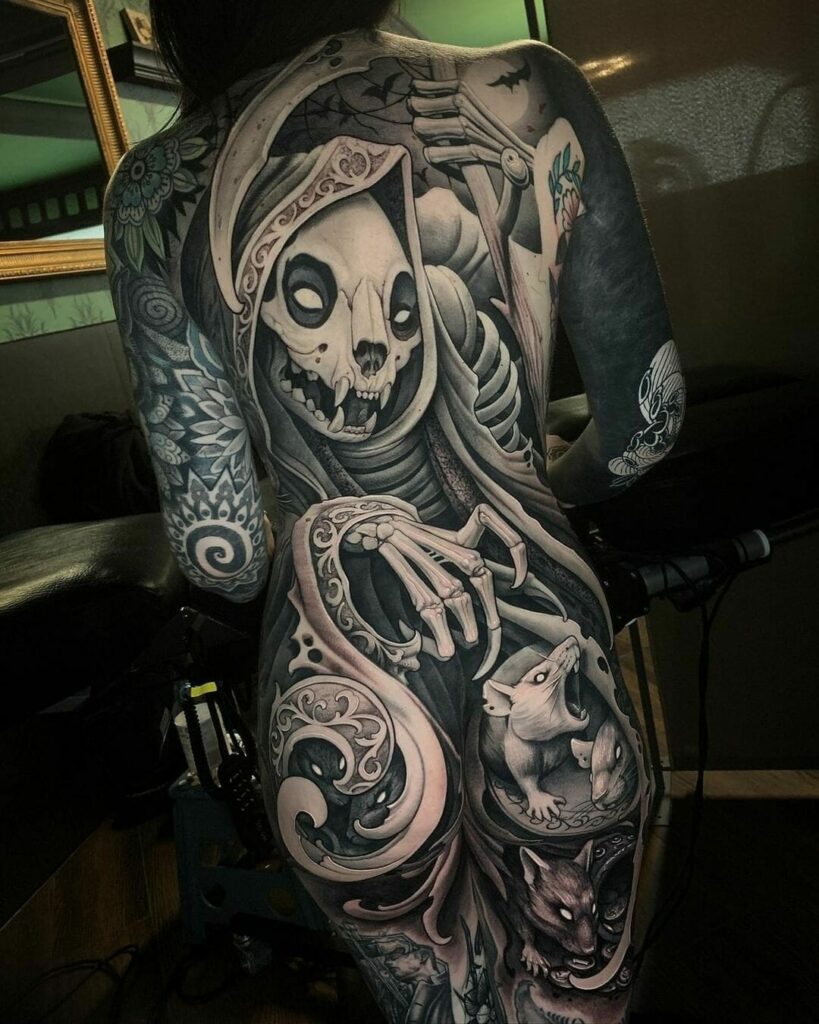 Skull tattoos have been a popular choice for those who want to express their appreciation for the concept of death and the afterlife. Getting inked with a skull tattoo can indicate a fearlessness toward death, encouraging a person to live life to the fullest.
The mouse skeleton tattoo is an interesting variation on the traditional skull tattoo. In this design, the skeleton is portrayed as a mouse, wearing a robe and carrying a scythe to reap the souls of the living. The intricately detailed shading brings out the bones of the skeleton, and the bats flying in the full moon-lit sky add to the overall eerie effect of the tattoo. This bold design is perfect for those who enjoy tattoos that stand out and grab attention
Still looking for inspiration, then checkout this blog post about body tattoo ideas
feature image from Pinterest – Want your tattoo to look brighter? Try "Tattoo Balm"