Are you looking for some cool ideas for your next tattoo? Don't worry; we have got your back. Here are some excellent feminine minimalist tattoo designs for you.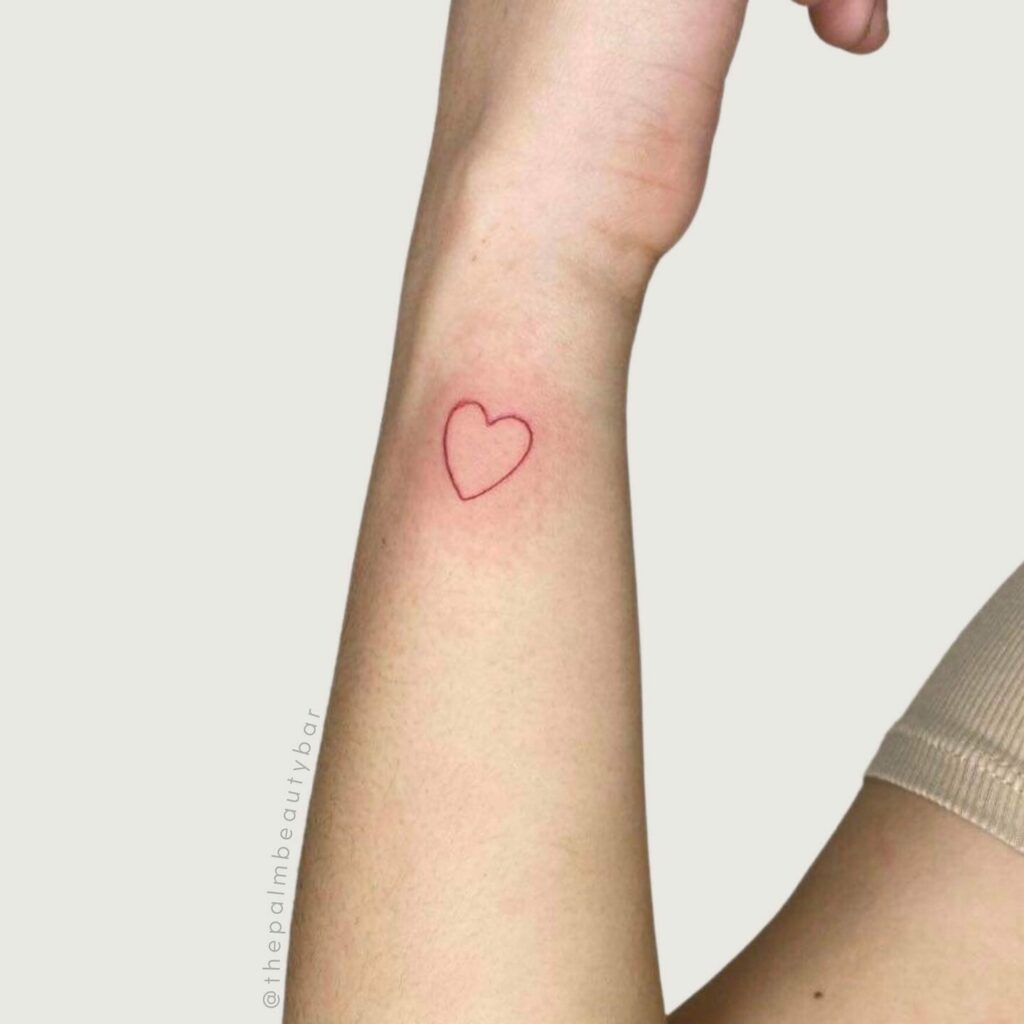 Some of the most popular tattoo designs are in fact the small and minimalist ones.
You do not necessarily have to go for a large and dramatic design, to make it impactful and unique. A small and minimalist design can be equally meaningful and great.
An ideal choice especially among women, minimalist tattoos come in a variety of designs and shapes. It can include the designs of flowers, animals, dates, and even cute symbols like hearts or stars. One of the greatest advantages of minimalist tattoos is that they can be placed anywhere on your body, and can also be hidden quite effortlessly, depending on the situation. Remember the phrase, 'Less is more? If you are a fan of this ideology, then you will love these minimalist tattoos mentioned below.
Minimalist Butterfly Tattoo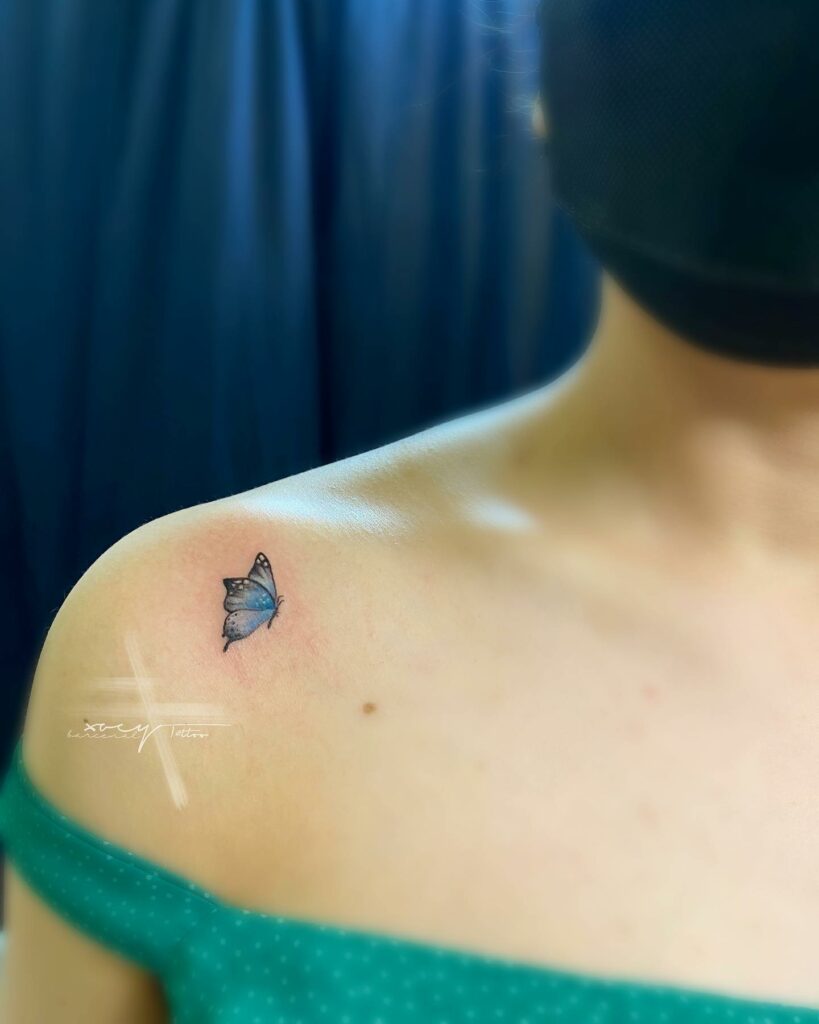 Etched on the shoulder of the individual, is a very cute and minimalist design of a butterfly tattoo. Butterflies are one of the most delicate insects in Nature. They are the epitome of grace, joy, happiness, and beauty. The artist in this design has used a bright shade of blue ink and mixed it with black ink to color the wings of the butterflies. The whole tattoo gives off a very simple yet aesthetic vibe. If you are someone new to the tattooing world and are looking for some simple yet cute ideas, this one can be the perfect one for you. They are quite easy to design and do not involve much pain. These kinds of tattoos can also be easily covered by clothing, thus giving them a more discreet and mysterious look.
Small Cross Tattoo
The cross is a very popular and ancient symbol in Christianity. It represents hope and spirituality. Before delving deep into the different designs of a cross tattoo, let's learn a few facts about its origin. The cross symbol dates back to the era of Emperor Constantine when it was first adopted. It was viewed as a symbol of spiritual connection and power. Since then, it has been modified and customized in various tattoo designs, because of its rich symbolism. For example- a cross tattoo with a name is used as a personal way to pay tribute to someone whom you have lost. In this design, we can see a simple cross tattoo, paired up with a floral design. It can be a depiction of the ideology of finding beauty in every circumstance. The artist has designed the cross with black ink, while for the flowers he has used a cute shade of pink and green. One of the most common flowers used in a cross tattoo includes the rose.
Small Phoenix Tattoo Design
The phoenix is by far one of the most popular mythological birds, that is used for tattoo design. The rich history and its deep meanings, make it an ideal choice for both men and women. It is said that only one phoenix existed at any time. When it was time to bid goodbye to the world, it would plunge into the fire and burn itself. From the ashes, a new young phoenix was reborn. The phoenix has different representations in different cultures. Some believed that it was a majestic colorful bird with bright plumage, while others viewed it as a cross between a falcon and a heron. Regardless of these depictions, the phoenix can be a great way to start your journey in the world of tattooing. Phoenix tattoos are usually created using bright colors, however a small black and white phoenix tattoo, will equally look good, and be meaningful if done properly. The above-mentioned image is a rendition of the same.
Minimalist Dragonfly Tattoo Designs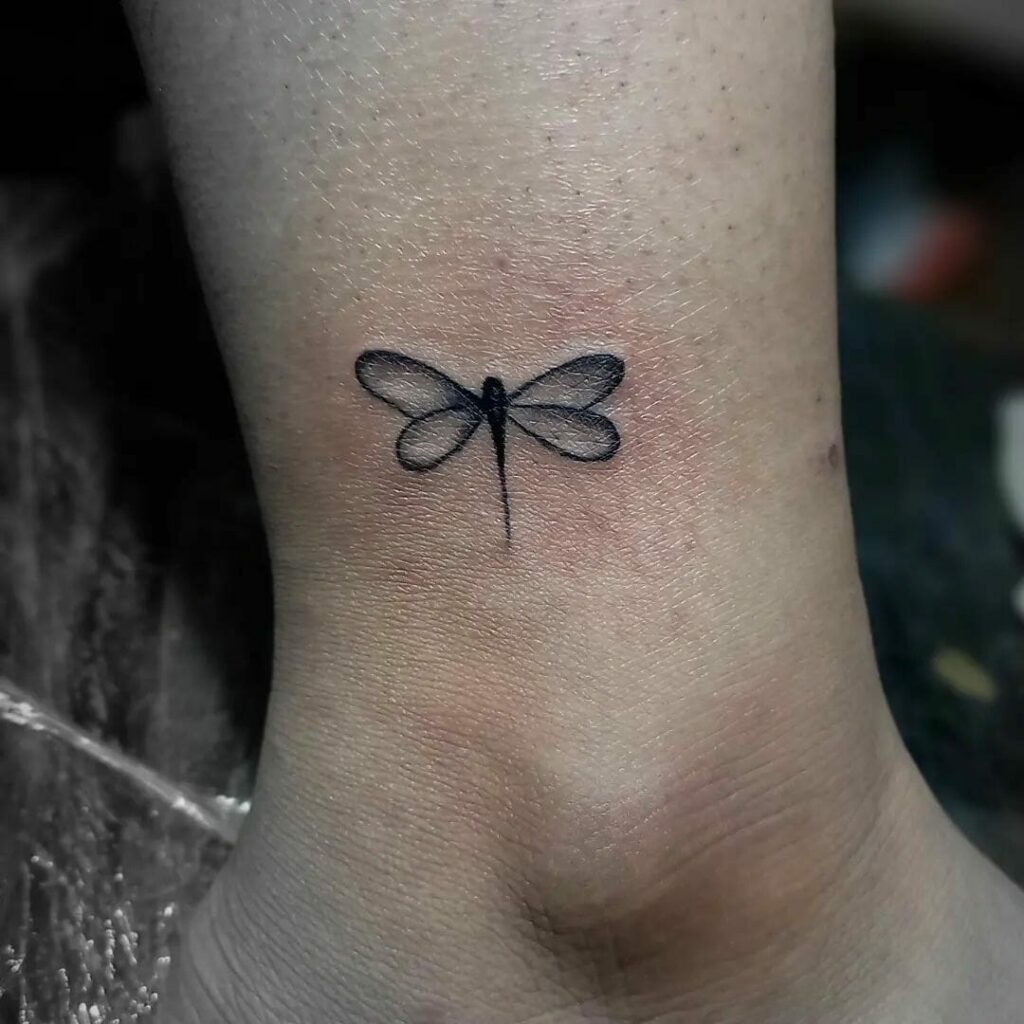 If you are looking for some elegant yet meaningful tattoos, we have just the one for you. The above-mentioned image contains a very pretty design of a simple dragonfly tattoo, that is etched on the ankle of the individual. Dragonflies, for a long time, have been associated with peace and harmony. Especially in Chinese culture, they are one of the best connotations of peace and good luck. Some people believe that, if a dragonfly lands on your body, it is considered to be a good omen. There are various designs available when it comes to dragonfly tattoos. It can be a bohemian design, a traditional design, or even a watercolor design. Based on what works best for you, choose your design accordingly.
Sunflower Tattoo Minimalist Style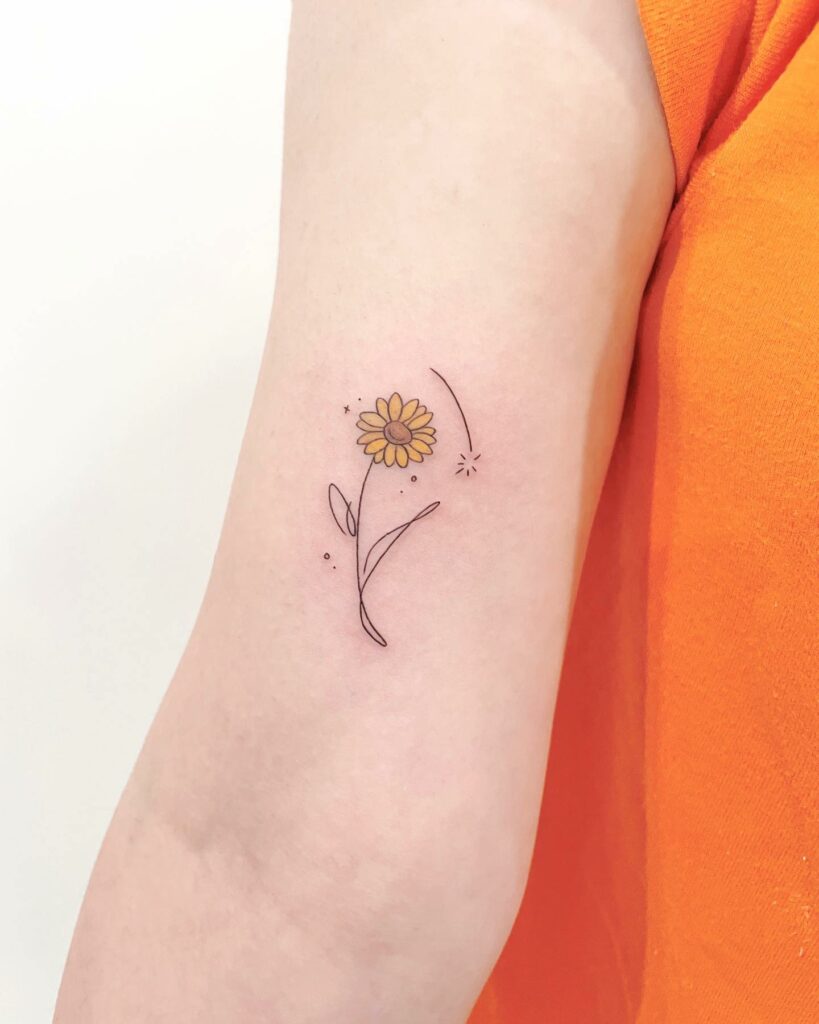 For all those happy and optimistic souls, this one is a must-have. Etched on the upper arm of the individual, is a beautiful sunflower tattoo. As we all know, sunflowers are the epitome of warmth, joy, and energy. So what better way to highlight all these traits, than with a sunflower tattoo design? The artist here has used a bright shade of yellow ink to mark the petals of the flower. Furthermore, he has paired it up with a cute and simple star tattoo, thus giving it a more feminine look. If you like these kinds of ideas to be portrayed through your tattoo, then using this design the next you get inked, can be a great idea.
Small Tree Tattoo Design
The tree is viewed as a symbol of longevity, endurance, and sometimes feminity as well. The above-mentioned image, contains one such beautiful design of a tree tattoo, etched on the upper arm of the individual. For some, a tree tattoo can also be a representation of the balance between masculine and feminine energy. To put it simply, the heavy sturdy trunk of a tree represents strength and power, while the soft, delicate leaves of a tree are a symbol of gentleness. Thus it can be a great idea for those looking for these kinds of beautifully contrasted meanings for their tattoo designs. The artist here has created a very simple and minimalist design, using shades of green and brown. Some of the most popular placements for these designs include the wrist, ankle, shoulder and ribcage.
Sun And Moon Tattoo Designs
As we all know, the Sun and the moon are two opposing forces of the universe. When combined together in a tattoo design, they can be the perfect representation of light vs. darkness, good vs. evil, and male vs. female. One such similar idea has been portrayed through this tattoo design. Imprinted on the arm of the individual is a very cute and simple sun and moon tattoo design. Instead of going for the full dramatic look of the Sun, the wearer has chosen a half-faced Sun and a crescent moon for this design. In some cultures, the moon is used as a symbol of many feminine qualities, like beauty, mystery and elegance. So why not incorporate this element in your next tattoo design?
Feminine Minimalist Sword Tattoo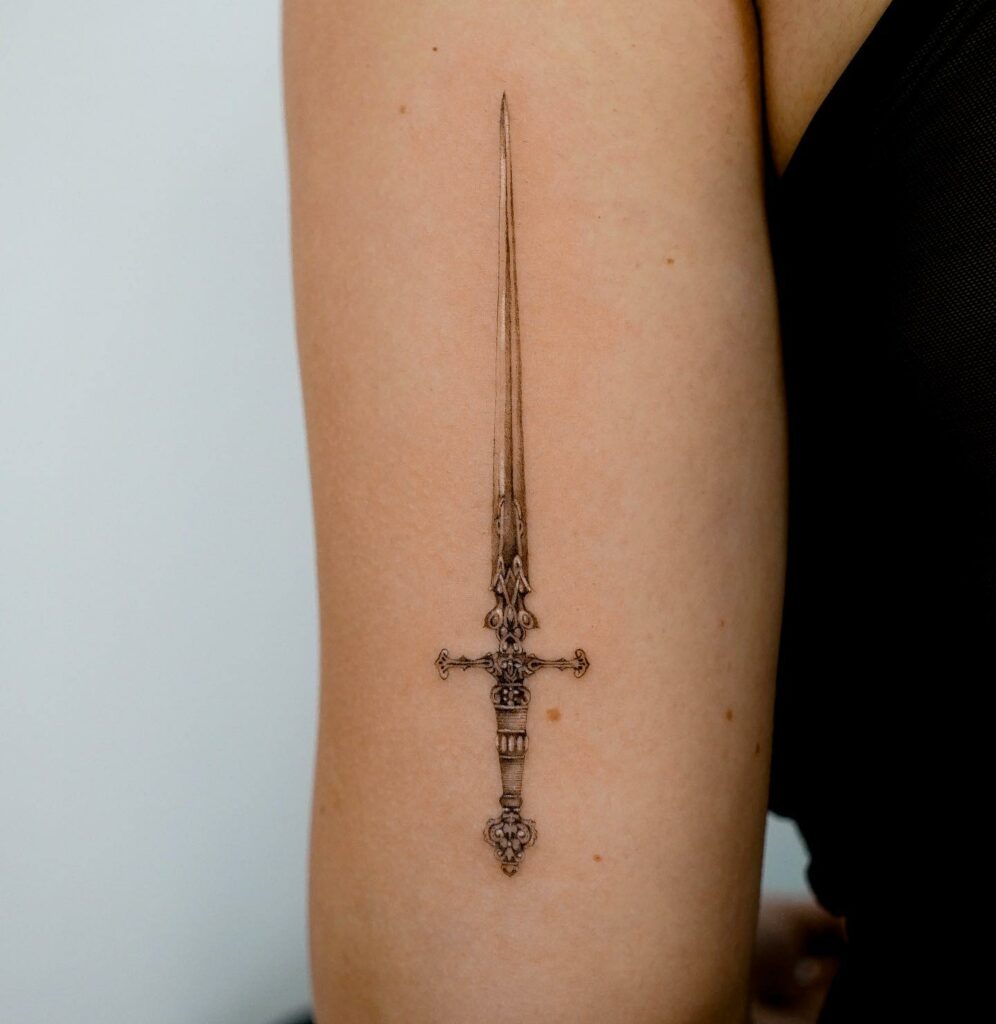 Although the sword tattoo is more of a masculine design, many women actually prefer this kind of design for their body art. After all, it all depends on the wearer, and what kind of design looks best on them. The above-mentioned image, contains a beautiful sword tattoo, etched on the arm of the individual. Just look at the intricate detailing of the lower part of the sword. It must have required a lot of patience and effort, for the tattoo artist to design this elegant piece. Swords are a common symbol of power and strength. As a weapon, that has been in use since the ancient ages; they represent honor, free spirit and protection. These kinds of tattoos usually look best when they are designed with black and grey ink.
Feminine Minimalist Dragon Tattoo
Nothing can beat a dragon when it comes to fierceness and power. This makes it a very popular choice for tattoo design, among both men and women. They represent various emotions like strength, power, fierceness, protection and good luck. Take the example of this design right here. The artist has created a small yet powerful design of a simple black and white dragon tattoo on the wrist of the individual. Although these kinds of designs are usually made on large surface areas, for a dramatic look, a small and cute design can equally be meaningful. You can also choose from a wide range of designs for a dragon tattoo. If you want something colorful, you can try out the Japanese dragon tattoo, or if you are a lover of simple ideas, then definitely go for this one.
Feminine Minimalist Tiger Tattoo
Here is a very cute and unique take on a tiger tattoo design. Instead of going for the classic piercing glance of a tiger, or the fierce roar of a tiger, the artist here has designed a cute tattoo of a cub instead. While on the one hand, the tiger can represent strength and power, cute tattoo designs like these, can also imply the innocence or playfulness of a cub. To enhance the look further, the artist has incorporated some designs of butterflies as well.
The common notion is that minimal tattoos are always black and white. However, that is not at all true. You can try out different watercolor minimalist tattoos, and they will equally look great and be meaningful. On that note, here are a few other examples of feminine minimalist tattoo designs, that you must check out.
feature image from Pinterest – Want your tattoo to look brighter? Try "Tattoo Balm"
Last reviewed and updated on June 19, 2023