Are you fascinated by Norse mythology and looking for a tattoo that represents strength and courage? Look no further than a Fenrir Wolf tattoo! This tattoo features the iconic giant wolf from Norse mythology and has become a favorite among tattoo enthusiasts.
Fenrir is a fascinating character from Norse mythology, with a reputation for savagery and incredible power. Despite this negative image, many tattoo artists have created incredible artwork featuring the wolf, capturing its unique qualities and symbolism.
Norse mythology has captured the imaginations of people for centuries, with its complex characters and rich symbolism. Fenrir, the monstrous wolf, is just one of many figures from this world that people have chosen to immortalize in ink.
While Fenrir may be a feared beast, it also represents traits like bravery, courage, and loyalty that people strive to embody. With a Fenrir tattoo, you can showcase these qualities on your skin and pay homage to this powerful creature from Norse mythology.
If you're considering a Fenrir tattoo, we've compiled a list of designs to inspire you. Check them out and find the perfect way to ink this iconic Norse wolf on your body!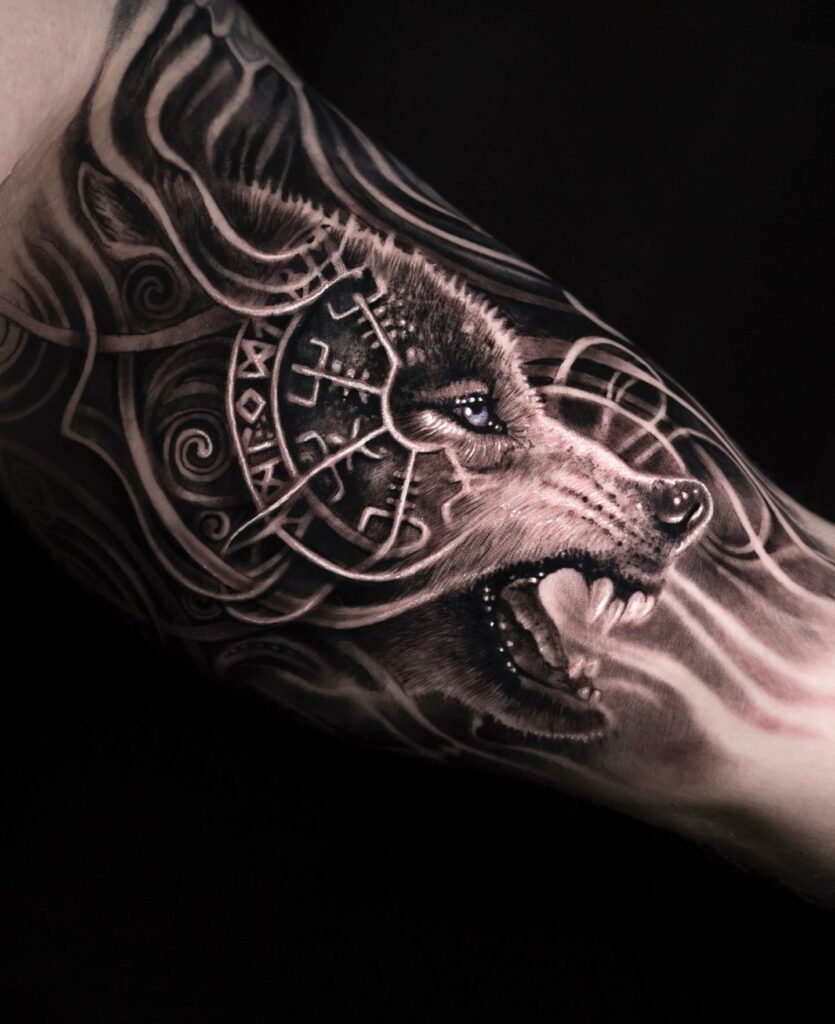 Norse Mythology Wolf Fenrir Video Game Style Tattoo
The Norse wolf tattoo is a perfect example of how video game art can be transformed into an epic tattoo design. In this design, the mythical beast Fenrir is depicted as breaking free, with intense neon colors adding an extra level of coolness.
This tattoo design perfectly captures the ferocity of the wolf, with sharp features and powerful jaws that look like they're ready to bite. The neon colors are an interesting twist on the traditional Norse mythology-inspired tattoo, adding a modern and futuristic touch that fans of the synthwave style are sure to appreciate. This is definitely a tattoo design that will turn heads and start conversations!
Norse Fenrir Wolf Tattoo Design With Chains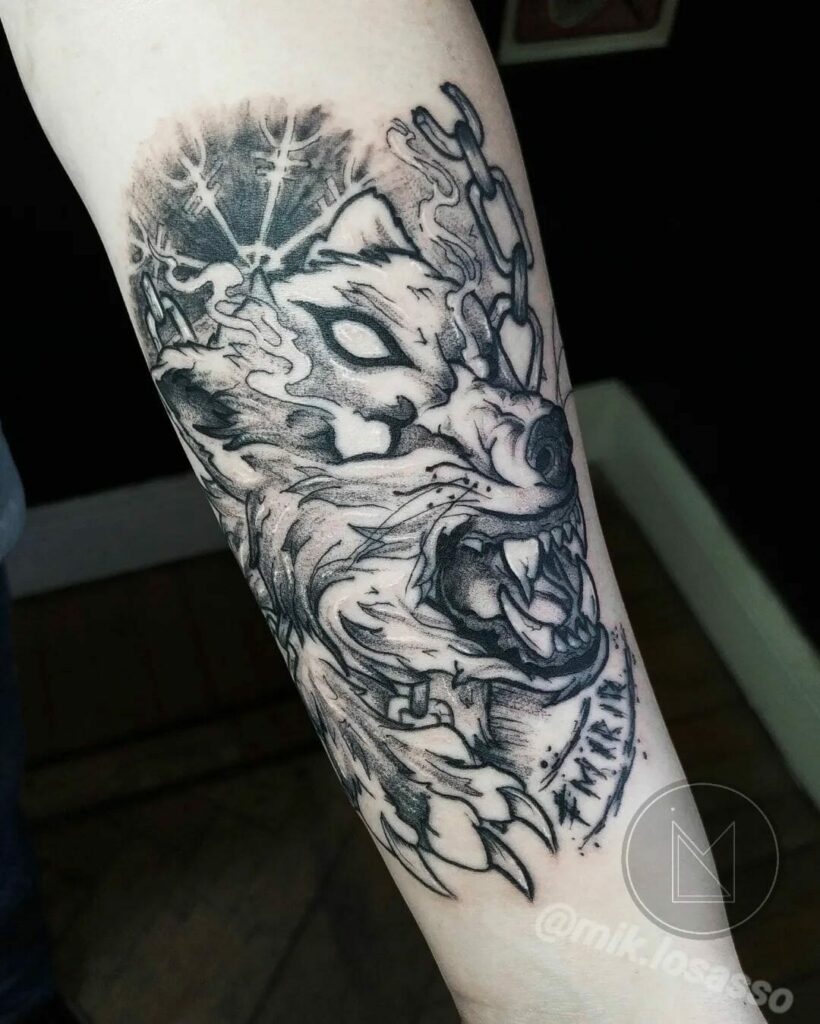 The design features the mythical wolf Fenrir, depicted in a feral pose as it tries to break free from its chains. The tattoo is also inspired by the retro-futuristic Synthwave art style, which uses neon colors to create a visually striking effect.
The tattoo captures the wild, untamable nature of the Norse wolf with its fierce expression and powerful jaws. The artist has done an excellent job of conveying Fenrir's legendary anger and savagery, making for a stunning piece of body art. The use of grainy black and white ink also adds to the tattoo's authenticity, creating a bold and powerful image that will leave a lasting impression.
Traditional Style Fenrir Viking Wolf Tattoo Designs For Back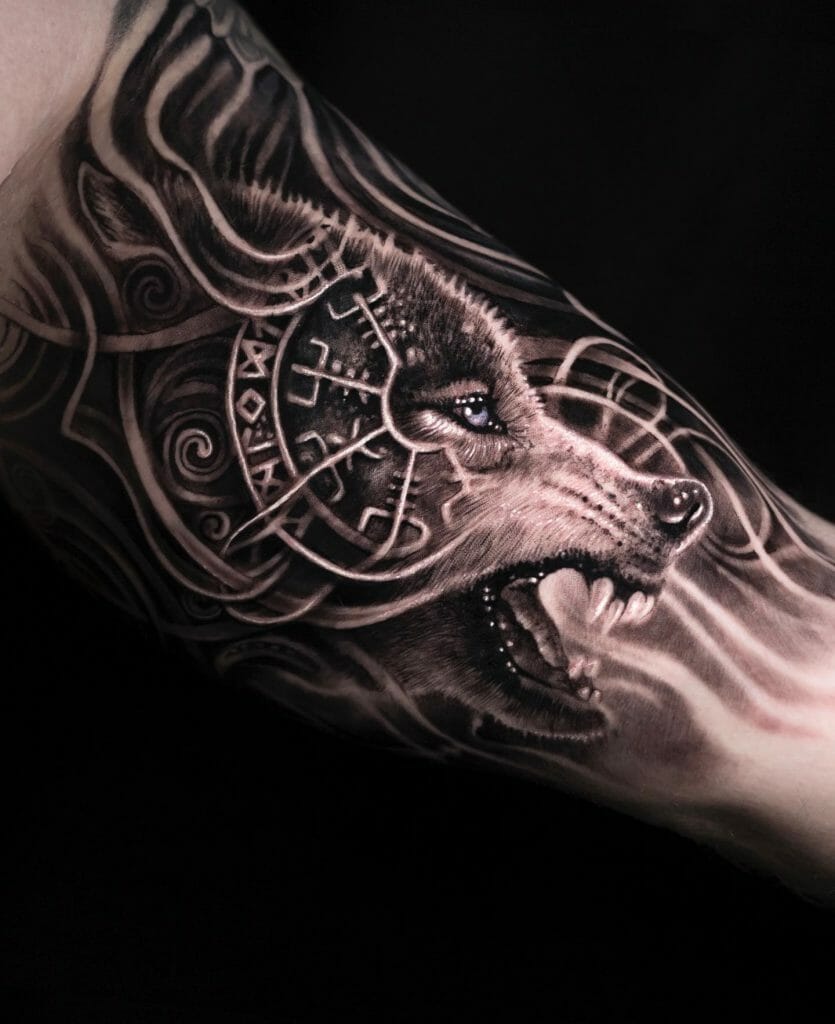 Traditional American tattoos are beloved by many for their bold and impactful style, and the Norse wolf tattoo is a perfect example of this. This amazing tattoo spans across the wearer's entire back, providing plenty of space for the tattoo artist to work their creative magic. The detailed artwork depicts the feral Fenrir, a wolf that was once bound with many chains and stands over the remains of fallen warriors. The Fenrir wolf can be portrayed in different ways, but this tattoo emphasizes its untamable savagery, showcasing its snarling expression and powerful jaws.
The traditional American tattoo style is particularly well-suited to this design, ensuring that the artwork is visually compelling and powerful. This style emphasizes bold lines and vivid colors, making it perfect for larger tattoos like this one. Whether you're a fan of traditional American tattoos or just looking for a unique way to showcase your love of Norse mythology, this stunning tattoo is sure to make an impact.
Realistic Fenrir Wolf Hand Tattoo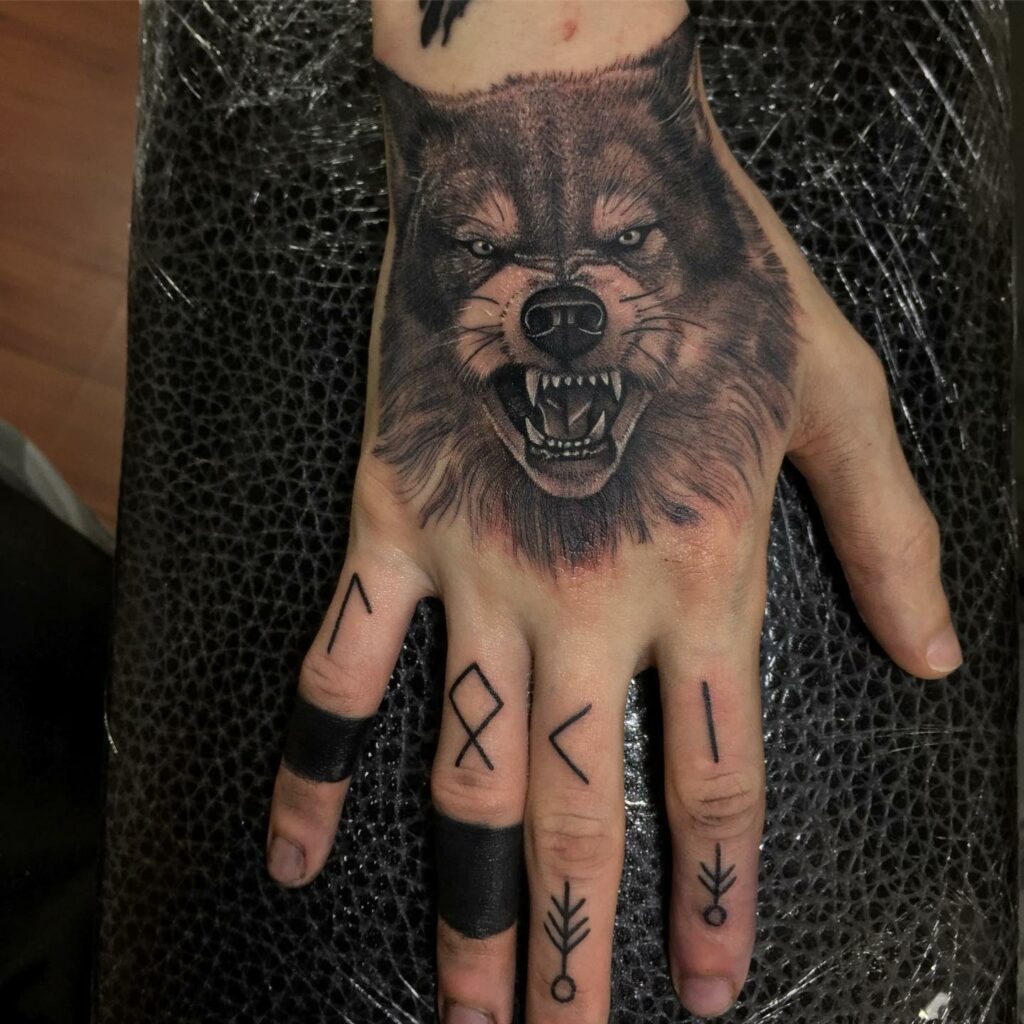 This Fenrir tattoo on the hand may seem simple at first, but it is all about the details. The artist has added intricate details to the wolf's eye, giving it a distinct Norse wolf look that sets it apart from other wolf tattoos.
To create a realistic effect, the artist has used a combination of black, gray, and white shades. The fur in this tattoo is especially impressive, as it looks like it has depth and a coarse texture. The snarl, which is a signature feature of Norse wolves, has also been captured perfectly, making this tattoo instantly recognizable as a Fenrir tattoo. Overall, this is a fantastic example of how a seemingly simple tattoo can be elevated with careful attention to detail.
Aggressive Fenrir Norse Wolf Tattoo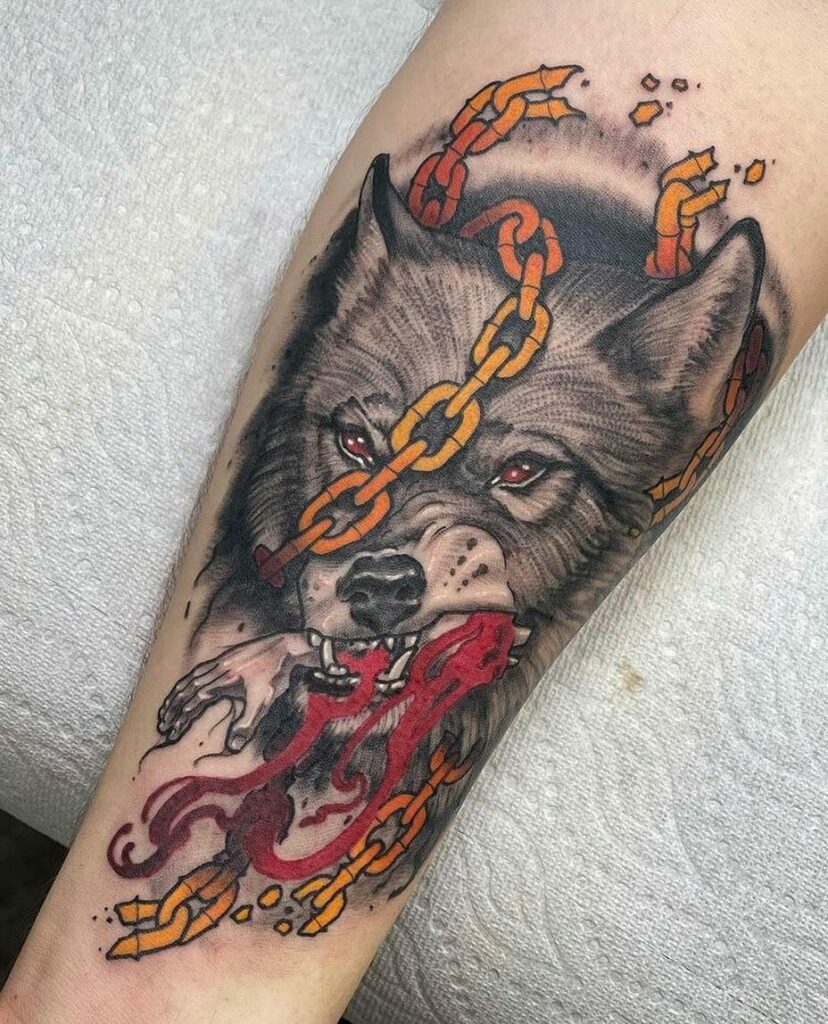 If you are a fan of Japanese tattoo styles, you would love the Norse wolf tattoo design. It is a vivid illustration of a Norse wolf, which broke free from its chains and is portrayed with a ripped human hand in its mouth. This tattoo design is highly graphic and uses a combination of black and white shades, along with colored additions to bring the artwork to life. The Norse wolf is shown with bloodshot eyes, and its feral nature is evident, signifying why Vikings feared this creature. The tattoo artist used colored additions to give the design more depth and detail, making the bleeding mouth and shiny chains appear more realistic.
Unique Graphic Fenrir Tattoo Designs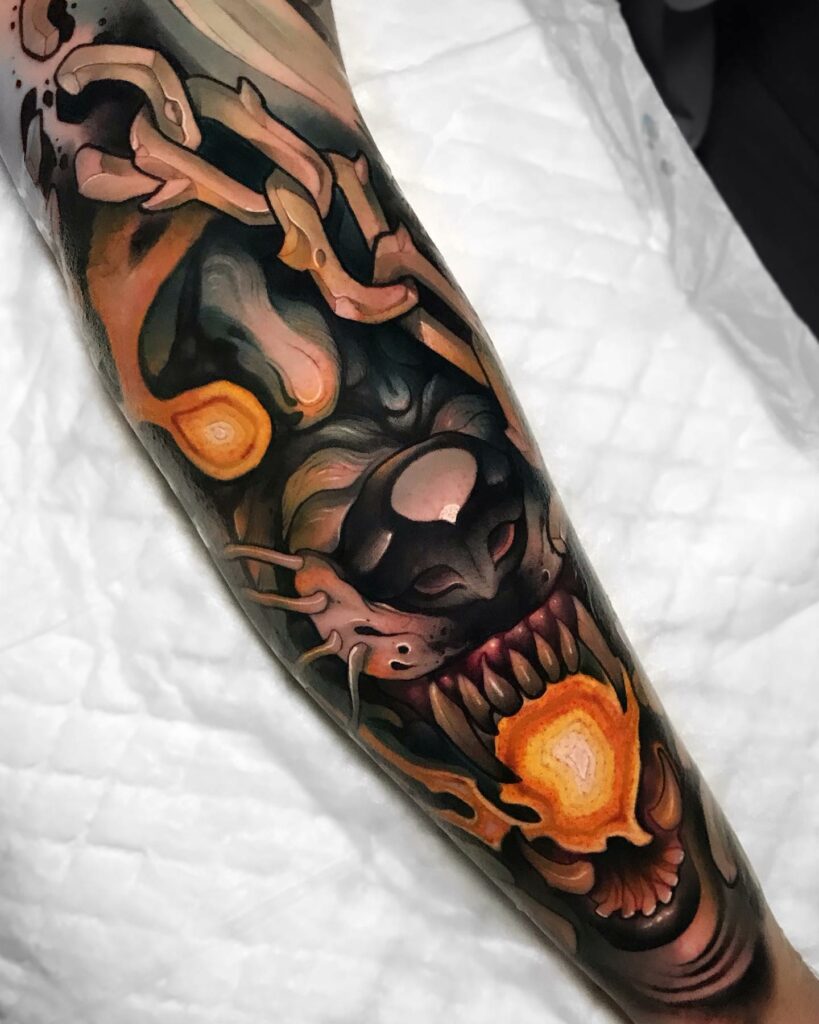 Looking for an impactful graphic tattoo? Look no further than this detailed Norse wolf tattoo design. The tattoo captures the essence of Fenrir's savagery through its striking expressions, making the wolf seem ready to attack. The artist has used a combination of black, gray, and yellow to add depth and a sense of movement to the design. What really sets this tattoo apart is the fiery eyes and mouth, which add a fresh and creative take on Fenrir's fury. This design is a great source of inspiration for anyone looking for a unique and detailed wolf tattoo.
Colorful Fenrir Wolf Tattoo For Chest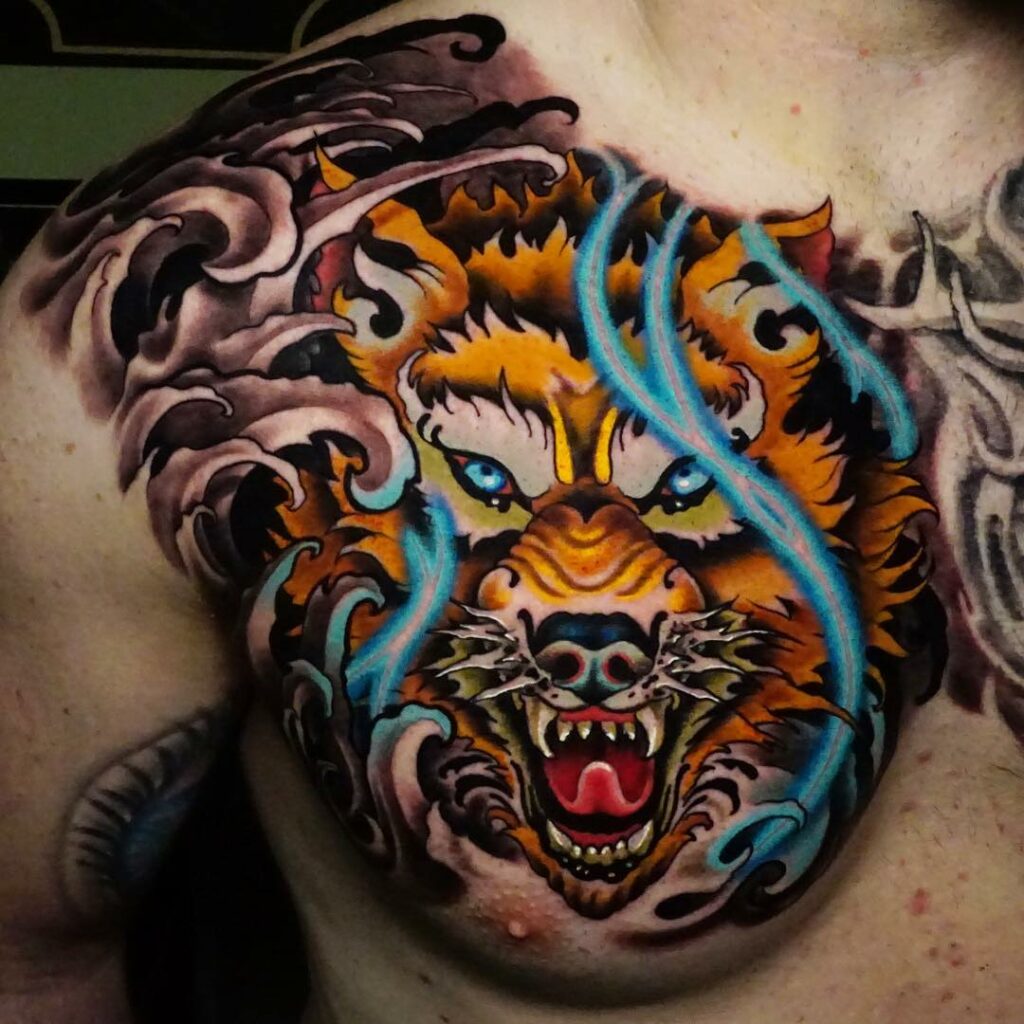 When you think of Norse wolf tattoos, you might draw inspiration from Dragon Ball Z, which often depicted lightning and fiery backgrounds in intense fights between characters. This is where the Fenrir chest tattoo comes in, featuring similar vibrant effects that add a colorful touch to the traditional black and white wolf tattoo. While most wolf tattoos are typically created in realistic shades, this tattoo artist chose to play with a more animated style and intricate colors, creating an eye-catching design that's sure to impress.
Dark Fenrir Tattoo Designs With Skull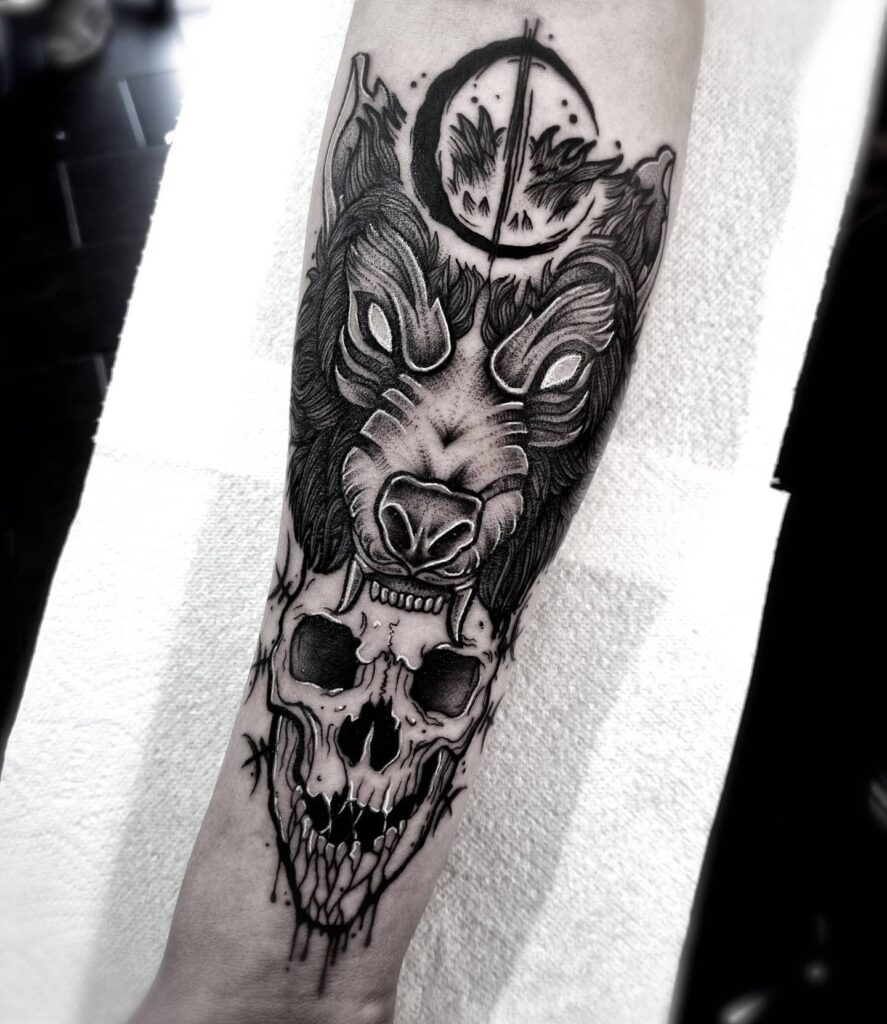 The Fenrir wolf tattoo is inspired by the powerful and menacing wolf from Norse mythology, known for its destructive and deadly nature. According to the myth, the wolf caused the deaths of many gods, including Odin. To symbolize its brutality, the tattoo features a snarling Fenrir with a skull in its mouth, showcasing the Norse wolf's fierceness.
One of the most impressive aspects of this tattoo is the intricate detailing on the fur. The artist has paid close attention to every detail, making the fur look as realistic as possible. With its sharp teeth, blood-red eyes, and skull in its mouth, this tattoo is undoubtedly a symbol of strength and power.
Graphic Fenrir Skeleton Tattoo Design With Black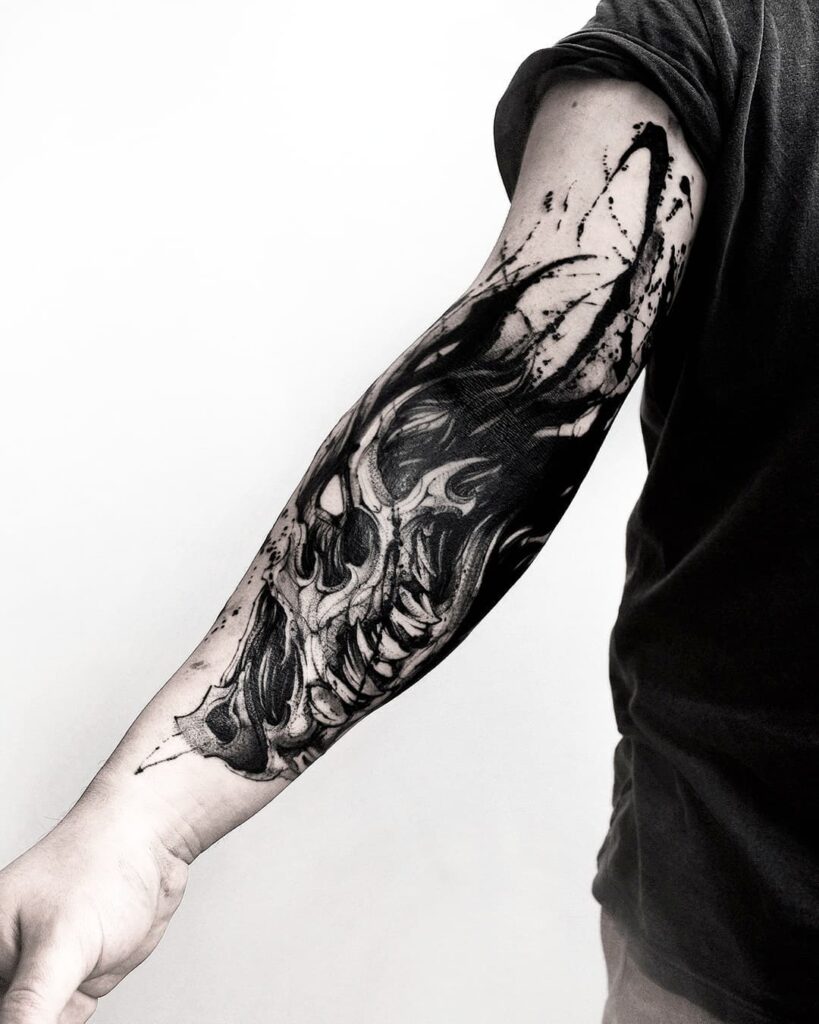 This tattoo design is a perfect pick for those who love dark and edgy tattoos. The Fenrir skull tattoo on the wrist features an interesting twist on the traditional Norse wolf illustration. The skull appears fierce, resembling Fenrir's wildness, and the black ink used to shade the tattoo gives it a bold and striking appearance. This gothic tattoo style is becoming increasingly popular among younger people, and this design is sure to catch the attention of others. The ink used in this tattoo is all black, making it an excellent choice for those who want to keep things simple yet striking.
Norse Wolf Fenrir Tattoos With Vegvisir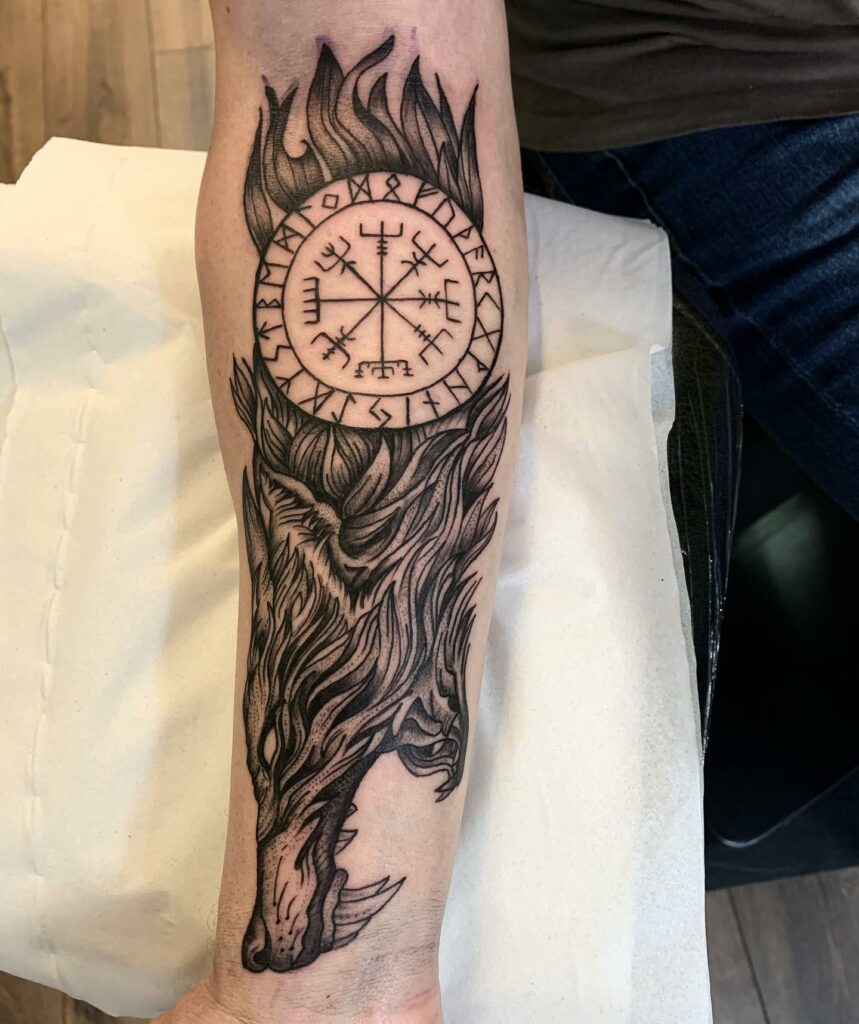 Looking to add depth and meaning to your tattoo? Consider the illustrated Fenrir tattoo, which combines elements of Nordic mythology to create a layered and complex design. This tattoo features the savage wolf Fenrir and the Vegvisir, a Nordic symbol of protection and victory. The intricate details and symbolism make this tattoo an excellent choice for anyone looking for a meaningful and personalized piece. Norse mythology is full of fascinating characters and events that provide endless inspiration for tattoo designs. Choose the symbols and themes that resonate with you the most and let your tattoo tell a story that is uniquely yours.
Still looking for inspiration, then checkout this blog post about dragon tattoos
feature image from Pinterest – Want your tattoo to look brighter? Try "Tattoo Balm"
Last reviewed and updated on April 26, 2023