Hello there, ink enthusiasts, it's your favorite tattoo maven, Tori. You're probably here because, like me, you're captivated by the captivating allure of tattoos — the stories they tell, the identities they define, and the artistry they embody. You're in luck, because today we're embarking on an in-depth exploration into an art form that is steeped in rich history and profound symbolism: Filipino tribal tattoos.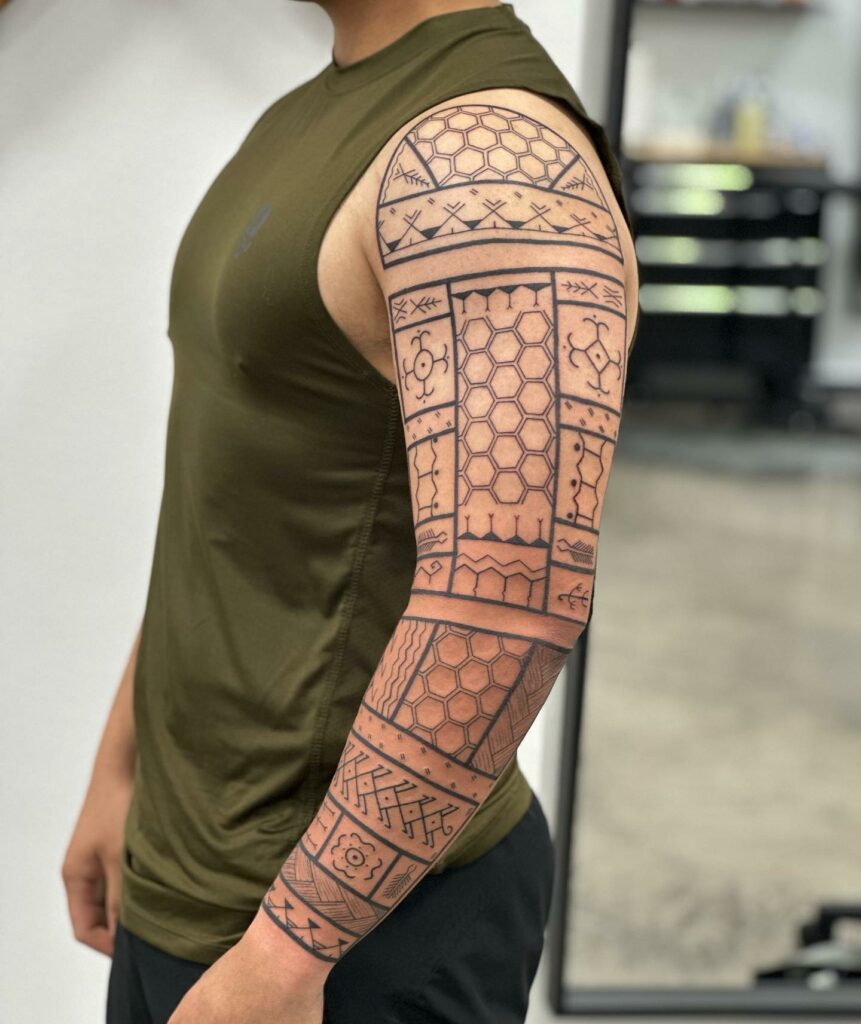 In this journey, we're not just appreciating the aesthetic appeal of these designs. No, we're diving head-first, no water wings, into the deep pool of cultural narrative these tattoos carry. This isn't just skin-deep beauty we're talking about. These are time-honored tales etched onto the canvas of human skin, after all.
If you're thinking, "Well, Tori, I'm already rocking a Koi on my bicep and a skull on my calf. Why should I care about Filipino tribal tattoos?" Here's why: These aren't your run-of-the-mill, grabbed-off-a-Pinterest-board designs. They're walking, talking (or, more accurately, non-talking) histories and symbols that harken back to the pre-colonial era of the Philippines.
Each line, dot, and swirl has a significance rooted in centuries of tradition. They echo ancient warriors' courage, the community's unity, and nature's harmony, channeling the very soul of a rich and vibrant culture. Intrigued? You should be. This artistry is part tribal narrative, part personal statement, and 100% unique. By the end of this blog post, you'll be brimming with knowledge about the history, symbolism, and unique aesthetics of Filipino tribal tattoos. Let's decode the tribal ink, shall we?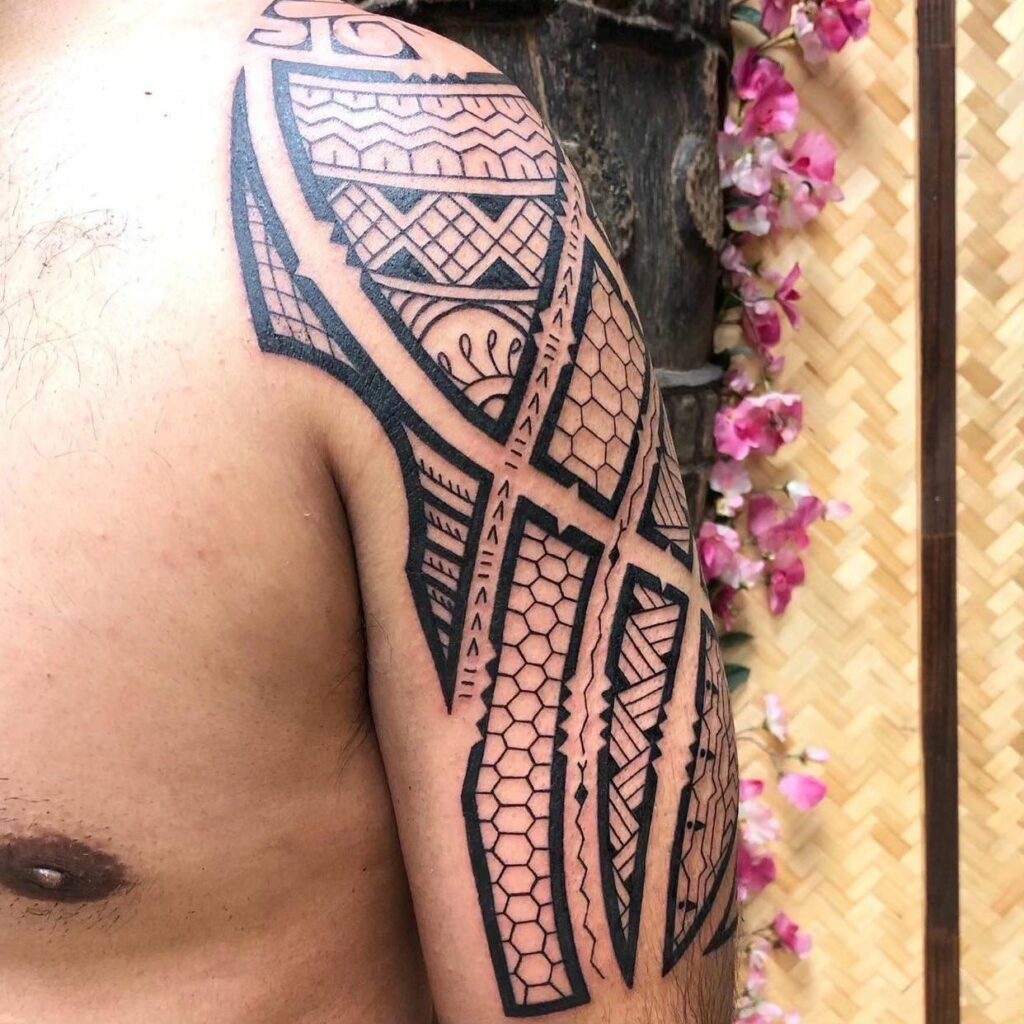 The Tradition Lives On
Fast forward to today, and we find that true Filipino tribal tattoos — known locally as batek, batok, or patik — have become quite the rare sight. These tattoos are so profoundly tied to Filipino heritage that most tattoo artists in the country will only ink them onto those of Filipino lineage.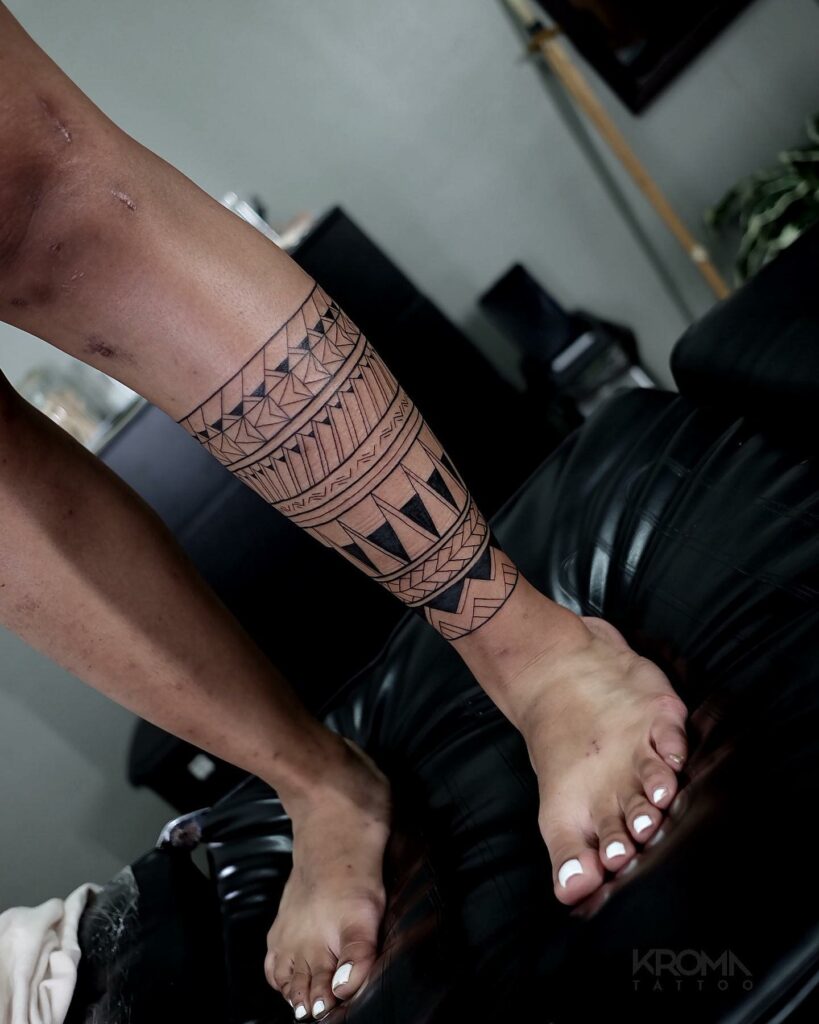 You may ask, "Tori, how is the scene now?" Well, tattoos still raise some eyebrows in modern Filipino society. But the thirst for this traditional ink artistry remains unquenched, with both locals and tourists seeking the legendary Apo Whang Od's needle. At 105, she's the oldest magbabatok (tattoo artist) in the Philippines, still inking stories of tradition and courage.
Nature's Canvas: The Art Behind the Ink
Filipino tribal tattoos are essentially wearable art that reflects the natural world. Picture this: if an artist grew up near a river-carved mountain range, they're likely to ink stories of mountains and rivers. In the Cordillera mountains, where Apo Whang Od hails from, tattoos take inspiration from snakes and ferns.
Traditionally, these tattoos were more than pretty designs; they were badges of honor. They symbolized a tribe member's bravery, offered protection, or signified tribe status. And the artistry? You won't find photo-realistic portraits here. Instead, repetitive, meticulous patterns dominated, featuring simple shapes like circles, diamonds, dogs, men, and eagles.
Tattoo Placement: Prime Real Estate
When it comes to the canvas, every part of the body except the hands and feet is fair game. Armbands and full chest pieces were quite the rage, and honestly, they still are.
Now, let's journey through a few fascinating styles within Filipino tribal tattoos, shall we?
1. Intricate Filipino Tribal Tattoos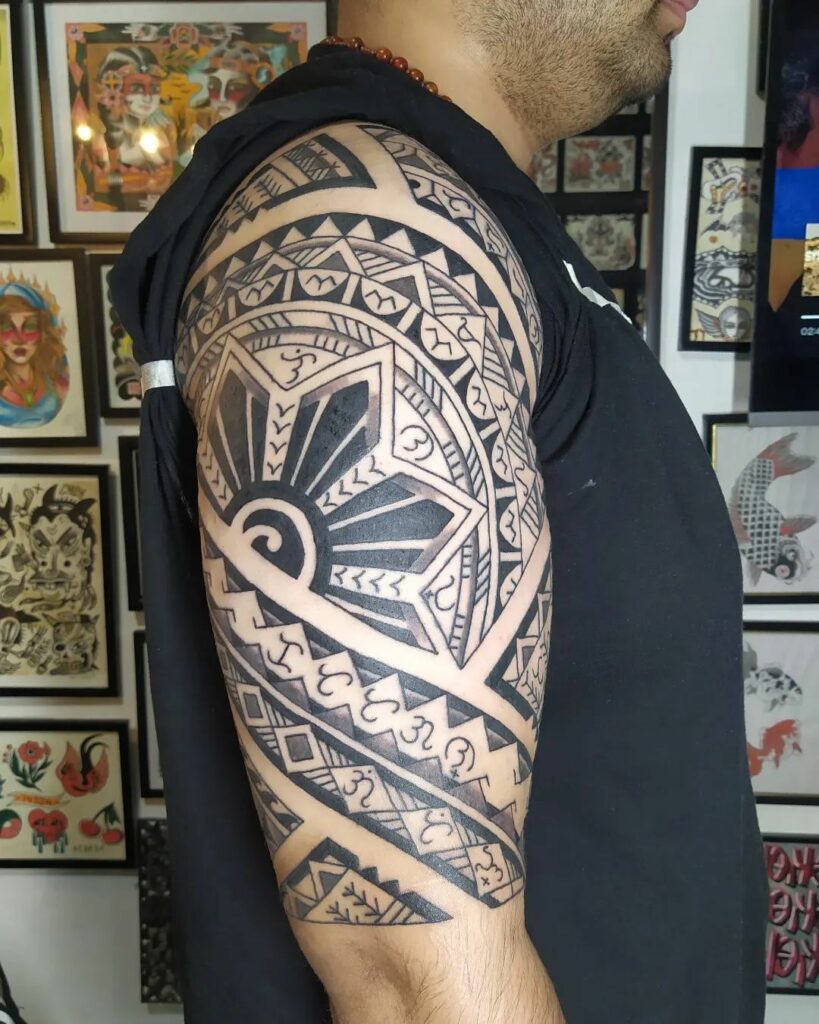 Precision is key with Filipino tribal tattoos. These designs may look simple, but the devil is in the detail. Think of precise, clean lines creating an intricate mesh of shapes and patterns. The centerpiece of these tattoos often reflects national symbolism, like the sun, which represents liberty and progress.
2. Half Sleeve Filipino Tribal Tattoos
Traditionally, the arm was the initiation canvas for many Filipino warriors, so the half-sleeve tribal tattoo remains a hot favorite. These designs complement the arm's shape and biology, creating an eye-catching tribute to the warrior tradition.
3. Fusion Filipino Tribal Tattoos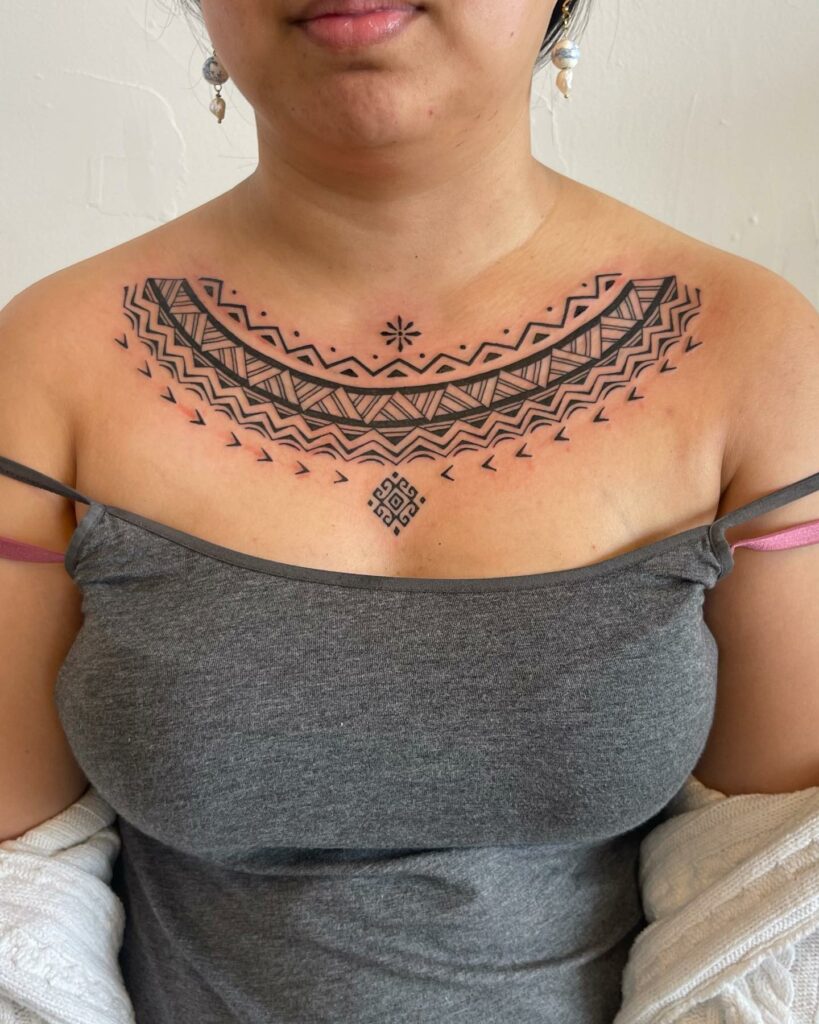 Mixing tattoo styles is like fusion cooking — you can cook up something fresh while honoring tradition. Filipino tribal tattoos can merge with other styles, creating unique designs. Don't be surprised to find religious symbols like crosses, or even a splash of color to offset the solid black.
4. Celestial Filipino Tribal Tattoos
Celestial symbols, like the sun and stars, hold deep meaning in Filipino culture. When incorporated in tattoos, they add a visual dynamic that makes the design truly stand out.
5. Classical Filipino Tribal Tattoos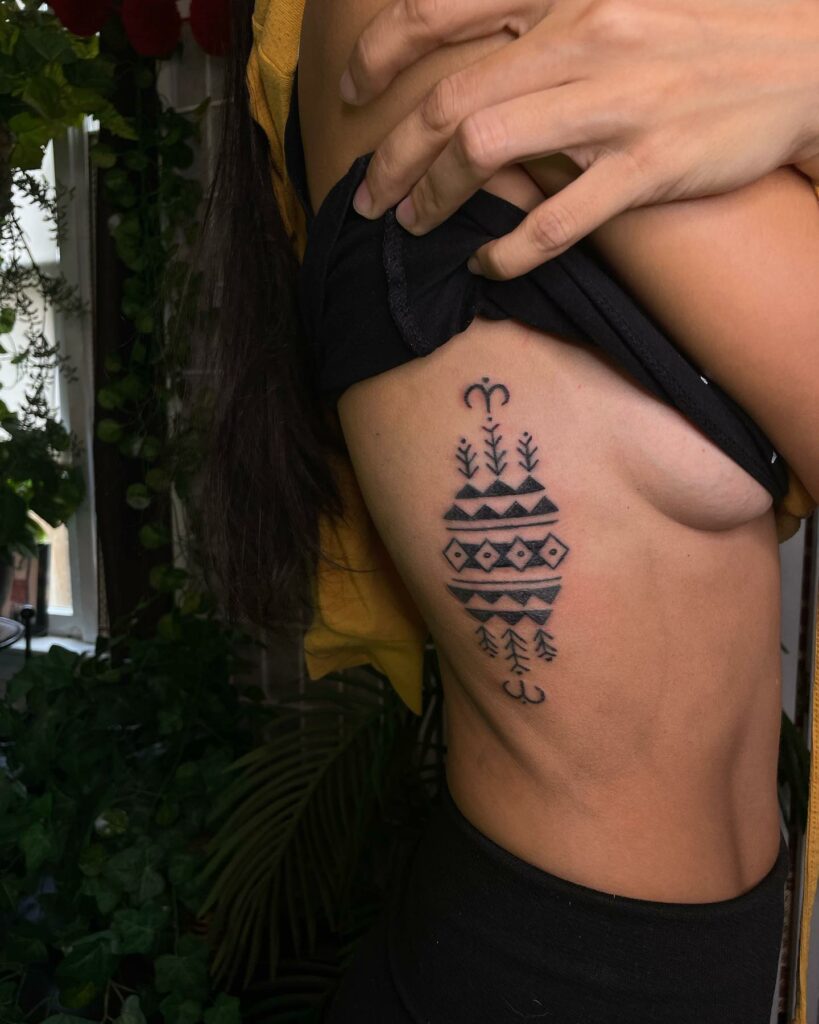 Each Filipino tribal tattoo tells a story. The band of stripes known as "gulot" marked a warrior's first kill in battle, with each subsequent victory adding to the pattern. Other designs were body-specific, like the ablay, found only on the shoulder.
6. Massive Filipino Tribal Tattoos
The beauty of Filipino tribal tattoos lies in their versatility. The intricate layers of shapes and lines can be adapted to suit any size — full sleeves, back pieces, or full chest tattoos. The patterns are easily repeatable, which means your tattoo can grow with you, adding to its overall allure.
So there you have it, an exploration into the beautiful world of Filipino tribal tattoos. While they're steeped in tradition, they offer room for creativity and personal expression. The next time you think of getting inked, remember: it's more than just art, it's a piece of history!
Conclusion
As we bring this journey through Filipino tribal tattoos to a close, remember that choosing to wear one of these designs is not just a commitment to a piece of art; it's an embrace of rich heritage and storytelling. Now, as for the practicalities, placement is crucial. Historically, everything from arm bands to chest pieces have been popular, but consider the visibility and comfort of the chosen location. The cost can vary significantly depending on the size, detail, and location of your chosen design — anywhere from a couple of hundred to a few thousand dollars.
Just like any tattoo, there are potential risks including allergic reactions, infections, or scarring. Ensure you choose a reputable tattoo artist who follows proper hygiene procedures. It's essential to take care of your tattoo post-inking, following all aftercare instructions provided by your artist. And remember, while a tattoo is a fantastic way to express yourself, it's also a lifelong commitment, so choose wisely.
Filipino tribal tattoos are more than just patterns; they're ancient narratives etched onto skin, an ode to a culture's bravery, unity, and respect for nature. As we move forward, let's honor these ancient art forms and keep the stories alive, one tattoo at a time.