Greetings, fellow tattoo lovers! Are you searching for a way to ignite your next tattoo idea? Look no further! Fire has been an integral part of human evolution and symbolizes both creation and destruction. As a tattoo expert, I can confidently say that fire flame tattoos are among the most popular tattoo designs out there, with both men and women rocking this fiery look. From representing passion and love to conquering darkness with light, fire flame tattoos are versatile in their meanings. So, if you're ready to add some heat to your tattoo collection, let's explore some of the most exciting flame and fire tattoo designs together!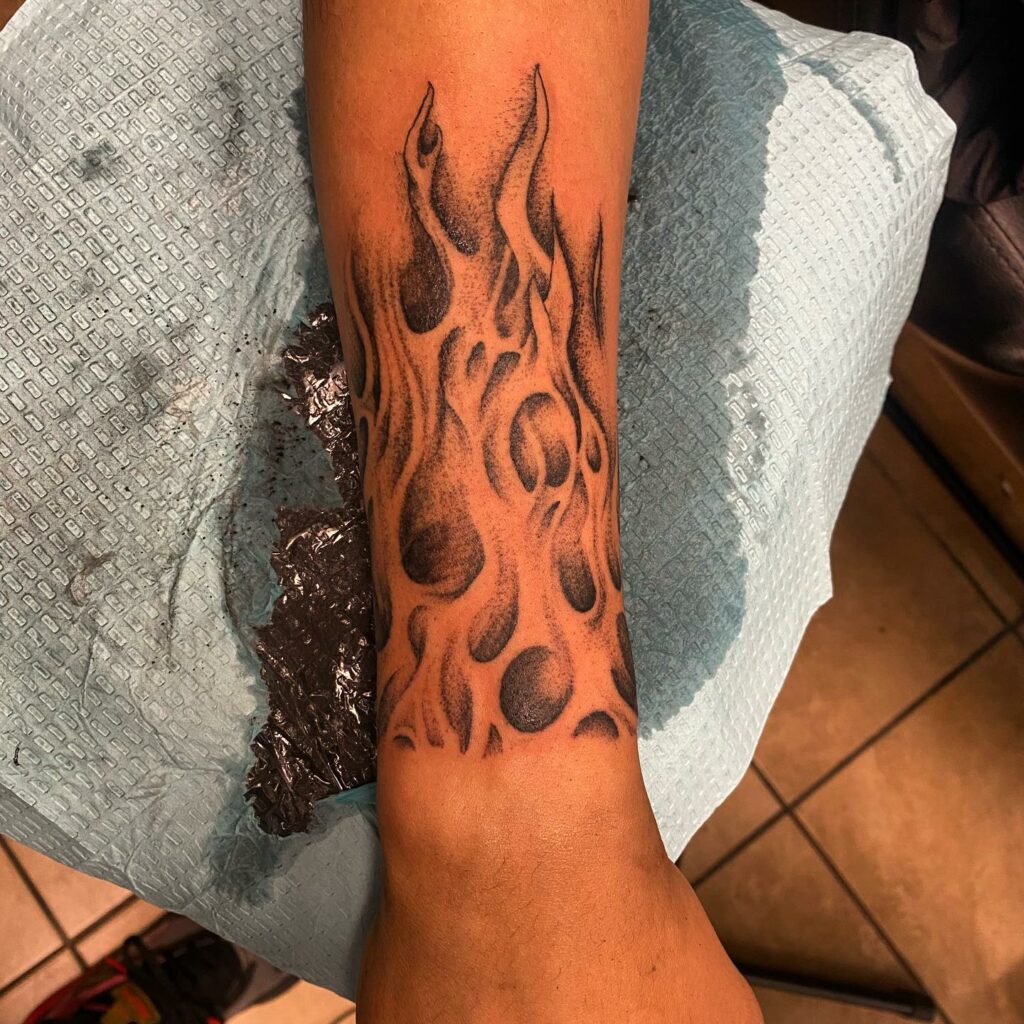 Small Fire Flame Tattoo
Looking for a cute and minimalistic tattoo design? Check out this fire flame tattoo! The tattoo in the picture above is engraved on the belly, giving it a simplistic and petite look. The artist used only black ink to create this stunning body art. However, it is crucial to note that stomach tattoos can generate a higher level of pain than other common areas like the wrist or ankle. So, if you're considering getting a stomach tattoo, make sure you have the necessary pain tolerance or courage. Overall, this design is perfect for someone looking for a subtle yet bold tattoo that's sure to make a statement.
Blue Flames Tattoo
The symbolism of a blue flame tattoo goes beyond just its aesthetics. It's a representation of the strength of life and destruction, and the spirituality of the individual. Take a look at the image above, where a beautifully executed blue flame tattoo adorns the back of an arm. The tattoo artist has used various shades of blue ink, creating intricate details that are both striking and mesmerizing. The choice of bright blue ink, rather than a deeper hue, adds to the lively appearance of the design. This particular style of flame tattoo is sure to be a great fit for anyone looking to add some vibrancy to their tattoo collection. Use this picture as inspiration for your next tattoo design.
Flame Tattoo Outline
If you're a first-time tattoo-getter looking for a fun and fiery design, this flame tattoo on the finger is a great option to consider. The simple outline creates a cute and playful look while still conveying the energy and passion of the flame. This black and grey design can also be personalized with any color of your choice. Popular options include shades of orange, blue, and yellow. Whether you're a fan of bold or subtle looks, this flame design can be adapted to fit your style.
Fire Flame Leg Tattoo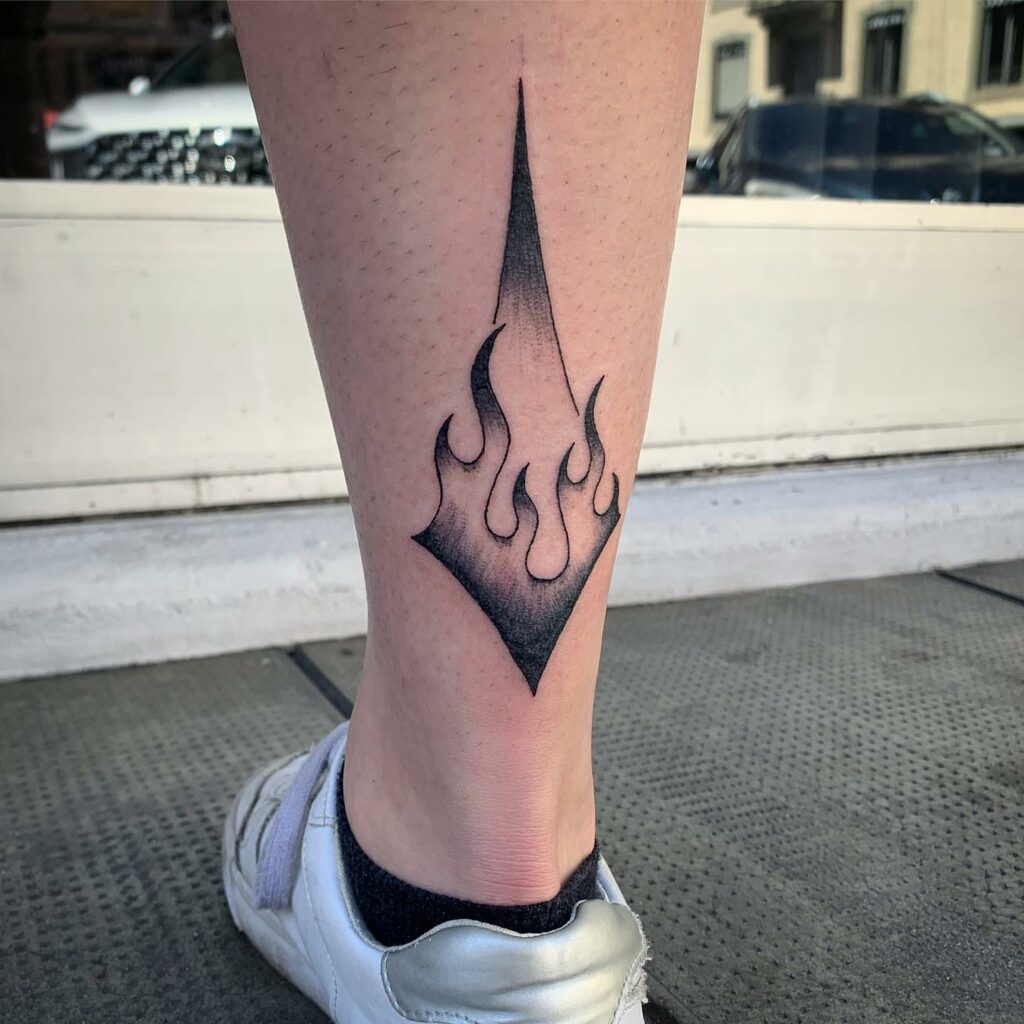 Fire has always held a significant place in mythology and culture. In Greek mythology, it was believed that Prometheus stole fire from the gods and gave it to humans, leading to the development of civilization as we know it. Similarly, fire holds different meanings in various cultures around the world.
In the featured image, we can see a stunning flame tattoo on the leg of the individual. The artist has masterfully used various shades of black to create a mesmerizing effect, bringing out the fire's intensity. This design can be customized to fit any size preference, making it a great choice for those looking for smaller tattoo options.
Burning Rose Tattoo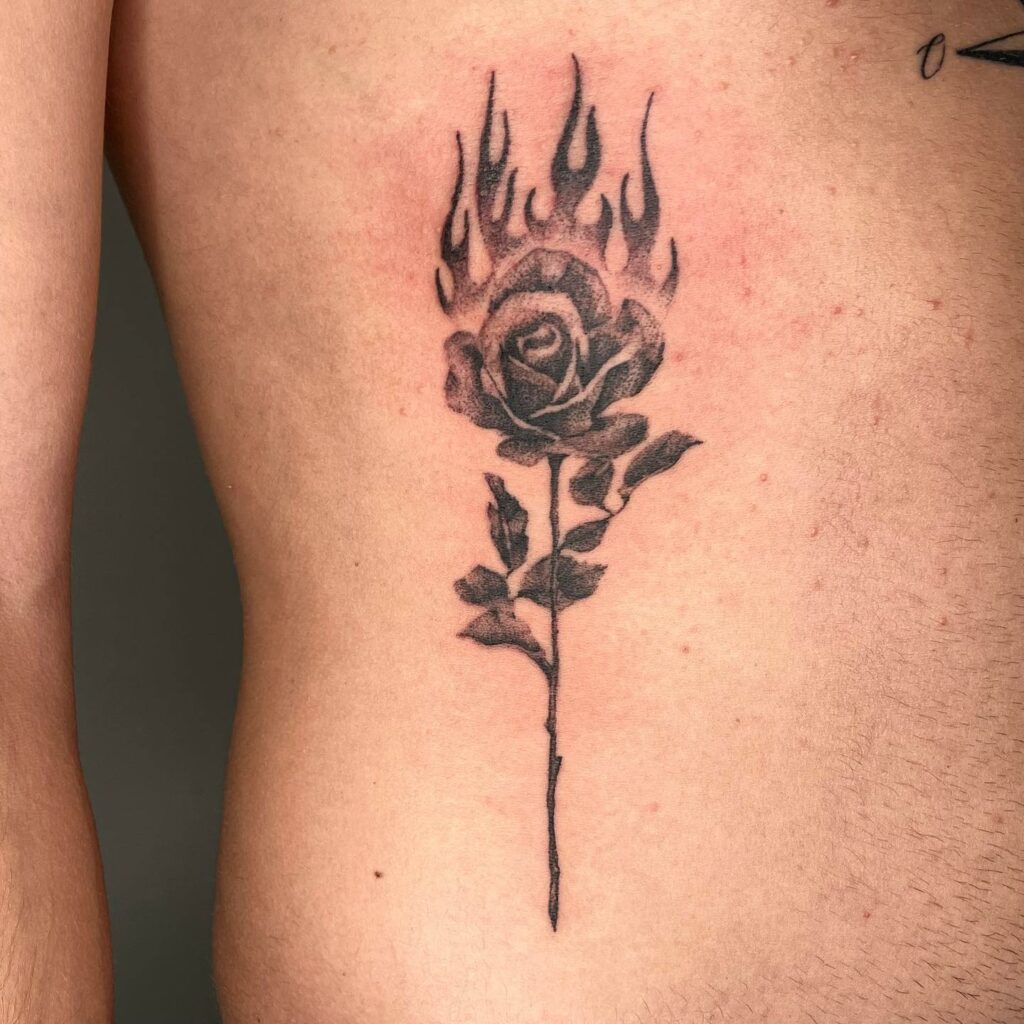 Roses have long been a popular symbol for conveying emotions like love, passion, beauty, and grace. When combined with a flame tattoo, the design can take on a whole new meaning. However, it's important to note that the color of the rose can drastically alter its symbolism. For instance, a burning red rose tattoo often represents the intense passion and love shared between two individuals. In this image, however, the individual has opted for a dark black rose, which symbolizes tragedy, death, or the loss of a loved one. This striking design is located on the side of the waist and features a somber black flame without any additional colors, creating a powerful and thought-provoking tattoo.
Burning Heart Tattoo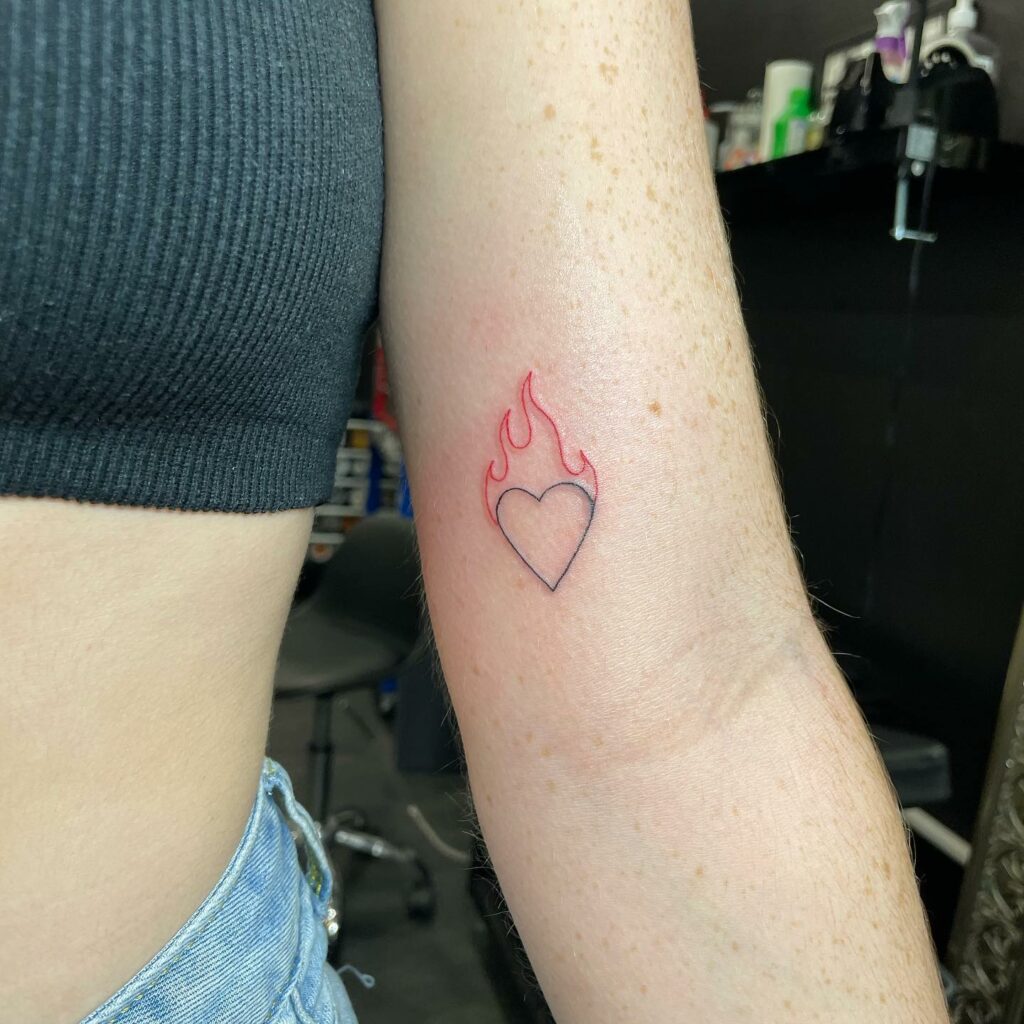 Burning heart tattoos are a powerful representation of intense emotions and can convey a range of meanings from passion to heartbreak. These tattoos are highly sought after by tattoo enthusiasts across America and offer endless possibilities for creative interpretation. In the picture above, you can see the outline of a burning heart tattooed on the individual's forearm. Typically, these tattoos are made using black ink, but in this case, the artist has used a subtle touch of red to accentuate the flames. You can personalize your design by adding the name of a loved one to the heart, or by incorporating other colors to make it truly unique. With a burning heart tattoo, you can express your deepest emotions and make a bold statement with your body art.
Burning Skull Design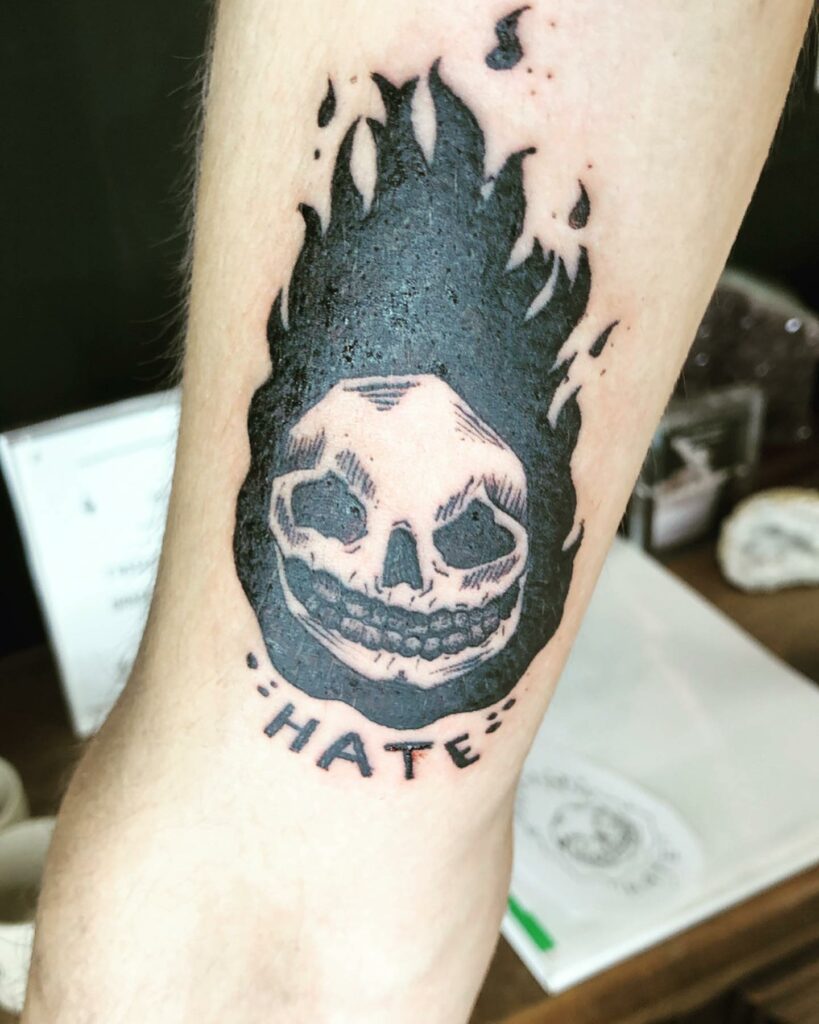 This image showcases a skull that is on fire, created using black ink. It's not just visually appealing but also has a deep meaning. As we all know, skulls represent mortality and the inevitability of death. However, when combined with flames, which represent rebirth and resurrection, it provides an intriguing contrast. The artist has done an excellent job of creating a design that captures both elements. If you are looking for a tattoo that carries a similar meaning, this design is definitely worth considering.
Butterfly on Flame Tattoo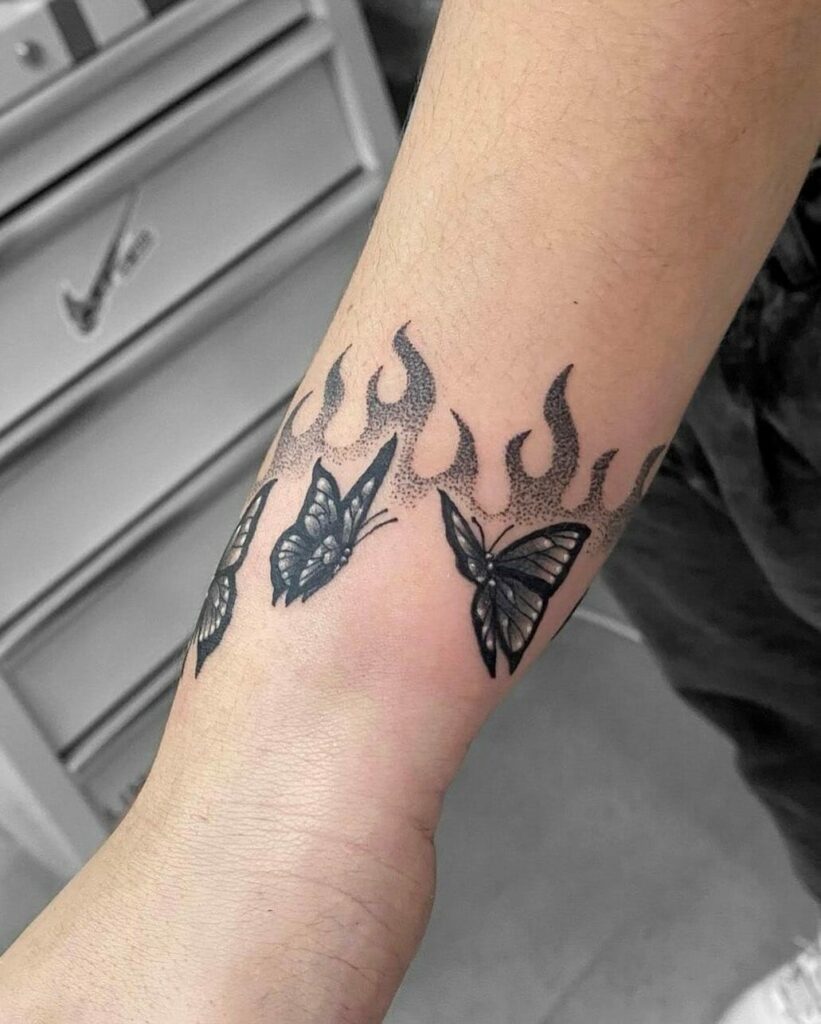 Butterfly tattoos have been a beloved choice among tattoo enthusiasts for ages. They are known for their elegance and beauty, and when blended with flames, they can hold various connotations. While some may view this design as a representation of transition and personal growth, others may see it as a reminder of past traumas that they are unable to let go of. The image showcases a stunning example of three butterflies engulfed in flames, which is perfect for individuals looking for a motivating or symbolic tattoo. If you're seeking a tattoo that's both visually stunning and meaningful, this could be the perfect choice for your next flame tattoo.
Flame Number Tattoo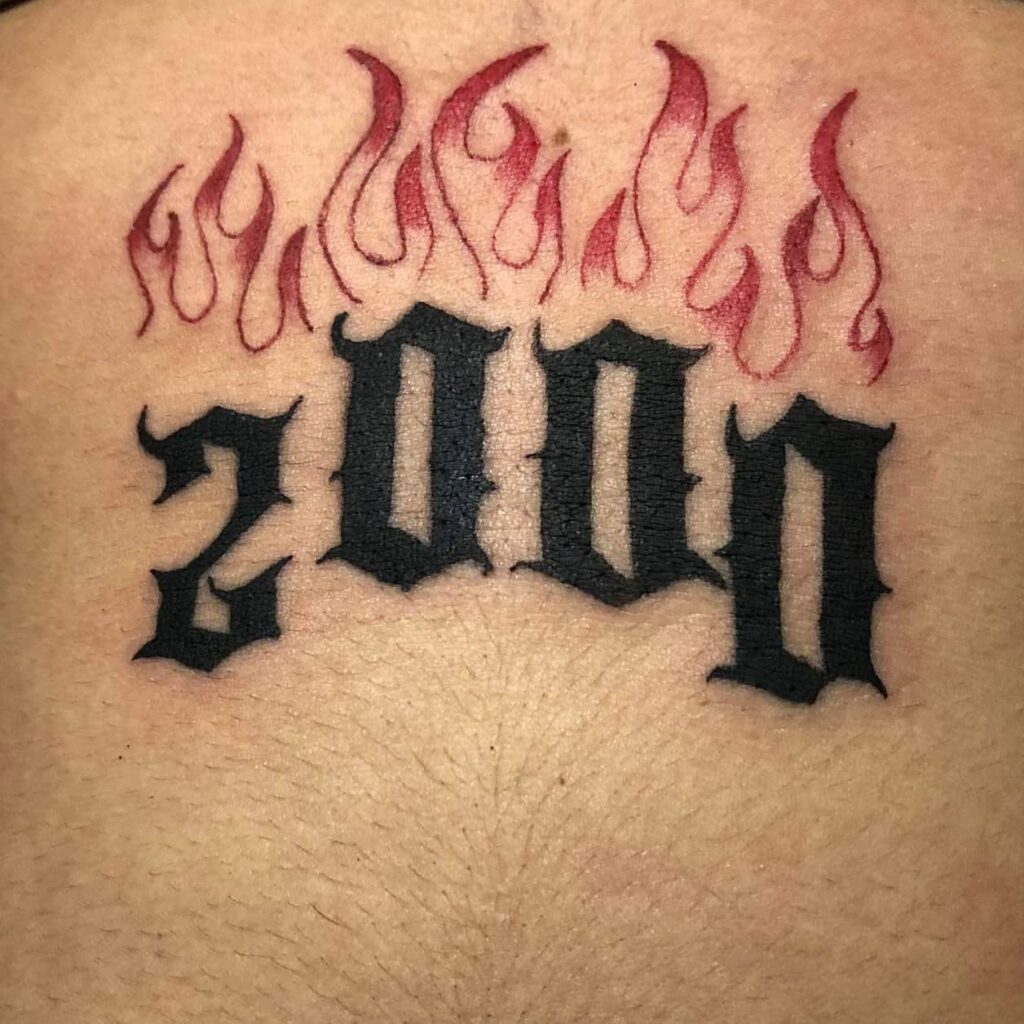 Flame tattoo designs have been popular for decades, and this vintage design is no exception. It was particularly popular in the late 90s and early 2000s. The image above showcases a unique example where the number 2000 is highlighted by incorporating the flame design. What makes this type of tattoo stand out is the font used for the letters or numbers. Bold fonts in black ink are commonly used, but you can customize the font and color to your liking. If you're interested in a vintage flame tattoo, this design can be a great starting point for inspiration.
Full Arm Flame Tattoo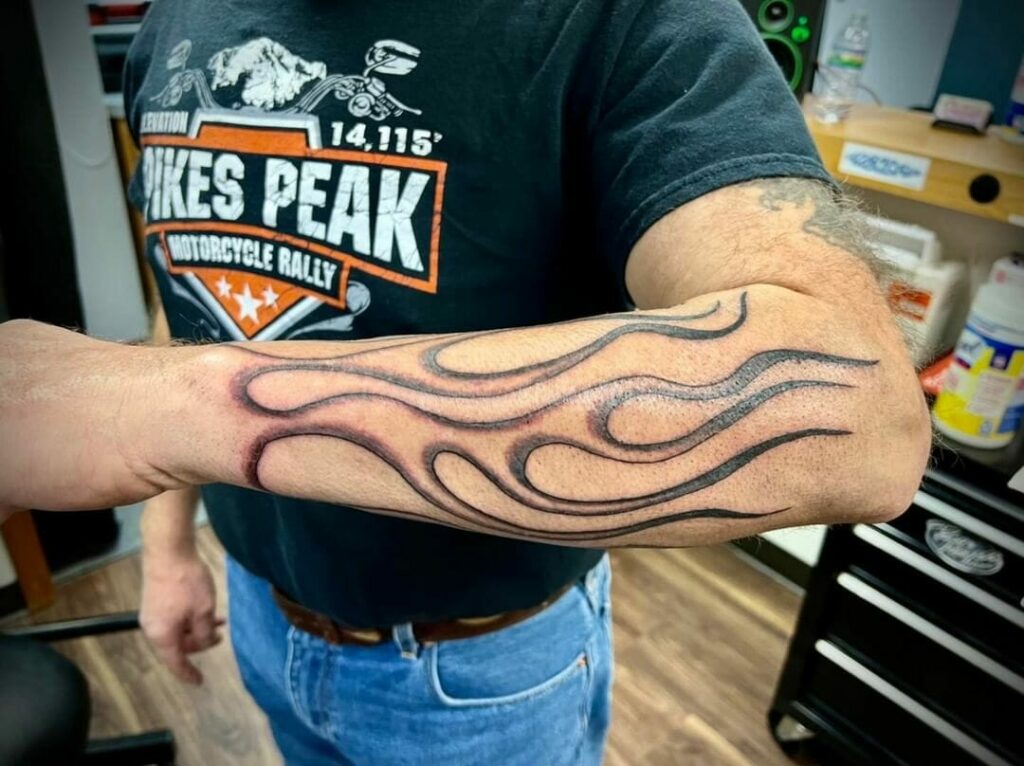 The art of tattooing has been around for centuries, and today, it continues to be a popular form of self-expression. If you're searching for a striking and bold flame tattoo, then look no further! This particular design is a must-have for those seeking a more dramatic look. With a beautiful blend of orange and black ink, this tattoo has been created on the forearm of the wearer. Traditionally, such tattoos are favored by men. However, by adding new elements to your design, you can make your tattoo look more interesting and unique. Whether you want to celebrate a new beginning or show your passion for something, this type of flame tattoo will undoubtedly make a statement.
Burning Match Tattoo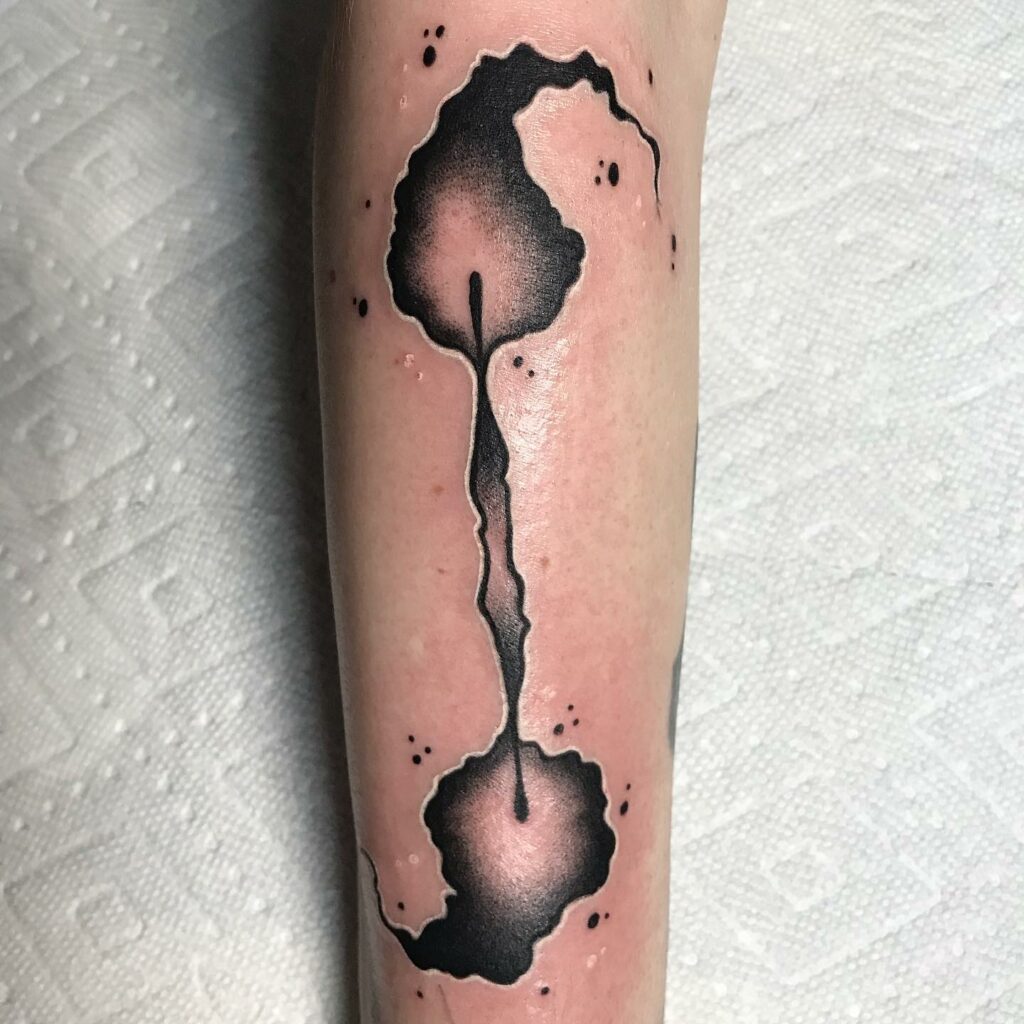 The turning match tattoo is a great symbol of hope and change that beautifully depicts the unpredictable nature of life. It can also serve as a warning for any impending danger. In this stunning image, we can see a match burning from both ends, crafted using black ink on the arm of this individual. This small and unique design is perfect for both men and women.
Flame tattoos are versatile and look great on any part of the body, whether it be your legs, arms, or chest. The unique design of these tattoos makes them attractive and eye-catching from a distance. However, the interpretation of these tattoos is subjective and can vary from person to person. Some people might see them as a symbol of life, while others might view them as a symbol of hell. Either way, flame tattoos are a great way to express yourself through body art.
feature image from Pinterest – Want your tattoo to look brighter? Try "Tattoo Balm"
Last reviewed and updated on April 19, 2023