Florals are unbeatable when it comes to beautifying something. We have the best floral hip tattoo ideas for you to get extra flare on in your fashion statement.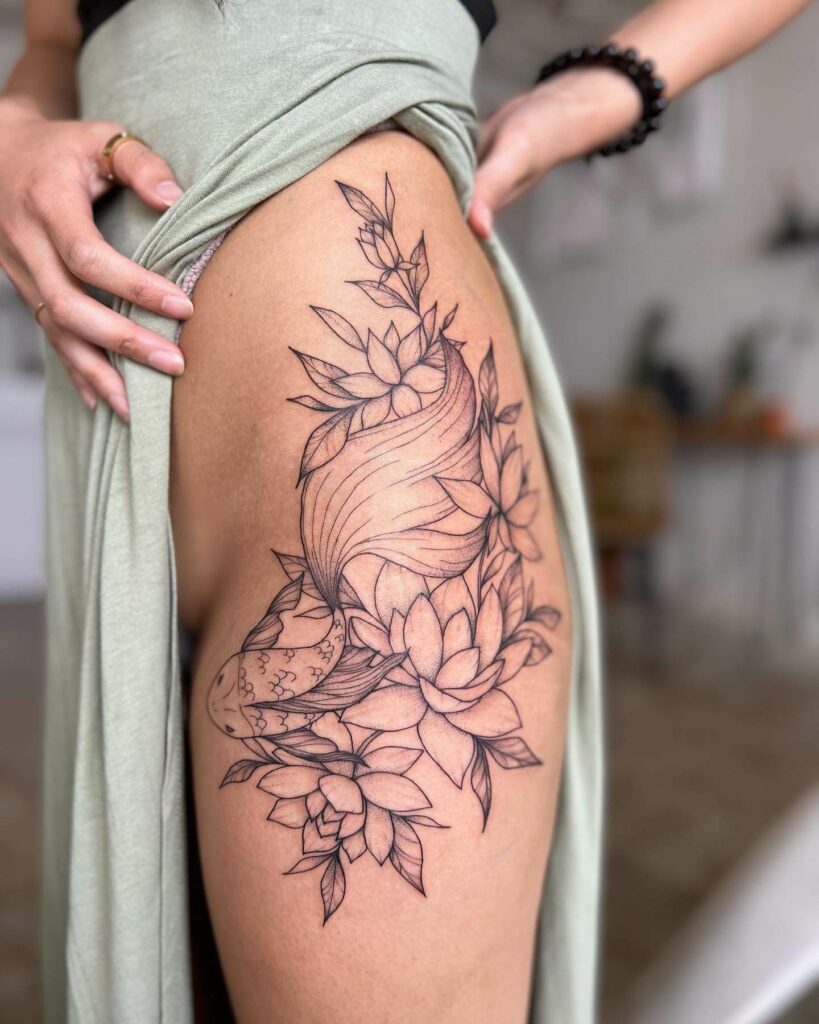 Florals have been used for decoration since eternity.
Be it decorating a place or a person, flowers have always been the go-to. However, it is not always easy to carry real flowers with you at all times.
This is why people with a particular love for floral aesthetics tend to go for floral tattoos. They not only look graceful but are even quite easy to design and customize however you want to. However, one thing not everyone is aware of is that flowers can also mean peace, love, strength and freedom based on which ones you choose to get tattooed. So, it is important to learn about each and choose a design that suits you best if you want a meaningful tattoo.
Anyway, whether you want your tattoos to mean something or you want them just because of the aesthetics, here are some amazing flower tattoo ideas that will take your breath away. If you are looking for inspiration for your next tattoo, chances are you will find your perfect choice here. So go through the whole thing and find the one that matches your taste.
The Intricate Buttercup X Peony Flower Tattoo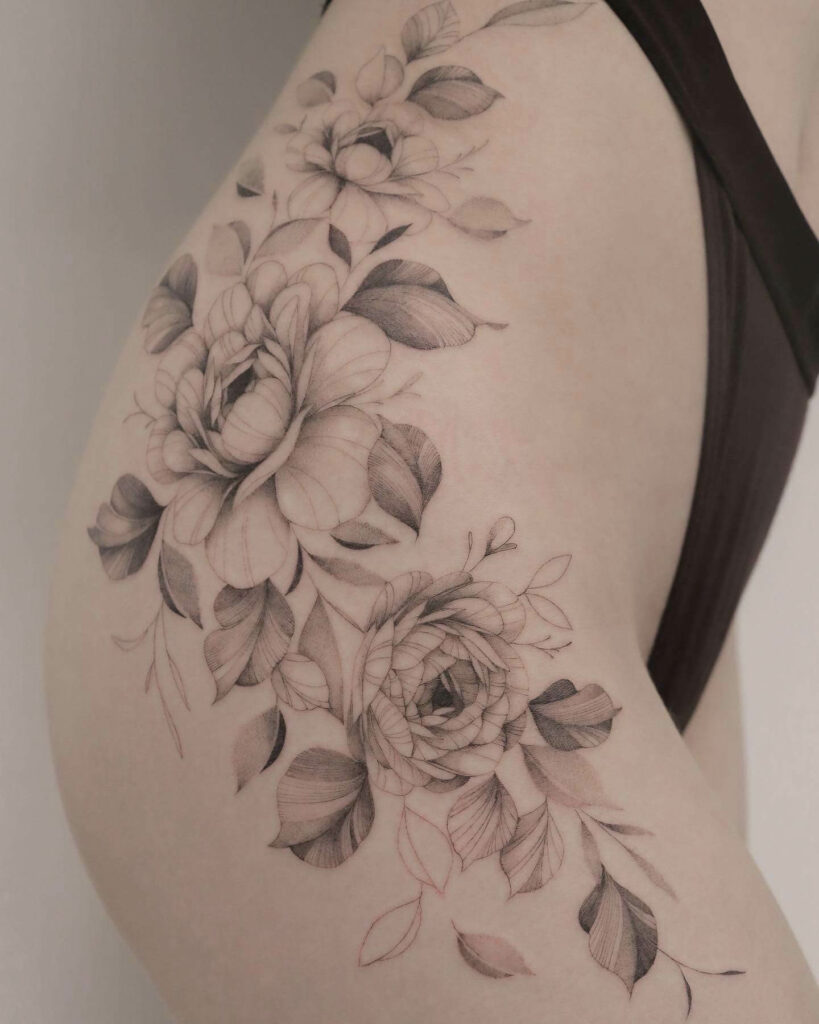 A Ranunculus or Buttercup flower tattoo carries the symbolism of charm, whereas the Peony flower tattoo is associated with nobility, honor, love and beauty.
The tattoo artist did a great & amazing job of combining these two strong hidden inspirational meanings behind these tattoos to get a unique tattoo that speaks for itself. Much like the flowers, the tattoo itself carries grace, love and an elegance that is out of this world. If you are someone who associate themselves with these things, this can be the one for you.
The Geometric Mandala Floral Hip Tattoos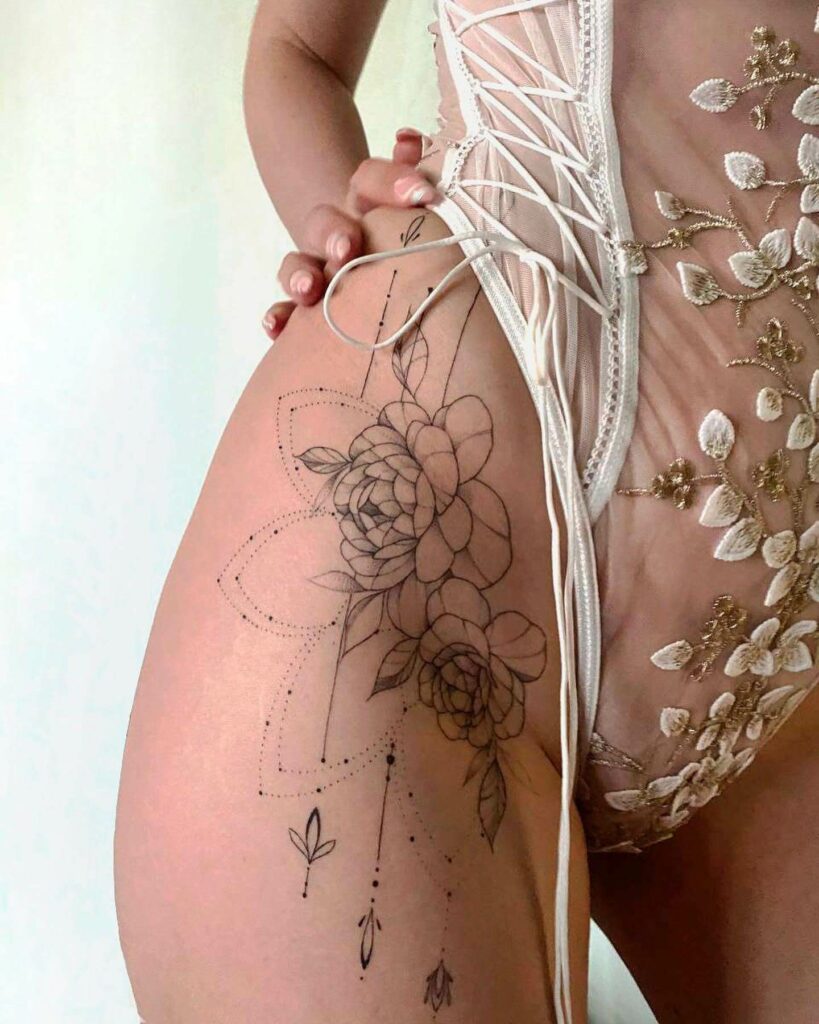 Although this is a very simple and delicate design, it carries a sensual aura with its delicate mandala-like outline and charms reaching to mid-thigh from the hip.
This can be the best fit for anyone who carries themselves with charm and turns heads whenever they walk into a room. If you have been looking for sexy hip tattoos with an almost minimalist design, you can try this one out.
The Beautiful Symmetrical Floral Hip Tattoos
Floral hip tattoos are always beautiful, but a symmetrical one? Now, that is something that really catches the eye. We love seeing things in symmetry, there is something aesthetically pleasing about symmetries in this world.
And this tattoo artist has managed to take that beauty to a whole new level with this intricate symmetrical floral hip tattoo piece. If you are looking for the perfect hip tattoo that will speak for itself wherever you go, this is possibly going to be your best match.
The Detailed Floral Bouquet Hip Tattoos
Bouquets are everyone's favorite because the best part about them is that you can customize them however you want to with wildflowers, roses, daisies and many more. There are no limits to the vibrant colors you can add to your bouquet.
This bouquet floral hip tattoo is exactly like that. You can customize it any way you want to with as many flowers as you want and mix and match your red, blue, pink and yellows however you want to. If you are looking for floral hip tattoo inspiration that you can customize with your own ideas, this is the one you are looking for.
The Gorgeous Floral Hip Sleeve Tattoo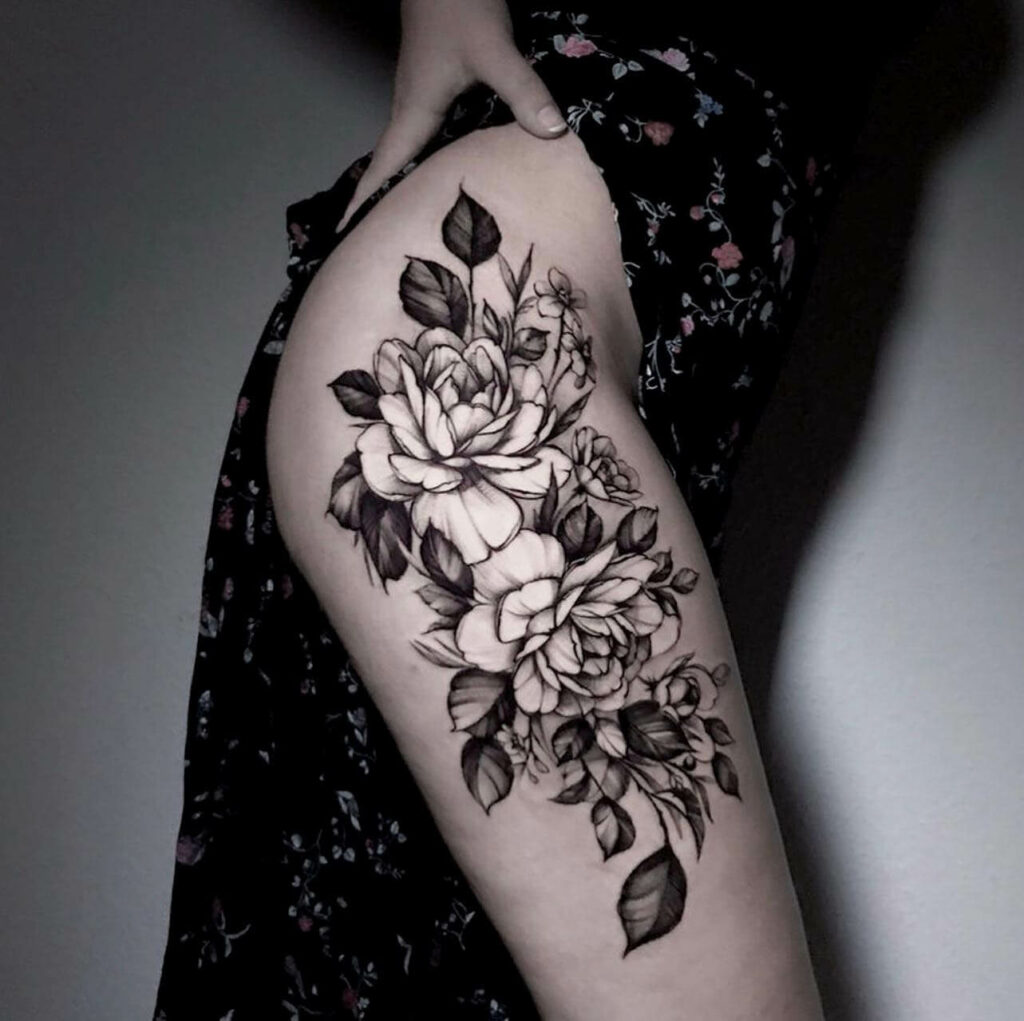 This floral tattoo's gorgeous, bold style is for those who want to get a little extravagant ink for their leg or thigh tattoo. It is as sexy as it is classy and would suit the best for people with outgoing personalities who want to make a statement with their flower hip tattoos.
The art style is beautiful with bold, dramatic lines and can be customized to add pink, blue, green, or any other colors you want if you are looking for a colorful floral hip tattoo.
The Lotus X Geometric Stem Tattoo
The Lotus flower carries the symbolism of freedom, add that with the dramatic geometric stem, the art of this tattoo screams freedom of choice energy.
It also perfectly portrays your artistic flair with its experimental style. This floral hip tattoo is for those people who are not afraid of making choices and standing their ground. The risk takers and go-getters, this one is for you.
The Wildflower Vines X Bands Tattoo
This floral tattoo is also for experimentalists who are never afraid of coloring outside the lines. It is almost a leg sleeve or thigh tattoo in how it reaches past the hip and spreads the vines down the leg.
It also carries the wild nature of wildflowers and how they can grow and adapt to any situation they are put in. If you are someone who is an experimentalist who is never afraid of getting out of societal norms to find your place in life, and if you are someone who can make any place your home and stand your ground despite various difficulties, you can choose this hip floral tattoo.
The Wildflower Stem Freedom Tattoo
This delicate and beautiful tattoo screams freedom. With its upper body billowing in the breeze, this tattoo reminds people of a carefree and relaxed ambiance. This piece reminds people to take a breather and to let things fall into place as they go.
If you are someone with such a laidback personality who never drags things around and lets life take its course however it wants to this can be the one for you. You can also ink this if you are someone who finds it hard to let things go to remind yourself to take a full breath from time to time and relax your shoulders. Remind yourself to be at peace with yourself with this floral hip tattoo today, and let things fall into place today.
The Interesting Owl X Floral Hip Tattoos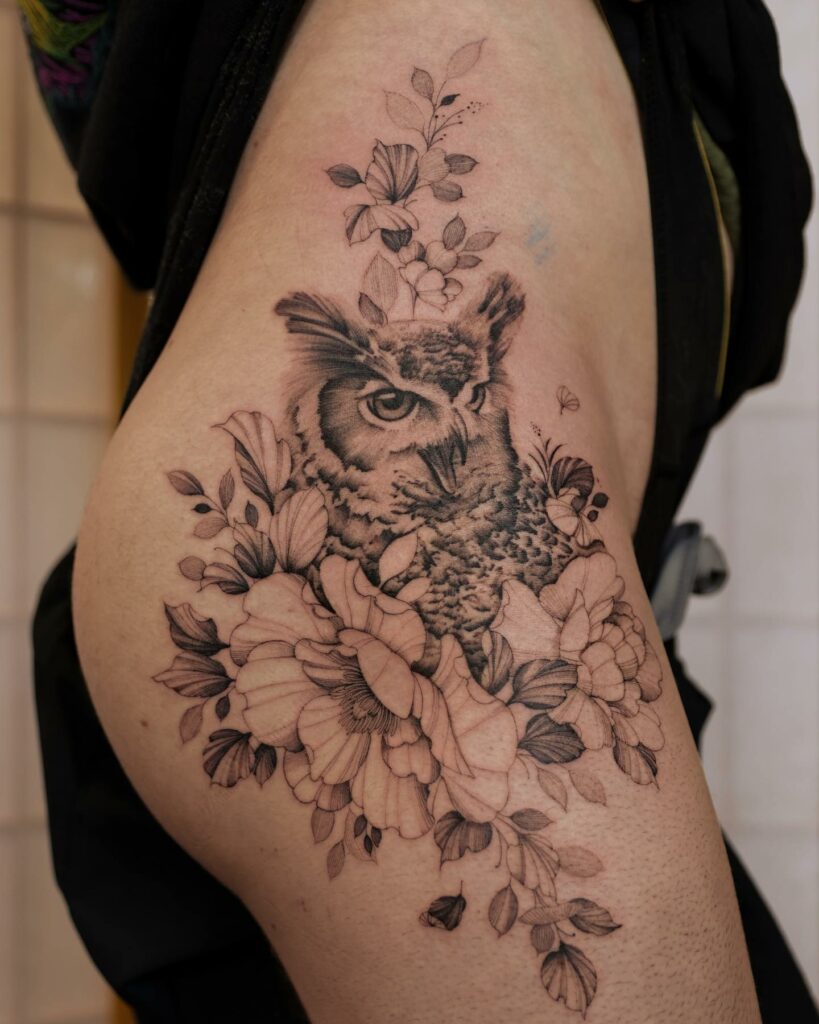 Owls are a symbol of wisdom. They can signify knowledge, perseverance, and observant nature. Add that with the beautiful flower and leaf vines, this floral hip tattoo sends a clear message that true beauty lies in truth and knowledge.
Wisdom comes with acceptance, and only when you accept yourself as you are can you find beauty in everything around you. The artist did a very good job portraying said message through beautiful art. You can try customizing with an inspirational phrase or any other ideas you want. You can also get it on your left hip instead of the right one or extend it to your lower thigh to make it more fun.
The Aesthetic Full Blossom Flower Tattoo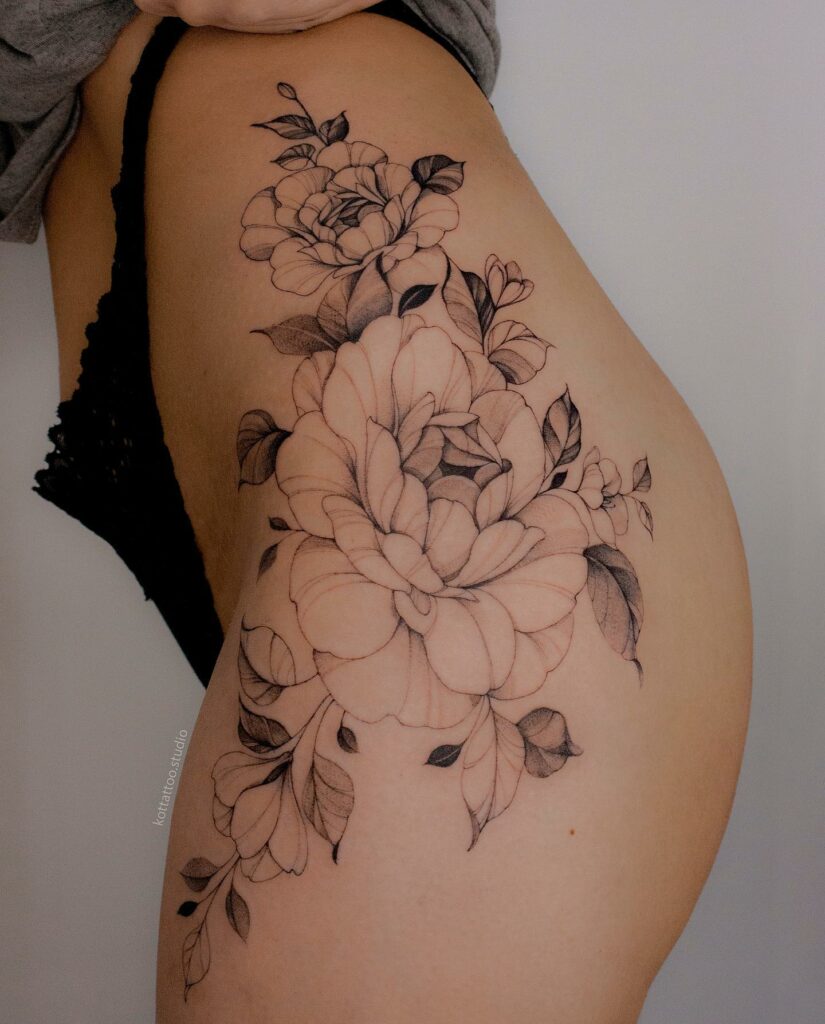 A flower in full blossom always signifies growth, abundance, and hope. This tattoo artist did an amazing job of carrying that message with vibrant, cheerful, yet soft lines. This floral hip tattoo is for those people who always want to look for the bright side in any situation. The optimistic ones carry not only themselves but everyone else around them forward with their positive outlook.
Their unbeatable spirit shines through in the darkest times and makes it easier for others around them to find hope in despair. If you are someone who relates to this, you can get this tattooed. If you are someone who is finding it a little hard to keep your hopes up and smile through these days, this tattoo can be a good way to remind yourself that your time will come very soon; just keep pushing on.
Floral tattoos are always a good idea regardless of your gender identity. As long as you like how it looks and what it symbolizes for you, all floral designs give absolute royalty energy. The best part about these tattoos is that you can customize them any way you want according to your taste. Just remember to decide what you want to get before you go to your appointment and communicate what you want with your tattoo artist very clearly.
This will save a lot of time and prevent any sort of miscommunication or dissatisfaction from arising between you and your artist. Just remember these things, and get your ink now.
Feature Image from Pinterest – Want your tattoo to look brighter? Try "Tattoo Balm"