Are you a tattoo fan and adore watercolor tattoos? Then you have landed in the right place as we have listed the 10 best floral watercolor tattoo designs ready for you.
Relatively new to other tattoos, these watercolor tattoo designs have marked their own significance in the market for almost over a decade.
Comprising delicate, stunning, and eye-catching bleeding colors and floral designs, these watercolor tattoo ideas are a great choice for those inaugurating their tattoo journey. Flowers radiate such vibes that contain a whole load of meanings.
But why this sudden craze for watercolor flower tattoos when you have a choice to choose from other tattoos? By leaving the typical black ink tattoo trend behind, these watercolor tattoos scream freedom, imagination, and artistry. After all, it is hard to find black lines on flowers, ain't it?
Still, confused? You would not find a better chance to personalize your tattoo according to the choice of your own versatile colors. Let us get into the 10 best watercolor flower tattoos we have shortlisted for you.
Watercolor Hummingbird Flower Tattoo
Emitting a rainbow of vibrant colors, a hummingbird tattoo with flowers in the background is the symbol of positivity and joy; it is also said to bring good luck to the one wearing this tattoo.
People often choose this watercolor design tattoo to showcase their strength to overcome difficulties and as a sign of hope and aspiration. So if you are searching for a delicate design that would allow you to exhibit your strengths and give you positive vibes, then this eye-catching piece is waiting for you.
However, while choosing this watercolor flower tattoo featuring a hummingbird, you need to carefully select your tattoo artist who would cautiously execute this tattoo design on your body as the bright colors and light shades need to be carefully inked on your body.
Sunflower Watercolor Tattoos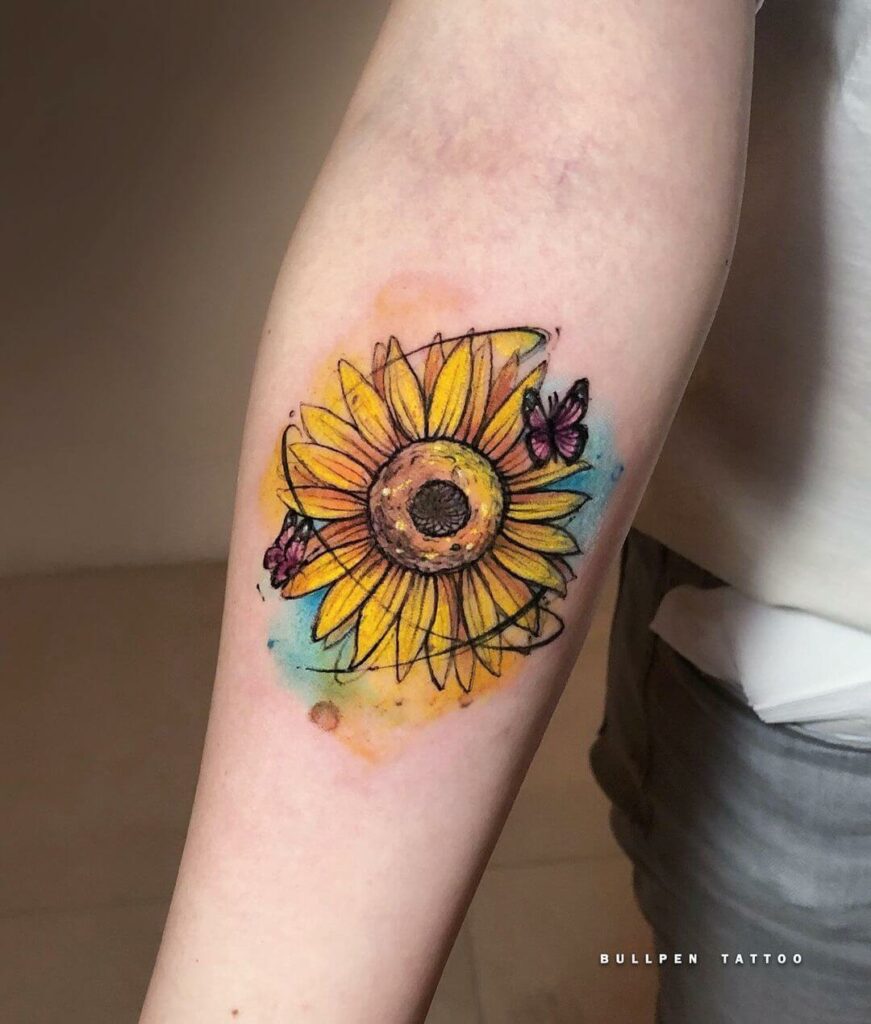 The sunflower is one of the brightest, cheerful flowers evoking optimism and warmth in one's mind just like a sun.
If you are in search of a watercolor flower tattoo that would bring forth your positive energy out then this bright tattoo might give you the look of your choice. This watercolor flower tattoo is an example of its own. It is a symbol of happiness. Thus, if you are getting a chance to carve this tattoo on your body forever, then do not miss it.
This particular watercolor flower tattoo is for those ready to break the conventional norms of society and enjoy their lives to the fullest. So if you are one of those people, then this watercolor technique is best suited for you.
Red Watercolor Flower Tattoo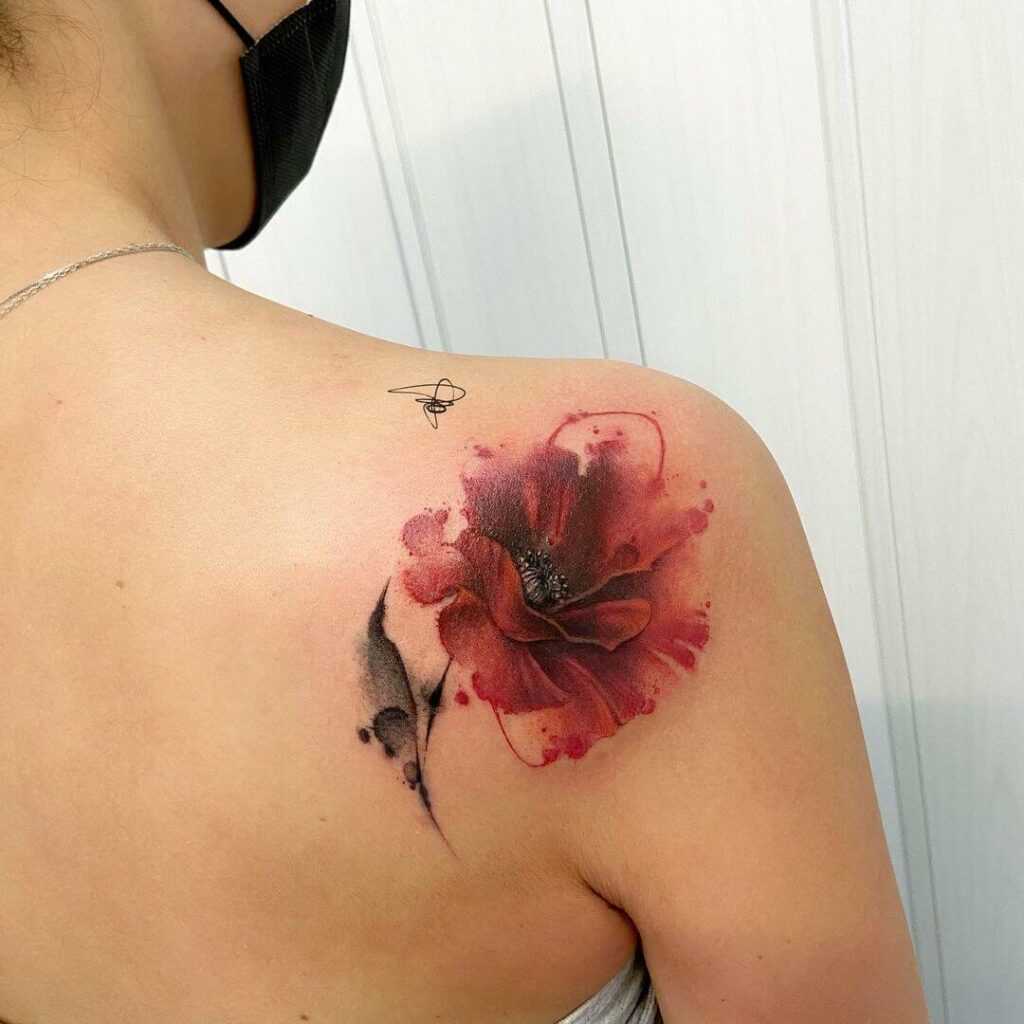 From love, friendship, passion to sorrow, grief, and mystery, this little rose watercolor flower tattoo symbolizes everything.
This red flower tattoo design does not need solid black outlines to mark its significance in the market as it is on a whole new level as compared to other tattoos. The popularity of this tattoo speaks for itself. The beauty of this art urges people to ink flower tattoos on their bodies. If you are someone whose mysterious and friendly nature goes hand in hand, then this watercolor flower tattoo is a perfect fit for you.
The bright red watercolor ink depicts bold meanings; however, it looks spectacular even if it is entirely colorless. If you want to portray a bold personality, then this red tattoo is a must-get for you.
Butterfly Watercolor Flower Tattoo
The butterfly symbolizes freedom, optimism, and a new beginning. So if you are in search of watercolor flower tattoos that would give you a stunning look, then this art is a piece of good news for you.
People opt to choose this unique design featuring watercolor flower tattoos and butterflies to remember important events that took place in their life. The beauty of this watercolor tattoo is that you can blend it in the different colors of your choice and define its versatility.
Butterflies and flowers together create a beautiful choice with a wide variety of colors spilled in it. So if you are looking for a watercolor style tattoo with bright colors that screams your ideas, then go ink this stunning floral art on your skin and live a life that you admire.
Watercolor Lotus Tattoo
Are you willing to ink a watercolor flower tattoo featuring lotus engulfed in vibrant colors on the back? This watercolor flower tattoo is the jack of all tattoos as a pink-colored lotus tattoo exhibits inner peace, wisdom and relaxation, and self-control.
These lotus watercolor flower tattoos are quite trendy among people as they are considered traditional tattoos. You can also make it into a blue lotus. Blue lotus is a sign of courage as they blossom in muddy conditions and thrive to survive. So if you are looking for a watercolor flower tattoo that would underline your daring nature, then ink this stunning watercolor art on your skin and create a cool outlook among your tattoo mates.
However, this watercolor floral tattoo needs an expert tattoo artist to portray this stunning watercolor flower tattoo to enhance its beauty. So to execute this painting on your skin, be sure to choose an artist with a great floral tattoo technique.
Bouquet Watercolor Flower Tattoo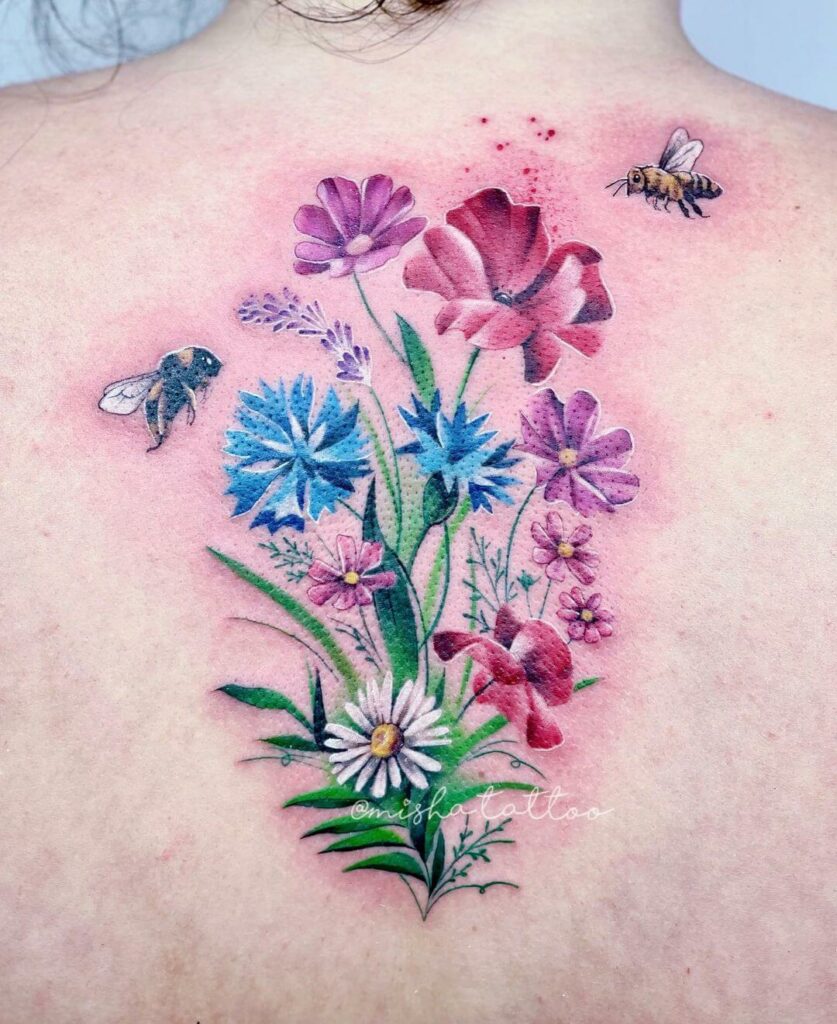 For those people who are lovers of flowers but are indecisive about which flower to imprint on their body, then these watercolor flower tattoos are a perfect choice for them.
A bouquet contains a lot of flowers of different kinds, so this specific flower tattoo is a whole package for those who want to express different natures in one picture. The splash of pink and other colors is what attracts tattoo lovers towards it.
Without a clear dark outline, this stencil piece of abstract style tattoo gives you unbound vibes and lets others know that you are unchained to the rules of society.
Hibiscus Watercolor Flower Tattoo
This ancient flower is associated with deep meanings such as love, femininity, and most important, of all glory. So if you are looking for a watercolor tattoo with detailed meanings, then this pink color must be the next tattoo on your list.
If you are in love with flowers, then this splash of watercolor on the pink hibiscus flower would give you the style of your choice. Love for flowers and tattoos would surely lure you towards this one.
If you want to level up your game in tattoos, then you should vouch for this one, as one would not get a better chance to portray ancient values with a piece of flower tattoo art.
Vintage Floral Watercolor Tattoo
Not all flower tattoos need to be big and bold; some flower tattoos can emphasize their meanings with their vintage style. This kind of tattoo can be carved anywhere on your body. Inking it in small size can give you a wide range of body areas, and you can also add a new theme to the tattoo.
Thus the people clamoring for a tattoo that would put them in a separate league of tattoos, then this elegant vintage style flower tattoo would surely give them the look that they desire.
Floral Skull Tattoo Watercolor
A combination of skull and flowers would be a treat for die-hard tattoo lovers. Skull has always been the center of pop culture movie controversies and has gained fame for that. Flowers blooming from skulls would mix up thoughts about skulls.
So if you are tired of old-school tattoos showcasing the same message, try out this antagonist floral skull tattoo that would give you the taste of both savageness and brightness. So if you want to look cool in front of your mates, then trying out this tattoo is a must-try out for you.
Watercolor Flowers With Letters
Adding letters to your tattoo is a very classical way to drive the meaning of your tattoo. These letters can be implanted anywhere near the tattoo; whether it's the stem or the petal of the flower, you have countless ways to add letters of your liking to your tattoo.
Watercolor tattoos are quite popular among people, but adding letters to them would be the icing on the cake. So if you are someone hesitant to express your feelings to your loved ones, then these specific floral tattoos with words are the best way to portray your emotions to someone.
Floral watercolor tattoos have marked their significance in the market and have pierced their way into people's hearts since a decade ago. The hidden meanings behind every flower are what catches the attention of tattoo lovers.
Feature image from Pinterest – Want your tattoo to look brighter? Try "Tattoo Balm"