Flowers have significant meaning and use. So why not gift yourself with something more significant and meaningful, like a flower quote tattoo?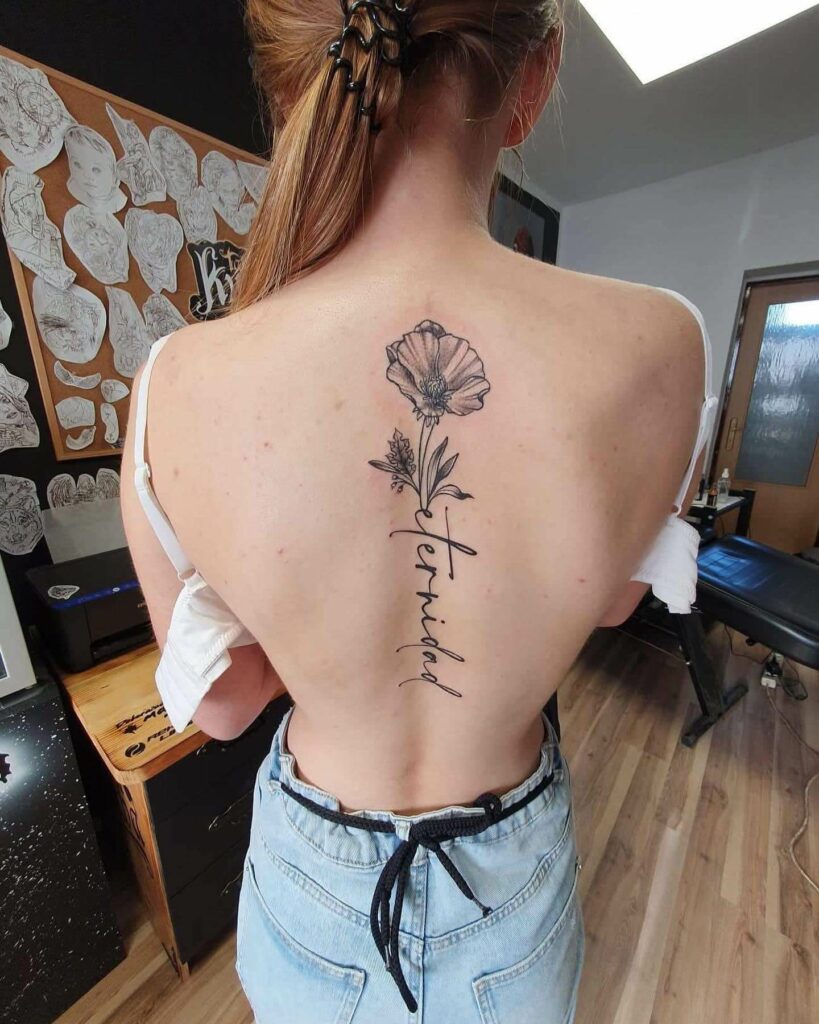 Flower phrases are a one-of-a-kind and meaningful method to adorn our bodies.
They can be utilized to artistically and beautifully portray our personality, attitude, or views. Still, flower quotes are an excellent alternative if you want to communicate your passion for nature, particularly flowers.
If one wants to get significant ink with meaningful designs, flower quotes are a terrific way to go. They can be simple, but they are rich with symbolism and beauty. There are numerous flower types that can be utilized for quotes, each with its own unique meaning. For instance, daisy flowers are modest and do not attract much attention. However, they complement practically any flower in a bouquet. They can either stand out on their own or provide excellent support. You might identify with different types of flowers.
Flowers, from rose and carnation, which signify pure love, to orchid and cherry blossom, which represent strength, are more than just a gift; they are a personal statement and, when inked, have different meanings. Flowers, as much as we adore them, do not last long. Most cut flowers will survive around a week. The hardest part is usually watching them wither. However, there is a way to make it permanent. Flower tattoos have long been popular all over the world. A tattoo can be used to make a statement or to express one's identity. Meaningful quotation tattoos can also serve as an everlasting source of motivation.
Because tattoos are permanent, choosing the right quote to ink on the skin is difficult. Different flower species have been popular and prominent symbols for a long time. It's no wonder that they've been a popular element throughout the existence of tattooing.
Since its inception, the American tradition has frequently used the same set of distinctive symbols, among which was the flower. To this day, the American traditional floral tattoo is one of the most iconic tattoos, having been replicated numerous times.
The Unconditional Love Flowers Tattoo Ideas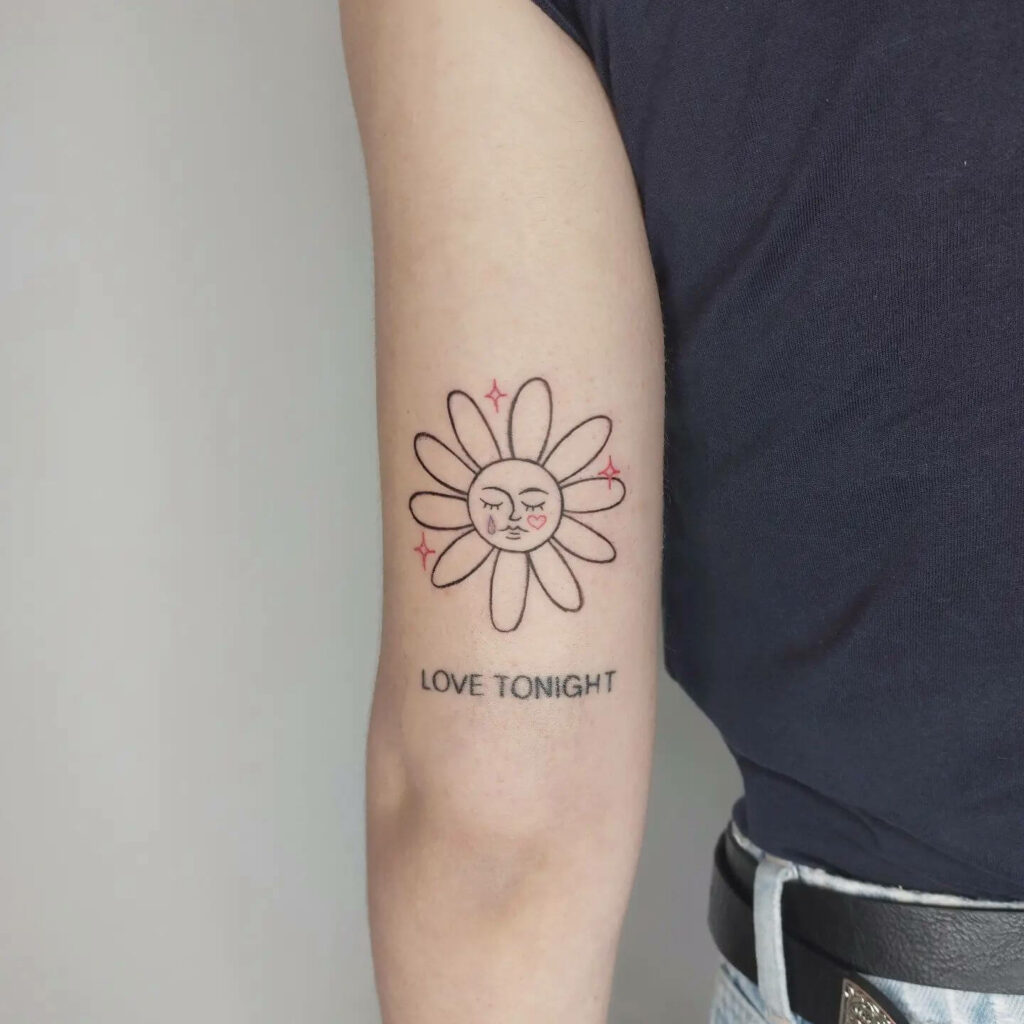 This tattoo is simple yet remarkable. The flower tattoo design is just the outline of a flower, a daisy to be precise. It is always regarded as a unique flower and having quote tattoos added to it makes the flower more beautiful. The tattoo is no doubt made in a childish manner, like it is just an illustration but shows a deeper meaning. The flower is made into a face with a heart symbol on one cheek and a teardrop on the other. It signifies that the person who made it may be in pain.
The quote "love tonight" might be a reminder to her or himself to be kind and gentle to themselves and not to be very harsh on themselves. To remind them that if not anyone else, then they themselves can love and show all the care that they have been waiting to receive from someone else. This tattoo would look more attractive and beautiful if it could be made with colored ink or even if a splash of colored ink was used in the background. This tattoo can also be made as a part of a patchwork tattoo. This tattoo can be edited according to an individual's choice by changing the quotation and adding one that they want.
Lotus Flower Tattoo Design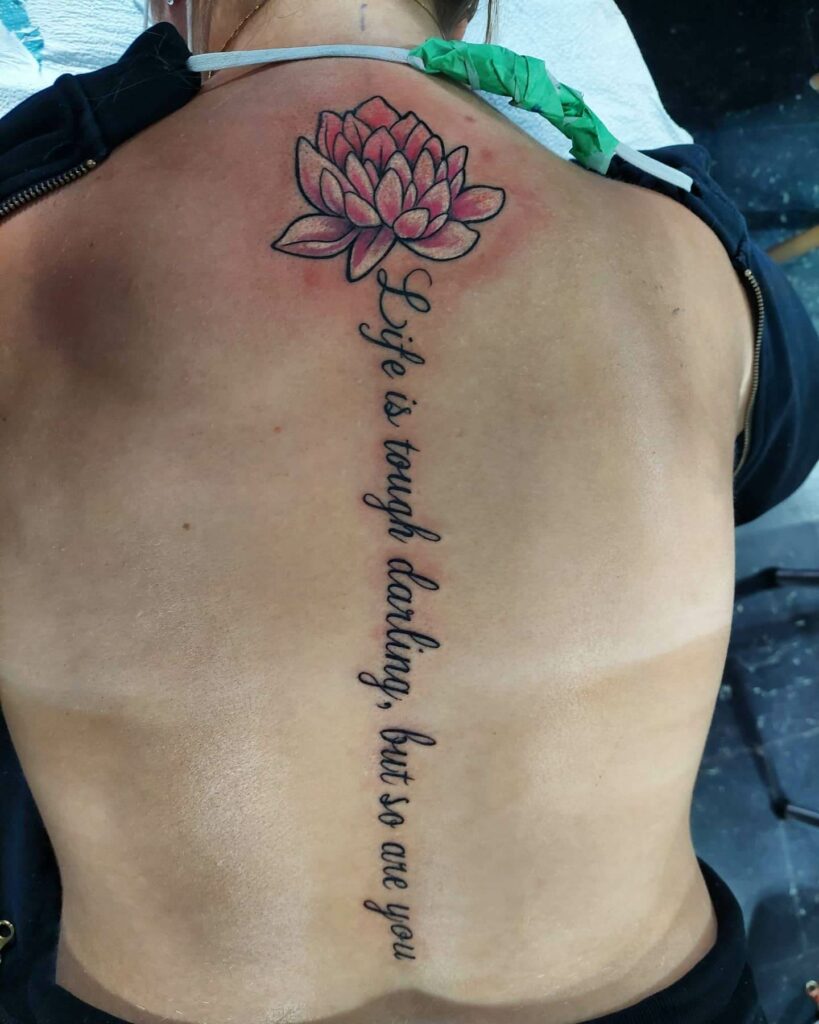 Though it is not a common flower found in stores, the lotus has long served as a cultural and religious emblem around the world, particularly in eastern countries. As the flower sits undisturbed on water, the spiritual connotation of lotus in Buddhism is tranquility. A lotus tattoo can also represent spiritual rebirth and illumination in Buddhism and Hinduism. It also symbolizes purity because it grows in muck yet blossoms spotless and clean. A lotus tattoo urges us to stay calm and true to ourselves in the midst of chaos. A lotus tattoo is perfect for any individual as it also represents the fighter spirit and is a symbol of spiritual awakening.
This flower quotation tattoo signifies strength. The tattoo shows the struggle one faces in real life and motivates one to move on and never doubt one's strength. The quotation says, "life is tough darling, but so are you". The quotation is beautiful and will always remind one that they are not a failure and that they can face any and everything that life throws at them. The tattoo would look more adorable if the lotus floral tattoo could be filled with colored ink. This is a perfect tattoo for someone who wants a full-back tattoo with a special meaning.
The Tattoo For New Beginnings Dedicated To Healing
Today, as tattooing evolves and new styles emerge, the flower is one of the most popular tattoo patterns, particularly among women. With its universal recognition, a plethora of meanings, adaptability, and timelessness, this is a tattoo that will be fashionable for years to come. The tattoo is quite simple yet a very meaningful design. This tattoo can be related to every person or individual because we as humans are bound to face things that may hurt us in different ways. This tattoo is for all those who have faced terrible things and are still trying to forget those things and move on. They themselves are warriors, and this may be a souvenir reminding them that it is ok to regret, feel bad, be broken, and take their own time to deal with everything.
The flowers in the tattoo are quite similar to poppies, and poppies are a symbol of hope, peace, and strength. The flower here in the tattoo is perfect and in perfect sync with the quote used. The bold black ink used to make the tattoo actually leaves a bold impression on the viewer's mind seeing and reading the tattoo. This tattoo can be made anywhere on the body, but it would look better if made on a larger surface. You can even make it somewhere not easily visible, as the tattoo quote is quite personal.
Stages Of A Flower Blooming Tattoo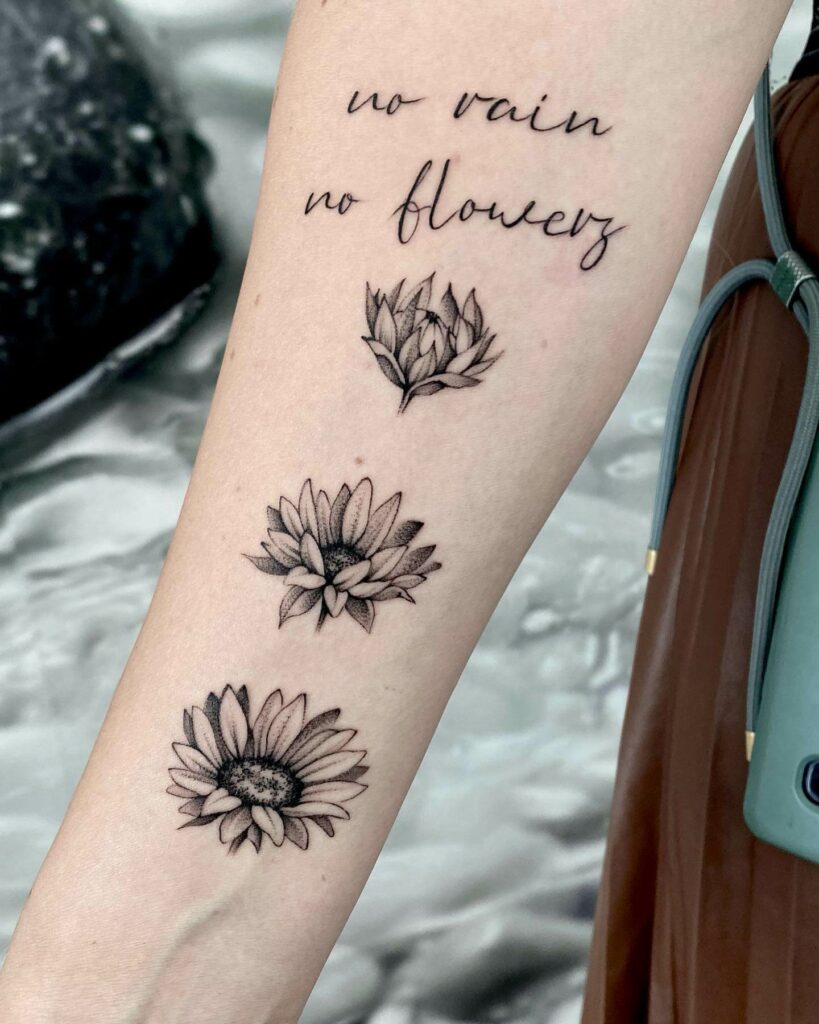 This is one of the most pretty floral tattoos with a unique style to represent exactly what is written. In the tattoo, we can observe the phases of a flower when it blooms from a bud to a stunning flower. The tattoo can also be compared to the life of an individual, from an infant to how a person grows into a responsible adult. The quote "no rain, no flower" can also be interpreted in a very different way. For instance, if there is no hard work, there is no success. To grow or to become a better version of oneself, one needs to go through a lot of hardships and struggles.
There is a saying that the diamond is formed under a lot of pressure and at high temperatures. Similarly, a person can shine only when they struggle, fails, and work really hard. This tattoo is made in a very simple, yet it leaves an impact on the viewer's mind. The flower shown in the tattoo is quite similar to that of the sunflower tattoo, and it would look more attractive if the bright yellow color were added to the petals of the flower. The tattoo can also be related to the different phases and the troubles that one phases in life or can also be related to how one nurtures themself.
Beautiful Designs Of Flowers With Bold Colors
These bright, colorful flower tattoos are love at first sight. The yellowish orange color that has been used to make the flowers in the tattoo gives us a clue that the flowers might be marigolds. The quotation is beautifully written, "grow and bloom," meaning that with time it is natural as humans to grow, but as an individual, it is our choice to bloom to be successful. Marigold has their own significant meaning. It is one of the world's most popular flowers and has numerous uses and advantages. They protect the plants surrounding them and have medicinal characteristics that benefit people as well.
Marigolds are highly valued for the vivid folds of petals that make up the flowers. Furthermore, marigolds grow in almost every part of the world. Marigolds represent happiness and energy. The flowers' blazing yellow, orange, and red hues are associated with warmth, enjoyment, joy, optimism, and good luck and are commonly described as the herb of the sun. However, the meaning of marigold also represents negative emotions such as envy, grief, despair, and sadness. Marigold flowers are also associated with rebirth and the customs of memory and honoring the deceased in many cultures. So before getting a tattoo, especially if it is associated with flowers and quotes, try knowing its meaning before inking it.
The Carnation Tattoo Ideas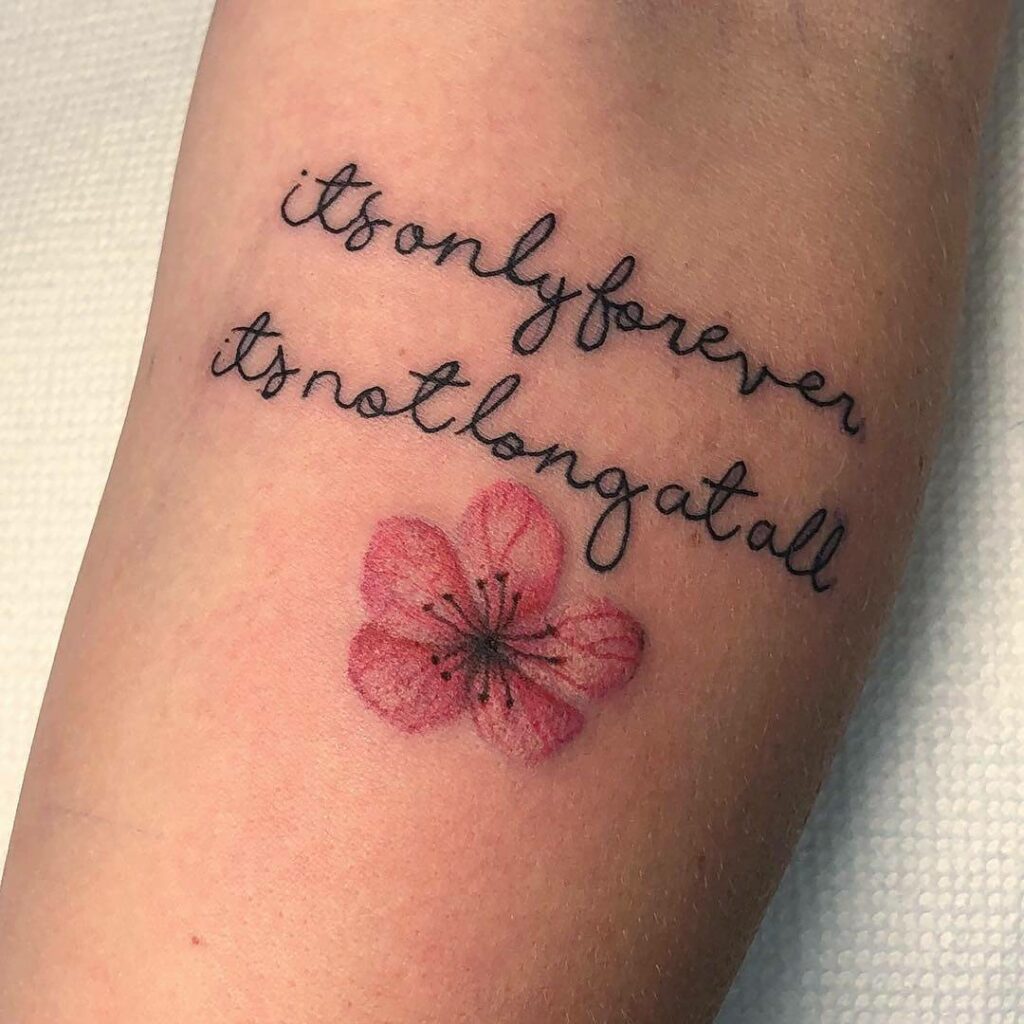 The carnation tattoo symbolizes love, especially when done in pink or red. However, the carnation tattoo does not need to be pink or red in order to represent love. Because carnations can be given as a romantic gesture, each one represents romance and love in its own right. In fact, because carnations are popular at weddings, it is typical to receive a tattoo with bunches of carnations in honor of your wife or husband's wedding anniversary. Carnation tattoos, particularly white carnation tattoos, can have religious connotations. Another intriguing meaning of a carnation flower tattoo is curiosity and enthrallment.
One can always add or change things in a tattoo. The quote added to this flower tattoo is beautiful and leaves people confused. The quote says, "it's only forever. It's not a long time". It reminds us of a saying that life is not a long journey; no one knows when is the last time one is meeting someone. Life is very short, and we should make each minute count. It also realizes that life is not very long, as a lot of people say that "you have a long life" no, that is not true right the next minute of our life is very uncertain. We can never know what is coming, so the main thing that we should focus on is that we should be happy with whatever time each of us has.
The Upper Thigh Tattoo Design
This flower quote tattoo is made with a vibrant pink-colored flower. The tattoo is so beautifully made that the smooth flow from the flower's stem looks like it has formed the word – "blessed". It looks effortless how smoothly the word has been written, but it is for sure the tattoo artist must have had to work with a lot of patience, and even the detailings of the flower are beautifully done. This tattoo is perfect for women who consider that they are happy and satisfied and someone who believes in god and his shower of blessings. The wording can be changed according to one's wish, and so can the position of the tattoo.
This tattoo will also look amazing on the arm or on the hips. The flower's color can be changed to something bolder and more vibrant, like that of royal blue color. Just the way a flower has a significant meaning so does each color. Hence, one should know its significant meaning before choosing a flower or a color. If one wants, one can add more elements to the tattoo to make it more attractive. These kinds of tattoos are quite a trend. The flower, the color, or even the quotation can change, but the concept of the entire tattoo remains the same.
The Flower With A Beautiful Quote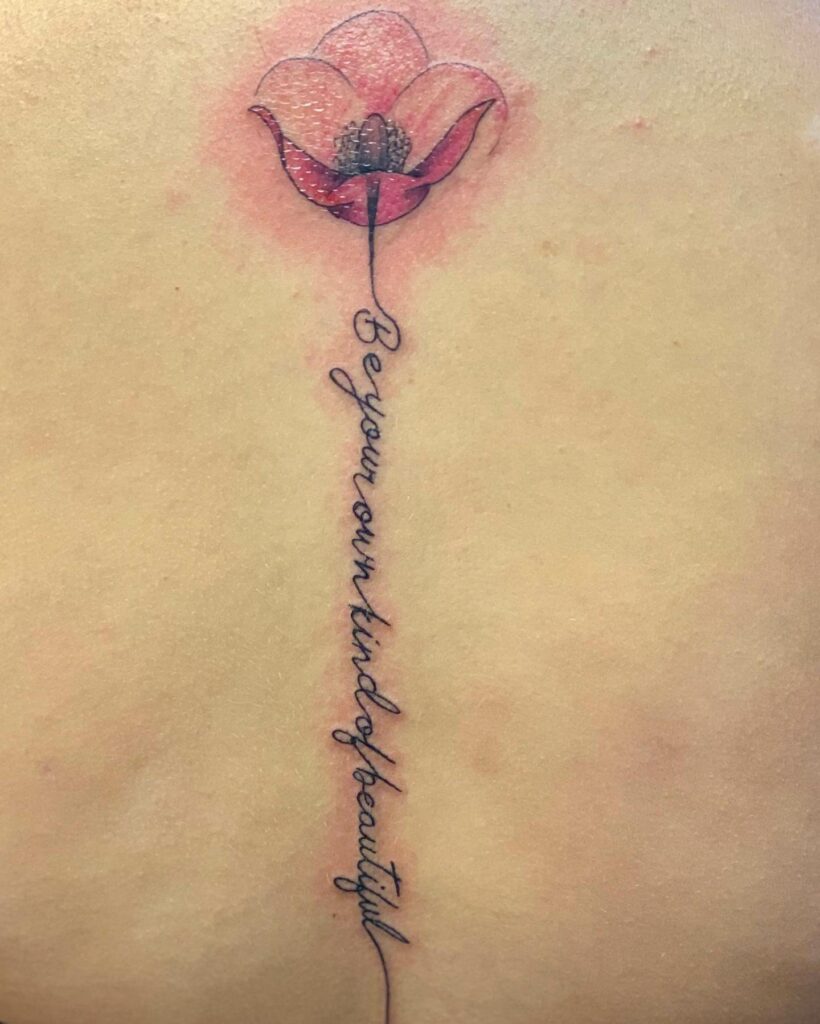 This tattoo is made with a very simple pink flower, and the quote is written in black ink. We can assume that the tattoo has been freshly made due to the redness that can be seen on the skin around the place where the tattoo has been made. The quote says, "be your own kind of beautiful". It can be interpreted in a lot of ways. For example, everyone is unique in their own way, so they should never try to copy or be like someone else. The best thing about this tattoo is that it helps realize the self-worth in a person and makes them realize how important and unique they are. People often tend to copy or try to be like someone who they are not, so this tattoo reminds us that the way we are, we are perfect in our own way. It reminds us to love ourselves fully and be proud of who we are.
The style of the writing can always be changed, and it is completely upon an individual's choice, and they can make changes accordingly. This tattoo can be made on other parts of the body, and if one wants, they can also reduce the size of the tattoo to fit it into a small space like the wrist or on the fingers. The quotation is also beautifully chosen, and everyone can somehow relate to it. This tattoo would also look beautiful. It would be made on the side of the hand or the side of the body, or it can also be made as a personal tattoo that does not need to be visible to everyone around.
The Watercolor Flower Quote Tattoo
This flower tattoo is quite different than any other flower tattoo. The flower is not shown to have proper petals. It is an illustration that looks like someone must have splashed colored ink on it. This tattoo can be made by both men and women, given the abstractness of the theme. The tattoo has its own charm because of the quote, "the course of true love never did run smooth". This quote can be interpreted or looked at from different perspectives. This is perfect for lovers who have faced a lot of troubles but are still together. The tattoo shows us the reality or makes us realize the truth that everything is not a fairy tale, that everything will not be perfect, and nothing can be flawless.
This can be a dedication tattoo to one's loved ones and can be made anywhere throughout the body. This tattoo would also look amazing if the quotation could be inked in one single line instead of writing it in different lines. It is completely up to the individual to change the color of ink according to their wish to make it look more attractive. The quote in the tattoo is such that anyone can relate to it if they love someone or dream of spending the rest of their lives with a particular person. One can also add other elements to the tattoo to give a different meaning to the tattoo.
The Motivational Flower Quote Tattoo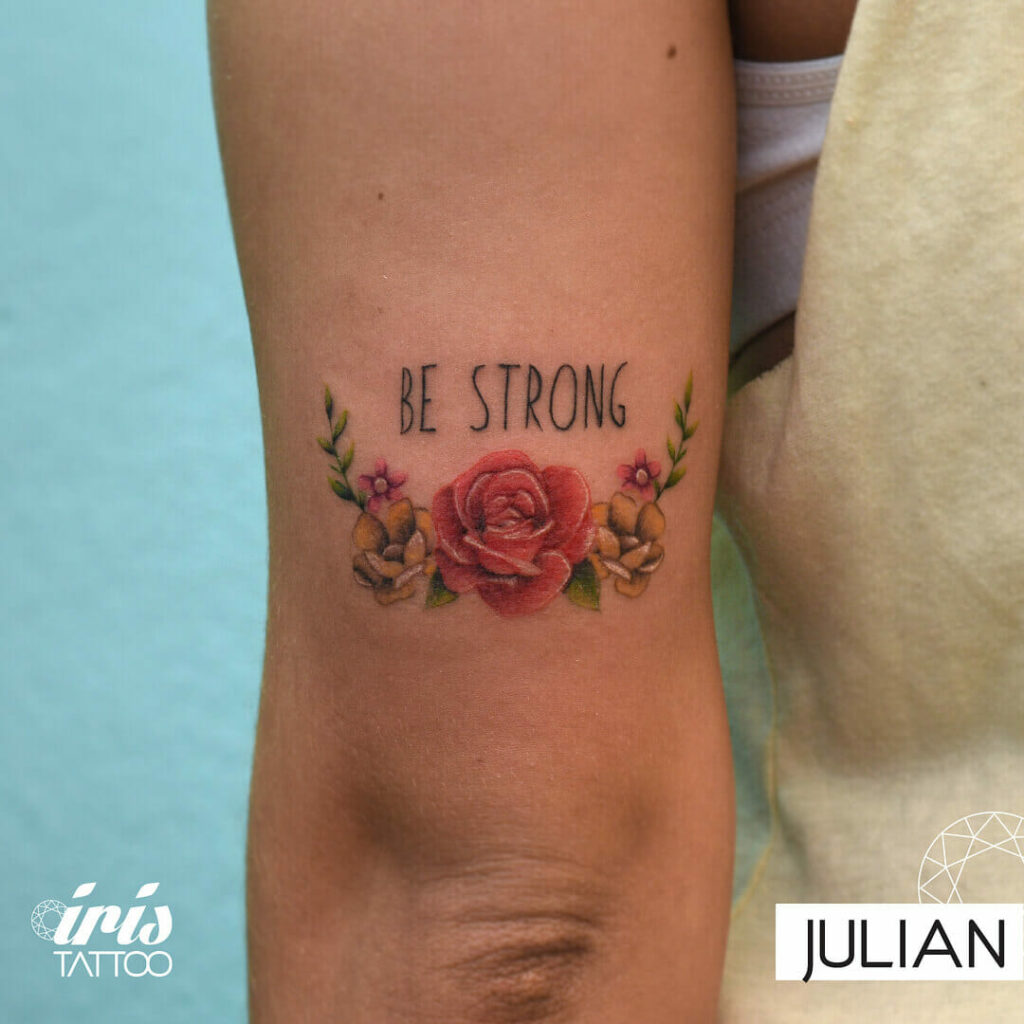 This tattoo is perfect in all ways possible. The quote "be strong" can refer to anyone who is facing some problem or another. This tattoo is for all of them who are facing problems but still keep smiling and have a positive outlook on life and those who are trying to mend things and do better in life. The flowers that have been added to the tattoo enhance the beauty of the tattoo and make the tattoo look more attractive. The entire concept of the tattoo is worth appreciating. If someone is looking for a motivational tattoo along with other elements added to it, what can be better than this tattoo?
The problem does not come with people seeing their age. So, this tattoo can be a souvenir to remind them that they cannot let go of things. They have to be strong. They do not need to be hard on themselves, nor do they need to run away from their problems. It reminds them that they are not weak. They are warriors in themselves, and they can survive all the things that might come in their life. This tattoo can work as a self-reminder and as extra support when they can not find any for anyone. This tattoo is a reminder that one has dealt with a lot in their life and can still deal with all the issues they are still having.
Feature Image from Pinterest – Want your tattoo to look brighter? Try "Tattoo Balm"