Are you searching for a tattoo that exudes grace and beauty? Look no further than a flower spine tattoo! Despite the spine being a sensitive area, many people have experimented with spine tattoo designs and created stunning masterpieces across the length of their backs. Flower tattoos are especially beloved for their delicate and small build, making them easy for tattoo artists to work with and less painful for those getting inked. Imagine the majesty of delicate floral branches or a vine framing the length of your spine. A large floral spine tattoo can be a breathtaking sight to behold. Although often associated with delicacy, floral tattoos on spines can also create a contrasting image. They can represent the wearer's ability to endure pain with strength, making for a powerful, meaningful tattoo idea. Whether you're a man or a woman, take a look at our detailed list of flower spine tattoo ideas to find the perfect design to suit your taste!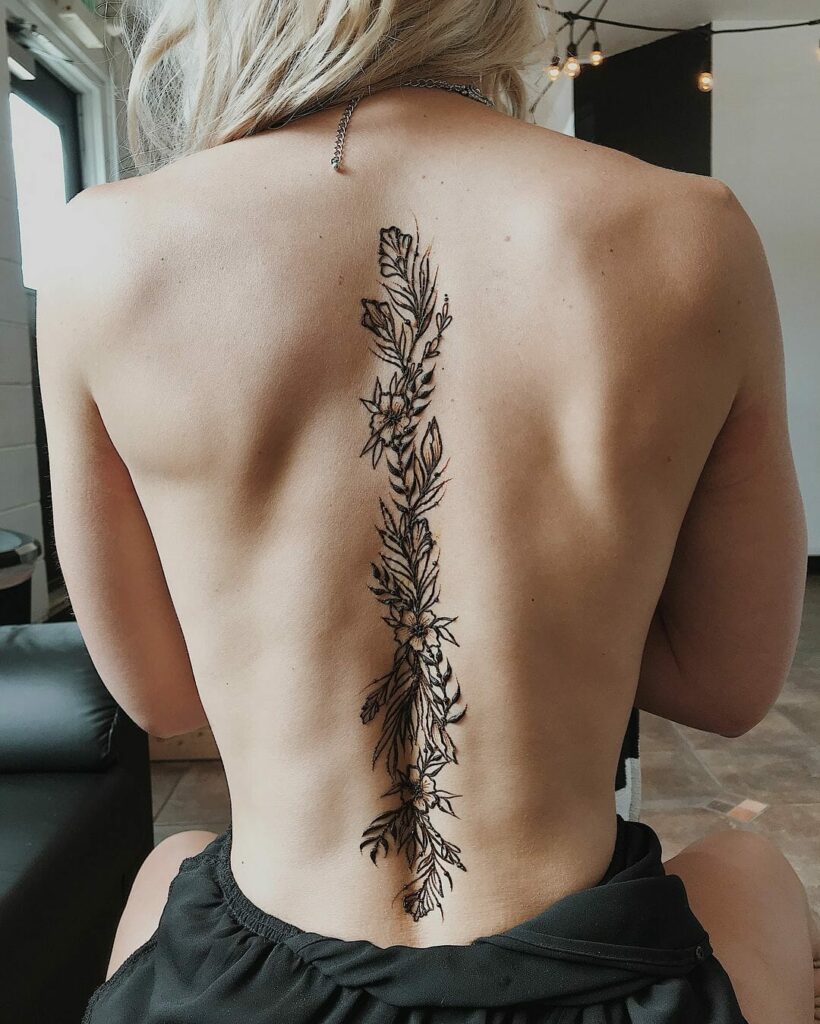 Long Floral Back Tattoos For Women
A flower spine tattoo is a perfect way to showcase your strength while also incorporating a meaningful dedication. This long flower spine tattoo is a gorgeous tribute to the birth flowers of your loved ones, spanning across one of the most important body parts, your spinal cord. The tattoo features a beautiful chain of different flowers arranged in a unique manner that compliments the back and creates stunning artwork. It's important to note that spine tattoos for women featuring flowers should be placed properly to make sense, and this style of tattoo is excellent for accentuating the delicate curves of the back with floral arrangements. If you're looking for a larger tattoo, this long arrangement can further enhance the artwork and add even more beauty to the design.
Feminine Spine Tattoo Flower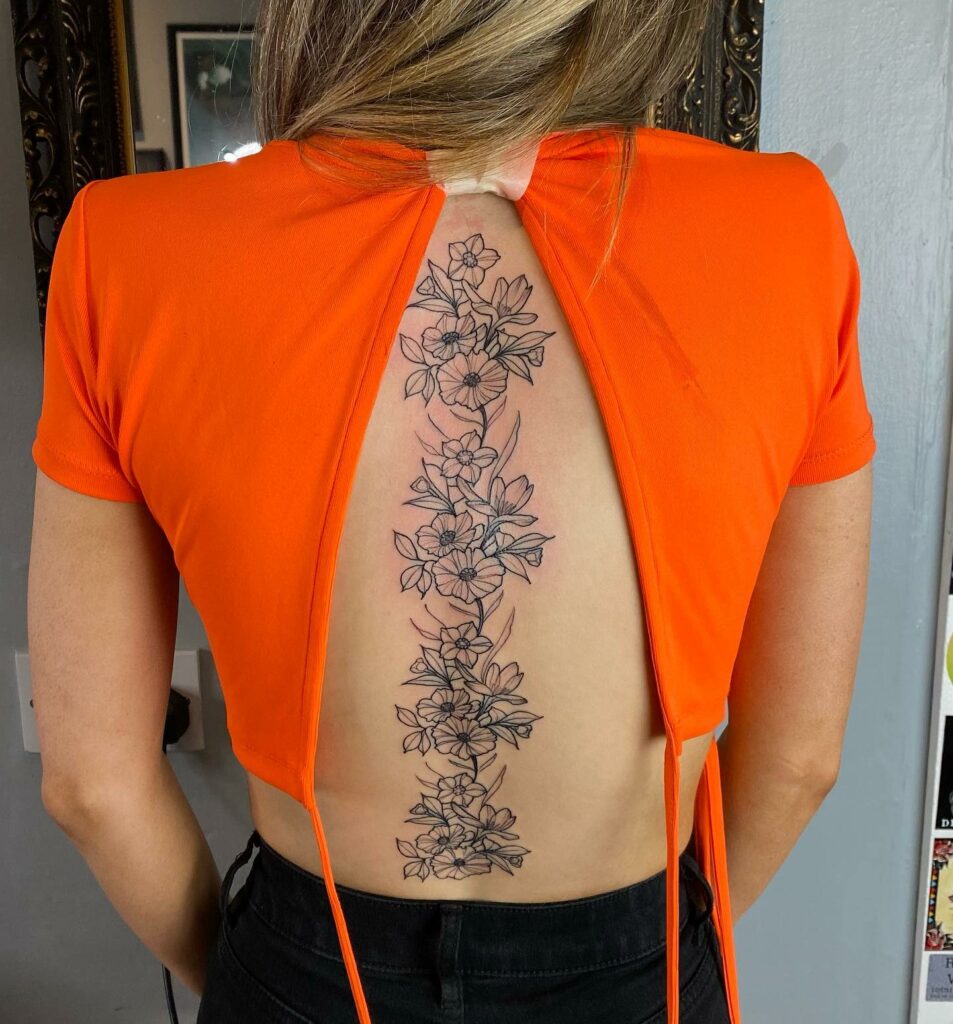 Flower spine tattoos have become a popular trend for women as they can be used as an accessory and are perfect for highlighting one's curves. The tattoo above is an excellent example of this trend. The floral arrangement is simple yet stunning, consisting of a repetitive pattern that accentuates the beauty of the spine. As an additional bonus, the tattoo can be easily shown off by wearing backless or low-back outfits. The great thing about flower spine tattoos is that you can get creative with colors, highlights, and shades, or take inspiration from existing designs.
Shaded Floral And Leaf Spine Tattoos For Women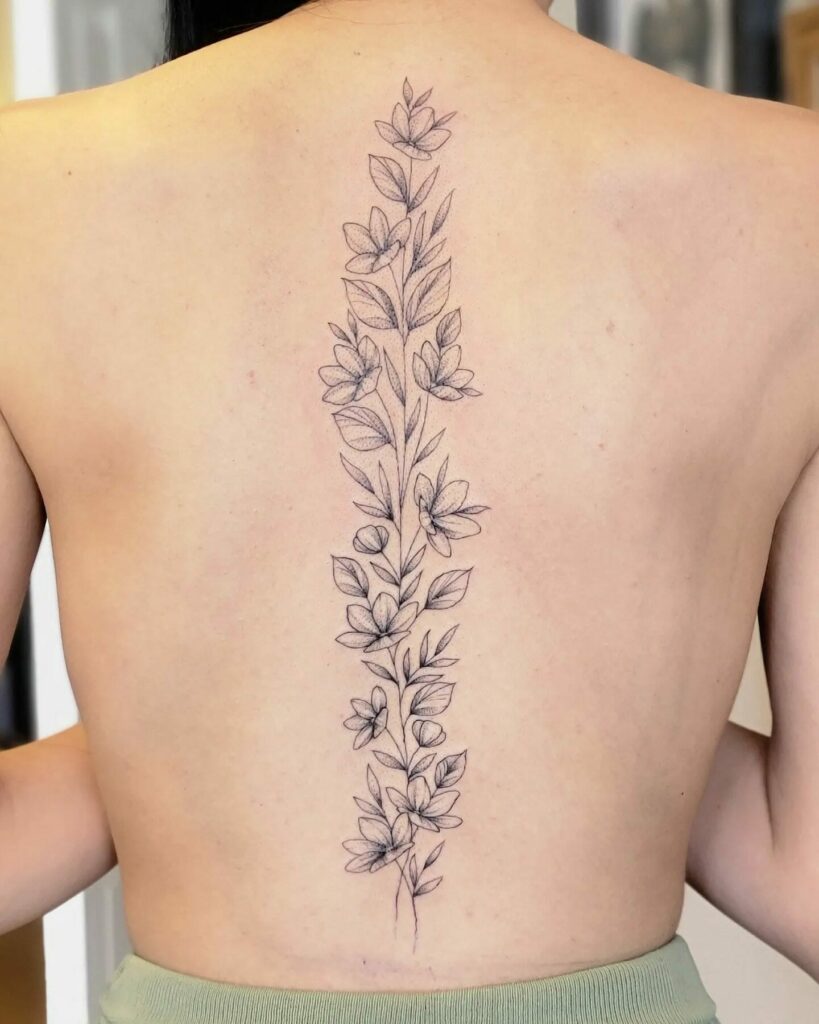 Looking for a subtle yet elegant addition to your tattoo collection? Look no further than the shaded leaf and flower spine tattoo. This beautiful tattoo features a long stem of flowers, with delicate shading and thin lines to create a soft, feminine feel. While it may not be as bold as some traditional tattoos, that's precisely the point – this tattoo is all about gentle beauty.
The placement of this tattoo, spanning across the middle of the spine, allows for a delicate illustration that contrasts with the bolder lines of more traditional designs. And, if you're looking to make an even more striking statement, this design can even be adapted for placement on your chest. With the addition of a bit of watercolor, this tattoo is sure to become a favorite among those seeking a unique and beautiful addition to their body art collection.
Gladiolus Flower Tattoo Ideas With Black Ink
If you're looking for a floral tattoo that exudes elegance and grace, then the gladiolus flower spine tattoo is a perfect fit. These stunning flowers are known for their bulbous and bright blooms, and this tattoo showcases a simple stem with beautiful blooms standing upright to adorn the back of the wearer. The gladiolus flower spine tattoo also features flower buds and long leaves that spread through the floral blooms, creating a striking and unique design.
Gladiolus flowers are known for their symbolism, representing compassion, innocence, maternal love, and purity. These flowers make a perfect addition to complement your feminine beauty. Rather than a line of flowers, the spine tattoo features a whole stem tattooed on the back, keeping the design elements authentic and inspired by the original gladiolus flowers.
Rose Flower Tattoo With Vintage Design Themes
Roses are undoubtedly a classic symbol of love and beauty, making them an excellent choice for a spine tattoo. The rose flower spine tattoo design featured here is a gorgeous combination of roses and other delicate floral additions, creating an intricate and stunning arrangement. What truly sets this tattoo apart is its use of deep red, grey, and white hues that are beautifully contrasted with black ink, adding a vintage charm to the design that is rarely seen in modern tattoos. This spine tattoo is a must-have for any tattoo enthusiast looking to add a touch of elegance and nostalgia to their body art collection.
Illustrated Spine Tattoo With Small Flowers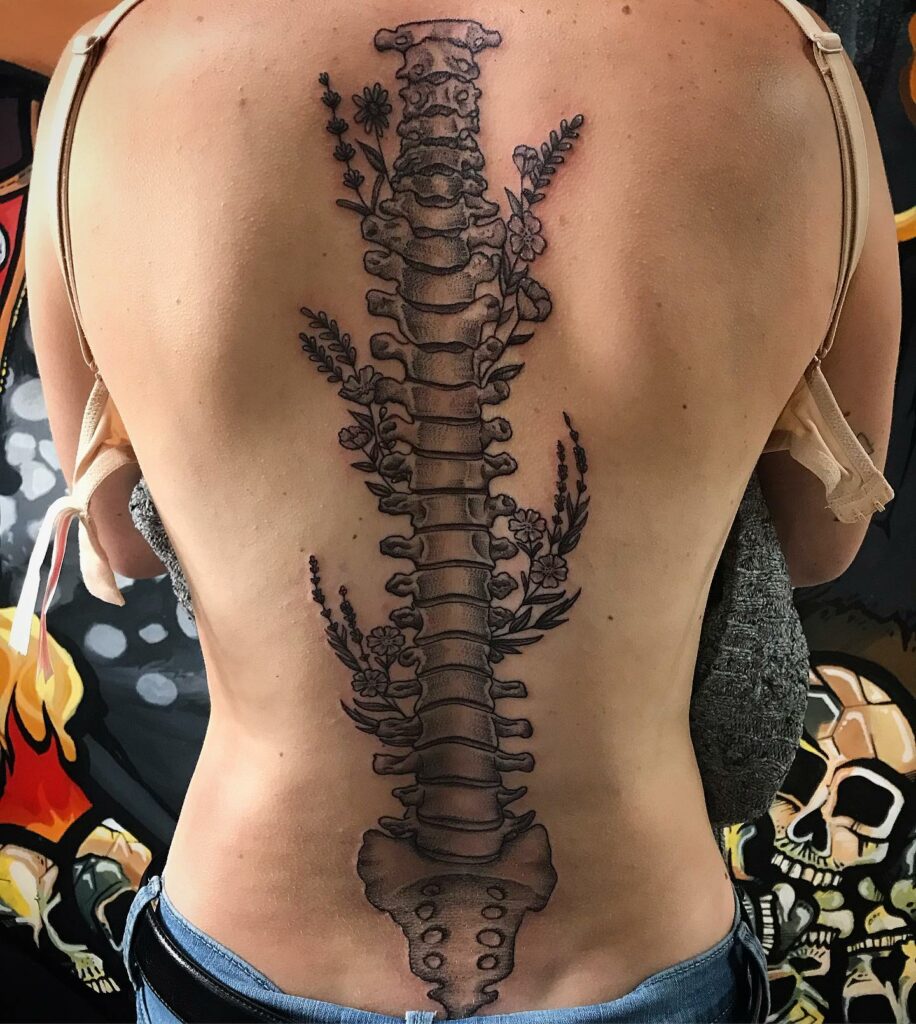 Looking for a unique and fierce tattoo design to add to your collection? Look no further than this literal spine tattoo featuring detailed vertebral columns and delicate floral additions spanning the length of your back. The tattoo, placed directly on the spine, replicates the inner workings of your body with black ink on the outside. While the bone tattoo may seem creepy at first, the addition of flowers transforms it from scary to powerful and fierce. The spine tattoo can serve as a reminder of your strength and resilience, with the bones representing your inner fortitude and the flowers symbolizing the beauty that can emerge from even the most difficult challenges.
Dainty Spine Tattoos With Daisy Flowers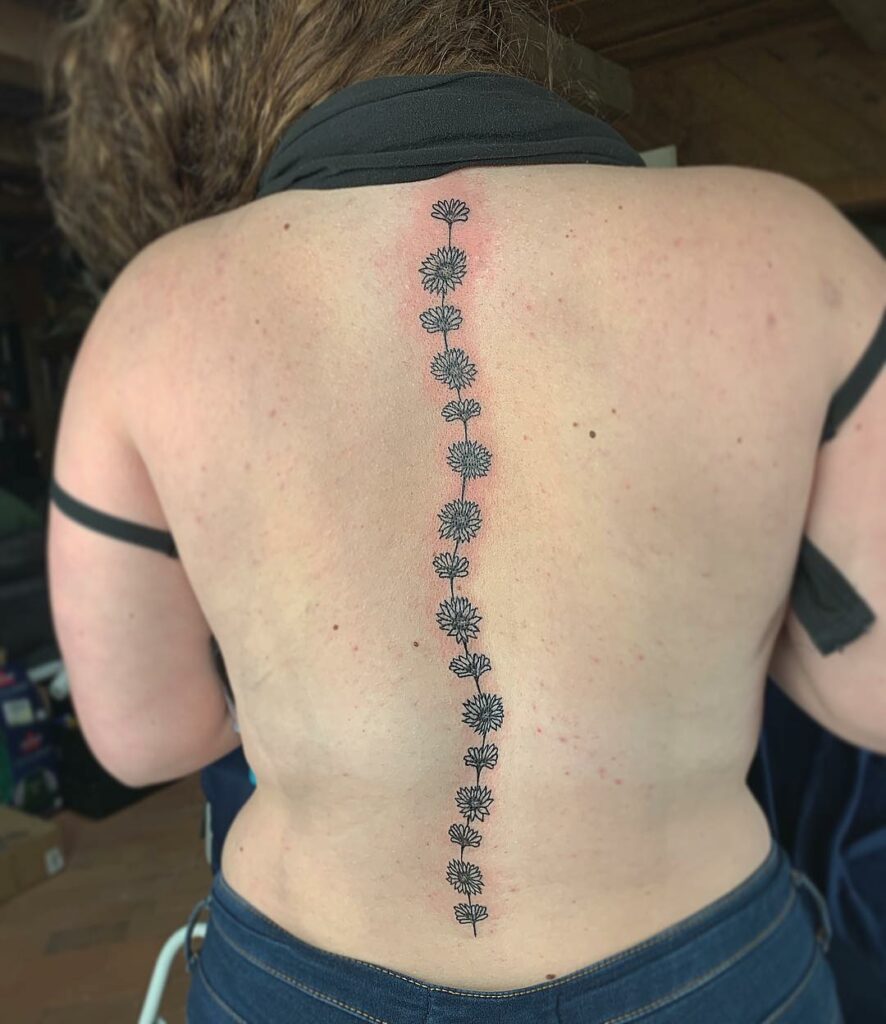 If you're looking for a delicate and sweet spine tattoo, consider a chain of daisies. These simple, comic-style flowers are perfect for creating a floral spinal cord on the back of the tattoo wearer. Daisies symbolize motherhood and innocence, making it an ideal tattoo for mothers to honor their children.
A spine tattoo like this is perfect for someone looking for a subtle yet meaningful design. The simplicity of the daisy chain creates an impactful message with the choice of flowers. The spine is an excellent canvas for this type of delicate tattoo, and it is sure to bring a smile to anyone's face.
Delicate Flower Spine Tattoo Ideas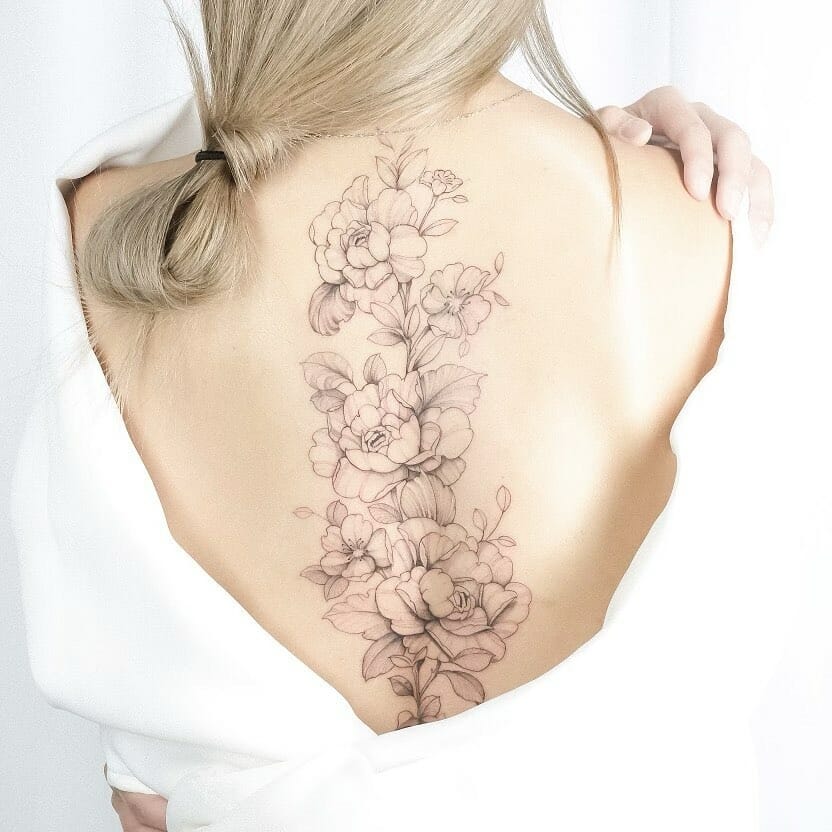 If you're a tattoo enthusiast looking for a minimalistic yet stunning spine tattoo, this thin-line flower design may be perfect for you. The design is centered on the back and features large, detailed blooms without shading, highlighting their unique structure. The use of color is optional, with blue and red being popular choices, but the classic black and white also work beautifully. This tattoo is versatile and can complement a range of styles, from bold to delicate, making it a great addition to any collection.
Marigold Spine Tattoo With Quote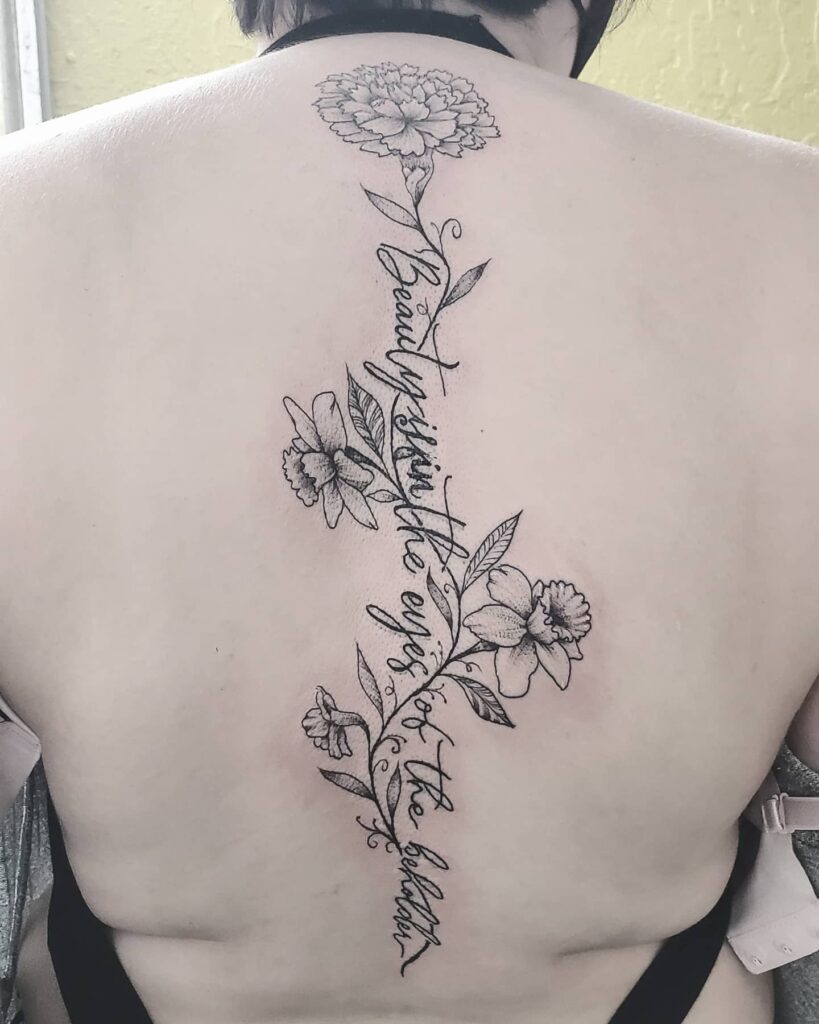 When it comes to spine tattoos for women, adding a quote can make it even more personal and meaningful. This particular design features the famous quote "Beauty is in the eye of the beholder," a popular choice for many. However, you can always choose a quote that resonates with you more deeply. Along with the quote, the tattoo artist has included a marigold flower, which symbolizes inner strength and power. Adding elements like these can elevate the design of your flower spine tattoo and make it even more unique. Consider adding a pop of color or a butterfly to make it truly stand out. Treat yourself to this meaningful and beautiful experience!
Small Back Spine Flower Bouqet Tattoo
If you're looking for a spine tattoo that won't make you cringe in pain, then a small bouquet design is a great option. This delicate spine tattoo features a group of flowers, carefully arranged to create a stunning illustration. You can choose your favorite flowers to add to your bouquet, creating a unique and personalized design that will bloom beautifully across your back.
Flower spine tattoos are a popular choice among tattoo lovers, and for good reason. They provide an elegant and feminine touch to your body art while also holding significant meaning. From roses to daisies, marigolds to peonies, the options are endless when it comes to flower spine tattoos. So take a look at some of the best recommendations we have for you and get inspired for your very own spine tattoo!
feature image from Pinterest – Want your tattoo to look brighter? Try "Tattoo Balm"