Searching for a forearm rose tattoo that would look perfect on you? Here we have some amazing rose forearm tattoo designs which you might want to get inked.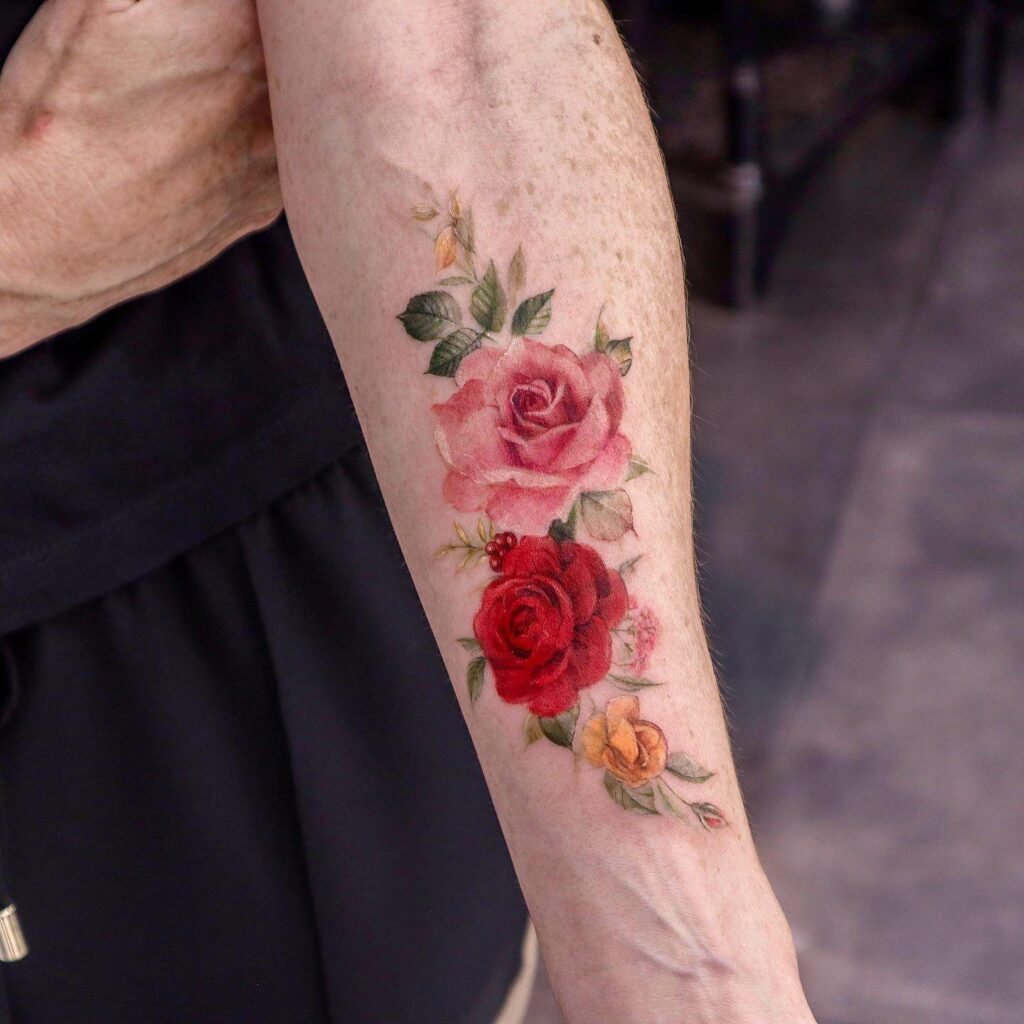 Rose floral tattoos are one of the most popular tattoo designs in the genre of floral tattoos due to the variety of meanings they portray.
Initially cultured in the Far East and later adopted by the Europeans, roses were an emblem worn on the armor and also made on one's shield, it is not necessary that roses would always be symbolic of love and romantic feelings. Its overwhelming beauty, mesmerizing smell, and coat of thorn make it a complete forearm tattoo.
From body art to tattoos, roses are among the very first flower that comes to our mind whenever the term "floral design" is mentioned. A forearm tattoo is so visible that it perfectly represents the confidence and honesty of the tattoo bearer- the fact that the person is committed to the meaning of the tattoo and takes full pride in the beauty of the art. The variety of meanings that different rose tattoo designs signify makes it a great idea for a forearm tattoo.
Red Rose Tattoo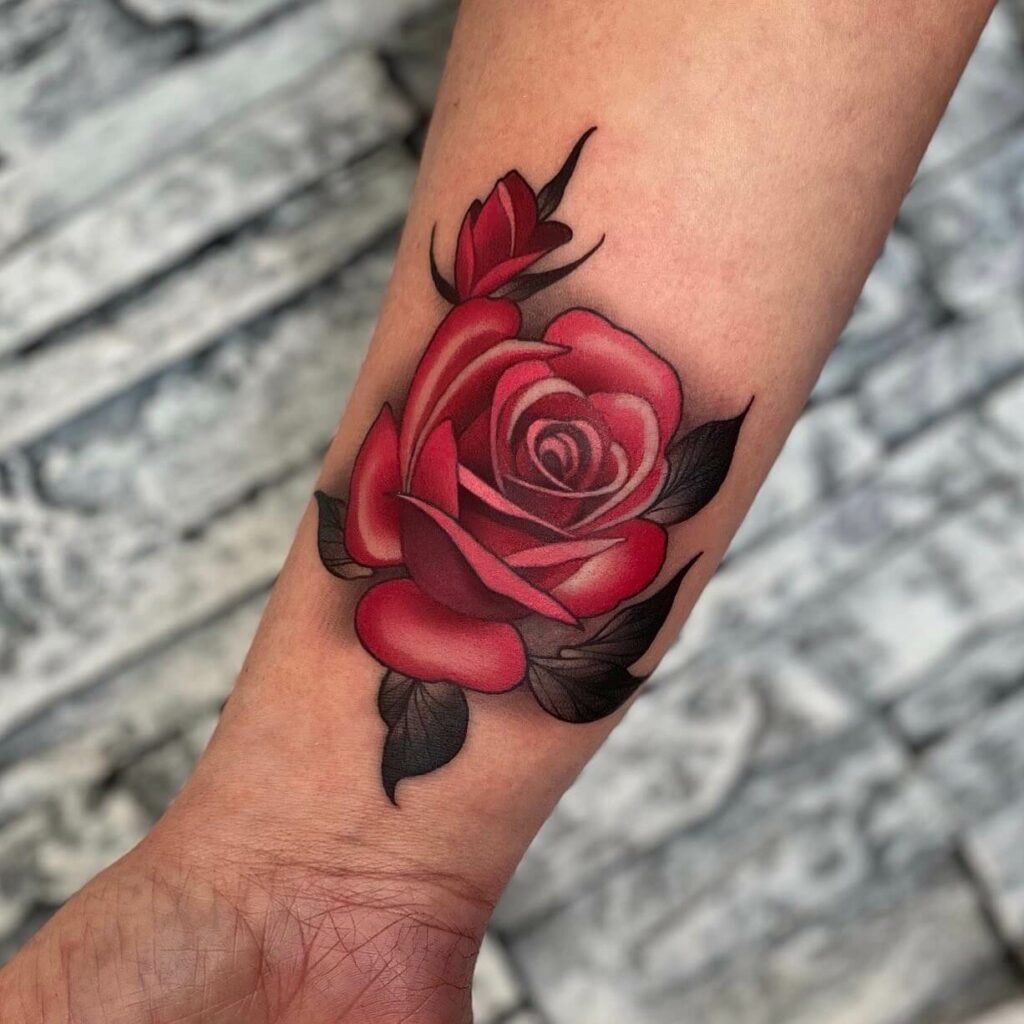 Red roses are one of the most beautiful flowers that have been cultivated for a really long time and are probably the oldest and the most used token of true love. But red roses in themselves have a variety of meanings. This beautiful flower is symbolic of respect and appreciation when used in bouquets. A dark red rose is symbolic of passion and commitment. Red rosebuds represent purity and romantic love.
The red rose tattoo design normally symbolizes love and passion and it is often seen as the most traditional form of love. When it comes to traditional rose tattoo ideas, two red rose flowers are symbolic of love and the beauty of unity and people get it done for their loved ones.
Black Rose Tattoo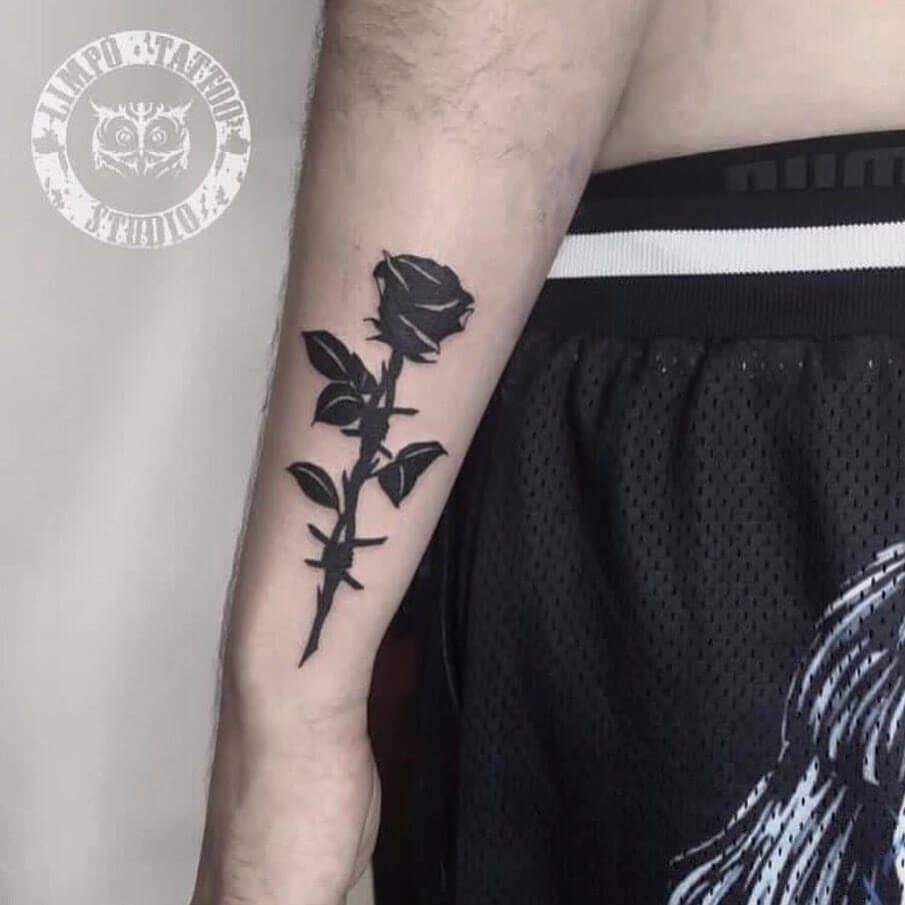 In ancient Greece and Rome, black roses were used as a symbol of strength and power. Although black roses do not actually exist in nature, they still carry a deep symbolic meaning. While it can represent death, mourning, and tragedy, it can also represent obsessive love. From fashion to pop culture the black rose has found its place in every other place.
A black rose tattoo generally symbolizes the loss of love or in general one's loss and can even serve as a reminder of death. Black rose tattoos are bleak and have dark meanings attached to them but they can also be seen as one's everlasting pain and mysterious beauty. Black ink rose tattoo ideas are among the popular and great ideas for a rose tattoo on the forearm.
Rose tattoos with other elements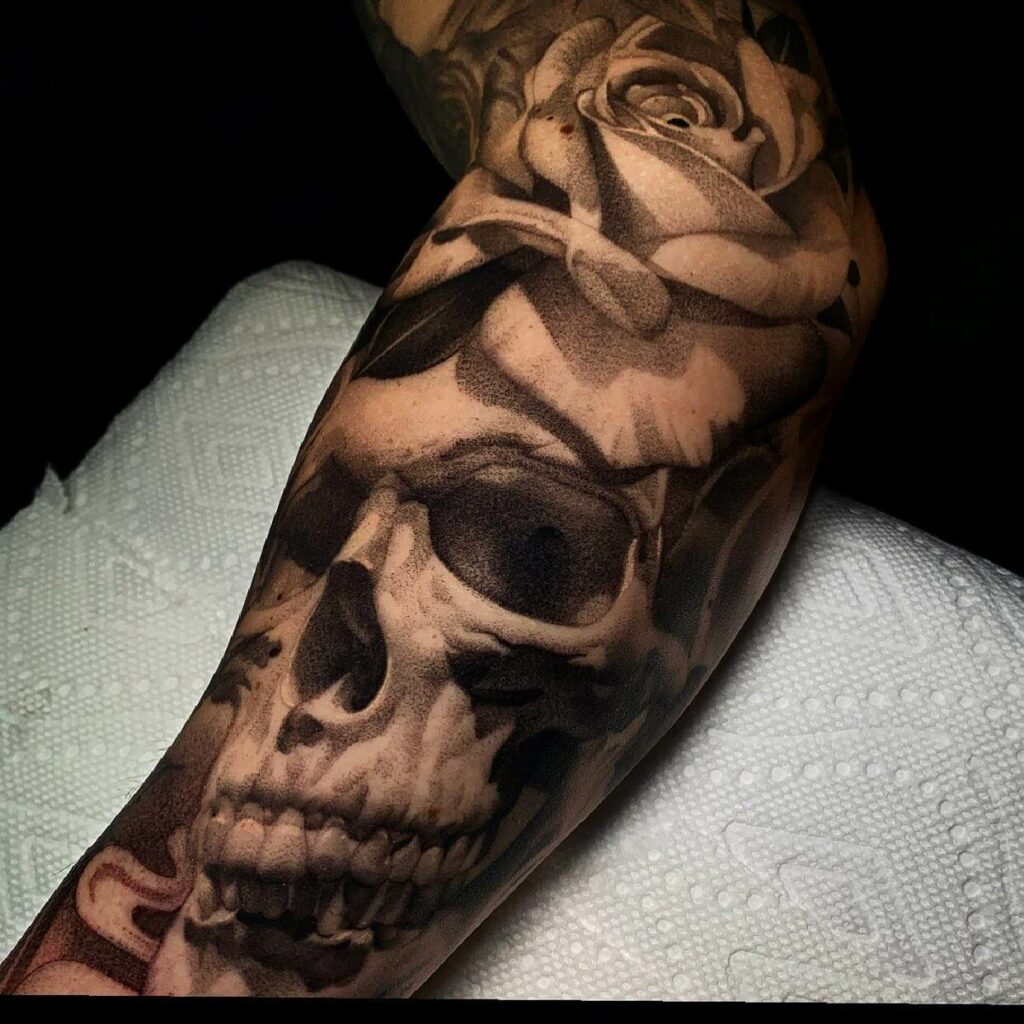 Unlike traditional rose tattoo designs, they can be recreated with various other elements as well. These forearm tattoos have significant meanings and are often preferred due to their personalised unique idea.
Lettering rose tattoo design involved writing something of the recipient's choice on the rose petals. Next is the skull rose tattoo, which symbolizes life and death together. It is among the cool rose tattoo designs and a good choice of forearm rose tattoos for men. Rose tattoos with a cross in them are a good way to represent faith but with an elegant twist. A rose in a glass case tattoo design is also commonly used as a sign. These rose tattoos are made of simple lines but have very different ideas for each of them. Apart from being a forearm tattoo, they can be inked as full sleeve tattoos, rib cage tattoos, or neck tattoos and look equally elegant. These are mostly good choices of rose tattoos for men.
Realistic Rose Tattoo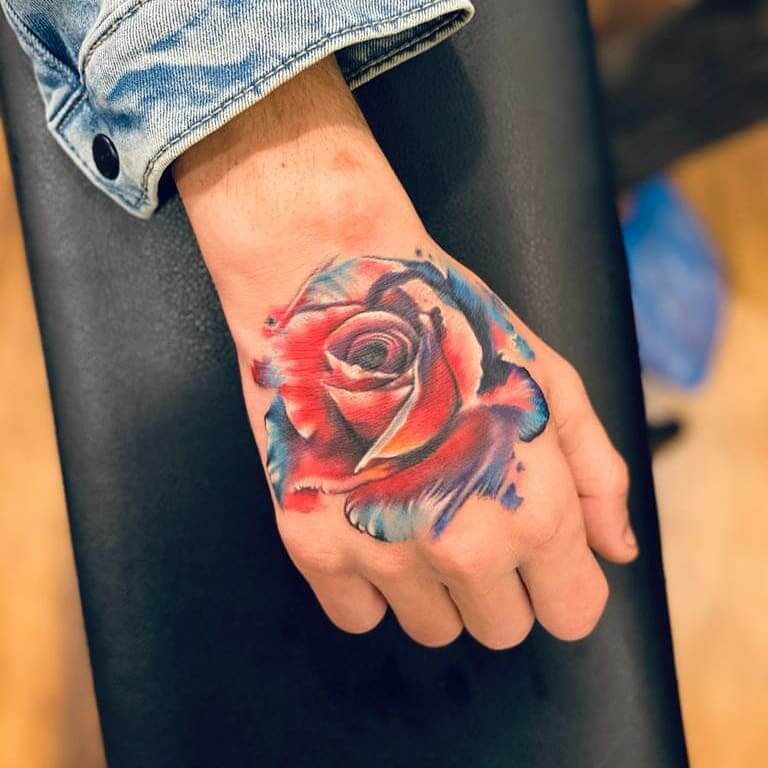 Rose designs that have a lot of shades and fine touches to give a 3D effect are realistic rose designs. It is not necessary that they have to be colored, realistic rose designs can be made in black and grey ink as well.
Realistic rose tattoo designs are popular choices for forearm tattoos. Owing to the complicated rose design and the number of color shades, realistic rose tattoos are often costly and painful for the recipient. Normally inked as a sleeve tattoo, these types of tattoo designs are a really good choice for forearm tattoos as well.
Name Rose Tattoo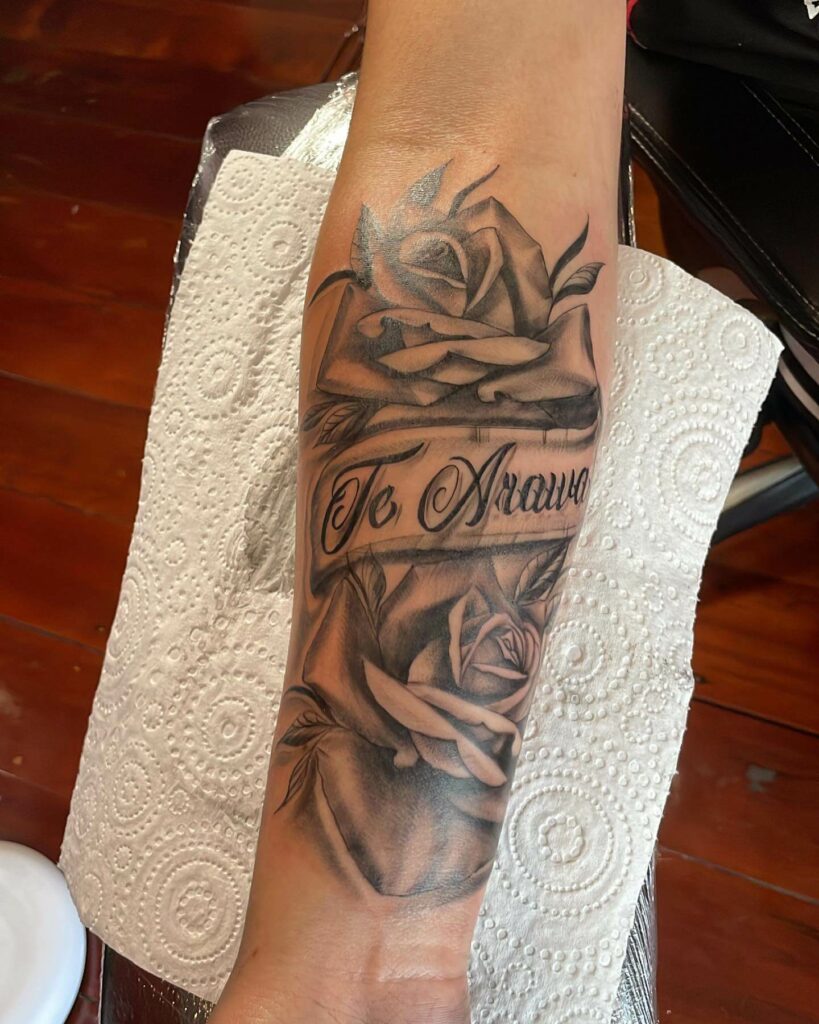 A person's name is probably the most important word to them. It is the greatest connection of their own identity and individuality. Remember the feeling of respect and admiration you have for a person when they remember your name even after meeting you after a long time. Yes, names have a power in them that makes name tattoos such a popular choice of forearm tattoos.
The habit of getting a tattoo design with the name of a family member or a person's own name has been in Asian cultures for a very long time. Getting a name tattoo is very common so people often like to attach an element to it, that can match the beauty and elegance of a rose flower. The name rose tattoo has simple ideas that can be tattooed in any part of the body, but they are mostly done as forearm tattoos so that they can be seen and the art can be appreciated.
White Rose Tattoo
In ancient Greece, the white rose flower was a symbol of the goddess Aphrodite. This traditional rose is the portrayal of new beginnings which is why they are mostly seen at weddings, hence they are also called the "bride's flower". White roses also represent innocence, youthfulness, young love, and loyalty.
Although the beauty of the white rose tattoos is unmatched but the focal point of this tattoo is the white ink and it is difficult for white ink to show up on the skin. White rose tattoos revolve around the central virtue of purity making them the soberest compared to other tattoos.
Rose Outline Tattoo
Flower outline designs are among the most simple, cost-efficient yet beautiful tattoo ideas. Normally they come with just the outlines but people often put minimal black and grey shades on them.
Small rose outline tattoos are generally preferred as a forearm tattoo but ink it in any of the body parts, for example as a neck tattoo, and it will look equally beautiful. These types of rose tattoos can be a really good choice for people looking into getting an arm rose tattoo at a reasonable rate.
Orange Rose Tattoo
Orange roses are new in the market hence they don't have such historical significance. Being a combination of the red and the yellow rose the orange rose has some deep and intense meanings attached to it. It is symbolic of the joy that a relationship brings. They are also symbols of energy, enthusiasm, gratitude, and happiness.
The soft color of orange roses tattoo ideas makes them a good choice for forearm tattoos. Orange ink is among the uncommon colors for rose tattoos but they look absolutely gorgeous. The exotic color when in fusion with a proper design can make rose tattoos look absolutely fabulous.
Yellow Rose Tattoo
During the 18th century, the growth of yellow roses was discovered in the Middle East and Southwest Asia. The yellow rose has diverse meanings that vary from situation to place. The primary meaning of this rose is friendship and it adds an element of happiness wherever it is used. Often used in the bridal bouquet it is indicative of a happy family. Yellow rosebuds indicate an innocent heart and a caring friendship.
The yellow rose tattoo is indicative of the cheerful, happy, and buoyant personality of the bearer. It is one of the few rose tattoos that have no romantic links attached to them. People say the yellow rose tattoo also reminds them of the loved ones that have passed away. These tattoos can be inked in a number of ways, in a traditional manner, just as a small rose design or as a watercolor tattoo. Whatever the design they are an amazing choice of forearm tattoo.
Pink Rose Tattoo
Pink roses have an interesting history attached to them, according to ancient Hebrew texts it was the only rose that was allowed inside the walls of Jerusalem. The spiral-like petals of the flower are indicative of the journey to perfection. They also symbolize feminity and tenderness. Different shades of pink roses have different meanings, for example, pale-pink roses symbolize admiration, grace, and style, bright pink roses symbolize gratitude, joy, and happiness, while a rose with a dark pink shade symbolizes affectionate love.
This rose tattoo is implicative of the gentleness of one's character. The pink shade in the rose tattoo adds to the soberness of the design. The pink roses tattoo is symbolic of the sweetness, grace, and elegance in one's nature. Although some people get this rose tattoo done for their new love, some people relate to this rose tattoo as a remembrance of a loved one.
After seeing all these rose tattoo designs you must be wondering, "How much is a rose tattoo on the forearm?" or more specifically "how much would a traditional rose tattoo on a forearm cost, or how much is a single rose tattoo on the forearm ?". Now the cost of tattoo designs largely depends on the size, color, and shades of the entire tattoo and also the time taken by the tattoo artist. A small rose tattoo with minimal colors will cost around 50$-150$ while full-colored realistic rose tattoos can cost up to 1200$. On average, a medium-sized simple rose tattoo on the forearm should cost between 50$-400$.
Feature Image from Pinterest – Want your tattoo to look brighter? Try "Tattoo Balm"