Looking to add some edge to your personal style? Why not try a skull tattoo on your forearm? These tattoos are highly sought after for their powerful symbolism and bold aesthetic.
Skull tattoos have long been associated with the Goth subculture, but nowadays they are embraced by people from all walks of life. They can represent both positive and negative aspects of life, such as life and death, and overcoming challenges. Some even believe that the tattoo provides protection to the wearer. In Mexican culture, the skull is a symbol of the Day of the Dead.
The most common form of skull tattoo is a human skull tattoo, which can represent the death of a loved one or fearlessness in the face of death. The Grim Reaper design, which welcomes death, is also a popular choice. While some cultures view skull tattoos as bearers of bad news, many people around the world still choose to get them on their wrists, chests, arms, and knees.
If you're thinking about getting a skull tattoo on your forearm, we've got you covered with some amazing designs that will make your style truly stand out.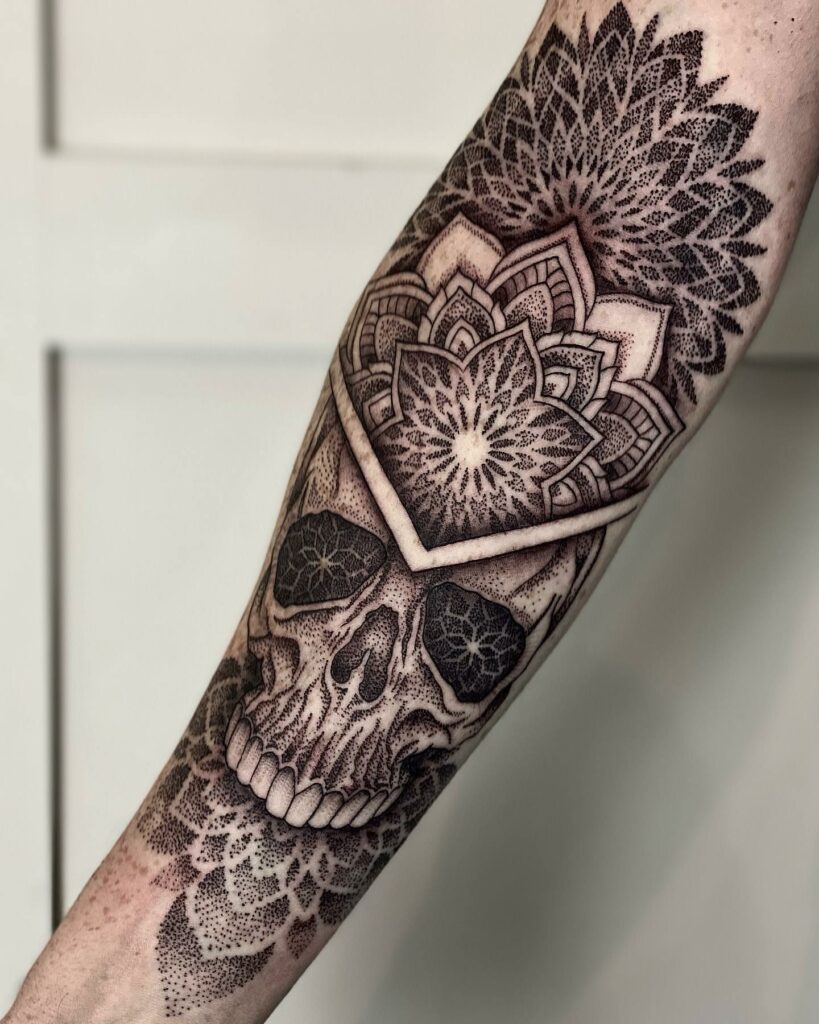 Flower Forearm Skull Tattoo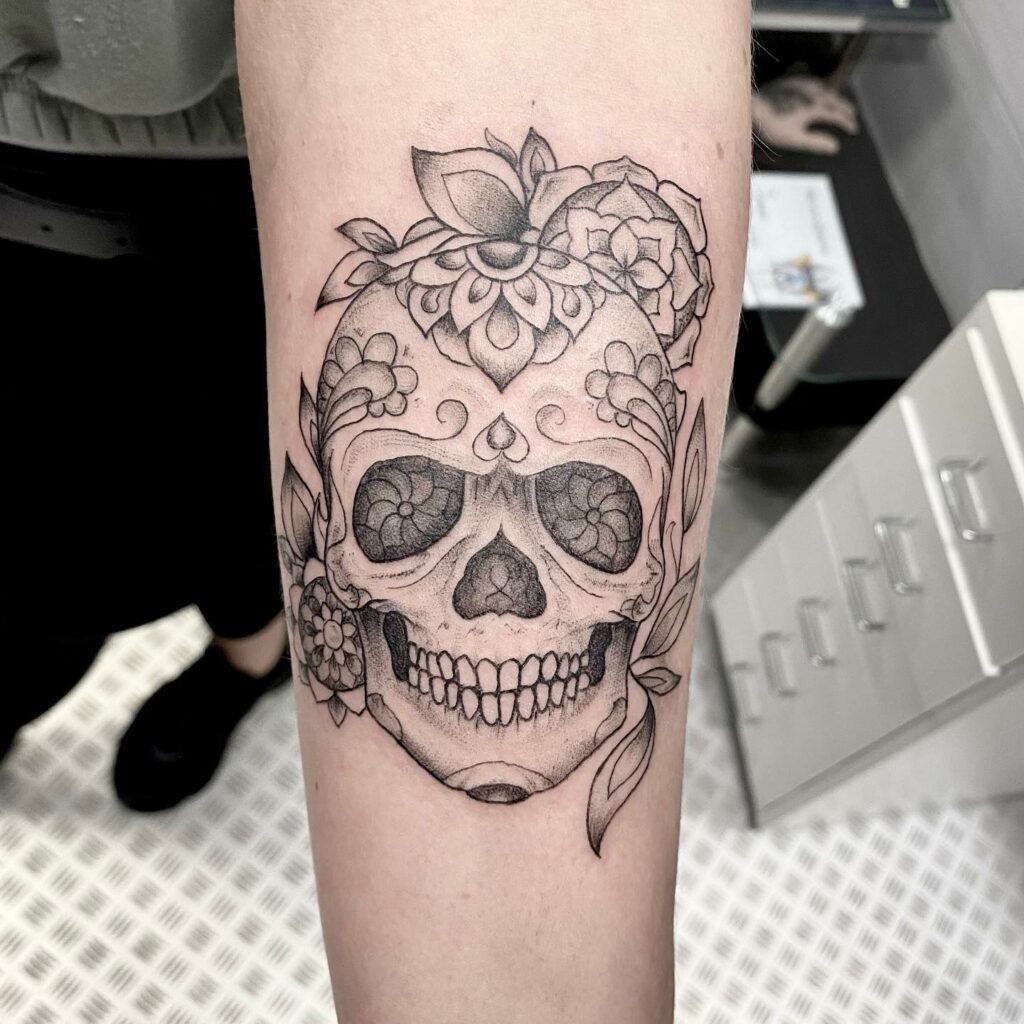 Flower tattoos are an excellent way to showcase nature's beauty and appreciate its wonder. This particular tattoo design is truly captivating and sure to impress. It looks stunning when decorated with beautiful flowers and leaves. Combining leaves and skull tattoos reflects the wearer's unwavering desire to live life on their own terms. It also signifies that they are not afraid of a challenge. The person who wears this tattoo design deeply appreciates nature and the wonderful world we live in. This tattoo is perfect for anyone who loves the combination of skull tattoos with flowers and leaves, so don't hesitate to get this masterpiece!
Forearm Tattoo Design Ideas With Rose And Skull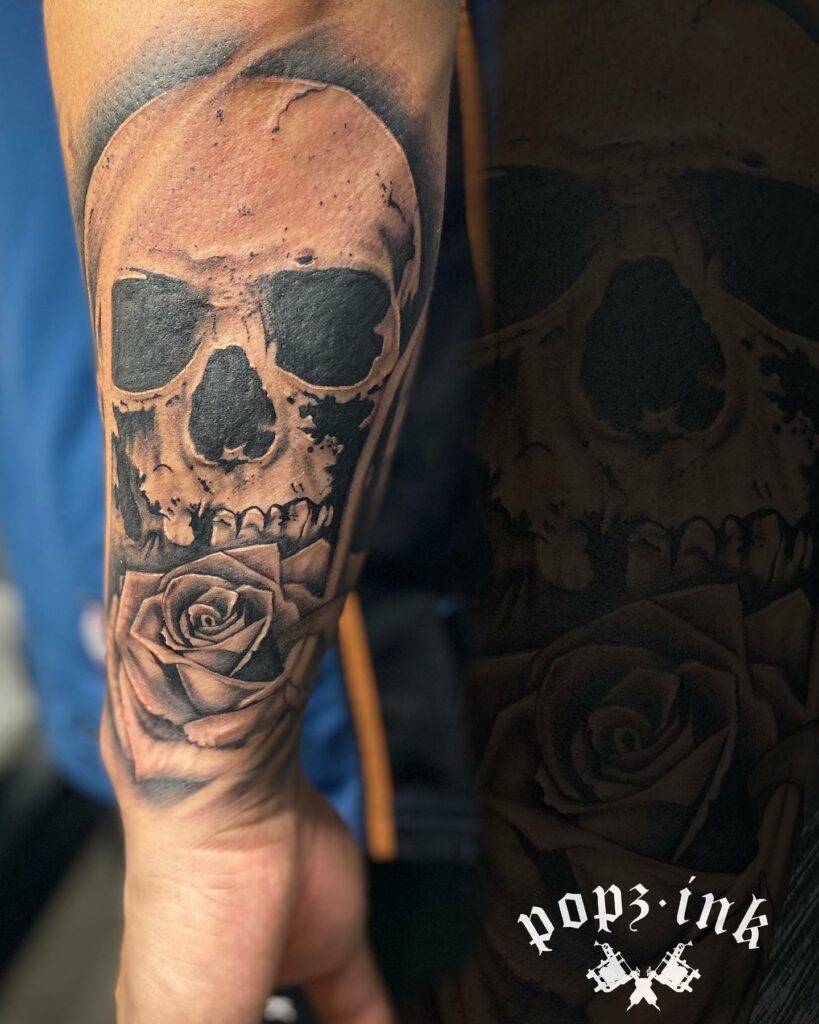 Rose tattoos are a stunning and popular design that showcases the skill of the tattoo artist. When combined with a skull, the tattoo takes on a deeper meaning. The Skull and Rose tattoo represents the battle between light and dark, good and evil, and life and death. It is a powerful Yin Yang symbol that embodies the duality of life. The wearer of this tattoo may have chosen it to reflect their own inner struggles and strength, and to remind themselves of their ability to overcome challenges. The contrast between the delicate rose and the ominous skull creates a striking and beautiful effect, especially when paired with shades of grey and black ink. If you appreciate the beauty in the darker side of life, a Skull and Rose tattoo might be the perfect choice for you.
Keyhole Skull Hand Tattoo For Girls
Skull tattoos are a versatile design that appeals to both men and women. It's a unisex tattoo that exudes a Gothic vibe and mesmerizes its wearers. This particular tattoo showcases a skull on the forearm of a woman with a unique twist – the nose is designed as a keyhole, adding a touch of creativity. The skull is adorned with intricate mandala art, which represents a spiritual and ritual symbol in Hinduism and Buddhism. The use of mandala art in this tattoo design can help bring a sense of calm and serenity to the wearer. The entire tattoo is made with black ink, with the grey shading providing a nice shadow effect. This tattoo represents the wearer's fearless attitude towards death, and their ability to confront it at any given moment.
Incredible Skull And Clock Tattoo Design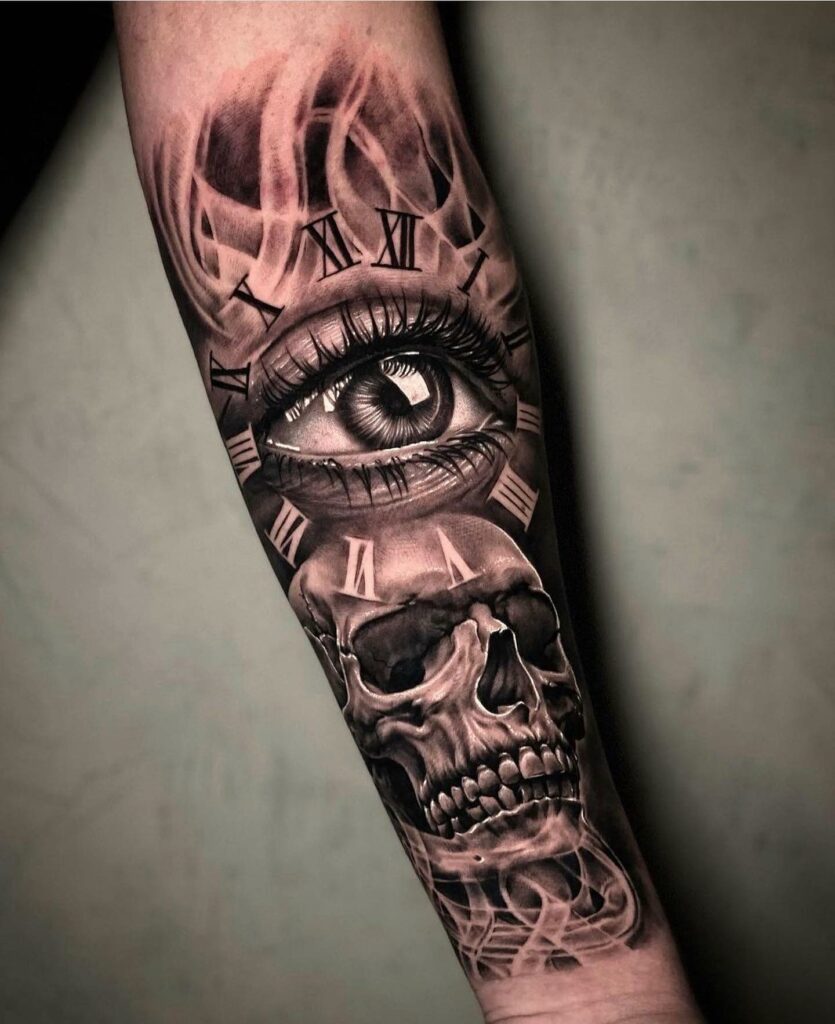 Skull tattoos are a popular choice among those who seek spiritual meaning in their body art. They can represent inner strength, positive energy, and the duality of life and death. The skull clock tattoo, in particular, is a simple yet powerful design favored by many tattoo enthusiasts. This tattoo is often incorporated into a sleeve tattoo rather than being standalone. The eyes of the skull are replaced by a clock face with Roman numerals, reminding the wearer that time is constantly ticking away. The use of black and gray inks in this tattoo adds depth and beauty to the overall design.
Mexican Culture Theme Forearm Tattoo Of A Skull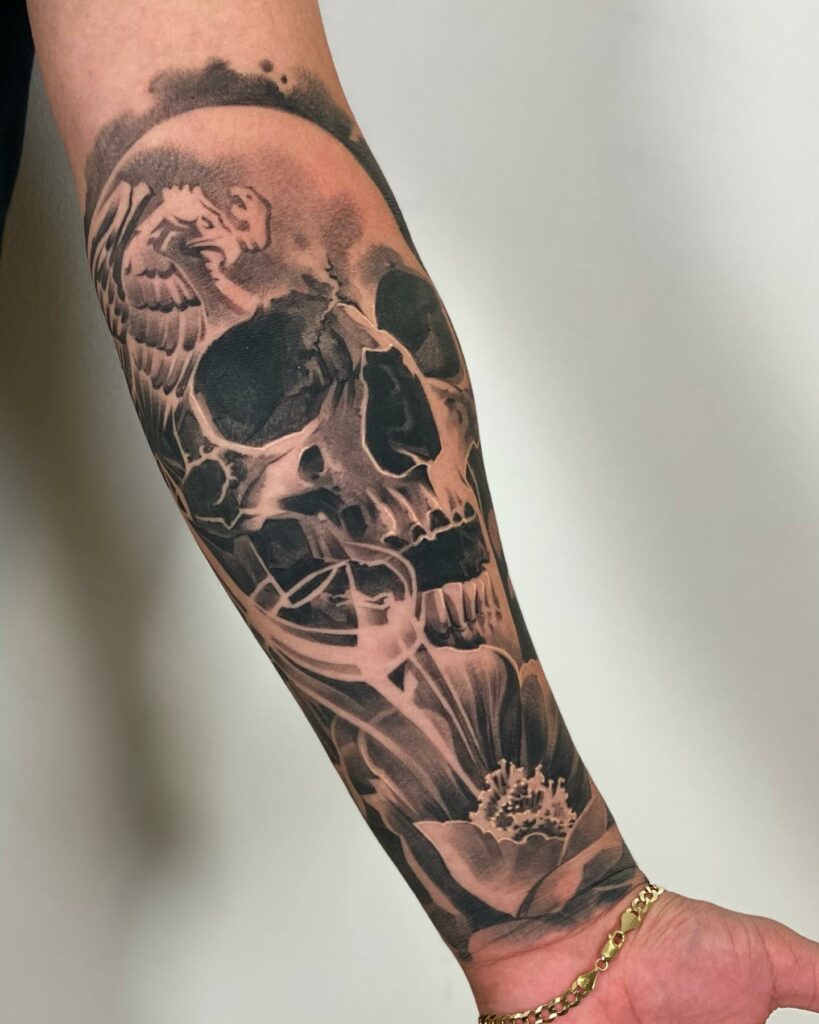 Sugar skull tattoos are a popular design in Mexican culture, often associated with the Day of the Dead celebration. During this festival, families gather to make skulls out of colorful candies. While sugar skull tattoos typically feature flowers and butterflies, there's plenty of room for personalization. In this particular tattoo, the beautiful floral design beneath the skull perfectly captures the essence of the festival. The wearer clearly has a deep appreciation for Mexican culture and traditions, and may even hail from Mexico themselves. The tattoo is well-healed and beautifully done, showcasing the skill and artistry of the tattoo artist. It's a stunning tribute to a rich cultural heritage.
Death Eaters Tattoo Design On ForeArm
The world of Harry Potter is filled with mystical creatures, and Death Eaters are one of the most intriguing figures in the series. These followers of the infamous Voldemort are known to have delved into the dark side of magic. This stunning tattoo featuring a skull with the symbol of the Deathly Hallows atop represents the wearer's deep love and admiration for the Potterverse. The Deathly Hallows symbol denotes mastery over death, which Voldemort sought to gain and become unbeatable against Harry Potter. The tattoo is a masterpiece, showcasing the wearer's unwavering support for the Death Eaters and their captivating ideology. The skull, adorned with a snake running down, is not an exact replica of the Dark Mark, but it does provide a source of inspiration for the wearer.
Orange And Black Skull And Crossbones Tattoo Design Ideas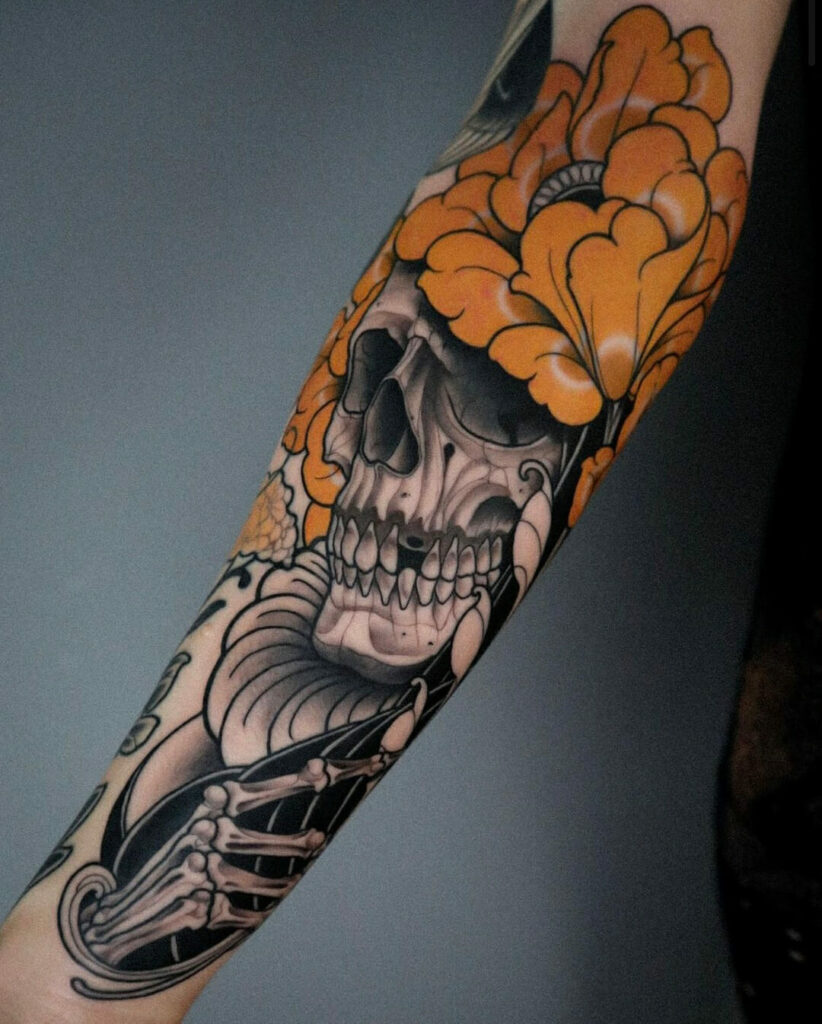 Skulls and crossbones tattoos have a powerful meaning of acceptance of mortality and the cycle of life. The tattoo showcased here has a touch of color, with beautiful yellow ochre flowers that add a touch of warmth to the otherwise gothic design. The level of detail in both the crossbones and the flowers is truly remarkable, making it a true masterpiece. The combination of the intricate design and the use of color makes this tattoo both inspirational and breathtaking. If you're looking for a tattoo that symbolizes the acceptance of life's end, with a touch of beauty and grace, then this design might be perfect for you.
Flower Bud Tattoo Design For Women Skull Forearm Tattoo
This one-of-a-kind tattoo features skulls that are transformed into flower buds, growing from the stem of a plant. The tattoo has been skillfully created with shades of grey and black ink, and is known as the "skull berries" tattoo. The unique design of this tattoo provides a perfect blend of gothic and cottage core vibes, which are quite popular among tattoo enthusiasts these days. The artist has used a sketch style to create this beautiful tattoo, which is not only aesthetically pleasing but also properly healed. If you're looking for a tattoo that is both unique and beautiful, then this design is definitely worth considering!
Frank Castle Punisher Skull Tattoo
Frank Castle, also known as the Punisher, is a beloved character in the Marvel Cinematic Universe. He is a former Italian American US Marine who has served his country honorably. In Earth-616, he becomes the Punisher after his family is brutally killed by New York City mobsters. He then embarks on a mission to avenge their deaths. The Punisher is also considered an anti-hero in the Spider-Man universe. This tattoo is a tribute to the Punisher by a die-hard Marvel fan. It depicts Frank Castle's face with the iconic Punisher skull on the torso. The tattoo is beautifully done and is a great way to pay homage to one of the most beloved heroes in the MCU. If you're a Marvel fan, this tattoo is a must-have!
Aztec Skull Tattoo In Tribal Form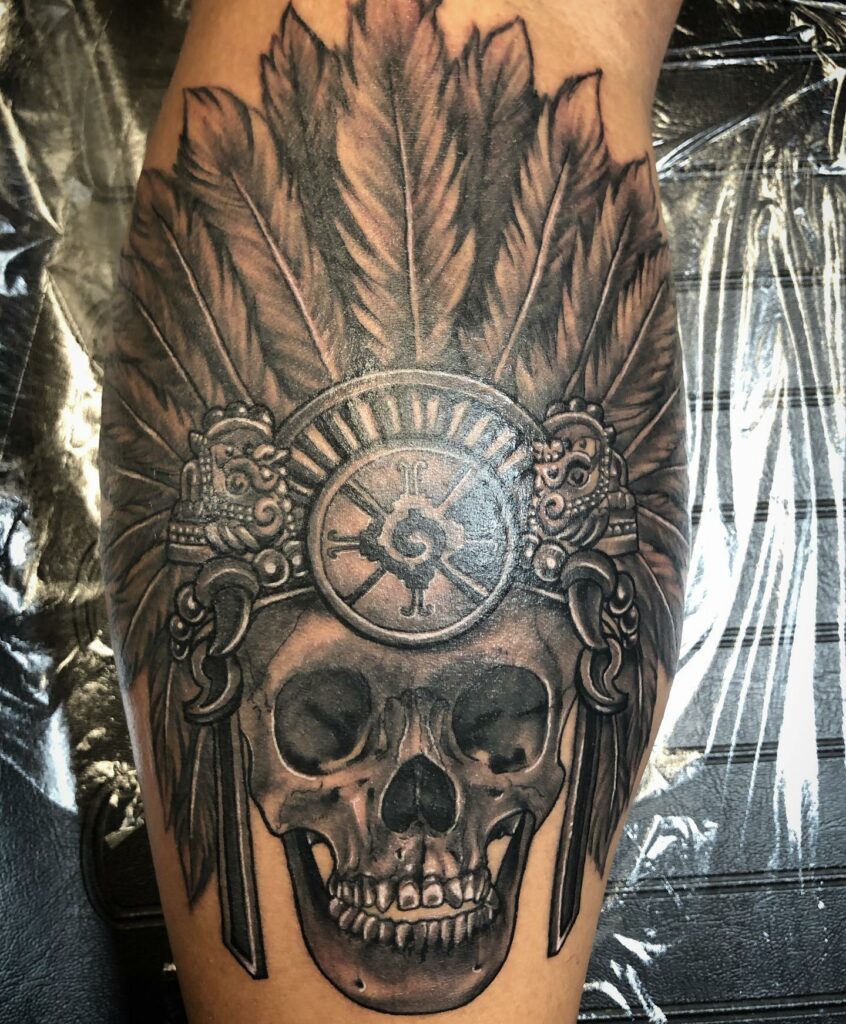 Aztec culture is a fascinating and deeply meaningful aspect of Mexican heritage that explores the essence of humanity and its continuity. The Aztec skulls are a potent symbol of both death and the promise of rebirth, making it a popular theme for tattoos. This particular Aztec skull tattoo is a breathtaking representation of Mexican tribal art, with the skull designed in the shape of feathers. The tattoo is truly stunning and provides an awe-inspiring representation of the skull in a bold and unique way. The tattoo's perfect healing is a testament to its superior quality, and it is sure to inspire anyone who has an interest in the rich and fascinating world of Aztec culture.
feature image from Pinterest – Want your tattoo to look brighter? Try "Tattoo Balm"
Last reviewed and updated on October 12, 2023